As one of the world's biggest online retailers, it's no surprise that Amazon has astounding statistics. The company's size and scope have grown exponentially over the years, making them a powerful player in everything from retail to technology.
In this blog post, we'll be taking a look at some interesting Amazon statistics to get an idea of their immense success story and how they reached such impressive milestones.
From revenue numbers including expansion into international markets to customer loyalty programs that keep customers coming back for more – these Amazon facts are sure to amaze! 
Overview: Amazon Statistics 2023: Better Market Research

Founded in 1994, Amazon is one of the world's largest online marketplaces with over 310 million active customers and $280.5 billion in annual gross sales.
It is a leader in cloud computing services and e-commerce technology, offering products across dozens of categories including books, electronics, apparel and home goods.
Amazon also offers its own range of products and services, including Amazon Prime, Prime Video, Kindle e-readers, Alexa voice assistant and more.
Amazon operates in over 15 countries worldwide, employing over 800,000 people across a range of departments from customer service to software engineering.
The company has been at the forefront of innovation for years and continues to push the boundaries of technology through its numerous services and products. 
Amazon is constantly striving to provide the best experience possible for its customers, from product selection to delivery speed. Its commitment to customer service has made it one of the most trusted online retailers in the world.
As Amazon continues to expand, it remains focused on providing quality products, services and experiences that will keep customers coming back. With its ever-growing global presence and customer base, Amazon is sure to remain a leader in the online retail market.
Revenue: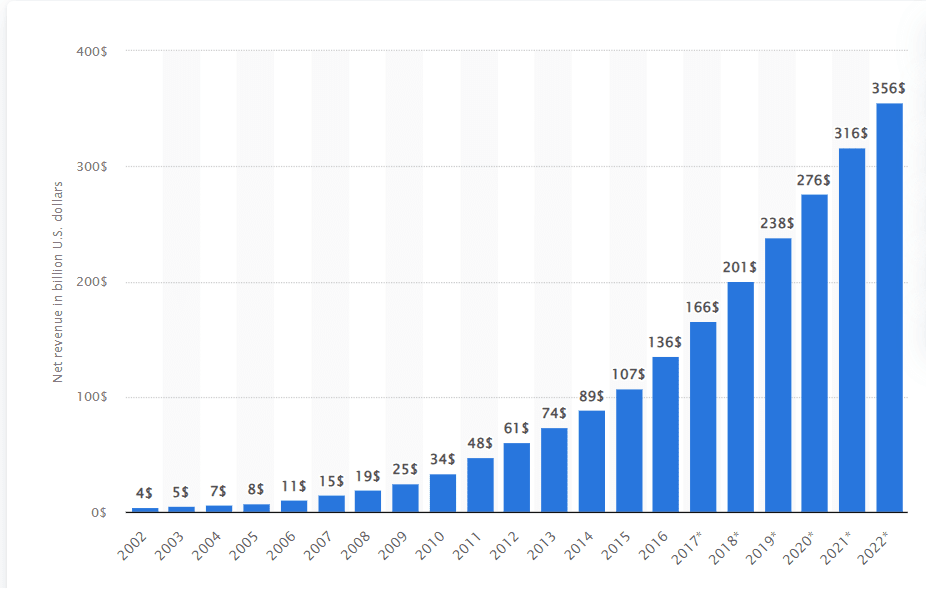 Amazon is on track to have a record-breaking year in 2022. According to analysts, the online retail giant is expected to report revenues of around $403 billion for the fiscal year.
This would represent an increase of about 19% from 2021's figures and make Amazon one of the most successful companies in the world.
The majority of Amazon's revenue will come from its core e-commerce operations, which account for the majority of its sales. This includes online retail sales and third-party sellers on Amazon Marketplace, both of which are expected to see substantial growth in 2022.
Additionally, Amazon Web Services (AWS), Amazon's cloud computing division, is also expected to experience significant growth as companies and organizations increasingly rely on cloud computing services.
The success of Amazon's 2022 revenues is also largely attributed to its ever-expanding presence in multiple sectors, such as streaming media and digital advertising.
This includes the launch of its Prime Video service, which has become a major player in the streaming video industry.
Additionally, Amazon's digital advertising business has also experienced significant growth, with the company now being one of the top five digital advertising companies in the US.
Benchmarks: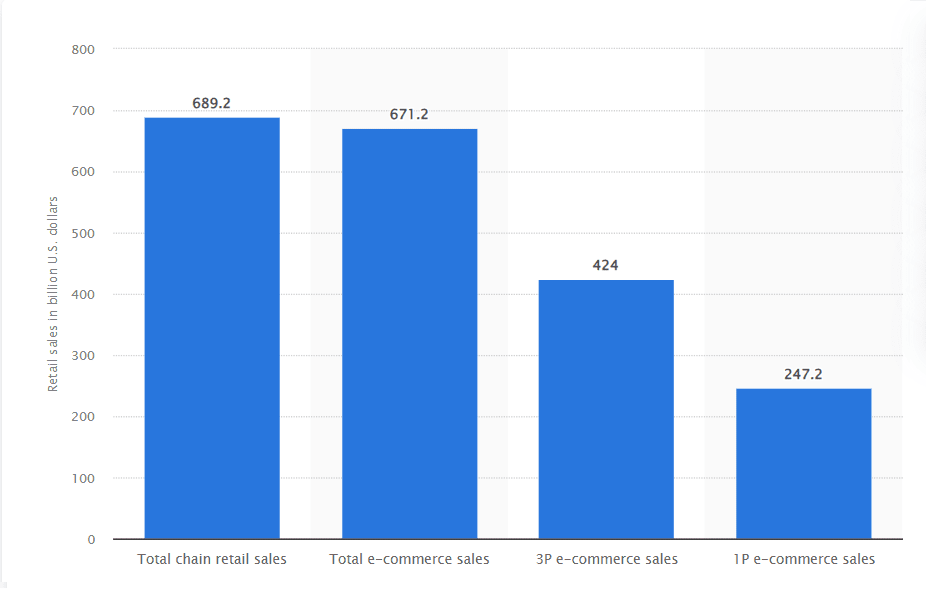 As a result of Amazon's rapid growth and market share, the brand value of its most valuable brands has also increased significantly.
According to estimates by Interbrand, the world's largest brand consulting company, the brand value of Amazon's top 10 most valuable brands in 2022 is expected to exceed $352 billion. 
This figure is an increase of 8.3% over the previous year and is much larger than the estimated brand value of any other company.
Amazon's top brands are: AWS, Alexa, Kindle, Prime Video, Marketplace, Audible, Fire TV Stick, eCommerce Platforms and Services, Amazon Music and Whole Foods Market.
The most valuable brand in terms of total brand value is AWS.
The cloud computing infrastructure service has seen tremendous growth within Amazon, helping the company to generate over $25 billion in revenue in 2021 and becoming a top source of profit for Amazon.
Alexa, Amazon's voice assistant technology, comes in second with an estimated brand value of $70 billion. 
This is followed by Kindle, Prime Video and Marketplace, which have brand values of $56 billion, $52 billion and $51 billion respectively. Audible, Fire TV Stick, eCommerce Platforms and Services, Amazon Music and Whole Foods Market are the other brands in the top 10 list with respective brand values of $49 billion, $44 billion, $43 billion, $37 billion and $32 billion.
Marketplace VS Direct Sales:
1. Amazon First-party seller share 2022.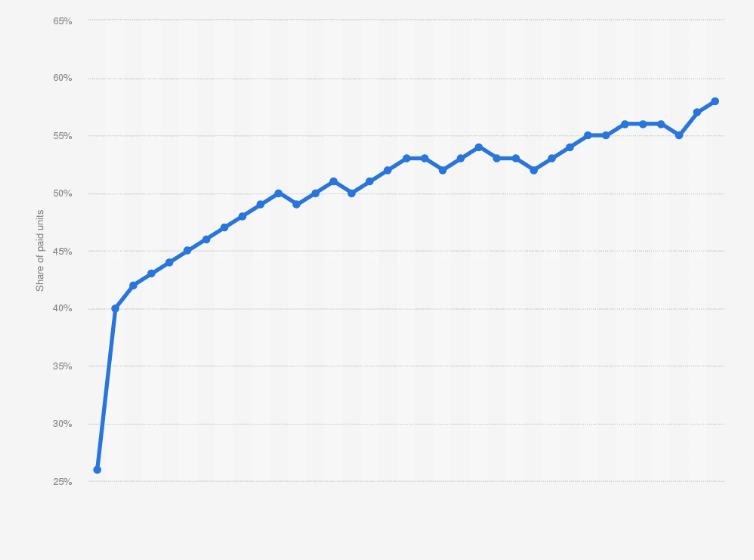 In 2021, Amazon's first-party seller share has grown to account for almost 50% of all sales on the platform, and this number is expected to continue rising in 2022. By taking a closer look at the trends driving this growth, it's easy to see why these sellers are so successful.
One major factor behind Amazon's first-party seller share growth is their ability to leverage Amazon's logistics and delivery network. This makes it easier for them to get products to customers quickly, reliably, and cheaply.
Additionally, these sellers are able to take advantage of Amazon's vast customer base, helping them reach more people than ever before.
Another factor driving the growth of Amazon's first-party seller share is the increasing popularity of their Prime membership program. With Prime, customers get access to exclusive deals and discounts on products sold directly through Amazon.
This has led to more people joining Prime, which in turn has resulted in a larger customer base for Amazon's first-party sellers.
2. Amazon's chain retail sales value 2022.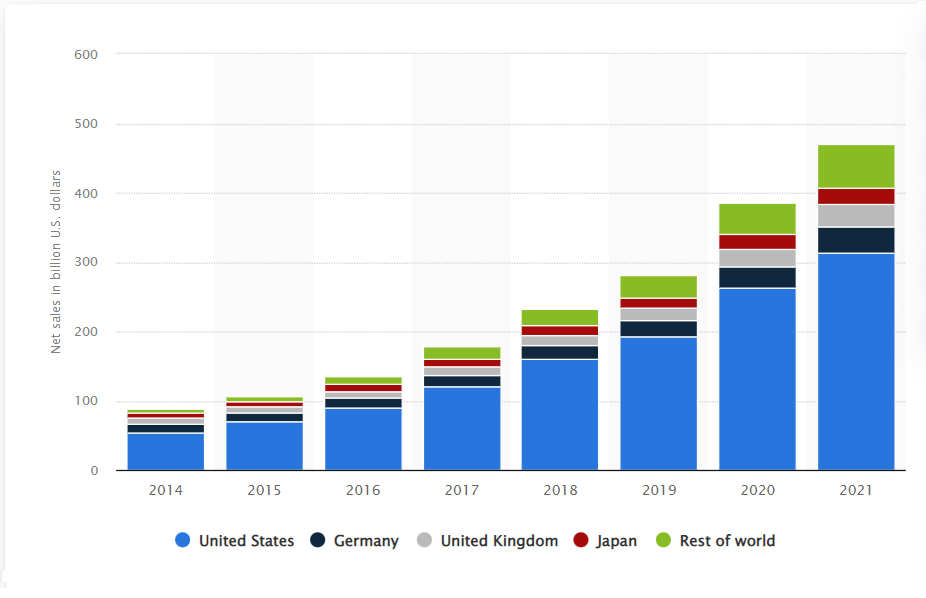 Amazon's chain retail sales have seen a steady increase in the past few years, and this trend is projected to continue as Amazon continues to expand its offerings.
According to market research firm Euromonitor International, Amazon's global chain retail sales are expected to reach US$1.4 trillion by 2022.
This growth can be attributed to Amazon's increasing focus on e-commerce and its continual investments in customer acquisition, fulfillment centers, and delivery networks. 
Moreover, the company's foray into brick-and-mortar retail stores with its purchase of Whole Foods Market has also enabled Amazon to expand its reach and tap into new customer segments.
With this strategy, Amazon is well-positioned to continue its growth trajectory and maintain its leading position in the retail market.
The company's continued focus on innovation has also been a key factor driving its success. Amazon's ability to develop cutting-edge technologies, such as artificial intelligence (AI)-enabled voice platforms, have allowed it to provide customers with an unparalleled shopping experience.
This has been further bolstered by Amazon's commitment to improving product selection, delivery speed and pricing competitiveness. As a result, the company is well-placed to capture a larger share of the retail market in the years ahead.
In addition to its focus on technology, Amazon has also made significant investments in traditional retail channels. Its acquisition of Whole Foods Market has given the company an entry into the grocery market and opened up new opportunities for growth.
This follows Amazon's 2017 purchase of ShoeBuy, which expanded its presence in the apparel market. By investing in both online and offline retail offerings, Amazon is able to provide customers with an unparalleled shopping experience.
Retail Segments: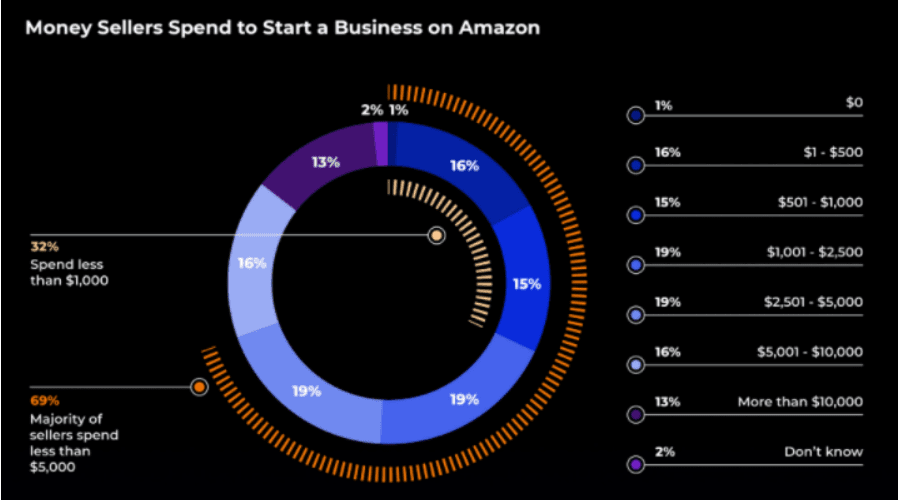 In 2022, Amazon is estimated to have six main sales categories. These include electronic products, home and garden items, clothing and accessories, health and beauty products, sports and outdoor gear, and books.
Electronic products are expected to be the top-selling category of the year due to the growing demand for technology such as smartphones, laptops, and other personal gadgets.
Home and garden items will also remain popular as people continue to invest in making their homes more comfortable and inviting.
Clothing and accessories are sure to be another big seller, with shoppers looking for fashionable items to stock up on. 
Health and beauty products will also likely increase in popularity, as more people become aware of the importance of taking care of their bodies.
Sports and outdoor gear will be popular too, as people look to stay active and explore the outdoors. Finally, books will remain an ever-present category on Amazon, with shoppers looking for a wide range of titles to add to their libraries.
These six categories are expected to continue dominating sales in 2022 and beyond, as shoppers continue to turn to Amazon for their goods and services.
With the right combination of products and marketing strategies, retailers can capitalize on these sales opportunities and increase their reach on Amazon.
By understanding what customers are looking for, businesses can invest in the items that will bring them the most success and ensure they remain competitive in the e-commerce landscape.
Amazon Users: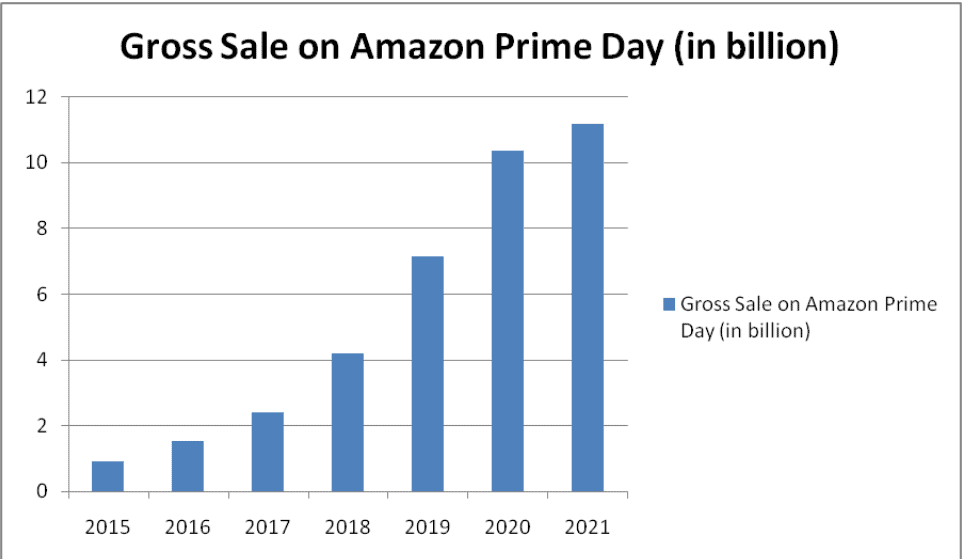 According to Statista, the estimated number of Amazon users worldwide is expected to reach 463.8 million by 2022. This growth in usage reflects Amazon's continued success as an e-commerce giant and a leader in digital retailing.
With this surge of users accessing their platform, Amazon has been able to dominate the online retail market by providing customers with a convenient, efficient shopping experience.
As customers continue to turn to online retailers for their needs and the convenience of Amazon's platform further enhances the customer experience, this number is expected to only increase in future years. 
In fact, Amazon is set to become one of the top players in both global e-commerce and digital retailing as it continues to gain more customers and expand its reach. With Amazon's continued success, it can be expected that their user base will continue to grow in the years to come.
In order to capitalize on this growing customer base and ensure continued success, Amazon needs to stay ahead of the competition by providing customers with top-notch service and technology.
This means staying up to date with the latest trends in e-commerce and digital retailing, as well as offering new products and services that can improve customer experience. 
Amazon also needs to focus on creating innovative technologies and improving user experience. Through these efforts, Amazon will be able to maintain its position of dominance in the online retail market for years to come.
Online traffic: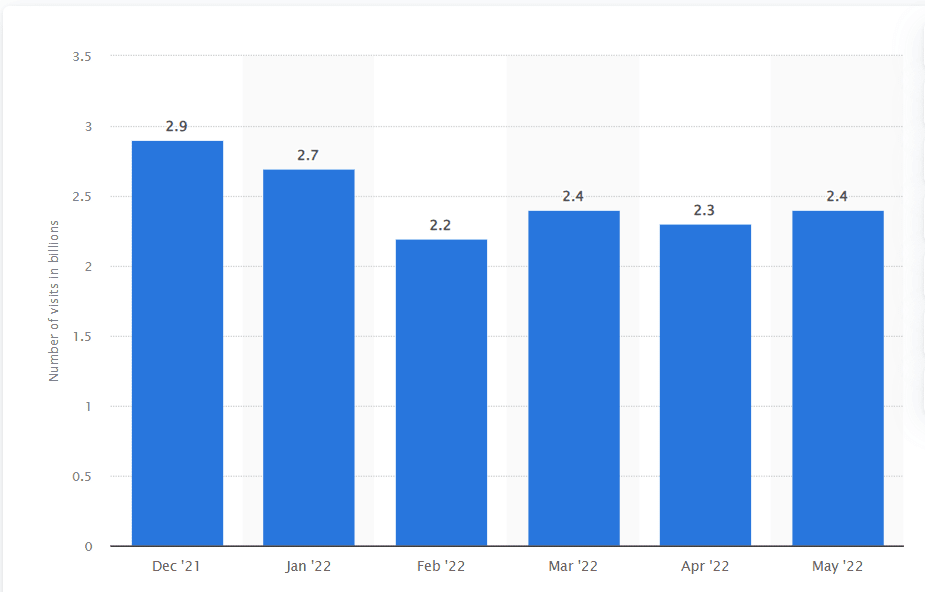 According to a study by Web Hosting Secret Revealed, Amazon receives an estimated 5.6 billion global visitors annually. This is more than any other online business in the world and makes up nearly 10 percent of all web traffic globally.
With over two million active sellers and more than 200 million products available, it's no wonder why so many people visit Amazon at least once a year. 
From its hyper-competitive marketplace to its various services, such as Prime Video and Amazon Music, it has something for everyone.
With over 500 million products in the US alone, shoppers can find just about anything they need on Amazon. By leveraging its massive customer base and vast selection of goods, Amazon continues to be an e-commerce juggernaut.
With so many visitors to its website, it's no wonder why Amazon continues to stand at the top of the online retail space.
Amazon's success can be attributed to its customer-centric approach and focus on providing value. Not only does it offer a wide array of products but also provides services such as Prime Video, Amazon Music, and more. 
Furthermore, Amazon makes a concerted effort to ensure customers receive the best possible user experience. Its advanced AI-powered recommendation system provides tailored suggestions based on browsing history and past purchases.
This allows shoppers to quickly find items they need without having to search through countless pages of products. Additionally, Amazon's free two-day shipping and its intuitive user interface make it easy for customers to find what they're looking for.
Competitors: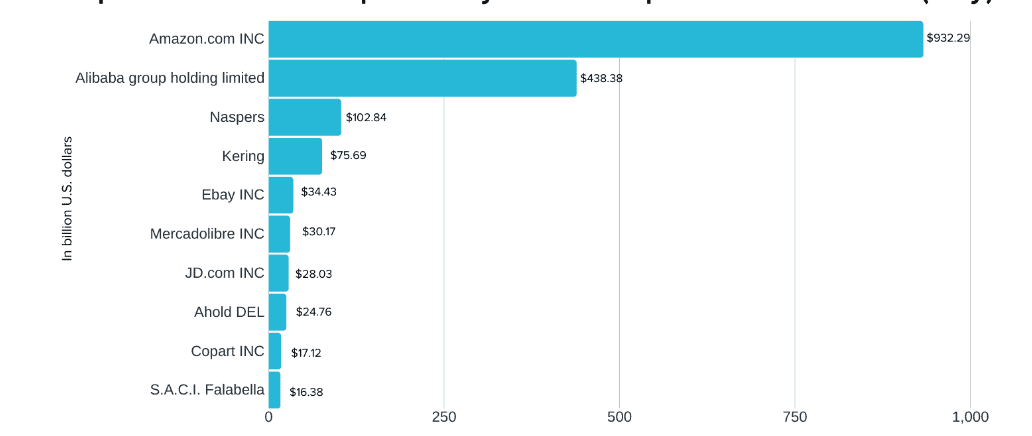 In the e-commerce market, Amazon is a juggernaut that's tough to beat. It offers customers an extensive selection of products at competitive people, prices, fast and reliable shipping options, and world-class customer service.
Despite its success, Amazon does have several competitors in the online retail space that are growing quickly and offer consumers some unique advantages.
Wish is one of Amazon's most formidable competitors. It offers millions of products to customers around the world, and its user-friendly interface allows shoppers to easily find what they're looking for.
Plus, Wish offers incredibly low prices on many items – sometimes even lower than what Amazon charges. The downside is that shipping times can be slow, and customer service isn't always as reliable as Amazon's.
Walmart is another major competitor of Amazon. The retail giant offers its customers a wide selection of products at prices that are often lower than what Amazon charges.
Plus, Walmart recently rolled out two-day delivery for orders over $35, making it a competitive option for customers who need their items quickly.
On the downside, there are fewer options to choose from on Walmart's website than what Amazon offers.
Ebay is another competitor of Amazon in the e-commerce space. It offers shoppers an extensive selection of both new and used items at discounted prices.
Plus, Ebay's platform allows shoppers to easily search for items, compare prices, and read reviews. On the downside, delivery times can be unpredictable and customer service isn't always reliable.
FAQs: Amazon Statistics 2023: Better Market Research
👨‍💼Q: Does Amazon keep records of clients' purchase histories?
A: Yes, Amazon keeps track of clients' purchase histories. This information can be accessed by logging into the "Your Orders" page on your Amazon account. You can also see a summary of your purchases within the last year on this page. Additionally, Amazon stores order information for the past three years for reference and customer service inquiries.
🤷‍♀️Q: What analytics services does Amazon offer?
A: Amazon offers a range of analytics services to help customers gain insights into their data. These include Amazon QuickSight, an interactive visual analysis tool that enables you to easily create and share dashboards; AWS Cost Explorer, which helps you monitor and manage your AWS costs; Amazon Personalize, an AI-powered personalization service that can be used to create personalized product recommendations; Amazon Forecast, which enables you to build forecast models for time series data; and Amazon Pinpoint, a marketing analytics solution that helps you understand customer engagement.
🙌Q: What data does Amazon store about its customers?
A: Amazon stores a range of data about its customers, including personal information such as name, email address, and payment methods; purchase history; browsing history; and marketing preferences. This data is used to provide customers with personalized services and targeted advertising. Additionally, Amazon may also collect other types of information such as your IP address, location data, and device information.
✨Q: How does Amazon use customer data?
A: Amazon uses customer data for a variety of purposes, including providing personalized services such as product recommendations based on previous purchases; targeted advertisements; fraud prevention; and developing new products and services. Additionally, Amazon may also use customer data to improve its processes and algorithms, such as machine learning models for forecasting.
Quick Links: 
Conclusion: Amazon Statistics 2023: Better Market Research
Amazon is the subtle ruler of the ecommerce world, and these statistics show just how huge they've become. If your business doesn't have a presence on Amazon, now is the time to start thinking about how you can make that happen.
And if you're already selling on Amazon, these stats should give you some ideas about how to improve your listing and get more sales.