Over the course of the last 10 years, affiliate marketing has become a booming business today and is now considered as a key strategy in the formation and evolution of a big enterprise.
It is a simple outlook where you as a business owner reward the affiliate on a per customer basis. In short, the entire framework works on a performance merit.
An affiliate offer wall helps to find the best affiliate ads and it is very important in today's world to have good affiliate advertisements supporting your brand if you want to reach the biggest possible audience. The offer wall is clean and transparent to you as the brand owner as it allows you to see when an affiliate ad offer was first seen and seen at the latest. In short you get to see all the details you require.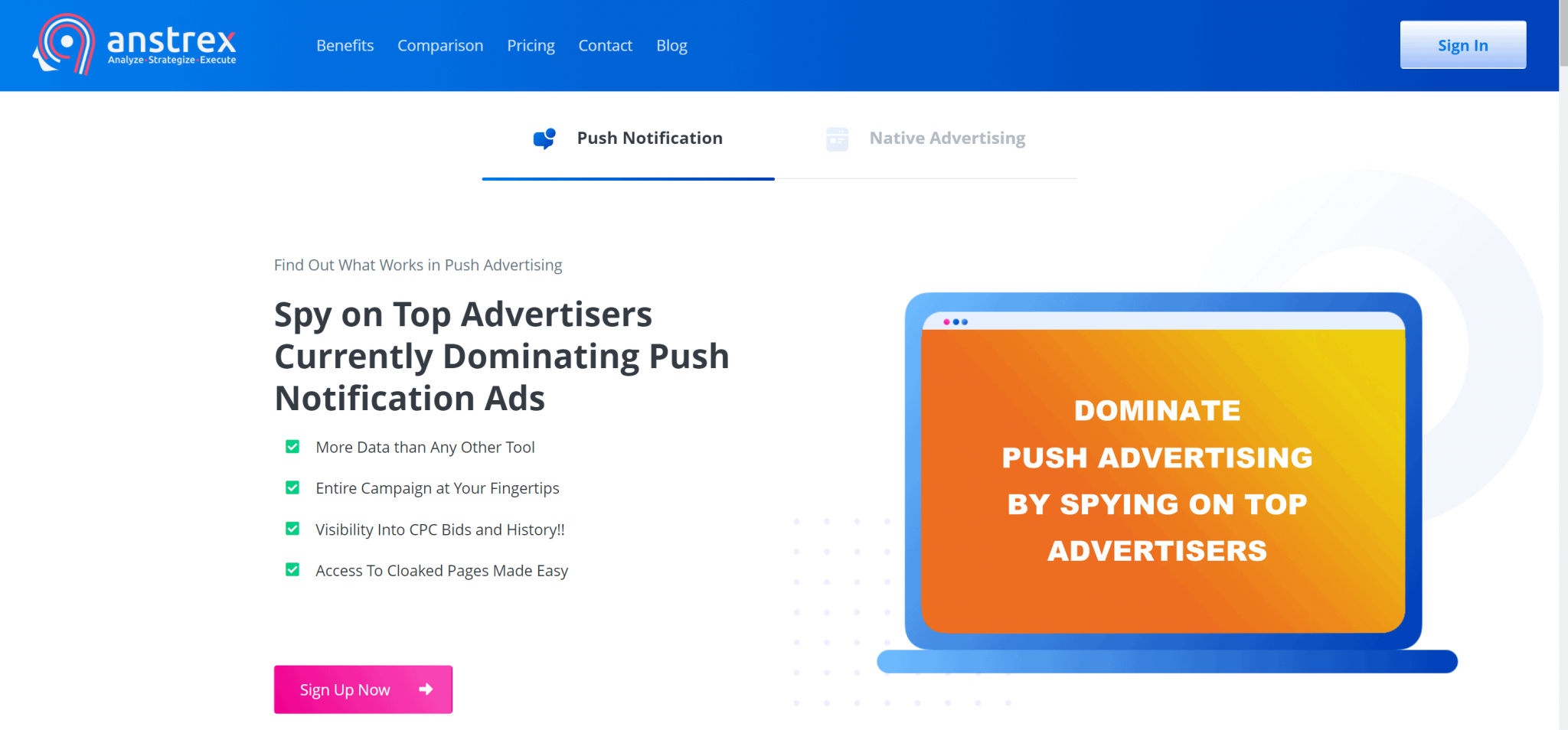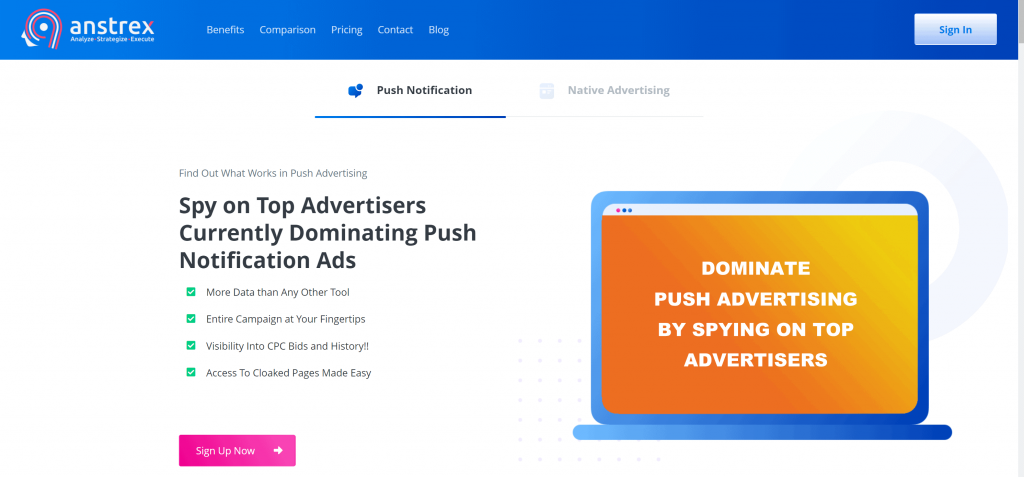 Native advertising and Ad Spy tools
Native Advertising is where advertisers start contacting you directly once your business boosts and becomes successful, trusting that running an ad campaign with your brand will fetch them profits. Thus, they will approach offer advertisement plans and options for you were no mediator platforms like Adsense or Chitika or involved.
A native advertisement is a difficult task since a native advertiser needs to understand the audience the techniques used by successful and competitors and know their deepest secrets. This involves analyzing and figuring out the ad campaign successful ad campaigns and strategies your competitors use. This is done with the help of an Ad Spy tool.
So in this post I will brief you about a fast growing and popular Ad spy tool cum Native advertising tool called Anstrex, which will help you achieve the above objectives.
Read the Anstrex review and find if its worth or not?
What is Anstrex?
Anstrex is an amazing native ad spy that helps you spy or trace the affiliate campaigns of competitors in your niche. The platform boasts of powerful Anstrex monitors that offer 200 networks which helps spying on the campaign strategies your rival brands employ. You can analyze entire campaigns from competitors in your niche and plan your ad campaigns accordingly to considerably improve your ROI.
This platform has been designed to allow users to get access to profitable competitor data with more than 58000 advertisers from 27 native ad networks covering fifteen countries, allowing you to boom your business by giving you information on what ads are needed to get people's attention.
Anstrex is also fully integrated with Alexa and SimilarWeb integrations which get you complete access to the sources of clicks your competitors get thus helping you understand their demographics which will potentially help you shape your demographics, saving you some valuable time and money.
Features and functionalities
Here's a quick overview of some of the most important and powerful features of Anstrex that will help make your ad campaign more productive and profitable.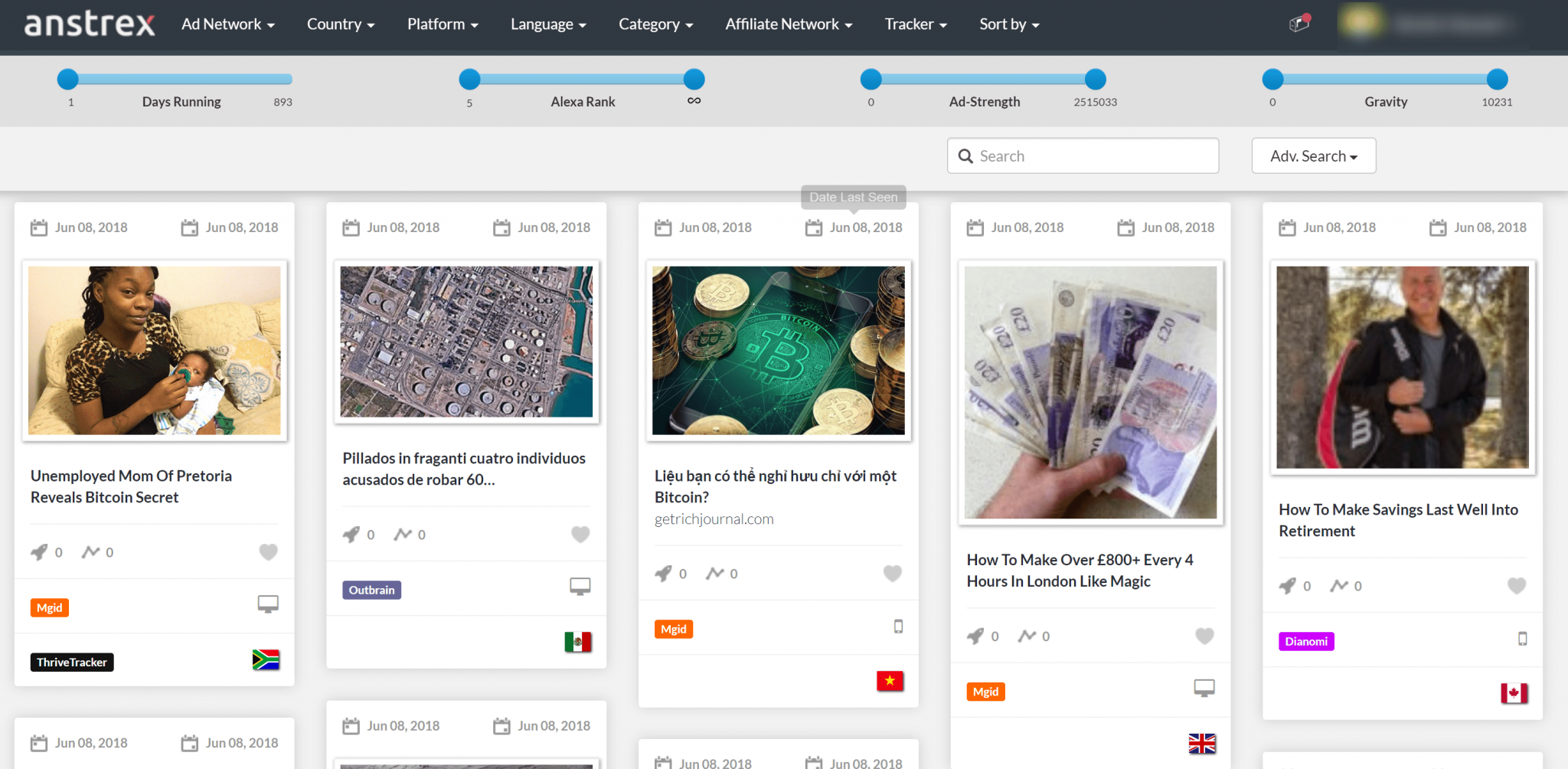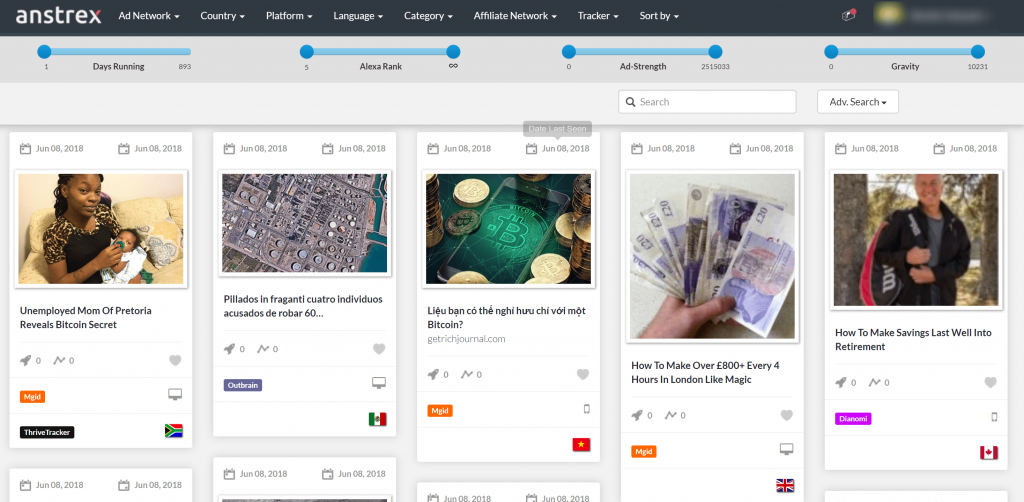 Enjoy a clean and easy to use interface that is ideal for anyone to use. Navigate through a well-organized dashboard that provides you all the necessary tools and options right at your fingertips.
Use the smart and slick server to quickly deploy from their huge gallery of high converting landing pages on your server. You can also build your own landing pages.
Maximize your advertising returns by sneaking into and studying all kinds of native ads that other advertisers run on native ad platforms.
Improve and integrate your ad campaign by exploring new niches and can collect competitive intelligence data. Also get access to vital information like how long the ad was running, on how many platforms the ads have been running, and more.
Get over six million up-to-date advertisements at your fingertips, save a good amount of time by studying valuable insights about how to improve the ads you already have on your website.
Filter your search by ad network, country, platform, language, category, ad strength, affiliate network, and more using Anstrex superior search and filter capabilities.
Coverage and support
Anstrex has ad networks in 31 countries and has a considerable lead over its competitors in this aspect. Arch rivals like Adplexity that have a good coverage with 27 countries falls behind of Anstrex in its volume and diversity of ads.
Numerous marketing gurus and entrepreneurs have stated that Anstrex gives the most reliable assessment of native ad situations and work perfectly for your big business as you will have of such a giant and updated competitor database at your fingertips.
Anstrex has the most favorable feedback of any spy tool you can find in the market. Apart from the usual and supportive customer support team, Anstrex also has its own private forum consisting of an overwhelming community of "Anstrex power users". Furthermore, the tool comes fully integrated with Alexa and Similar Web and also offers the facility to sort the ads by Alexa rank right inside Anstrex!
Anstrex vs Other Ad Spy tools
Anstrex helps you to build campaigns by studying what works for others in the business getting you access to all the necessary information and then helping you choose the perfect ad campaign for your brand. Anstrex has 27 advertisement networks compared to just 7, 10 and 13 of Adplexity, Native AD Buzz and Advault respectively. This one phenomenon gives Anstrex a big edge over its competitor spy tools.
Anstrex users get access to 10 million plus ads spanning across the 27 ad networks. This figure is much more than some of its biggest competitors in the market who offer 5 million, 8 million or even 700k ads.
When it comes to pricing, Anstrex subscriptions range between $40 to $60 a month which is incredibly cheaper than its rival platforms like Native Ad Buzz which itself costs $97 a month at the least. Even other big competitors Advault and Adplexity cost $250 a month.
Plans and pricing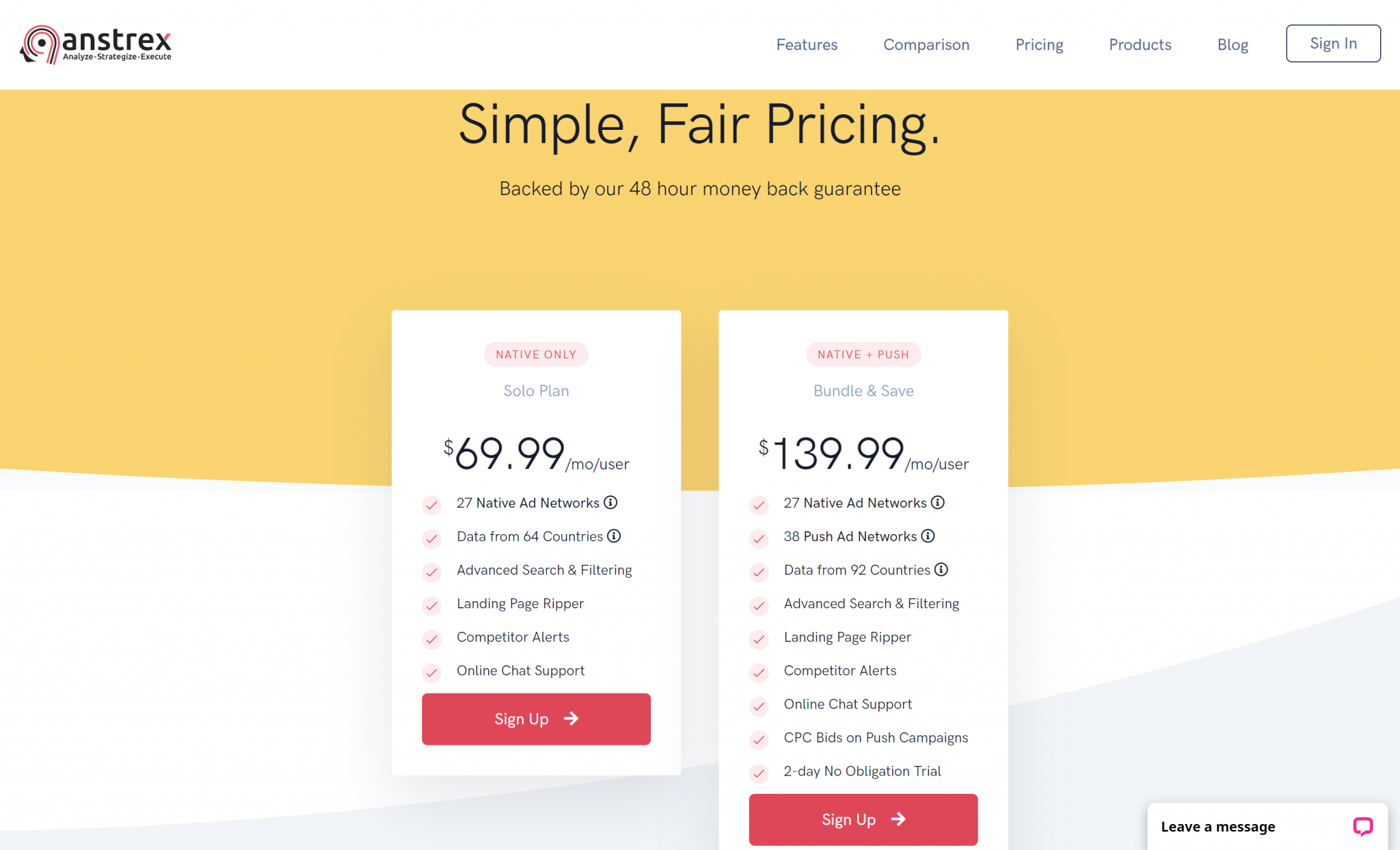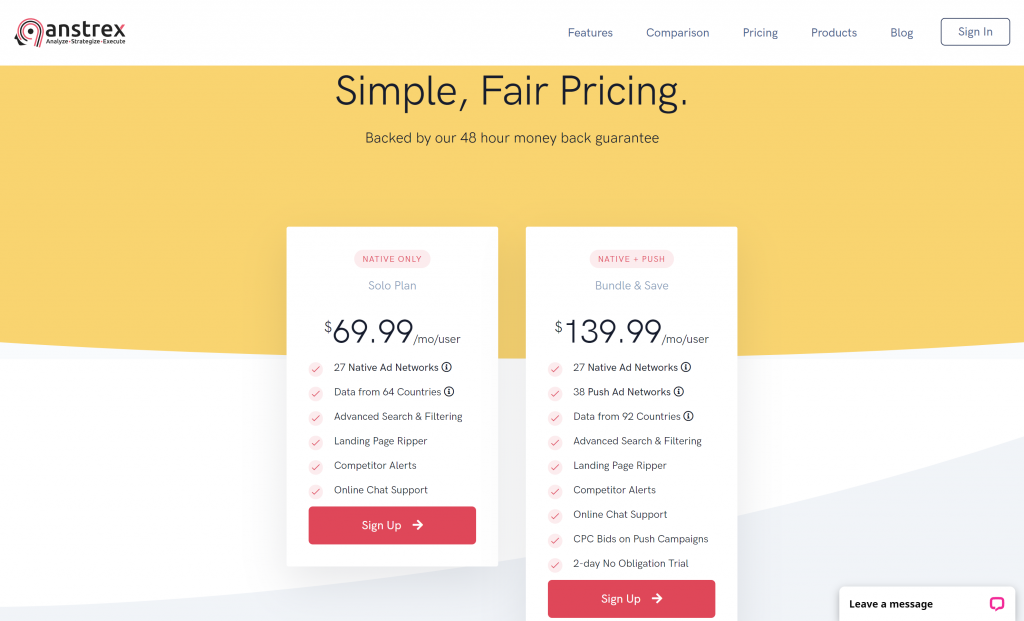 Everything mentioned earlier comes at a price which you might expect to be high but is actually pretty cheaper than what other ad spy tools have to offer. Priced in the range of $39.99 to $59.99 per month, Anstrex offers one of the most cost effective features in its class.
| | | | |
| --- | --- | --- | --- |
|   | STANDARD | CUSTOM | ULTIMATE |
| Price | $39.99 | $49.99 | $59.99 |
| Ad networks | 2 | 2 | 20 |
| Countries | 1 | 1 | 31 |
| Private forum access | Yes | Yes | Yes |
| Online support | No | No | Yes |
| 2-day No Obligation Trial Period | No | No | Yes |
| Unlimited Alerts | No | No | Yes |
| Affiliate Network filters | No | No | Yes |
| Affiliate offer wall | No | No | Yes |
| All countries | No | No | Yes |
| Adv. Boolean searching | No | No | Yes |
| LanderBolt integration | No | No | Yes |
Users also get to access all the Ultimate plan features by trying a 100% Risk-Free trial for two full days. So in case you are not sure whether their service is worth your money, convince yourself by spending 2 days playing with their features and decide what to do next.
Visit their official website https://www.anstrex.com to learn more about their additional features, benefits and comparison with other tools of the same kind.