Using the following comparison would give a quick overview of the similarities and differences between the two platforms:
While Babbel is slightly cheaper and includes English explanations and translations, Rosetta Stone focuses almost exclusively on your target language. Rosetta Stone uses more individual sentences, while Babbel uses longer dialogues.
Each platform offers well-structured lessons that build on each other but can be repetitive. Both platforms have unreliable voice recognition software. Several languages can be taught, but not many cultures can be taught.
I would prefer and recommend Babbel if I had to choose between these two options.
Babbel Vs Rosetta Stone 2023– Learn New Language
Let's have an overview of these platforms first.
What is Babbel?
It offers 14 languages in its paid language learning app, Babbel. With Babbel, you can practice basic language skills for beginners, such as grammar, vocabulary, and phrases.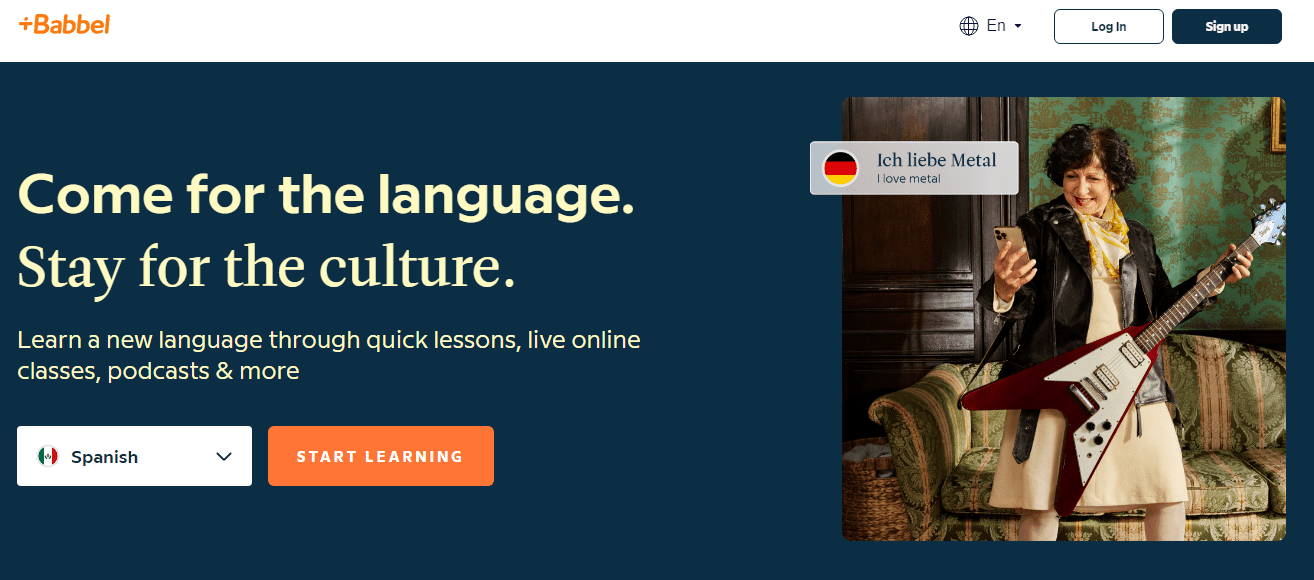 Users know the paid application to be cheaper than Rosetta Stone, which can cost more than $400 a year, compared to Babbel's $80-150 price tag. Berlin-based Babbel was founded in 2004.
What is Rosetta Stone?
Also available via desktop, tablet, and mobile devices, Rosetta Stone is a paid instructional program.
From a branding perspective, it's the more well-known name in the English-speaking world since it has been around for so long (back in CD-Rom days!). In 1992, a US entrepreneur founded a brand based on Egyptian hieroglyphics.
How Rosetta Stone Works?
1. Take a look at their interactive demonstration
Rosetta Stone's onboarding process seems to be less transparent than Babbel's. They offer a free interactive demo with four free lessons so you can see how the lessons work. The user experience appears to be similar to Babbel's at first glance.
2. Subscriptions are available on CD-ROM or online
There are two types of Rosetta Stone software: a CD-ROM version that can be downloaded instantly and a subscription service that expires once you cancel it. Online subscription products seem relatively new, considering the evolution of technology in recent years.
In both options, there are advantages and disadvantages. CD-Rom licenses may be kept forever, and 5 users are allowed. The mobile app and games & activities features are only available for a 3-month trial.
3. Upgrade to a Pricing Plan
Rosetta Stone's cloud version is likely to interest most people. Let's explore its pricing. Rosetta Stone's pricing structure requires separate subscriptions for each language, similar to Babbel's.
They have identical prices for all languages but are approximately twice as expensive as Babbel. Rosetta Stone may have better brand recognition and invested more into their curriculum and technology, but the choice is yours.
4. Business Model
Additionally, Rosetta Stone and Babbel have slightly different business models. Since Rosetta Stone started offering subscriptions, however, the trend has shifted. In addition to their standard model, Rosetta Stone offers a version that can be downloaded instantly.
The prices for Rosetta Stone on CD-ROM are as follows:
Level 1: $179

2 levels: $279

3 levels: $379

Full 5 levels: $479
The time required to complete each level can certainly add up since Rosetta Stone estimates it takes around 40-50 hours per level.
If you choose to purchase these separately after completing the very basic beginner level in a month, you will have to invest another $179.
5. Specialty
In both apps, the focus is on teaching basic vocabulary and grammar rules. Babble claims to help you with conversation skills more than Duolingo. Rosetta Stone offers live tutoring as an upsell for those wishing to book private video lessons.
Babbel Vs Rosetta Stone: Cost Comparison
Finally, before we conclude, let's look at pricing and affordability because that's always a critical deciding factor.
Both companies offer several subscription options.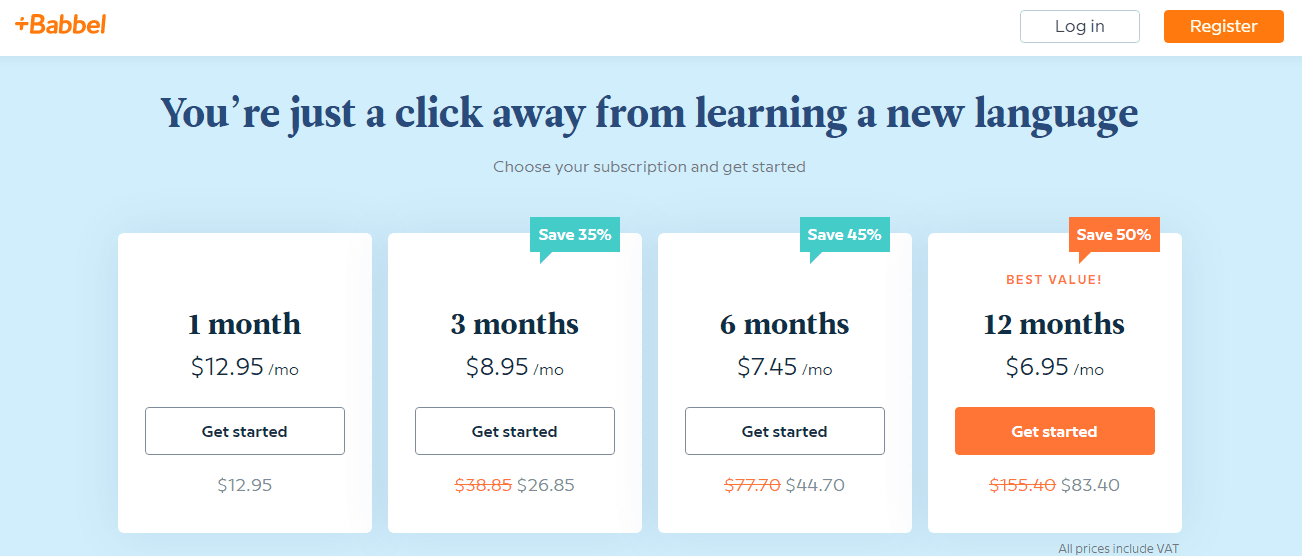 Babbel offers four different subscription plans, each including access to one language (of 15 available). These plans include $ 14/month for the monthly plan.
The three-month plan (ten dollars per month, or thirty dollars total), the Plan for six months ($8.50 a month, or $50 a year), and The 12-month plan ($7 per month, or $83 total).
Unlike Rosetta Stone, however, you can subscribe for three months, 12 months, or the rest of your life. Compared to the 3- and 12-month plans, the lifetime plan provides access to all 25 Rosetta Stone languages.
The prices for those are as follows: The 3-month plan ($12 per month, for a total of $36) costs $8 per month ($96 total) for the 12-month plan lifetime plan (costs about $180).
Here, you can see that both companies have very similar pricing. They are almost tied. In a technical sense, Rosetta Stone is still ahead of Babbel. On average, their monthly plans cost $1 to $2 less.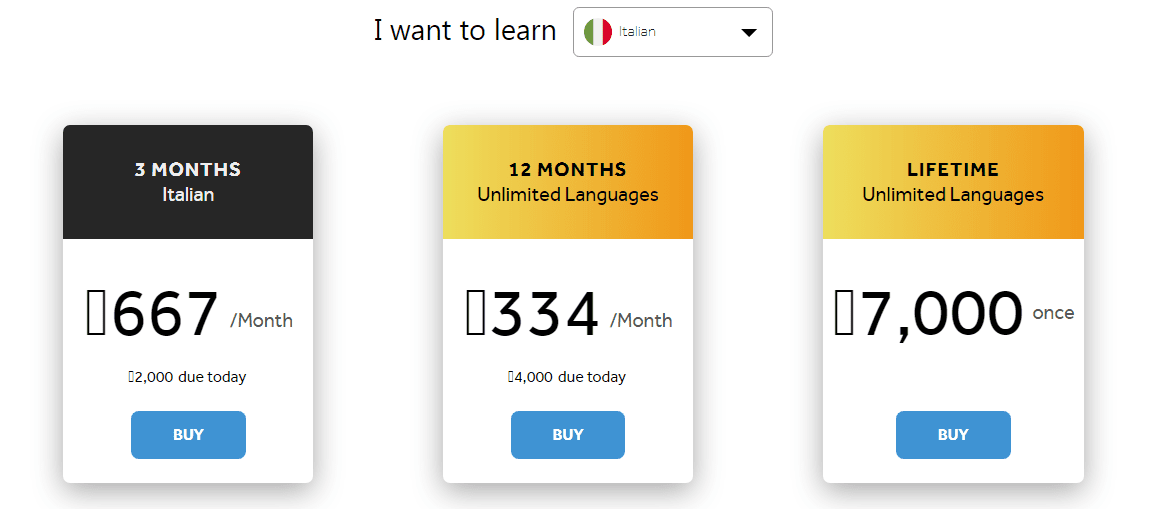 Additionally, companies provide consumers with the opportunity to test out their products before making a full commitment. Babbel has a 20-day money-back guarantee if you aren't satisfied with its service. Rosetta Stone offers a free 3-day trial and a 30-day money-back guarantee.
Quick Links:
Final Thoughts: Babbel Vs Rosetta Stone 2023
Even though Babbel and Rosetta Stone are two of the most popular language-learning resources available, neither is remarkable, nor would I recommend them to a new student.
I would choose Babbel if I had to choose. The price is slightly lower, but the lessons are more varied.
Since they include grammar explanations in English, you will be less anxious and less likely to make mistakes.
Nonetheless, I recommend exploring what else is available in the language you're learning before choosing either of these courses using the links below.