In this post, we are going to share the pros and cons of having an RSS feed on your website. What are the advantages of RSS feeds?
If you already have a blog, most likely you have an RSS feed. But you may not be aware of how an RSS feed can be useful and some of the benefits that comes along with it.
In this post, I will explain what an RSS feed is and why all bloggers need one.
Tip: If you are not sure whether you have an RSS feed or not, try to find out from your hosting company or provider. You can also check what features your blog comes with in your admin panel or dashboard.
Once you have found your RSS feed, make sure that you go to Feedburner-a free service by Google– and copy and paste your RSS feed to set it up. This process is called burning.
What is an RSS Feed?
RSS is short for real site summary frequently called really simple syndication is a system that is used by bloggers who need to update their sites from time to time so that they can get more visitors to their blogs or websites.
RSS feeds benefits both bloggers and its blog readers in a various ways.
What are the benefits of having an RSS Feed?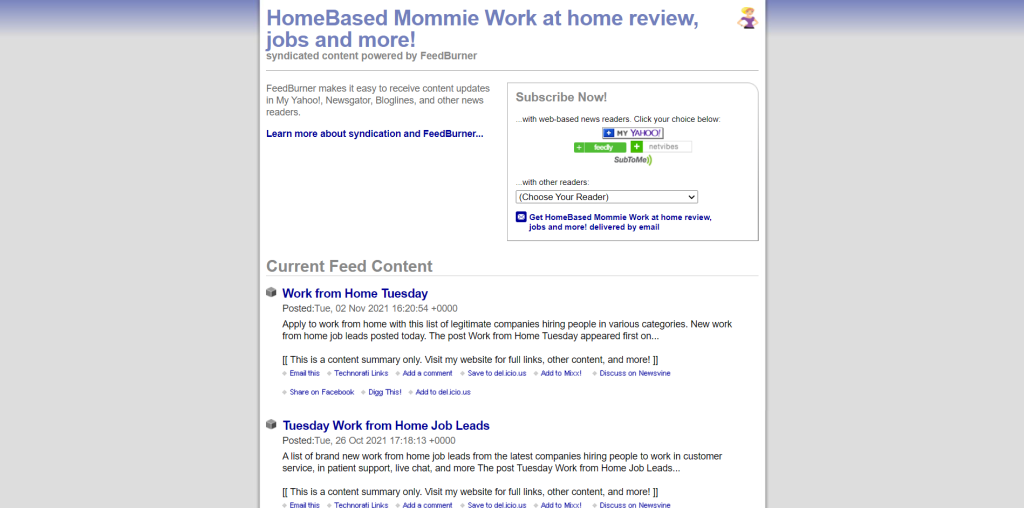 First it can help to increase the amount of money that will earn from the blogging activities they carry out. Why is this so?
Because the blog owner(s) will get more traffic to their blog or website because the RSS feed will help to spread your content all around the web. The RSS feed also enables bloggers or content creators who publish information on their blogs to put data in a form in which it can be easily read from the sites.
This is also compatible with a lot of machinery and devices that the people who visit the site may use.
The more a person finds easily understandable information on a blog site, the more he or she will be willing to visit the site again for more information and this will help to increase the amount of revenue that the owner of the blog site can stand to earn in the process.
Pros & Cons for RSS Feeds
Pros: 
It saves you time.
They will update automatically.
RSS feeds are usually spam free.
RSS subscribers have flexibility and choice for Opt-In.
It is fairly easy to unsubscribe from the RSS feed.
It gives you opportunity to provide an alternative communication channel for your business.
It has been found that RSS feeds can also provide backlinks to your original website.
RSS feeds also increase productivity by allowing people to scan through posts and headlines quickly.
Cons: 
Content Can Easily Be Copied
Tracking your subscriber is difficult.
You can't find the original source sometimes.
Why do I want my readers to subscribe to my RSS Feed?
Subscribing to the RSS feed gives the visitor or blog reader the option to obtain new content and information from the site without having to constantly check it for updates.

The browser will assist them and inform the user of any recent updates that are available in the site. The RSS reader provides the data to the users who use different devices in the best form that they would want to have them. This is a software that has been proved to be very effective in increasing the overall number of people visiting the blog sites that use them.
If you have a Blogger, WordPress or other blog, make sure that you enable your RSS feed to include a follow me or subscribe button that is visible on your blog or website (preferably on the homepage) to make it easy for your fans and blog visitors to subscribe to. Your RSS feed button will look like this orange square button to the right.
The manner in which the software presents data to the end user is also very appealing, and this makes the readers look forward to reading each and every article that is posted on the sites that they visit.
The quality of information and the manner in which it is presented to the final user is very important as this will give him or her certain impression about the site that he or she has visited. That is why it is very important that you create quality content for your blog readers.
When you do this, they will be repeat visitors to your blog or website and the RSS feed makes it much easier for them to get the latest content from you in a timely manner.