Are you looking for the best Amazon FBA courses to take in 2023? If so, you've come to the right place.
In this blog post, we are going to dive deep into the world of Amazon FBA and highlight some of the top-tier training programs being offered today.
We de-mystify what it takes to succeed with an Amazon course; discussing key topics such as how long an individual needs to dedicate themselves and which course is most suited for them based on their current knowledge or skill set.
We will discuss all aspects including free courses, paid courses, self-paced learning options etc., along with unique strategies and tips on making your entry into the world smooth and stress-free.
With our extensive research and ratings you'll have the information needed to make an informed choice about which program works best for you!
Which Amazon FBA Course Is Worth Buying?
1. Freedom Ticket by Helium 10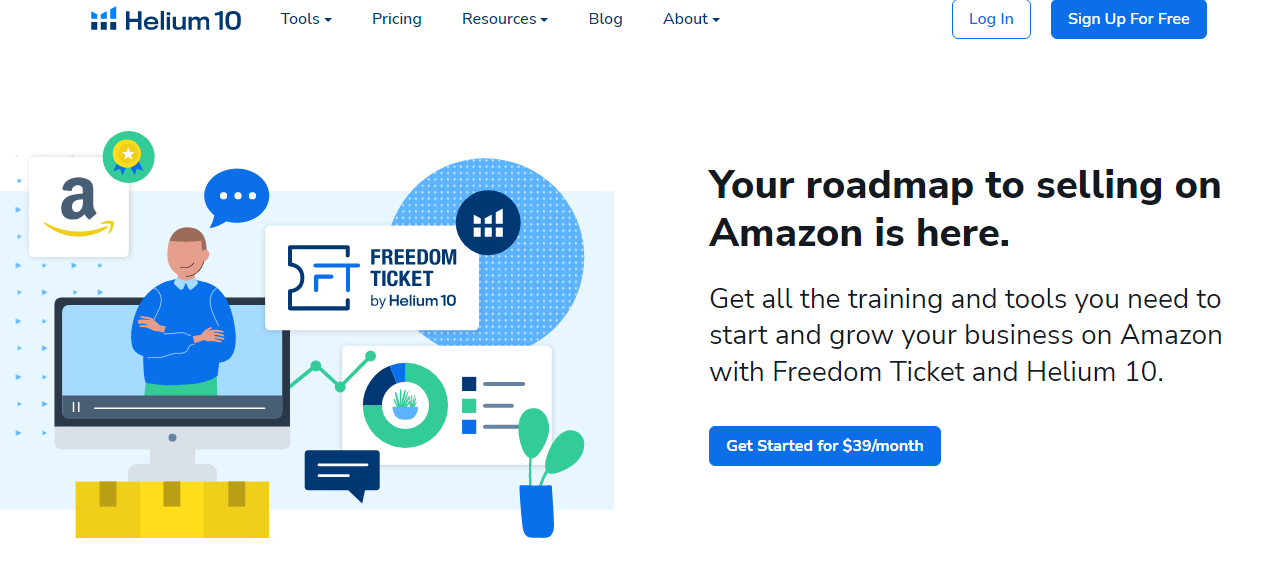 Freedom Ticket by Helium 10 is an online course, created in 2022, aimed at helping Amazon FBA sellers master their business.
It includes over 40+ video tutorials that walk users through the process of setting up and optimizing their Amazon FBA business. The course is broken down into three categories – start-up, scaling, and optimization. 
In the start-up category, users learn how to obtain a professional seller account, list their products on Amazon, create product listings with great copywriting and images, manage inventory efficiently, set up pricing strategies that work for their business model, increase visibility with PPC campaigns and boost profitability with A/B testing. 
The second category focuses on scaling the Amazon FBA business.
Topics covered include ways to find new products to add to their store, ways to increase sales via split testing & dynamic pricing strategies, driving more organic traffic with SEO principles & content marketing tactics as well as learning how to use automated tools such as helium 10's Xray tool & data analytics software such as Jungle Scout. 
The third category aims to help users optimize their operations which includes topics such as:
streamlining operations using automated rules & order processing systems;

creating engaging emails for customers;

automating customer service tasks;

understanding & optimizing supply chain processes;

learning about different tax laws applicable in different countries;

and leveraging Amazon's branding services including sponsored ads & private label options. 
The course also covers advanced topics such as:
building a sales funnel through targeted email campaigns & remarketing efforts;

creating an effective system for managing customer returns;

developing an efficient logistics setup;

promotion strategies such as influencer marketing and cross-selling techniques;

using reviews from customers effectively to maximize conversions and finally understanding how AI can be used for optimizing everything from product descriptions to pricing models.  
Overall Freedom Ticket by Helium 10 provides users a comprehensive training program that helps them setup and successfully run their own Amazon FBA business in 2021.
The courses are delivered in easy-to understand step-by-step video tutorials that allow users at all levels of experience gain a deep understanding of different aspects of running an online store successfully on Amazon.
2. Amazing Selling Machine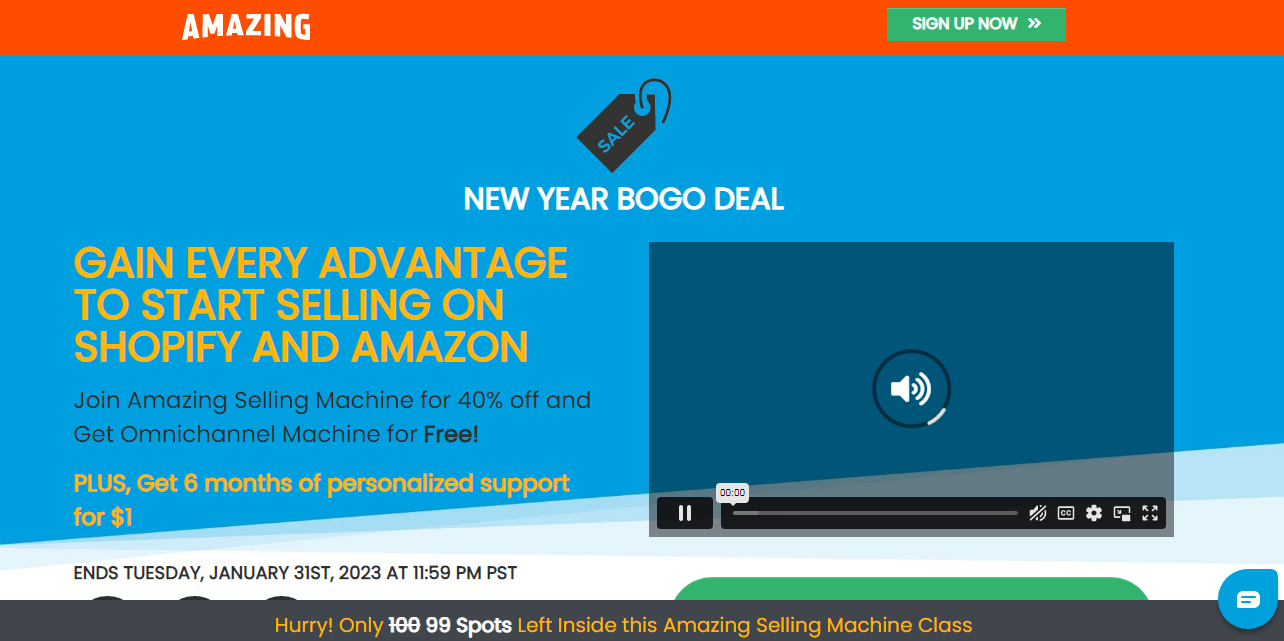 Amazing Selling Machine (ASM) is an Amazon FBA course created by Matt Clark and Jason Katzenback that teaches aspiring entrepreneurs how to start a successful business selling physical products on Amazon.
The course is designed to help beginners learn the basics of launching an e-commerce business, such as how to find profitable product ideas, source suppliers, create compelling listings, win the Buy Box, generate sales and reviews, scale their business to new heights, and more.
The ASM has been around since 2012 and has become one of the most popular Amazon FBA courses in 2022.
It's highly sought after because it provides step-by-step tutorials that make it easy for anyone to get started with Amazon FBA quickly.
The course covers everything from research and sourcing suppliers to setting up listings on Amazon and advertising products.
There are also weekly Q&As with successful ASM members who can help answer any questions people may have along the way. 
The Amazing Selling Machine is made up of 8 components:
Product Selection,

Supplier Selection,

Listing Creation & Optimization,

Launch Strategies & Tactics,

Brand Building & Sales Accelerators Strategies,

PPC Management & Ad Copy Strategies,

Scaling & Automation Strategies and Business Sustainability

&

Expansion Tactics.
Each component is taught in detail so students understand all aspects of starting an online business and can implement them easily.
In addition to providing comprehensive training materials for each module within the course, Amazing Selling Machine also offers access to a private Facebook group where students can ask questions and get advice from other successfully entrepreneurs who have used the program to start their own businesses.
Furthermore, ASM provides access to additional resources such as webinars and podcasts hosted by ASM experts so students can stay up-to-date with latest industry trends and strategies for success. 
The cost of joining Amazing Selling Machine starts at $3997 USD upfront or 3 payments of $1497 USD over 3 months plus a 30 day money back guarantee if you're not completely satisfied with your purchase.
With this investment comes ongoing support from Matt Clark himself as well as access to lifetime updates which come included in your membership fee. 
For those looking for an accelerated path towards entrepreneurship through Amazon FBA success then Amazing Selling Machine is definitely worth considering in 2023!
3. Freedom Builder Bootcamp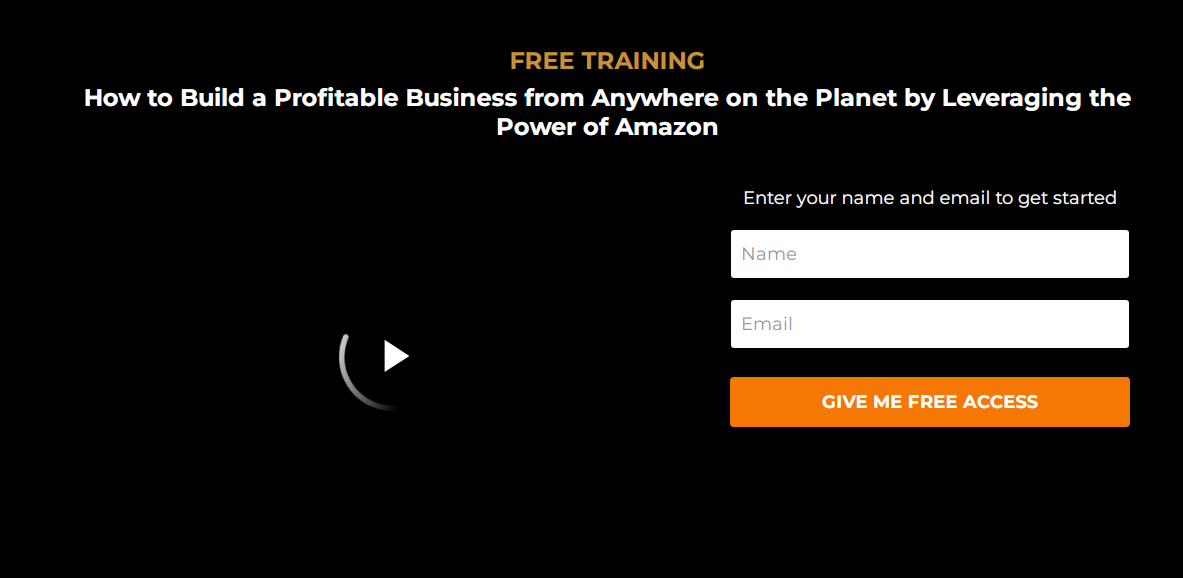 Freedom Builder Bootcamp is a comprehensive Amazon FBA course that helps aspiring entrepreneurs and business owners launch their own e-commerce businesses.
Developed by Brad and Jeff, two experienced Amazon FBA experts, the course covers everything from setting up an account to finding profitable product listings.
The Freedom Builder Bootcamp course modules cover topics such as creating a listing, optimizing for search rankings, setting up fulfillment centers, and more.
The instructors also provide expert advice on utilizing tools like Jungle Scout or Helium 10 for product research, estimating profit margins, dealing with customer inquiries and refunds, and many other strategies to help grow your business.
In addition to detailed video lectures and resources, the program includes one-on-one mentorship sessions with experienced professionals who can guide you through every step of your journey.
You'll also gain access to a private community of members who share their experiences and best practices as well as personal branding tips.
With the Freedom Builder Bootcamp course in hand, you'll have all the knowledge you need to start building your own Amazon FBA empire successfully.
All of the information is presented in an easy-to-follow format that allows even novice sellers to quickly grasp concepts and apply them immediately.
And if at any point you get stuck or need additional help along the way, don't worry: Brad and Jeff are always there to lend support!
4. Marketplace Superhero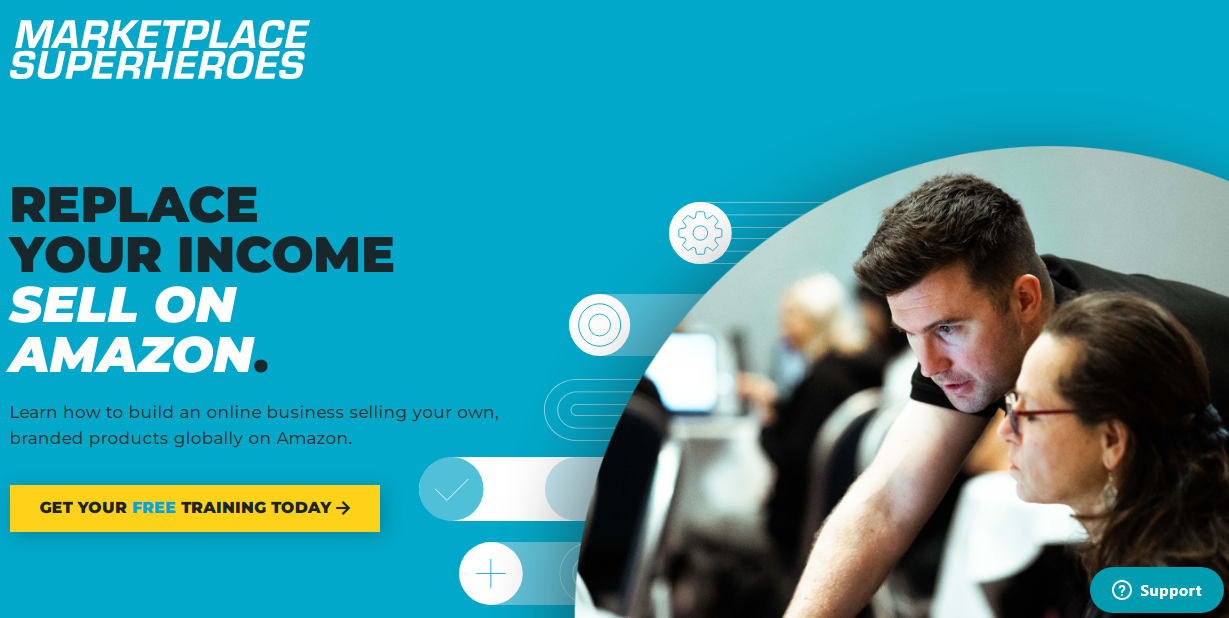 Marketplace Superhero is one of the most comprehensive Amazon FBA courses available in 2023.
It is designed to help aspiring entrepreneurs and small business owners start and scale their own ecommerce business with Amazon FBA (Fulfillment by Amazon).
The course teaches you everything you need to know in order to launch, manage and grow a successful Amazon FBA business.
The course features more than 15 hours of video content which covers topics ranging from setting up product listings, optimizing your listings for maximum visibility, understanding legal requirements like taxes, trademarks and copyrights, negotiating supplier contracts and much more. 
Additionally, the course includes comprehensive resource materials such as lectures and step-by-step instructions about selling on Amazon, creating a brand identity for your business, sourcing products from overseas suppliers as well as how to select winning products that will sell. 
The instructors behind Marketplace Superhero are experienced Amazon sellers who have sold millions of dollars' worth of products on the platform over the past 5 years.
They understand what it takes to succeed in today's competitive ecommerce landscape and offer invaluable advice based on their experiences. 
Perhaps one of the greatest benefits of taking this course is that you can take advantage of the instructor's lifetime mentorship program where they will provide personalized support throughout your journey in building a profitable ecommerce empire.
This includes regular check-ins with an assigned mentor every month to discuss progress and review any issues or challenges you may be facing while running your business. 
In addition to providing world class instruction, Marketplace Superhero also offers powerful tools like product research software to help sellers identify high potential items quickly as well as optimize existing listings for top rankings on Google & Amazon search results pages.
These tools combined with their expert instruction make this one of the best Amazon FBA courses available in 2023. 
If you are looking for a comprehensive guide to launching and scaling an ecommerce business with Amazon FBA then look no further than Marketplace Superhero – it offers an all-in-one solution for those seeking success!
Quick Links:
Conclusion: Which Amazon FBA Course Is Worth Buying in 2023
So that's everything we think you should know about the best Amazon FBA courses of 2023. We hope this guide has been helpful in steering you towards a course that will help you take your business to the next level.
Remember, no matter which course you choose, commitment and dedication are key ingredients for success on Amazon. Enroll in a course today and get started on your journey to becoming an Amazon success story!