Looking for the best Canva alternatives? Read this article further to find out.
Canva has become one of the top graphic design tools online. And for good reason, it's a great tool! Allowing even non-graphic designers like me to create beautiful designs on the fly with their pre-made templates.
They have over 8,000+ templates to help you with almost any design project. Whether you're creating images for social media or your next PowerPoint presentation.
Canva has a huge library of templates for Facebook, Instagram, Pinterest, Twitter, YouTube, LinkedIn, and Tumblr. You can also create ebooks, PowerPoint presentations, infographics, banners, Facebook ads, logos, worksheets, planners, and checklists.
But it's not just for business. They also have some fun templates for bookmarks, desktop wallpapers, t-shirts, invitations, calendars, recipe cards, and more.
The possibilities are endless. Every time I log in I find new and inspiring designs.
But Canva is no longer the only tool for creating gorgeous designs on the fly.
There are lots of Canva alternatives that will help you create a fresh new look for your next blog post, social media update, or banner ad.
Here are a few of my favorites and when you might choose them over Canva.
Best Canva Alternatives for 2023: Which is My Best Choice?
1. Stencil
With Stencil, you get access to over 2.2 million royalty-free photos, over 2 million icons and graphics, and 850+ templates.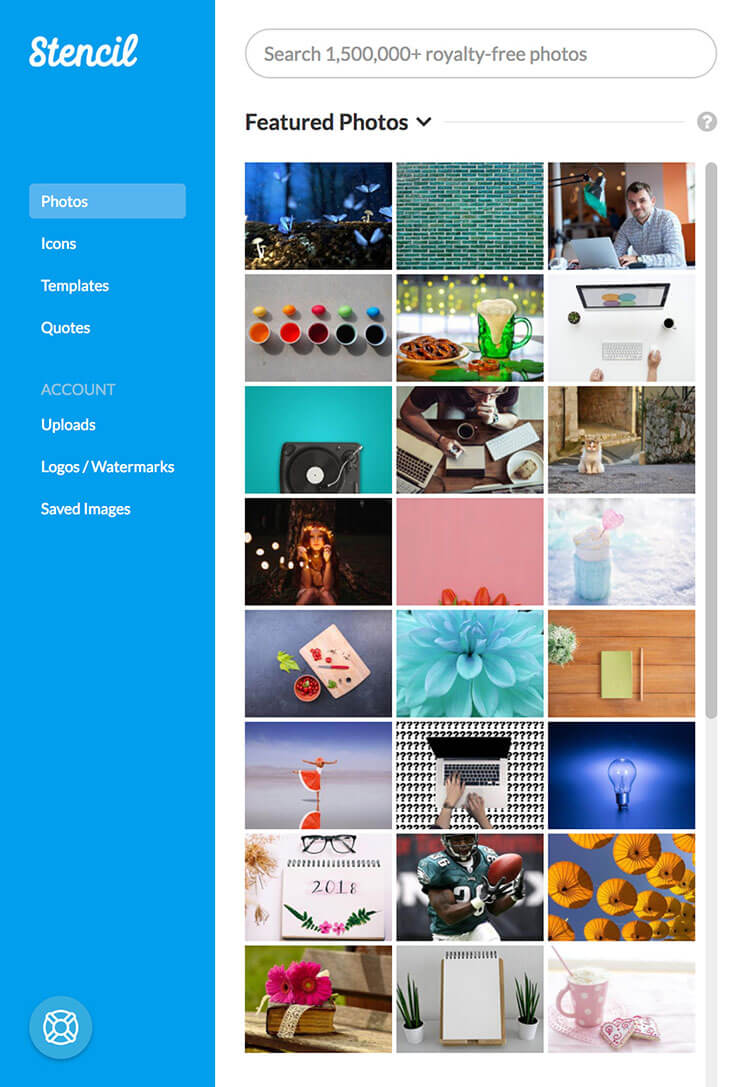 What's unique about Stencil is that it's designed for speed. Their focus is on helping you create all the graphics you need as quickly as possible.
So instead of adding hundreds of features, they focus on helping you create designs ultra-fast.
They also allow you to quickly resize your image for each social media platform without having to recreate it from scratch.
So once you've created your blog post image, you can save it and resize it again for Facebook. Then save and repeat for Instagram. Save and repeat for Twitter.
I do love how Stencil has designed their platform for speed and efficiency.
Plus, you can also preview what you're image will look like on Facebook, Twitter, Pinterest, and Instagram. So you can see exactly what it's going to look like on any given social media site before you post.
I have to admit, this is a pretty cool feature. Once you have everything pixel-perfect, you can also share your post across all of your social media platforms with just a few clicks.
Again – it's designed for speed.
Stencil also comes with over 100,000 quotes that you can easily drop into your social media posts.
Major Differences: Live Social Media Preview Tool & Designed for speed.
The downside here is that the free plan is quite limited. You'll need to pay $15 per month or $9 per month (when paid annually) to get access to their full library of photos, templates, graphics, and more.
2. Snappa
Snappa is another intuitive graphic designer that's focused mainly on social media. Allowing you to create Facebook posts, Instagram stories, Pinterest pins, LinkedIn posts, Twitter posts, YouTube thumbnails, Facebook ads, and more.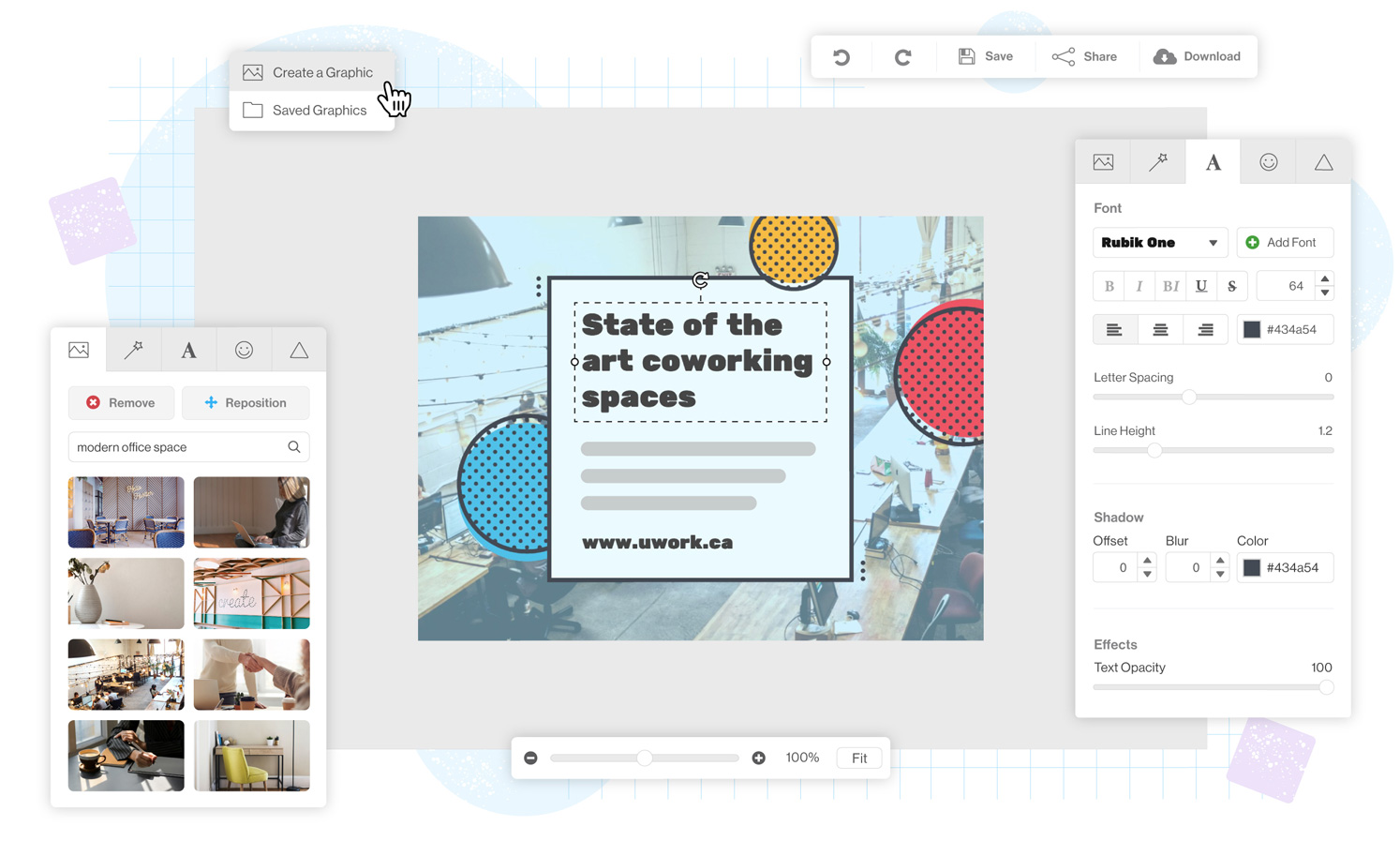 However, I have to say Canva and Stencil both have quite a few more templates than Snappa. And Snappa's free plan is quite limited. You can only download 3 images per month. After that, you have to upgrade to the pro plan.
With Canva, you can download as many graphics as you'd like every single month. On both the free and paid plans.
In my mind, Snappa just doesn't have enough unique selling points to pull me over. Especially not at the higher monthly price point.
3. Crello
Crello is a true Canva contender. With access to over 65 million images, 16,000+ templates, and 260 fonts.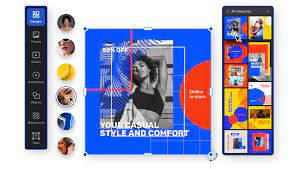 Their template collection is massive. https://crello.com/templates/ One of the few I've seen that rivals Canva. Crello can tackle ANY design project.
But what really makes Crello stand out is its extensive library of animated templates. They make it easy to create animated posts for social media. Which is a fun and simple way to get your content noticed on sites like Pinterest, Facebook, and Instagram.
Yes – Canva allows you to create animated graphics. But it's much more limited.
With Crello, you have a lot more creative freedom – plus a TON of built-in templates that allow you to create stunning animated graphics with ease.
This is one Canva alternative you don't want to ignore.
4. Easil
Easil is a drag-and-drop design tool with many of the same features that you'll find in Canva. 1,000's of pre-made templates. Favorites and folders. And the ability to resize images with just a few clicks. Allowing you to quickly create perfectly sized images for every social media platform.
Some of the key features that make Easil unique are:
Text Styling – Built-in text effects tool allows you to easily add shadows, glow or blur effects.
Text Masking – Add images to text with the Text Mask tool.
Animated Gifs – Animate text, graphics, and photos.
Magical color palette – Generate instant color palettes from your images. Colors and tones are automatically pulled in from your images so you can create branded images with ease.
I especially like their gorgeous templates.
5. Pablo, by Buffer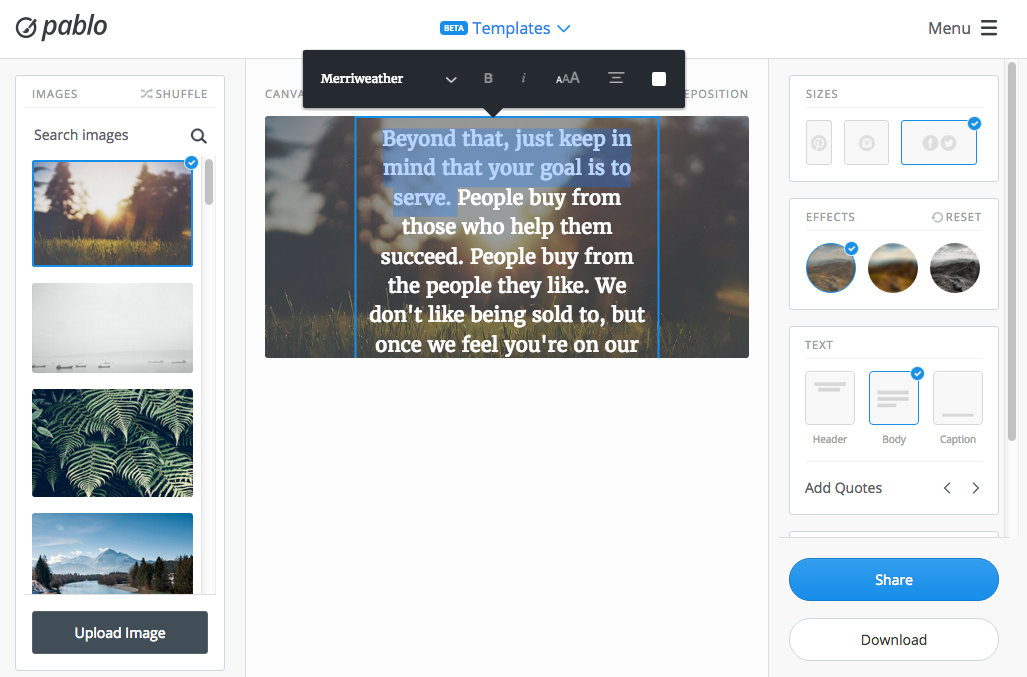 Pablo is by far the fastest and easiest way to create quote images for Facebook, Twitter, Instagram, and Pinterest.
Although it's a fairly simple tool, it works extremely well. Creating social media graphics with just a few clicks. You also get access to over 600,000+ images. Or upload your own.
If you're looking to create social media graphics in record time – Pablo is as good as it gets. Plus, it's free!
(This one surprised me.)
6. Adobe Spark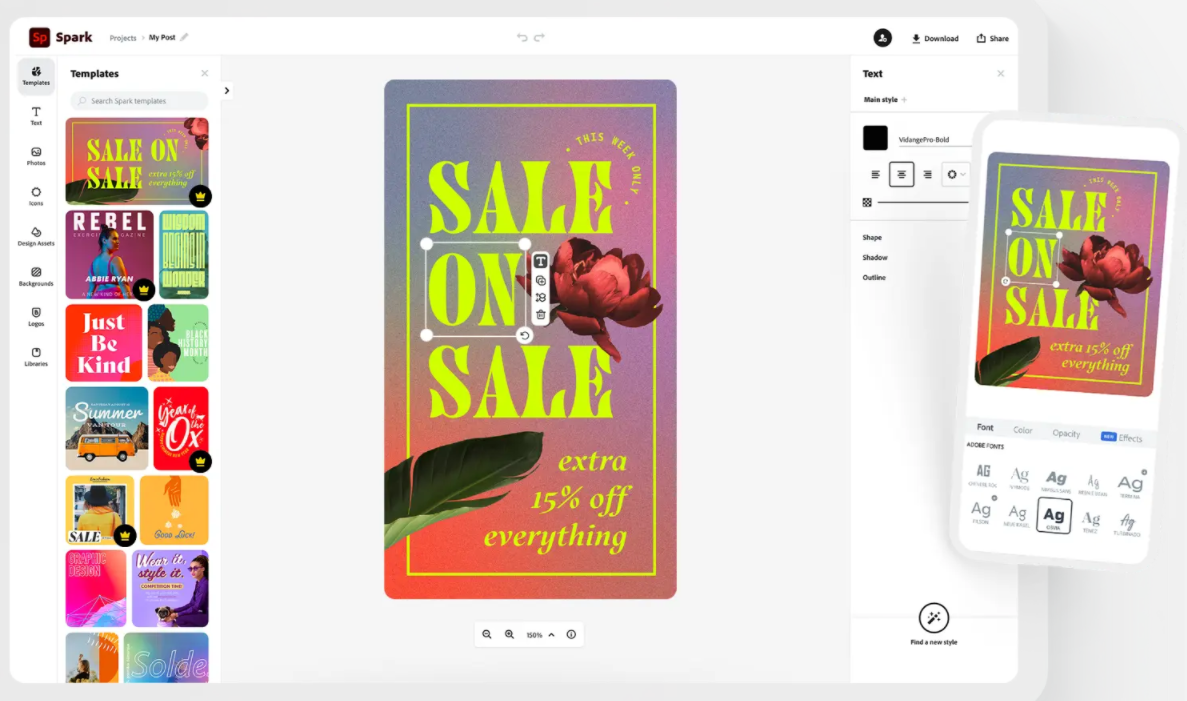 Adobe Spark was created by the same people as Photoshop, so you know it's going to be a great product. You get gorgeous designs WITHOUT the steep learning curve that comes with Photoshop.
Now, to be honest, I was secretly hoping I wouldn't like this one. I'm not a huge fan of Adobe products.
But… as soon as I started using Adobe Spark, it won me over. This one has some truly unique features that make it easy to fun, unique designs in a matter of minutes.
The interface is quite a bit different than the others we've reviewed here. But it's also very intuitive and easy to learn.
If you're looking for a Canva alternative that will spark your creativity, I would definitely give this one a go. They also have an app, allowing you to whip up designs straight from your phone.
7. DesignBold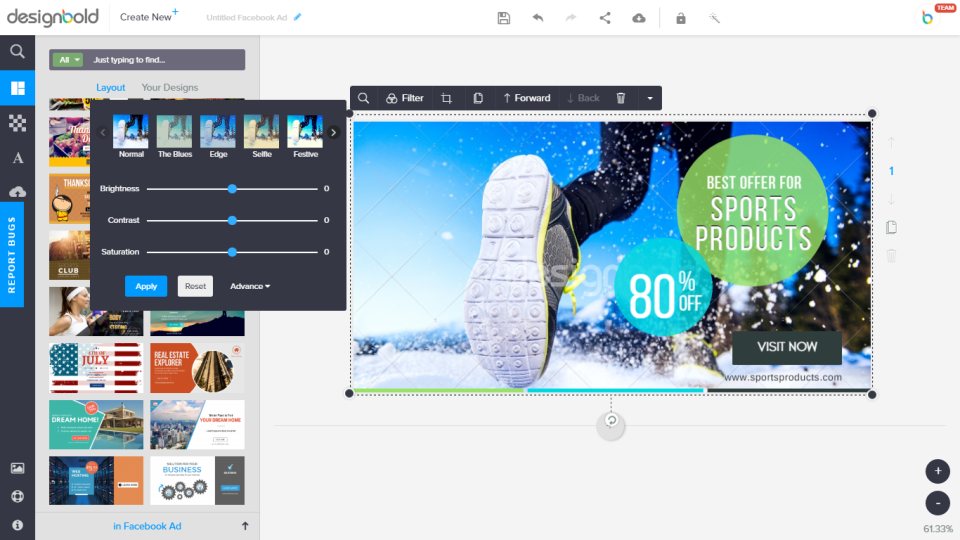 DesignBold is actually quite similar to Canva, with many of the same features and a wide variety of templates. If you're looking for some new designs/templates, give it a try.
One of the main differences between DesignBold and Canva is their pricing for premium stock photos. Canva's premium photos cost $1 each.
While DesignBold has partnered with DepositPhotos to offer premium stock photos for just $0.80 cents each.
8. Piktochart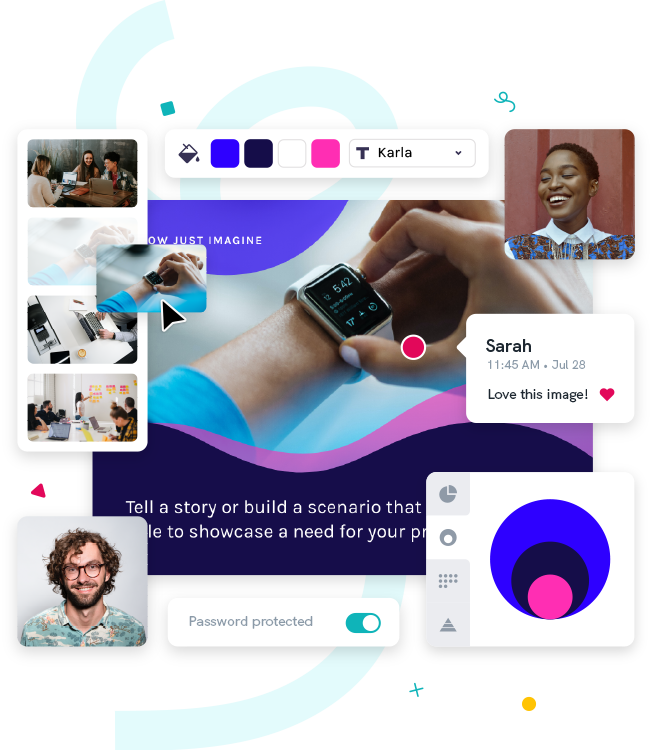 Want to create your own infographics in 30 minutes or less?
PiktoChart will help you turn your blog posts into engaging infographics that you can use to get more backlinks, traffic, and social media shares.
With 100's of beautiful pre-made templates, they make it easy for non-designers to turn their content into stunning infographics.
There's also a built-in chart tool that makes it easy to customize and visualize your own data. You can even upload data such as excel or CSV files. Or connect your Google Sheets. Converting your data into line graphs, pie charts, bar graphs, and more.
While Canva does have 136+ infographic templates, Piktochart was built specifically for creating infographics. Giving you more robust, specialized tools for creating data-driven projects.
Plus, they have a great collection of video tutorials to help you get started. Even if you have zero design skills like me.
9. Venngage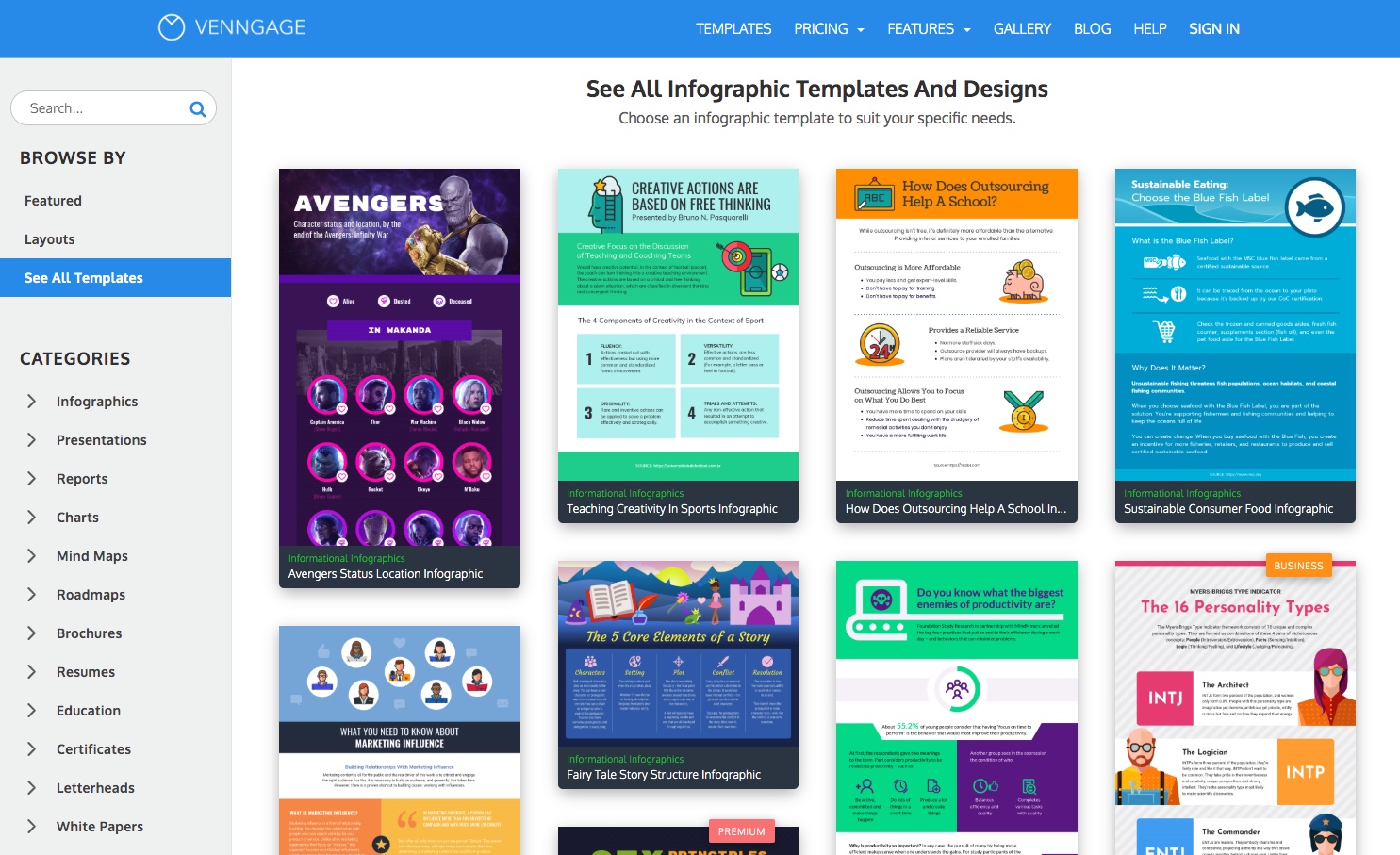 Another tool that specializes in creating infographics! Simply choose a template, add charts and visuals, and customize the design with your favorite fonts and colors.
Import data directly from your spreadsheets to create a wide variety of chart styles.
Line Chart Area Line Chart Pie Chart Bar Chart Scatter Plot Chart Bubble Chart Summary Stats And more!
With over 1,000+ infographic templates, you'll never be lost for inspiration!
10. Word Swag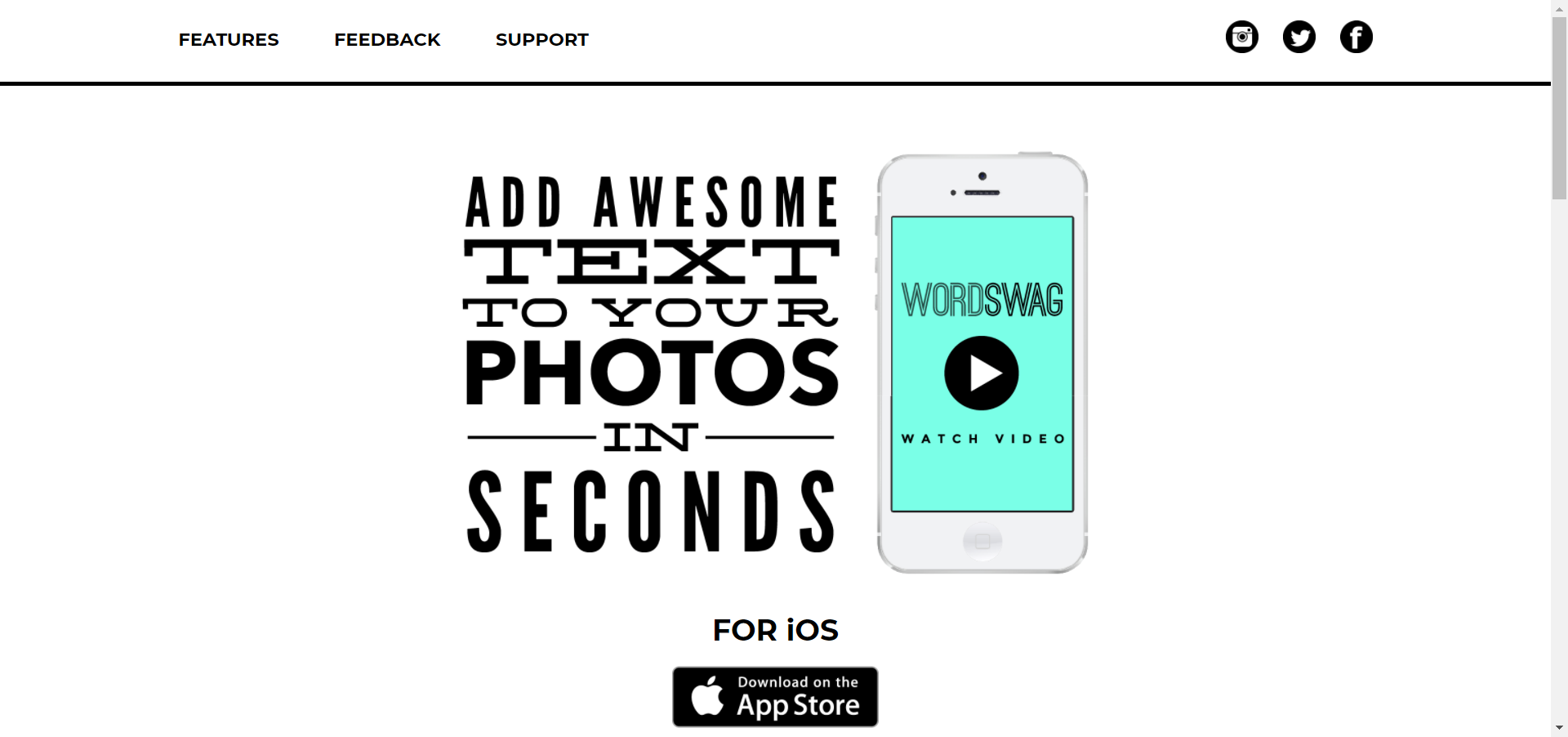 Word Swag is an app for both iOS and Android that allows you to create stunning quote images and text posts in a matter of minutes.
This app comes with over 500,000+ free background images. 100's of font styles. And a built-in collection of popular quotes that you can add to your images with a single tap.
It's like having a graphic designer in your pocket.
11. Over App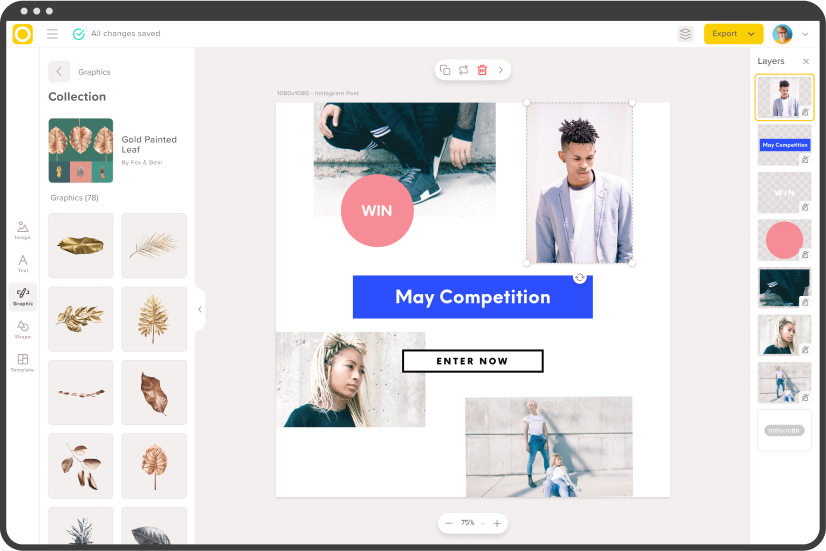 Over is another app that allows you to create stunning graphic designs for both iOS and Android. Works beautifully on both your mobile phone and tablets.
With tons of templates, images, styles, and fonts to choose from.
What I noticed with this app is that it really makes designing graphics fun. With just a few swipes, you'll find endless possibilities. This is my go-to app when I want to get my creative juices flowing.
Also comes with animated templates as well to jazz up your designs.
This app also allows you to add layers to your design so you can edit like a pro. For those who are familiar with using software like Photoshop, layers can really come in handy. And this app makes it easy to move/adjust your layers as needed. While also adding / changing effects without affecting the rest of your image.
If you want to create social media posts and videos on your phone, this one is a must-have.
12. RelayThat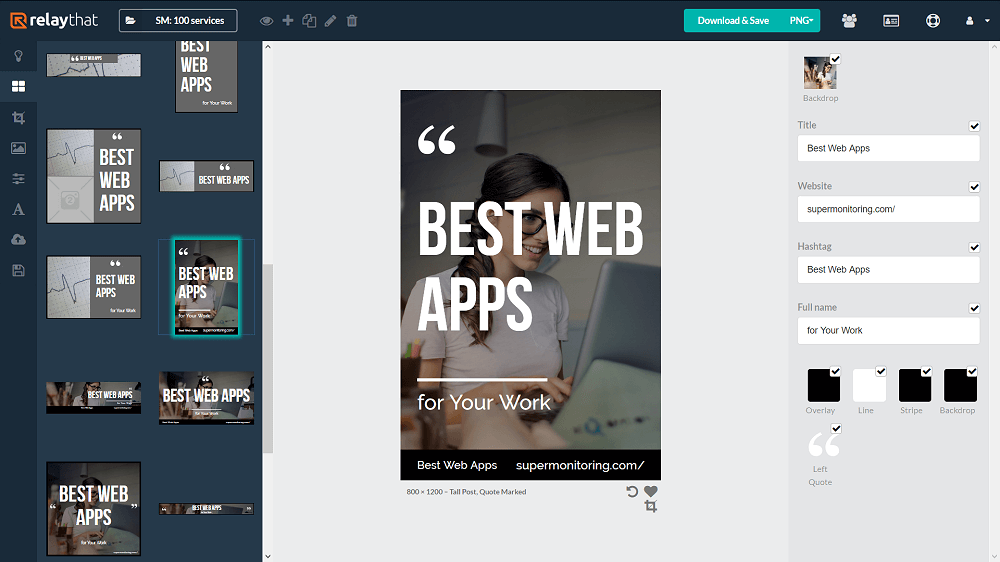 RelayThat is a lot like Canva with 1,000's templates, images, and font combinations?
But they do something that's actually quite unique. And something I haven't seen in ANY of the other tools. With RelayThat, you simply upload your design assets and it automatically generates a TON of different designs for you.
Auto-generating a TON of pre-made designs directly from your image, logo, icon, and blog post title. Allowing you to create new designs crazy fast.
Plus, once you choose your favorite designs, it will automatically generate multiple social media posts that are perfectly sized for each channel.
If you're creating designs across multiple social media platforms, this could be the app for you!
And this one has a one-time fee compared to the monthly fees of most graphic design apps.
13. Photoshop
Despite its status as the premier image altering program, many users believe Photoshop to be extremely complex for their skill level or design demands.
Those that master the program, on the other hand, may develop truly unique and personalized designs. When it comes to Canva alternatives, Adobe products are certainly worth considering, though Photoshop does not provide social media templates. Photoshop may be overkill if you're looking to create a simple Facebook ad.
However, if you're serious about investing in Photoshop, take advantage of the numerous online and offline communities that provide tips and tutorials to help you get the most out of the software.
Also Read: 
Conclusion: My Top Choices of Best Canva Alternatives
Crello – With over 20,000 templates, this Canva alternative is hard to beat. Plus, this is one of the best tools for creating animated designs. With over 5,000+ pre-made video designs on the Pro plan. If you're looking to expand your design options, be sure to check out Crello.
Over App – If you want to create gorgeous designs on your iPhone, Android, or tablet, then this is the app for you. It's the most powerful graphic design app that you can fit in your pocket. Unleash your creativity. Create and share designs on the fly.
RelayThat – This one made our top 3 picks simply because of how quickly it auto-generates gorgeous designs. Simply select your design assets, title, and logo, and RelayThat will come up with hundreds of possible designs for you. No graphic design knowledge is required.
Bonus: If I could choose one more it would be Pablo, by Buffer. Simply because of how quickly you can create social media images. Simple, intuitive, and it's completely free!