Custom products can be sold in minutes with print-on-demand companies. Among the things you can do with these services are:
Become an eCommerce entrepreneur

No startup capital is required to start a print-on-demand clothing line

Utilize social media to monetize your audience

Create new product lines to expand your business
That sounds great, doesn't it? However, before you can begin, you need to figure out which print-on-demand website is most suitable for you.
I don't know how to answer this question. 
A lot of print-on-demand sites exist, and there are a lot of things to consider. When choosing a print-on-demand service, what should you look for?
Here are 10 of the top print-on-demand companies in 2023, as well as the most important things to consider when choosing a print-on-demand service.
Let's start off by defining print-on-demand companies.
What are print on demand companies?
A print-on-demand (POD) company is a business that handles every step of the eCommerce fulfillment process, from product sourcing and storage to printing and packaging to shipping.
Dropshipping includes print on demand. A print-on-demand service will handle everything else while you focus on making money through online sales of your custom designs and product configurations.
Top 13 Print on Demand Companies
In 2023, which companies do you think will be the best at print-on-demand? To help you find the right print-on-demand site for you, here are our favorites.
1. Printful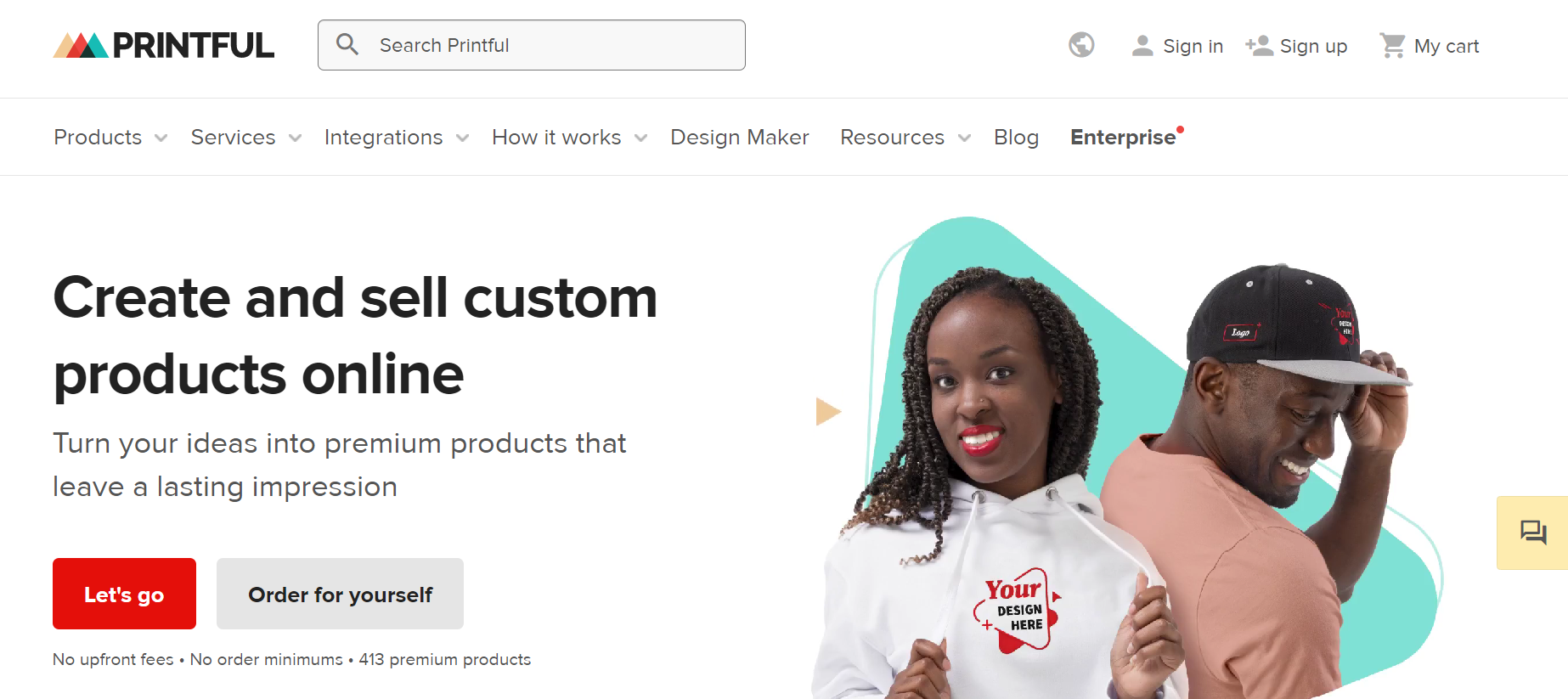 When it comes to print-on-demand services, Printful is among the best known.
There are over two-hundred products to choose from, and multiple printing methods are available, including cut-and-sew, direct-to-garment, sublimation, and embroidery. Include stickers and inserts in the packaging, as well as custom tags on the products themselves.
With Printful's mockup generator, personalization is a breeze, and the service's compatibility with all the most popular shopping carts means you can sell on Etsy and Shopify without any hassle. Also, the turnaround time for shipping is usually between two and five business days.
2. Printify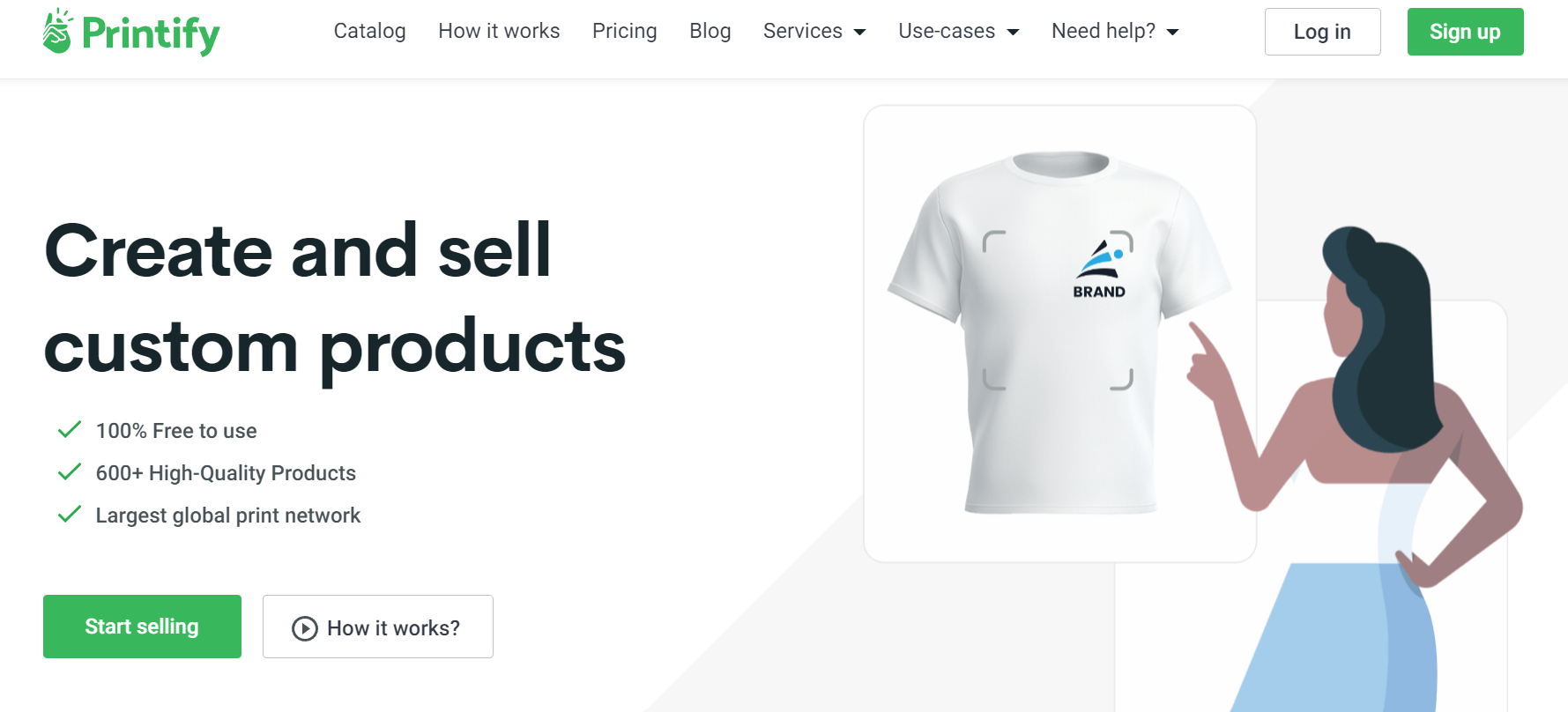 With Printify, you can connect with a wide variety of print-on-demand companies from all over the globe. That way, you can pick the most efficient and affordable shipping service in your country. That said, the time it takes to receive your order and the quality of the goods you receive will both be affected by the supplier you go with.
Embroidery, sublimation, and direct-to-garment printing are just a few of the methods that this print-on-demand company offers to help businesses personalize more than 300 products.
Printify's Premium and Enterprise plans, which are tailored to high-volume businesses, come with substantial savings.
3. CustomCat
Printed goods ordered from CustomCat, a company based in the United States, are typically prepared for shipment within three business days. 3D dye infusion, direct-to-garment, and sublimation are just a few of the printing techniques available at this print-on-demand shop.
If you're looking for specialized print-on-demand items, consider CustomCat because it offers one of the largest product catalogs in this space.
4. SPOD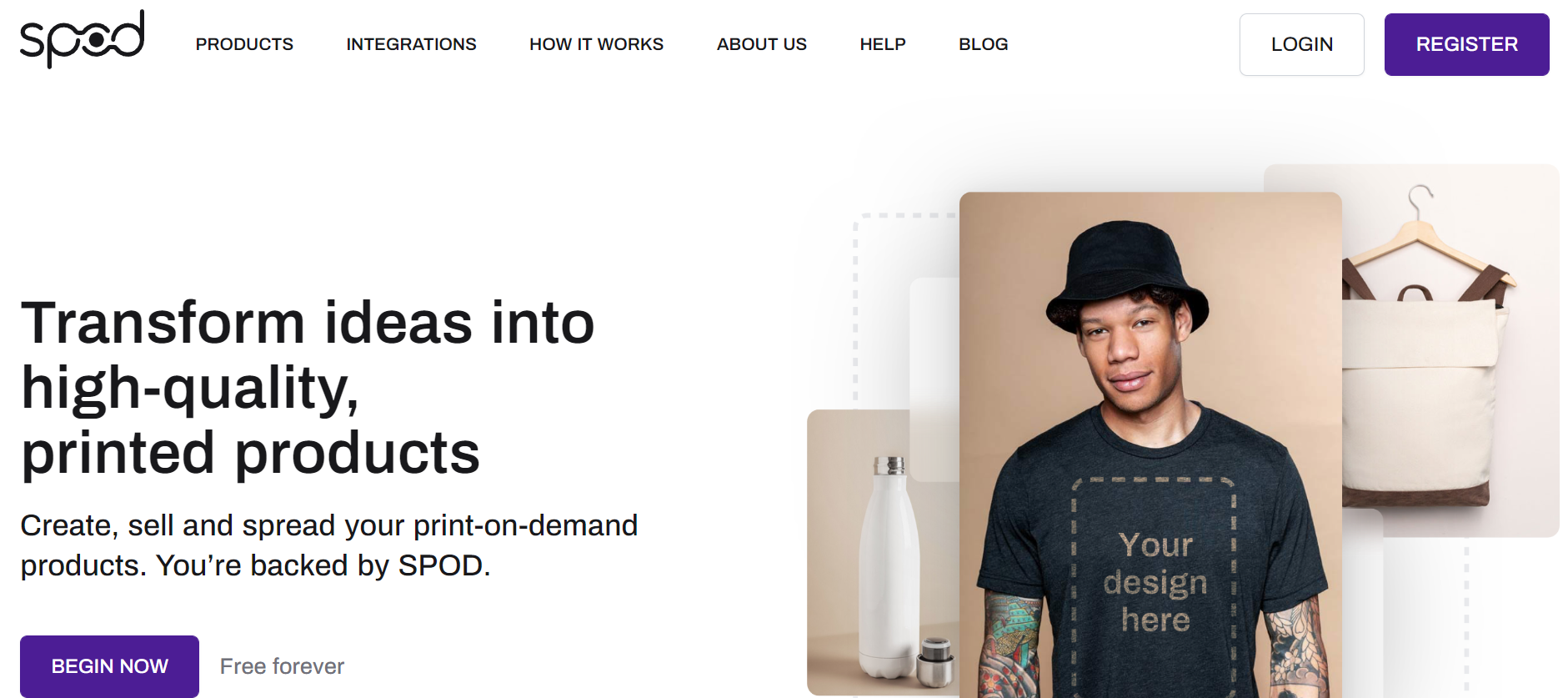 SPOD claims to be the fastest print-on-demand service, with a turnaround time of just two days. One of its other useful features is a shipping cost estimator.
SPOD provides a wide variety of print processes, including laser transfer, digital direct, special flex, and sublimation. Further, you can list and sell more than a hundred items using the service. SPOD can also be used to let buyers add their own images and designs to products.
5. TPop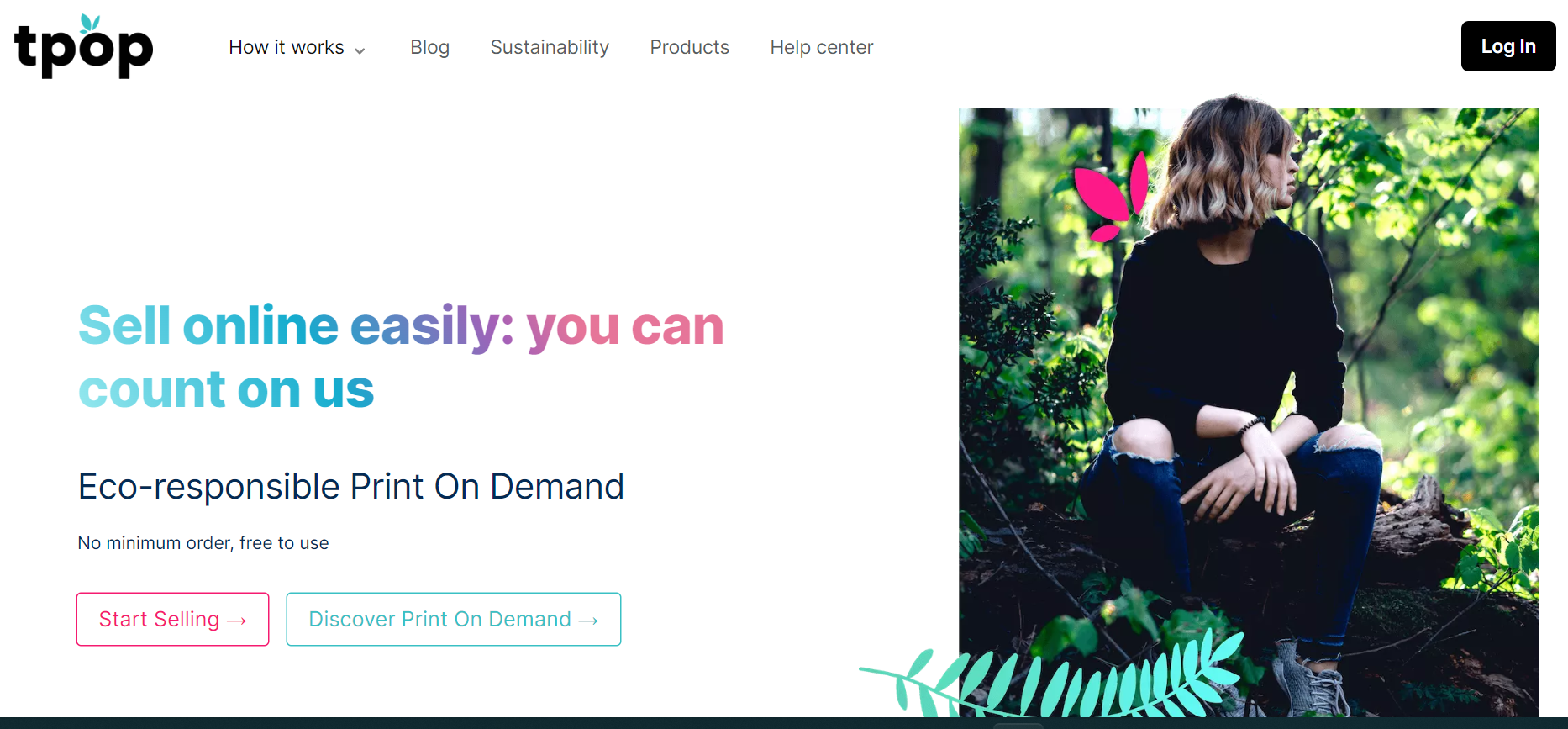 TPop is a top-notch print-on-demand service, and all of its orders are fulfilled by a facility in France. This print-on-demand business caters primarily to the apparel and accessory industries, letting customers personalize and sell a total of 36 different items.
TPop's print-on-demand service is fully white-labeled, allowing for personalized packing slips and boxes. This print on demand business is also environmentally conscious, using only recycled paper packing slips and no plastic at all in their shipping processes.
6. JetPrint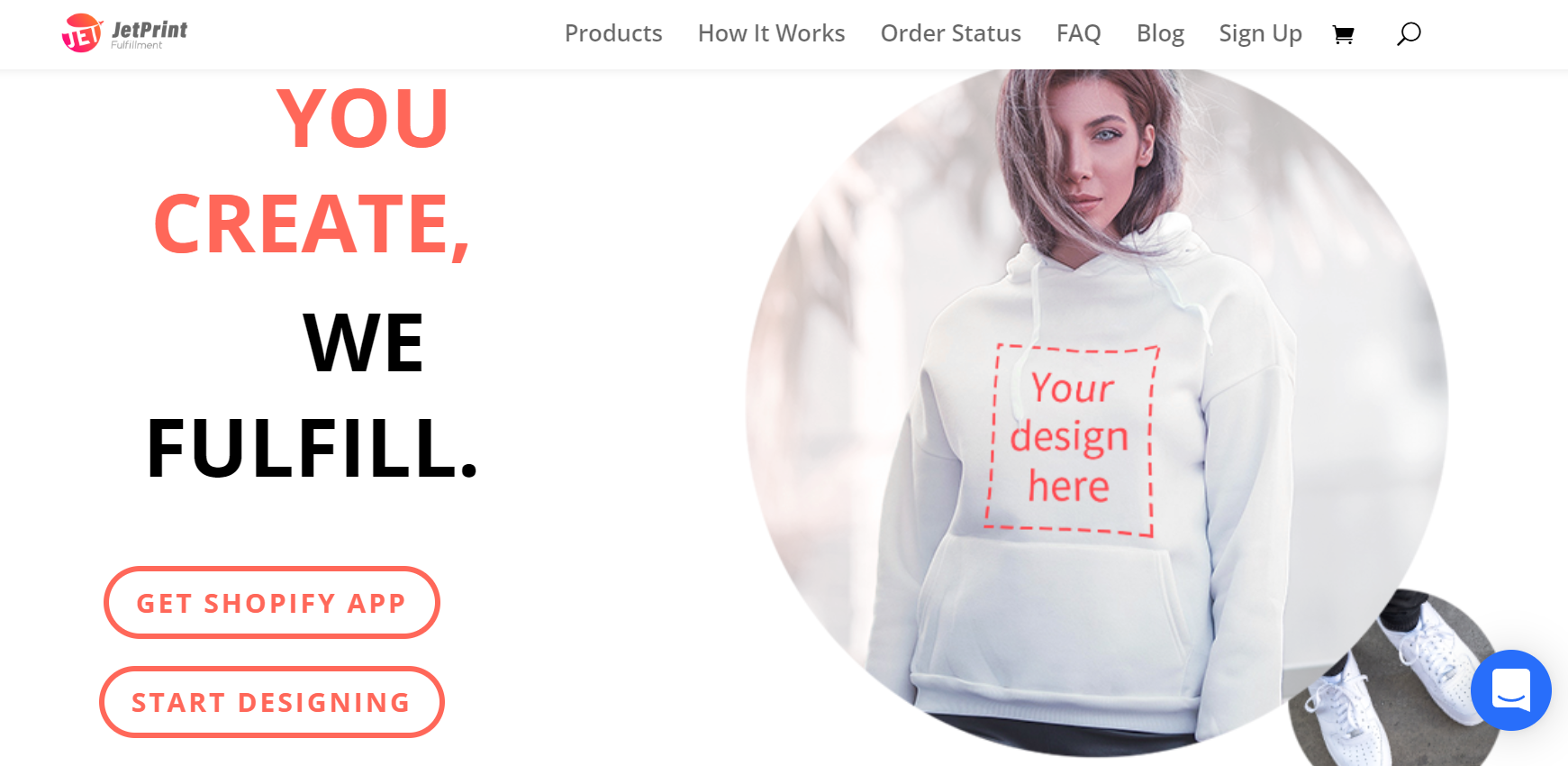 When it comes to exciting product categories like watches, shoes, yoga accessories, and homeware, JetPrint is one of the best print-on-demand companies. This makes it a great option for those who want to start a business from scratch based on a specific product or market niche.
This print-on-demand service will immediately begin creating high-quality, professional-looking product photos from various angles once you upload your designs.
In three to five days (business days), your order will be packed and ready to go.
7. Teelaunch

Teelaunch integrates with Shopify and Etsy to let you sell print-on-demand items. It also offers a wide variety of non-generic products, such as electronics, clothing, and home decor, which is impressive compared to the standard fare of print-on-demand services.
Teelaunch provides a variety of printing methods, including direct-to-garment, cut-and-sew, full-body print, and laser etching.
It takes about three to six days of production time on average. You can also use a manual ordering interface in case you prefer ordering products for in-person sales.
8. Gelato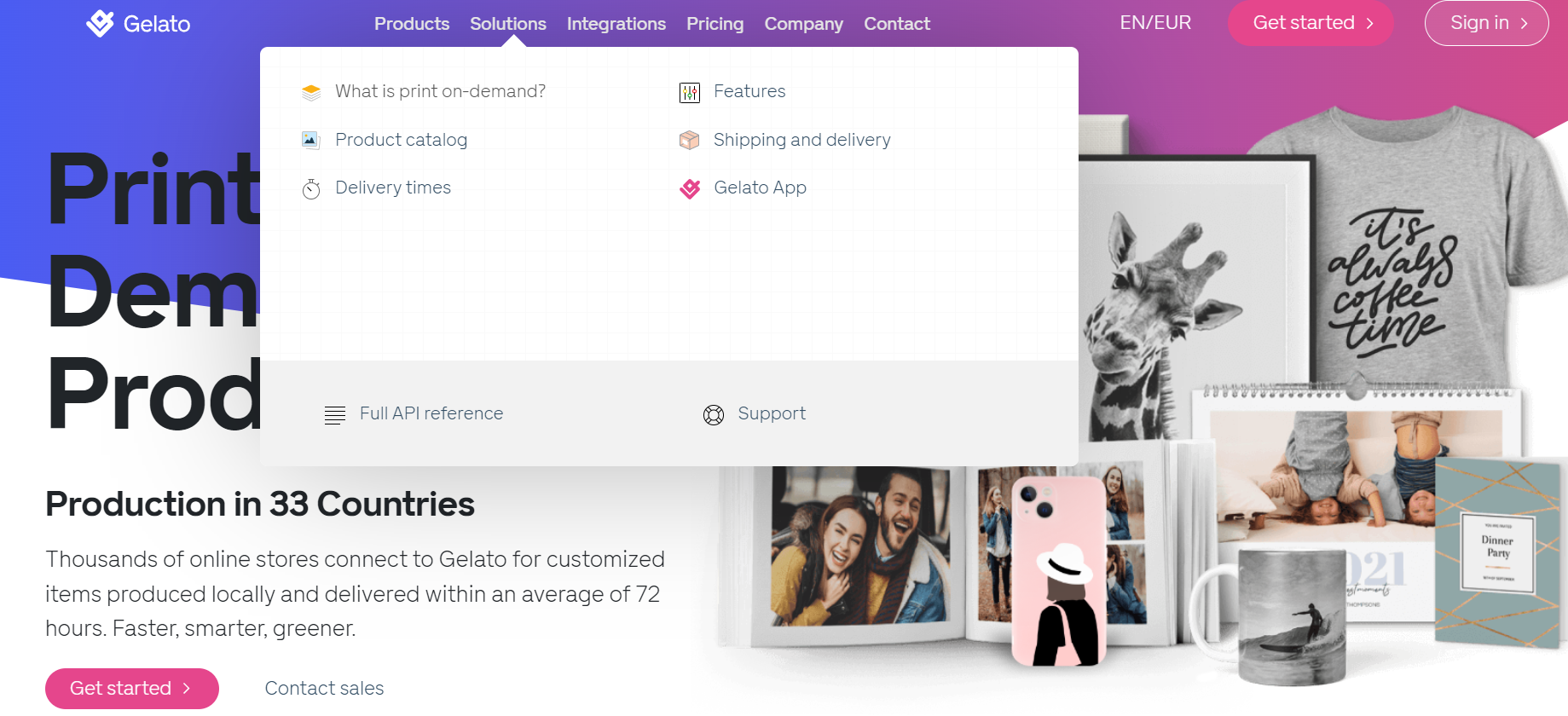 With over 100 print partners in 30 countries, Gelato is able to ship to over 200 countries and territories worldwide. It also works with the most popular e-commerce platforms like Shopify.
Gelato has a wide variety of items available, including clothing, wall decor, and even paper goods. In addition, the turnaround time for most orders is only 72 hours, thanks to the efficiency of this print-on-demand service.
9. Gooten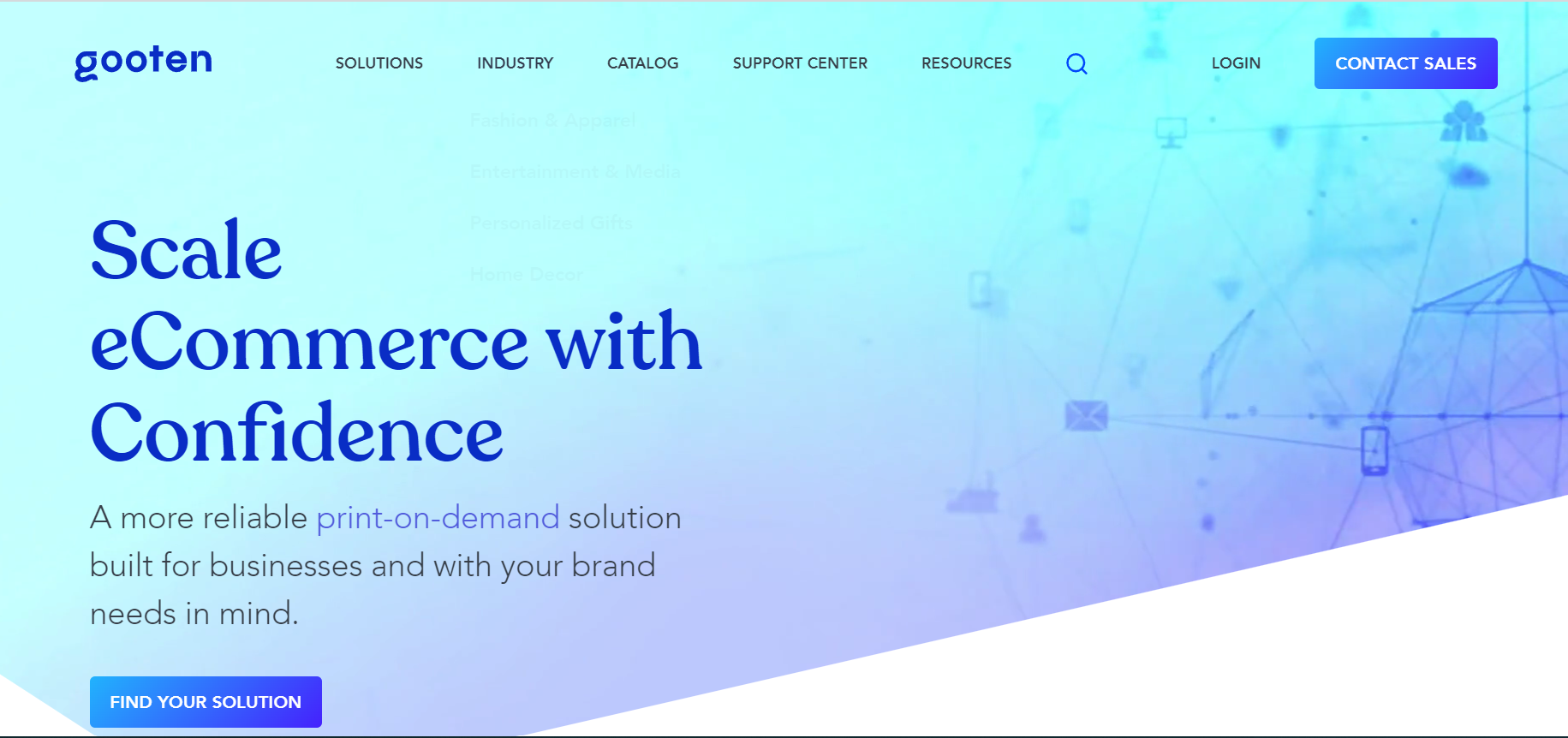 Gooten is a well-liked print-on-demand platform that provides customers with a wide selection of printed goods, including garments, home decor, and travel necessities. Within one to six business days, orders are processed, packaged, and sent out.
When compared to other print on demand providers, Gooten's application programming interface (API) and integration options are more involved. As a result, it is highly adaptable and geared toward developers.
10. Printy6

China-based Printy6 is a Shopify print-on-demand partner. Shipping times and costs are higher than those of competing print-on-demand services because of this.
Printy6 offers a wide variety of affordable print-on-demand goods, including apparel, accessories, and decor. In addition, the manufacturing time is reduced to between one and three days.
11. Lulu Direct

Lulu Direct is Lulu's print-on-demand business, serving the self-publishing community online. Use this POD service to publish, market, and distribute your book to buyers anywhere in the world.
Authors looking to capitalise on their fan base or skills with a published book are the perfect candidates for Lulu Direct. The service gives you a great deal of creative control over the final product's appearance by giving you a variety of options for format, book layout, and binding.
12. Apliiq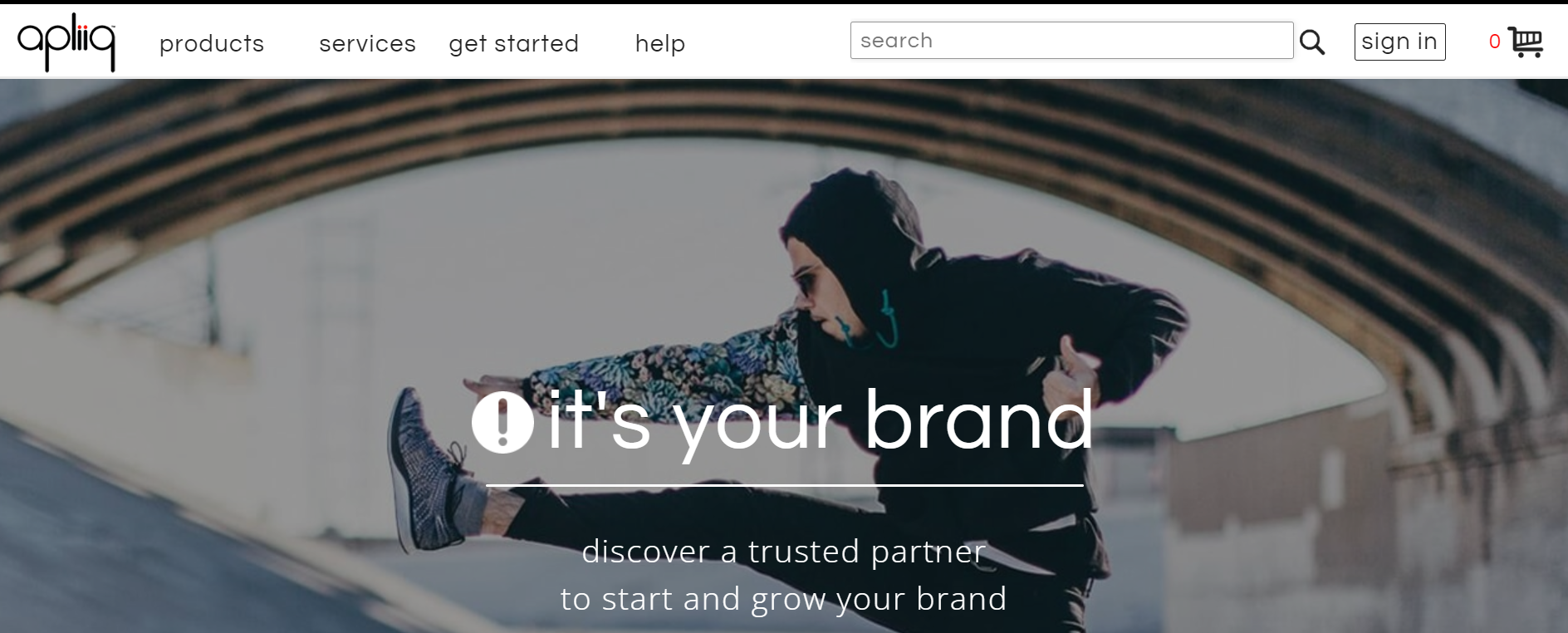 Can you picture yourself one day launching your own line of clothing? When you consider print-on-demand services like Apliiq, that time may be closer than you think.
You can make your own private label products of retail quality with this service, and then sell them through a variety of sales channels (including online and physical stores).
The fact that Apliiq provides better wholesale discounts than competing POD services makes it an attractive option for entrepreneurs looking to launch a fashion label.
Quick Links
Conclusion- Best Print on Demand Companies 2023
The main benefit of print on demand is that it allows you to test the waters of the custom product market with minimal investment. You should be able to count on a print on demand service to reliably print and ship your products.
If all you want to do is sell t-shirts and apparel, the plethora of print on demand companies may seem overwhelming at first. However, you should pick a partner based on their capabilities, the services they provide, and how well they can grow along with your business. Once you have an idea of what you're looking for, the differences in their product catalogs, prices, and sets of features become apparent.