Do you want to remove inactive Twitter followers from your profile? We've compiled a list of the finest tools for removing Twitter followers in order to improve interaction and content delivery.
For content distribution, all social media platforms employ a range of algorithms. If you don't have a lot of audience interaction, it's because your Tweets aren't reaching them.
The reason for this is that there are dormant followers that are no longer active. They may have been engaged in the past, but now their profiles have been inactive, and your content is being delivered to these accounts.
For distributing your Tweet to your followers, Twitter imposes server charges. If you have a very small level of engagement, Twitter will just not broadcast your tweets to your followers. Non – active accounts have no engagement, therefore Twitter would rather not invest its funds and efforts on accounts that have a smaller following.
Keep your profile fresh by unfollowing inactive followers and removing Twitter followers who aren't contributing if you really want to shine on Twitter with your Tweets.
Best Twitter Tools to Unfollow Inactive Users
A few of the biggest tools for removing Twitter followers are listed below. Inactive Twitter followers are a waste of time and money for both you and Twitter.
Circleboom
When it comes to handling my Twitter handle, the first thing that comes to my mind is Circleboom. Circleboom includes Twitter-specific tools to help you maintain your account. You may search for fraudulent, spam, and hyperactive accounts, as well as get information about your Twitter followers.
Apart from that, Circleboom is a powerful platform for locating and removing inactive Twitter followers. Follow the methods outlined below to remove inactive Twitter accounts:
Visit Circleboom.com
Circleboom requires a login. It's possible that this is your first time using Circleboom. 
Simply create a Circleboom account. Remember to confirm your Circleboom account. The verification link will be sent to your inbox.

Connect your Twitter handle once you have logged in.

After you have connected your Twitter handle to Circleboom, you will be able to access all of your Twitter account's statistics.

When you click 'List All' on 'Inactive Friends,' you will see all the Inactive accounts which haven't been posted in the last 30 days. From there, users can easily stop following inactive Twitter accounts. You may put them in the Whitelist if you just want to keep them.

Circleboom provides you with a free version that has restricted functionality but serves its purpose. You may update your Circleboom account to have even more accessibility to the service.
ManageFlitter
ManageFlitter is a specialized program that will assist you in keeping a track of your Twitter account. Fraudulent profiles can be detected, inactive profiles can be blocked, and fake accounts can be blocked. However, you must go into your Twitter account and actively unfollow inactive Twitter followers.
Other than Twitter, third-party companies are not permitted to control the following and unfollowing of Twitter accounts.
Several blog posts on the web still promote applications like ManageFlitter for unfollowing inactive Twitter accounts, regardless of the fact that ManageFlitter's function to follow or unfollow users on Twitter was officially withdrawn.
Inactive and fraudulent accounts can still be discovered, but there is no method to unfollow them directly from the ManageFlitter Homepage.
"Kindly remember, all Follow and Unfollow functions have been disabled as per Twitter's instruction in January 2019, according to ManageFlitter. Several search features and all scheduling features are still available."
ManageFlitter does have a lot more to offer if you're concerned about managing your Twitter account. ManageFlitter provides everything you could want to take your Twitter to handle to new heights, from powerful Twitter searches to Analytics to Power posts.
Untweeps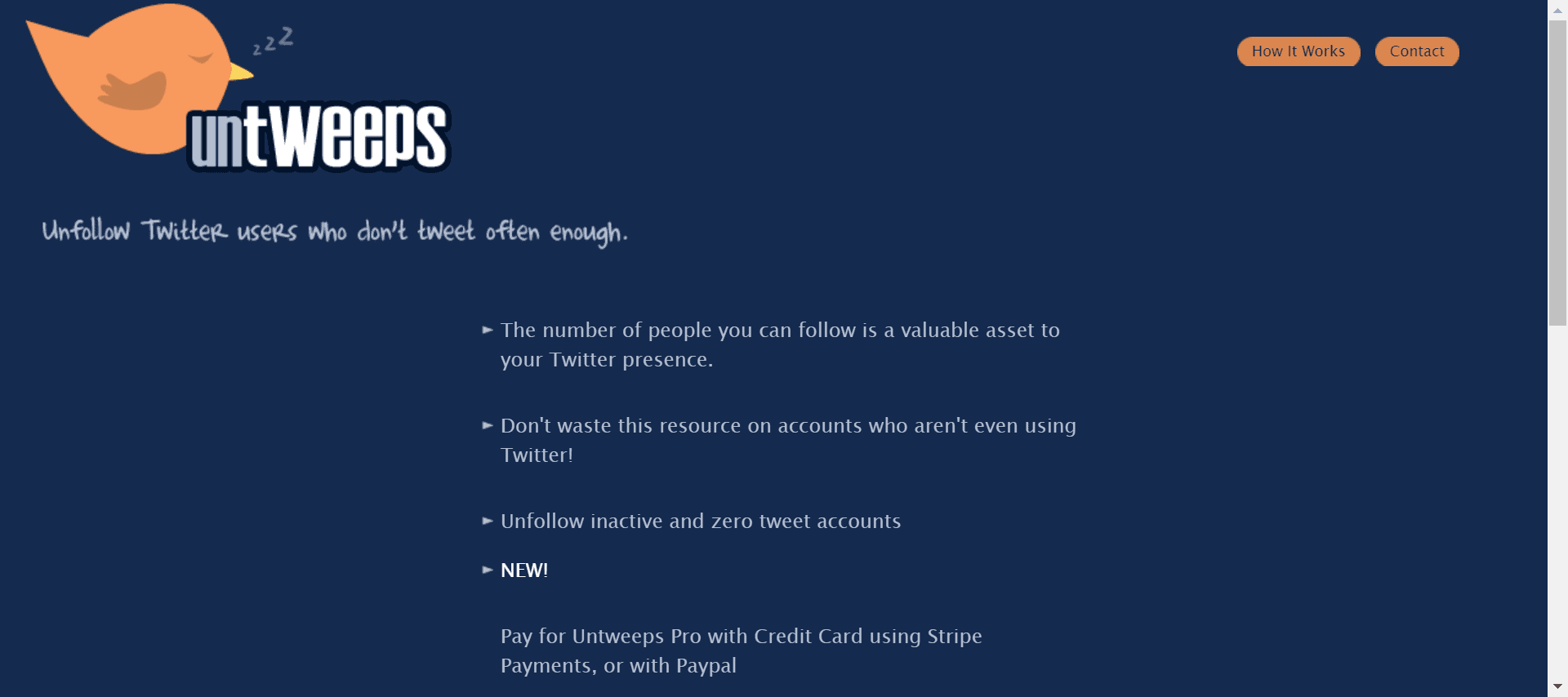 Untweeps is the application to use if you want a simple and free way to unfollow an inactive Twitter account. Untweeps provides a simple interface for removing inactive Twitter followers in order to improve content delivery. Just go to untweeps.com and log in using your Twitter profile to bulk unfollow anyone on Twitter.
The very next screen will allow the user to enter the length of time that someone you follow did not tweet or engage in any Twitter activity. It will be configured to 30 days by default, and then you can increase it.
Untweeps will then provide a list of inactive Twitter followers. Just tick the box and click the 'Unfollow Inactive Tweeps' button to complete the process.
Untweeps is the quickest way to delete inactive Twitter followers, but this is not a commercial Twitter management tool, and it's not suggested if you are a blogger or influencer.
Manually Remove Inactive Twitter followers
I realize this is a perfectly evident approach to unfollow inactive Twitter followers, but even those who may not want to use a third-party service or risk their account's privacy must use the manual system to unfollow inactive followers or delete Twitter followers.
If you use a third-party service, such as Circleboom or Untweeps, you must sign in with your Twitter id on their site, but safety is always a problem. If those systems suffer a security issue for any cause, the confidential content of thousands of Twitter accounts could be exposed. If you are serious about your Twitter profile, you should use the Manual method to unfollow inactive accounts and delete Twitter followers.
This is suitable for people with a small number of followers, but if you have thousands or even millions of Twitter followers, you should choose Circleboom, which provides professional-grade services.
Unfollow Inactive Twitter Accounts
We recommend unfollowing inactive Twitter accounts and removing followers on Twitter. Crowdfire was another program that used to have the ability to unfollow dormant Twitter handles, but that feature has now been disabled.
Crowdfire is a great tool for managing your Twitter account. Crowdfire isn't the ideal choice if you're wanting to get rid of Twitter followers.
Circleboom is a strongly recommended software if you want all of the amazing Twitter account management features, such as unfollowing inactive Twitter accounts and eliminating Twitter followers. It's a professional-grade application with several useful features for managing your Twitter account.
ManageFlitter, on the other hand, is a fantastic way of managing Twitter accounts, however, the option to unfollow inactive accounts has been withdrawn from its Dashboard.
You can indeed start tracking false Twitter followers with Manageflitter, ban them, and mute them, but you can't unfollow them from the Manageflitter dashboard. To get rid of Twitter followers, go to your Twitter account and delete it manually. On Twitter, you don't really need to block anybody. You can unfollow people on Twitter without blocking them.
Untweeps is a free and easy application, however, it does not provide any further services for managing your Twitter account. Untweeps is just not for you if you operate as a professional social networking manager for startups, agencies, or businesses. Circleboom or Manageflitter are better alternatives.
You already know how to unfollow Twitter handles that are no longer functional. Simply track them out and unfollow them to boost your Twitter organic reach as well as engagement. The one and the only way to keep Twitter's content delivery algorithm pleased is to get genuine followers.