With the current pandemic drastically increasing online education trends, it's no wonder why edX and Coursera have become two of the most popular massive open online course (MOOC) platforms.
But what should you look for when deciding between them in 2023? In this blog post we'll compare both platforms so that you can make an informed decision about which one is best suited for your educational needs.
We'll cover different aspects such as cost, range of courses offered, certifications, customization options, quality assurance & instructional approaches to help ensure that you are getting the right platform for your educational goals.
EdX vs Coursera 2023: Head-to-Head Comparison
By analyzing various features along with feedback from other users, we'll ultimately provide a comprehensive guide on how to decide whether EdX or Coursera is worthier of your investment in 2023!
EdX Overview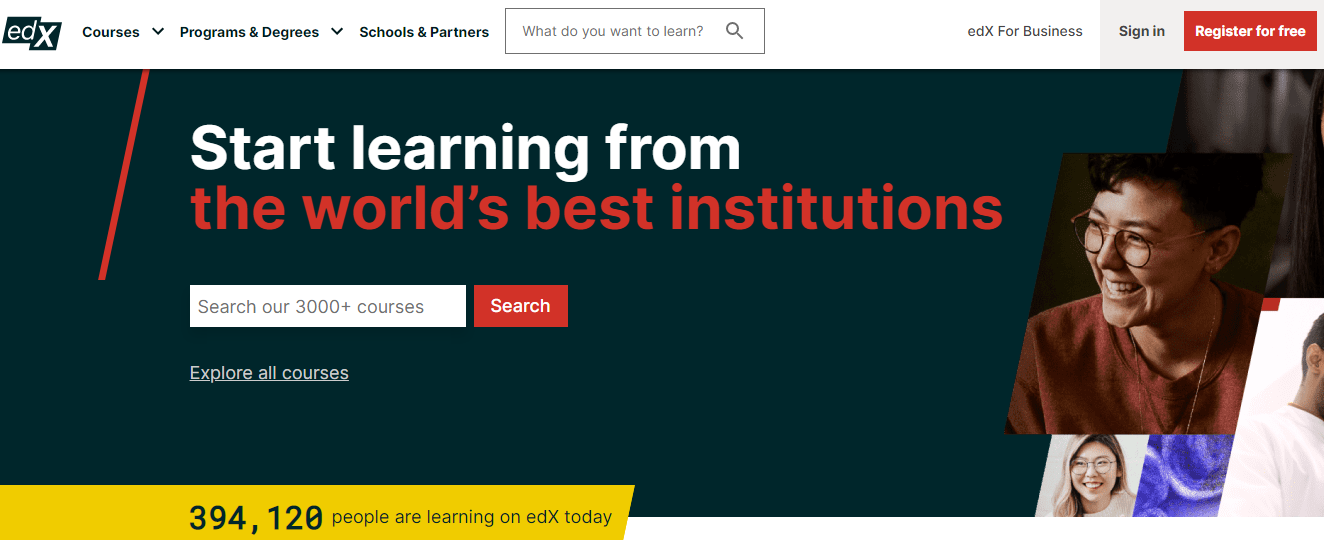 EdX is an online learning platform created by the non-profit organization Massachusetts Institute of Technology and Harvard University in May 2012.
It offers free Massive Open Online Courses (MOOCs) as well as fee-based courses to learners around the world.
EdX's mission is to "advance education for everyone, everywhere", by providing a variety of topics and subject areas from math, science and engineering to social sciences, humanities and business. 
The platform operates on an open source software called Open edX which was developed in partnership with Google, Microsoft and other leading technology companies.
It allows institutions to host their own course offerings on the platform. EdX also provides learners with interactive tools such as video lectures, virtual laboratories, assessment tools and discussion forums.
The platform also includes a range of support services from student advising to technical support. 
EdX has over 30 million users from more than 190 countries around the world enrolled into free or paid courses offered by more than 140 partner universities, organizations and corporations including Harvard University, MIT, Georgetown University, Microsoft Research and IBM Watson Education among others.
As of January 2019, EdX had recorded a total enrollment of over 20 million students worldwide who have collectively completed more than 1 billion exercises within its online courses. 
In addition to offering online courses in multiple languages, EdX also supports translation services that enable users to translate course material into their native language.
To ensure course quality across its international user base, EdX has adopted a globally accepted standard for accreditation called MicroMasters program certification which is awarded upon successful completion of certain degree-level credentials from a variety of university partners.
They are currently working towards getting many more universities involved in the Micromasters Program Certification process so that they can provide even wider access to their courses for people all over the world who want to further their education using EdX as a platform. 
Edx continues to remain one of the most popular MOOC platforms available today due to its vast array of offerings for people no matter where they are located geographically or what level of experience they possess.
With its commitment towards improving access and quality higher education worldwide through digital technology.
It has become one of the most trusted resources for anyone looking for an easy yet comprehensive way to learn something new or expand on current skillsets at their own pace without having any financial constraints holding them back.
Coursera Overview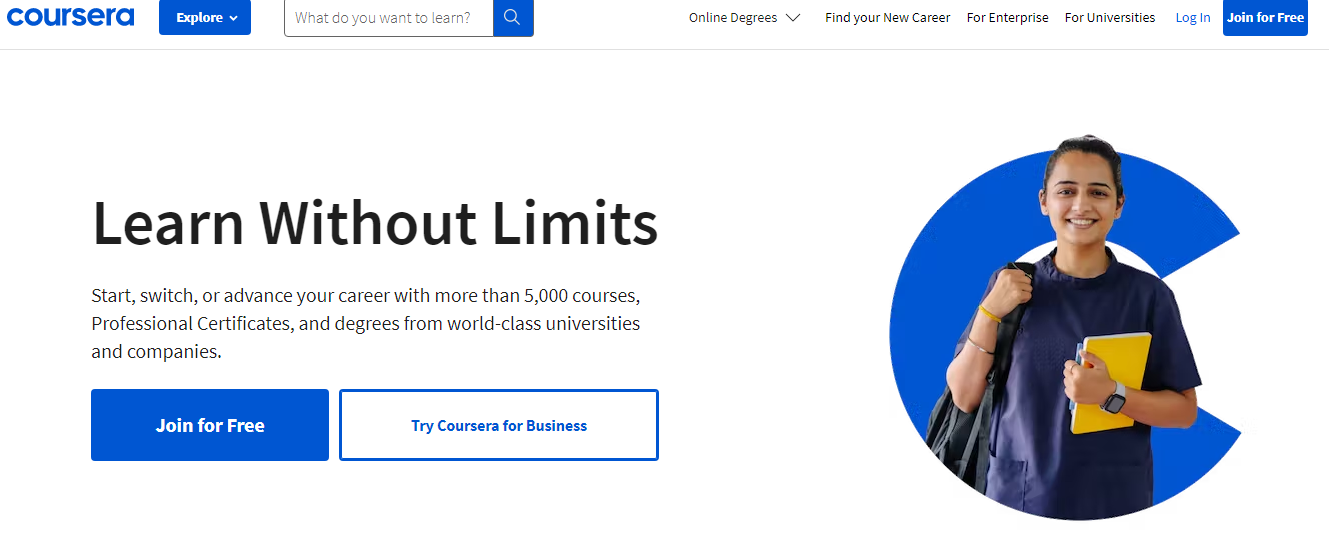 Coursera is an online education platform that offers courses in a variety of disciplines, ranging from business, computer science, engineering, and more.
Founded in 2012 by two Stanford University professors, Coursera offers more than 3,800 courses taught by world-renowned experts from some of the top universities and organizations around the globe.
The platform offers courses in different formats such as regular timetabled classes with weekly deadlines, specializations that involve a sequence of courses and projects to be completed within a certain time frame or self-paced learning that allows learners to learn at their own pace.
Additionally, there are professional certificates for those looking to acquire practical skills for their careers.
Furthermore, Coursera also provides learners with access to online communities where they can collaborate with other students and connect with mentors.
These connections can help students develop key skills like communication and problem-solving while also providing them with an opportunity to network with potential employers. 
In addition to its wide range of course offerings and flexible learning formats, Coursera also features additional tools such as the Guided Projects platform which provides learners with real-world projects from leading companies such as IBM or Google and detailed instructions on:
how to complete them;

automated peer grading;

video lectures presented by expert instructors;

quizzes & tests;

and interactive tasks such as programming assignments. 
Since its launch in 2012, Coursera has grown rapidly both in terms of users (over 35 million registered learners) and course offerings (more than 500 university partners).
It is currently one of the largest edtech platforms in the world providing quality education at an accessible price point.
In addition to offering free courses for those who don't want to pay for certification purposes, it also offers financial aid options through scholarships provided by philanthropic organizations like The Gates Foundation or The World Bank so everyone has the chance to pursue their educational goals regardless of background or economic situation.
Edx User Interface
Edx User Interface is an interactive, user-friendly platform designed to make learning accessible and enjoyable for students.
It offers a range of options to customize the learning experience, from personalized course recommendations to different study modes.
The course materials are organized into modules with video lectures and interactive activities. To encourage user engagement, Edx features quizzes, polls and forums for students to interact with one another.
The interface also provides a tracking system that allows students to monitor their progress over time.
Additionally, the platform allows users to search for courses from different universities across the globe using its powerful search engine.  
The user interface of Edx has been designed with simplicity in mind; it supports intuitive navigation through menus and intuitive layout.
Its adaptive design adjusts to different screen sizes, allowing users to access their content on any device they choose. With its modern look and feel, Edx has become one of the most popular online learning platforms in use today.  
The platform also makes use of an extensive library of tools that support student learning.
For example, it includes code editor which enable students to practice coding while taking an online course or working on a specific project; simulations that demonstrate physics concepts in real-time; online whiteboards where instructors can give quick feedback on assignments or projects; discussion boards which allow students from all over the world to share knowledge; as well as data visualization tools which help learners gain insights from data quickly and easily. 
Overall, Edx's user interface provides an engaging environment for students who want to learn without feeling overwhelmed by information overload or technical difficulties.
It encourages exploration of topics at multiple levels and makes learning exciting again with its visually appealing design and easy-to-navigate structure.
Whether you're taking courses as part of college degree requirements or simply exploring new topics out of curiosity, Edx's user interface is sure to offer something new each time you log in!
Coursera User Interface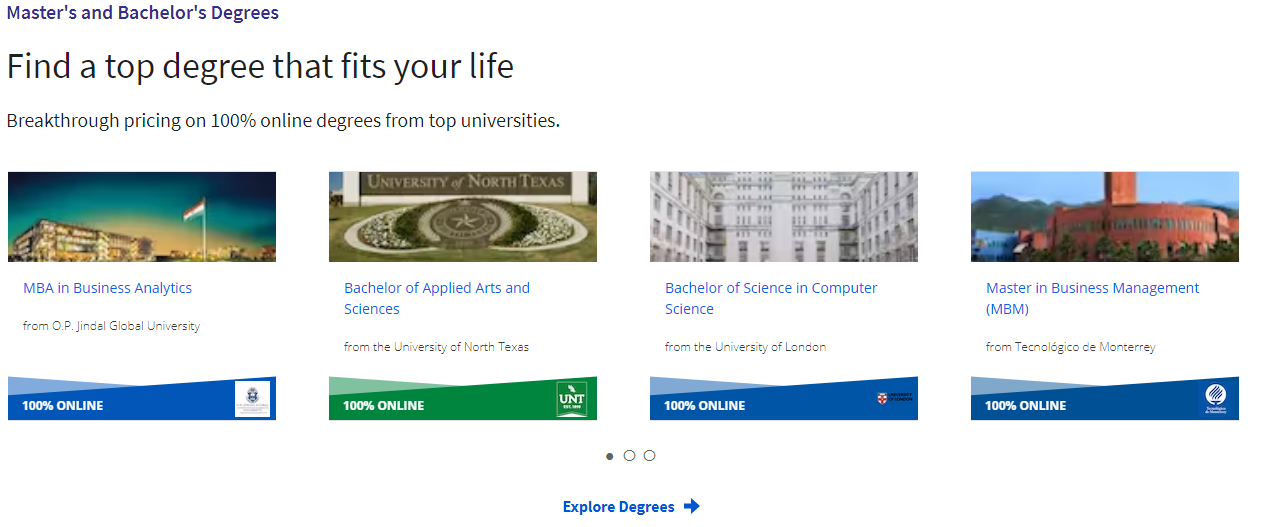 Coursera is one of the leading online education platforms, and its user interface (UI) is a key component in how learners experience the platform.
In short, the Coursera UI provides an intuitive design with easy-to-understand navigation that allows learners to quickly find what they are looking for.
The UI also features integrated features such as course search, discussion forums, learning materials, and other tools that allow users to make the most of their learning experience. 
The Coursera UI has continued to evolve over time as new features are added and existing ones are improved.
It includes a modernized design style that is responsive to different devices, allowing learners to access content from any device or platform with ease.
To help ensure an optimal learning experience on all levels of engagement, courses on Coursera can be taken at different levels such as beginner and advanced.
A variety of interactive learning activities are included in the courses which further enhance user engagement. 
The UI also has been designed with mobile devices in mind so users can follow their favorite courses while on-the-go.
All course material is viewable through a mobile version of the web page which allows learners to quickly access resources without needing any additional setup or downloads.
Moreover, instructors can also use specialized tools to create video lecture playback experiences that are optimized for mobile devices and integration with third-party applications like Slack for enhanced communication within a course's community. 
Overall, Coursera's user interface provides an enjoyable yet powerful educational experience for its users by allowing them to easily access learning materials from anywhere and at any level of engagement desired by them.
Its design continues to evolve over time as new features are added and existing ones improved making it easier for users to navigate around the platform and take full advantage of Coursera's vast library of courses.
edX Pros and Cons 
EdX is a leading online learning platform that is used by millions of students worldwide.
It offers an array of courses, tutorials, and other educational content from universities such as Harvard, MIT, and Berkeley. While the platform has plenty of benefits for learners, there are also some drawbacks to consider. 
One of the major pros of edX is its wide range of topics and levels of difficulty available.
Students can choose from thousands of courses on everything from computer science to business management and even get certifications in their chosen field.
Additionally, edX provides interactive elements like discussion forums and peer review that further enhance the learning experience. 
However, there are some potential downsides to edX as well. For instance, many of the courses have high fees associated with them which can be prohibitive for some students.
Additionally, since all course material is provided online it may not be ideal for those who prefer hands-on or group learning experiences.
Furthermore, while edX does offer verifiable certificates upon completion of certain classes they often lack the same value as a traditional degree program in terms of credit or job placement opportunities. 
Overall, edX is a great platform with plenty to offer aspiring learners but it's important to do your research before signing up for any course and make sure it meets your specific educational needs and goals.
On one hand you have access to top quality education at very reasonable prices but on the other hand you need to consider if you will be able to take full advantage of all available features without breaking your budget or sacrificing valuable class time elsewhere in order to complete your studies.
Coursera Pros and Cons
Coursera is an online learning platform that provides a range of courses and programs to users around the world. It offers both free and paid options, as well as various levels of certification.
Many people find Coursera to be an attractive option for continuing education, career advancement, or simply exploring new interests. However, there are some pros and cons to consider before signing up.
Pros: 
One of the main advantages of Coursera is its wide selection of courses and programs.
With over 4,000 courses provided from top universities around the world, users can explore a variety of topics in fields such as computer science, business, language, art and design, health sciences, mathematics and more.
The platform also offers different options for certification to further demonstrate knowledge in certain areas.
Furthermore, many classes are offered at no cost or with financial aid options available for those in need. 
Another major benefit is that Coursera allows students to learn at their own pace from anywhere in the world with internet access.
Students can watch pre-recorded lectures at any time day or night; interact with other learners through discussion forums; create projects; take tests; and receive course completion certificates upon successful completion of courses.
The platform also allows users to customize their learning experience by selecting specific topics or subtopics they want to focus on within each course. 
Cons: 
Despite its many benefits, there are some drawbacks to consider when using Coursera's services.
As with most online learning platforms, there is no face-to-face communication between instructors and students which means it can be difficult to get help if you need it quickly or get feedback on assignments in a timely manner.
Additionally, since most courses are self-paced, you may find yourself feeling isolated if you don't have classmates with whom you can converse about course material or compare notes with during exams.
Furthermore, some people might not be comfortable taking tests without proctors present or having classmates who have never met face-to-face evaluate their work via peer review exercises on the platform . 
Finally, since Coursera requires payment for many of its more advanced classes and certifications , it may not be feasible for people on tight budgets when compared to free educational resources elsewhere online .  
Overall , Coursera provides an excellent opportunity for anyone seeking additional knowledge or credentials in a range of topics but it's important for potential users to understand all the pros and cons before signing up .
Pricing Plans:

The paid subscription will cost you around $349 a year, and for people who want to achieve some excellent skills and upgrade their portfolio, this is the best membership plan.
The monthly subscription is $59 a month.
The annual subscription starts at $399 a year
Quick Links:
Conclusion: EdX vs Coursera 2023
As you can see, both edX and Coursera have their pros and cons. it really comes down to what your specific needs are as a learner.
If you want more control over your learning experience and the ability to take courses for free, then edX is probably the better platform for you.
However, if flexibility and a wide range of course offerings is what you're looking for, then Coursera is probably the better choice.
Whichever platform you choose, make sure that it offers the courses or specializations that you're interested in taking.