Looking for effective email list building strategies. Welcome to this post!
I confess…
I love shortcuts.
Especially those small tweaks that instantly generate more traffic. More subscribers. Or more sales.
In this blog post, I'm going to share the Top 12 proven email list-building strategies that will turn your blog into a lead magnet. Generating more subscribers from your existing traffic.
But first, you must be warned.
These strategies are going to seem simple.
Too simple in fact.
And because of that… many of you will read this article and then go do nothing about it.
Which makes me mad.
Grrrrrrrrrrr.
I don't write these big, long posts just for your enjoyment!
I write these posts so that you go away… IMPLEMENT… and start seeing some immediate growth in your business.
These simple strategies can grow your blog today.
Notice I said today. Like RIGHT NOW.
Not tomorrow.
Not when you have extra "free" time.
Not after you study and read yet another article.
Or go through another course.
You're going to receive some very specific action steps for you to implement on your blog TODAY.
Don't put it off until tomorrow.
Promise me now that you will implement at least ONE of the strategies below immediately after you read this blog post.
Otherwise, you must go away now.
Seriously… if you're not going to take action, leave this site now and fill up your time somewhere else.
I only want to work with DOERS.
You dig?
Are you up for taking just 10 minutes of action.
10 Minutes to grow your business?
Cool.
You're the one I want to talk to.
The one that is actually going to do something with this information.
You've made a promise that you will do ONE action today to grow your subscriber list.
So with that commitment in place, let's get started…
1. Pop-Ups.
Pop-ups… Probably the most widely disputed list building tool in the history of the Internet.
But love 'em or hate 'em, popups work.
In fact, they're the 2nd most effective strategy we use to grow our subscribers here at BuzzBlogger.com.
Converting 4.2% of our blog visitors into subscribers.
Not too shabby.
Now… you'll have to decide for yourself whether or not you want to put a pop-up on your site.
That's up to you.
I'm simply here to tell you what works.
If your blog is simply a hobby. Or if you're just using it as a journal to share interesting thoughts with your family and friends.
Then you don't need a pop-up.
Just share all your stuff for free and have fun.
That's what hobbies are for 🙂
But if you're running a proper business online…
Or if you're wanting to turn your blog into a business that makes a proper income… then you're going to need to start collecting emails.
You're going to need to start developing a deeper relationship with your tribe.
And pop-ups are one of the most effective ways to convert casual browsers into subscribers.
Action Item: Install SumoMe and setup your pop-up to appear 5 – 10 seconds after someone lands on your page. Time Required: 5-10 minutes
Seriously… go do it!
Stop treating your business like a hobby.
Go Pro.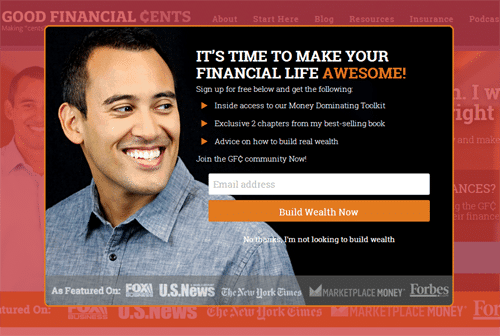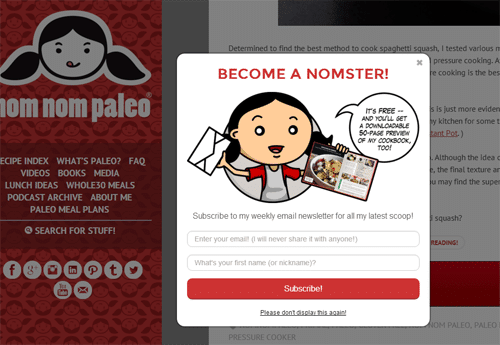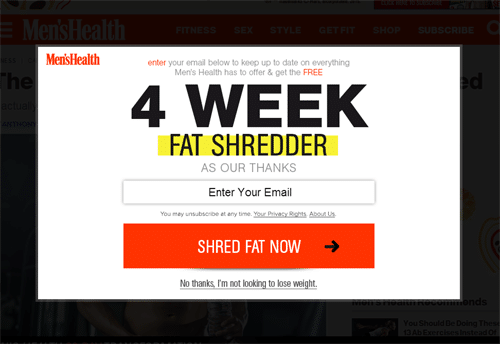 2. Welcome Mat
This list building mechanism has been known to double daily subscribers.
It's called the Welcome Mat.
It's a full-screen call to action that appears when a visitor first lands on your site.
See it in action: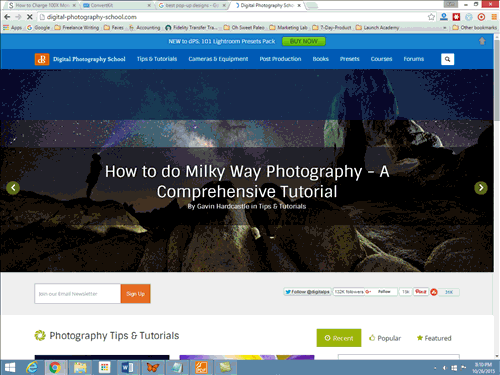 Want to get more people on a webinar?
Install the Welcome Mat.
Want to get more people to read a specific blog post?
Install the Welcome Mat.
Want to pre-launch your upcoming book or product?
Install the Welcome Mat.
Want to promote your latest giveaway?
Install the Welcome Mat.
Seeing a theme here?
But seriously…
This works.
Fedora installed the "Welcome Mat" on their website and saw their daily webinar signups increase by 70%.
Try it out.
Test it on your own website.
And let me know what happens!
Action Item: Install SumoMe Welcome Mat. Let it run for 3 days and see the results!
3. Content Upgrades.
We started using these last year, and they quickly became our #1 list building tool.
Even out-performing the almighty pop-up 🙂
Now, many of you are probably familiar with content upgrades by now.
But in just in case… I'll give you a quick overview.
So. imagine you're reading an article called the "Top 50 Quick & Easy Recipes of 2015".
The article itself is nearly 4,000 words and packed to the brim with some of the best recipes of the year. Each one with just 10-ingredients or less.
You're a busy mom feeding a hungry family but as a working mother, you also don't have a lot of time to spend in the kitchen.
So this is a great reference piece that you might want to print out or even pin it to the refrigerator!
Luckily… the smart gal who created this blog offers you a PDF version of the post that you can have sent directly to your email.
And since you're short on time, you click that link, opt-in and have it waiting for you in your email 🙂
This ONE strategy is converting 7-10% of visitors into subscribers.
If you choose just ONE strategy to implement, let it be this one.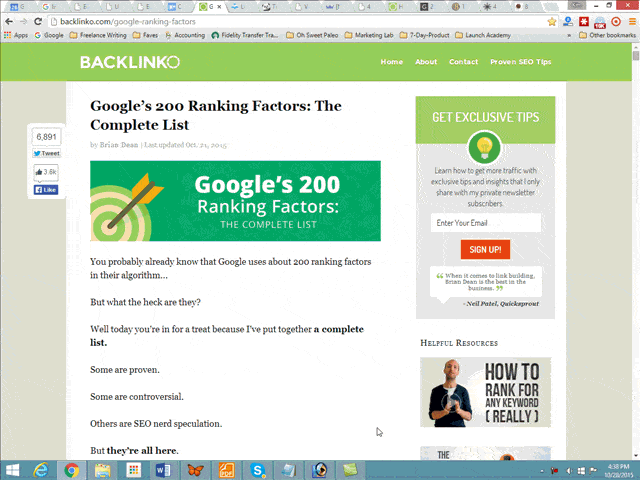 What makes this strategy so powerful is that the "lead magnet" is directly related to the topic they're ALREADY reading about.
Some content upgrades that work really well include:
* PDF Version of the blog post. This works especially well for long posts of 1,000 words or more. Because a lot of people simply like to download the content as a reference guide. This has been one of
our highest converting content upgrades.
Plus, it's also the easiest. If your're short on time. You can implement this one in 10 – 15 minutes.
So don't take it for granted. Do what works!
* Checklist. Turn your blog post into a checklist or cheat sheet that they can use as a quick and easy reference.
* Scripts. If you're teaching people how to do blogger outreach, you could include 3-5 email scripts they can use when emailing influential bloggers. This could be used in the dating market as well.
* Recipes, Meal Plans, & Grocery Lists. If you have a site around fitness, nutrition, or recipes, then this makes for a perfect content upgrade. Share a meal plan at the bottom of each recipe. Or recipes at the end of a fitness article.
* Bonus Video. People love to read. But they can often get more value from a video. Add a video tutorial that shows them step-by-step how to do something from your blog post.
* Extra Tips. I call this the 2-Part article. If you're writing a list post, simply give them more of the same in your content upgrade. For example, if I have a blog post called… "10 Ways to Increase Your Blog Traffic". I can create a "Part 2 – 10 More Ways to Increase Your Blog Traffic".
It's simple. But it's also a no-brainer. If your readers enjoyed what they just read. Then it's only natural for them to want more of the same.
* Transcripts. If you do podcasts or audio interviews, you can give away a PDF version of the transcript in exchange for name and email. James Shcramko does this very effectively at SuperFastBusiness.com.
Extra Tip: This is the perfect kind of blog post to promote on Facebook as well. Getting your content in front of hundreds of additional eye balls. Growing your subscriber list. And growing a massive retargeting list all at the same time.
I call these "Hybrid" Facebook Ads.
And they allow you to promote some of your best content on Facebook, while still being cool AND growing your subscriber list.
Action Item:
So, here's what I want you to do now…
* Find the most popular page on your blog. You can look in Google Analytics to see exactly which pages are getting the most traffic.
* Create a resource that would add additional value to your blog post. This could be a checklist, template, add-on video, or simply a PDF version of the blog post itself.
* Go off and create that resource. Give yourself a 30-minute deadline.
* Add your new lead magnet as a "content upgrade" on that page. I like to put a yellow box at the top and bottom of the post. That's working really well for us 🙂
* Get more email subscribers! It's that simple 🙂
And if you want to throw a bit of gasoline on the fire, then spend $5 – $10 per day promoting that post on Facebook.
This allows you to start creating a perpetual traffic machine that generates leads day in and day out on autopilot.
4. Welcome Page
The Welcome Page is slightly different that the Welcome Mat.
But both are extremely effective.
While the "Welcome Mat" generally only appears once.
The Welcome Page is a custom-designed home page that emphasizes the opt-in instead of your latest blog posts.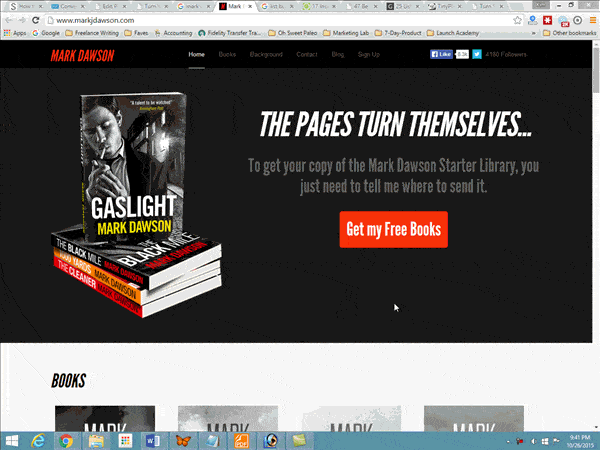 5. Sticky Sidebar.
If you've been online for long, then you've probably seen a few of those snazzy floating sidebars.
The one's that "follow you" as you scroll down the page.
This allows you to take advantage of your valuable sidebar space even as your visitors scrolls through long, detailed articles.
Plus, they grab your readers attention and tend to have a higher click through rate than static elements in the sidebar. The perfect place to put a 2-step optin box. Or the "Image Optin" as we talk about below 🙂
6. Video Opt-Ins.
Ok… a little story for you.
Some of you might know that my dad has a successful membership site in the "Walking Horse" industry with almost 600 paying members.
And when he first started his website, he used one simple strategy to build his first 1,000 subscribers.
Video Opt-Ins.
Every week he would film local horse shows and go to the top training barns to film the up and coming 2 year olds. Each of these videos would then be published on his blog via YouTube.
Then… through the magic of LeadPlayer, an opt-in box would magically appear "inside" the video at the end.
With forum marketing and this simple strategy, he grew his first 1,000 subscribers.
Kind of crazy.
But you can do the same thing on YOUR videos.
Unfortunately, the LeadPlayer plugin itself is no longer being developed.
But…
There are some great alternatives.
My favorite solution is the Wistia Turnstile.
Or you can also use something like Easy Video Suite to create opt-in boxes inside your videos that appear at the beginning, middle, or end.
7. Image Optins.
Here's one that I've only seen a few smart marketers' using.
They're similar to "leadboxes"… but with a twist.
With this strategy, you're going to take advantage of your blog's sidebar to generate additional subscribers.
But instead of using a big, ugly opt-in box, we're going to use a beautiful image with a 2-step optin.
So the visitor doesn't see the pop-up UNTIL they click the image in your sidebar.
Let's see it in action…

8. Optimize Your About Page.
If you check your stats, you'll notice that some of the most popular pages on your blog include your home page, your "about me" page, and your "Start Here" page.
So why aren't you optimizing these pages and giving those visitors an opportunity to join your tribe!
By adding an opt-in box (or 2-step opt-in images) to these high-traffic pages, you'll immediately start adding more people to your subscriber list.
In fact, Pat Flynn reported that the subscribers from his "About" Page increased 446% after adding an opt-in box within the content.
You can see it in action here.
Action Step: Log into your Google Analytics and find out which pages are getting the most traffic. Add an opt-in box to those pages. Or even better, add a content upgrade with a lead magnet that is directly related to the topic they're ALREADY interested in.
9. The Incentive Link.
The links in your menu bar are some of the most highly-clicked links on your blog. So why not be strategic about what links you include.
Some of the standards here include a Home Page link. Contact Page. Start Here Page. Etc… But you can also add what I call an "Incentive Link".
A link that that gives your reader something extra special.
The link text should entice people to click through.
Some examples might include:
How to Get Your First 1,000 Subscribers
Download Our Top 10 Recipes of 2015
Warren Buffet's #1 Stock Pick
Put this link in your "menu" and then direct it to a simple landing page where they can download your free report in exchange for their name and email.
Simple tweak.
Increased Conversions.
More Subscribers.
10. Header Box.
This is often referred to as a "Feature Box".
It's basically a box at the top of your blog that allows people to opt-in for your list.
But although it's simple, don't overlook it's effectiveness!
It's currently being used by some of the most popular blogs online to grow their subscriber list.
Examples: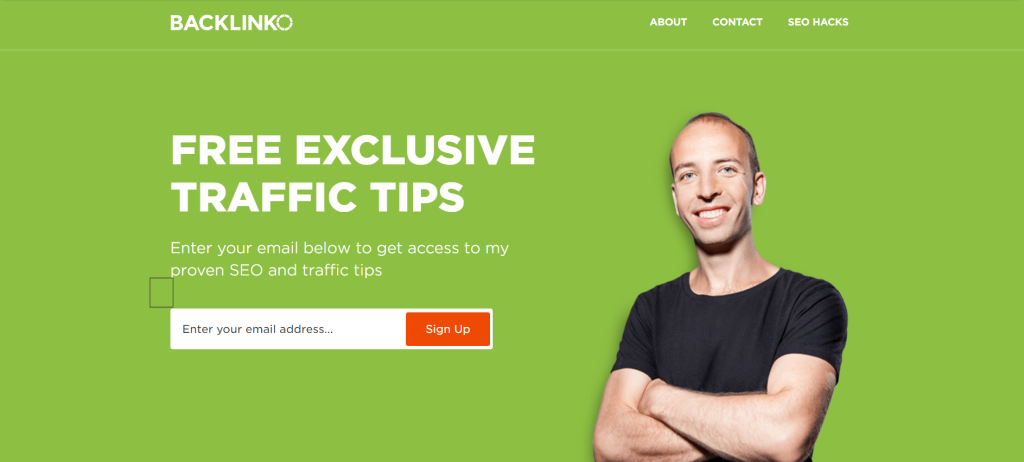 If you're looking for an easy way to implement this feature on your own blog, you can download a free plugin called Plugmatter Feature Box.
 11. Retargeting Pixel.
Retargeting allows you to optimize EVERY visitor that comes to your site.
It does this by allowing you to bring back visitors to your website who didn't convert on their first visit.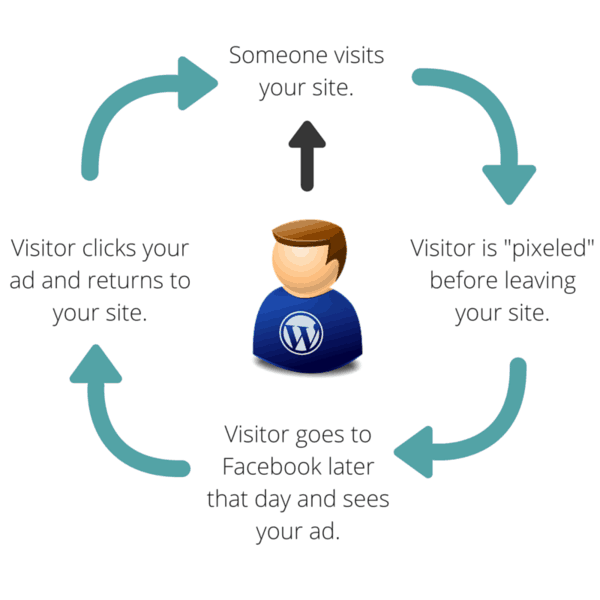 To do this, you simply place a small piece of code on your website.
Here's a plugin that makes it super easy: Tracking Code Manager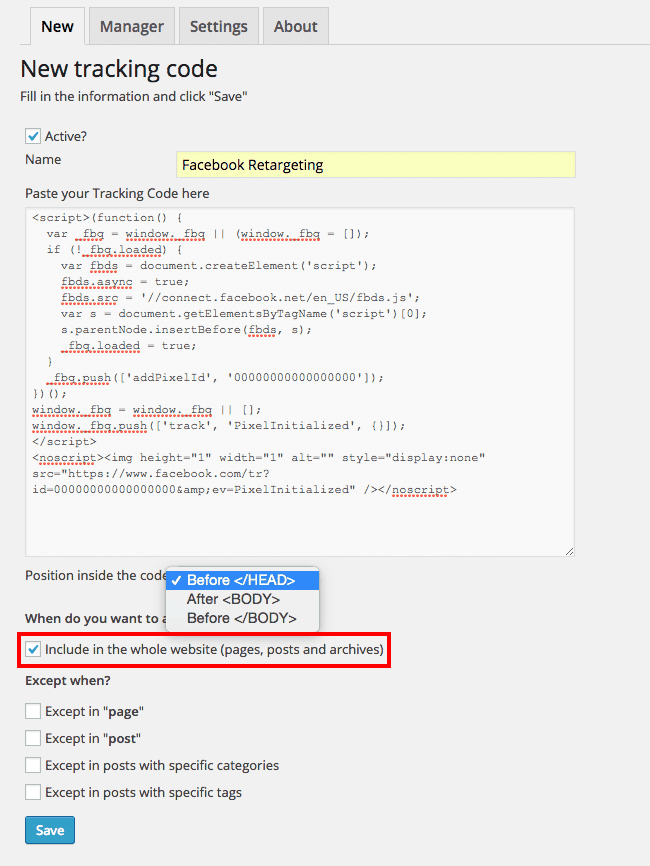 Once you've built up your "retargeting pool", you can run ads on
Facebook to get people back to your website. I recommend pointing
them to a squeeze page so you can get them on your list first.
That way… you can build long-term relationships with your tribe
and create a perpetual traffic source.
12. Smart CTA's.
Here's where things start to get interesting…
What if you could give your visitors a different experience based on whether or not they are already subscribed?
What if you could create custom pop-ups and sidebars for specific blog posts?
What if you could show different widgets to new visitors vs. returning visitors.
Well… there are now some WordPress plugins that allow you to do just that!
My two favorites are Visitor Logic Pro and Thrive Leads.
First, let's talk a bit about Visitor Logic Pro.
Which allows you to deliver different content to your visitors based upon their behaviors.
So, for example…
If your visitor is ALREADY subscribed to your list, you can show a product offer in the sidebar instead of an opt-in box.
If that visitor has ALREADY purchased your front-end offer, then you can show them a banner for one of your higher-priced products in the sidebar.
Leading them naturally through your funnel and customizing their experience based on their past purchasing behavior.
It even allows you to create "behavior-based" scarcity based upon a certain number of visits or exact date range.
If you'd like to learn more about what you can do with Visitor Logic Pro, go here for a full feature list.
Another plugin that just rolled out a similar feature is Thrive Leads.
Thrive Leads is one of the best WordPress plugins for collecting subscribers on your blog through pop-up boxes, screen-fillers, opt-in boxes, header bars, and more.
* Thrive leads also allows you to create specific popup boxes (and specific opt-in boxes) on a page-per-page basis. VERY powerful.
And now they've created a feature called "Thrive Smartlinks".
This new feature allows you to create a "Smarter" website.
Showing different content to new visitors vs. those who are already subscribed.
Allowing you to make much more relevant offers to your visitor based upon their previous actions.
So for new visitors, you can show your pop-up and an opt-in box in the sidebar.
But for existing subscribers, those visitors will see a banner for your most popular product. Or an affiliate promotion. You can then add a similar banner at the footer of your article for the same product.
So instead of advertising the SAME opt-in (which they already subscribed to), you can move them further through the funnel with a customized offer for one of your own products (or affiliate offers).
Which allows you to earn MORE revenue from your existing subscribers.
But even more importantly, it allows you to create a customized experience for each of your customers. Giving them a unique experience based on their website actions and purchasing behavior.
Pretty cool!
And something I think we'll be seeing a lot more of in the future 🙂
Final Thoughts: Effective List Building Strategies in 2021
Ok… so there you have it!
12 Proven Strategies for growing your subscriber list.
Remember your promise to me at the beginning of this article?
You promised to implement at least ONE strategy in this article.
That will take you all of 10-minutes.
In fact, I'll make it easy for you.
Go and download the free SumoMe plugin.
And install either the pop-up OR the welcome mat on your blog.
Whichever you prefer.