Etsy has quickly become one of the most popular e-commerce sites that's used by millions, and it's certainly piqued a lot of curiosity amongst both entrepreneurs and consumers alike.
With its ability to give small businesses an opportunity to thrive, no wonder Etsy caught so much attention.
To get a better understanding of this budding platform, let's take a look at some interesting stats on Etsy revenue and usage including who buys from Etsy shops most often, what levels of conversions they have achieved so far.
Read on to find out everything you need to know about understanding Etsy as an online marketplace.
Overview: Etsy Revenue And Usage Statistics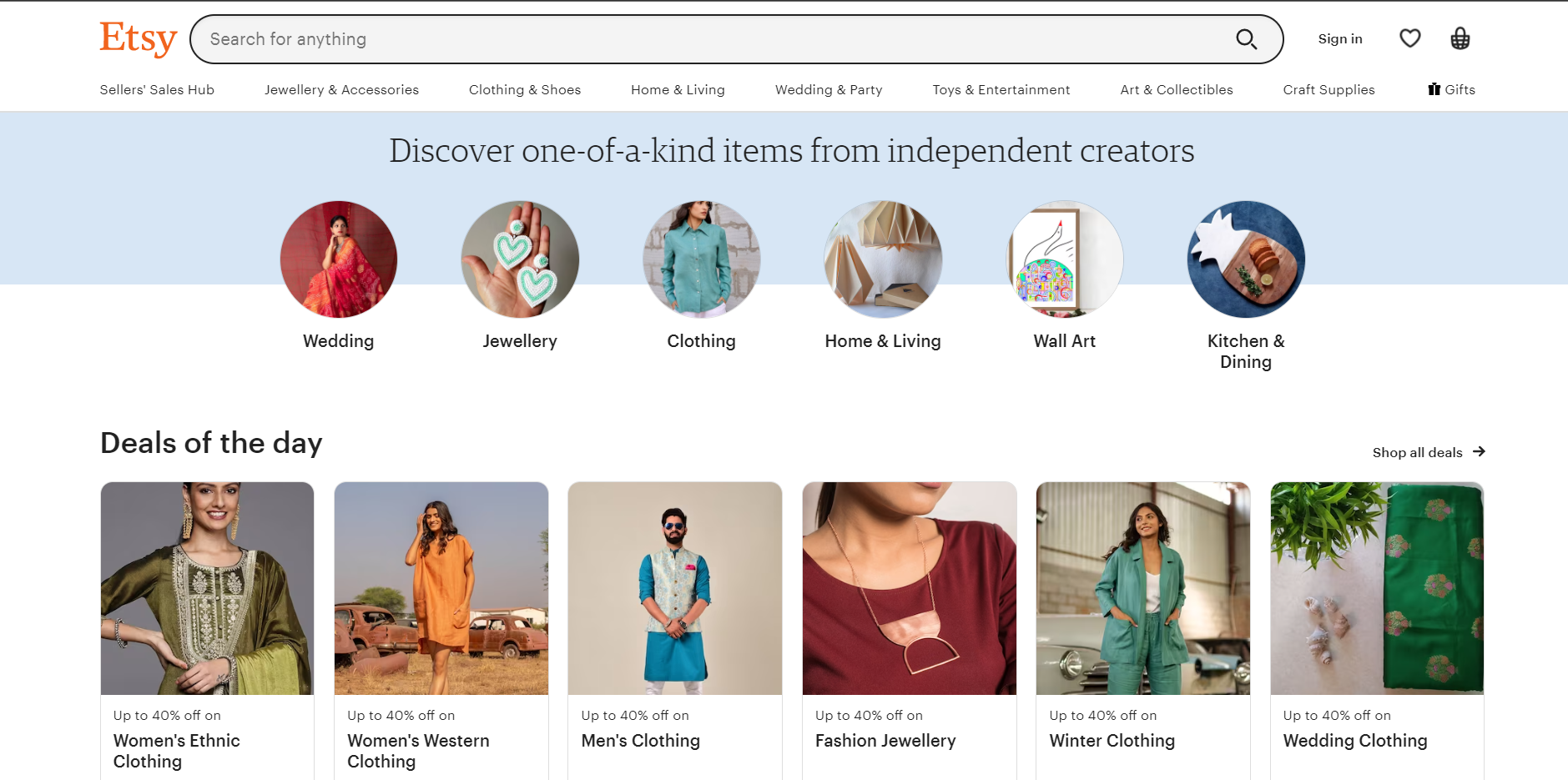 Etsy is an online marketplace that specializes in handmade, vintage and craft items. Founded in 2005, Etsy has become a go-to destination for people looking to buy unique gifts or find one-of-a-kind items.
What started as a small business with only 20 employees has since grown into a global brand with more than 800 employees and over 50 million buyers.
Etsy's mission is to keep commerce human, by creating an online platform that fosters meaningful connections between buyers and sellers.
Etsy offers a wide range of products, from handmade jewelry, furniture and clothing to art prints, vintage toys and books.
The marketplace also features many unique items such as handmade soaps, pet supplies and baby items. Etsy is a great resource for shoppers looking for unique gifts or to find something special for their home.
It's also a great platform for sellers to showcase their products and build an online presence.
Etsy makes it easy for buyers and sellers to connect by offering features such as personalized recommendations, wish lists and the ability to follow other shoppers or sellers.
Plus, Etsy has a wide range of tools for merchants to promote their items and manage their business. This includes features such as analytics and payments processing.
Overall, Etsy is an excellent resource for both buyers and sellers looking to make meaningful connections in an online marketplace.
With tools, features and customer service always available, Etsy continues to be a leader in the handmade and vintage industry.
Key Statistics: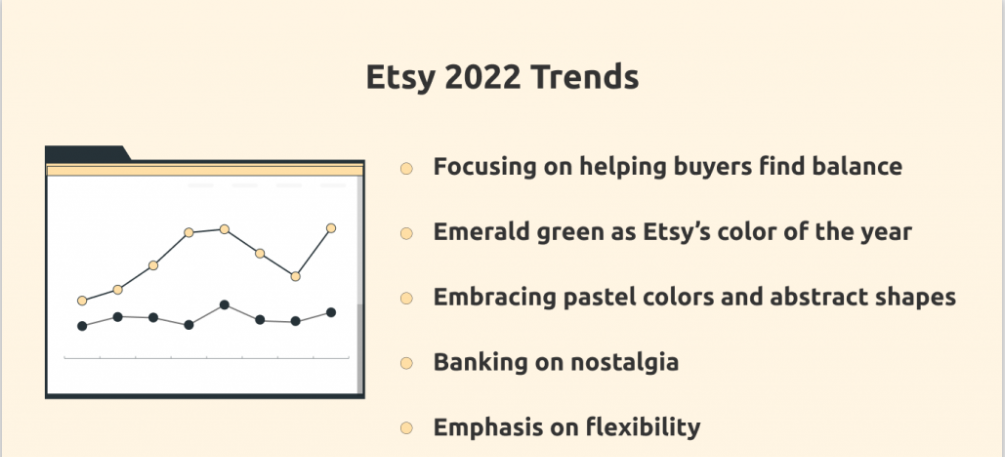 Etsy, Inc. is one of the leading digital marketplaces for creative goods, including handmade and vintage items.
The company has seen significant growth in recent years, with revenue increasing from $1 billion in 2017 to over $3 billion in 2020.
As of 2021, Etsy has over 70 million active buyers, more than 3 million sellers, and over 60 million unique items for sale.
The company's success can be attributed to a number of factors, including its focus on the creative community, strong support for sellers and buyers, and technological advancements such as its AI-powered recommendations engine.
Etsy is also well-known for its commitment to sustainability, with initiatives like its Carbon Neutral Shipping program and its commitment to reduce packaging waste.
Etsy also has a strong user base in the US, with more than 40 million Americans having bought something on Etsy as of 2021.
Additionally, the company's international presence is growing rapidly, particularly in Europe, with more than 10 million Europeans having made a purchase on Etsy as of 2021.
Etsy's market value has grown tremendously since its IPO in 2015, from $1.8 billion to over $50 billion as of 2021. Additionally, the company's stock price has nearly tripled since 2019, and it is now included on the S&P 500 index.
Overall, Etsy is a thriving online marketplace for creative goods, with a committed user base and strong financial performance.
With its focus on sustainability, customer support, and technological advancements, Etsy looks to be well-positioned for continued success in the future.
Etsy Revenue: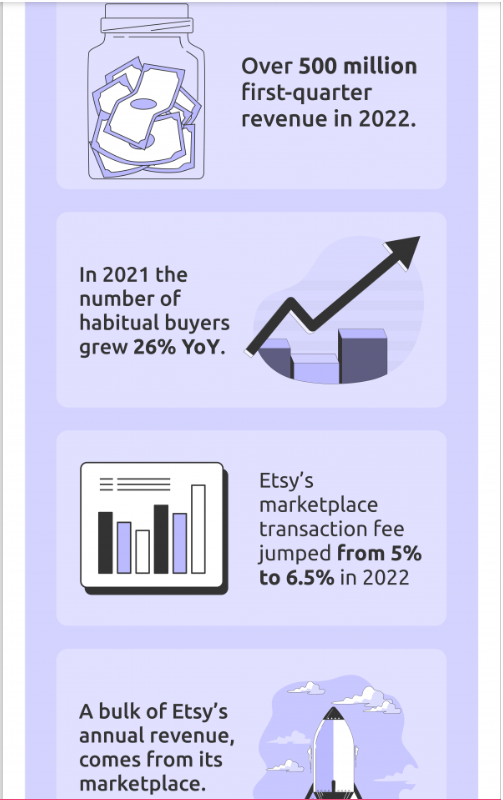 Etsy has seen tremendous growth in recent years, with projected revenues for 2022 estimated to reach $4 billion. This is a significant jump from the company's 2020 revenue of $3.7 billion and its 2019 revenue of just over $1 billion.
Etsy's success can be attributed to its unique marketplace model, which offers buyers and sellers access to a highly-curated selection of handmade, vintage, and craft items.
As Etsy continues to expand its reach into new markets around the world and develop new technologies for buyers and sellers, its projected revenues for 2022 suggest that it is well on its way to becoming an even bigger player in the eCommerce space.
With such impressive growth, it's clear that Etsy is on track to become a major force in the industry and continue its trajectory of success.
As the company continues to innovate and refine its platform, it's exciting to see what the future holds for Etsy and the eCommerce industry as a whole. 
With its user-friendly interface, low seller fees, and vast selection of products, Etsy is sure to remain a key player in the industry for years to come. 
As Etsy continues to grow, it will be interesting to see how this growth translates into increased revenue for the company in 2022. 
It's an exciting time for Etsy and its users, and we're all looking forward to seeing what the future holds for this innovative platform. 
Gross Merchandise Sales: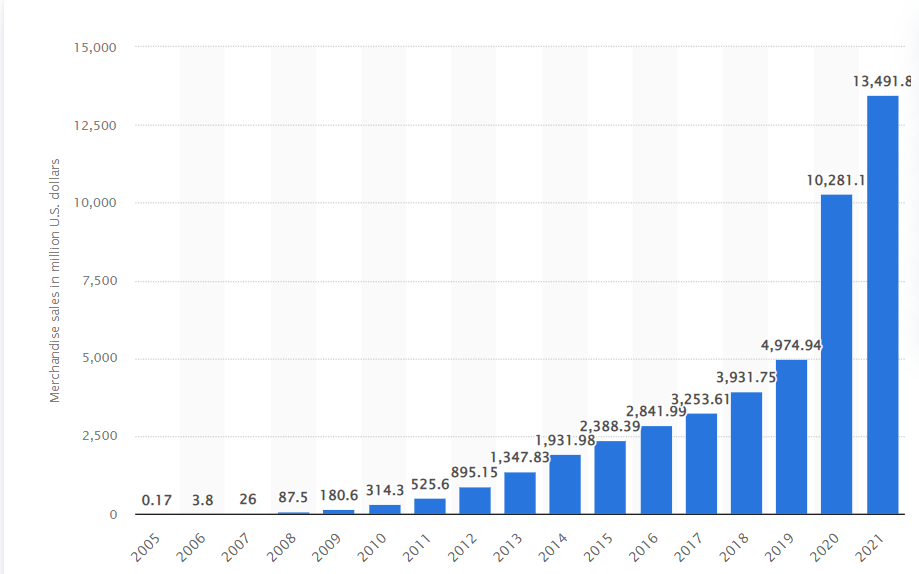 Etsy GMS stands for Gross Merchandise Sales. It is a metric that measures the total value of items sold through Etsy, Inc., an online marketplace for handmade and vintage goods.
The GMS figure includes all sales fees, taxes, and shipping costs associated with each transaction.
This information can be used to measure how successful a seller's business is doing on Etsy and can provide insights into the overall performance of the marketplace. 
Additionally, GMS can be used to assess trends in consumer behavior over time and can be used to make informed decisions about marketing strategies, product selections, and pricing.
Etsy GMS provides an invaluable tool for sellers looking to maximize their success on the platform. By tracking GMS, sellers can gain a better understanding of the marketplace and develop strategies to improve their performance.
Additionally, by comparing Etsy GMS with other metrics such as total number of items sold or total revenue, sellers can gain a comprehensive view of their business health on the platform.
This metric is an important tool for helping Etsy users optimize their operations and grow their business.
By monitoring Etsy GMS, sellers can quickly identify opportunities for improvement in the marketplace and take advantage of them to increase sales.
Additionally, by understanding consumer behavior trends over time through GMS data, sellers can develop marketing strategies that are better suited for their target audience.
Finally, GMS provides an effective way to compare performance across different platforms and can be used to optimize pricing and product selections.
Users: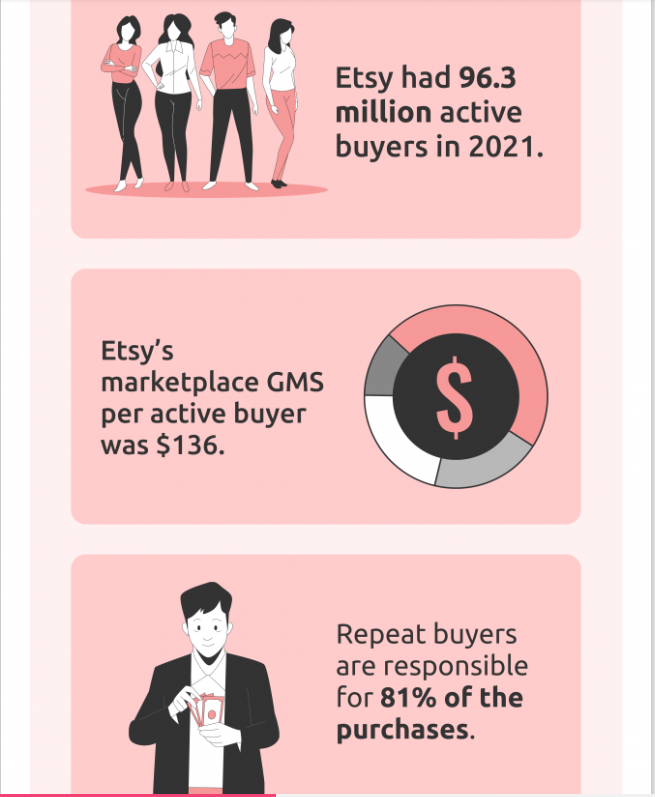 Etsy users will continue to find unique and handmade items in 2022. According to Etsy's 2019 Annual Report, the company had over 54 million active buyers worldwide, a figure expected to grow in the years ahead.
This growth has been driven by an increased demand for items that are one-of-a-kind, customizable or simply special.
As more and more shoppers turn to Etsy for the items they need, sellers will find themselves better equipped to meet the demands of their customers.
Many Etsy users are opting for personalized gifts that can be customized according to the recipient's preferences, creating a meaningful experience when shopping on the platform.
Additionally, advancements in technology have made it easier for sellers to create more intricate items, leading to a rapid growth of niche markets.
Etsy Sellers: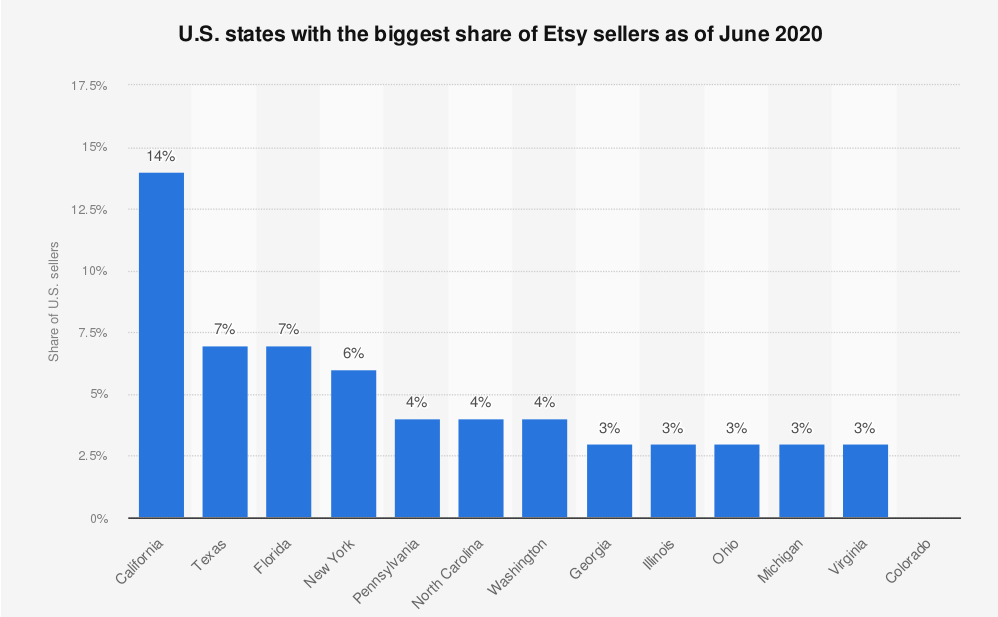 Etsy sellers have the potential to make a great living in 2022 and beyond. With the right strategies, it's possible to create a profitable online business that continues to generate profits year after year.
Here are some of the most important tips for success as an Etsy seller in 2022:
1. Utilize Social Media Platforms – Social media can be a powerful tool for Etsy sellers to reach more potential customers. Make sure to use platforms like Instagram, Pinterest and YouTube to showcase your products and build relationships with followers.
2. Optimize Your Shop For Mobile – More and more shoppers are turning to mobile devices when shopping online, so it's essential that your Etsy shop is optimized for mobile users. Make sure to check the mobile version of your shop and make any necessary adjustments.
3. Focus on Quality Content – It's important to create content that stands out from the competition. High-quality images, videos and written content can all help enhance your shop's visibility online.
4. Offer Attractive Deals And Discounts – Offering discounts or special deals can be a great way to attract more customers to your shop. Make sure to feature these deals prominently in your shop so that shoppers don't miss them!
5. Leverage Search Engine Optimization (SEO) – SEO is the process of optimizing your shop for search engine visibility. Doing so can help ensure that more potential customers find your shop when they are searching for products like yours.
FAQs: Etsy Revenue And Usage Statistics
🎁Q: What is Etsy's total revenue?
A: According to their most recent financial report, Etsy's total revenue in 2020 was $605.7 million. This represents an increase of 30.2% from 2019's total revenue of $465.0 million.
✨Q: How much revenue does Etsy make from marketplace fees?
A: Marketplace fee revenue is the bread and butter of Etsy's business model. In 2020, it accounted for $534.3 million of their total revenue, an increase of 35% from 2019's $396.1 million in marketplace fees.
💥Q: How much revenue does Etsy make from payments processing?
A: Payments processing fees are another important source of revenue for Etsy. In 2020, they generated $71.4 million in this category, an increase of 10.3% from 2019's $64.9 million in payments processing fees.
🙍‍♀️Q: How many sellers use Etsy?
A: As of the end of 2020, there were 4.3 million active sellers on Etsy. This represents a 21% increase from 2019's 3.5 million active sellers.
Quick Links:
Conclusion: Etsy Revenue And Usage Statistics
At the end of the day, Etsy is a marketplace that continues to grow in popularity. Given its low cost of entry for both buyers and sellers, it's no wonder why.
The platform also offers unique items that can't be found on other eCommerce marketplaces, which helps set it apart from the competition.
If you're thinking about selling products online, Etsy is definitely worth considering as one option.