Know how to share a private YouTube video using links and email.
YouTube is one of the few sites that offers the possibility of sharing content privately. Furthermore, they don't appear in video recommendations, search results, or tab video sections.
Furthermore, if that is not enough privacy to satisfy you, you might want to consider the fact that the people with whom you decide to share a private video cannot then share it with other people as well. If someone were to not gain access to the link, they would still be unable to view the video unless they were on the list of invited individuals.
There are a lot of advantages to this, for example: if you're working with another brand or with a YouTube partner, you can share the video with them to be sure everything is perfect before it goes live.
You can also share personal content with family, friends, and other individuals you trust
Let's take another look at sharing private YouTube videos.
Sharing a private YouTube video with someone
Firstly, you need to sign in to your YouTube account. Click the upload video option on the right side of your screen.
The following screen will then appear.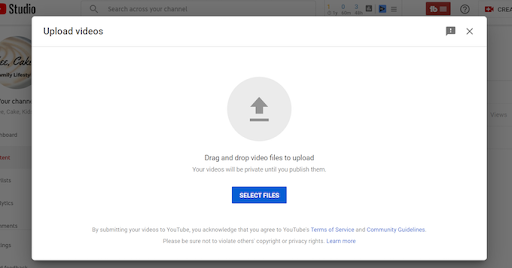 Upload your video by selecting your file and following the steps. Ensure that your video has hashtags, descriptions, and tags.
During the uploading process, the last question you'll be asked is about visibility.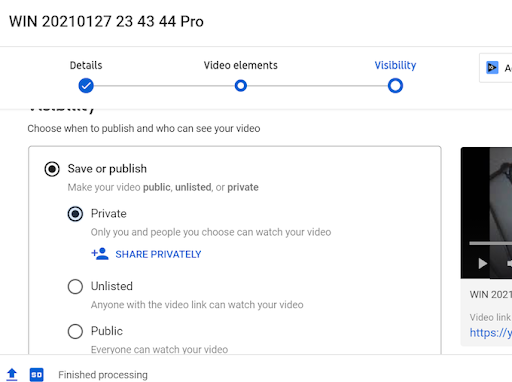 To share privately, click on the blue link. It will open a dialog box where you can enter the email addresses of the people you would like to share the YouTube video with privately, as shown below in the screenshot.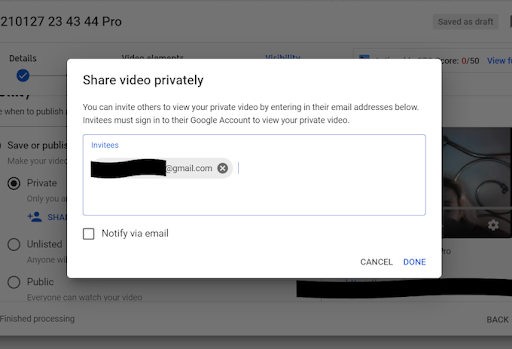 You can share your YouTube private video with up to fifty people once you enter their email addresses, so make sure you do this. Separate the email addresses with a space between them.
Your YouTube video will be shared with the person you have selected on the next screen.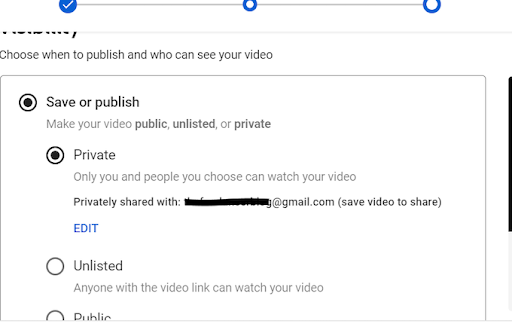 If your YouTube video is private, you cannot send people the link so they can watch it. In general, you can send people the link to your YouTube video, so they can click the link and watch it.
In order to access the list, they must be invited.
Although keeping your YouTube videos private has many benefits, sometimes you upload a video, set it to private, then decide that you'd like to share the link. Your private YouTube video can only be shared from your YouTube Studio.
Go to the video tab on the left and find the video you'd like to share. You will find a link to share.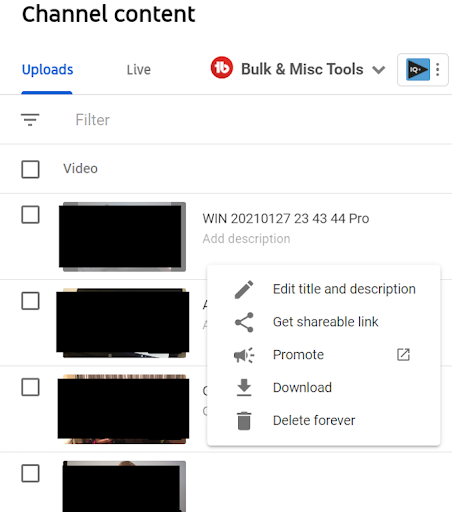 In this way, you will be able to create a shareable link that you can send to family, friends, and whoever else you want.
Why should you make a YouTube video private?
Here are some benefits of private YouTube video:
Private videos can be shared with friends and people in your company. They can't be sent to anyone else without permission. Private videos are useful when you want to share something privately or when it is about privacy, like in medicine or law.
You don't need to sign up for expensive hosting plans or services in order to share confidential information. You can upload videos without signing up for a host. This could be audits, reviews, etc. that you have supplied to a client.
Uploading videos to YouTube can help you save space on your device. You can use YouTube as a free storage platform for your videos while maintaining high quality and resolution.
How does keeping a video private on YouTube benefit you?
While we briefly mentioned this above, often you wish to get as many views on your YouTube videos as possible, especially when you intend to make money from them. However, on occasion, you may need to or desire to keep a video hidden.
Having the ability to create private YouTube videos is ideal if your videos are personal or if you are working on a project that needs to be kept private.
Keep a video on YouTube private for a variety of reasons, including:
You can share videos with family members who live far away, which is a good way to share special moments privately.
Having your own personal video collection is like having an art collection. It is like having your own record collection, wine collection, or comic collection. The same applies to videos – they are moments that are especially for you and that you are not inclined to share, but that you do wish to hold on to.
In the event, you wish to share business plans with your staff, but don't want your competitors to be able to see them (for example, if you want to share training videos), then this can be an ideal option.
Saving space: The private environment is an ideal setting for storing a lot of videos, preventing you from running out of storage on your computer.
Knowing how to share a private YouTube video allows you to take advantage of its privacy while still being able to share it with people you trust and want to let know about it.
However, you can change your mind at any time; if you wish, you can choose at a later time to turn private YouTube videos public, and vice versa.
Are there any Private Video Limitations on YouTube?
Only those invited will be able to access the video at its URL, and the video cannot be shared again.
In order to see your video, you will need to invite contacts who have a YouTube account and have signed into it.
What is the process of sharing videos on YouTube that are not listed?
YouTube provides another privacy option by allowing users to mark videos as unlisted. YouTube videos that are unlisted will not appear in search results on Google, and only those with the link can view the videos.
No Google account or password is needed to view unlisted videos, only the link, so whoever receives the video can share it with whoever wants.
Simply send the URL of a video you want to share to anyone you'd like to watch it. It's easier than sharing private videos on YouTube, but it's not as private as private videos hosted on other sites.
Can private videos be shared on mobile?
NO, simply put. In addition, we can only make videos private through the YouTube Studio app. Private videos cannot be shared.
What is the advantage of YouTube Private Videos?
Video content can be shared with the world on YouTube. Benefits include:
Optimizing internal storage.
Sharing family videos with each other.
Managing business information.
Conclusion: The Guide to Share YouTube Videos Privately 
Following these steps, you can share private YouTube videos with someone. Be it with the link-sharing or using an email, sharing a Private YouTube video is an easy task to do anyway.
I hope your doubts were cleared and you were able to share private videos on YouTube. Leave a comment if you have any questions.
Check out more guides: