Instagram has introduced a new feature called Guides which gives select accounts the opportunity to create content centred on suggestions and tips for well-being.
Since it's release last spring, Instagram has expanded its reach across all users making them easier than ever before code from brands or businesses can use in creating social media strategies as part of our overall digital strategy.
What are Instagram Guides?
The Instagram Guides are a function of this social network that allows users to quickly and easily collect special content (their own or from third parties), such as recommendations and advice on certain topics, grouping them in the same place.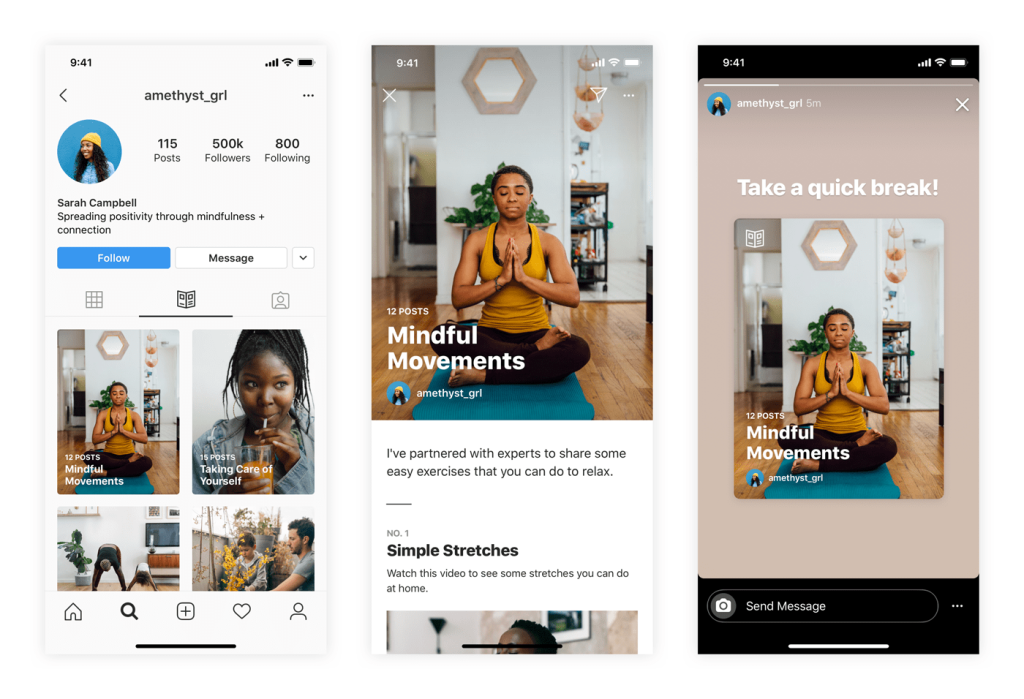 This new way of offering content on Instagram is very similar to blog posts, because in addition to adding text, images, galleries and audiovisual content can be added to make the theme developed more attractive.
It should be noted that this new feature was just launched (May 18, 2020), the topics could only revolve around good health due to the pandemic caused by the new coronavirus, which produces COVID-19. Well, the platform is aware that millions of people around the world are facing such a disease.
Likewise, they could only be created by certain US users, specifically: influencers, celebrities, institutions, publishers and creators, some of the first profiles to participate being the following:
@afspnational
@deepikapadukone
@eenfance
@heads_together
@consaludmental (first Instagram Guides in Spain)
To see the Instagram Guides, you just have to place the icon that is in the form of a brochure or open book located in the user profiles, precisely in their feeds, next to the Publications section. You can also view them by heading to the Explore tab.
Types of Instagram Guides:
Months after the launch of the Instagram Guides, the platform chose to allow Guides to be made on other topics that did not have to do exclusively with well-being. This is how on November 17, 2020, Instagram began to allow Guides on:
Places:
View this guide on Instagram
This option is ideal to recommend your favourite places, both in your country or city and anywhere in the world. You can make Guides to beaches, parks, shopping centres, supermarkets, among other interesting places.
Products:
View this guide on Instagram
This section is exclusively for making recommendations for the products that are available on the platform. The social network will automatically show you the profiles with products that you have saved or that you have liked.
Publications:
View this guide on Instagram
This option is particularly to recommend publications both yours and third parties. Like the Products section, Instagram will automatically show you the publications that you have saved or liked. In the case of making a Guide for someone else's publication, it is necessary that you have saved it in advance.
In addition to expanding the content of the Guides, Instagram gave the go-ahead for its more than 1,000 million users to use this new format. That is, whether or not you are an Instagrammer or an American, for example, you can make Guides on your profile.
Benefits of Instagram Guide:
Boost Brand Loyalty
With your Guides you can turn users into more loyal followers of your brand. The more people follow you, the better it is for them to be aware of new products and services that you offer.
By creating a guide on Instagram, you can tell people about your brand or what you're passionate about.
You can do this by sharing your story and getting to know your followers.
Make sure that you stand out from the other businesses with accounts on Instagram.
Take Advantage of Keywords
Instagram has recently changed its search function. Now you can search for content by broad keywords in addition to profiles, hashtags, or location. This will help your posts show up in searches on Instagram and also on the Explore Page.
Keep Users Engaged
Long-form content, like guides, can keep people on your page for a longer time. Instead of scrolling by your post, they can learn more about your brand and buy things.
If you make it easy to find information from other posts you've shared, people will be less likely to leave the page.
Collaborate with Influencers
Influencer marketing is a major part of Instagram. Creating "Instagram Guides" with influencers is one way to work with them to promote your products. If they share your guides on their stories, they will also be able to show the items you sell in their posts.
More Chances to Make a Sale
Product guides are a great way to promote your products. You might be able to get more sales with them. Product guides are good for Instagram. When you combine Instagram Shop and Instagram Guides together, you will have the opportunity to sell more items.
How to create Guides on Instagram?
Making Guides on Instagram is very simple. You only have to access your account from the app on your mobile device. At the moment, Guides cannot be created from the web version but from the app.
However, you can see them from both options.
Once you have logged into your account, click on the + icon, which is located at the top of your screen. After clicking, several options will appear. Among those options will be Guide. Click on it.
When you click on Guide, you will have to choose what type of Guide to make: Places, Products or Publications.
According to the type of Guide you are going to do, the steps will vary (the difference between one and the other is practically insignificant).
Below I explain what you should do in each case:
Places: Indeed you must choose the place. Your choice may be considering the places that the app suggests or doing a search in the search engine. Having the place, click. You will immediately see all the photos tagged in that place.
Choose your favourite image. The last step is to edit the Guide. Editing a Guide involves adding a headline and, if you wish, a short description about the content of your Guide. Finally, click next and Share.
Products: To make a Guide on Products you must do a search for profiles with products in the search engine and choose the one that, of course, has the product you want to recommend.
You can also choose between the profiles with products that you have saved or that you have liked. After having the profile, click on the product you want to recommend. Then follows the edition of the Guide, which is the same as the previous one (Places). Done the edit, click next and Share.
Publications: If you choose this last option, in the first place your publications will appear through a menu titled «choose publications«. But, if what you want is to make a Guide with the publication of a third party, click on the Saved option, which is in the lower right.
By clicking there, you will see all the posts you have saved. Remember that to make a Publication Guide for another profile you must have it previously saved.
Select the publication, either yours or that of a third party, click next and edit it as with Places and Products. Finally, press next and Share.
All the Guides you make will appear directly in the Guides section, which is identified, as I mentioned at the beginning, through the icon in the form of a brochure or open book that will be in your update feed.
In a Guide, users will be able to see the posts of the accounts that were included in it. And by clicking on each publication, the user will be redirected to the original Instagram post where they can like, comment and share, just like in a normal publication.
Of course, the Guides that you create can be shared by other users through the Instagram chat through the paper plane icon or their stories by pressing the share button (the one with the three dots) located in the upper corner right.
Likewise, you will be able to synchronize your Guides with your products (if you have a store on the platform), publish your Guides in your stories and send them through direct messages.
Final Thoughts on Instagram Guides
Your followers will want to share your guide on their stories. And when they do, you can make them aware of how many people have seen it by checking the number in the lower left-hand corner of the post—just like we did with our Instagram Guide!
With this information at hand, start thinking about what other guides you could write and publish today.
Also Read: