Learning a new language can be daunting but there are plenty of online tools and apps that make the process easier.
Two popular language-learning platforms, Lingvist and Duolingo, have been around for some time now and they are both vying to be the leading choice in [Year].
So which one will come out on top? Let's take a look at both platforms and compare their features. 
Lingvist vs Duolingo: A Quick Review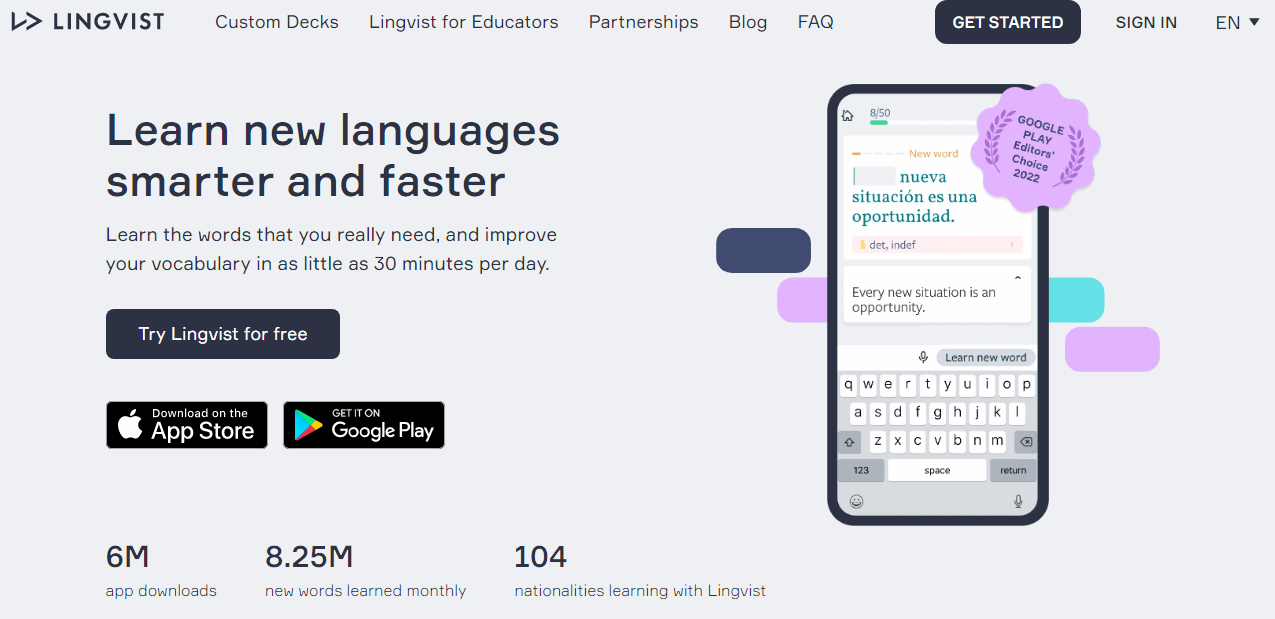 Duolingo is an American language-learning programme that has been since 2012 and is accessible to everyone.
The fact that it has a vast user base is not surprising since it offers 38 languages to English speakers, including Klingon and High Valyrian.
Lingvist is an Estonia-based platform and software for language learning that was developed by former CERN and Skype employees.
It was released in 2014 and offers eight languages to English speakers: German, European Spanish,Brazilian, Latin American Spanish,Italian, French, Russian, Portuguese, and Dutch.
Both apps are accessible on the App Store and Play Store, as well as their respective websites.
Although Duolingo appears to offer a greater quantity of learning materials at first sight, this does not make it superior.
Choose a language-learning app depending on whether it has the correct strategy and structure to help you reach your objectives.
So, how do these two applications compare? Let's find out.
Design & User Experience: Lingvist vs Duolingo
The design of both platforms has evolved significantly over the past decade.
Lingvist has shifted from a traditional desktop experience to a more mobile-friendly format that includes downloadable apps for both iOS and Android users.
The platform also features an intuitive chatbot that can provide personalized advice to help users with their language learning goals. 
Duolingo has also moved away from its original desktop format and now offers several different apps tailored to specific languages, as well as a website experience that is optimized for mobile devices.
The design of each app focuses on gamification elements such as 'xp' points and rewards, which encourages users to stay motivated with their language learning journey. 
Lingvist vs Duolingo: Use In Everyday Life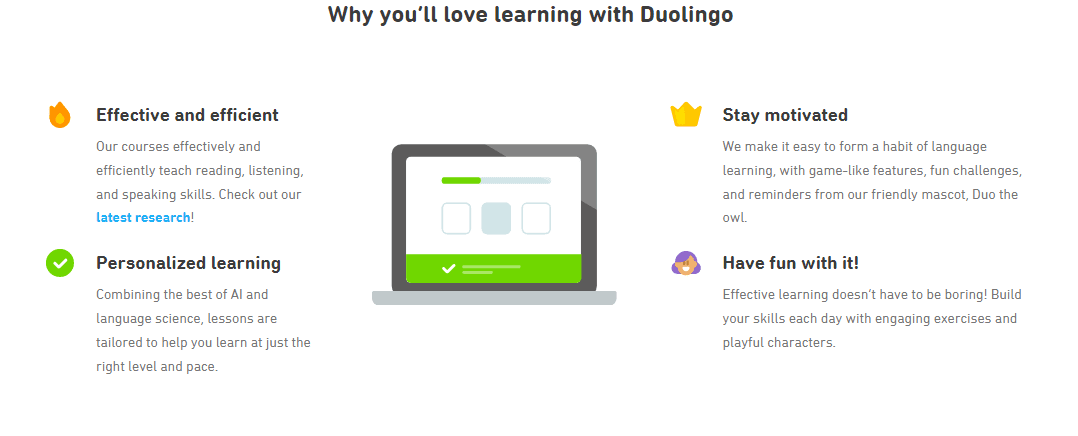 Lingvist prioritises the most frequent words and teaches you the most frequent terms first. And I observed some quite convincing benefits.
One of them is that if I expose myself to the language in the actual world, I will hear the terms I've learnt frequently. So I automatically gain experience with them.
And if I listen to a news broadcast, visit YouTube and search for videos on a topic that interests me, or simply walk out and listen to people speaking the language, I'll hear a tonne of the terms I've learned on Lingvist.
Duolingo, on the other hand, does not cover as many terms, which I believe is a shortcoming, and it includes a large number of words that would be interesting to learn but are not regularly used.
For instance, it has a section on animals, so you will learn elephant, tiger, and similar terms. But how frequently do you use the word "elephant" in your daily life?
You could, but you could not. Moreover, there are many other words that are more important for you to learn than "elephant," and it would be simpler for you to practise them.
This emphasis on language is one of my favourite aspects of Lingvist.
Features of Lingvist vs Duolingo
Learning Games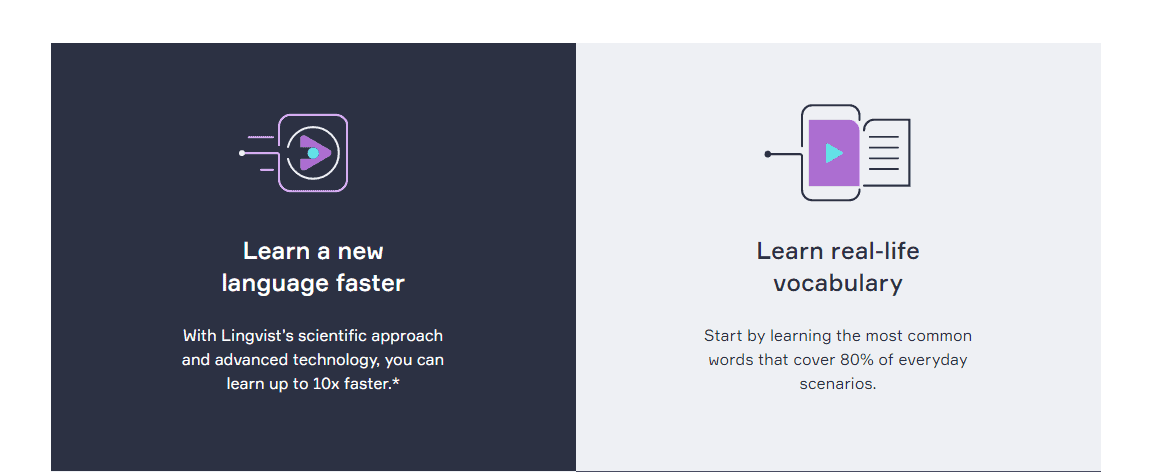 Users consistently regard Duolingo as an entertaining programme because to its highly gamified design.
You finish, rearrange, or translate words and sentences to earn XP points and enter a leaderboard when using the Duolingo app.
You can also win jewels, crowns, and other goodies so long as your daily streak is intact.
Duolingo will not save your progress if you do not complete a whole set, and you will have to begin the set from the beginning. If you enjoy games, this is a good way to amuse yourself.
Lingvist, on the other hand, provides a more concentrated method for holding your attention and facilitating learning.
The primary focus is on the flashcards: when you click the Learn button, a card with a context sentence and a blank spot for the correct word will display. Lingvist also provides a few hints to aid with navigation.
The greater your accuracy, the less you will encounter this word in the future. The objective is to finish a full deck of 50 cards per day; after this is accomplished, you can go on to other activities or continue learning.
It is a very straightforward and efficient process, with no interruptions or pressure along the way.
Lingvist recognises that not everyone has the same amount of time or energy to study every day or complete 50 cards, therefore if you are unable to complete a full set even if it's just one card Lingvist will save your progress and include it in your learning curve and daily statistics. Everything matters!
Other Exercises
Duolingo will guide you through various themes and terminology, beginning with the fundamentals, while offering "additional skills" that can be unlocked with gems. These are word lists centred on subjects such as flirting and idioms.
It also includes Duolingo Stories, which are brief collections of conversations (or short stories) designed to improve your reading and listening abilities.
Depending on the language you are studying, Lingvist provides you with several vocabulary decks on topics such as food, business, the environment, and travel, among others.
The format remains the same: you will be presented with a sentence that must be completed with the correct word.
You'll also have access to grammar suggestions and a list of all the terms you've encountered at least once, where you may view alternate definitions, several example sentences, add notes, and even create a playlist.
For instance, you can construct a playlist of the words with which you struggle the most and play it as often as you like while performing other duties; this can help you passively learn these words and sentences.
Last but not least, Lingvist features a fantastic feature known as Custom Decks. Learn more about this below.
Custom Decks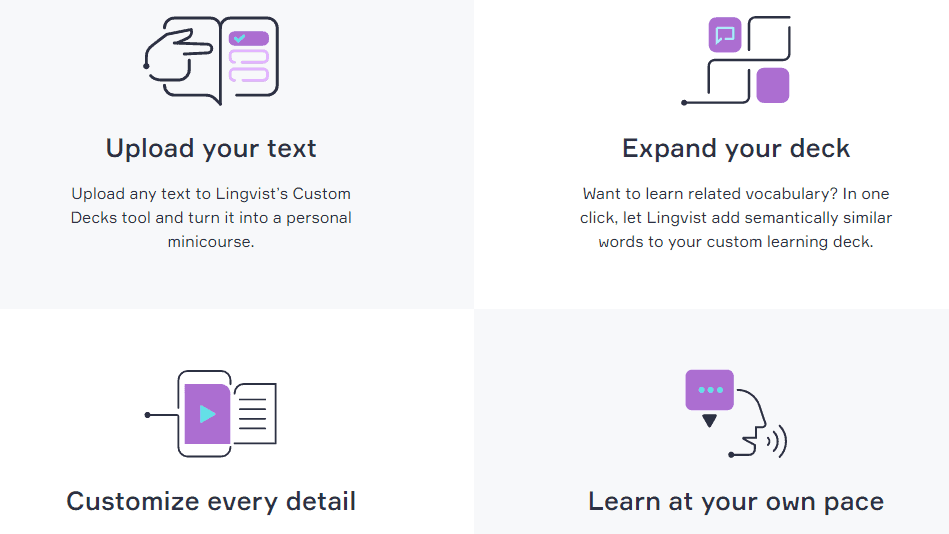 Custom Decks is a feature of Lingvist that is quite cool. This is a tool that allows you to construct a brand-new vocabulary deck with your own custom content.
Additionally, the new deck is ready to play in a matter of seconds!
You can add a list of terms, take a picture of some text, or upload a file to Custom Decks if you want to study vocabulary about a very specific topic.
This article has a detailed description of how to use and benefit from it, as well as a video demonstration.
Lingvist vs Duolingo: Who Is Each One Best For?
Duolingo is user-friendly for absolute novices. If this is your first attempt to learn a new language, it is advisable to begin with the most fundamental vocabulary.
Or, if you're searching for a new pastime and something to pass the time while still feeling accomplished, this may be a nice fit.
There are three levels of users who can use Lingvist: novices, moderates, and advanced users. The more words you know, the better your chances of establishing a solid foundation for the rest of your adventure.
In addition to testing their knowledge and learning more terminology, intermediate and advanced users will find Lingvist to be an excellent application for their level of proficiency.
If you are learning a new language for professional purposes, Lingvist's Custom Decks can help you learn the appropriate vocabulary for your business.
Users of Lingvist have also stated that this is a fantastic add-on tool for accelerating progress if you are currently using language instructors or books.
Pricing Plans of: Lingvist vs Duolingo
Duolingo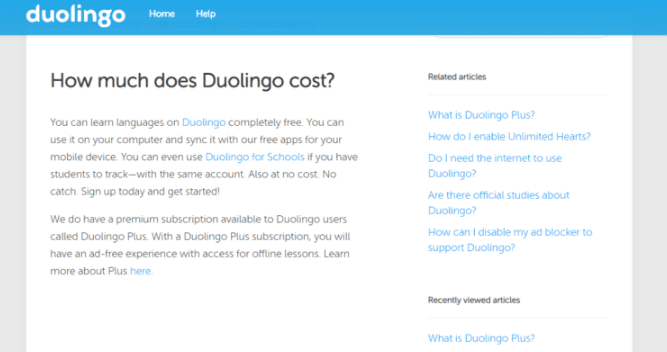 Duolingo is a totally free language-learning website. You can use it on your computer and synchronise it with our free mobile apps.
Even if you have pupils to track, you can utilise Duolingo for Schools with the same account. Also at no cost. Not a catch Register immediately and get started!
Super Duolingo is a premium membership available to Duolingo users. A Super Duolingo subscription will provide you with an ad-free experience with the option to enable limitless Hearts and review your mistakes.
Your subscription's billing frequency is determined on the subscription package you choose.
If you have a subscription to the 12-month Individual or Family Plan, you will be invoiced annually. We do not provide monthly billing for annual subscriptions at this time.
If you choose the monthly individual plan, you will be charged on a monthly basis. To select the monthly subscription, on the purchase screen, touch "View all plans."
Lingvist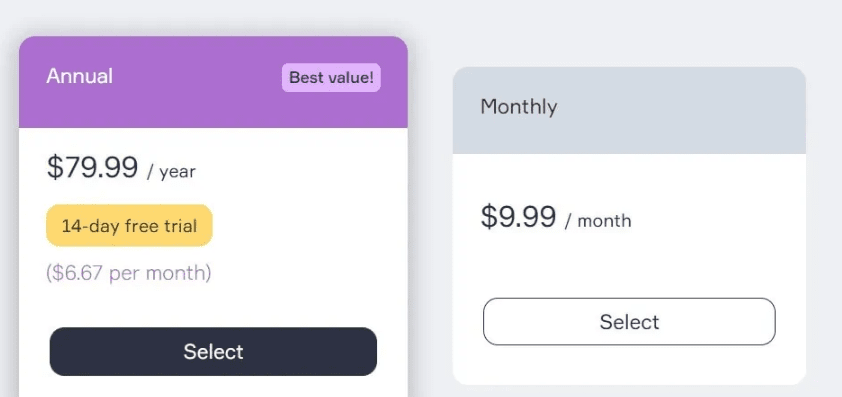 The app Lingvist is subscription-based. All new users receive a 14-day free trial, but in order to continue learning after the trial, a monthly or annual membership is required.
The monthly plan costs $4.99, and the annual plan costs $39.99. Upon becoming a subscriber, all Lingvist content becomes available to you, including language decks, vocabulary decks, custom decks, word lists, etc.
Lingvist vs Duolingo: Pros and Cons
It's time to do a final comparison of these two apps:
| | | |
| --- | --- | --- |
| Content/Features | Duolingo | Lingvist |
| Languages | English speakers can choose from 30+ languages | There are eight languages available to English speakers |
| Design | An easy-to-use and playful design | Ease of use and a clean design |
| Design | There are ads in the free version | Ads and distractions are not allowed |
| Learning experience | Completing sets to earn points is highly gamified. | Every small step counts in more focused learning. Using example sentences to learn vocabulary |
| Learning experience | The translation, typing, or rearranging of words or sentences | Grammar should be learned inductively (like first language learning) |
| Learning experience | To see new content, we need to make slower progress, get everything right | In parallel with learning new content, repeat the content you get wrong to make faster progress |
| Other features | A complete collection of stories | Specific vocabulary lists on a variety of themes. Or make your own flashcards using the Custom Decks feature. |
| Other features | Vocabulary sets for bonus skills" | Tips and hints on grammar |
| Other features | The number of hearts and mistakes you can get is unlimited if you win or buy gems. | Adding notes and listening to the pronunciation will help you keep track of your practice words |
| Pricing | You can purchase the Plus plan (a monthly subscription) for an additional fee | New users are offered a free trial as part of the subscription model. Check out the family sharing app for iOS for monthly and yearly subscriptions |
| Who is it best for | A complete beginner | A beginner, an intermediate, and an advanced user |
Quick Links:
Final Thoughts: Lingvist vs Duolingo 2023
If you wish to learn or are already learning one of the following languages: Spanish, French, Portugeese, German, or Russian, I strongly recommend checking out Lingvist.
There is a free version available. I have paid for the premium version. I was a paying subscriber to Duolingo for a brief period of time. I cancelled my subscription because I was so dissatisfied with the site's administration.
I kind of hope that the folks in charge of Duoling will make improvements, possibly modify the technique of spaced repetition, and consider teaching the words by priority.
That would be fantastic because Duolingo is a fantastic website that offers many more language classes than Lingvist. Nonetheless, I urge you to utilise Lingvist.
I find it to be more effective because it requires less hours of effort and yields a greater return. Consider utilising language-learning applications, such as the Ling App, as an alternative.
The fact that Duolingo is repetitious and occasionally tedious has had a significant impact on the language learning community. Therefore, Duolingo was a groundbreaking app, but Lingvist is an evolution.