Let's further read out the Magoosh vs Kaplan GRE comparison with details into features, pricing, and more.
Magoosh vs Kaplan GRE 2023: Overview
Here is an overview comparison between Magoosh and Kaplan GRE:
Kaplan Overview
Kaplan has live courses available nationwide in more than 40+ states. Kaplan provides a classroom structure even if you have a busy schedule.
Kaplan GRE test prep allows you to learn entirely on your own or with the assistance of an instructor. There are many day options, and you can select any time from those options.
Everything is also available on Kaplan's mobile app. It provides both quantity and quality in terms of study materials.
There will be a lot of test and practice materials to help you learn for GRE prep courses. It is accessible to anyone and everyone.

Kaplan will assist those who wish to study from home while participating in live online courses. Its quiz banks contain over 5,000 questions.
In this industry, the number of questions is the highest. You select the study plan, such as the type of question and difficulty, based on your abilities. Other online courses do not provide offline resources, but Kaplan does.
The Kaplan courses are available in in-person test prep courses in 46 states. If you enjoy the idea of a study hall, Kaplan may be the best option for you.
Kaplan has the most area and timing options of any available test prep course. Kaplan is a well-known test prep company.
This GRE prep plan has provided a large library of materials, likely their most valuable component.
Kaplan offers more full-length practice test sets than competitors, more practice questions, offline resources, and a GRE prep course test plan. It provides live aptitudes, system recommendations, and exercises.
Kaplan has so many video sessions, practice questions, tests, and other materials that a typical student would struggle to finish them all.
This may appear to some as an overdose, but the majority of students can ensure adequate substance for their weak zones.
With the help of this massive resource, they can become acquainted with the course's nuts and bolts and progress to the master level. Kaplan's score increase guarantee also works, and you can use it to improve your GRE test score.
We hope this comparison suited you and helped you choose between Kaplan and Magoosh.
Magoosh Overview
Magoosh is also an excellent option for preparing students for the GRE test because it offers a plus 5-point score increase guarantee. Every Magoosh GRE prep course plan is online and available on a computer, tablet, and smartphone.
There are no class meetings, textbooks, DVDs, or deadlines; open Magoosh on your computer, tablet, or smartphone and get started right away.
It provides video lessons based on your progress and compares you to other students. It provides dependable learning resources to help you recognize your potential, skills, and abilities.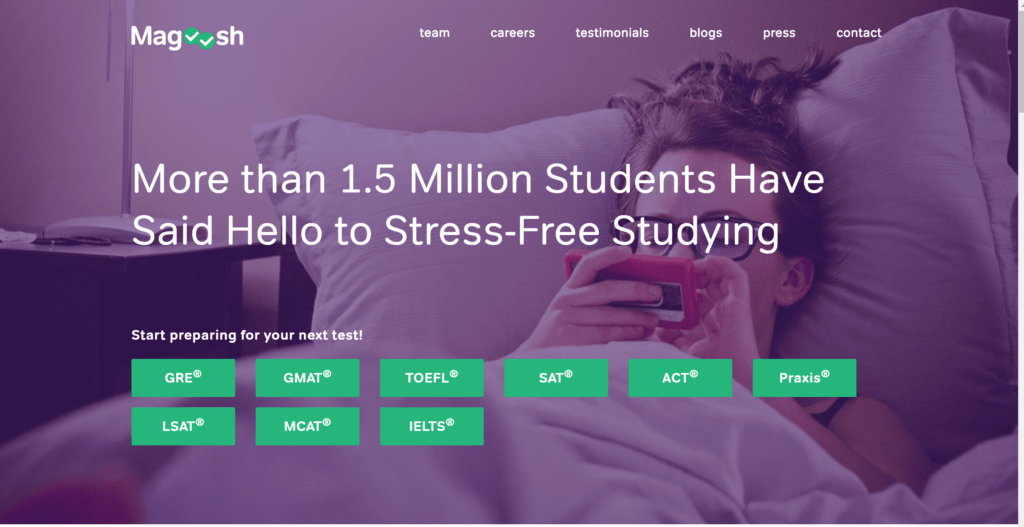 Magoosh GRE prep provides a variety of study plans ranging from one week to six months, depending on how much time you have left for GRE courses.
The best part is that these plans are available on the website and GRE prep courses test blog even if you cannot purchase them for this course.
However, premium study plan material is available after you make a purchase. It has fewer questions rather than many, and it simply provides the best material.
It provides a more optimized study environment than a classroom. You can access the material whenever you want and watch the videos as many times as you want. Magoosh is a top test preparation company.
When you enroll in a Magoosh prep course, you approach their test prep entry. You also gain access to their iPhone, iPad, and Android applications. The application contains most of their exercises, problem sheets, and tests.
The Magoosh offers GRE prep courses that are entirely online, with no books or software to order or carry, giving you the flexibility to test quickly. It provides dependable learning resources as well as numerous practice tests.
They are also excellent at providing alternative options. When considering GRE courses, one of the most important abilities to understand is when to use simple math and reasoning.
The math-based arrangement will be demonstrated in your regular test prep clarification. I hope this comparison was useful to you in deciding between Magoosh and Kaplan.
When a math-based arrangement is required, the recordings will frequently provide alternative solutions to the problems. You can also get help via email.
Kaplan vs Magoosh GRE: Essay
Magoosh Essay
Even though the verbal and quantitative sections of the GRE course demand more time and attention, the essay writing section is also critical. Nonetheless, Magoosh does not provide any essay-related features. Magoosh also provides essay evaluation services.
There are numerous videos, blog posts, and articles with writing tips for the Analytical Writing Assessment. These are helpful, but they pale compared to practice essay sessions where students are graded and given feedback. Magoosh also provides simple tutoring options.
Kaplan Essay
It has an essay writing feature where you can submit up to two essays at once, and Kaplan's qualified instructors will grade them and send you your score within a few days.
These instructors provide feedback on your essay writing abilities and advise you on improving them. Kaplan's essay writing service is far superior to Magoosh's because it includes evaluation options.
Which One Has A Better Refund Policy?  
Magoosh Refund Policy
Magoosh offers a refund policy if you don't think that course is good for you seven days after signing up. You will get your money refunded once you apply for the refund, and they will not ask a single question.
It's similar to a 7-day free trial. You are not required to give a reason for leaving the course. Magoosh outperforms Kaplan in this regard. It also provides students with video instructions. It also provides an excellent learning opportunity.
Kaplan Refund Policy
It does not offer refunds like Magoosh. There is no way out once you sign up for the course. You change your mind after signing up and decide not to take the course. The money has vanished.
Then, you must take the course even if it does not assist you in preparing for the GRE.
Magoosh and Kaplan: Additional Options And Packages
Magoosh Additional Options
Magoosh does not offer any additional package or option. It provides only the primary choice for preparation, which you can avail of for a small amount of money, and there is no add-on option in Magoosh. You have to be satisfied with the basic options.
But still, if you get good at basic options, you probably won't need any add-on options. In this particular area, Kaplan is better than Magoosh GRE.
Kaplan Additional Options
As a student, if you are not ready to purchase the entire platform, Kaplan offers you the option of purchasing an additional option or package to work on a specific skill of yours. It also offers smaller packages to help you hone your skills.

If you already know the fundamentals and only need practice questions, you can purchase Kaplan's add-on option for a small fee. They also have everything available on their official mobile app. It also offers hardcopy preparation books.
We hope this comparison was useful to you in deciding between Magoosh and Kaplan.
You can get 2,500+ practice questions, a practice test, and an official test day experience for only $200.
FAQs:
Is Kaplan or Magoosh better for the GRE preparation?
Magoosh is the safest option if you're preparing for GRE because it offers a retake option and a money-back guarantee as well. But if you want detailed study material, then Kaplan trumps over Magoosh.
Is only Magoosh enough for GRE?
If you're preparing for GRE then Magoosh is a good option, but it is not enough. You have to make your vocabulary, find questions online, and prepare with the material provided by Magoosh. You have to do your research for study materials if you want to clear GRE.
Is Magoosh harder than the actual GRE?
Magoosh is a little bit harder than actual GRE. The math videos and questions are more difficult than the actual test. But if you're solving questions like that, then definitely your GRE score will improve in reality.
Is Kaplan harder than GRE?
Practice tests provided by Kaplan are somewhat similar to the actual GRE test and some questions are a bit harder than the GRE test.
Related Links:
Conclusion: Magoosh vs Kaplan GRE 2023
In my opinion, the Magoosh course is the safest and most economical GRE prep course. But in the area of study materials, Kaplan has a lot to offer than Magoosh GRE.
Kaplan is superior to Magoosh for improving your GRE score because it offers a package of in-person and live online sessions, which are far superior to previously recorded questions and videos.
Magoosh does not have an instructor option. GRE means you have to take the course independently, with no one to guide you, but Kaplan provides many qualified instructors to guide you through your GRE preparation.
If money is not an issue, Kaplan is the best choice for you.
However, it does not provide a satisfying money-back guarantee like Magoosh because Magoosh guarantees that you will score five points higher than your previous official GRE test; if not, your money will be refunded.
In the case of Kaplan, you will only receive a one-point increase in your final score, and if you are unable to improve your score, they will refund your money or allow you to retake the course for three months.
You should retake instead of a refund if you believe it is a better option.
Magoosh also has a 7-day refund policy if you don't think Magoosh is right for you, and they won't ask you a single question, whereas Kaplan has no refund policy, which means you can't back out of the course once you've signed up for it.
Magoosh also provides free resources, such as over 1,000 practice questions, and Kaplan allows you to take a practice test for free; otherwise, you must pay.
Finally, based on the information presented in this article, I believe Magoosh is superior to Kaplan for various reasons. I hope this Magoosh vs Kaplan comparison serves your needs.