Gathering accurate and up-to-date web data is a daunting task. It's hard to know where to start and even harder to keep track of all the changes that occur on the web.
Not only is it difficult to gather data from the web, but it's also challenging to make sure that the data you've gathered is accurate and up-to-date.
One wrong move can mean hours of wasted time and effort.
Nimbleway is the solution you've been looking for. This easy-to-use web data-gathering tool makes it simple to collect data from any website.
Plus, their software automatically updates as new information becomes available, so you can rest assured that your data is always current.
Let us understand more about Nimbleway in detail.
Nimbleway Review 2023: What is Nimbleway?
Nimbleway is an all-inclusive service that provides users with the infrastructure required for effortless web data collection.
Unlike traditional data extraction solutions that require additional pieces to function, Nimbleway offers a web scraping API, headless browser, and proxy network for accessing the web with your IP address hidden.
One of the standout features of Nimbleway is its automatic data parsing from pages with AI models.
This allows for easy extraction of data from websites without the need for manual effort.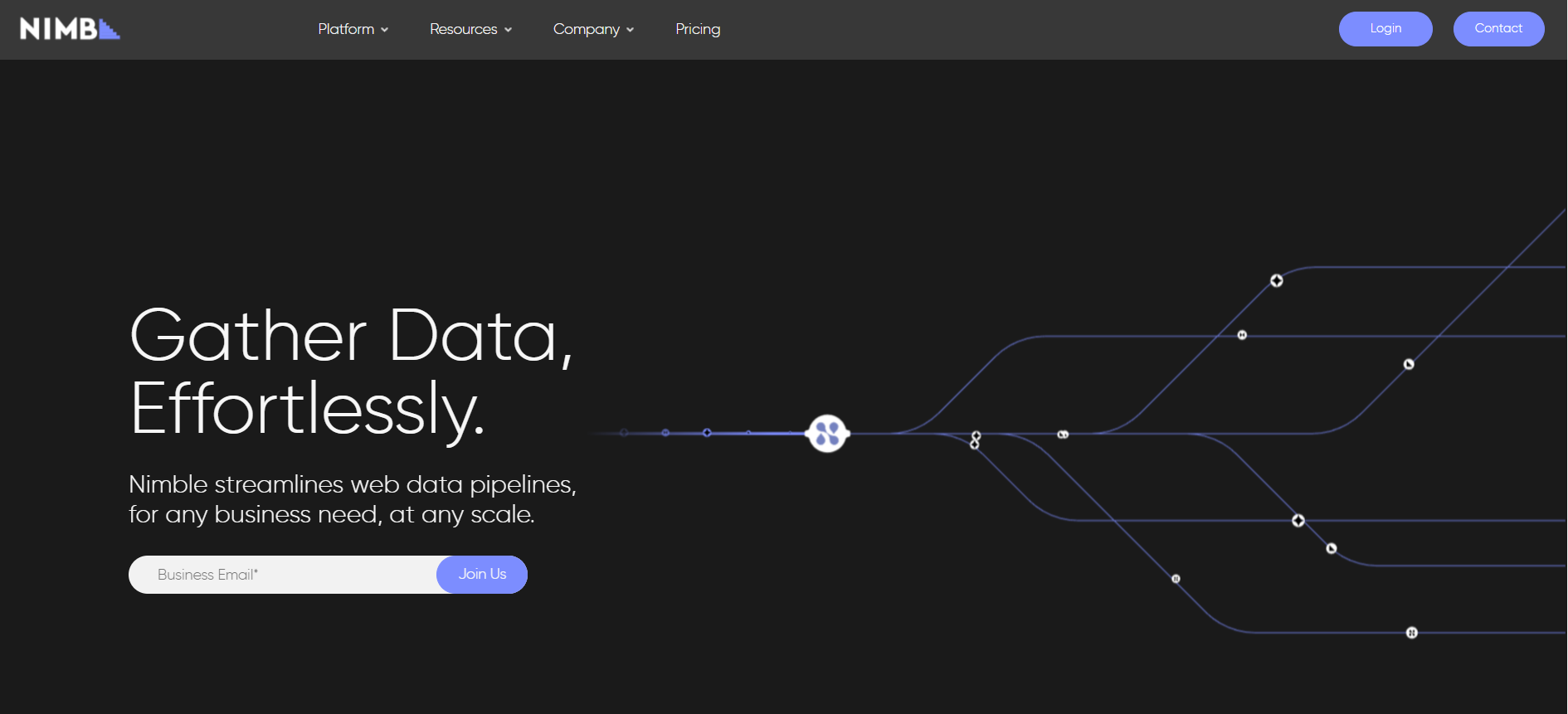 Additionally, the service provides IPs from all regions of the world, making it perfect for localized scraping.
Nimble Browser, which is part of the Nimbleway service, offers anti-fingerprint support that is not found in regular headless browsers.
This makes it a more secure option for web scraping, as it helps to prevent detection and blocks anti-scraping measures.
Another benefit of Nimbleway is the availability of residential, datacenter, and mobile proxies with high quality.
These proxies allow for hiding your IP address, which is crucial when scraping websites to avoid detection and being blocked.
Pricing for Nimbleway is based on credit units, which provides flexibility for users as it is not tied to any specific scraping API.
This makes it easy to use the web scraping system with little effort from your end.
Overall, Nimbleway is a powerful tool for web data extraction that offers a seamless and efficient process.
With its range of features and benefits, it is a great choice for businesses and individuals looking to collect data from the web.
Quick Links:
Conclusion: Nimbleway Review 2023
Overall, I loved my experience trying out the Nimbleway data-gathering solution.
From the first use and through the setup process, it was one of the easiest and most comprehensive solutions out there.
Its intuitive user interface meant that it was quick to learn, while the range of features made a difference in terms of accuracy and speed.
I'd recommend this software to any company or individual who needs to access online data quickly and efficiently- it made my job so much easier!
Finally, its customer service was second to none- after every interaction, I felt like my questions had been answered edifyingly, with great patience and care.
All-in-all, I can highly recommend this software for individuals and companies alike!