Outsourcing is becoming more popular, and more businesses are doing business all over the world. This is why so many of us are looking for ways to make payments all over the world.
There are a lot of great choices, but in this review, I'll focus on Payoneer vs TransferWise.
Important update! Now, "Transferwise" is just called "Wise." I'll keep calling them by their original name in this article, since that's how everyone knows them.
Payoneer vs TransferWise 2023: Overview
Payoneer and TransferWise are two brands that are making waves in the financial services industry.
The number of people who want online banking solutions is growing quickly, and so is the number of companies that offer them. One thing that makes these brands stand out is that they have great customer service.
But customer service is only one part of the whole picture.
In this review, I'll tell you what each platform has to offer so you can choose the best one. I'll talk about transfer fees, the length of time, limits, and a lot more.
If you're just looking for a quick answer and a special deal, the table below can help.
In any case, let's keep going!
Payoneer vs TransferWise – The Basics
TransferWise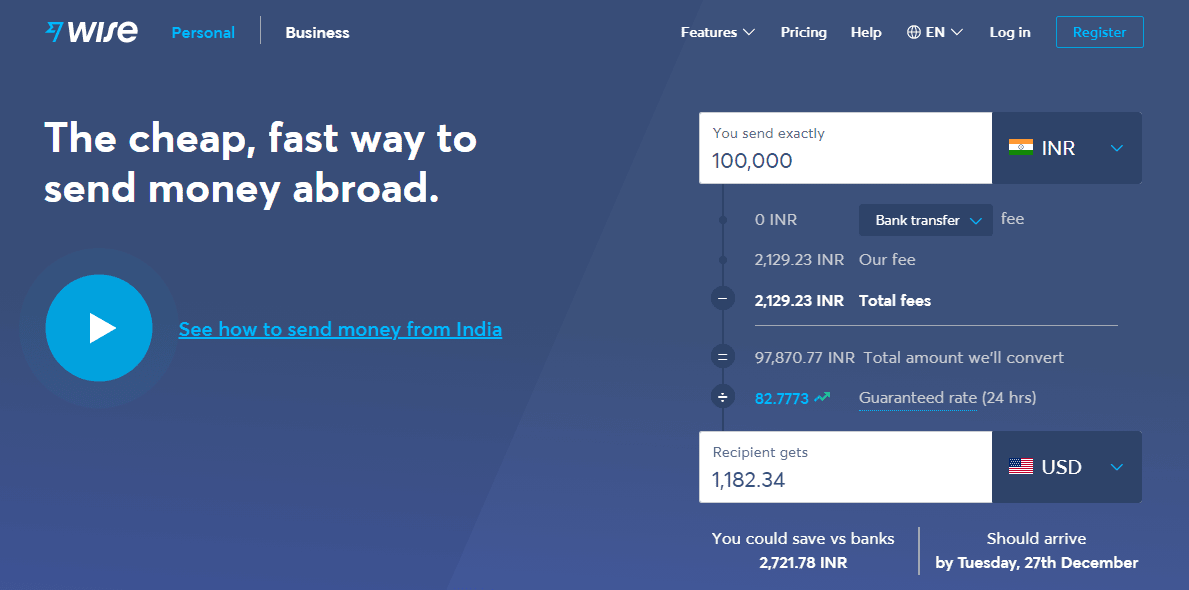 TransferWise was started in 2011 as a way to move money between countries. The management team wanted to give people lower commission rates and the ability to send money across borders.
The people who started the businesses did so because they were getting paid huge amounts of commission every month. TransferWise has helped people and businesses move billions of dollars around the world.
Highlights of TransferWise
Service for peer-to-peer currency transfers

No more than four days for transactions to be completed

Exchange rates are based on Reuters mid-market rates

Fees for nominal money transfers

Supported currencies include USD, GBP, EUR and AUD

Payment options include one-time and recurring payments

Fees are easy to understand with this online calculator

Payments can be made with debit cards, Apple Pay, SWIFT, and bank transfers

On Trustpilot, the platform has thousands of excellent reviews
I love platforms that support multiple languages, and TransferWise is one of them. You can also send payments to up to 1,000 people at once, which is another useful feature. Their Facebook help bot is also a lot of fun to use.
One bad thing is that you can't pay with money from Hong Kong. A lot of the time, they ask for proof of identity, which can be annoying, but I guess it's for the best.
TransferWise has offices in Spain, Singapore, the US, the UK, Japan, the UAE, Hungary, Belgium, and other places around the world. They also work with more than 40 currencies.
You don't need much more than this if all you want to do is trade in some of the world's most important currencies.
Payoneer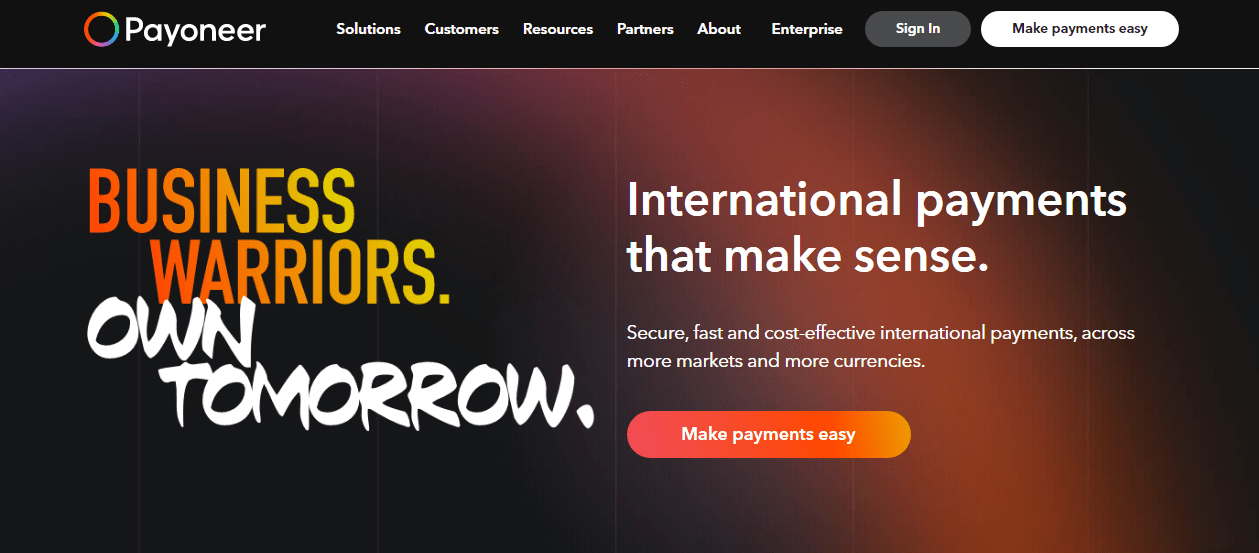 Payoneer was founded in 2005, so it has been around for a while. The company started in New York with the goal of making it easier to send money around the world while giving customers great service.
Payoneer works with some of the biggest companies in the world, which says a lot about how successful the platform is. Amazon, Airbnb, and many other well-known companies use Payoneer.
Highlights of Payoneer
It is possible to use a Payoneer account as a bank account

Payoneer accounts are the only ones that can make transfers

Online purchases can be made with Payoneer debit and credit cards

There is no fee associated with payments

There are 150 currencies supported

Rates of exchange that are incredibly competitive
Payoneer is used by a number of medium-sized to large businesses, but freelancers also like to use it. I like that I can pay with a debit card and that the platform works like a bank account.
On the other hand, opening an account can take some time, and if you have a personal account, you won't be able to send or receive money.
Payoneer has a pretty impressive reach all over the world. They have 14 offices in different places around the world, like Spain and Hong Kong.
So many well-known marketplaces have partnered with them, which says a lot about their credibility and reach.
Just as impressive is that they work with more than 150 currencies in more than 200 countries. This means you'll have more choices here.
Payoneer vs TransferWise – The In-Depth Details
In order to understand what to expect if you decide to sign up, let's take a closer look at each platform.
Usability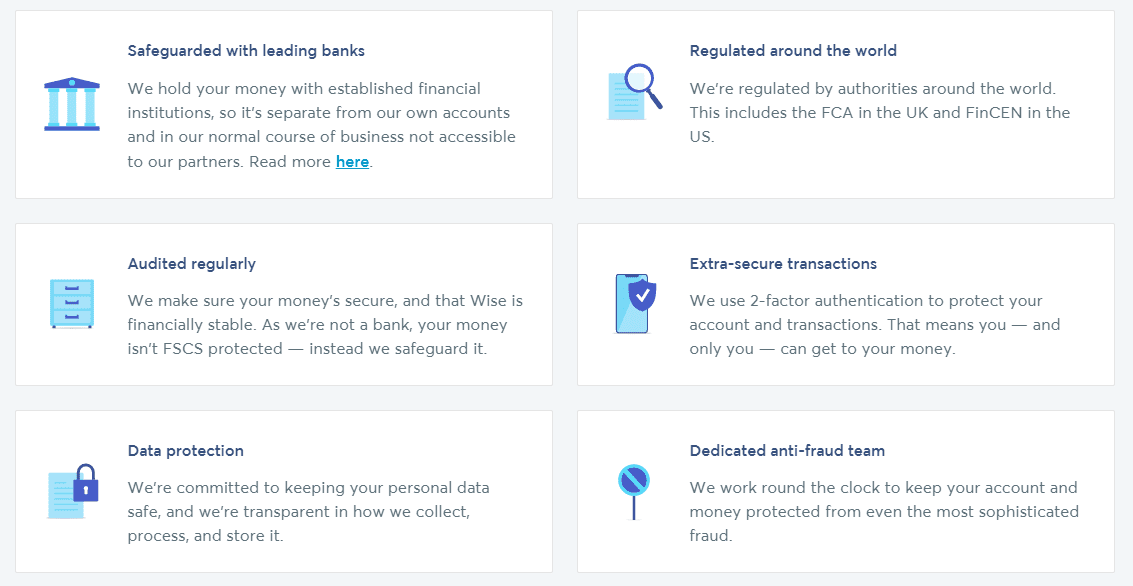 Payment processing should be as simple as possible for me. Account sign-up and currency transfers are simple with Payoneer and TransferWise.
Payoneer
On the side of convenience and ease of use, Payoneer's iOS and Android apps let users transfer money from anywhere.
This app is one of the reasons why the platform is so popular with freelancers, especially in places like India and the Philippines.
Payoneer isn't too hard to use in terms of how simple it is. Once you know where everything is, it's easy to do business. Plus, their customer service team is very helpful, and they have good turn-around times.
TransferWise
TransferWise is also known for having an easy-to-use interface. To make things even easier, it has apps for both iOS and Android.
TransferWise is easy to use because the interface tells you almost everything you need to know. The text and instructions are easy to read, and any forms and fields are very easy to use.
If you get stuck for any reason, you can choose from a number of ways to get help.
Fees
Fees play a critical role in growing an online business.
Payoneer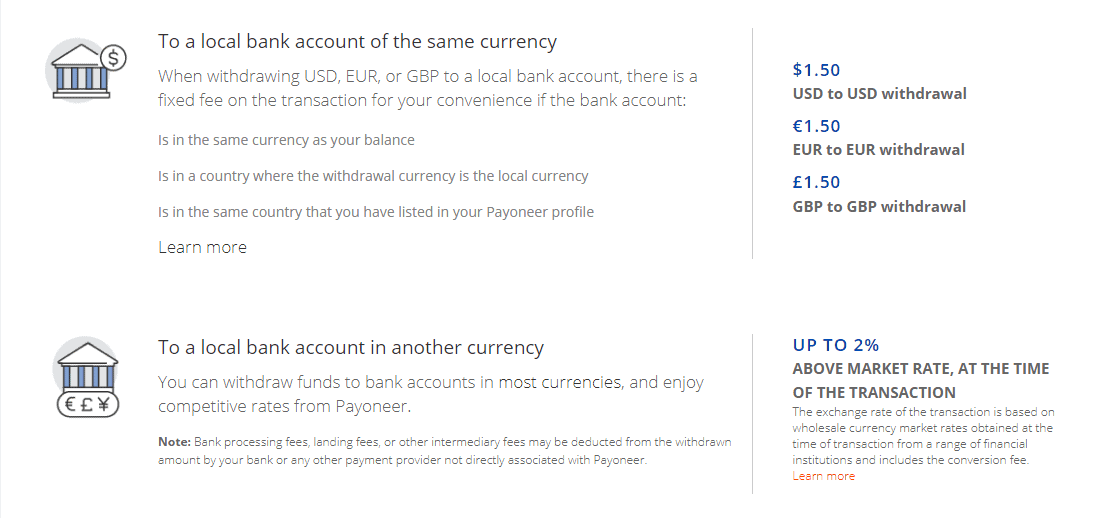 On the Payoneer platform, payments and receiving money from other Payoneer accounts are both free.
When you want to take money out of your account or move it to a bank account in your home country, you'll have to pay a fee. The fee you pay depends on the currency you're using. We've always had very good rates.
If you use your Payoneer Mastercard to buy something in a currency that is not on the list, you will be charged a 2.5% conversion fee.
If you get money through the Global Payments Service, you have to pay a 1% fee. When receiving USD e-checks, the same fee is charged.
TransferWise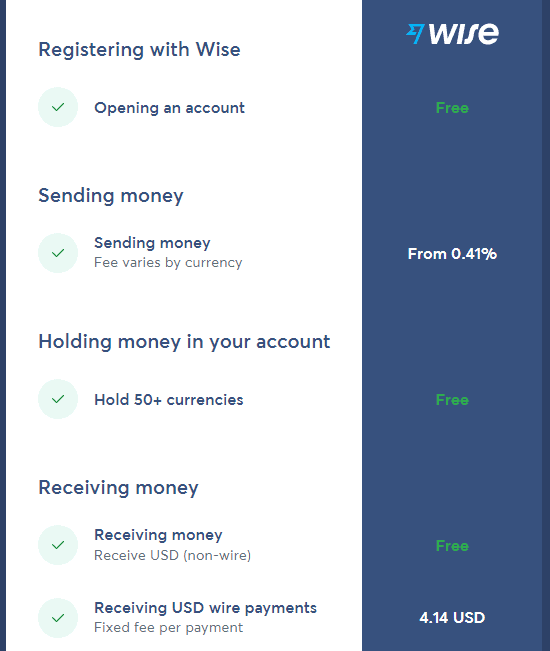 TransferWise will charge you a percentage of the amount you send. This percentage changes based on the currency and the country where the money is going.
When you withdraw money, you will also have to pay fees, such as a currency conversion fee.
TransferWise has a helpful fee calculator that you can use to figure out how much you can expect to pay when you send or receive money.
Different fees will be charged to send money and do business with a multi-currency account.
Exchange Rates
Both Payoneer and TransferWise have very competitive exchange rates based on the global payment platforms I've used.
It's also important to remember that market changes affect these rates, which makes it hard to compare them.
Payoneer
Payoneer uses the mid-market rate to figure out their exchange rates. Some countries, on the other hand, will have a currency conversion fee of between 2% and 2.75 %.
If you use your Payoneer Mastercard to buy from a company that is not on the list, you will also have to pay an exchange rate.
TransferWise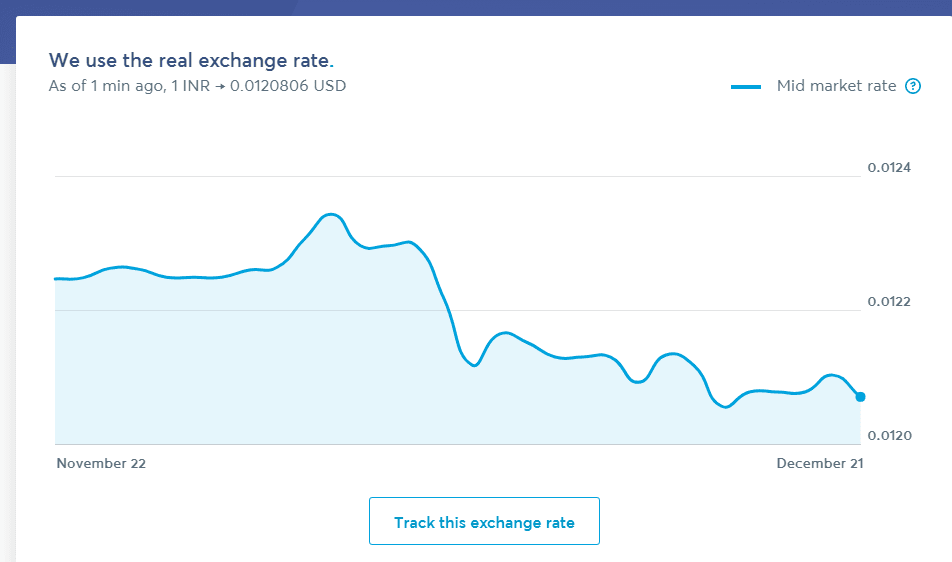 The exchange rates on TransferWise are also close to midmarket rates. It's great that they send exchange alerts for free. The exchange rate fluctuations can even be viewed to decide whether or not to transact.
Transfer Speed
The speed at which funds are sent and received is just as important as the cost of using a platform. Transfer speeds are largely determined by the currency you choose.
Payoneer
A Payoneer transfer typically takes 1 – 2 days.
TransferWise
Typically, TransferWise transfers take 1 – 3 days.
Multi-Currency Accounts
You can open a multi-currency bank account with Payoneer and TransferWise. A few of the key differences and benefits are listed below.
Payoneer
With a multi-currency account from Payoneer, you can send and receive money in GBP, EUR, JPY, CAD, and other currencies. This is all done through Global Payments Service.
For USD transactions, there is a 1% fee, but there are no fees for EUR, GBY, or JPY. If you want to keep your account active, you will also have to pay a monthly maintenance fee.
Users can also use the multi-currency account to get money from sites like Fiverr, Airbnb, Upwork, and Amazon.
TransferWise
With a TransferWise multi-currency account, you can do business in many different currencies, such as USD, EUR, AUD, GBP, and more.
But you will need to include Transfer FBOs if you want to move money into a USD bank account. Hawaii and Nevada are not able to have borderless accounts.
On the plus side, it's free to open a new TransferWise account, keep it up to date, and receive international payments. If you choose to do business on Amazon or Stripe, there are also no fees.
Prepaid Cards
TransferWise and Payoneer offer prepaid cards as well. There are a few key differences and benefits between the two.
Payoneer
As a business user of Payoneer, you will get a prepaid MasterCard that will cost you a fee every year to maintain. There are also limits on how much you can withdraw and how much you can spend.
You will also be charged for exchanging money and taking money out of an ATM.
TransferWise
TransferWise will give you a prepaid MasterCard if you have a borderless account with them or if you live in the UK.
If you want to do business in a different currency, you will have to pay a fee to change the currency. You can also get money for free from an ATM, but only up to a certain amount each month.
Platform Security
The good news is that both Payoneer vs TransferWise keep their users safe from cyber criminals by using advanced encryption technology and protection systems.
Each platform also has a number of certifications from well-known groups that show how trustworthy they are.
Even though you should always take your own safety precautions, I wouldn't worry about safety on either of these platforms.
Payoneer
Payoneer is approved by both the FDIC and the Initial Covenant Bank.
It is also a member of the FDIC and the Initial Covenant Bank. The Payoneer MasterCard is put together by Choice Bank Limited and Wirecard Solutions.
TransferWise
TransferWise is a platform that is approved and regulated by the Financial Conduct Authority.
This is because it is based in the UK. In the US, Town Federal Savings Bank is in charge of the platform. TransferWise is licenced to send money in other countries.
Quick Links:
Conclusion : Payoneer or TransferWise 2023
Even though I've used Payoneer more, you'll save a lot of time and money no matter which option you choose when you want to do business around the world.
I don't know many entrepreneurs and business owners who don't do business around the world, so having the right payment platform is a must.
If you compare the fees and interest rates of these two platforms to those of your local bank, it's easy to see why so many people choose this route.
Overall, it is easy to send and receive money with either of these platforms. All you really need are the details of the person you want to send money to and the amount you want to send. It's just as easy to accept payments.
Payoneer is better if you want more currency options and run your business from a marketplace like Amazon or Airbnb. But if you only want to deal with major currencies, TransferWise does the job for a small fee.