Reading is one of the most crucial skills in building a person's personality. The importance of teaching your child to read cannot be overstated, as the earlier, they learn how to read, the easier it is for them to grasp ideas and concepts and excel both academically and socially.
Even if you have your child's bedtime reading schedule set up, there will be days when you are tempted to give up, which is when you can use a quote about reading to your child as a boost to keep going.
Quotes for Kids 2023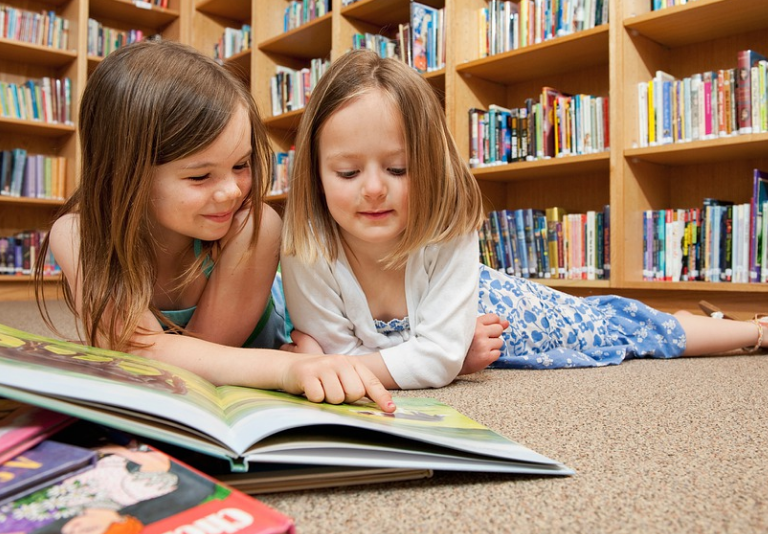 Children's Reading Quotes: 50 Inspirational Quotes
To encourage your children to read, here are some inspiring reading quotes by accomplished people:
– C.S. Lewis.
"A children's story that can only be enjoyed by children is not a good children's story in the slightest."  
– Maya Angelou.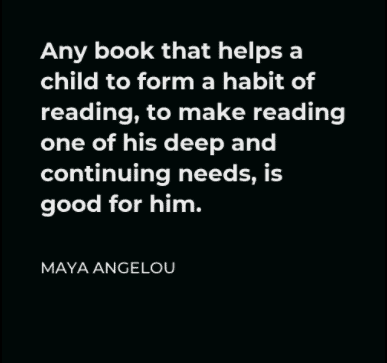 "Any book that helps a child to form a habit of reading, to make reading one of his deep and continuing needs, is good for him." 
– Jesse Lee Bennett.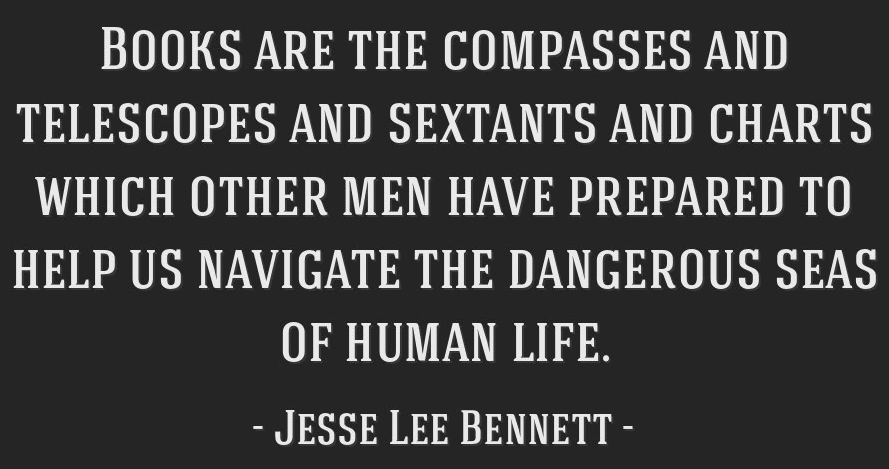 "Books are the compasses and telescopes and sextants and charts which other men have prepared to help us navigate the dangerous seas of human life."
– Helen Hayes.
"From your parents, you learn to love and laughter and how to put one foot before the other. But when books are opened, you discover you have wings." 
– Groucho Marx.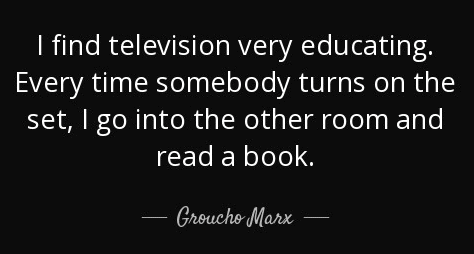 "I find television very educating. Every time somebody turns on the set, I go into the other room and read a book."
– Roald Dahl.
"I have a passion for teaching kids to become readers, to become comfortable with a book, not daunted. Books shouldn't be daunting, they should be funny, exciting and wonderful; and learning to be a reader gives a terrific advantage." 
– Mortimer J. Adler.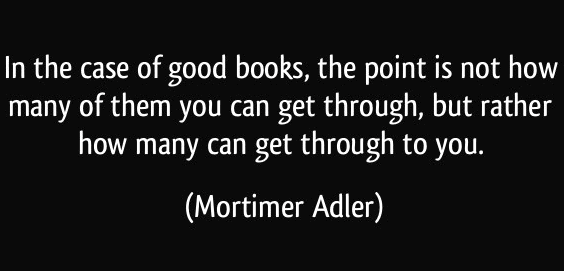 "In the case of good books, the point is not to see how many of them you can get through, but rather how many can get through to you." 
– Katherine Patterson.
"It is not enough to simply teach children to read; we have to give them something worth reading. Something that will stretch their imaginations. Something that will help them make sense of their own lives and encourage them to reach out toward people whose lives are quite different from their own." 
– Bill Gates.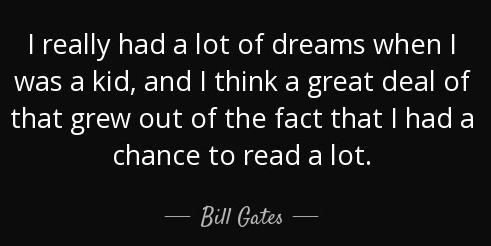 "I really had a lot of dreams when I was a kid, and I think a great deal of that grew out of the fact that I had a chance to read a lot." 
– Harry S. Truman.
"Not all readers are leaders, but all leaders are readers." 
– Dr. Seuss.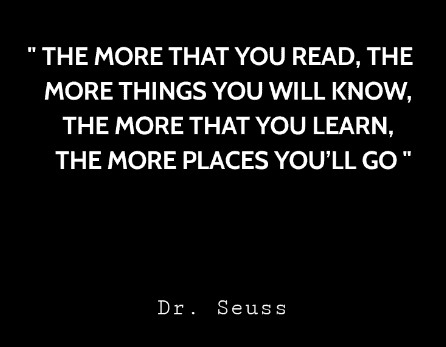 "The more that you read, the more things you will know. The more you learn, the more places you'll go." 
– Walt Disney
"There is more treasure in books than in all the pirate's loot on Treasure Island."
– Mary McCleod Bethune.
"The whole world opened up to me when I learned to read" 
–  Roald Dahl.
"So please, oh PLEASE, we beg, we pray, Go throw your TV set away, And in its place you can install, A lovely bookshelf on the wall."
– Marcel Proust.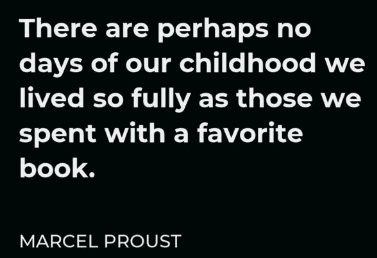 "There are perhaps no days of our childhood we lived so fully as those we spent with a favorite book." 
–Jon Scieszka.
"Expand the definition of 'reading' to include non-fiction, humor, graphic novels, magazines, action, adventure, and, yes, even websites. It's the pleasure of reading that counts; the focus will naturally broaden. A boy won't read shark books forever." 
– George Bernard Shaw.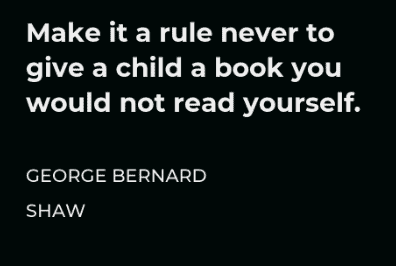 "Make it a rule never to give a child a book you would not read yourself." 
– Judy Blume.
"Let children read whatever they want and then talk about it with them. If parents and kids can talk together, we won't have as much censorship because we won't have as much fear."  
– Kate DiCamillo.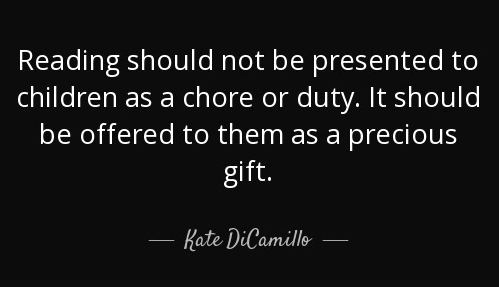 "Reading should not be presented to children as a chore, a duty. It should be offered as a gift." 
– Lemony Snicket.
"Never trust anyone who has not brought a book with them." 
– George R.R. Martin.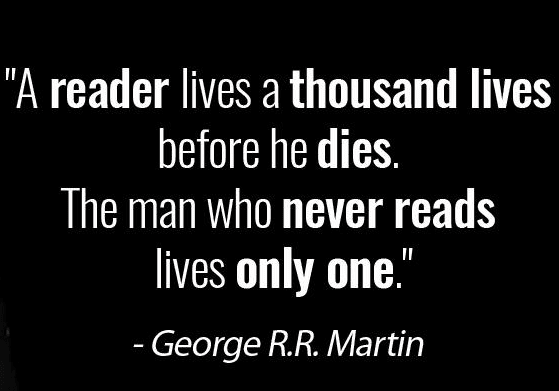 "A reader lives a thousand lives before he dies . . . The man who never reads lives only one." 
–Anonymous.
"There's something good in every book, but sometimes you just have to look for it." 
– C.S. Lewis.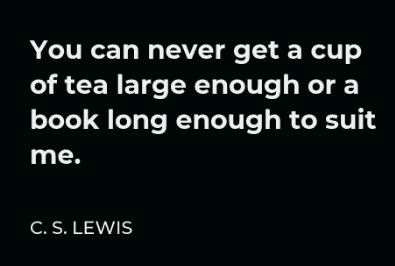 "You can never get a cup of tea large enough or a book long enough to suit me." 
-Cornelia Funk.
"Some books should be tasted, some devoured, but only a few should be chewed and digested thoroughly."
– Jim Rohn.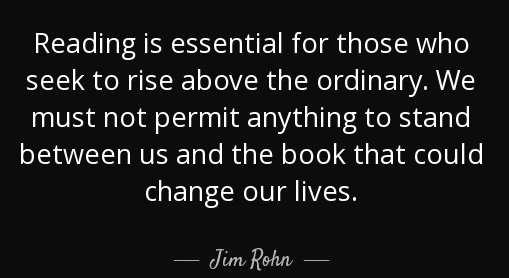 "Reading is essential for those who seek to rise above the ordinary." 
– Mark Twain.
"The man who does not read good books is no better than the man who can't." 
– Mark Twain.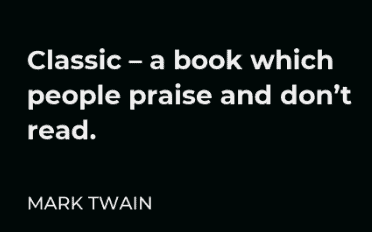 "'Classic' – a book which people praise and don't read." 
– Dennis Parsons Burkitt.
"It is better to read a little and ponder a lot than to read a lot and ponder a little." 
– Ray Bradbury.
"You don't have to burn books to destroy a culture. Just get people to stop reading them." 
– Christopher Morley.
"When you sell a man a book you don't sell just 12 ounces of paper and ink and glue – you sell him a whole new life." 
– Fran Lebowitz.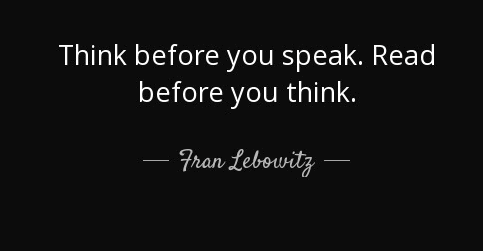 "Think before you speak. Read before you think." 
– Paul Sweeney.
"You know you've read a good book when you turn the last page and feel a little as if you have lost a friend." 
– Lena Dunham.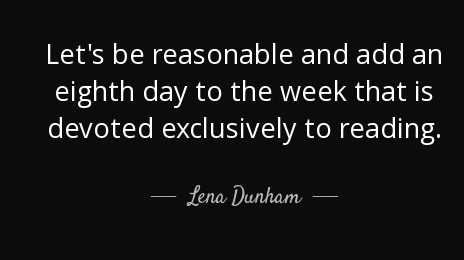 "Let's be reasonable and add an eighth day to the week that is devoted exclusively to reading." 
– Helen Exley.
"Books can be dangerous. The best ones should be labeled, 'This could change your life.'" 
– Descartes.
"The reading of all good books is like a conversation with the finest (people) of the past centuries."
– Tim Vine.
"I was reading a book…' history of glue'…I couldn't put it down."  
– Toni Morrison.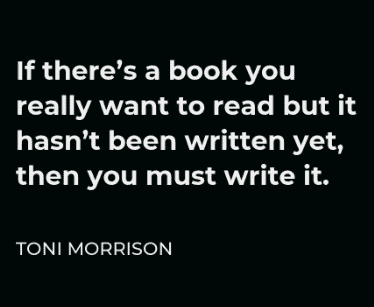 "If there's a book you really want to read, but it hasn't been written yet, then you must write it." 
– Hazel Rochman.
"Reading takes us away from home, but more important, it finds homes for us everywhere. 
– Diane Duane.
"Reading one book is like eating one potato chip." 
– Robertson Davies.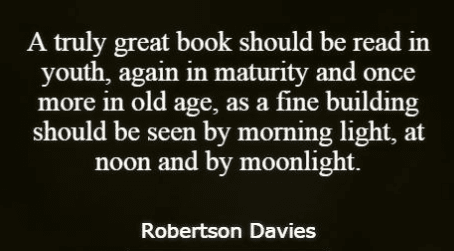 "A truly great book should be read in youth, again in maturity and once more in old age, as a fine building should be seen by morning light, at noon and by moonlight."
– Orhan Pamuk.
"I read a book one day and my whole life was changed."
– Mason Cooley. 

"Reading gives us someplace to go when we have to stay where we are." 
– Logan Pearsall Smith.
"People say that life is the thing, but I prefer reading." 
– Ralph Waldo Emerson.
"I cannot remember the books I have read any more than the meals I have eaten; even so, they have made me." 
– Saul Bellow.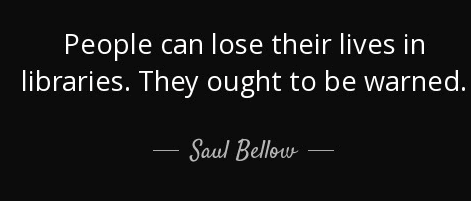 "People can lose their lives in libraries. They ought to be warned." 
– James Bryce.
"The worth of a book is to be measured by what you can carry away from it."
– Stendhal.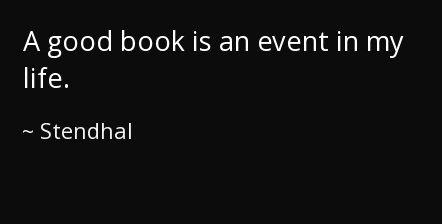 "A good book is an event in my life." 
– Ralph Waldo Emerson.
One must be an inventor to read well. There is then creative reading as well as creative writing. 
Quick Links
As you can see, each quote emphasizes the importance of reading as a life-changing habit. You and your child can inculcate a reading habit with the above-mentioned quotes, whether they are witty or long and insightful.