Are you thinking of investing in online courses to learn a new skill? If so, there is no shortage of learning platforms these days.
Skillshare and MasterClass are two of the most popular options – and for good reason too.
Both offer high-quality courses taught by experts in various fields and provide useful resources to help learners apply their knowledge.
So how do you decide which platform would suit your learning needs best? Read on to find out!
In this article, we compare Skillshare vs MasterClass, looking at course offerings, pricing structure, and user feedback so that you can make an informed decision when it comes time to pick your perfect learning platform.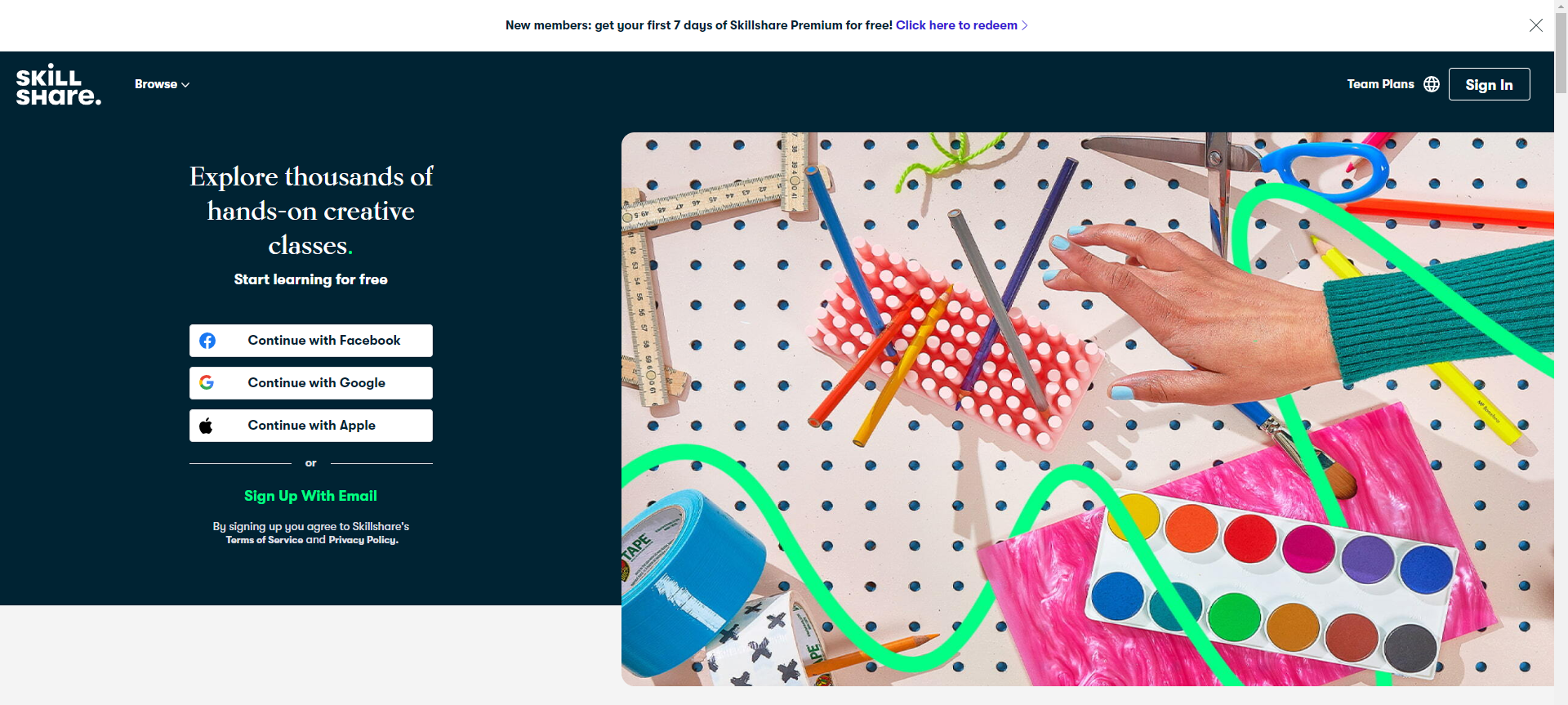 Skillshare is an online learning platform that provides users with access to thousands of educational classes. Its mission is to make learning and creativity accessible to everyone, everywhere.
Founded in 2010, Skillshare has since grown into one of the largest online learning platforms, with millions of students enrolled worldwide. 
Skillshare focuses on providing high-quality courses that cover a wide range of topics and interests, from creative arts and crafts to business and entrepreneurship.
Some popular courses include photography, web design, music production, coding and software development.
All courses are taught by experienced professionals who share their knowledge and skills through lessons, projects and exercises. 
In addition to its library of courses, Skillshare also offers a range of other services such as:
project support from experts in the field;

exclusive discounts for members;

career guidance for those looking for a change in direction or those wanting to develop their current skills;

and community forums where members can share ideas on various topics. 
Overall, Skillshare is an excellent resource for anyone interested in expanding their knowledge base or developing new skills.
With its diverse range of topics and convenient accessibility, it's no wonder why so many people choose Skillshare as their go-to educational provider.
It's cost-effective pricing model makes it even more attractive to those looking for quality education at an affordable price.
With its easy-to-navigate user interface and vast selection of courses, there's something for everyone at Skillshare!
Masterclass Overview 
Masterclass is an online education platform that offers a range of courses taught by some of the world's most renowned experts.
The courses cover a wide variety of topics, from cooking and music to business and technology.
Each course consists of several video lessons, as well as supplemental materials that students can download and review at their own pace. 
What sets Masterclass apart from other online learning platforms is its focus on one-on-one instruction.
Each instructor has two or three "master classes" – video recordings in which they provide personalized guidance and feedback to their students.
This gives students the opportunity to learn directly from the experts, instead of simply watching lectures. 
In addition to the master classes, Masterclass also offers "challenges" – interactive tasks designed to help students practice what they've learned in each course.
These challenges are graded based on performance, so that students can track their progress throughout the course. 
Another key feature of Masterclass is its community forum. Here, instructors share their expertise with each other and discuss best practices for teaching and learning.
Students can also ask questions or offer tips to one another, allowing everyone involved in a class to benefit from each other's experiences. 
In addition to its courses, Masterclass also provides tools such as online assessments and project management tools that make it easier for instructors to manage their classes and assess student performance.
Furthermore, all courses are available for purchase via a single subscription fee – making it easy for anyone who wants access to premium instruction regardless of their budget. 
All in all, Masterclass is an excellent choice for anyone looking for high quality education at an affordable price point – whether you're a novice learner or an established professional looking for new ways to gain knowledge and skills!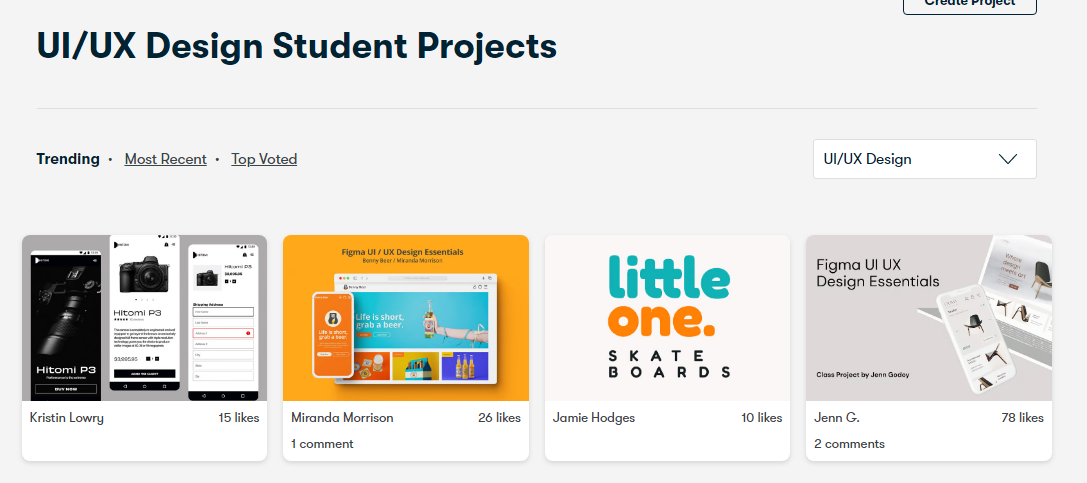 Skillshare courses offer a high quality learning experience for those interested in various topics. The courses are comprehensive and comprehensive yet easily digestible so learners of all levels can benefit.
From beginner to advanced levels, Skillshare provides materials that are designed to help anyone learn the desired topic.
The courses have been carefully researched and crafted by knowledgeable instructors who have expertise in their respective fields.
The courses are structured in a way that allows the students to access new information at their own pace, ensuring they understand each step before moving on to the next one.
The content is also regularly updated so it remains fresh and relevant for those taking the class. 
In addition to offering high quality instruction, Skillshare also offers a supportive community of like-minded learners who can provide feedback and resources that further increase the learning experience.
Questions can be answered quickly via discussion boards or comments sections if necessary.
In addition, many of the instructors offer direct one-on-one tutoring sessions when requested which can be especially helpful for those needing more support or clarification on certain topics.
Overall, Skillshare provides an unparalleled learning opportunity with its combination of high quality course material and a supportive community of fellow learners.
Whether you're looking to brush up on certain skills related to your field or simply want to learn something new, Skillshare can provide an efficient and enjoyable learning experience that will help you reach your goals faster than ever before.
Masterclass course quality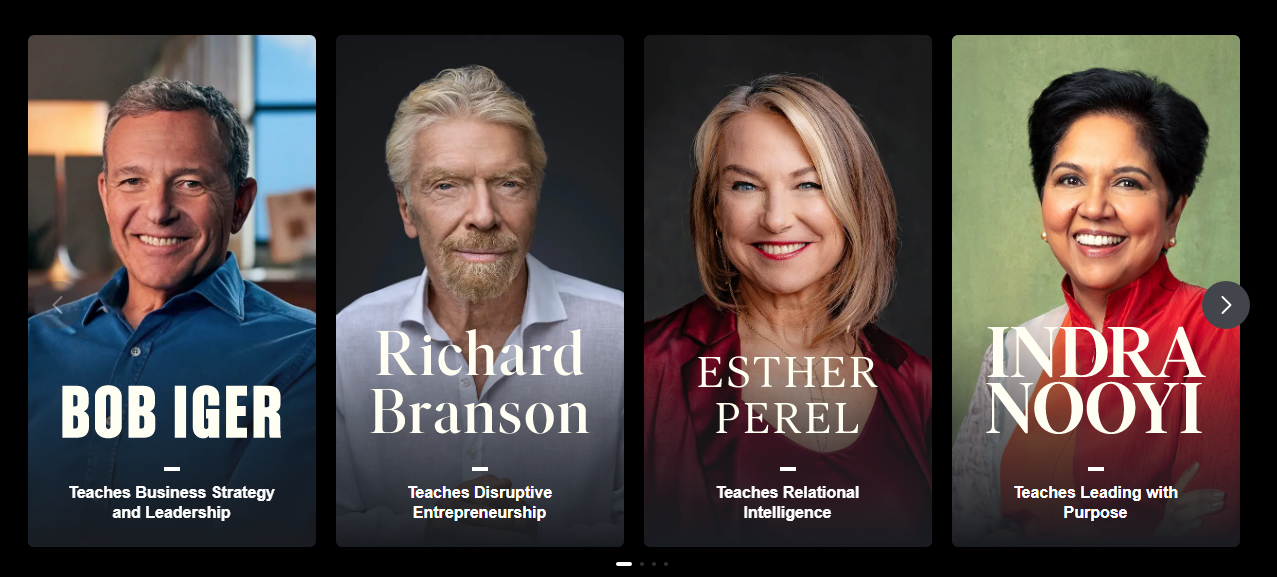 Masterclass course quality is of the highest caliber, making it one of the top choices for those looking for a reliable alternative to Coursera.
The courses on Masterclass provide a comprehensive, interactive learning experience that allows students to learn in their own way and at their own pace.
Every course is taught by an expert in the field who has years of experience and knowledge to share with their audience.
The video lectures are accompanied by detailed lesson plans, supplementary resources and a discussion forum where students can engage with each other and ask questions.
One of the great features of Masterclass is its personalized learning approach which focuses on helping students master specific skills rather than simply giving them information.
Each course on Masterclass contains exclusive materials such as project-based assignments, quizzes and tests that allow students to practice what they've learned in a fun, interactive way.
Additionally, each class also provides individual feedback from instructors so that students can track their progress and make adjustments when needed. 
In terms of cost, there are two different types of payment options available: lifetime access or pay-per-course.
With the former, users get unlimited access to all courses offered by Masterclass while the latter lets them pick only those classes they want without any long-term commitment. 
Overall, Masterclass offers a unique blend of high quality content and personalized teaching methods which makes it stand out from other online education platforms such as Coursera.
With its range of courses across various topics from business to personal development along with its user friendly interface.
Masterclass is an excellent choice for anyone looking for an alternative to Coursera boasting with more details, facts and higher semantic richness than before.
Masterclass: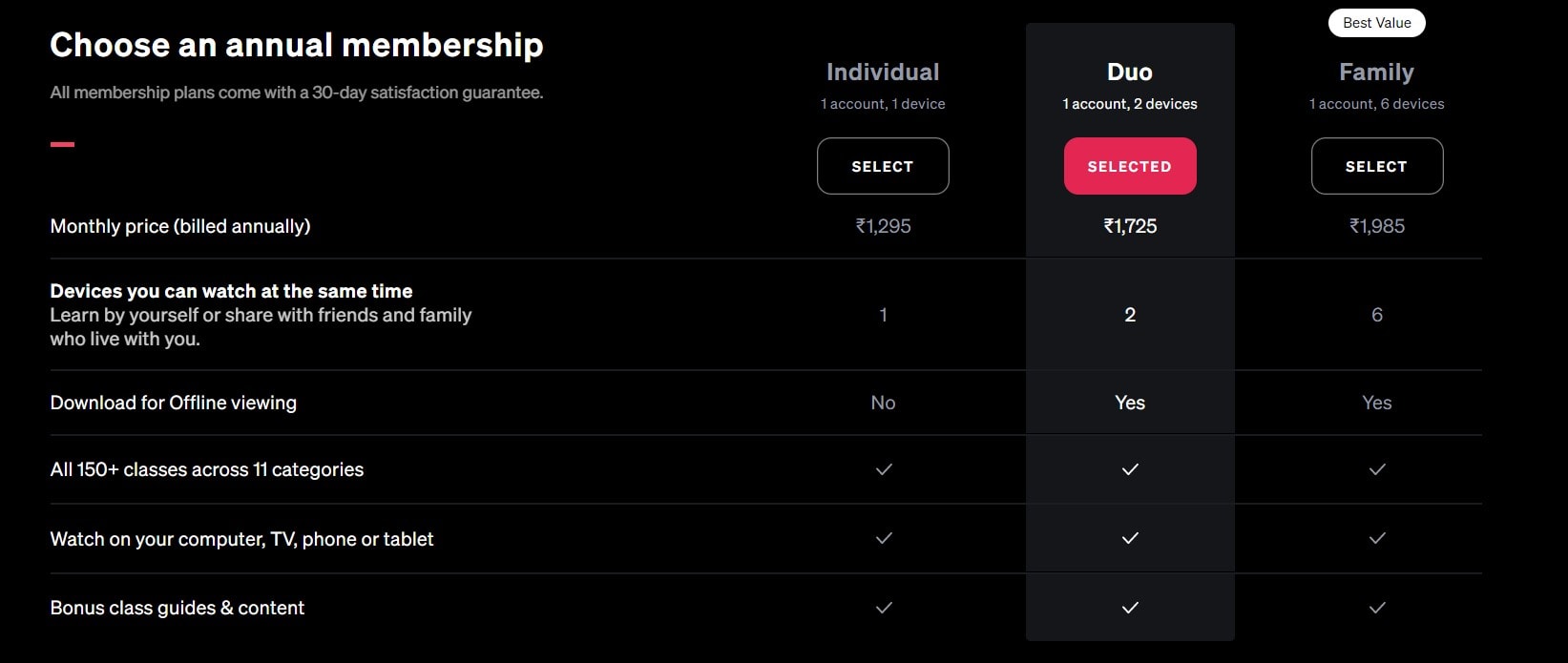 MasterClass has an exclusive pricing plan where you can buy an All-Access Pass at $180/-, which is billed at $15/- per month, and get access to all the courses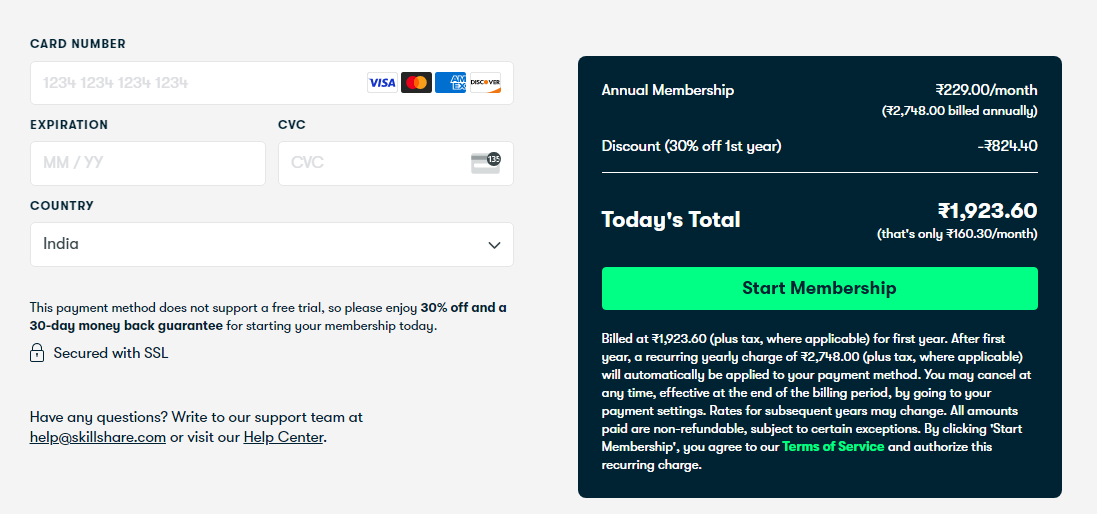 Skillshare has an Annual plan which is the most recommended plan in the platform. It is priced at $13.99 per month which is billed as $168/- annually. The next plan is on a monthly basis which is priced at $32/m only.
Quick Links:
Skillshare and MasterClass are both great platforms for learning new skills. However, Skillshare is more affordable and offers a wider range of courses.
If you're looking to learn a specific skill, MasterClass might be a better option. But if you want to explore different topics or try something new, Skillshare is the way to go