With the rising use and popularity of social media, companies have been quick to capitalize on this by developing strategies that offer myriad opportunities for monetizing.
This fact has been proven particularly true when it comes to Snapchat, as evidenced by its growing user base and successful revenue plans.
In this blog post, we'll dive deeper into Snapchat's usage statistics along with how their revenue model works in order to understand why it is successful.
By exploring the details surrounding their immense growth prospects, we'll gain insight into what makes the company so appealing for individuals and businesses alike.
Overview: Snapchat Revenue And Usage Statistics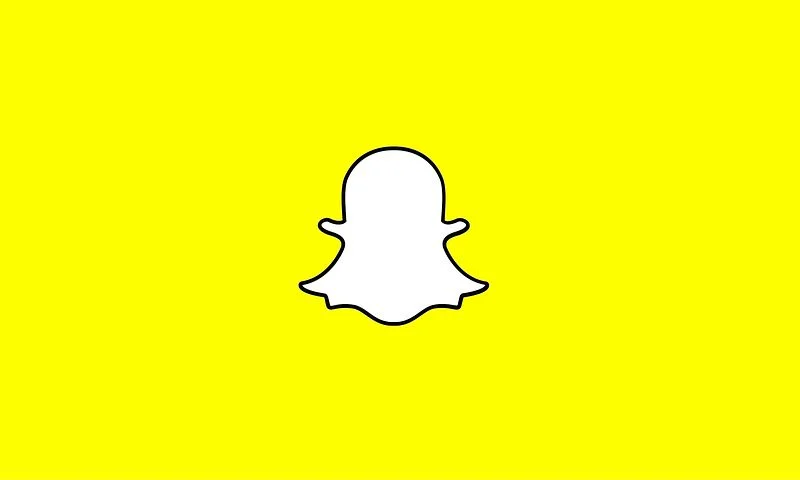 Snapchat, a multimedia messaging app, is popular all over the world.
The app has risen to prominence since its 2011 inception thanks to the efforts of its creators, Evan Spiegel, Bobby Murphy, and Reggie Brown.
Users can send each other images, videos, texts, and drawings that disappear after being viewed. 
This makes it a great way to share moments with friends and family without worrying about it being saved forever.
The app also has a variety of filters, lenses, and other features that make it more fun for users. It also allows people to create stories that can be viewed by their friends and followers. 
Snapchat is especially popular among young adults who use the app to keep up with their friends, share content, and explore new trends.
As of 2020, Snapchat has over 218 million daily active users and is continuing to grow in popularity.
With its unique disappearing messages and variety of features, it's no wonder why Snapchat is one of the most popular apps out there.
It also offers a wide range of features that make it easier and more enjoyable for users.
For example, its Stories feature allows people to share content with their friends and followers that will disappear after 24 hours.
The app also has a Discover section where users can find new stories, articles, and videos from different publishers. It even offers a range of lenses and filters that allow users to edit their photos and videos.
These features make Snapchat a great way to stay connected with friends and family, share fun content, and explore new trends.
Overall, Snapchat is an easy-to-use app that allows users to communicate quickly and easily with their friends and family.
It also offers a variety of features like stories, filters, lenses, and more that make it a great way to stay connected and explore new trends.
With its growing popularity, Snapchat is sure to remain one of the most popular apps for many years to come.
Snapchat (2022):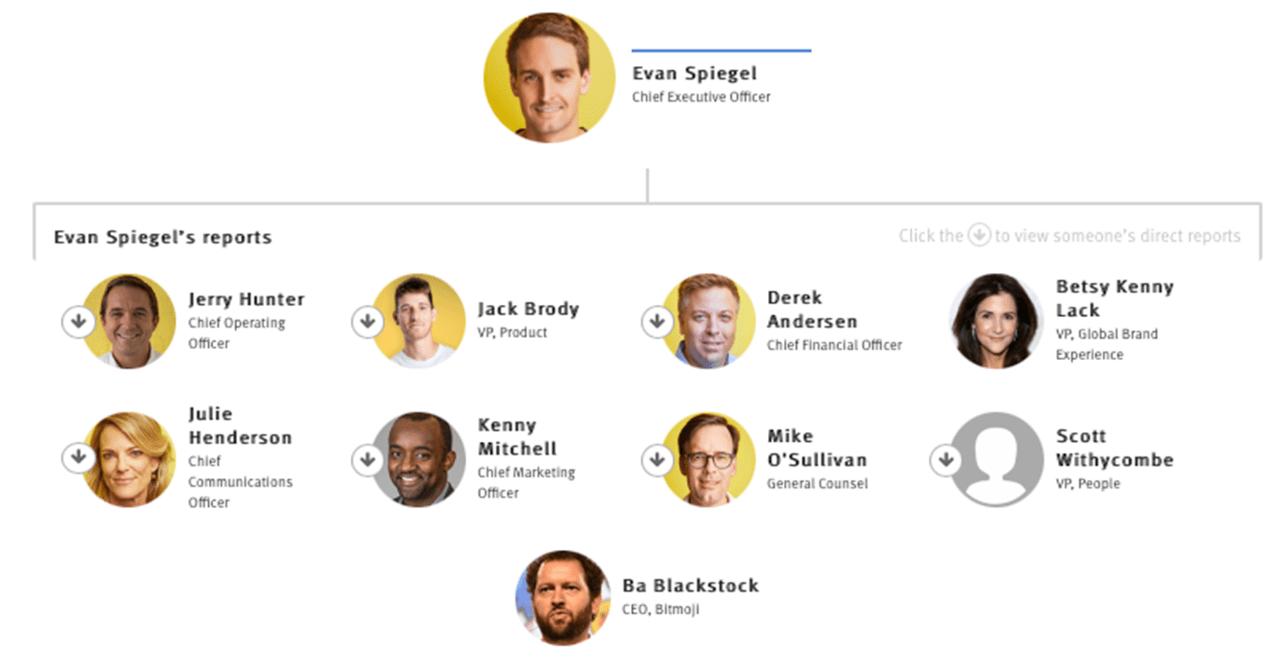 Snapchat is one of the most popular social media platforms with over 500 million users around the world.
And that number is expected to grow in 2022, with Snapchat projected to have up to 750 million monthly active users by the end of the year.
This growth will be driven largely by its younger user base – more than half of Snapchat's users are between the ages of 13 and 24.
This younger demographic is key to Snapchat's continued success, as they are more likely to engage with content and use it frequently.
Furthermore, Snapchat has become increasingly popular among advertisers in recent years due to its user engagement. In 2022 alone, an estimated $14 billion will be spent on Snapchat advertising.
This is largely due to the fact that users are more likely to view, interact, and share ads on Snapchat than on other social media platforms.
Overall, Snapchat's user base and ad revenue are expected to continue growing in 2022. As a result, it will remain one of the most popular and profitable social media sites in the years to come.
With its unique features, engaging content, and massive user base, Snapchat is sure to remain a dominant force in the world of social media for many years to come.
Key Statistics Worldwide 2022: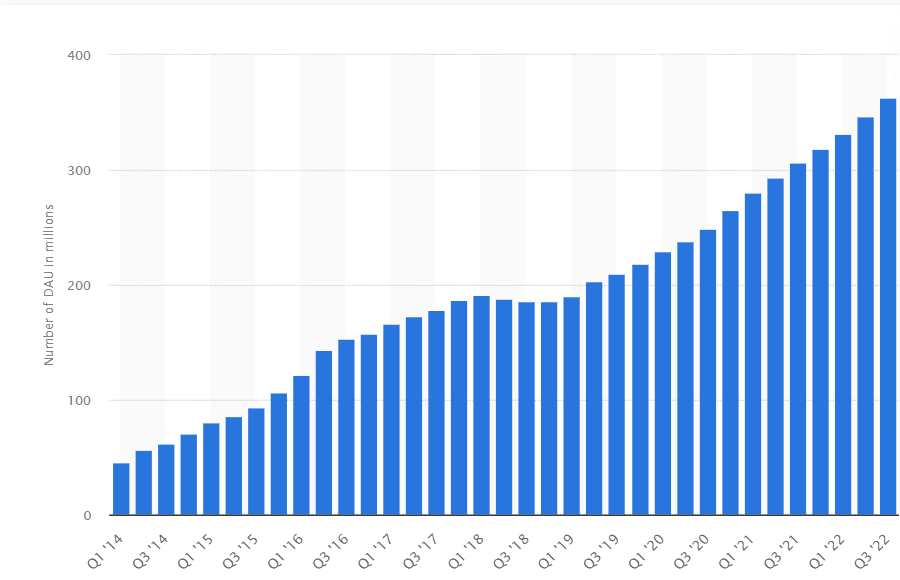 Snapchat continues to be one of the most popular social media platforms among younger audiences. As of 2021, Snapchat had an estimated 280 million daily active users worldwide, a 47% increase from the previous year.
Additionally, 74% of Snapchat's user base is between 18-34 years old.
At nearly 43 million monthly active users in the U.S., Snapchat has a larger user base in the country than Twitter and Pinterest, according to eMarketer.
This makes the platform an ideal channel for companies looking to reach younger audiences with their marketing campaigns.
Snapchat content is heavily consumed by users, as they (on average) view 1,400 snaps per day. The platform is also highly interactive, as users create 3.5 billion snaps and send 60 million messages each day.
Snapchat's reach brings big opportunities to companies looking to maximize their campaigns and build a presence on the platform.
Not only that, but Snapchat is constantly introducing new features like filters and lenses to keep users engaged with the platform.
These features allow companies to create creative and engaging campaigns that really capture their audience's attention, further enhancing the platform's reach and appeal.
Revenue Worldwide 2022: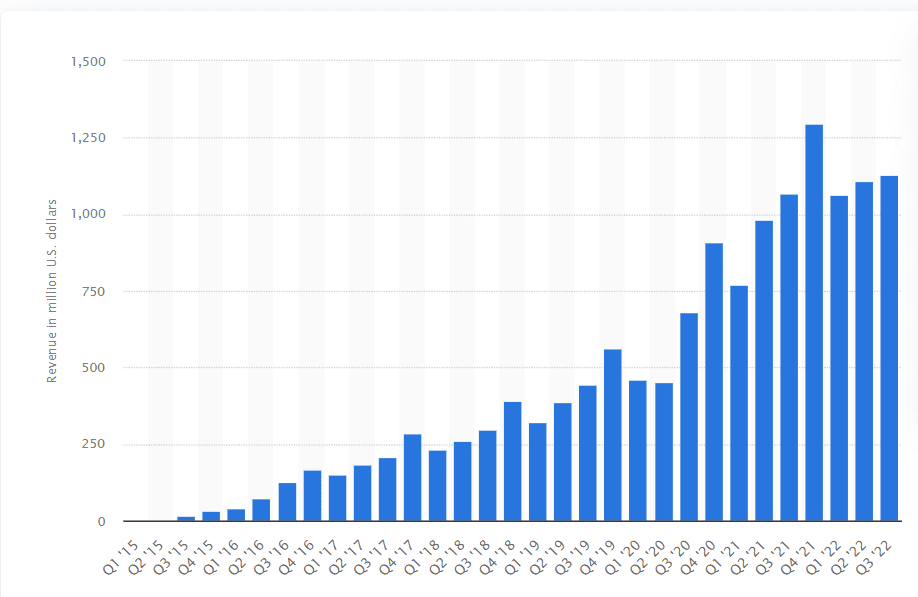 Snapchat has seen tremendous growth since its launch in 2011 and is projected to reach a revenue of $6.48 billion by 2022. This would mark an impressive compound annual growth rate (CAGR) of 24.3%.
The majority of Snapchat's revenue comes from advertising, which currently accounts for 93% of their total income.
They are also projected to receive a significant portion of their revenue from data-driven services and other related activities.
As of 2021, Snapchat's user base is estimated to be somewhere around 346 million worldwide, with over 100 million daily active users.
This large and engaged audience allows the platform to attract major brands seeking to target younger generations. 
Despite facing challenges from other social media platforms, Snapchat has continued to innovate and provide users with new features.
This includes the launch of Spotlight in November 2020 – a feature that showcases user-generated content on its Discover page.
Snapchat is expanding its presence internationally as well, recently entering the Indian market and continuing to explore opportunities in Europe and Asia Pacific.
As they continue to gain traction and develop their platform, Snapchat is projected to strengthen its position as one of the most popular social media networks in the world.
With an ambitious focus on user growth and innovative features, Snapchat's revenue is expected to rise even further in 2022.
Snapchat Profit 2022: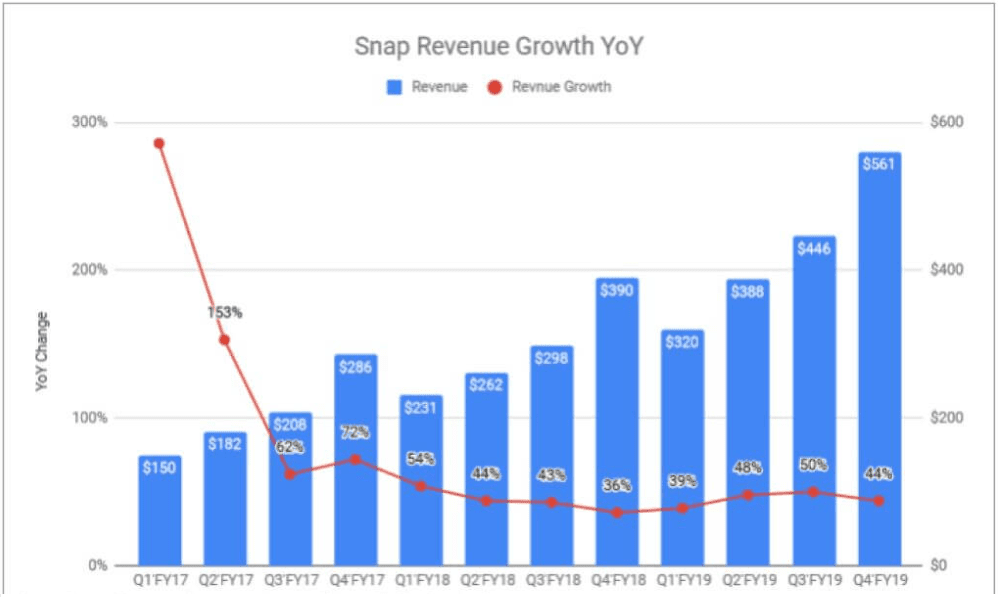 Analysts estimate that Snapchat will have a bright future in terms of profitability. In 2022, the company is projected to reach $1 billion in profits and could even top $2 billion by the end of the year.
This projection is based on strong growth in user engagement, driven primarily by its advertising business.
The platform has seen an increase in both its daily active users (DAUs) and monthly active users (MAUs) in recent years, which is driving up the company's advertising revenue.
Additionally, Snapchat has diversified its sources of income by launching new products like Spectacles and recently acquiring a popular gaming platform called Bitmoji. 
All of these factors suggest that the company could be well on its way to becoming a billion-dollar business by 2022.
As the platform continues to grow and innovate, it's likely that its profits will continue to rise in the coming years.
With its current trajectory, Snapchat looks poised to become one of the most successful social media companies of all time. 
Snapchat's success is no accident. The platform has a wide variety of features that make it attractive to users, such as its customisable lenses and filters and its innovative Snap Map feature.
It also offers businesses the ability to target their customers through highly detailed demographic information. 
Furthermore, Snapchat has managed to capture the attention of young people in a way that other social media networks have not.
As a result, the company has seen incredible growth in its user base over the past few years and is set to continue this trend into 2022.
This growth should translate directly into increased profits for Snapchat, making it an incredibly valuable asset for investors.
Users by Region: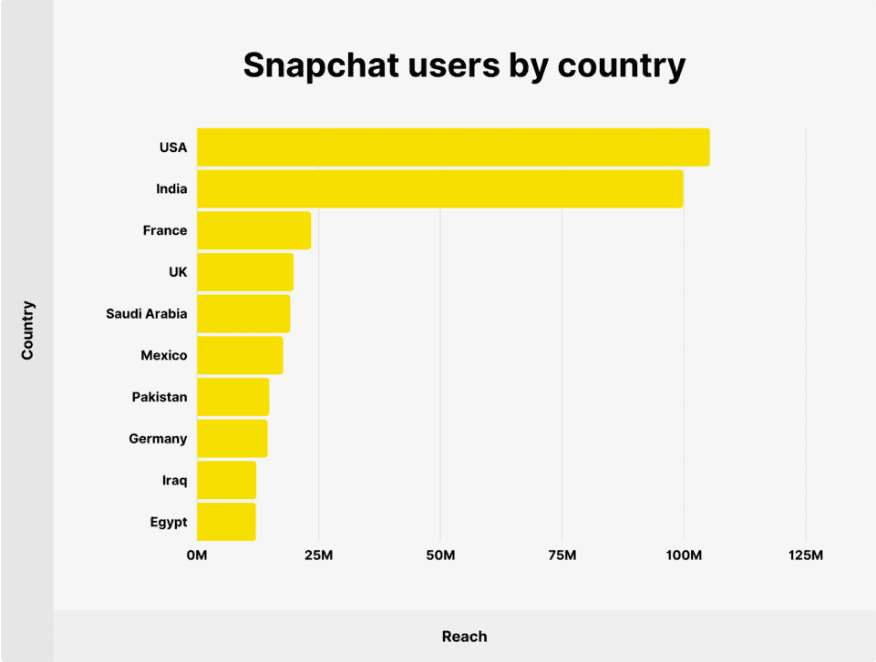 Snapchat users can be found across the globe, but there are some regions where they are especially prevalent.
In North America, Snapchat has a user base of nearly 90 million people, making it one of the most popular messaging apps in the region.
Europe is also home to a large number of Snapchat users – over 65 million as of 2021 – concentrated mainly in the UK, France, and Germany. 
In Asia, Snapchat's user base is growing rapidly, with almost 40 million users recorded in 2021. India is currently one of the biggest Asian markets for Snapchat, with over 10 million active users.
Africa also has a significant presence on Snapchat – particularly South Africa – with over 20 million people actively using the app. Latin America also has a strong Snapchat presence, with over 35 million users across the region.
Finally, Australia and New Zealand have around 15 million users combined, making them important markets for the messaging app.
Overall, Snapchat's user base is diverse and spread out across the world, with big pockets of users in North America, Europe, Asia, Africa, Latin America and Australia/New Zealand.
As the app continues to grow in popularity, it is likely that its user base will continue to expand both regionally and globally.
Valuation: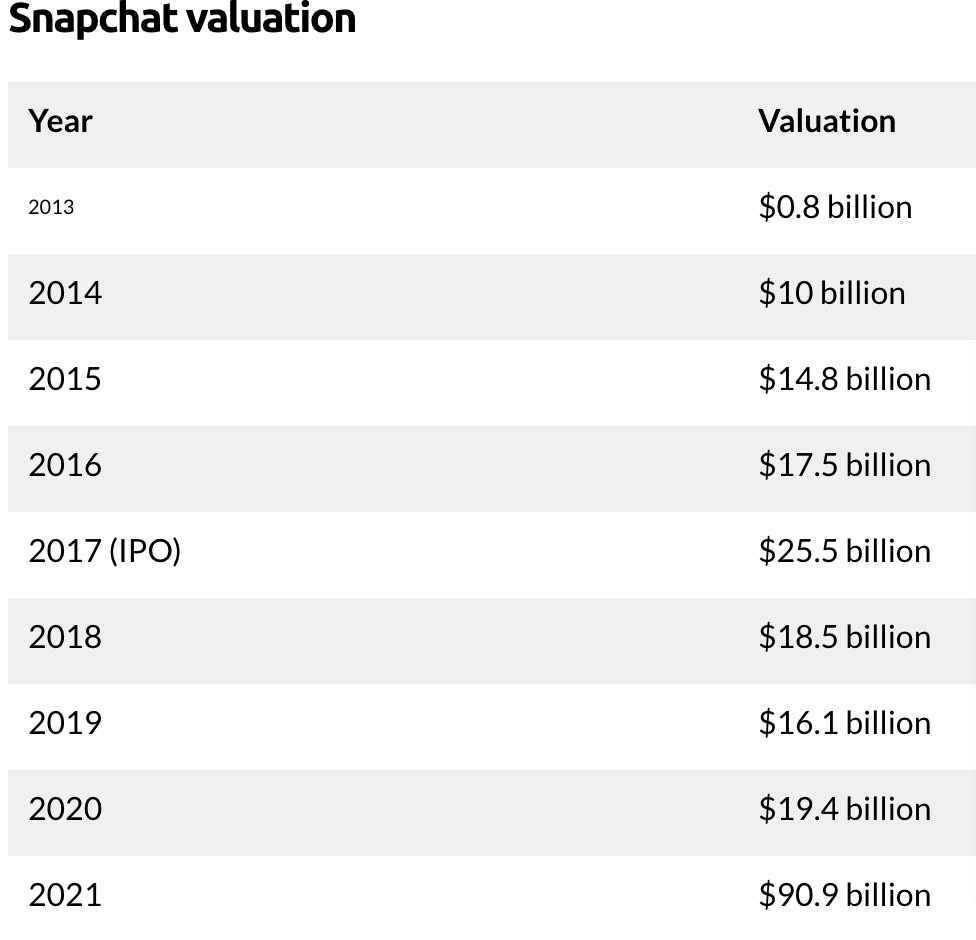 Snapchat's valuation is estimated to be around $19.7 billion, according to a report from the Wall Street Journal in June 2018. This makes it one of the highest valued social media companies in the world, second only to Facebook.
Snapchat has become increasingly popular over the years, with an average of 187 million daily active users as of June 2018.
This impressive growth rate is expected to continue, with a forecasted compound annual growth rate of 8.2% from 2017-2023.
The majority of Snapchat's revenue comes from its advertising platform, which allows companies to target users based on demographics and interests.
Additionally, the company offers sponsored lenses and filters for brands looking to make an impact with their campaigns.
In 2017, Snapchat reported $824 million in advertising revenue, and it is expected to increase significantly as the company continues to roll out new features and products.
Competitors: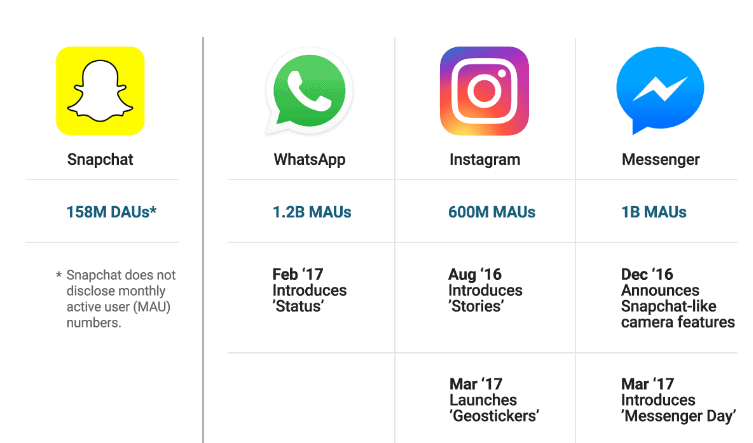 Snapchat is an extremely popular app, with millions of users all around the world.
However, it's not the only social platform out there and there are a number of competitors vying for users' attention. Here are some of Snapchat's biggest rivals:
Instagram. Instagram is owned by Facebook and has many similar features to Snapchat, such as stories and filters. One of the main differences is that Instagram allows for longer posts than Snapchat does.
Additionally, Instagram has a larger user base and more potential reach for brands.
WhatsApp. WhatsApp is owned by Facebook as well and is one of the world's most popular messaging apps.
With features like video calling and group chats, it's a great way to stay connected with friends and family.
One of the advantages for users is that WhatsApp allows for messages and media to be sent without needing an internet connection.
Viber. Viber is another messaging app like WhatsApp, but with its own unique set of features.
It has a lot of international appeal, with support for over 200 countries and more than 800 million users around the world.
One of Viber's key features is its security, which allows users to set up additional encryption methods to help protect their messages.
FAQs: Snapchat Revenue And Usage Statistics
🤷‍♀️Q: What percentage of Snapchat's revenue is from Ads?
A: According to the most recent financial reports, 97% of Snapchat's total revenue comes from ads. This includes both traditional advertising as well as sponsored lenses and filters. The remaining 3% is generated from other sources, such as selling merchandise and services.
😉Q: What are the major sources of Snapchat's ad revenue?
A: The two main components of Snapchat's ad revenue are direct response ads and brand-driven campaigns. Direct response ads, also known as DR ads, generate revenue when a user takes action on an advertisement, such as making a purchase or clicking through to a website. Brand-driven campaigns are created with the goal of increasing brand recognition and building relationships with users. These campaigns typically don't generate direct revenue, but can lead to increased sales in the long run.
🙍‍♀️Q: How does Snapchat monetize its user base?
A: Snapchat monetizes its user base in a variety of ways. It sells advertising space, offers sponsored lenses and filters, sells merchandise, and enables users to purchase additional features such as Lenses and Replay. In addition, Snapchat has recently begun offering personalized ads to users that are tailored to their interests. This allows advertisers to target specific segments of Snapchat's user base with more relevant messages.
😃Q: What are Snap Ads?
A: Snap Ads is Snapchat's flagship advertising product. It allows advertisers to create sponsored lenses, filters and videos that are displayed between Snapchat Stories and in the Discover section of the app. Snap Ads can be tailored to target specific user demographics and interests, allowing businesses to effectively reach their desired audiences.
Quick Links:
Conclusion: Snapchat Revenue And Usage Statistics
Despite only being founded in 2011, Snapchat has become a social media powerhouse with millions of users and billions of dollars in revenue.
The platform shows no signs of slowing down, as more and more people and businesses are beginning to use Snapchat for communication, entertainment, and marketing purposes.