Telegram is one of the world's hottest messaging apps, with over 500 million monthly users.
But what many people don't realize is that it can be much more than just a way to stay in touch; it also has the potential to generate significant revenue and make you money.
In this blog post, we will take an in-depth look at Telegram revenue and usage statistics, exploring its various monetization options as well as uncovering trends on user activity and retention.
This information should serve as helpful insight for anyone looking to capitalize on the app's impressive growth or simply understand the intricate details of today's most popular messenger platform.
Overview: Telegram Revenue And Usage Statistics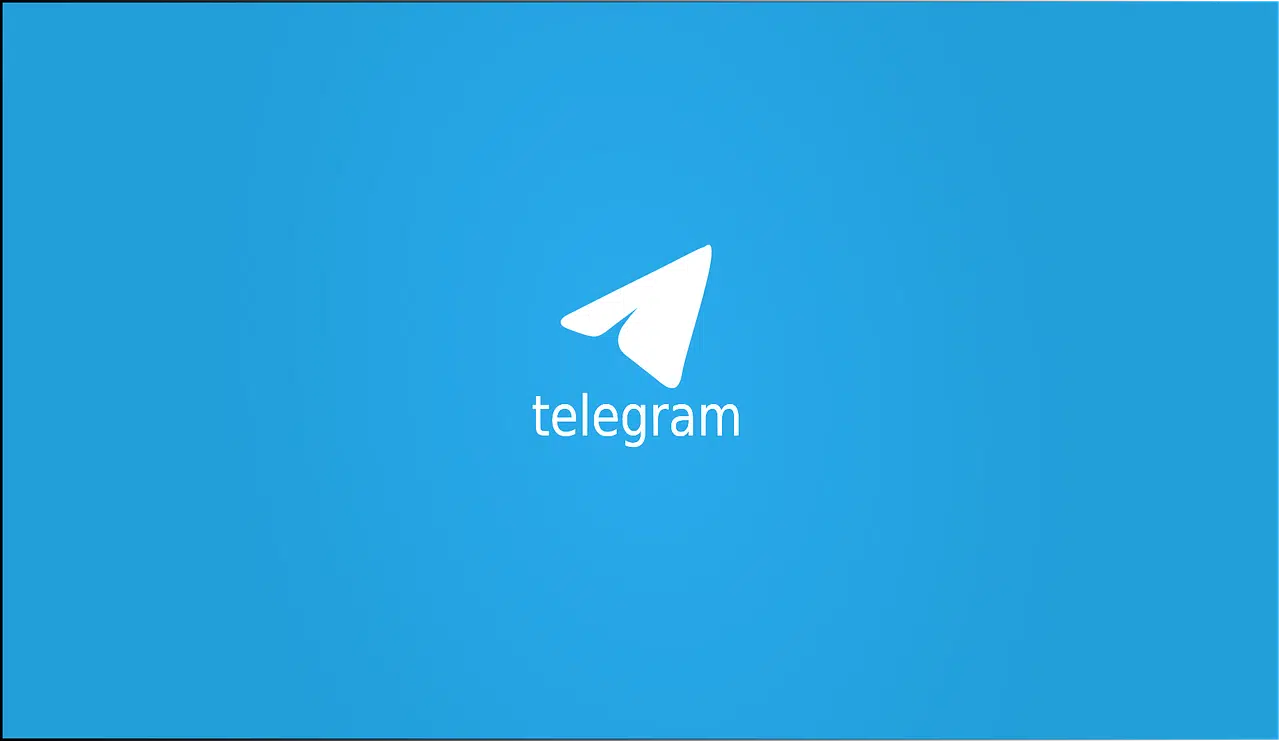 Telegram is a cloud-based messaging and voice over IP service.
Telegram offers end-to-end encryption for secure communication, self-destructing messages that delete themselves after a specified time, and allows users to share files of up to 1.5 GB in size.
Telegram users can create group chats with up to 100,000 members, share large videos and documents of any type, and even set up bots to automate certain tasks.
Telegram also offers a "secret chat" feature that allows messages to be encrypted end-to-end so they cannot be read by anyone except the intended recipient.
Telegram is available for iOS, Android, Windows Phone and desktop platforms. It has over 200 million active users worldwide.
It also offers a platform called "Telegraph" that allows developers to create simple web pages with text, images, videos and other content using their own markup language.
Telegraph pages can be shared on other social media platforms and can be used for creating landing pages, portfolios, or even entire websites.
Telegram's security features also make it a popular choice for businesses looking to protect their data and communications. Telegram is secure by default with end-to-end encryption of all messages sent between users.
It also offers cloud storage for data, making it easy to store and access files from anywhere.
Finally, Telegram offers two-step verification for added security, as well as password recovery in the event of lost credentials.
Key Statistics: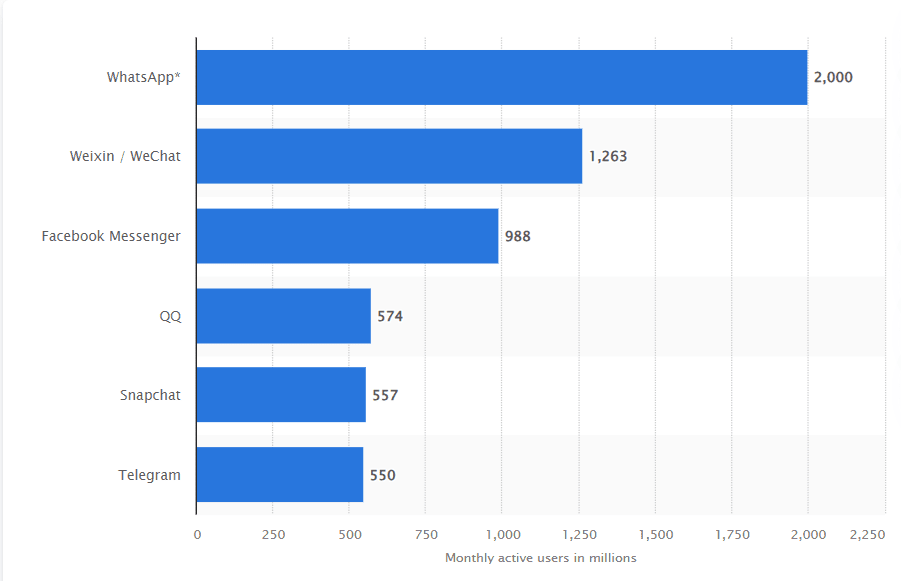 Telegram has seen tremendous growth in recent years and is now one of the most popular messaging apps worldwide.
According to a Statista report, Telegram had over 500 million monthly active users in April 2021, making it the sixth-most popular messaging app globally.
It also has an impressive user engagement rate, with over 1 billion messages sent every day.
In addition to its impressive user base, Telegram also offers a unique set of features that make it stand out from the competition.
It provides end-to-end encryption for all messages and voice calls, allowing users to keep their conversations secure and private. 
Additionally, users can create public channels and send up to 200 000 members broadcast messages in a single shot, making it an ideal platform for businesses and organizations.
They can also create group chats with up to 200 000 members and set up bots that enable automated workflow management.
Overall, Telegram's combination of ease of use, security features, and its scalability make it a great choice for both personal use and business messaging solutions.
As the platform continues to grow, it's likely that its user base and features will expand even further.
Revenue Worldwide 2023: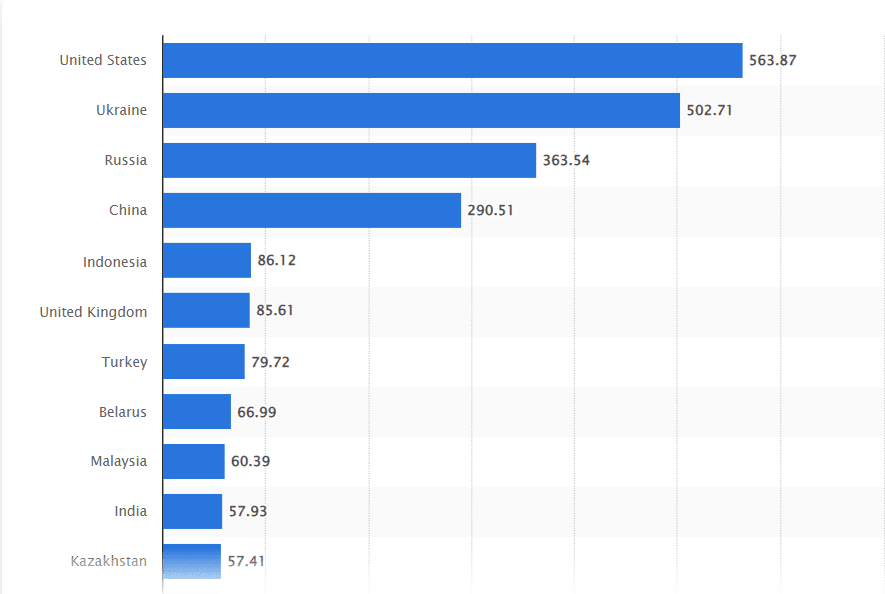 According to the latest forecasts, global Telegram revenue is expected to reach $2.5 billion in 2022 – a significant increase from its current level of approximately $1.2 billion.
The growth of Telegram revenue can be attributed to several factors, including increasing demand for messaging services as well as for content sharing and collaboration.
Telegram has developed a strong presence in the global messaging market and is now one of the leading providers, with more than 400 million active users worldwide.
It has benefited from a growing focus on privacy, secure communications, and user experience that extend beyond simple messaging capabilities.
The shift to mobile-centric interfaces has also enabled Telegram to establish itself as an important player in the industry.
The increasing popularity of Telegram has resulted in a growing demand for its services and products, which has led to increased revenue.
Furthermore, the platform's recent introduction of new features – such as end-to-end encryption, video calls, and money transfers – have boosted usage and monetization opportunities.
These developments have enabled Telegram to become an increasingly attractive platform for both individuals and businesses.
The growth of Telegram revenue has also been driven by its robust advertising model, which enables publishers to monetize their content.
By incorporating ads into their messaging experience, Telegram can offer unique opportunities for brands to reach out to users.
With the ability to target specific demographics and interests, advertisers can maximize their reach and return on investment.
Overall, Telegram is well-positioned to continue its growth trajectory in the coming years, with revenue estimated to surpass $2.5 billion by 2022.
The platform's widespread adoption and proven monetization strategies are likely to play a major role in this success.
Users Worldwide: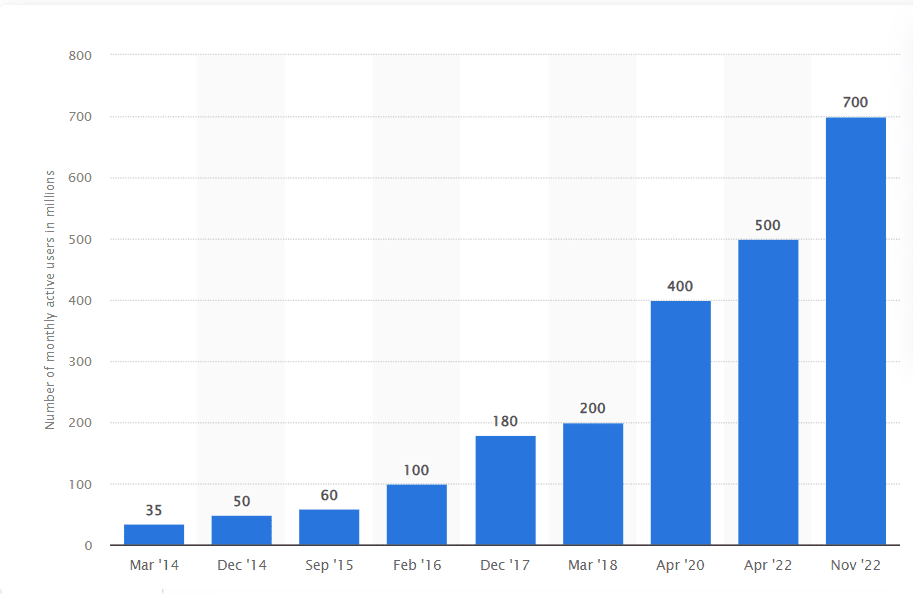 According to Statista, Telegram is the seventh most popular social media platform with more than active users worldwide.
As of May 2021, Telegram user base had grown by over 70% since 2018, making it one of the fastest growing digital communication tools out there.
The majority of Telegram users reside in Russia and Iran, accounting for 40% of the total number.
India follows in third place with more than 20 million users, and then Germany, France and Brazil each hold between 10-15 million users.
The United States has around 8 million users on Telegram as of May 2021.
Despite being the seventh most popular social media platform, Telegram is still growing rapidly due to its strong focus on privacy and security.
Its open source code offers users encryption that cannot be matched by its competitors, and it allows for group chats with up to 200,000 members – making it highly popular among organizations and businesses alike.
Users by Region: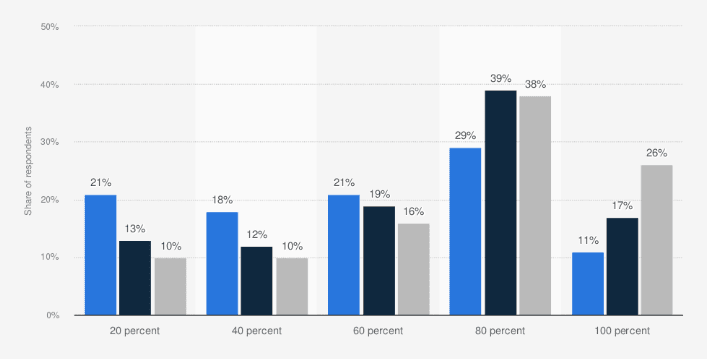 Telegram is one of the most popular instant messaging apps in the world with over 400 million active users. It has a wide variety of features, including end-to-end encryption, group chats, channels, stickers and bots.
While Telegram is used around the world, its user base is concentrated in certain regions.
In Europe, Telegram is especially popular in Russia, Ukraine and Belarus. Russia alone accounts for around 18% of Telegram's total user base.
It has also become a significant platform for political conversations in countries like Belarus.
In Asia, India is the largest market for Telegram with over 140 million users. It is also used heavily in Iran and Pakistan, though not to the same extent.
The messaging app is also popular in East Asian countries such as Japan, South Korea and Taiwan.
Telegram is also used by many people in Latin America, particularly in Argentina, Venezuela and Mexico.
It has become a go-to platform for news and entertainment content creators in countries like Brazil and Colombia.
In the United States, Telegram has seen a surge in popularity due to its focus on privacy and encryption. It is also used by many people in Canada, Australia and New Zealand.
Telegram Competitors:

WhatsApp is one of the biggest players in the global messaging app market.
Owned by Facebook, WhatsApp allows you to send messages and make voice and video calls over an internet connection.
It also supports end-to-end encryption, which ensures that your conversations are secure and private.
WeChat is another very popular messaging app in China, with over 1 billion active users.
In addition to being a messaging app, it offers other services such as payment and ride hailing. It also offers its own social media platform for sharing photos and videos.
Line is another popular messaging app, especially in Japan, Taiwan and Thailand. It offers a wide range of features, from messaging and voice/video calls to gaming and augmented reality.
Line also has its own digital currency called LINE Points, which can be used for in-app purchases.
Viber is yet another messaging app with more than 1 billion registered users. It offers features such as secure messaging, voice/video calls and even its own payment system.
It also has an option to delete messages after a certain amount of time, ensuring user privacy.
All of these apps are great alternatives to Telegram if you're looking for something different. Each one has its own unique set of features, so you'll have to decide which one is right for you.
No matter which one you choose, though, you can be sure that your conversations will be secure and private.
FAQ: Telegram Revenue And Usage Statistics
😃Q: What is the revenue of Telegram in 2023?
A: It is difficult to estimate the exact figures for Telegram's revenue in 2022 as it depends on many factors, including user growth, new product launches, and monetization efforts. However, analysts expect that Telegram's revenue could reach as high as several hundred million dollars.
🤷‍♀️Q: What is the usage of Telegram in 2023?
A: Analysts estimate that by 2023, Telegram will have hundreds of millions of active users worldwide. This number is expected to continue growing in the coming years as more people become familiar with the platform.
🎁Q: How is Telegram monetizing its services?
A: Telegram is currently exploring a range of different methods for monetizing its services. This includes the sale of stickers and other in-app purchases, as well as subscription plans that offer additional features to users. It is also possible that Telegram may look into introducing advertising on the platform in the future.
❓Q: Is Telegram planning any new product launches in 2023?
A: Telegram is constantly working on improving and expanding its existing features and services. In 2023, it is expected that Telegram will be launching several new products, including a cryptocurrency wallet and a payments system. These products will help to further expand the platform's reach and impact.
Quick Links:
Conclusion: Telegram Revenue And Usage Statistics
Telegram is a popular messaging app with great potential for businesses.
The app has high engagement rates and is growing quickly in terms of users and revenue.
Telegram is especially well-suited for marketing, customer support, and collaboration.
If you're looking for an app to connect with your customers or team members, Telegram is definitely worth considering.