Looking for a detailed Thrive Leads review in 2022? Here is your best Thriveleads Review.
Building your email list is the most important thing you can do for growing a long-term, sustainable online business.
It's traffic that you control. Simply hit the "send" button and generate hundreds of visitors on demand. This is the #1 asset that no one can take away from you.
As we all know, Google can change their algorithm anytime. Facebook organic reach continues to decline. And the cost of paid traffic continues to rise.
But even after all these years, email still has the highest ROI (return on investment) than any other marketing platform.
On average, email marketing generates $44 for every $1 spent.
Your number one job as a blogger is to turn your traffic into subscribers.
To do that, you need a list building plugin. You must ASK your visitors for an email address. Plain and simple. And give them a good reason to do so.
I've tried and tested nearly every list building plugin on the market. Everything from free solutions to one's that costs $100's of dollars.
When it comes to growing your email list quickly, Thrive Leads is one of the best options I've found. It's a perfect combination of price and power-packed features. And quite a few features that you won't find in ANY other plugin.
But it's not just for building your email list! You can also use this WordPress plugin to make more sales, increase your page views, grow your social media following, and more.
See Thrive Leads in Action
Thrive Leads Review 2022: An In-Depth Look
With this one simple tool, you can start building your email list today. Choose from a variety of list building tools.
Pop-Up Lightbox
Optin Widget (Placed inside your content or in the sidebar)
Slide-In Forms
Sticky Ribbon / Notification Bar
Scroll Mat
Screen Filler Overlay
Content Locker
2-step opt-in forms
Multi-Step Forms
Multiple Choice Forms
Post Footer Forms
Content Upgrades
Plus, you also get…
Pre-Designed templates that are proven to convert.
Drag-N-Drop editor that allows you to create beautiful forms with ease.
Smart Triggers to display your form at exactly the right time. (Exit Trigger, Time Trigger, Scroll Trigger, Click Trigger)
Advanced A/B Testing to increase your conversions.
Create "Smart Links" to display different offers to people who have already subscribed to your email list.
Precise Targeting allows you to create customized opt-in forms for different pages, posts, categories, or tags.
Create unique offers based on what your visitor is currently reading.
Business dashboard gives you a detailed view of how your opt-ins are performing.
Every Type of Opt-In Form at Your Fingertips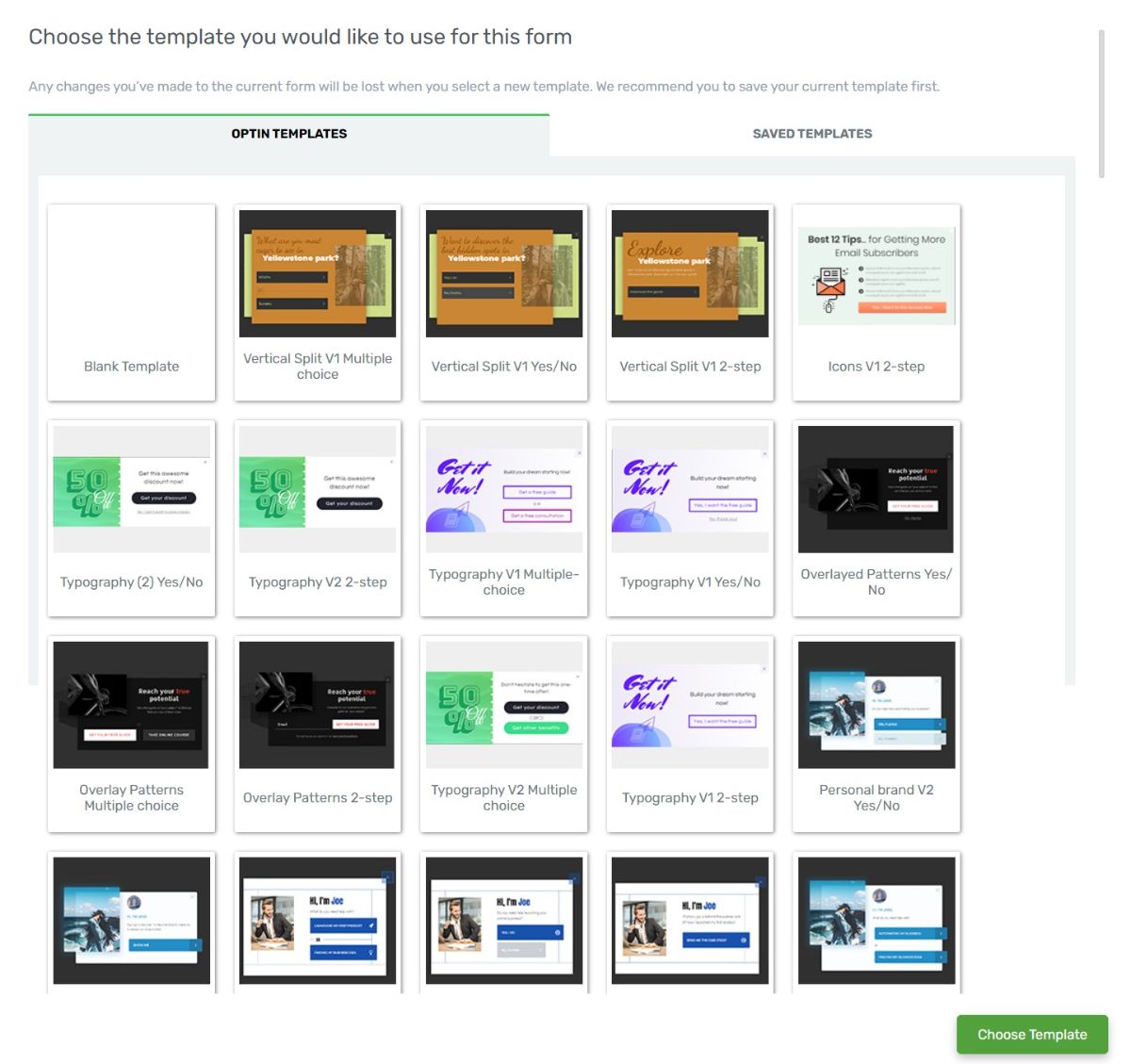 In the past, I needed multiple WordPress plugins to do what Thrive Leads now does with just ONE plugin.
It's an all-in-one list-building solution.
Pop-Up Lightbox (ThriveBox)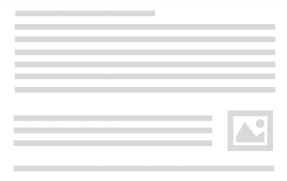 Grab your visitors attention with a lightbox pop-up. This is one of the highest converting forms you can use on your website.
Now, I know a lot of people think that pop-ups are annoying. But it's one of the most effective ways to convert your visitors into subscribers.
As much as we'd all love to give everything away for free, we're building a business here. And your email list is the KEY to growing a long-term, sustainable business.
Use a pop-up to offer your visitor something that will help them solve their biggest problem or help them achieve a specific goal.
Examples:
How to Generate Your First 1,000 Email Subscribers
Our Top 10 Recipes with Just 4 Ingredients or Less (Ready in just 30 minutes)
1-Page SEO Checklist
How to Travel the World for Just $500 Per Month
7 Hidden iPhone Camera Features Every Photographer Should Know About
You can also trigger the pop-up AFTER someone clicks on a button or a link.
This means you can embed CTA's within your article without interrupting the reader experience.
Another popular way you can use Thrive Boxes is to turn your sidebar into a lead generation machine. A lot of people use their sidebar to show the latest posts or a generic opt-in form that typically gets ignored.
Instead, why not use attractive images that entice your visitors to click.
When they do, the pop-up box will appear, enticing them to opt-in for your free checklist, ebook, cheat sheet, report, etc…
You can find a great example of this on IphonePhotographySchool.com.
Whenever you click on one of the images in the sidebar, a pop-up box appears.
"Sticky" Ribbon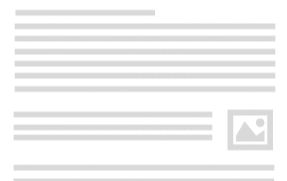 Add a ribbon to the top of your website that remains "sticky" at the visitor scrolls down the page. This keeps your offer in sight at all times. Generating more leads without taking up too much space.
You can place your sticky bar at the top or bottom of the page. You can even customize the message based on the specific post or page that your visitor is reading.
Show highly targeted messages to increase your conversion rates. Or generate more sales by offering a time-limited special.
There are lots of different ways to use the sticky ribbon. Whether you want to grow your email list, promote a special offer, or increase your page views by linking to other popular posts.
In-Line Forms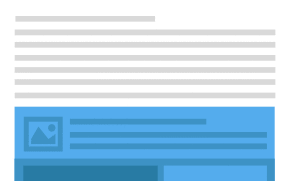 Automatically insert an opt-in form at the bottom of your posts or INSIDE the content itself using a simple shortcode.
Here's an example:
2-Step Opt-In Form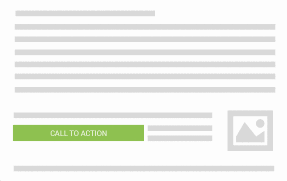 You can also create a 2-step signup process to trigger a pop-up when someone clicks on a button, a link, or an image.
One of my favourite ways to grow our email list is by offering a PDF version of the blog post.
You'd be amazed how many people opt-in simply to get a PDF version of what they're currently reading. It's a simple and easy way to save information for later. Especially with so many people browsing the web on their mobile phones.
Slide-In
If you're looking for something less intrusive than a popup, the slide-in is a great alternative. These attention-grabbing forms slide in from the left or right-hand side of the screen without hiding the content.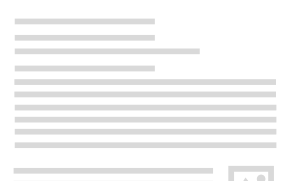 Thrive Leads also allows you to create what's called a sticky slide-in. When you click to close the slide-in box, it minimizes itself to a small box in the corner.
If your visitor still wants to download the cheat sheet, checklist, or free report, they can simply click on the image to re-open the opt-in form.
It's a really classy way to grab your visitor's attention without being intrusive or getting in the way of the content their currently reading.
Opt-In Widget
Place a highly customized opt-in form anywhere on your website. The widget allows you to place an opt-in box in the sidebar, the footer, INSIDE the content, or anywhere else your heart desires.
You can also customize the form and show different opt-ins on specific posts or pages. Or add an animation effect to your form to grab your readers attention.
Screen Filler Overlay
This opt-in form is impossible to ignore. It literally fills the entire screen.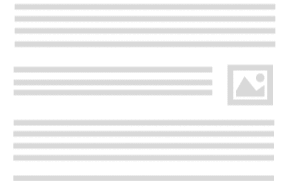 It's also one of the highest converting opt-ins. In fact, this full-screen call to action works better than almost any other opt-in form. It's a good place to start if you're not sure which form to try first.
You can also decide whether you want to show the lightbox as soon as someone lands on your site. When they reach the end of the article. 10 seconds after they land on your website. Or you can even trigger the overlay with a button, image, or text link.
You can also use the screen filler lightbox to grow your social media following, promote a time-limited offer, give your readers a special coupon, increase your pageviews by linking to other popular posts, or even grow your Facebook Messenger list.
Thrive Leads is about more than just email. Although that's certainly one of our favorite ways to use it 🙂
Scroll Mat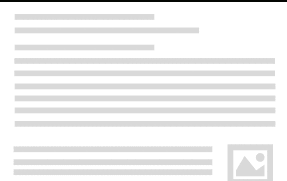 This one is actually quite similar to the Screen Filler Overlay. But with a few tweaks.
As soon as the page loads, the scroll mat appears at the top of the page and pushes the content down. Essentially, turning ANY page into a full screen opt-in.
To access the content, the visitor can simply continue scrolling or "X" out.
But this unique opt-in form seems to have a magical effect on conversions. It's also one of the highest converting opt-in forms. In fact, Tommy Griffith from ClickMinded, increased their conversions by 3X when they started using a Scroll Mat on their homepage.
Like all of the other forms in Thrive Leads, you can also create custom "scroll mats" for each post, page, category, or tag. Creating super relevant offers for each blog post can dramatically increase conversions.
Or, if you're looking to increase conversions quickly without a whole lot of work, you can simply use the same opt-in form across all pages.
Thrive Leads gives you lots of options.
Content Locker
Here's a feature I haven't seen inside very many list building plugins. It's a content locker.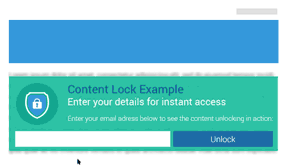 You can actually hide parts of your content (or even entire blog posts) and only reveal them once someone has opted-in.
This is another great way to grow your email list.
Once your visitors enters their email, the content is instantly revealed on the page. No need to check their email or even go to another page.
The content is literally "unlocked" on the page itself.
Curiosity is one of the best ways to increase conversions. You can unlock "Part 2" of the blog post. A corresponding video, checklist, or cheat sheet. Infographic. Coupon Code. Or additional VIP content.
Multi-Step Forms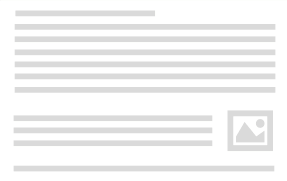 These powerful opt-in forms use micro-commitments to increase conversions and attract highly engaged email subscribers.
Instead of immediately asking for the opt-in, this form asks a question.
Example: Would you like to double your traffic in the next 30 days?
Below the headline are 2 buttons. You can select "Yes" or "No".
When they choose "Yes", your visitor is making a micro-commitment, which makes them much more likely to give you their email address in the next step.
As soon as they click the button, they're shown the opt-in form.
But by first asking a question, you get your visitors engaged BEFORE they see the opt-in form. That's the power of the multi-step form.
However, you can also use this feature to segment your list.
You can ask a question such as: What's Your Favorite Type of Photography?
Then present them with 3 options.
Portraits
Landscape
Macro
This allows you to segment your list AND show people a more relevant offer.
If they click on portraits, you can immediately offer them a free report with your top 10 portrait photography tips and tricks.
If they click on landscape, you can immediately offer them a free checklist for breathtaking landscape photos.
You can even show them specific product recommendations on the thank-you page based on the button they choose!
Content Upgrades
Here's one of the areas where Thrive Leads shines above all the rest.
They allow you to quickly and easily add content upgrades to your blog posts.
Not only that but there's also a built-in feature called "asset delivery" that allows you to send your subscriber an immediate email with their download.
Thrive Leads also has built-in templates that make it super easy to add content upgrades to your post.
This is (by far) one of the most effective strategies we've found for converting blog visitors into subscribers.
We're converting up to 10% of our visitors INTO subscribers using content upgrades.
That's CRAZY.
When you combine this with a pop-up, scroll-mat, or slide-in, it's a deadly combination.
The reason content upgrades work so well is that they're super relevant to what your visitor is ALREADY reading.
For example, if your visitor is reading a blog post about Search Engine Optimization, your content upgrade might be a free SEO checklist they can download.
Or…
If you don't have a lot of extra time on your hands, simply convert your blog post into a PDF and allow your visitors to download a PDF version of the blog post.
This is actually one of our BEST performing content upgrades. Super simple.
Here are some other content upgrade ideas.
Checklist
Cheat Sheet
Worksheet / Planner
Part 2 of your blog post
Corresponding Video
PDF Version of your blog post (Works REALLY well)
List of Resources
Transcript (if the post is a video or podcast episode)
Case Study
Templates (Ex. Email Templates, Subject Lines, Blog Post Ideas, etc…)
An opt-in offer made for that one specific piece of content. Directly related to what your visitor is ALREADY reading.
The more relevant your offer, the higher your conversions.
5 Features That Make Thrive Leads My Favorite

Here are some of the features that make Thrive Leads one of the best list building plugins. I've tried many different options (OptinMonster, Sumo, Convert Plus, LeadPages, Bloom, ConvertBox, etc…)
These unique features, ease of use, and affordable pricing model is why I personally use Thrive Leads on ALL of my websites.
1. Smart Links allow you to show different offers depending on where your visitors are coming from.
This is (by far) one of my favourite features in Thrive Leads. And one that I couldn't find in many of the other list building plugins.
Essentially, Smart Links allows you to display different offers (or no offers) to people that have already signed up to your email list.
So whenever I'm sending a broadcast email to my subscriber list, I simply create a SmartLink and choose which offer I'd like to show them instead.
Why annoy your readers if they're already subscribed?
Instead, you can use this opportunity to show a custom offer.
Special Coupon Code (for existing subscribers)
Promote a Video
Increase Pageviews by linking to other popular posts
Grow your Facebook Messenger List
What's the NEXT step you want someone to take AFTER they have subscribed?
You can use SmartLinks to promote this secondary goal.
Create relevant offers based on WHO is visiting your website.
The cool part is… this isn't just for people who have already subscribed.
You can use "Smart Links" to create a custom experience based on WHERE your visitor is coming from. So you can create a smart link for your Facebook ad and a different smart link for Pinterest.
It's totally up to you. The possibilities are endless.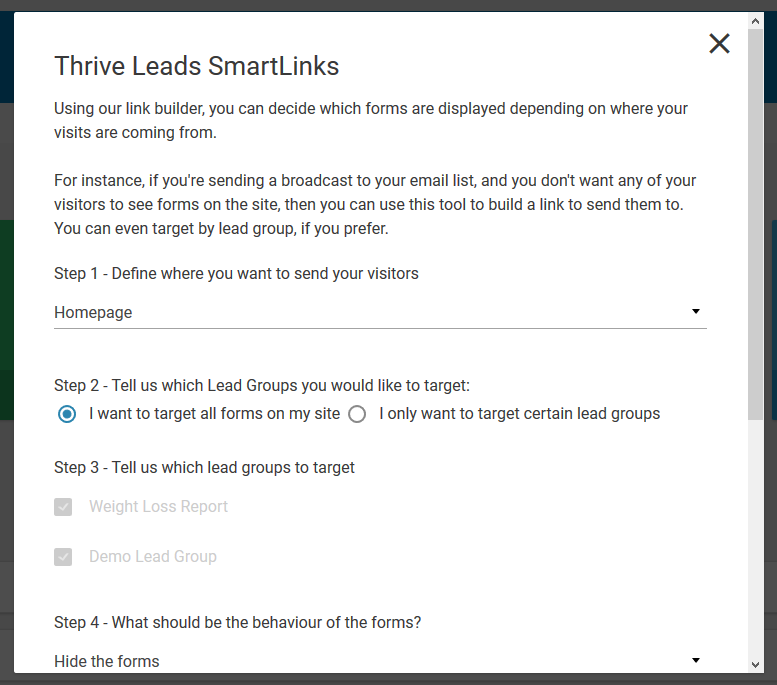 2. Advanced A/B Split-Testing
What if you could generate more subscribers from your existing traffic?
Without having to do any extra work.
That's exactly what Thrive Leads built-in A/B split-testing allows you to do.
They've created an advanced A/B testing engine that makes it easy to increase your conversions.
Here are a few ways to increase your conversions:
Test Entirely different offers. The offer itself can make a HUGE difference in conversions. It's gotta be sexy and irresistible. Otherwise, people will simply ignore your pop-up.
This is one of the first things you should test.
Example:
SEO Checklist – 21 Steps to a Perfectly Optimized Blog Post VS. How to Double Your Traffic in 30 Days
The headline is KEY when it comes to offers. You've only got a few seconds to catch their attention.
Test Different Form Types. You can test entirely different opt-in types against each other. Find out whether a lightbox popup converts better than a slide-in form.
Or test an in-line form at the top of your content vs a "sticky" ribbon at the top of the website.
Test Different Triggers. Find out whether your pop-up should appear instantly or 5 seconds after someone lands on the page.
You could also test a scroll-based trigger VS a time-based trigger.
You can also find out what works best on mobile vs desktop.
Test Different Designs. Thrive Leads comes with hundreds of gorgeous templates and designs. You can set up a simple A/B split-test to find out which designs convert best for your audience.
Or – create your own design to match your colours and branding.
You can create new split tests in a matter of minutes. Zero coding or tech knowledge is needed. Thrive Leads will tell you the definitive winner as soon as it's gathered enough data.
3. Sign-Up Segue
Allow your existing subscribers to sign-up for your webinar with just one click! No need to re-enter their name and email. As soon as they click your custom link, they'll automatically be added to GoToWebinar or any other webinar service that you use.
Reduced friction increases conversions.
You can also use this feature to add "tags" in your email marketing system. So as soon as someone clicks on a specific link, they get "tagged" inside your email marketing platform.
Some services have this built-in. But if now, this is a great way to segment your list, or add people to a specific email sequence for additional follow-up.
When someone clicks on a Signup Segue link, you can also add them to multiple services. For example, you could add them to GoToWebinar plus a specific ConvertKit form or tag.
Once they click on the link, you can choose where to send them. This could be a thank-you page with full details about the webinar.
The options are endless.
4. Smart Exit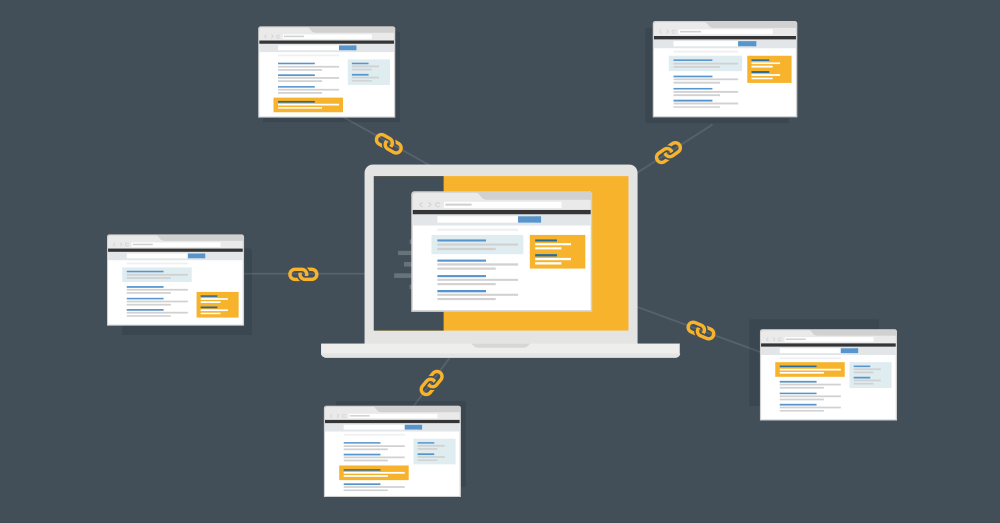 Exit-intent pop-up forms became really popular a few years ago. Which triggers a pop-up whenever someone is about to leave your website.
But here's the problem. The majority of the traffic online is now mobile.
Exit-intent technology is based on tracking the mouse cursor. This means most of your visitors aren't seeing your exit pop-up!
I found this out recently when I tested a new list building software. I set up a popup form to trigger on one of our websites whenever someone exits the page.
When I came back to check on the conversion rate, I noticed the number of impressions (times the form had been shown) was much lower than the actual number of visitors to our site.
Finally – it dawned on me that mobile visitors simply weren't seeing the pop-up. And most list building plugins have the same problem. You have to create a separate pop-up for mobile visitors.
But Thrive Leads has created a unique solution using what they call Smart Exit technology.
With SmartExit, you're able to set up a traditional exit-intent pop-up to trigger for desktop visitors AND a time-based trigger for mobile visitors. That way, everyone sees your pop-up
Thrive Leads has put a lot of time and thought into figuring out how to convert your website visitors into subscribers. And this feature is one of the MANY reasons that we use Thrive Leads on all of our websites.
I've tested many other plugins and SAAS solutions (and will continue to do so), because I'm always looking for the best tools I can recommend.
But I keep coming back to Thrive Leads – because it just works. Thrive Leads has every feature I could hope for + a few more. The sheer capabilities of this software go beyond just about anything you'll find out there. At a price that you simply can't beat.
5. Content Marketing Report
Thrive Leads has one of the most robust reporting systems. And since I'm a complete marketing nerd, I geek out on this kind of stuff.
The analytics dashboard will show you how well your forms are performing at-a-glance. You can see the number of impressions and conversions on the main dashboard.
But their detailed analytics go much deeper than that. With individual reports for cumulative list growth, conversion rates, lead referrals, and a content marketing report.
The Lead Referral Report will show you exactly which sites are sending you the MOST email subscribers. (Ex. Facebook, Google, Pinterest, etc…)
But one of my favourite reports is the Content Marketing Report. Which shows you the number of impressions, conversions, and conversion rate for each individual blog post.
This is an excellent tool for seeing which blog posts and topics are performing best.
It also allows you to see the conversion rate for each individual blog post.
So, for example, if you have a scroll-mat, a content upgrade, and a footer opt-in all on ONE blog post, this report will show you the cumulative conversion rate for ALL of those list building mechanisms.
Lots of valuable insights that you can pull out of the analytics dashboard.
This is essentially you're list building control panel.
How Much Does Thrive Leads Cost?
One of my favourite things about Thrive Leads is that you can get it for a low one-time fee.
This is an all-in-one list-building solution for less than a hundred bucks.
Which is pretty attractive, especially when you compare it to a lot of the other solutions on the market. OptinMonster is $228 per year and limits you to just 15,000 page views per month. The more success you have, the higher the monthly fee.
With Thrive Leads, you can collect an unlimited number of leads for a one-time fee.
Thrive Leads Pros and Cons – The Good and the Bad
Pros:
Lots of gorgeous, pre-designed templates proven to convert.
Drag-and-Drop form builder allows you to create unlimited designs.
SmartLinks allow you to show different offers to different people.
2-Step Optins
Simple (but sophisticated) A/B testing
Unlimited targeting options.
Built-in Content Upgrades and asset delivery
Detailed reports and analytics
Con's:
Thrive leads does have a learning curve. But this is true for any list building plugin. Just keep in mind that it will take some time to get used to the interface.
Because this is a Worpdress plugin, all of the resources are hosted on your website, which means it can slow down the performance of your site. To combat this, they allow you to lazy load your forms.
Final Thoughts: Is Thrive Leads Right For You? Thrive Leads Review 
I'm continuously testing new tools, software, and plugins to see what works best.
I've tried MANY different list building plugins, and Thrive Leads is still at the top of my list. In fact, it's one of the first WordPress plugins we install on any new website. Because list building is such a crucial piece of growing any business.
Is it perfect? No.
And the truth is there are NO perfect solutions.
But for us – this is as close as it gets. With power-packed features that allow you to grow your email list, increase your sales, grow your social media following, and more.
If I could change just one thing, I do wish it was a little bit easier to use. Like any software, it does have a learning curve. But that's because it really does have sooooo many features.
So I'll happily take the trade-off.
The ONLY thing I've found that's easier to use are some of the current Saas solutions. But… they're also a LOT more expensive and they don't have some of the KEY features that I love inside of Thrive Leads.
Smart Links
Advanced A/B Split-Testing
Sign-Up Segue
Smart Exit
Content Marketing Report
Content Upgrades
Built-In Asset Delivery for Lead Magnets
If I find something better, you'll be the first to know. But right now this is my #1 pick and recommendation for the top list building plugin for WordPress.
FAQs Related to Thrive Leads:
Q. What is Thrive Leads?
Ans: Thrive Leads is an all-in-one list building plugin for WordPress. Specifically designed and optimized to help you convert your website visitors into subscribers.
Q. What types of forms can I create in Thrive Leads?
Ans: There are many different forms inside Thrive Leads that you can use to optimize your conversions. Including the pop-up lightbox, sticky ribbon, in-line forms, 2-step opt-in forms, slide-in, opt-in widgets, screen filler overlay, content lock, scroll mat, multiple-choice forms, multi-step Forms, and content upgrades.
Q. What email services integrate with Thrive Leads?
Ans: Thrive leads integrates with the following email services: ConvertKit, Aweber, ActiveCampaign, Infusionsoft, MailChimp, MailerLite, Drip, GetResponse, iContact, Ontraport, SendGrid, SendInBlue, and many others. You can also use any HTML signup form code.