Want to find the Better.com CEO Vishal Garg Net Worth? Read the article further.
Vishal Garg has a net worth of $4 billion in 2022.
But, it isn't what Vishal Garg came into the news in December 2021.
CEO of Better.com Vishal Garg faced a backlash from social media users, entrepreneurs and other CEOs when he fired around 900 employees of his company over Zoom call.
About Vishal Garg:
Vishal Garg is the CEO of Better.com. Vishal was born in India and grew up in the United States.
He founded MyRichUncle, an online lender for students after graduating from New York University.
As per his LinkedIn page, he previously co-founded One Zero Capital, an investment firm that focuses on building companies at the intersection of consumer finance, technology and internet marketing. He founded Better.com in 2014 and has been its CEO since then.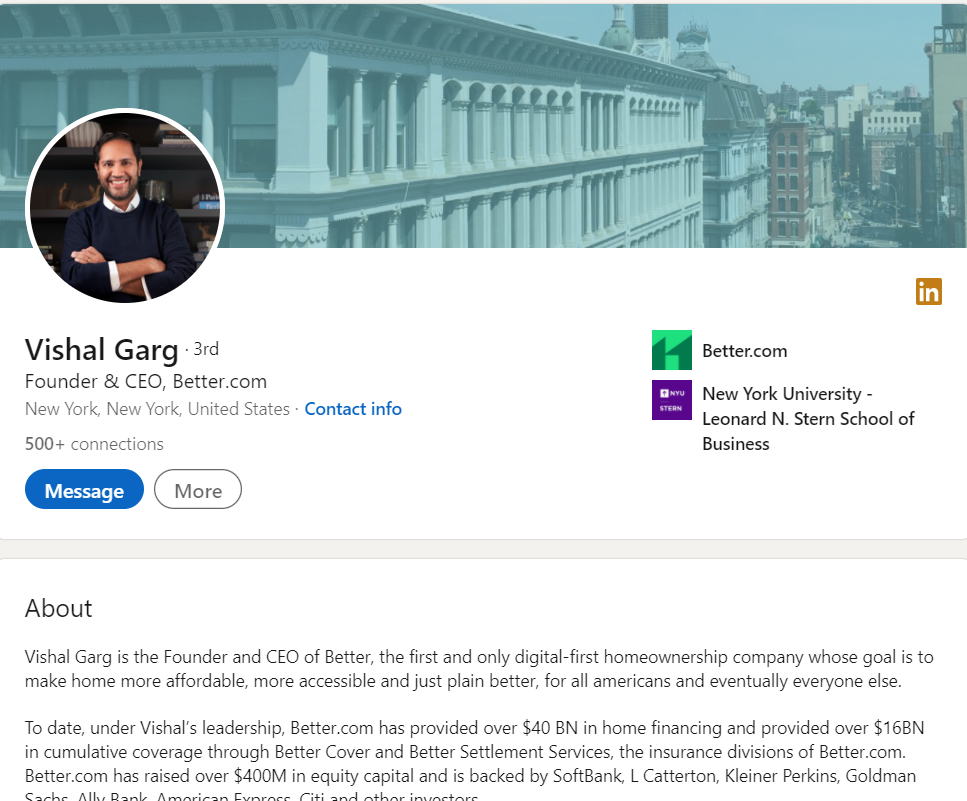 Career
Vishal Garg started making money at a very young age. He made money by selling old books in the streets of Manhattan and studied guides to make money.
He also made money by selling thrift clothes.
Before starting his venture, Vishal has also worked in various financial ventures and companies.
In 2000, he started MyRichUncle which was a mortgage company. But, the company went bankrupt and a lawsuit was filed against Vishal.
In 2014, Vishal started Better.com and another venture 1/0 Capital.
Better.com has a net worth of $7.7 billion in 2021.
Vishal Garg Assets and Properties
There is not much information about Garg's assets and properties as he leads a private life. Various sources have revealed that he owns a house in the US worth $5 million where he lives.
What is Better.com?
Better.com is a mortgage company that provides rates, mortgage pre-approvals, and tools through an entirely online procedure.
Better.com has also launched a new division that provides insurance quotes online.
Better.com users usually get pre-approval within minutes and can finish a mortgage or loan for as little as three weeks because of the many kinds of mortgages or loans that are offered.
In recent years, Better Mortgage has experienced major changes. In 2016 they changed their name to "Better" and got $30 million in Series A funding; a year later (2017) the company raised another round of financing worth $15 Million with Kleiner Perkins Caufield Byers.
In 2019, the company again raised $160 mn in Series C funding.
The firings also came close on the heels of being backed by two major investors, who recently pumped $750 million into the company. They are going public through a SPAC and plan for it soon too!
Why did Better.com CEO fire its employees?
According to Zoom's call, Garg said that there was a lack of market efficiency, performance and productivity.
Because of this, they had to let some people go. Kevin Ryan, the company's CFO said that the company will have a "fortress balance sheet" and have a "reduced workforce". It is needed so they can do good work in the radically changing housing market.
What are the main sources of income that Vishal Garg?
Vishal Garg has various sources of income.
One of the major sources of his income is his venture Better.com.
Besides this, Vishal also owns and gets a profit from 1/0 Capital. Vishal also invests in stocks and cryptos.
Garg has a history of volatile behavior:
In November 2020, Forbes had disclosed an email where Vishal Garg had sent emails to its employees calling them Dumb Dolphins.
"HELLO — WAKE UP BETTER TEAM," Garg wrote in the email released by Forbes. "You are TOO DAMN SLOW. You are a bunch of DUMB DOLPHINS and…DUMB DOLPHINS get caught in nets and eaten by sharks. SO STOP IT. STOP IT. STOP IT RIGHT NOW. YOU ARE EMBARRASSING ME."
Forbes also reported that Garg had threatened his partner Raza Khan in 2019 over a lawsuit.
What did the laid-off employees receive?
US-based employees at Better.com will receive four weeks of severance pay and one month of benefits. They will also get two months of cover-up pay for which the company will pay the premium.
Terminated employees will also receive an email from HR that outlines the benefits to which they are entitled.
How did netizens react to this mass firing?
Seems like the mass firing by Vishal Garg didn't go well with the netizen and business CEOs around the world.
900 at https://t.co/Ga67R6QlK9 let go on a webinar.

Devices shut off immediately after.

3 minute call.

No remorse.

What a terrible way to do things.

CEO Vishal Garg's "dumb dolphins" (as he refers to them) now unemployed for the holiday season.

Disgusting tbh

— AdTechGod Dot Eth (@AdtechGod) December 2, 2021
https://t.co/W7sydGPB9V CEO Vishal Garg — immortalized in the Urban Dictionary #garged #betterdotcom #VishalGarg pic.twitter.com/rDG9DQh8J8

— Jon Hyman 💉🧲😷 (@jonhyman) December 9, 2021
My heart went out to the 900 employees sacked through Zoom by Vishal Garg. Totally wrong! Do it on a one on one basis. And in person. And not before Christmas and after a $750 mn recent infusion. This is how Corporates get a heartless tag!pic.twitter.com/9aPoFNybKp

— Harsh Goenka (@hvgoenka) December 7, 2021
Final Thoughts: Vishal Garg Net Worth 2022
Vishal Garg has laid off hundreds of employees on a Zoom call. The only relief point for the employees is receiving their benefits from Better.com.
Hope this article will provide you with more information about this issue if you are interested in learning more, including how many people were fired and what other options they have at this time.
Also Check: