In this article, we have featured WordPress Considers Dropping Internet. By eliminating support for Internet Explorer 11, the most popular and well-known blogging platform, WordPress, is considered.
The cumulative use of IE 11 by WordPress users has been shown to be less than 1%, using three metrics:
Internet Explorer 11 will be phased down in the near future due to its dwindling user base and the high maintenance costs associated with the browser.
"WordPress users should already be aware of the fact that BrowseHappy no longer recommends Internet Explorer due to a flag that was inserted some 13 months ago. Due to the high maintenance costs for developers, the IE11 user experience isn't the best it can be "Last week, WordPress wrote a blog post on the issue.
WordPress is soliciting input from individuals and organizations that are still using the browser by March 18th in order to develop their strategies for removing support.
What does it mean to "drop support"?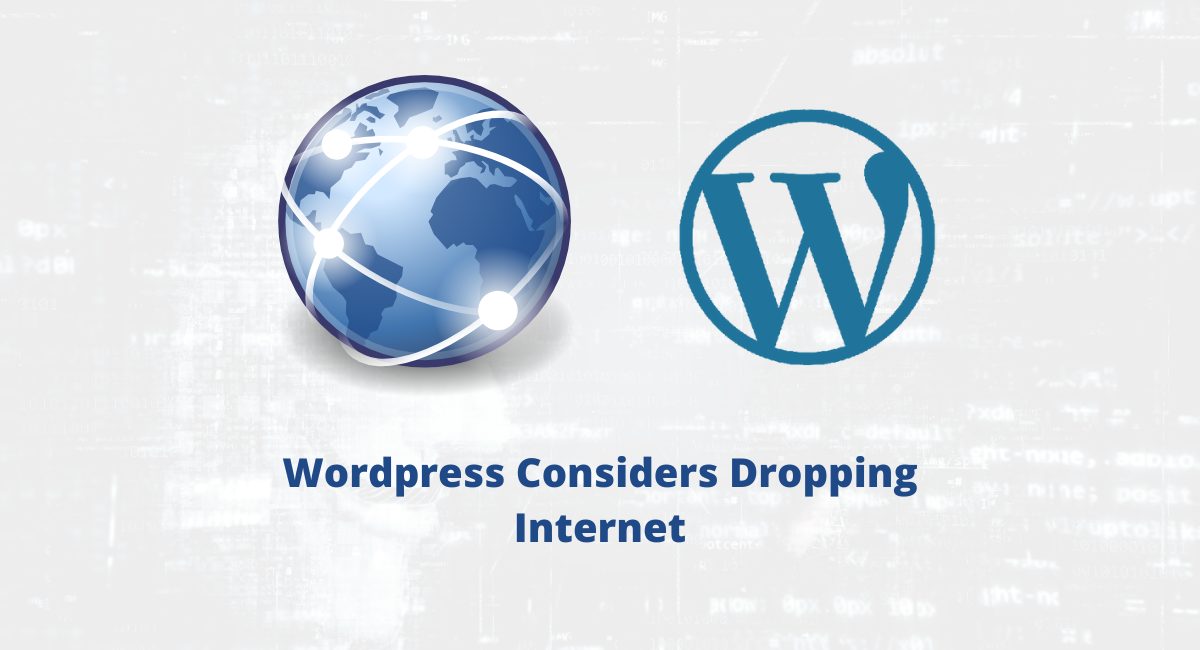 Support for a browser is no longer maintained in WordPress, which means that new features are no longer tested on certain browsers and cannot be guaranteed to work properly.
Automatic programs that produce portions of the WordPress core source code are also modified to exclude unsupported browsers. If a feature relies on certain files, it is likely to fail or stop operating for users of those browsers.
This change will have the greatest impact on the block editor since practically all of the files linked to the block editor are compiled by these automated tools. With IE11, it's possible that some of the WordPress dashboard's other CSS-based features will be affected as well.
On a case-by-case basis, all additional sections of the code base that are IE11-specific will have to be found, analyzed, and deleted. Starting with WordPress 5.9, this will be implemented progressively over the course of several major versions. Any IE11 bugs that are discovered will not be addressed.
How will this alter the themes?
As a consequence of this approach, no alterations will be made to the pre-installed themes. Standard themes will not lose any code related to compatibility for IE11 (or any other browser supported at the time each theme was produced). IE11 will not be used to test any future enhancements.
Still, if you're not using the default theme, this update is unlikely to affect your theme. WordPress Core modifications do not alter the browser support policies of third-party themes. IE11 might no longer be supported by your theme's creator.
The creator of your theme should be contacted if IE11 support is crucial to you and you don't know if your theme supports IE11.
W3 Total Cache's Object Cache was disabled.
W3 Total Cache may be the root cause of the connection loss error if you've installed it on your site. It's easy to repair, though. Remove the object cache from the W3 total cache and see if it helps. WordPress may still be able to access your account.
On the other side, if you are using the W3 complete cache plugin, turning it off may not be the best option for you. The plugin's operation will be suspended if you deactivate it, which may interfere with your job.
Deactivating the object cache isn't the only choice here if you go through all of the plugin's settings. As a result, it's in your best interest to hunt for an alternative solution to the problem as soon as possible.
The item cache can be left engaged for a bit longer. Instead, you keep the WordPress object cache active by enabling the wp-admin request to be cached.
You may easily repair WordPress's Connection Lost Error with this method. Your WordPress is back to normal, and you can see that the issue has been resolved.
It's possible that the issue is with your Internet connection.
There may be a simpler solution to the problem of your WordPress being disconnected from the internet. WordPress can be hampered by even the most basic of issues, such as a bad internet connection.
If you can't publish or draft your work, the first thing you should check is your internet connection.
Having a sluggish internet connection causes problems such as file unloading or malfunctioning, which must be fixed immediately.
There is a simple remedy for the connection lost issue in WordPress. Consider getting support from your internet service providers to get things back to normal with WordPress.
There is a problem with hosting
Your site hosting service may possibly be the source of the problem with your WordPress installation. If that's the case, you have the option of switching web hosts.
Try upgrading your site hosting if you're experiencing any problems. If the problem persists, it may be time to look for a new web host.
The issue may also arise if you have chosen a subpar hosting provider. If you're having trouble staying connected, you may want to consider upgrading your package.
Quick Links:
Conclusion: WordPress Considers Dropping Internet
This is a common difficulty faced by both novices and professionals alike, even if you're operating at a high level of productivity. If you're having trouble with your website, you may be able to resolve it by switching your hosting provider.
Upgrading to a better hosting service, even if it costs a little more, will help you expand your business if your current one has limitations or is downgraded.
If that doesn't work, we can confirm that it's possible that a plugin or a theme is interfering with your site's functionality. Remove all plugins and go back to the default theme to see if it helps.
Here we've included many quick and easy solutions to fix the Connection Lost Error in WordPress that we've heard about. Because of your value as a WordPress employee.
It's clear to us how important your client's data is to you, and we appreciate that. Every page in WordPress has the same basic issues.
It may be solved in a number of easy methods, saving you time and money, and bringing a solid method of reducing unneeded server burden.