Looking for the best WordPress membership plugins? Here is our complete list!
There are a LOT of membership plugins out there. I've tried many of them. Some were painful. Some were like having the keys to a new Ferrari.
I started building membership sites back in 2010. We started with MemberGate, which used to be one of the few decent options available.
But now there are hundreds of WordPress plugins that allow you to protect your content, take payments, and create your own membership site online.
But I don't want you to have to test out each of these plugins on your own.
After reviewing and working with all of the major membership plugins, here are My Top 3 recommendations for best membership site plugins for WordPress
Best Membership Plugins for WordPress compared in 2021
Digital Access Pass: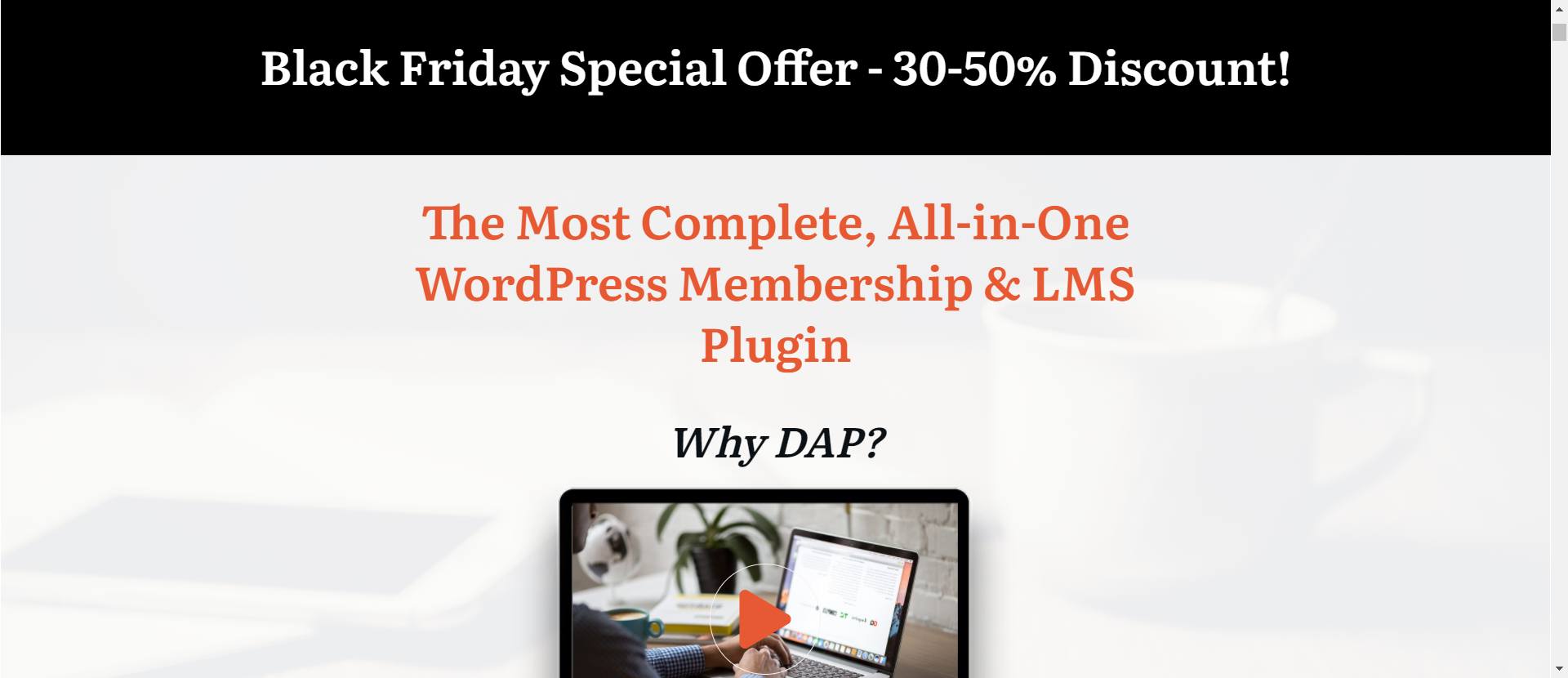 Digital Access Pass (also known as DAP) is an extremely powerful membership platform for WordPress. They have a rich set of features, extensive documentation, and fanatical support.
DAP allows you to sell an unlimited number of products with unlimited membership levels.
Some of the more advanced features that initially attracted me to DAP were the 1-click Upsells and Downsells, the built-in affiliate program,
advanced content dripping, and the built-in email autoresponders and broadcasts.
But EVERY platform has pros and cons. So I'm going to give you the good AND the bad.
Let's start with what makes DAP ROCK…
Pros of DAP
DAP has one of the best 'content dripping' capabilities.
DAP allows you to drip WordPress pages, posts, categories, PDF reports, videos, audio files, zip files, and even images! The flexibility here is endless.
You can even drip in PDF files, mp3 audio, and videos on specific days.
DAP creates 2 layers of protection. One for the file itself. And another layer for the blog post or page where your file resides.
If you wanted, you could even add a 3rd layer of protection by using a simple plugin like WP Secure Links.
DAP also allows you to restrict access by # of clicks.
DAP also allows in-page dripping. So for example, you could release 3 videos on the SAME WordPress page (but on different days).
Another cool feature is the [DAPComingSoon] tag. You can use this to tease your members about 'What's coming Next'. You can put this tag anywhere. On the Homepage, the sidebar, etc…
This allows you to create anticipation for the next piece of content that's being released. (Based upon your specified drip schedule and when that user joined) This works really well for increasing retention rates.
You always want to let your members know "What's Coming Next…"
This is the ONLY platform that has built-in autoresponder emails and broadcasts.
Not only can you drip feed your content, but you can also drip feed your emailsto go out on a pre-determined schedule.
DAP even allows you to connect with Amazon SES or SendReach for high deliverability and inexpensive send rates.
This feature saves a LOT of hassle because you no longer have to worry about integrating your autoresponder (Aweber, MailChimp, GetResponse, etc…)
You can email ALL of your active members (without having to worry about whether or not they confirmed their email).
Quick Note: If you still want to integrate with Aweber, MailChimp, or GetResponse – you can still do that.
Superior Payment Processing:
DAP has a fully-featured built-in shopping cart, allowing you to process credit cards via Stripe, Authorize.net, or PayPal Website Payments Pro.
DAP also integrates seamlessly with Stripe, 1ShoppingCart, 2Checkout.com, Google Checkout, PayPal Standard, PayPal Express, Authorize.net, Premium Web Cart, Infusionsoft, Nanacast, Clickbank, JVZoo and many others. Also supports coupons and dime sales.
DAP also has a VERY powerful built-in affiliate program that lets you pay 'per-lead' or 'per sale'. You can even set up 2-tier commissions for your affiliates.
One of the best things about DAP is their extensive documentation and fanatical customer support. They have some of the best support I've seen online. The creators (Ravi and Veena) and EXTREMELY committed to the development of their product.
They have gone the extra mile to help me with anything I need.
And for DAP – that's the norm.
You simply will not find a more committed group of product developers online.
Cons:
After 5 years of development, the user interface for DAP looks largely the same.
Although DAP has extensive tutorials and documentation, there's still a VERY steep learning curve. Even after 3 years of working with DAP, it still feels a bit complex.
Setting up a sales funnel with upsells and downsells is particularly tricky. I usually end the day with a headache 🙂
My biggest complaint would simply be 'ease of use'. I want to be able to setup new products quickly and easily.
This is one of the core values in our business. To keep things as simple as possible.
The faster I can set up new products, the faster I'm able to launch and the more revenue we make.
For us – ease of use is a BIG deal. And it's the reason we're going to be migrating to MemberMouse. (A platform we'll talk about next)
But I do NOT say this to steer you away from DAP. DAP is EXTREMELY powerful. It has an incredibly rich feature set. And some of the best support in the business.
They have just about any feature you could possibly want.
But for me – simplicity and a few extra features pushed us to MemberMouse.
Because we use DAP extensively, it needs to be a joy to use. Not just tolerable.
And for us, the user interface is simply no longer a joy to use.
I'd also like to see better reporting stats. As a membership site owner, I'd love to have a dashboard that displays:
* Daily Signups, Weekly Signups, Monthly Signups.
* Cancellations
* Lifetime Customer Value
* Cancellation Rate (Percentage)
* Daily Revenue
* Monthly Revenue
* Yearly Revenue
Now DAP does have SOME of these. But they're not easy to read.
I would LOVE a dashboard where I could see all of my critical Key Performance Indicators (KPI) in one quick glance.
MemberMouse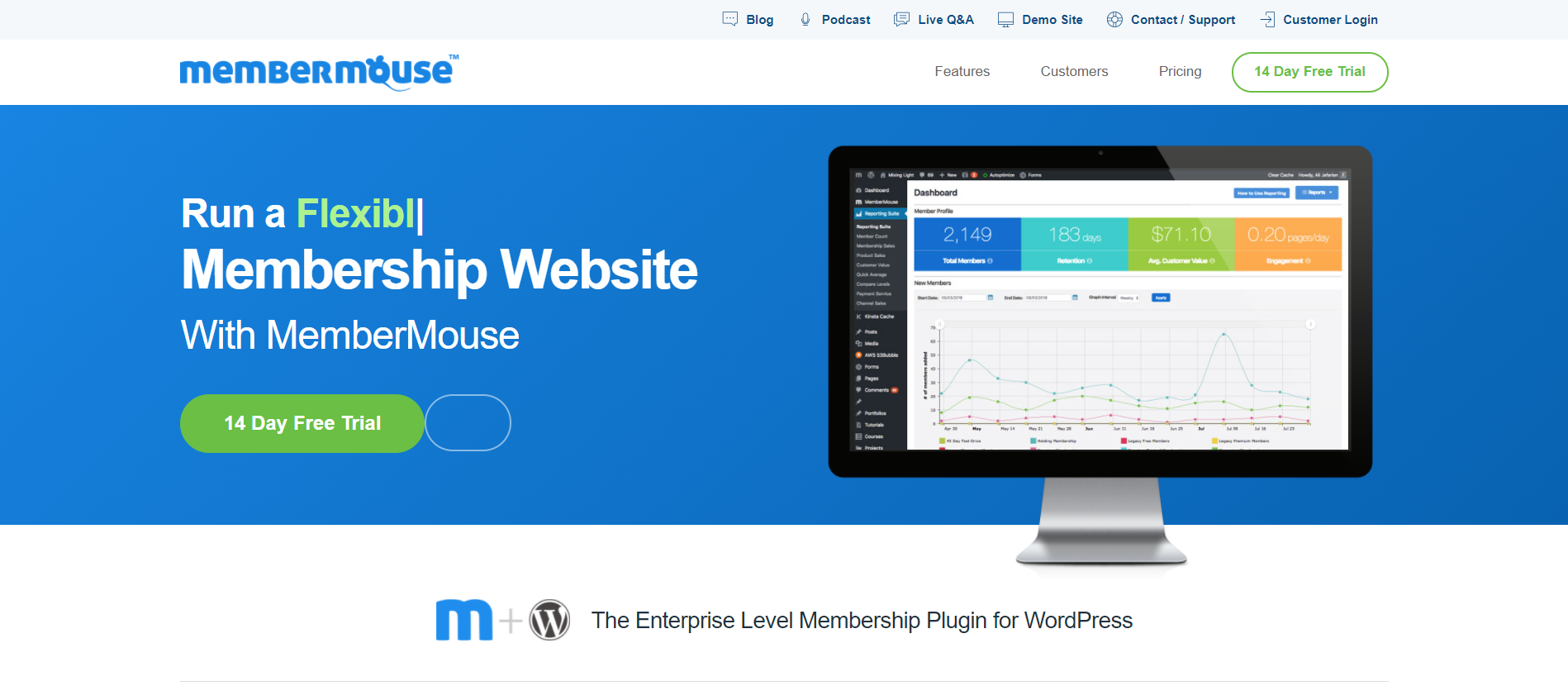 MemberMouse is that near-perfect combination of extremely powerful features and a clean easy-to-use interface.
This scalable platform allows you to sell unlimited subscriptions and products with 1-click upsells, downsells, and even one-click purchases INSIDE your member's area.
Pros of Membermouse
Protect & Drip-Feed Content:
MemberMouse allows you to easily protect WordPress pages, posts, and entire categories.
You can also drip-feed your content on a specified schedule. For each page or post, you can decide whether you want that piece of content to be released on day 1, day 2, day 5, day 10, day 20, day 30, etc…
You could feasibly have content scheduled for years in advance. It's totally up to you.
In addition to this base level of protection, MemberMouse can automatically lock accounts that share their login with others. You can set exactly how many different IP addresses can log in to your site (using the same login credentials) during a 24-hour period.
Plus, another really cool feature they have built-in is an 'Upcoming Content' widget that you can drag and drop into your sidebar. This will display the upcoming content (and the date it's being released) based on when your member joined. Wickedly cool.
Elegant Payment Processing:
MemberMouse integrates seamlessly with PayPal, Stripe, Authorize.net, Braintree, and Clickbank.
MemberMouse also creates beautiful checkout pages right out of the box…
You can create one-time purchases, monthly memberships, free trials, paid trials, payment plans, coupons, and more.
And best of all, MemberMouse has one-click upsells and downsells to immediately increase revenue.
Maximize Lifetime Customer Value:
One of the best features within MemberMouse is that it allows you multiple options for easily increasing Lifetime Customer Value.
One of my favorites is the 1-Click Buy link that you can use INSIDE your member's area.
For example, let's say you have a customer who did NOT purchase the one-click upsell.
Inside the member's area, you can dynamically show them the offer again. So that at any point in time they can purchase that additional product with just one click (because their credit card is already on file). They simply click the 'buy now' button, which will trigger a pop-up confirming that the purchase will be charged to their card on file. They click 'confirm' and their credit card is instantly billed.
This makes it super easy for you to offer your existing customers additional products and value. And they never have to re-enter their credit card details.
So you could essentially have a 'Products' page inside your member's area where your customers could purchase ANY of your other products with just one-click.
Automate Customer Support:
MemberMouse has a number of features that allow you to automate common customer support tasks.
First and foremost, the 'My Account' page gives your customer the ability to update their billing address, contact details, username and password, cancel their account and more. Which decreases a HUGE amount of work for you.
MemberMouse also allows you to send out automated emails when a customer's credit card is declined or payment is overdue. You can also add send out an automated email when an affiliate makes their first sale. There are an endless number of emails you can automate with 'Push Notifications'.
This alone can easily save your hours of customer support each month.
Cons:
To be honest it was hard to find cons for this platform because they've gone above and beyond to create an all-in-one business solution.
It's like having the power of Infusionsoft or Nanacast, but in a much easier (more affordable) platform.
But there are a few things on my wishlist 😉
I would love to see an easy-to-use dashboard with all of the most important KPIs.
Daily Signups, Weekly Signups, Monthly Signups.
Cancellations
Lifetime Customer Value
Cancellation Rate (Percentage)
Daily Revenue
Monthly Revenue
Yearly Revenue
Fortunately, I've talked to MemberMouse, and this is something they're currently working on and should be added within a month or two.
I'd also love to see a built-in email feature that allows you to send broadcasts and autoresponders to your members (Similar to DAP). But you can just as easily do this by integrating with MailChimp. (Which is what we'll be doing.)
Paid Memberships Pro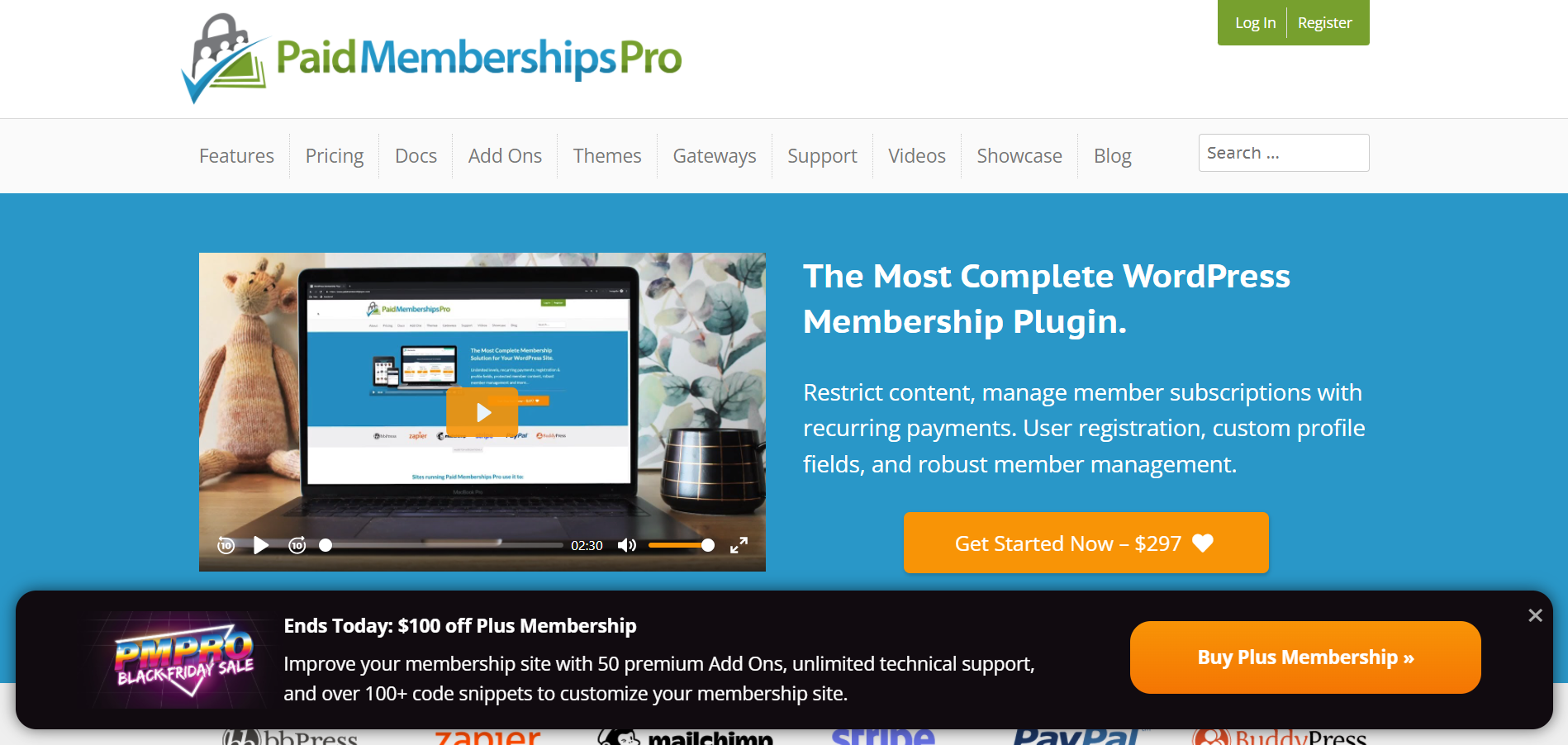 Paid Memberships Pro is a Free membership platform for WordPress that you should take a serious look at.
Paid Memberships Pro allows you to setup an unlimited number of membership levels. You can do one-time payments, monthly subscriptions, free trials, paid trials, and more.
Pros:
It also creates gorgeous checkout pages right out of the box…
It integrates seamlessly with Stripe, Braintree, PayPal, and Authorize.net.
Your members can also update their billing information or cancel their account directly from their member's area. Which then automatically cancels at the payment gateway as well. Eliminating a LOT of manual customer support.
They also have free add-ons for integrating directly with Aweber, Infusionsoft, Post Affiliate Pro, MailChimp, and the WP Affiliate Platform.
And another add-on that allows you to drip-feed content.
Plus, they've got some of the best reporting stats of ANY platform I've seen.
Cons:
Paid Memberships Pro does not have some of the advanced features that you'll find in premium plugins.
You can't do 1-click upsells and downsells.
But honestly, if you don't need the more advanced features, Paid Memberships Pro is killer. Plus it's 100% free!
It's extremely powerful, easy to set up and feature-packed.
Conclusion: Which is the Best Membership plugin?