Are you here searching for the Russell Brunson Net Worth?
Russell Brunson- You might have heard this name too often if you are a marketer. Russer Brunson's net worth is $40 million most of which he makes from his successful marketing tool called ClickFunnels.
Well, he was one of the persons who popularized the idea of the sales funnel. You might have also read about his e-Books, traffic hacks, Dot com secrets, and various DVDs.
I am sure you must be curious to learn about how did he manage to make millions? How did he create his wealth?
In this article, we're going to answer the Russell Brunson net worth question and more in this post.
Who is Russell Brunson?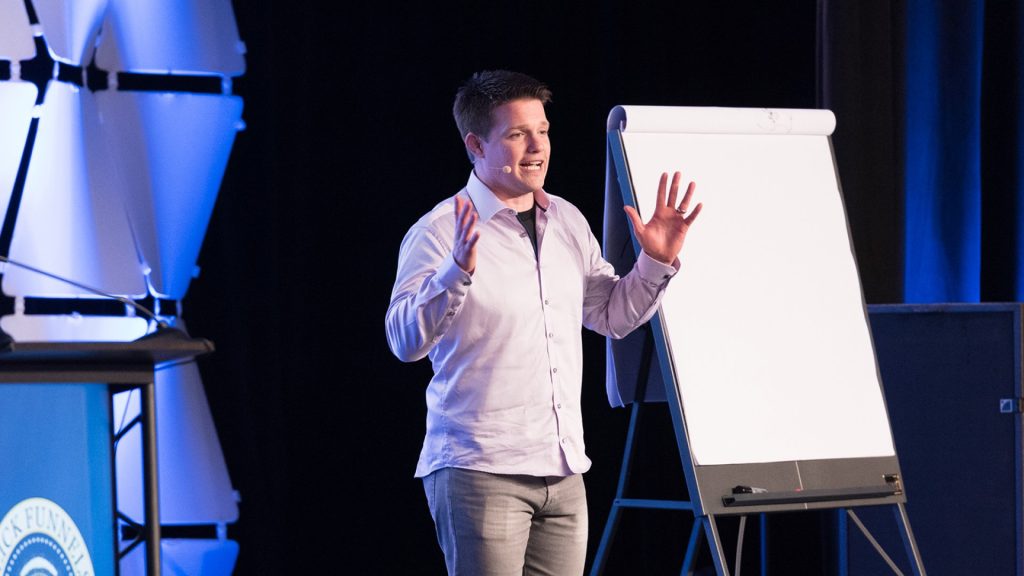 Russell Brunson is the CEO of one of the most renowned funnel marketing company ClickFunnels. Russell is a published author and New York's Bestselling author. He has published some of the world's best-selling business books such as DotCom Secrets, Traffic secrets, and Expert Secrets.
He was also the co-author of Funnel Hacks, which talks about how to make your funnel profitable.
Russell was born on March 3rd, 1980 in Utah. From his childhood, he was interested in advertising and marketing.
As he grew up, he became habitual of collecting junk mails, radios, and TV advertisements and tried to gain knowledge from everywhere in the world of marketing.
Russell Brunson Career: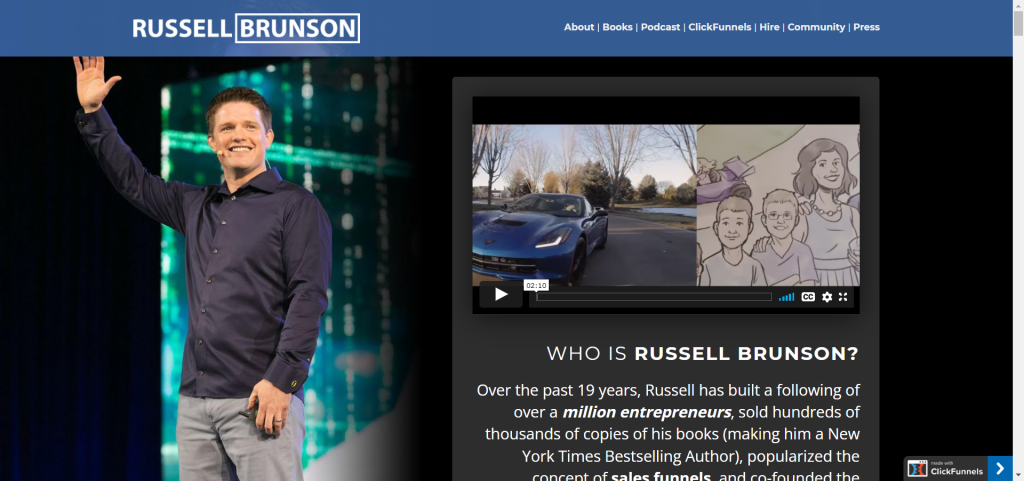 In 2003, Russell Brunson started his venture as the digital marketing software called Zip Brander. This product was a viral marketing tool that helped marketers gain large traffic to their website at that time.
In 2005, he became famous when he released his popular DVD "How To Create A Potato Gun". This course was completed with a product called Potato Gun kit which came as the upsell of the course.
That's what made Russell the mastermind in the Internet marketing world.
In a year or so, Russell sold everything from Shakes And Supplements, To Coaching, Books, Consulting, Coupons, T-Shirts, Technology Services, And Software.
Here is a shocking fact: Russell made 1.6 million leads in just six weeks.
In October 2014, Russell Brunson launched ClickFunnels with Todd Dickerson. In just three years, ClickFunnels made $100,000,000.
Read this article further to find about the success of Russell and his legendary marketing tool ClickFunnels.
About ClickFunnels:
In just six years, ClickFunnels has been able to become the billion-dollar funnels within a short span of time.
Russell and his co-founder Todd Dickerson did it by launching an AMAZING product called ClickFunnels. They raised $100 million dollars in funding and they came up with the idea of ClickFunnels.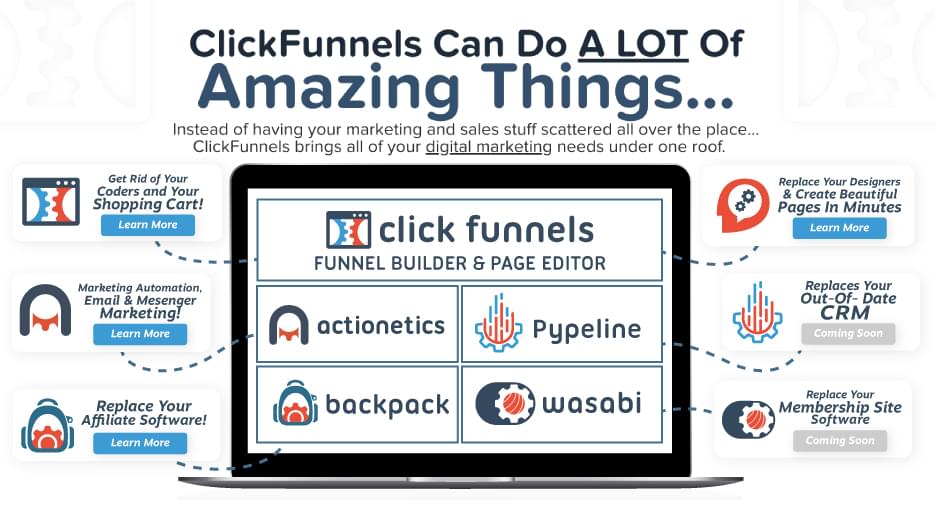 Actually, ClickFunnels is a software that helps entrepreneurs and marketers to build their own sales funnels easily and quickly.
It has completely revolutionized the Internet marketing world by simplifying everything including creating landing pages, webinar pages, email funnels, video funnels, and more.
With this powerful tool in hand, you can easily manage your sales process. You don't need to hire expensive designers, developers, or coders anymore to make the websites for you.
Russell is not the person who is going to stop at one thing or two. In fact, he built various courses around the sales funnel and created various eBooks to show how effective ClickFunnels can be for your business.
Why did ClickFunnels become so popular?
You wouldn't believe this or get a bad rep about how ClickFunnels became popular but this isn't true.
Russell had a knack for network marketing and he utilized this dull marketing method legitimately and interestingly to build his ClickFunnels software marketing.
Brunson defines this method as The Value Ladder. You create bait and deliver a convincing offer for your customers.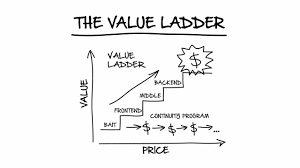 After this, you will create even more value from that product creating further upsells asking your friends to refer.
Second, he used the ultimate affiliate marketing method to get more prospects to the Clickfunnels.
Russell offered a 40% recurring commission to their affiliates and was one of its kind to start a Dream car contest.
Later, Brunson created his marketing machine for ClickFunnels from thousands of affiliates promoting his products. So, the affiliates would only get the commission if they successfully sell the products.
What are Russell Brunson's Other Sources of Income?
Russell Brunson's $40 million dollar net worth did not come wholly from the ClickFunnels. In fact, there are a number of other sources of income that Russell has.
Online Marketing Books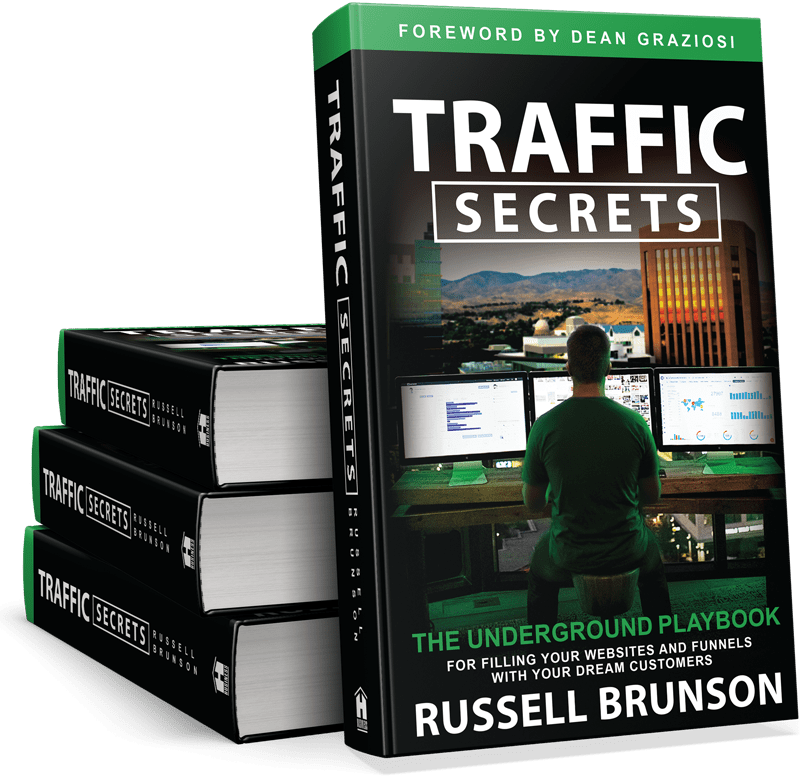 Russell is a prolific writer and has published various internet marketing books in the past. To date, he has only published four books and made millions out of them.
DotCom Secrets – The Underground Playbook for Growing Your Company Online
This book is considered to be one of the best books on internet marketing. Russell's purpose for writing this book was that he wanted to teach people how they can use the sales funnel to grow their company.
This book sold over 100,000 companies and is Russell's one of the most successful books.
In this book, Russell has used defined various funnel terms like upsell, crossells, bump offers, sequence emails, and other such terms and how they are used in real life.
Expert Secrets – Find Your Message, Build a Tribe, and Change the World
Russell's most recent book, Expert Secrets is for those who want to change their life and the world.
This book teaches you how to become a confident leader. It also teaches people how they can change the world with their message by building a tribe of like-minded people around them.
Traffic Secrets
Traffic Secrets was a third book launch that helps people with their digital marketing skills. It helps them to get more exposure for their businesses and how to work at the business.
This book teaches various useful and valuable lessons like:
Growth Hacking
Identify your customers and find out where they hang out online.
Or creating content that lets scroll and stops.
Network Marketing Secrets
Network Marketing secrets is a book that reveals the right way of doing network marketing. It teaches an individual about how to:
Differentiate the business from the competition.
Generating sales on autopilot using sales funnel automation.
Reducing the sales funnel friction.
Conferences and Activities
Russell is a dynamic person and takes part in various conferences, events, and activities to inspire people.
On a side note, he also teaches a lot of other marketers how to sell their products online through his digital marketing courses.
One such conference like 10x marketing that made $3 million in just 90 minutes. Even his speaking engagement costs $50,000.
One Funnel Away Challenge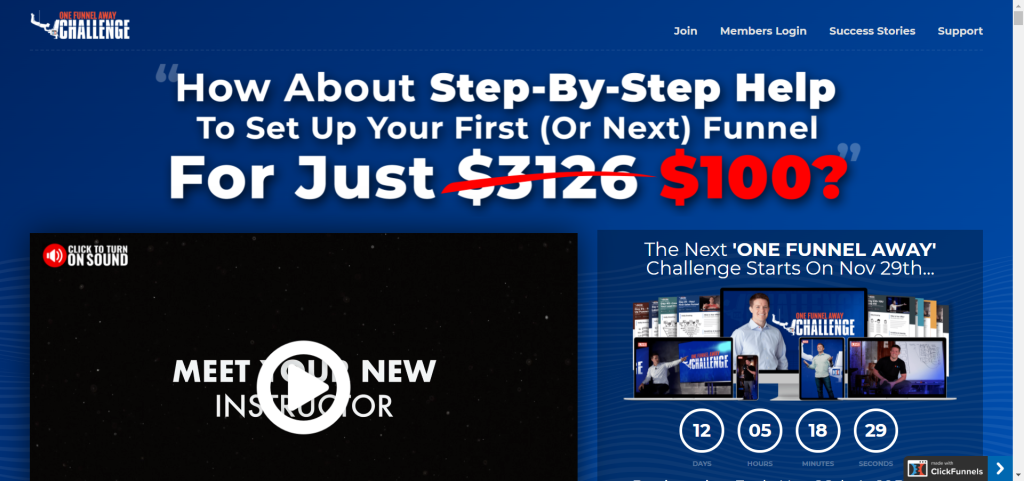 Russell Brunson has multiplied his net worth with courses like the One funnel away challenge and Inner Circle Mastermind Program.
The One Funnel Away Challenge is a 30-day training program. It will give you videos, spreadsheets, and homework to help you learn about how to build a sales funnel. It also has many people in the community who can help you.
Russell Brunson's 10x Secrets Masterclass
10X Secrets Masterclass is another Russell-created course that helps marketers to learn how to sell their products.
This course teaches you how to get rid of all the trouble and extra expenses caused by the lack of an honest technique. There are different ways to market your product online.

Russell Brunson Lessons For Motivation
Here are some amazing life lessons to be learned by Russell Brunson:
Lesson 1: Build Profitable Sales Funnels
The secret recipe to Russell's $40 million dollars net worth is his skill to build sales funnel.
Positive thinking is awesome, but so is worst-case scenario thinking. Every once in a while, going to the worst-case scenario can get you unstuck.

— Russell Brunson (@russellbrunson) November 23, 2021
Russell believes that if you want to sell anything online, finding the right person is very important. You should find out where your customer hangs out and be there for them.
Building a profitable sales funnel is all about working on it day by day. There are various stages in the sales funnel that most marketers miss:
Attract visitors to the website.
Converting these visitors.
Closing the leads.
Creating the campaigns again.
Lesson 2: Create Valuable Books
To give your audience proof that you are skilled, you need to create a case study or share your experiences. This helps you to get your reader's trust.
People love stories and a story always has an end. A good book always makes you feel that there is more to tell.
Russell's each of the four books are best-selling and comes with 4+ star ratings.
Lesson 3: Build an Email List
The money is on the list. Russell believes that when you are building your business, it's always better to build an email list.
And, that's exactly what he did! Russell popularized the sales funnel concept through his email list.
Here's a surprising fact- An email generates $40 for every $1 spent; which makes 4000% ROI.
Before you spend on anything, focus on building an email list.
Lesson 4: Video Marketing is the Future
Russell Brunson utilizes each social media platform to market the products. And, he does not miss the power of video marketing.
His YouTube channel has 214k subscribers with 1,000+ videos. And, he posts one video each week.

So, what do we learn from this?
To leverage the power of video marketing.
On his YouTube channel; Russell shares videos that talk about:
Growth hacking
Selling digital products and building a profitable business.
How to build sales funnel that converts?
So, here is what we learn:
Create a post schedule for your videos and remember to BE CONSISTENT.
Do not forget to optimize your videos for YouTube SEO.
Monetize the channel to earn revenue from YouTube. (Part of Russell Brunson's Net Worth).
Lesson 5: Participate in Conferences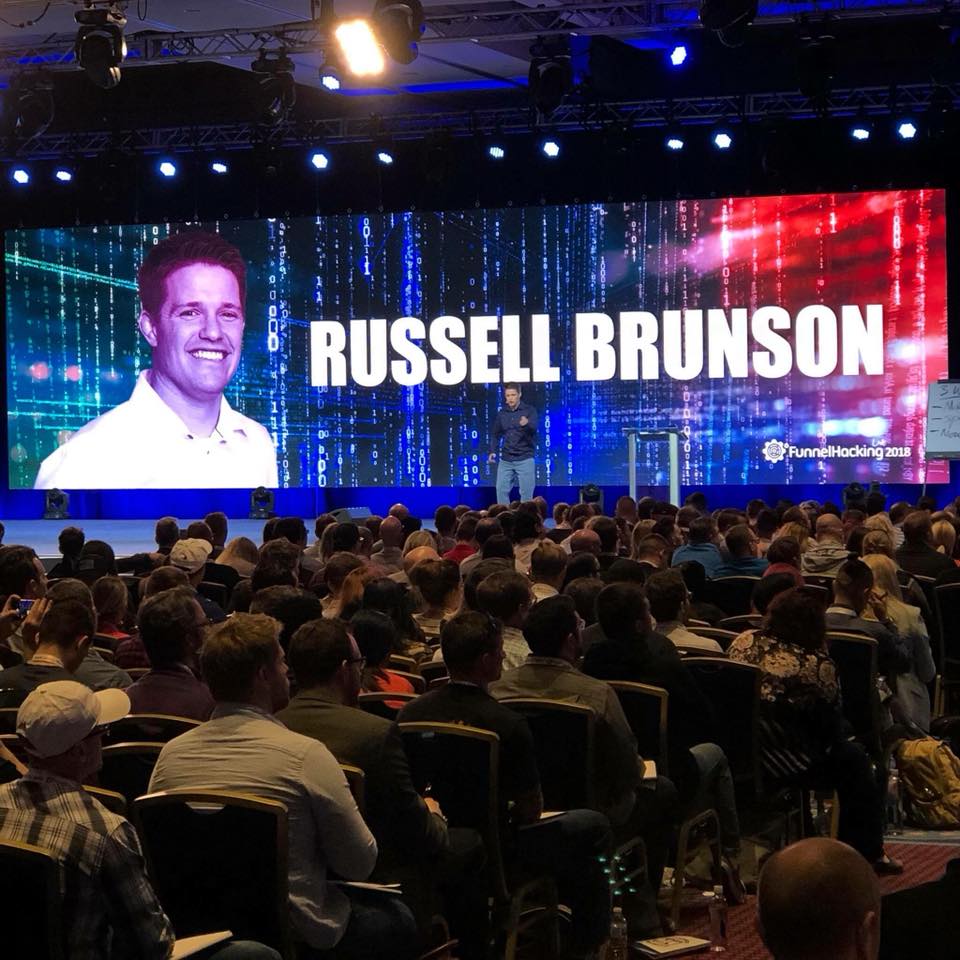 When it comes to speaking gigs, Russell is a magician.
If you are skilled in the industry, public speaking is what you should do to gain more customers. With these speaking events, Russell makes tons of money and gets thousands of consulting clients.
Russell has various consulting sessions and he charges differently for each of these:
​Lunch With Russell: Starts at $10,000 and is on location in Boise
​Speaking Engagements: $500,000 or 50% back of room sales.
​Speaking Engagements (With No Selling from Russell): $500,000 speaking fee plus travel and expenses.
​Building a Funnel: $1 million and 25% of gross sales of the funnel (for the lifetime of the funnel).
FAQs about Russell Brunson Net Worth:
Q. How much money does Russell Brunson make?
Ans: Russell has a net worth of $40 Million. He makes millions through his sales funnel software and he charges $12,000 for each product launch consulting session.
Q. Is Russell Brunson a Scam?
Ans: No. Russell Brunson is a 100% legit marketing guru that has made millions out of his sales funnel concept and Clickfunnels tool. He made $100,000 in just three years with his tools and is one of the most renowned speakers and authors.
Q: How does Russell Brunson make the most money?
Ans: Yes, Russell is a multimillionaire and he makes most of his money from sales funnel tools. He earns from different sources including books, speaker sessions on stage, webinars, and consulting on sales funnel creation.
Russell Brunson Popular Videos & Podcasts: 
Russell Brunson In Media
Follow Russell on Social Media: 
Conclusion: Russell Brunson Net Worth & Career Income
The thing about Russell Brunson is that he's a natural-born salesman.
He doesn't have to work at it, and in fact, when you see him or talk with him, he comes across as one of the most authentic people on earth.
His passion for marketing and "selling things without selling them" has been his life since elementary school.
It was no surprise when Russell turned this into a career – but what did shock many observers was just how quickly he became insanely wealthy from being an entrepreneur who knew how to sell himself better than anything else.
Did you like our post on Russell Brunson net worth? Do let us know in the comments.
Also read: