In this article we have featured eLearning Statistics, Teaching and learning have been completely transformed by technological advancements. It is no longer necessary to restrict lectures and seminars to the confines of a single room.
Because both teachers and students now have access to a digital toolbox, which includes mobile devices, virtual learning systems, and online courses, among other options. And let's not forget digital textbooks.
Highlights of the Report: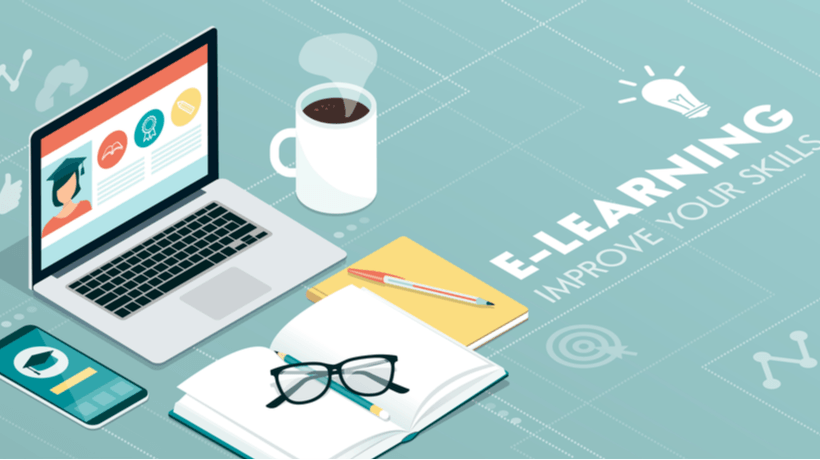 By the year 2021, seventy-five percent of schools intend to conduct their operations online.
Before this, there were digital resources available to 57% of all pupils in the United States.
45% were students enrolled in elementary school, 64% were students enrolled in middle school, and 63 percent were students enrolled in high school.
Eighty percent of schools have already purchased more technology for their pupils or are planning to do so in the near future.
Since the year 2020, 98% of educational institutions have relocated their classes online.
Before this change, 19.5% of first-year college students enrolled in at least one online class.
Only around half of all professors think that online education is beneficial.
It is anticipated that by the year 2020, online instruction would account for 98% of all business training.
Students that participate in eLearning are shown to retain between 25 and 60% more information than those who do not.
On the other hand, there has been a 30% point increase in the number of students whose grades were not passed.
The use of eLearning has contributed to a socioeconomic difference among students, with between 25 and 33% of students lacking access to various resources.
Incredible Figures Relating to E-Learning
In the year 2025, it is anticipated that the global market for e-learning would be worth $325 billion.
In 2017, around 77% of firms in the United States made use of online learning; however, 98% planned to incorporate it in some capacity into their program by the year 2020.
Between the years 2020 and 2024, the market for e-learning in the United States is projected to increase by $12.81 billion.
There is an increase in retention rates of anywhere from 25% to 60% when using e-learning.
Between the years 2020 and 2024, the market for corporate e-learning could grow by as much as $38.09 billion.
E-learning has contributed to an increase in revenue for 42% of firms in the United States.
According to a study that involved 2,500 businesses, those that offer "complete training programs" earn 218% more revenue per employee and 24% higher profit margins.
After making the transition to online education, IBM realized savings of around $200 million.
E-learning Trends both inside and outside of Academic Institutions
In the United States, students attending college reported finding digital study technology to be incredibly useful when it came to completing their assignments.
Students attending college in the United States reported using laptops in the classroom 56% of the time during a normal week.
Eighty-one percent of college students in the United States were in agreement that the use of digital learning technology was assisting them in improving their grades.
A lack of training was cited as the most significant obstacle by 41% of instructors in the United States when asked about increasing the use of educational technology in their classrooms.
In a recent survey, students from all around the world were asked whether or not they had ever participated in an online learning experience.
By the year 2020, there were 180 million students using MOOCs all around the world.
According to the findings of a study conducted by the Open University, the production and delivery of e-learning courses consumes 85% less energy and results in 90% fewer CO2 emissions per individual than traditional classroom instruction does.
In the year 2020, 36.7% of educational institutions in the United States were using Canvas, making it the LMS (learner management system) with the biggest market share.
33% of postsecondary institution administrators will maintain the availability of remote and online classes even after all of their campuses have fully reopened.
What exactly is online education?
The question now is, what precisely is eLearning? In its most basic form, eLearning can be defined as an organized method of instruction that makes use of digital tools and platforms, such as those found in online learning webinar technologies.
The use of the internet and computers are major components of eLearning that make it possible for instruction to frequently take place in settings other than a traditional classroom.
E-learning is another term for the process of transferring skills and information over the internet to a large number of users all at once.
It wasn't too long ago that people felt that eLearning lacked the human factor, which is why it wasn't widely embraced. These days, however, more and more people are warming up to the idea of using technology for education.
It is crucial that we have a solid understanding of the eLearning industry's scope before delving into its particulars. In this part of the article, we're going to take a look at some of the most important statistics and trends connected to online learning, as well as the effect that it's having all over the world.
Statistics on e-learning in corporations
The training and development of employees within corporations is one of the most common use of eLearning tools. The following are some statistics pertaining to the use of eLearning in a business setting.
It is anticipated that the value of the corporate eLearning sector will reach $50 billion by the year 2026.
The market is anticipated to expand at a pace of 15% per year, with the majority of growth being driven by the incorporation of eLearning into business operations. Business Wire is the cited source.
eLearning is utilized by 82% of businesses for the delivery of at least some portion of their compliance training.
According to a survey on the training industry that was published in 2018 by training mag, more than three-quarters of organizations supplied at least some of their compliance training modules online, while only 28% of enterprises delivered all of their compliance training online. Adapted from: Training Magazine
In 2018, eLearning accounted for the delivery of 25.6% of all hours spent on corporate training.
Despite the fact that eLearning is rapidly becoming more popular in the business sector, many firms have yet to make the transition to using it as their primary means of training. In 2018, eLearning only accounted for a quarter of all training hours that were delivered across all companies. Adapted from: Training Magazine
62% of firms use online learning and development programs to help bridge the knowledge gap between themselves and their employees.
e-learning market share statistics
The most common application of eLearning in corporate settings is to close knowledge gaps among employees; however, some firms use it for a wide range of other goals as well. According to surveys conducted by businesses, this is the primary use of eLearning that is being used in the workplace. Udemy is the source.
41.7% of organizations on the Fortune 500 list use technology in some capacity to educate their workforce.
According to an article written by skill dynamics and published on their website, approximately half of the companies on the Fortune 500 list use eLearning as a component of their staff training. During the course of their training, employees benefit from less distractions, higher levels of enthusiasm, and improved teamwork when they participate in eLearning, which the author of the article argues is another reason why successful businesses embrace this form of education. Skill Dynamics is the cited source.
Conclusion: eLearning Statistics 
The following are some of the most significant forecasts pertaining to eLearning and digital education for the year 2022.
The realm of online education can only go from strength to strength and shows no signs of slowing down any time in the near future.