Users of Snapchat send messages primarily through snaps, such as photos or videos, which disappear 24 hours after they are posted. Young people use it as a mobile app and as one of the leading social media platforms.
Snapchat currently has 293 million daily active users worldwide. This app allows users to send texts to their friends and also serves as an AR lens and face filter camera app.
No matter how hard the developers work to make the app stable, bugs and issues will always crop up. This doesn't just apply to Snapchat.
Sometimes people receive issue alerts such as, "Unfortunately Snapchat has stopped", "Snapchat cannot be opened", "Snapchat will not send", "Snapchat will not refresh", "Snapchat will not play this video", etc.
How to know if Snapchat is down?
You may not be able to determine whether Snapchat is down only for you or for everyone if the app isn't working. The issue could be due to your mobile internet connection, an issue with app stores, or even a lower version of the app.
You can use two trusted methods to ensure Snapchat is down for everyone and not just you.
Method 1: You can check the official Snapchat Support Twitter account ( https://twitter.com/snapchatsupport ) to find out if Snapchat is down globally or not.
Many Snapchatters are having trouble using the app. Hang tight, we're working on a fix 🛠 In the meantime, we recommend staying logged in.

— Snapchat Support (@snapchatsupport) November 16, 2021
Method 2: One of the most popular third-party websites for tracking issues and outages is Down Detector http://downdetector.com/status/snapchat
How to Fix Snapchat App won't Open on iPhone and Android?
Here are some of the best possible solutions to the Snapchat won't open on 2021 problem listed in this article.
Snapchat app will not open on iOS devices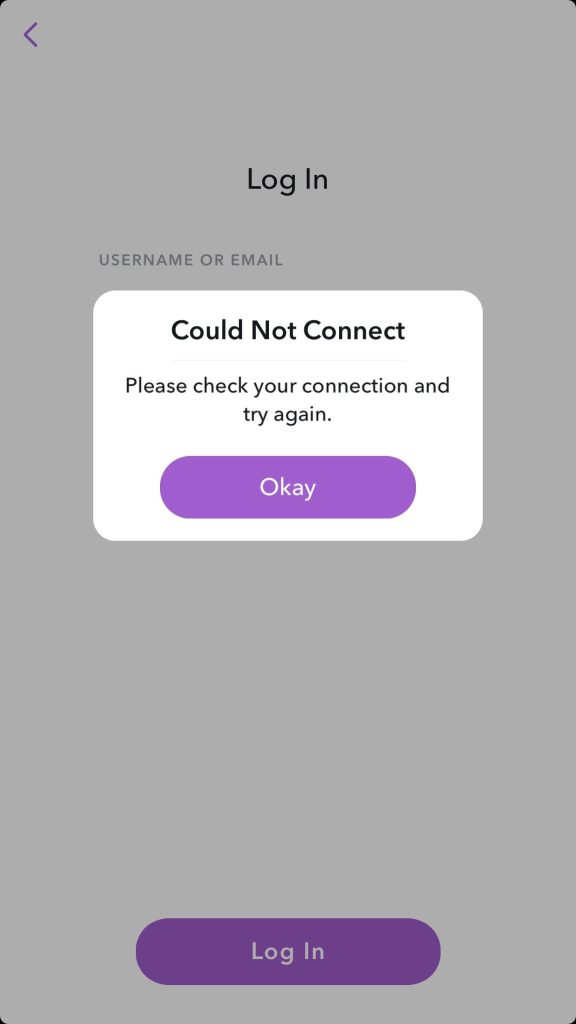 You can try checking your internet connection or rebooting your device if the app is stuck on while installing or updating. Alternatively, if that method does not work, you can uninstall Snapchat on your iOS device and reinstall it.
You can delete Snapchat by going to Settings > General > Storage & iCloud Usage > Manage Storage > Snapchat.
Try searching for the Snapchat app in the App Store first to ensure it's still available on your iPhone if it's still not gone.
Snap recommends connecting your device to a computer and syncing it with your iTunes account if it says the app has already been downloaded but won't open when you tap Open.
How to fix the Snapchat app not opening issue on Android devices?
Snapchat apps that won't open on Android devices, show downloading errors, or keep crashing should be checked for your internet connection or rebooted.
The data can also be cleared from your Android settings and the app can be reinstalled if it didn't work.
Snapshots aren't being sent or loaded
You might be having trouble sending snaps when they take a long time to send or fail to send entirely because your Wi-Fi or mobile data connection is not working properly. In the same way, you will not be able to view the image if you tap to load a snap you have received.
Trying to fix the Snapchat app won't open issue is as simple as finding a stronger connection through switching mobile data networks and boosting your Wi-Fi signal.
Solution 1: Relogin to Snapchat
Like all other apps for sending messages and snaps over the internet, Snapchat uses backend servers for sending messages and snaps.
The server-side account problems can be resolved by logging out of your Snapchat profile and then logging back in. You should see an improvement in your account after doing so.
Solution 2: Clear Cache
Approximately 100 Snaps are sent and received every day by every single Snapchat user. As a result, temporary data gets stored inside the app storage space on the phone itself.
Snapchat's app opens slowly due to overloaded cached data. Therefore, clearing cached data frequently is recommended. Snapchat cache data can be cleared by going to Settings -> Apps -> Snapchat, and then clearing the cache data.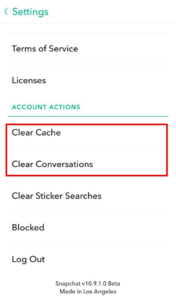 Solution 3: Keep the app up-to-date
A new version of updated apps is released frequently so that all bugs can be fixed. Users may encounter problems, slowdowns, and crashes due to bugs in the app.
Developers will quickly resolve these bugs and make the app available. For a better Snapchat experience, it is necessary to install an updated version.
Solution 4: Not Using the Beta Version of Snapchat
As of today, Google has opened up beta testing to all users for the next version update of its apps. Beta versions of the software will be available for those interested in testing it out and pointing out bugs. Usually, beta software causes problems on your device and is always buggy.
The Play Store on your Android smartphone will let you know if you are running a beta or stable version of Snapchat. Select My Apps &  Games by clicking the 3 dashes in the top left corner.
Solution 5: Reinstall the Snapchat app
Uninstall and reinstall the app if nothing works for you. It is as simple as uninstalling the app and reinstalling it from the app store. And you should be good to go.
Solution 6: Check app network permissions
You may not be able to use Snapchat if you have a strong internet connection and it works with other apps. For example, when the camera view does not appear, you get a black screen.
There are various permissions that are required, such as Phone, Location, and Storage. Snapchat's permissions can be checked from within the app.
How to edit permissions in Snapchat?
Open Snapchat.
Open your profile by tapping your avatar icon.
In the top-right corner, click the Settings cog icon.
Click Permissions.
When permissions are missing, it will say Tap to enable. Doing so will allow you to adjust an app's permissions from the system settings.
Give Snapchat all the permissions it requires from Permissions.
What to do when snaps aren't sending?
Even if your network is good, you may not be able to send snaps to friends. The first thing to try is to restart your phone. It's also a good idea to clear the conversation.
You will lose any Snaps that aren't opened when you do this, so make sure you open Snaps before doing it.
You can clear a conversation in Snapchat by following these steps:
Open Snapchat.
Open your profile by tapping your avatar icon.
In the top-right corner, click the Settings cog icon.
You can clear a conversation by scrolling down and tapping it.
Clear the selected conversation by clicking the Clear button.
It is best to remove your friends and re-add them if your snaps don't work after you have cleared the conversation. This will also delete any Snaps the friend may have sent or received, but it may resolve the problem.
You can remove a friend from Snapchat by following these steps:
Open Snapchat.
Open your profile by tapping your avatar icon.
Tap your friends.
Press and hold on the friend you wish to remove.
More options are available.
Tap the Remove Friend button.
Remove it.
This concludes our guide on what to do when Snapchat doesn't work.
Despite the fact that none of these solutions work, there is still hope. You can directly contact Snap by clicking on the following link.
Final Thoughts: What will happen when Snapchat is fixed?
Within a day, Snapchat usually fixed its server-side issues (Snapchat down). You can contact Snapchat support on the app or mention their official account and tweet your issue if you are still having problems opening a Snapchat account.
They will respond immediately and attempt to fix the problem.
I hope this guide would have fixed your issue on what to do when Snapchat won't open!
Also, Read