These days, there are so many options when it comes to online resources for tech and coding learners. Two of the most popular and well-known websites among techies are Pluralsight and Treehouse.
Are you trying to decide which one is right for your learning needs? Read on to find out the specific strengths of each platform so you can make an informed decision about which one will suit you best.
Overview: Pluralsight VS Treehouse
Pluralsight Overview:

Pluralsight is a leading online learning platform that offers courses in technology, creative, and business skills.
With a library of over 5,000 video courses taught by world-class experts and professionals, Pluralsight helps individuals master the skills they need to succeed in their jobs. 
The platform also provides curated playlists for specific roles and technologies, as well as personalized learning paths that help users stay on track to reach their goals.
Additionally, Pluralsight offers enterprise-level features such as team insights and analytics to ensure that employees are meeting their training requirements.
With its comprehensive and up-to-date tools, Pluralsight is the perfect solution for anyone who wants to stay ahead of the curve and learn new skills. 
Whether you're a professional looking to enhance your skill set or an amateur who wants to get started with coding, Pluralsight has something for everyone.
With its easy-to-use platform, users can quickly find the courses they need, track their progress, and get certified in their chosen skill or technology.
By signing up for a Pluralsight subscription, users can access all the courses they need to stay ahead of the curve in their profession. With Pluralsight, learning is fun, easy, and rewarding! Start your journey to success today with Pluralsight. 
Treehouse Overview: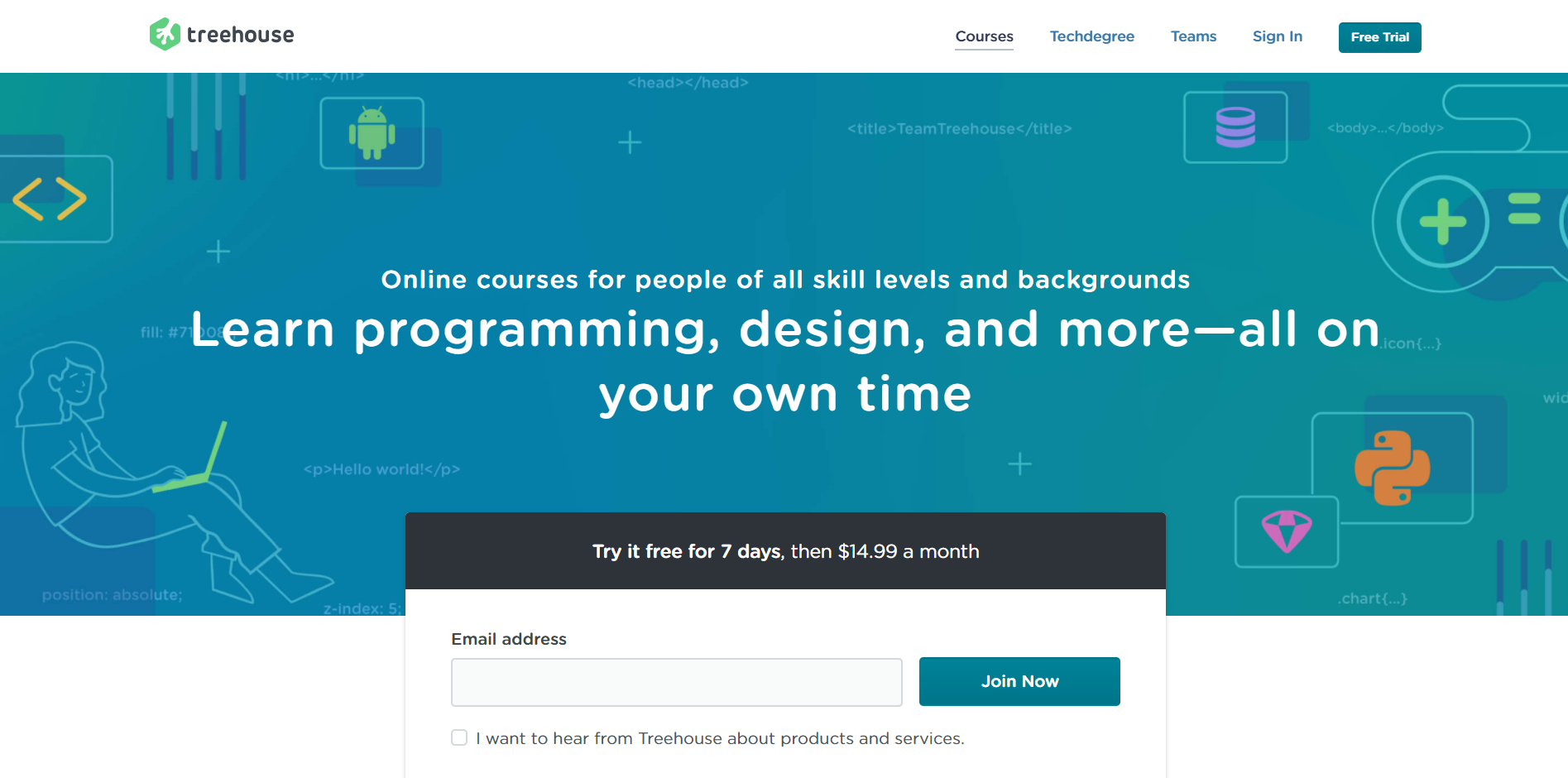 Treehouse is an online learning platform with a vast library of courses and topics to choose from. From coding basics, to web development, software engineering and game design, Treehouse has something for everyone.
With tools such as video lectures, quizzes, practice exercises and interactive coding sandboxes, learners are able to develop their skills in an engaging and challenging way.
Treehouse also provides a supportive online community with peers and mentors that are sure to keep the motivation going.
With over 1000 courses, workshops and projects, Treehouse is the perfect place for anyone looking to expand their knowledge in technology and coding. 
Course Material:

When comparing Pluralsight vs Treehouse course material, there are several differences to consider. Pluralsight offers a wide variety of courses, ranging from beginner to advanced.
Their focus is on technology, with topics such as software development, IT operations, and cloud computing.
Additionally, they offer over 15 specializations and certifications to help users gain the skills needed for their current job or a new career path.
Treehouse courses are focused more on web development. They offer a wide selection of courses in web design, coding, and digital marketing.
The main differentiator is that TreeHouse provides personalized learning paths to help users reach their specific goals.
Additionally, the platform offers a unique Job Prep program which includes one-on-one mentorship, career coaching, and job search guidance.
In summary, Pluralsight and Treehouse both offer excellent course material. However, they are best suited for different types of learning objectives.
For technology-focused topics such as software engineering, cloud computing, and IT operations, Pluralsight is the ideal choice. 
Meanwhile, those interested in web development and digital marketing should look to Treehouse for their learning needs.
By understanding the differences between these two platforms and tailoring them to meet individual goals, users can unlock the full potential of their education journey. 
Course Structure: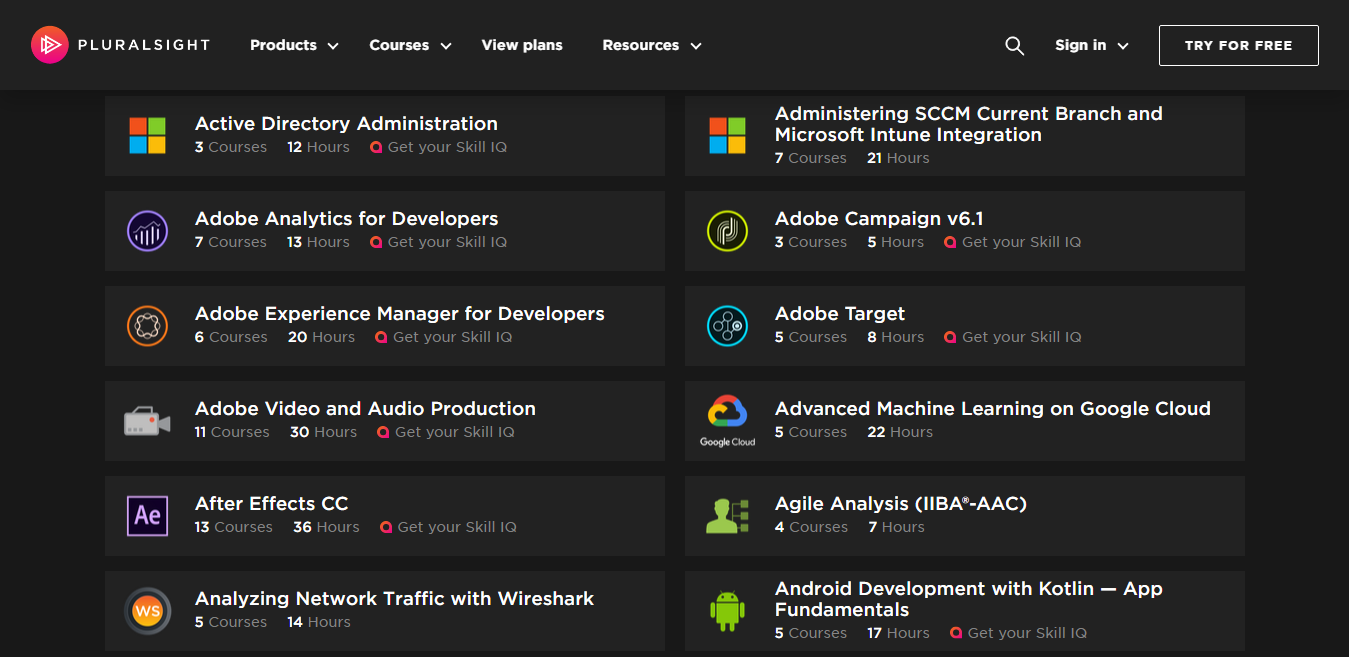 However, there are some key differences in the structure of their courses that should be considered before deciding which one is right for you.
Pluralsight offers a variety of courses broken down into smaller modules, allowing students to focus on one specific aspect of development at a time.
In addition, Pluralsight courses are typically longer and more comprehensive than Treehouse courses, which makes them ideal for learners who want to gain a deeper understanding of the material.
Treehouse, on the other hand, offers shorter courses with an emphasis on hands-on practice and projects. This approach allows students to learn by doing, and get immediate feedback on their progress.
It also makes Treehouse courses well suited for those who are already comfortable with the basics of development but want to build on that knowledge.
Pluralsight Vs Treehouse: Features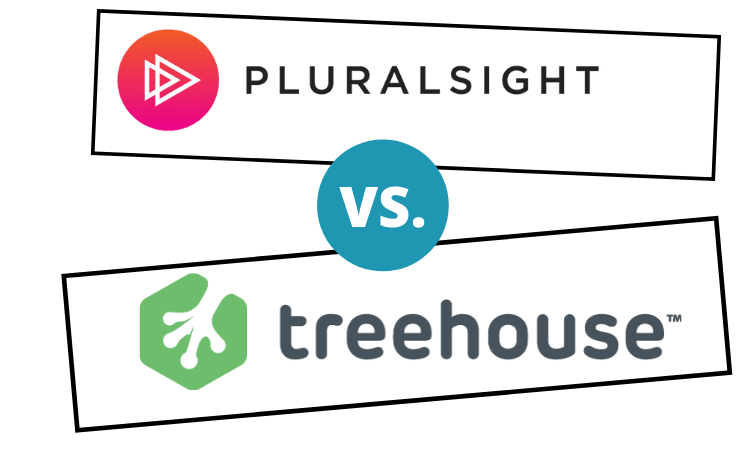 Pluralsight and Treehouse are two great online platforms for learning about technology and coding. Both offer courses that provide an excellent foundation for building a career in tech, but they each have their own strengths.
Here we compare Pluralsight vs Treehouse features in points to help you decide which platform is right for you.
Pluralsight offers a wide variety of courses. The platform has over 7,000 courses covering topics such as web development, coding languages, cloud computing, data science, cybersecurity and more.
Pluralsight also provides assessments to test your knowledge along the way plus bonus content like conferences and author interviews.
Treehouse focuses primarily on web development, mobile and design courses. It has a library of more than 1,000 courses and offers users the chance to build projects to practice their new skills.
Treehouse also provides community forums and mentorship opportunities for students as well as access to job postings from top tech employers.
Customer Service: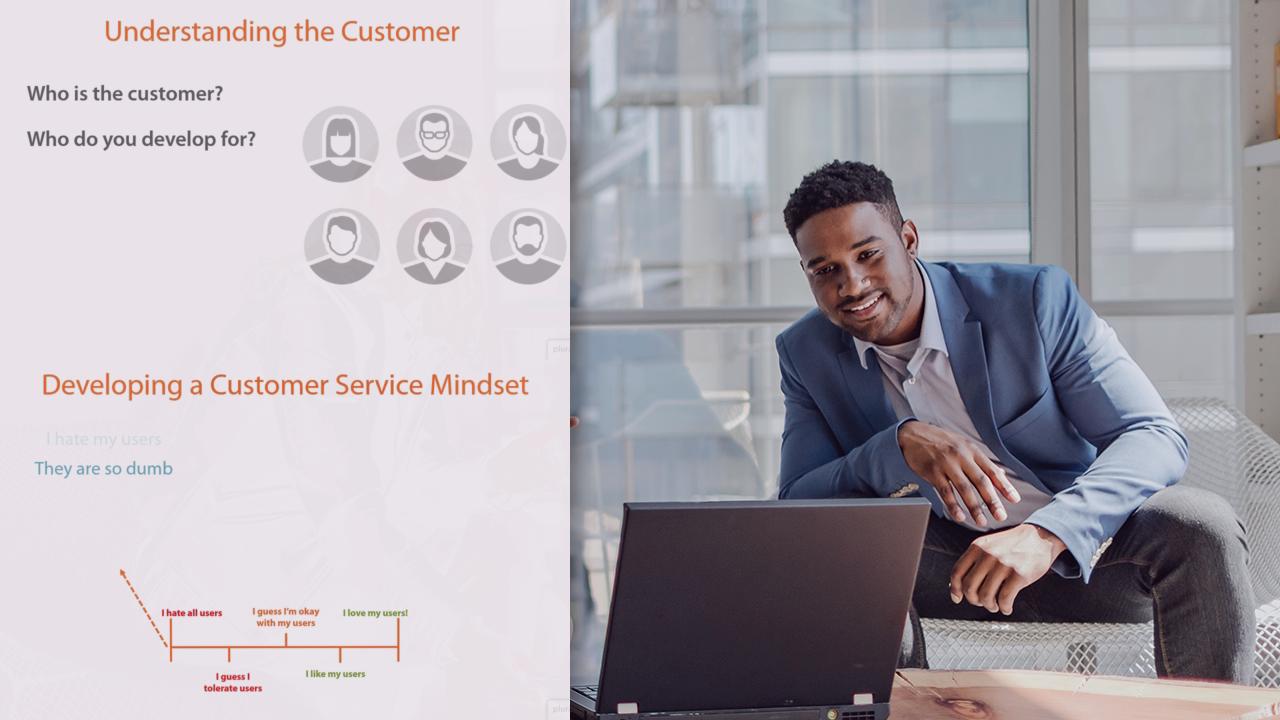 Both Pluralsight and Treehouse provide customer service options. With Pluralsight, customers can contact customer service via phone or email.
They also have a live chat feature on their website to allow customers to ask questions and get help in real time.
Treehouse offers an extensive customer support system including emails, phone calls, and live chat.
Treehouse also has a "Support Center" page on their website that provides helpful resources such as tutorials and FAQs.
Additionally, customers can visit the Treehouse Community Forum to ask questions or connect with a knowledgeable peer who may be able to provide guidance.
When it comes to customer service, both Pluralsight and Treehouse offer great options. However, Pluralsight does have the added benefit of a live chat feature which can be helpful for those who need help quickly.
Additionally, the "Support Center" page on Treehouse's website provides valuable resources that may make it easier to find an answer without having to contact customer service.
Customer Reviews: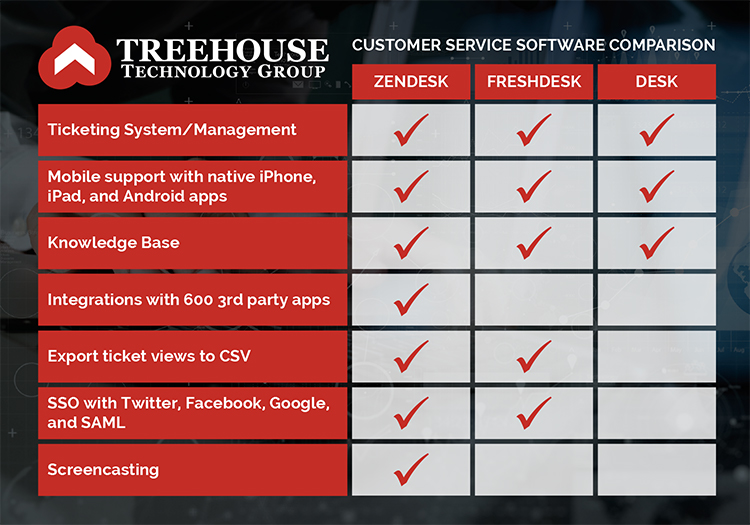 Customer reviews of Pluralsight and Treehouse play an important role in helping potential students understand the pros and cons of each platform.
According to user reviews, Pluralsight is a popular choice due to its vast library of courses, detailed teaching methods, and informative coursework.
Reviews also note that instructors are well-versed in their fields and provide helpful feedback. Additionally, Pluralsight's mobile app is considered user-friendly and helpful for those who opt to learn on the go.
Treehouse also receives favorable reviews from users, with many praising its clear tutorials, interactive platform and the fact that no prior coding knowledge is required.
In addition, Treehouse's live Q&A sessions and community forums are highly rated for their ability to help students solve problems quickly.
Furthermore, Treehouse's monthly subscription rate makes it an attractive choice for those on a budget.
Pricing Review: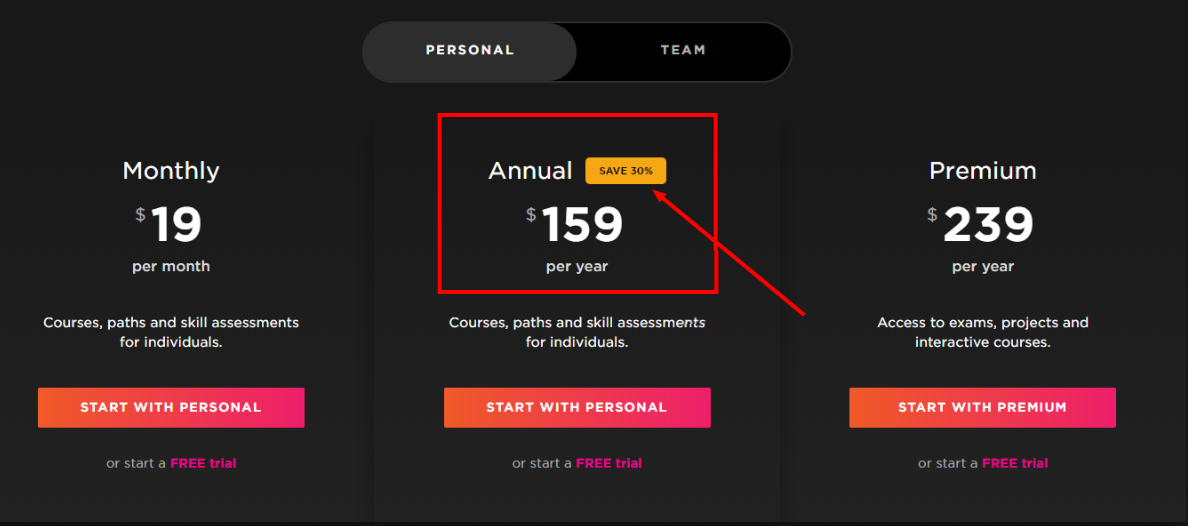 When it comes to pricing, Treehouse has two options: monthly and annual subscriptions. The monthly plan costs $25 per month, while the annual plan is just $200 per year (usually discounted from its normal price of $300).
With either option, users get access to the entire library of Treehouse courses and content.
Pluralsight is slightly more expensive than Treehouse, with monthly plans starting at $35 per month and annual plans costing upwards of $500.
However, this fee includes a range of additional features such as offline viewing, wide-ranging course catalogs, analytics tools and more.
For individual courses, Treehouse also offers one-off purchases (from $25 per course), while Pluralsight has a pay-as-you-go model, where each course can be purchased for as little as $15.
Both offer discounts on larger bundles of courses and tech sometimes runs special promotions throughout the year.
Overall, both Pluralsight and Treehouse offer great value for money.
For users looking for a comprehensive library of courses or additional features like analytics tools, Pluralsight may be the better option; however, Treehouse is still a great choice for those on a tight budget.
Ultimately, it comes down to personal preference and what best suits your needs. Whatever you choose, you can be sure to get a quality learning experience from either platform.
Quick Links:
FAQs: Pluralsight VS Treehouse
💥Q: Which one is better, Pluralsight or Treehouse?
A: Both Pluralsight and Treehouse offer excellent courses for learning programming and other technical skills. Ultimately, the choice of which platform to use depends on each individual's needs and preferences. For instance, if you're looking for a more interactive learning environment, Treehouse may be a better choice. On the other hand, if you prefer to learn at your own pace and have access to more comprehensive materials, Pluralsight could be a better fit. Ultimately, each platform offers different advantages and disadvantages that should be considered when making your decision.
🤷‍♀️Q: How much do these platforms cost?
A: Pluralsight offers a variety of subscription plans ranging from $29 per month to an annual plan for $299. The Treehouse platform is also subscription-based, with pricing tiers starting at $25 per month and going up to $199 for the Tech degree program. Both platforms also offer free trial periods that can be used to determine if the platform is a good fit for you.
🏆Q: What sets Pluralsight and Treehouse apart from other online learning platforms?
A: Pluralsight and Treehouse both offer comprehensive courses with up-to-date content on many topics. As mentioned before, one major difference between the two platforms is the way they approach learning. Pluralsight adopts a more self-paced approach, allowing users to go through content on their own schedule. Treehouse, on the other hand, encourages students to work together with instructors and peers to complete tasks and assignments. Both approaches offer plenty of benefits for different types of learners. Additionally, both platforms provide access to in-depth video tutorials, articles, and other resources that can help users get the most out of their learning experiences.
😎Q: Do Pluralsight and Treehouse offer certification programs?
A: Yes, both platforms offer certification programs for various technical skills. Pluralsight offers a variety of certifications as well as an industry-recognized Expert level certification. Treehouse also offers several certifications and provides access to helpful resources that can help students prepare for their upcoming exams.
Quick Links:
Conclusion: Pluralsight VS Treehouse
Deciding between Pluralsight and Treehouse? Both platforms offer great courses on a variety of programming languages.
If you want to expand your skill set, Pluralsight is a great option with its diverse range of courses. For those who want to focus on specific languages, Treehouse might be the better pick since it offers more in-depth coverage.
In the end, it all comes down to what you want to learn and how you want to learn it.