Spotify is one of the most popular music streaming services today and its meteoric rise to fame has been nothing short of impressive.
It boasts around 248 million users in over 79 markets, making it one of the largest streaming platforms in the world.
With an increasing number of people subscribing to their service, Spotify has generated such a massive amount of revenue and continues to be one of the most profitable businesses in this industry.
We'll take a detailed look at just how much money Spotify makes, along with major highlights and statistics concerning its usage on both free and premium versions all over the globe.
Overview: Spotify Revenue And Usage Statistics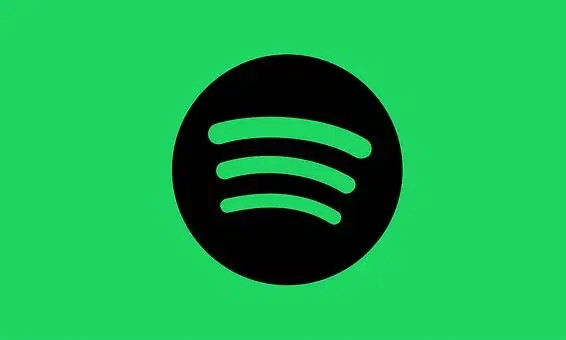 1. What is Spotify:
Spotify is a digital music streaming service that gives users access to millions of songs and podcasts.
It has become one of the most popular ways for people to enjoy music, with over 248 million monthly active users in 2020.
Spotify allows its users to create playlists, follow their favorite artists, and discover new music through its vast library. It also offers exclusive content such as artist interviews and live sessions. 
With its user-friendly interface, Spotify has become the premier streaming service for music lovers all over the world.
Whether you're looking to discover new music or just enjoy your favorite tunes, Spotify is sure to have something for everyone.
With its extensive library of songs, podcasts, and exclusive content, Spotify is the perfect way to stay up to date with all the latest music.
Whether you're looking for something new or just want to listen to your old favorites, Spotify has it all. Plus, it's easy-to-navigate user interface makes finding what you're looking for a breeze.
When you're ready to explore the world of music, Spotify is there with all your favorites and more.
2. What is Spotify Premium?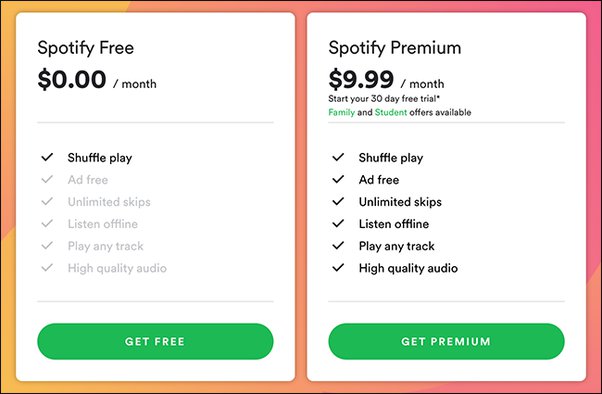 Spotify Premium is a paid subscription service offered by Spotify. It provides access to ad-free streaming, music and podcast downloads, enhanced sound quality, and more.
By subscribing to Spotify Premium, you can enjoy all your favorite songs and podcasts in the highest available quality with no ads or interruptions.
You also get access to exclusive content such as playlists, podcasts, and live audio performances. With Spotify Premium, you can gain access to millions of songs as well as new releases from popular artists. 
Additionally, you get to tailor your streaming experience with personalized recommendations based on your listening habits.
The premium subscription also offers a family plan that allows up to five people to use the service for one affordable monthly fee.
With Spotify Premium, you can listen to your favorite music anytime, anywhere. It's the perfect way to stay connected and enjoy music with friends and family. 
Sign up for Spotify Premium today and start streaming your favorite songs and podcasts in high-quality audio at a price that won't break the bank.
Enjoy more than just music with exclusive content, tailored playlists and more. With Spotify Premium, you can listen to your favorite tunes anywhere and anytime!
Get started now and start enjoying the best streaming experience available.
Spotify – Company Overview 2022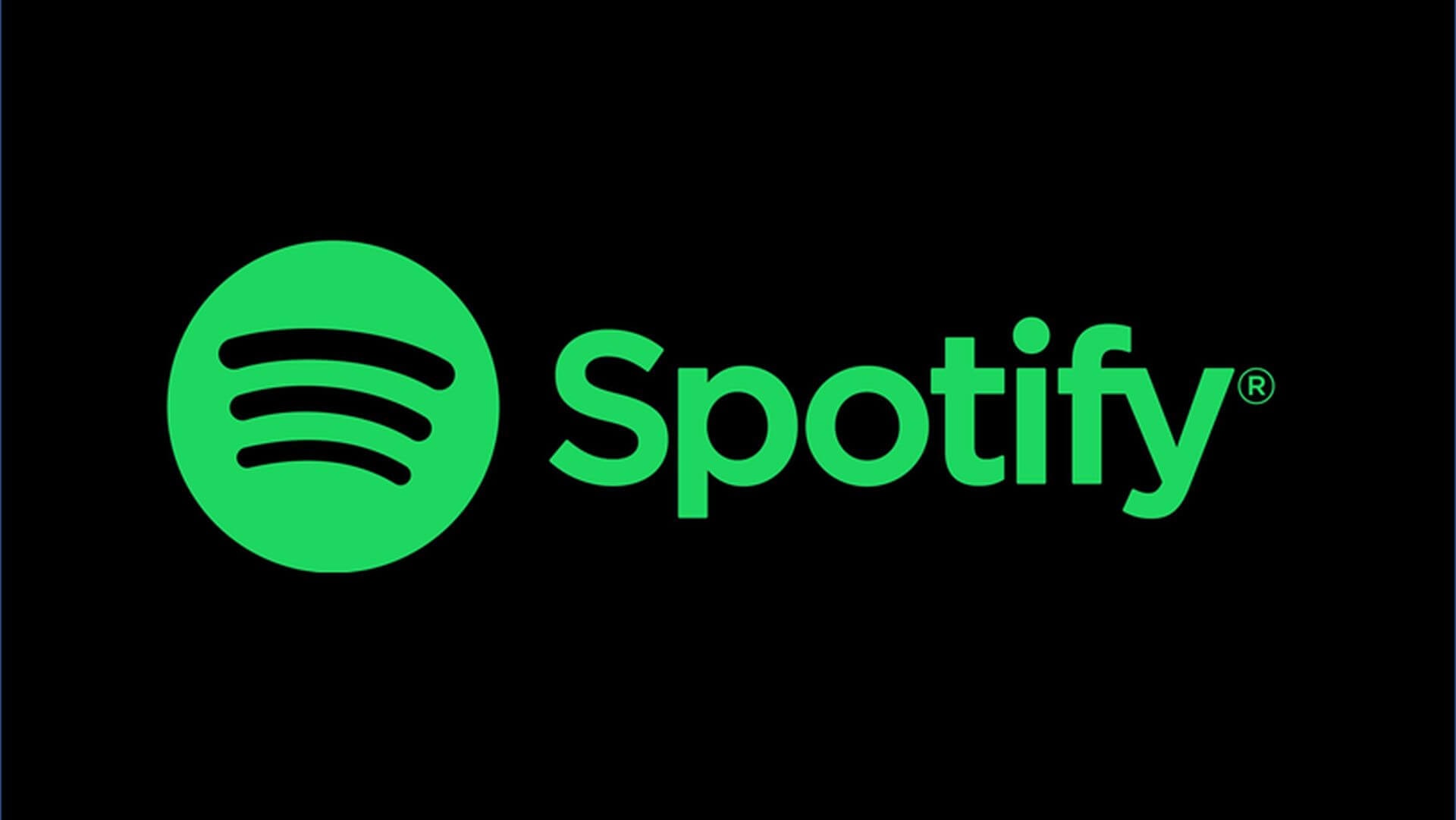 By the year 2022, Spotify anticipates having 286 million users and 345 million active monthly listeners across 93 countries.
Giving a million creative artists a sustainable income from their work and billions of fans the opportunity to enjoy and be inspired by these creators is central to our mission of releasing the full potential of human creativity.
Spotify is available on more than 700 devices and platforms, including PCs, phones, tablets, smart speakers, TVs, cars, game consoles and wearables.
The users have access to music from over 60 million songs in our catalog and are able to create tailored playlists based on their musical tastes.
We offer both a free ad-supported service as well as an ad-free premium tier of service.
Spotify also offers a suite of tools and services to help artists promote their music, including Spotify for Artists, our artist-only platform that helps users manage their presence on the streaming service.
We have also launched content initiatives such as Secret Genius, which elevates the stories behind the songs made by songwriters and producers, and Your Daily Drive, which creates personalized radio stations based on the listener's location.
Statistics:
1. Spotify User Stats (2022)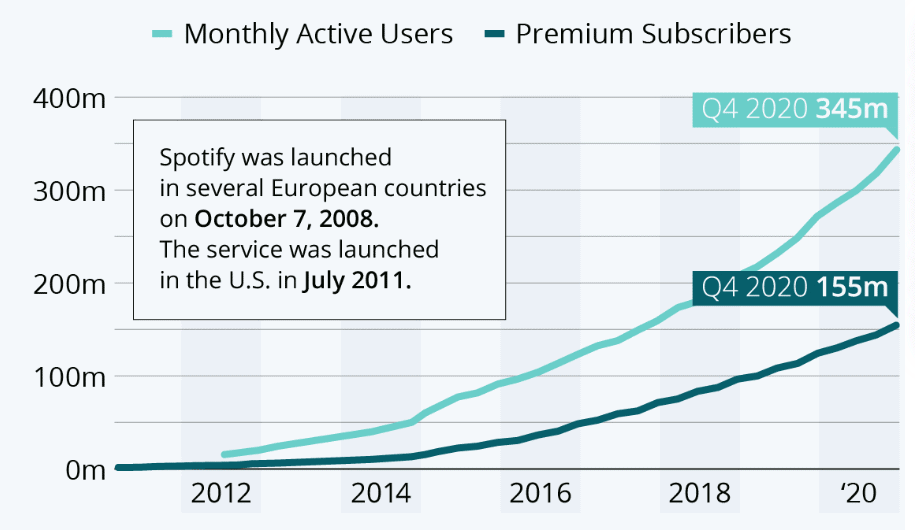 In 2022, Spotify had an impressive reach with approximately 420 million users worldwide. Of these users, roughly 155 million were paid subscribers and 265 million used the free version of the platform.
This shows that Spotify is reaching a wide range of demographics and continues to be a major player in the music streaming industry.
The main countries contributing to Spotify's user base are the United States, Brazil, Mexico, and India. Together these countries account for nearly 60% of Spotify users worldwide.
Additionally, Spotify has seen a steady increase in recommendations and curation as well as engagement. For example, users spend an average of 28 minutes listening to music per day on the platform.
Spotify continues to strive for providing users with the best music streaming experience.
This includes creating tailored playlists, discovering new artists and genres, and introducing new features such as podcasts and video streaming.
It is clear that Spotify will continue to be a major player in this industry for many years to come.
2. Spotify Subscriber Stats (2022)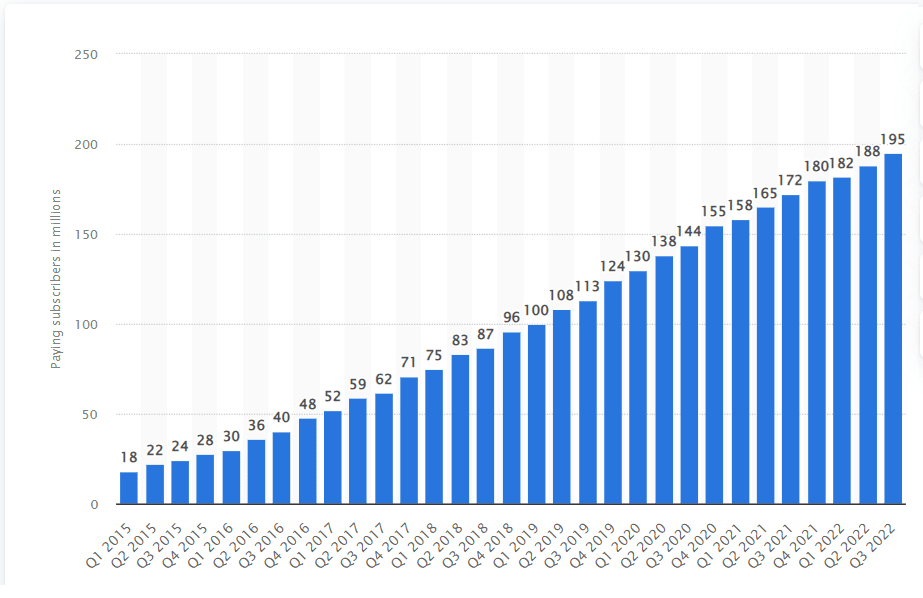 According to a recent report, Spotify subscribers are predicted to hit 299 million users globally by 2022. This number is expected to continue growing exponentially as streaming services become increasingly popular.
Not only will this growth be driven by the increased availability of devices and platforms that allow people to access music and other audio content on demand, but also by improvements in streaming technology, such as better sound quality. 
Additionally, with more people embracing streaming services as a way to listen to music and other audio content, the number of subscription-based streaming users is also expected to increase steadily. 
This will be due in part to the increasing popularity of exclusive artist releases, personalization features, radio stations, and much more.
By 2022, Spotify's subscriber base is expected to have grown significantly from the current figure of 248 million users.
It will be interesting to see how this ever-growing platform continues to shape and innovate the music industry for years to come.
3. Spotify Artist Statistics (2022)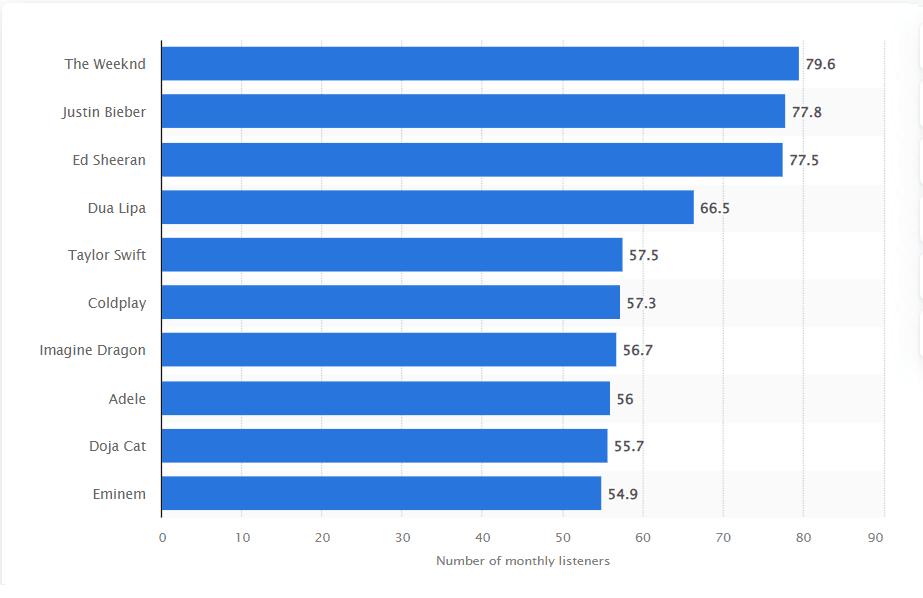 Spotify artist statistics for 2022 indicate that the music streaming platform is increasingly becoming a go-to destination for artists to build their fan base and reach new listeners.
In the last year, the number of monthly active users has grown to over 300 million, representing an impressive 40% increase from 2019.
In addition to these figures, Spotify reports that its users have streamed over 72 billion hours of music, a number that is up from the previous year.
Revenue: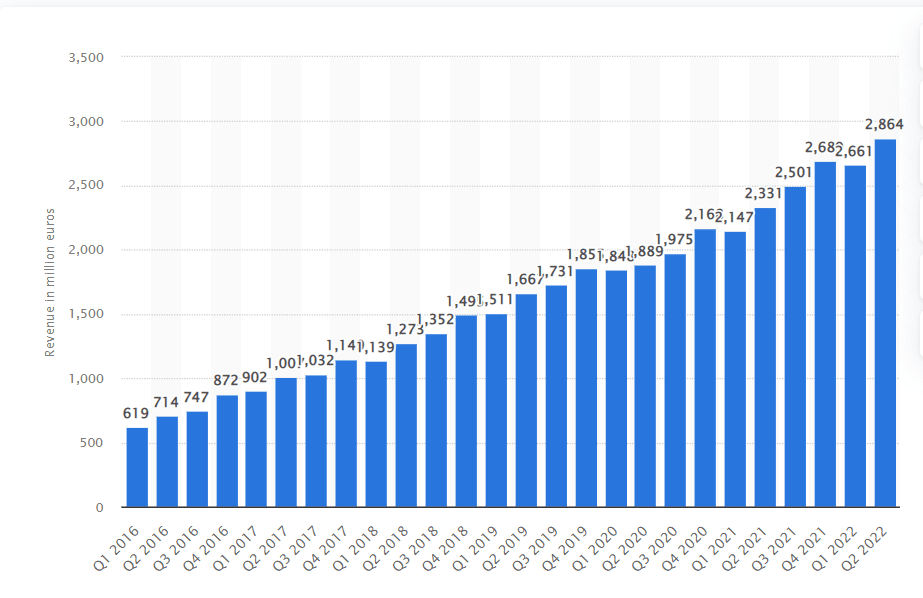 Spotify is now one of the most popular streaming services worldwide and its revenue continues to increase year after year.
According to recent statistics, in 2022, Spotify's total revenue was estimated to be around $11.62 billion.
This number is expected to grow at an 8.2% compound annual growth rate from 2021-2027, reaching a total of $15.43 billion in 2027.
This impressive growth is mainly attributable to the increased subscription fees associated with the platform, as well as gains from advertising revenue. 
Advertising revenues are expected to account for 25% of Spotify's total revenue in 2022, the same percentage as in 2021, predicted to be around $2.91 billion.
This impressive growth is a testament to Spotify's success in providing users with a high-quality streaming experience.
With the rise of streaming services, it is likely that more and more people will turn to Spotify for their entertainment needs as time passes.
In addition to its growing revenue, recent reports also suggest that Spotify has seen rapid user growth over the past few years.
As of 2021, the platform had over 345 million monthly active users and 144 million Premium subscribers, both figures increasing year-on-year.
This impressive growth is directly linked to Spotify's success in providing a wide range of music, podcasts, and other content to its users.
Spotify ARPU Stats: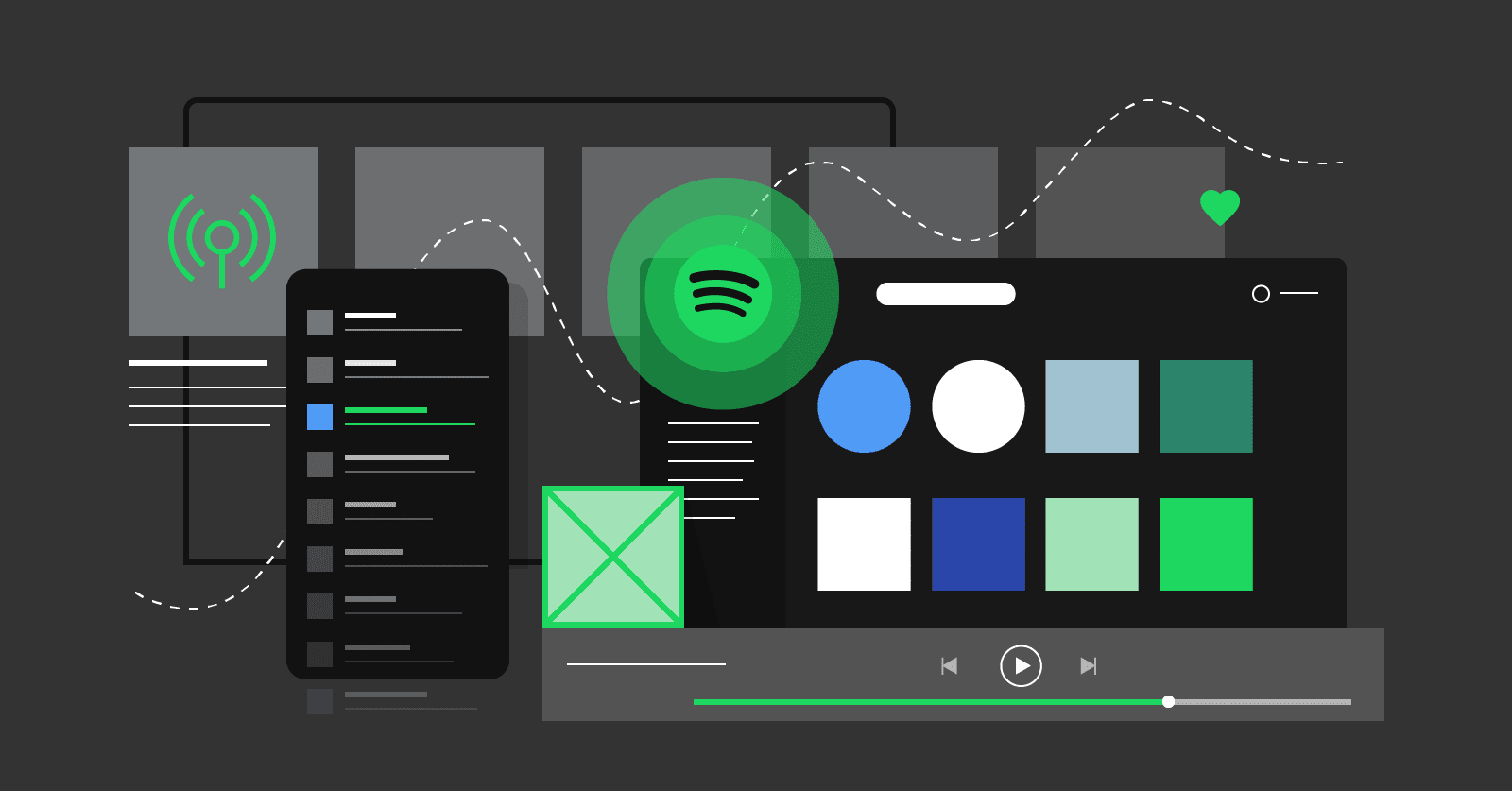 The average revenue per user (ARPU) of Spotify has seen a steady rise in recent years. In the first quarter of 2020, the ARPU was €5.86, up from €4.99 in 2019 and €3.84 in 2018.
This is an increase of approximately 18 percent over two years, demonstrating solid growth for Spotify's user base.
Additionally, the company has seen an impressive increase in total premium subscribers, reaching 138 million in 2020, up from 124 million in 2019.
The success of Spotify's ARPU can be attributed to its wide range of services and features.
By providing users with access to millions of songs and podcasts, personalized playlists and exclusive content, Spotify has been able to attract more users and keep them engaged for longer.
This in turn translates to higher ARPU.
Furthermore, partnering with other companies such as Samsung and Uber has enabled Spotify to expand its reach even further, thus increasing user engagement and ultimately resulting in a higher ARPU.
Competitors:
Spotify is recognized as one of the top music streaming services with millions of users around the world.
However, there are also a number of competitors offering similar services that can challenge Spotify's supremacy in the market.
These include Amazon Music, Apple Music, Pandora, YouTube Music and Deezer.
Amazon Music offers two subscription tiers for users to choose from.
The ad-supported version provides access to hundreds of playlists and personalized radio stations, while the premium tier allows subscribers to listen to songs without commercials and download music for offline listening.
Furthermore, Amazon Prime members can enjoy unlimited streaming of over two million songs included with their membership at no additional cost.
Apple Music has a similar setup to Amazon Music, with both free and premium plans available. The paid version gives users access to millions of songs and a variety of curated radio stations.
Apple Music also offers exclusive content that can't be found anywhere else, such as music videos and live concerts.
Pandora is an internet-based radio service that allows you to create personalized radio stations based on your favorite genres and artists.
It can be used for free, but without ads, unlimited skips or offline listening features.
A paid subscription, known as Pandora Plus, provides all of these benefits along with higher quality audio and enhanced search capabilities.
YouTube Music is the latest entrant in the streaming music market. It allows users to stream millions of songs and music videos at no cost, although ads are featured.
A premium subscription gives access to ad-free listening and an increased catalog size with more options for customization.
Lastly, Deezer is a French streaming service that provides access to over 53 million tracks.
Besides the usual features found in other streaming services, it also offers exclusive editorial content and curated playlists.
Additionally, subscribers can enjoy high-quality audio with its "Flow" feature, which creates a personalized mix based on users' listening habits.
FAQs: Spotify Revenue And Usage Statistics 2023:
💥Q: What percentage of the population uses Spotify?
A: According to Statista, as of June 2020, 32.6 percent of internet users worldwide had a paid subscription to Spotify. In the United States, 17 percent of internet users had a paid subscription. It is estimated that by 2022, this number will grow to 35.1 percent of internet users worldwide with a paid subscription to Spotify.
🙌Q: How much does an average Spotify user pay for their subscription?
A: The cost of streaming music on Spotify depends on the type of plan you choose. For example, the Premium Individual Plan costs $9.99 per month, while the Premium Family Plan costs $14.99 per month (up to 6 people).
👨‍💼Q: What is Spotify's total revenue?
A: According to Statista, in 2020, the streaming service's total revenue was 8.53 billion U.S. dollars, and it is expected to reach 11.54 billion U.S. dollars by 2022.
😃Q: Where does Spotify generate most of its revenue?
A: The majority of Spotify's revenue is generated from subscriptions, which accounted for 81 percent of their total revenue in 2020. Advertising and other sources such as digital sales make up the remaining 19 percent.
Quick Links:
Conclusion: Spotify Revenue And Usage Statistics 2023:
Spotify has seen a remarkable amount of growth in the past few years. In 2019, it was estimated that Spotify will have 217 million active users and 108 million paying subscribers.
This represented an increase of 30% from the previous year. And those numbers don't seem to be slowing down anytime soon.
With such a large user base, there's no doubt that Spotify is one of the most popular streaming services available today.