Are you also in search of Best Online Chess Classes? If yes then this article has surely all of your answers. Let's go through on this together. 
The strategic game of chess can be improved by taking chess courses online. You can hone your skills and enjoy this centuries-old game whether you are a seasoned player or brand new to it by taking classes.
To help you understand the tactics and strategies behind effective chess play, the best chess classes online use a systematic approach.
In addition to real-time chess instruction, group and private chess lessons offer learners the opportunity to complete courses at their own pace through video, audio, or written content.
There are many online learning communities where you can practice and play chess games as well no matter what kind of chess course you choose. You should also practice and play chess often to advance.
6 Best Online Chess Classes In 2023
We have mentioned 6 best online chess classes for you to lean better, let's have a look at each of them.
1. Best Overall: ChessKlub
Why We Chose It: Whether you're a beginner or a seasoned chess player, ChessKlub has a variety of coaching opportunities, practice sessions, and tournaments.
Pros
Coaching options for groups and individuals

Organizes USCF tournaments on a monthly basis

Recordings of live classes
Cons
There are too many coaching plans to choose from

Resources are not available for free preview
ChessKlub offers chess instruction in groups and in private lessons, daily tournaments, practice sessions, and an online library.
The ChessKlub online chess classes are open to players of all ages and levels, while other online chess classes target beginners, kids, or advanced players.
The United States Chess Federation (USCF) has recognized this online chess academy. The cost of group lessons can be affordable, limited to 12 students, or you can opt for private coaching.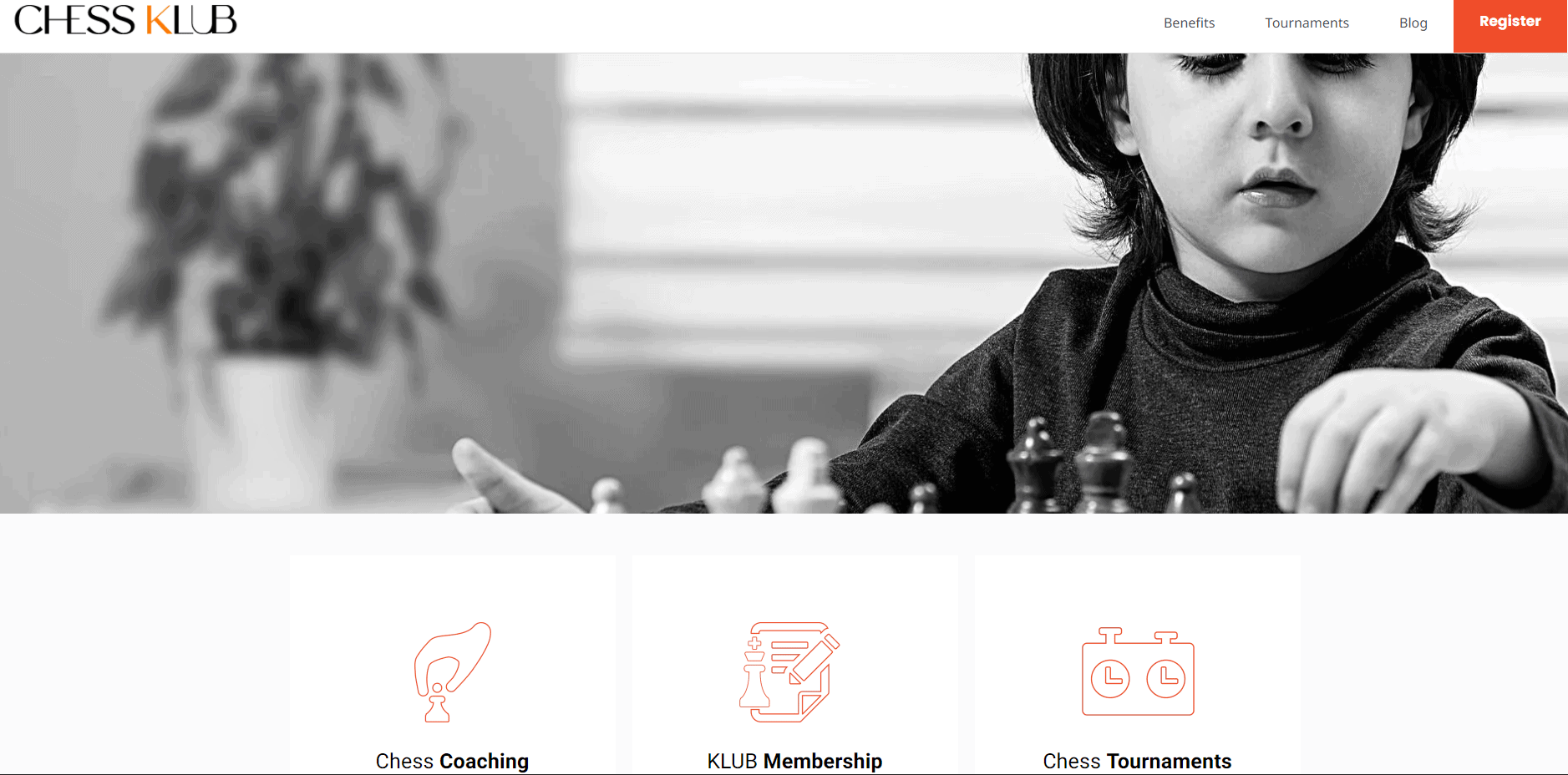 While many online chess classes offer limited scheduling options, ChessKlub offers group instruction from Monday through Saturday, including holidays.
Recorded classes allow you to review classroom sessions if you miss them or if you need to review them later.
A beginner's class costs about $60 a month, a more intermediate player's class costs $75, and a more advanced player's class costs $125. Instruction costs start at approximately $140 per month for private lessons. 
Taking online chess classes will help players learn the game, but practicing makes them better.
You can practice over 16 hours of live practice sessions a week with ChessKlub's coaching membership, which includes access to other players and coaches.
Daily tournaments and rated USCF tournaments are unique features of the site. A comprehensive instruction program is available for beginners, and regular tournaments will benefit more advanced players.
2. Best for Beginners: LearningChess
Why We Chose It: Take LearningChess' beginner course to learn chess quickly and easily. This affordable online chess course offers new students a self-paced learning approach, practice opportunities, and a simple approach to learning.
Pros
A free preview of the course

Computers, tablets, and smartphones can be used to access lessons

This product comes with a money-back guarantee
Cons
No feedback from the instructor

Access to course content is limited to two years
The LearningChess online chess course makes a great starting point for those who are new to online chess courses. In this self-paced online chess course for beginners, you'll learn the fundamentals of the game, from the board and pieces to moving them and combining them. 
LearningChess is clearly designed to engage students. Students will need to choose their options and click on the chessboard to indicate answers to questions such as: What is a rank?

The length of a chessboard's diagonals is how many? There is a "Hint" button available if students need assistance.
Lessons can be started and stopped at any time. The site also offers a Tactics Trainer that you can use to practice your new chess skills as well as the opportunity to play chess against a computer or against other students.
Students may wish to move on to Intermediate or Advanced online chess courses after completing the beginner classes. LearningChess offers four online chess courses for approximately $14.99 per course, or $39.99 for all four. 144 lessons are available for two years.
3. Best Free: Chess.com
Why We Chose It: Chess.com's free lessons, interactive challenges, and puzzles provide an excellent learning experience.
Pros
Quizzes and videos are part of the lessons

Continually evolving
Cons
Only one advanced lesson per week is available

Upgrades members to premium membership
Take a free online class to learn the basics of chess, like this self-paced tutorial at Chess.com. Beginners learn how to play chess from these chess lessons, including the rules of the game. Throughout the course, learners solve challenges that apply key concepts explained in video lessons.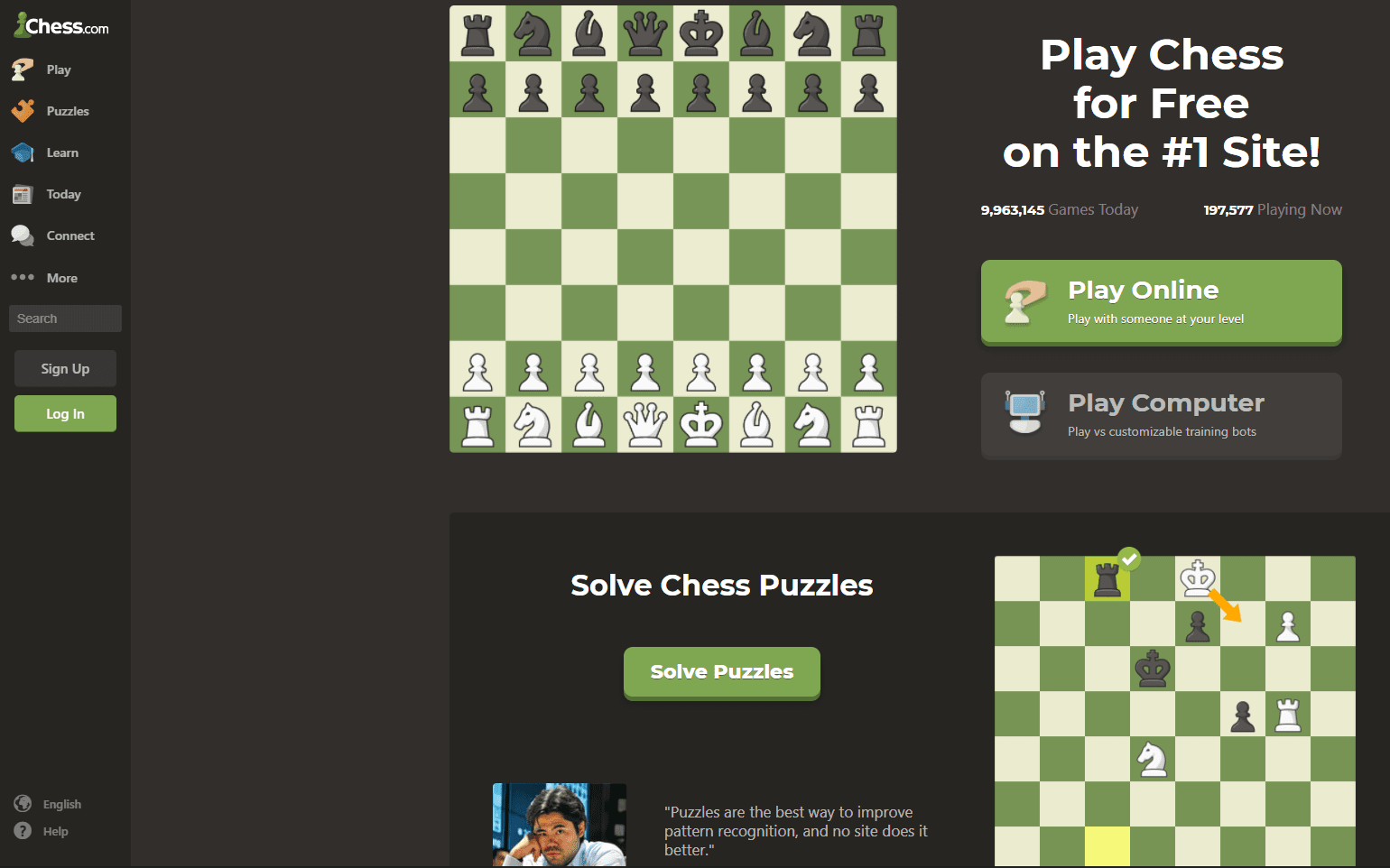 Chess.com offers many free lessons for beginners, intermediates, and advanced chess players. Once you've completed the introductory lessons, you can move on to learn more advanced techniques.
However, if you stay with the free membership, you can only take one lesson per week. Getting a premium membership will help you progress more quickly in this online chess class.
Additionally to free online lessons, Chess.com provides free puzzles to help players improve their tactics, as well as live chess games or computer opponents.
4. Best for Intermediate Players: Chessable
Why We Chose It: Chess players with some experience will be able to improve their skills with Chessable's online chess courses, which include both free and paid options.
Pros
With the app, you can learn on-the-go

A learning experience that is interactive
Cons
The cost of some courses is high

No feedback from the instructor
Chessable offers you a wide selection of online chess courses that can be customized to meet your learning needs, but intermediate and experienced players will be most interested in classes that take you beyond the basics, exploring chess in depth.
Chessable's advantage is a unique training program known as MoveTrainer. By utilizing video, board practice, and a systematic review process, this interactive method teaches and reinforces basic chess principles.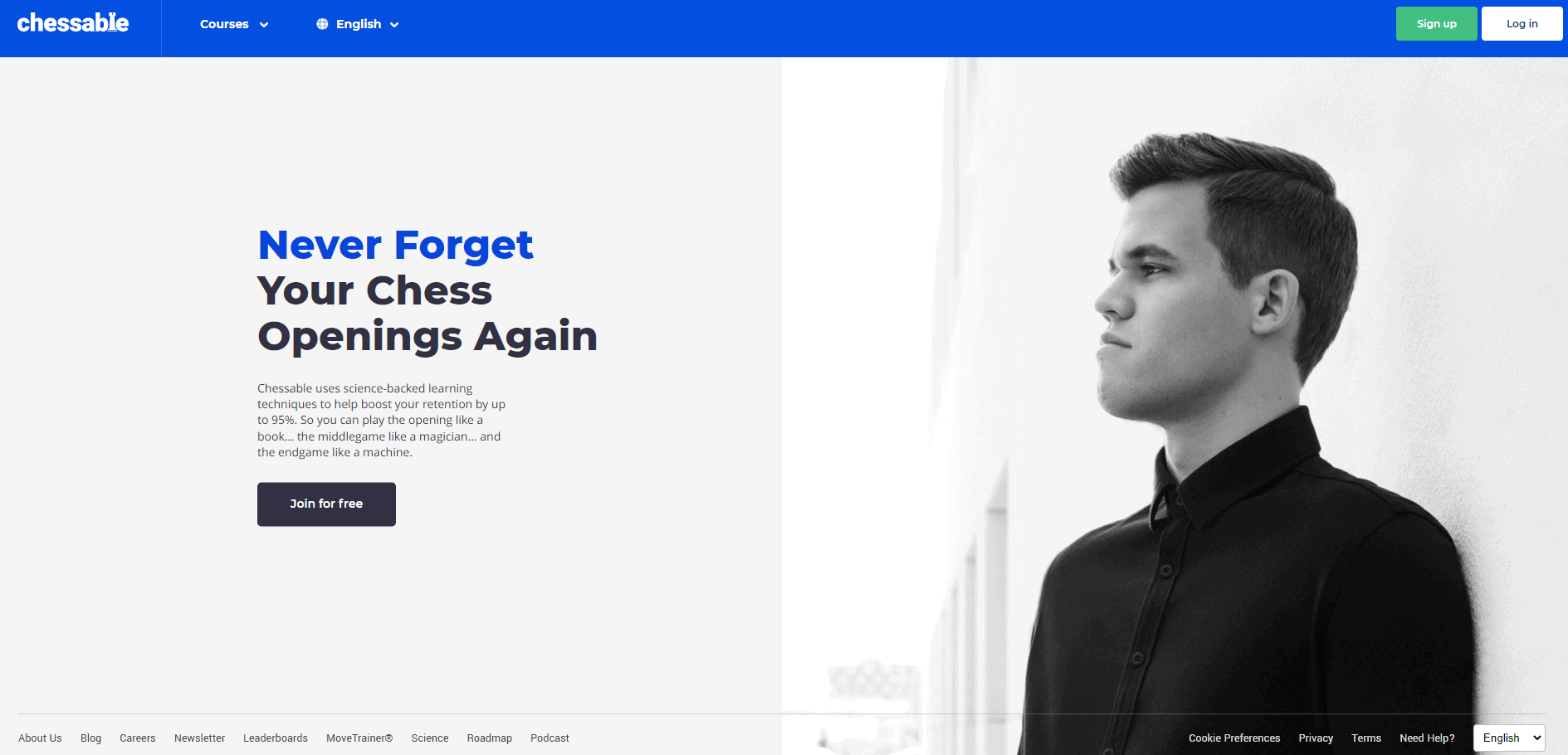 This course is divided into four sections: Openings, Endgames, Strategies, and Tactics. There are additional chess course filters, like price and difficulty, that can be used.
Its large selection of courses makes it a better fit for intermediate players who already know which aspects of the game they would like to explore.
The majority of the courses are paid and include video content, although some are free. If you wish to purchase a less expensive video course with less content, you can opt for the full video course.
However, these courses are popular with players of all levels that want to enhance their chess skills.
5. Best for Live Classes: IChessU
Why We Chose It: The IChessU teaching platform offers both live group and private instruction to help students reach their personal goals in the game of chess.
Pros
Lessons can be taken individually or in groups

An evaluation lesson is free
Cons
The current group lesson time cannot be viewed

IChessU must be downloaded to your computer
Our online chess classes provide students with access to feedback and instruction on gameplay, strategy, rules, and more from our instructors. A course with live instruction provides students with the opportunity to learn chess concepts in real time, rather than through self-paced online lessons.
Students of all ages can take chess lessons at International Chess University, which stands for International Chess University. For two hours a month, group lessons cost about $70. For four hours a month, they cost about $120.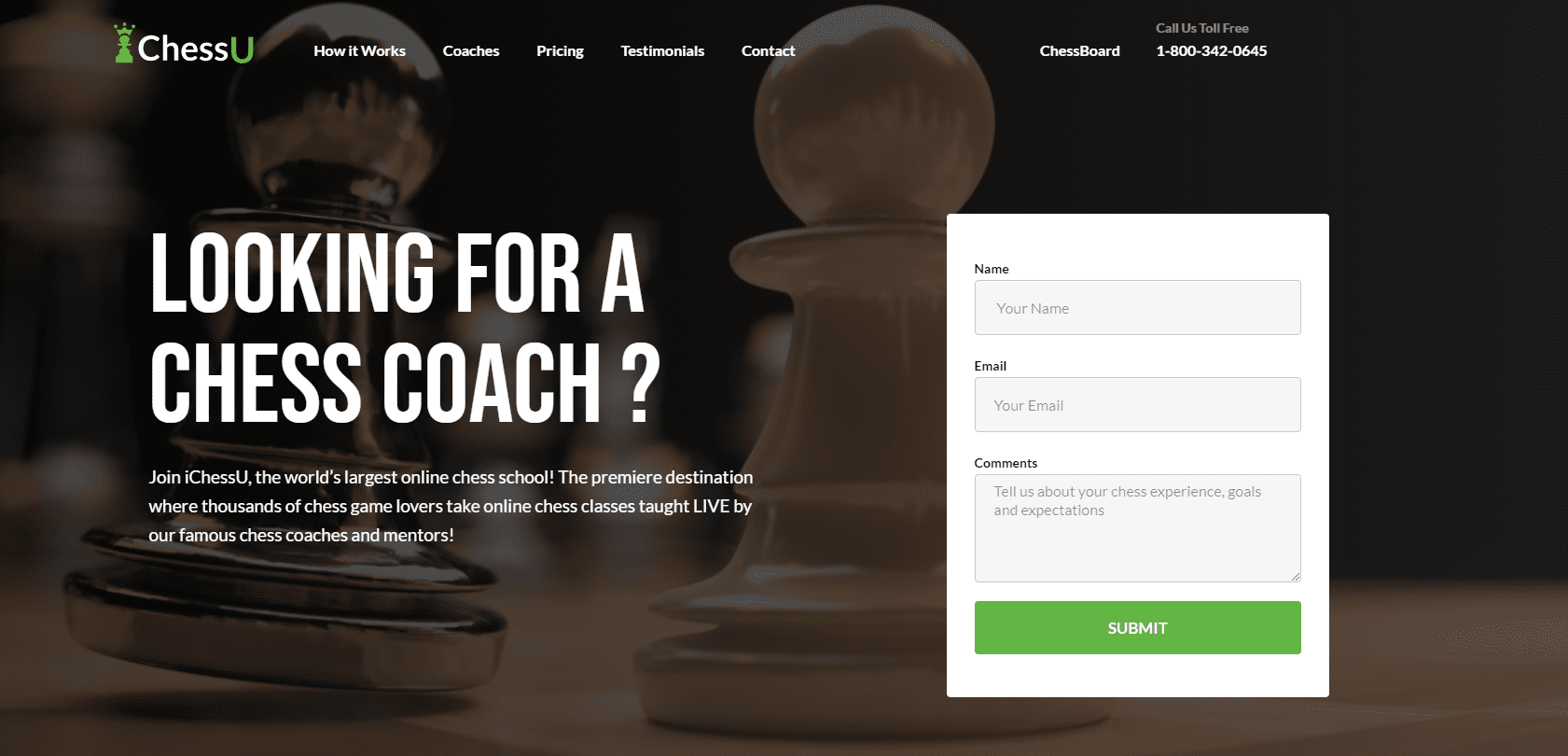 While not in class, students can play games and practice with IChessU's resources. Private chess lessons start around $180 a month for four hours and can range up to $600 for serious students who wish to devote 20 hours a month to personal instruction. 
Chess masters developed the curriculum, which emphasizes gameplay and strategy. Students have plenty of chance to put into practice the chess skills they have learned through hands-on practice and homework assignments. 
IChessU hosts chess instructors from many organizations, including Grandmasters, International Masters, trainers, and champions from FIDE (International Chess Federation). In addition to English lessons, the school offers lessons in a number of other languages.
One of the features that sets IChessU apart from other online chess classes is its unique chess platform where classes are conducted. In a virtual classroom, students and instructors can communicate with audio and video using Skype.
6. Best for Kids and Teens: ChessKid
Why We Chose It: Kids must be engaged, challenged, and safe when learning chess online – ChessKid offers all of this, as well as parental feedback tools.
Pros
An environment that is safe for learning and playing

You can monitor your child's account as a parent or guardian

Lessons for beginners for free
Cons
Older teens might not be interested

Player ratings aren't based on any official system
Kids and teens interested in chess can learn about it at ChessKid, an online learning environment. A curriculum and a play environment have been specifically created for children and young teenagers on the platform, which is part of Chess.com.
Keeping a student's attention is emphasized through shorter and snappier lessons. Even teens over the age of 13 can benefit from it since it's designed for players up to age 13.
This online chess class and playing environment is suitable for beginners and learners who have a player rating of up to 1300.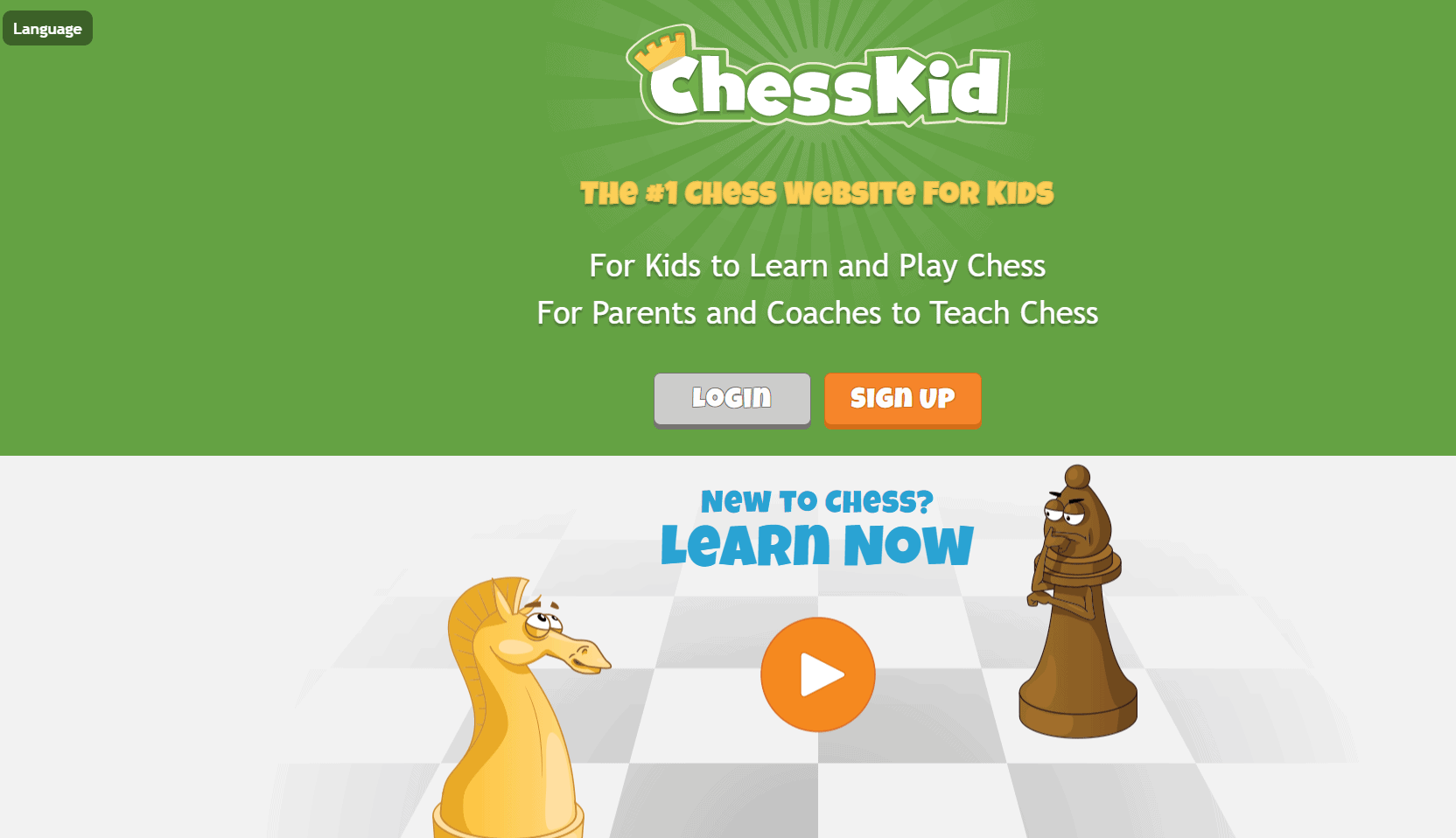 The platform has put a great deal of emphasis on communication and networking for this online chess course for kids, and parents will appreciate the safeguards it has in place.
There are no ads or links on the site, and kids and adults cannot communicate or socialize. 
Beginners are able to sign up for a free account, which offers beginner lessons and limited games, while Gold members have uncapped access to puzzles and learning exercises.
An annual Gold membership costs roughly $49, with a special discount for families with multiple children.
As each child's learning progress, challenge levels, and difficulty of puzzles and simulated games will vary, if you have more than one child who would like to learn chess, set each up with their own ChessKid Gold membership.
Quick Links :
Final Verdict: Best Online Chess Classes In 2023 
Your skill level, learning style, and budget will play a role in deciding which online chess class is best for you. There are online courses that allow students to learn chess at their own pace.
However, most people choose to learn chess in groups or privately. Aside from the class itself, you can also practice your skills on chess sites by playing against other students or a computer.
There are group and private lessons available at ChessKlub, along with tools to help students continue to improve their chess skills.
As such, it's an excellent choice for any player, whether they are a beginner, intermediate, or advanced.