Want to get hold of the best hosting service providers in India?
Imagine this:
You have some revolutionary business ideas in your mind.
After buying a catchy domain name, you look out for a decent hosting service provider, but in vain.
Of course, getting access to the best among the lot is indeed a tedious job.
But the question remains: How?
If this question bothers you, then this article is tailor-made for solving your problems.
Here you shall learn about the best hosting providers in India.
How to Choose Best Hosting Service Providers in India?
You shall choose your service provider by comparing each and every one of them on the basis of:
Reliability: There is no point in getting a web hosting service if it has high downtime and slow server speed. Most hosting providers claim their web hosting uptime to be 99.99%, but these are just the claims.
That's why I recommend you to read online reviews on social media about the web hosting provider.
Look for a web hosting service that has servers near your target audience's location. Also, the servers must be present in your location as well.
Pricing: Low-budget web hosting packages are what we most seek.
But, these can be chosen only if you have a low-trafficked website.
For higher websites, it is better not to look for low-priced hosting providers. Today, there is n number of hosting providers in the market that offer low pricing plans but slow speed.
Remember, your web hosting service can make or break the site speed. So, server speed and performance should be your first priority. Also, I would not recommend going for extremely high-priced web hosting that could break your budget.
But, make sure the web host is providing incredible value for money.
Technical Customer support at the time of urgency: In case of any technical hitch in your website, you shall need good customer care service from the web hosting provider.
The providers that don't have a 24/7 helpline are not worth your time and money. You will never get a solution to your problem or issue through these providers.
So, look for a hosting provider that has a toll-free helpline number that is available 24/7.
Easy to Setup: You should look for a hosting provider that offers you with cPanel web hosting. This is because cPanel is beginner-friendly and easily understandable by newbies as well.
It's important if the interface is easy to understand and you don't have to struggle with it. Some hosting providers offer a laggy and buggy control panel which can be inconvenient at times.
Also, some hosting providers go overboard offering too many services which cause confusion in using their systems. Hence, the setup should be easy and breezy.
So let's get down to business.
Best Hosting Providers & Services in India 2023
Given below is the list of all the best web hosting services providers coupled with reviews from which you can choose as your hosting provider for hosting your website or blog.
MilesWeb Hosting
It makes sense when we say MilesWeb is the leading web hosting service provider in India.
Why?
Because what they offer is pretty practical according to the price tags. Plus their services are affordable.
What I liked the most about MilesWeb is the customer support for technical and pricing issues.
I consider it the most important feature next to the essential hosting features.
Think about it.
MilesWebprovides the support that one needs on an urgent basis in times of technical problems.
To add to it, chat support and toll-free numbers are something everyone wants from web hosting service providers, apart from a 99.5% uptime guarantee which is already being offered by all the leading web hosting providers.
Thus MilesWeb gets an A+ in customer support!
MilesWeb Hosting Features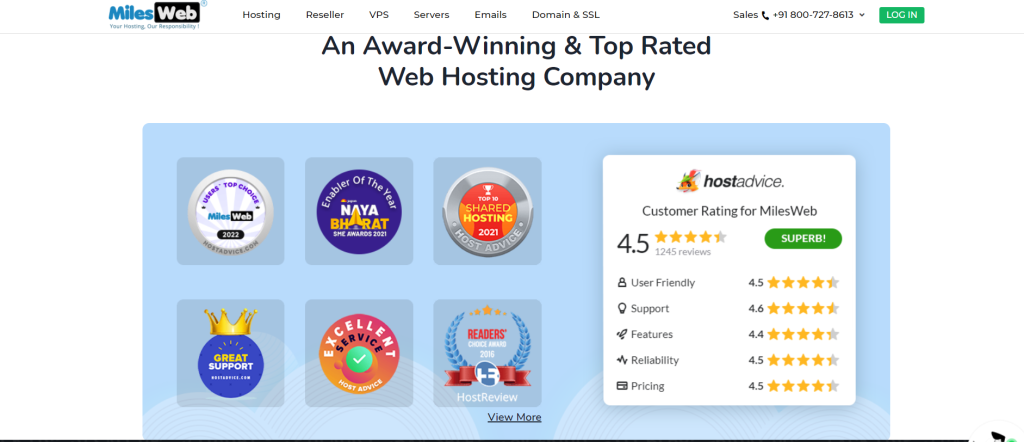 MilesWeb provides several hosting packages such as Shared web hosting, reseller hosting, VPS hosting, cloud hosting, and dedicated server.
In Shared web hosting(cPanel) offerings, there are five hosting plans, whose top features are as follows: You will get a free domain with the hosting, free private SSL to your website to show your authority to your website visitors.
Free website builder to build your own custom website without any programming language.
You'll get cPanel to manage your website.
You can also install your preferable CMS like WordPress, Joomla, and Magento with 1 click Installer.
You can start an e-commerce store with MilesWeb hosting plans using available shopping carts such as Magento, Prestashop, osCommerce, ZenCart, CubceCart, etc for free.
You can host multiple websites in one cPanel as all the hosting packages support Add – on domains and subdomains.
You can get a Money Back Guarantee for any cPanel hosting packages at any point of time.
They have a toll-free contact number with 24×7 support and live chat support available.
Interestingly, when I tried to contact them, I got connected with one of their support agents within 20 seconds.
MilesWeb Hosting Pricing
As I mentioned above, MilesWeb hosting comes with five hosting plans according to your preference, which are as follows:
With Economy at $20 per year, you can host a single website which is the best plan for a personal website or a portfolio.
With Startup at $3 per month, you can host up to 5 websites.
Business plan starts at $5 per month, you can host up to 15 websites that are best for your business's blog or website.
With Geek at $7 per month, you can host up to 30 websites. An ideal plan to get high traffic website on your blog.
Pro starts at $9 per month, hosts up to 50 websites where all the websites can be generating high traffic. Simply stated, under this hosting plan, you can host multiple big websites with high traffics.
HostingRaja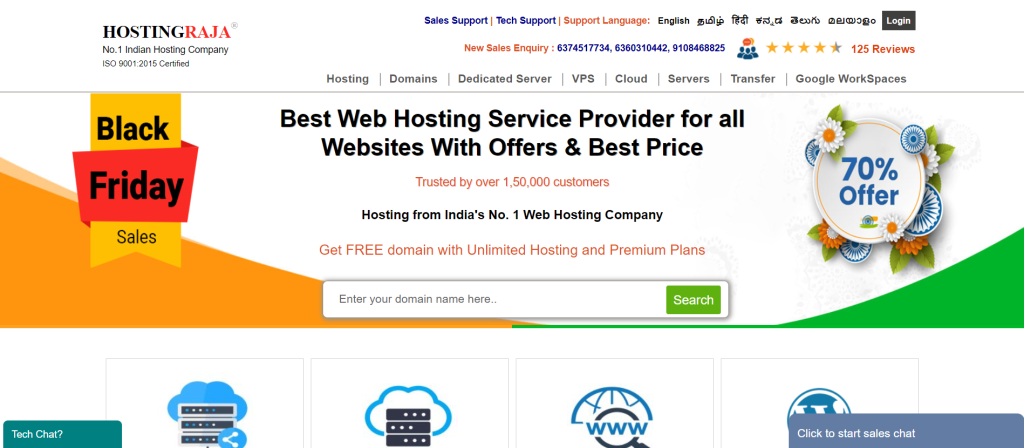 Hosting Raja claims to be the #1 web hosting service in India. Well, if you are looking for an affordable web host on a budget, then I would partially agree to it.
If you are planning to start a WordPress-based site or a regular blog, go for Hosting Raja since it has optimized servers for WordPress blogs or websites.
Hosting Raja cPanel has an easy–to–use hosting panel. Plus the customer support is provided in 12 regional languages, indicating its usefulness
Hosting Raja Main Features: 
Hosting Raja offers various types of hosting services including shared, dedicated, and VPS hosting.
You would also get the option for Java hosting and Magento hosting here.
Regarding the features, you will get a web-based file manager, a website builder, a cPanel, and 24×7 Support with 99.9% uptime guaranteed coupled with 30 days Money–Back Guarantee and free setup in almost every hosting plan.
Hosting Raja Hosting Pricing
Hosting Raja has 6 different plans which are framed according to your requirements.
The plan ranges from an INR 69 per month starter plan to INR 299 per month unlimited plan.
For long-term WordPress blog or website, I would recommend going with a Gold or Unlimited plan at INR 199 per month and INR 299 per month respectively.
HostPapa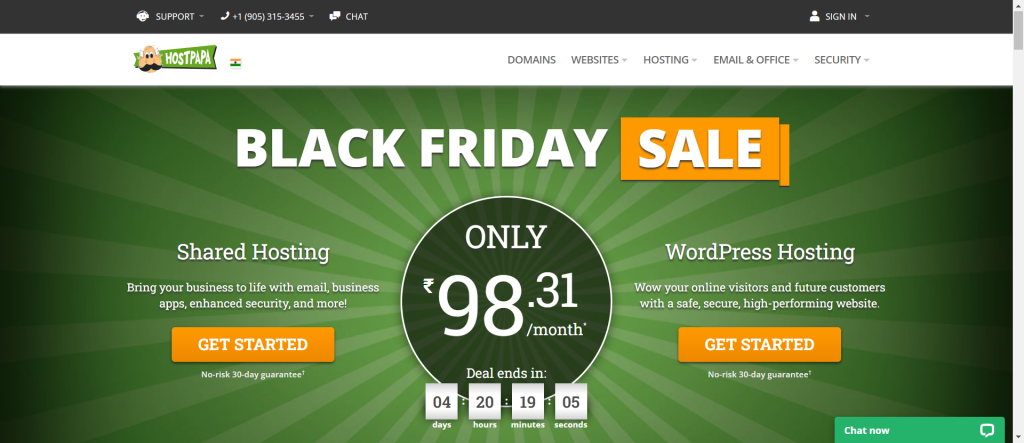 HostPapa is featured in Hosting Review, Cnet, PCMAG, and many such authority sites. Powered by renewable energy, you will find its plan economical with all the available and necessary features.
There is an unlimited offer in every feature, 99.9% uptime guaranteed, and 24×7 customer support via phone, email, and online chat.
HostPapa Hosting Features
One of the major USPs of HostPapa is its ease of use or setup. The automatic website backup to save your files comes along with the website.
If you are choosing a Business Plan of INR 299 per month, HostPapa offers unlimited website hosting, unlimited disk space, unlimited bandwidth, unlimited Email, website builder, and free domain registration.
HostPapa hosting also offers Server Firewall, Monitoring & Intrusion Detection as well as advanced security features.
It has 24×7 multilingual customer support, telephone support, as well as a 30-minute free training session with educational tools.
HostPapa Hosting Pricing
HostingPapa hosting comes in three plans:
Starter Plan at INR 199 per month
Business Plan at 499 per month
Business Pro Plan at 699 per month.
GoDaddy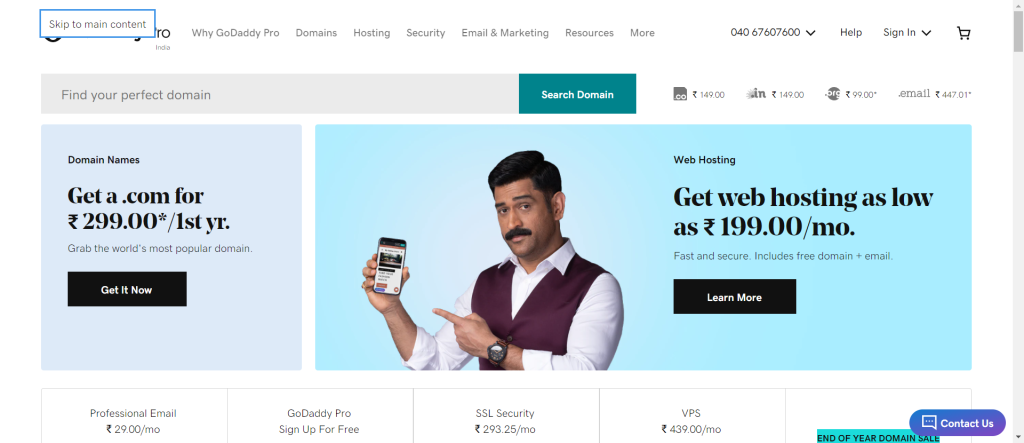 GoDaddy is surely one of the most popular web hosting services in India and around the world.
In terms of website hosting, it is the second-largest web host in the world with over 37,000+ servers around the world. It has a data center in Phoenix Arizona.
GoDaddy has been providing domain name registration services since 1994. It is a place where you can easily get your desired domain names on sale or at a regular price. GoDaddy also offers shared, reseller, VPS, and dedicated hosting services.
GoDaddy Hosting Features: 
Here are the quick features of GoDaddy hosting:
1. Unlimited storage space, bandwidth
2. 24X7 support is offered by the experts of Go Daddy in various languages.
3. It also offers sitebuilder tool which lets you create your website without any prior knowledge about HTML or CSS.
4. Free domain name registration for life ensures that no one can snatch away your domain name.
5. 99% up time ensure that your website will be online 24 hours a day.
6. Free site transfer means you can easily transfer your existing website to Go Daddy Hosting Services.
FastWebHost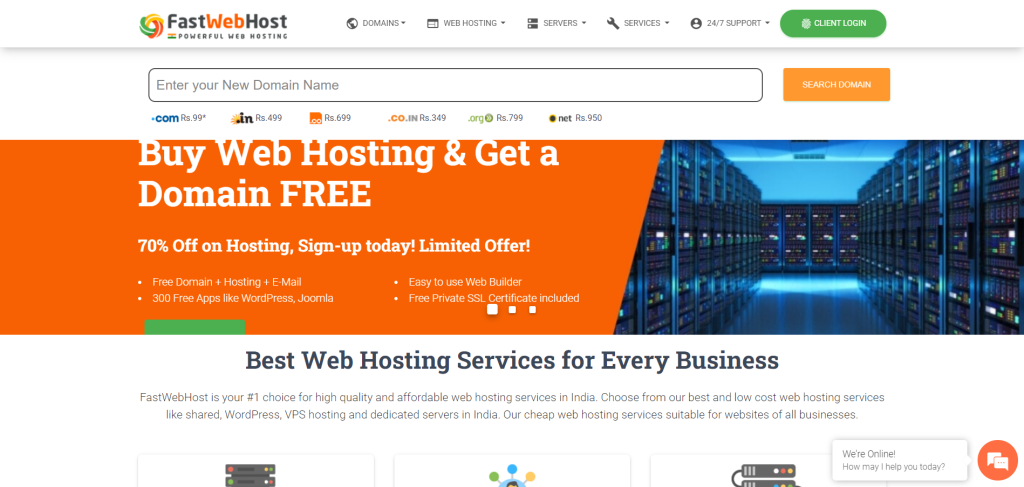 Hoostoople, now known asFastWebHost, claims to be an industry leader in affordable business hosting services.
FastWebHost Hosting offers unlimited monthly bandwidth, free website builder, unlimited email accounts, unlimited MySQL databases, optimized WordPress, a Control panel with cPanel, and free domain parking with all three plans.
They guarantee 99.9% uptime with no setup fees and 24×7 round the clock customer support.
FastWebHost Hosting Pricing
FastWebHost has three WordPress hosting plans pricing which is as follows:
WP Basic Plan at $4.99 per month is limited to 50 GB of web space but it has unlimited bandwidth to host one domain.
WP Advanced Plan at $7.99 per month is a hosting plan with one free domain name and unlimited web space.
WP Pro Plan at $9.99 per month is a hosting plan which also comes with one free domain name with unlimited web space and bandwidth, as well as extra security like SQLi (SQL-I) and XSS Scan, daily FTP scanning, and network security scanning.
Bottom Line: Best Web Hosting Services in India
So these were the top hosting providers and their reviews. I hope this article will help you in choosing the best hosting providers in India according to your preference.
If you know any hosting provider which is not included in the list, please let me know via the comments below. Also, don't forget to share this post with your friends and family on Facebook and Twitter.
Please do not forget to comment below and let us know about your experience of using any of the above-listed hosting providers.
Also Read: