Do you want to know what CreativeLive users had to say in 2023? Now is your chance!
In this review, I will review all aspects of CreativeLive, from their available courses to their quality, pricing, usability, pros, and cons.
Let's get started!
What Is CreativeLive?
CreativeLive, as its name implies, offers high-quality online education for creative endeavors. The "Live" part of their name refers to free live broadcasts of selected online courses accessible 24 hours a day. As a result, Creative + Live was born.

CreativeLive may appear to have only recently appeared on the radars of creators, but it has been assisting people in improving their creative abilities since 2010.
Since its inception in 2010 by Chase Jarvis, CreativeLive has had over 10 million students, two offices in Seattle and San Francisco, and over two billion minutes of content viewed by students (a world-renowned commercial photographer and entrepreneur).
With the recent announcement that Fiverr, awareness of their services, has acquired them will only grow. Additionally, creative professionals can access a broader range of creative learning content through Learn from Fiverr. There is no better deal available.
Who Is CreativeLive Good For?
This course is for you if you want to master your craft and have a creative bone in your body. You can do so by visiting CreativeLive.
Even if you don't consider yourself the "creative type," this platform is an excellent stepping stone, guiding complete beginners through various creative disciplines to inspire them.
CreativeLive offers a variety of courses in addition to photography, videography, personal finance, art, design, crafts, music, and audio.
CreativeLive is ideal for individuals with a creative spirit or a wild imagination!
CreativeLive courses cost how much?
Many of CreativeLive's courses start at $50 and go up to $200, which is on the low end of online platform pricing. It offers discounts frequently, which may make you wonder if it is a marketing strategy. Regardless, they are a pretty good deal, and who doesn't like a good deal?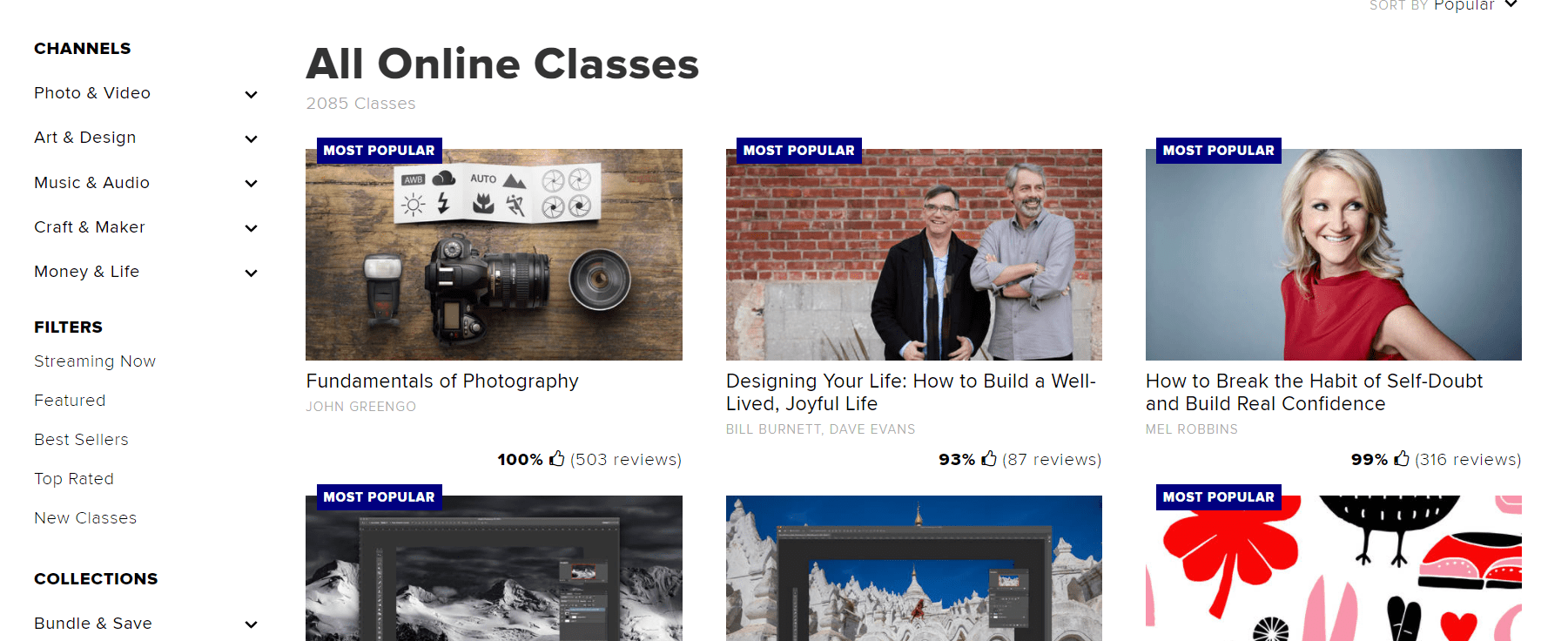 The Creator Pass
Among the other services provided by CreativeLive is the creator pass. With this pass, you can stream 2000+ classes from anywhere at your own pace.
With the creator pass plan, you have three payment options. If you pay in full, the annual plan costs $149. This equates to $12.42 per month. You can pay $15 monthly rather than all at once, but you must commit to a year. There is also a $39 monthly option that is billed monthly. Any of these payment plans does not include taxes.
Thousands of classes to choose from

Take advantage of new classes & exclusive conferences

Fast Class access for a limited time

More than 60k lessons in digestible form

Lessons can be downloaded for offline viewing

Learning paths that are curated

Every month, a new class is published

Gift The Creator Pass
You could also give a friend, colleague, or loved one the Creator Pass as a cool gift. You can either gift a pass for a full year or a month.
CreativeLive for Teams
CreativeLive offers two options for upskilling your team: The Standard or the Enterprise plan, based on your team size. It costs $149 per person, per seat, per year if your team has between 5 and 100 members. You can contact us for a customized quote if you have a team of 1,000 or more.
CreativeLive Free Live Classes
Unlike other online platforms, CreativeLive has a unique feature. It offers free and 24-hour access to CreativeLive TV. Live-streamed content is available from living rooms, studios, and kitchen tables.
There are also live musical performances and Q&A sessions. These free and entertaining offerings are well worth a look.
Then, for each day of the week, view the upcoming classes. All you have to do is RSVP, and a reminder will be sent to you when the classes are live. They also allow you to change your time zone, which is very convenient.
What Are The Steps To Opening A CreativeLive Account?
CreativeLive has a very intuitive registration process. Nevertheless, I thought you might find learning how to join in step-by-step helpful.
Go to creativelive.com in a browser.
Please click the login/SIGN UP link in the top right corner
Use your email address or Facebook or Google accounts to sign up

The new window will allow you to add your full name and choose a password
Following your sign-up, you can select Classes or search for Instructors, Topics, etc. Take a look around and explore the platform. If you want full access to the platform, the Creator Pass option can be found at the top of the page once you click on Classes. See the CreativeLive pricing page for more information.
7 Tips To Find The Perfect CreativeLive Course

Choosing the right course for you is a difficult decision. Here are seven tips to guide you in choosing a course you'll enjoy.
1. Use the Filters
On the left-hand side of the page, you will see all the different filters available to you once you have selected your chosen category. If you know what you need, it is a useful feature.
2. Class Description
You can read the course description for each course. The course will be summarized, and bullet points will be provided on what you will learn.
The topics covered in this class are listed next to the class description (see the image below). The table below provides a quick and easy way to see what topics are covered in each course.
3. Lessons of each Course
The course has been outlined here with all the lessons and their durations, giving you an overview. The class material and lessons are also available in PDF format for download. View these to get a feel for the course.
4. CreativeLive Preview
You can preview the class introduction and perhaps the first lesson when you enter the class page. An introductory course is a great way to learn more about the instructor, get a feel for how they teach, and decide if the course fits your needs.
5. Reviews at CreativeLive
On each course page, you can read reviews from previous CreativeLive students who enrolled in and completed the course. The reviews indicate a thumbs up or down and an overall percentage of students recommending the course.
It's a basic review system but useful for comparing positive and negative feedback. If you want a more comprehensive review system, look into Skillshare or Udemy.
6. Student Work
While studying, students can upload their coursework to CreativeLive. This not only allows students to display their work but it also allows prospective students to see what previous students have created. You may know that you will frequently be expected to produce a final work in creative courses.
7. Industry Icon Instructors
Over 700 master creators are CreativeLive's instructors, including Grammy winners, best-sellers, and renowned photographers.
Mel Robbins and Richard Branson are some names you may recognize. In-house videographers film all CreativeLive videos, ensuring top-notch quality.
Over 700+ best-selling authors, Grammys, and Oscar winners teach classes at this school. When classes are streaming live, you can access them for free.
CreativeLive lets you learn from your computer or mobile device, allowing you to learn on the go, and the class videos and materials are downloadable. On individual courses, there is a generous 30-day refund policy; on creator passes, there is a generous 7-day refund policy.
[/alert-success]
Quick Links 
CreativeLive Review Verdict
It is a platform for innovators and creatives. We aim to reinvent education and provide everyone with access to visionaries, leaders, and professionals who will inspire them. Offering 30 days of money back if not satisfied with their course and working with professional creatives to teach their courses.