Who doesn't enjoy delicious, mouth-watering cuisine?
Everyone has a preference for different cuisines; some prefer Italian, some prefer Continental, still others prefer Chinese, and so on.
What better way to influence people to prepare intriguing and inventive foods at home in this era of social media than to encourage them to experience new flavours without having to go out to restaurants?
In India, there are also plenty of well-known food bloggers that provide a wide range of original recipes as well as how-to videos on YouTube.
Today, we'll take a look at some of the food bloggers who provide a wealth of recipes for their followers so that they can try a variety of cuisines at home.
If you're a beginner in the kitchen and don't want to waste time figuring out the recipe directions your mother gave you over the phone, social media is a wonderful place to start.
Rather than getting overwhelmed by long, difficult-to-follow recipes, we recommend following these Indian cuisine blogs! They will make preparing your favourite meals simple and enjoyable.
Best Food Bloggers In India 2022
We present to you, without further ado, our favourite food bloggers:
1. Shivesh Bhatia
Shivesh Bhatia's success storey is self-evident: a self-taught baker who became an Instagram influencer and one of the most well-known Indian food bloggers with over 300k followers, author of a cookbook, and content producer for brands like Cadbury's and Epigamia.
The baking prodigy, on the other hand, attributes his success to his grandmother and her passion for baking.
After she died, he began baking when he was 16 years old. "It was a method for me to keep her memories alive." Baking became a stress reliever for me while I was studying political science. So I decided to try my hand at food blogging."
When asked for tips on how to manage a food blog, he emphasises consistency, engagement, and confidence.
2. Karishma Sakhrani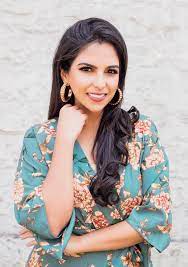 Karishma Sakhrani has come a long way from being a business development to being a finalist on MasterChef India. Her drive to eat well fuels her passion for eating. "The joy of creating delicious and beautiful nutritious cuisine still excites me!"
"My cuisine is always beautifully plated or put together, and it is always clean without being preachy," she explains.
Sakhrani spends her time frolicking throughout the world when she is not at the gym or in the kitchen. Sakhrani prefers a Neapolitan pizza and a glass of Merlot as her last supper, despite the fact that she is all about balance and healthy living.
On her website and Instagram feed, she shares recipes, diet suggestions, and travel stories.
3. Ministry of Curry
Don't have time to stand by the stove for hours cooking? Ministry of Curry is known for her easy-to-make instant pot and air fryer dishes. Archana Mundhe is a former software engineer who grew up in a small hamlet near Mumbai before emigrating to the United States in the late 1990s. Mushroom masala, paneer tikka, masala fries, and dal makhani are just a few of her fail-safe recipes.
Archana's library of vegetarian and nonvegetarian recipes is extensive. She also enjoys recreating Tiktok recipes that have gone viral, such as pasta chip, feta pasta, ramen, and the tortilla craze.
Archana wrote her first book, the 'Essential Indian Instant Pot Cookbook,' a few years ago, which was featured in Oprah Magazine and People Magazine.
4. Pipping Pot Curry
Do you have a strong desire for Indian cuisine and are looking for easy but classic Indian recipes?
Meeta Arora's website contains a large collection of vegan, vegetarian, and nonvegetarian recipes from all around India. Pav bhaji, palak paneer, poha, butter chicken, chicken vindaloo, dhokla, and gujurati khandvi are some of her most famous traditional recipes.
Meeta Arora is a California-based former Product Specialist. Meeta enjoys utilising time-saving contemporary kitchen gadgets like an instant pot, air fryer, and KitchenAid to make classic Indian meals. MSN, Buzzfeed, and Taste of Home have all profiled her.
5. Vegan Richa
This site is dedicated to Bread, Indian, Vegan Recipes, as well as entire, organic, and healthful meals, one at a time.
This is a well-indexed blog containing postings about recipes in general as well as recipes for specific holidays and events, such as 25 Valentine's Day Breakfasts and so on.
This site reads like an interest article, with lots of hilarious allusions and photographs to complement and make the experience easier and more pleasurable for its readers.
They also have a great selection of baked goodies that you should try!
6. Slice of my Lyfe
It's a classic culinary blog that covers a wide range of topics. Here you'll discover recipes for vegetarian, non-vegetarian, fine dining, and simple snacks.
The writer has started doing Restaurant Reviews, where she goes to a different restaurant every week for six months in Bahrain and describes the experience in great detail for her viewers.
The site is well-known for its baking experiments and heartfelt writing under the category Food Chronicles, where she not only provides a complete list of all ingredients but also complements her pieces with her photographic talents.
7. The Chutney Life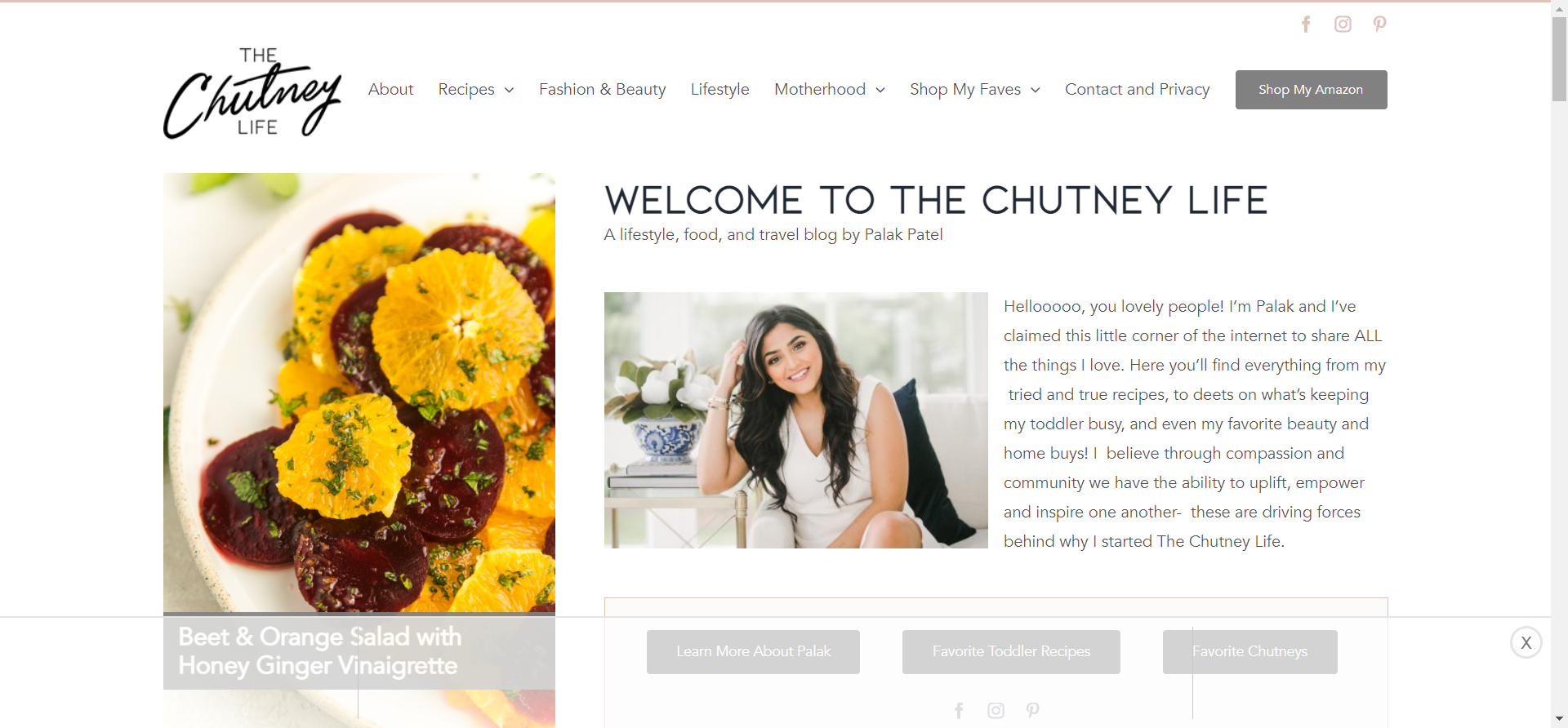 Palak Patel, a.k.a. thechutneylife. Palak grew up in a huge Indian household on the east coast. Her dishes are based on her mother's cuisine, but she adds her own touches to them.
Palak is your lady if you're seeking for Indian fusion recipes and meal ideas to keep your toddlers pleased. Mexican papdi chaat, tandoori vegetarian quesadillas, samosa chaat pizza, masala corn toast, and tandoori chicken wings are among her delectable delicacies.
Moong dal pudla, khichdi, and broccoli quinoa tikki are some of Palak's toddler-friendly dishes. Palak is a frequent visitor to Patel Brothers. Take a look at her Patel Brothers haul for some of her family's favourites.
8. Deeba Rajpal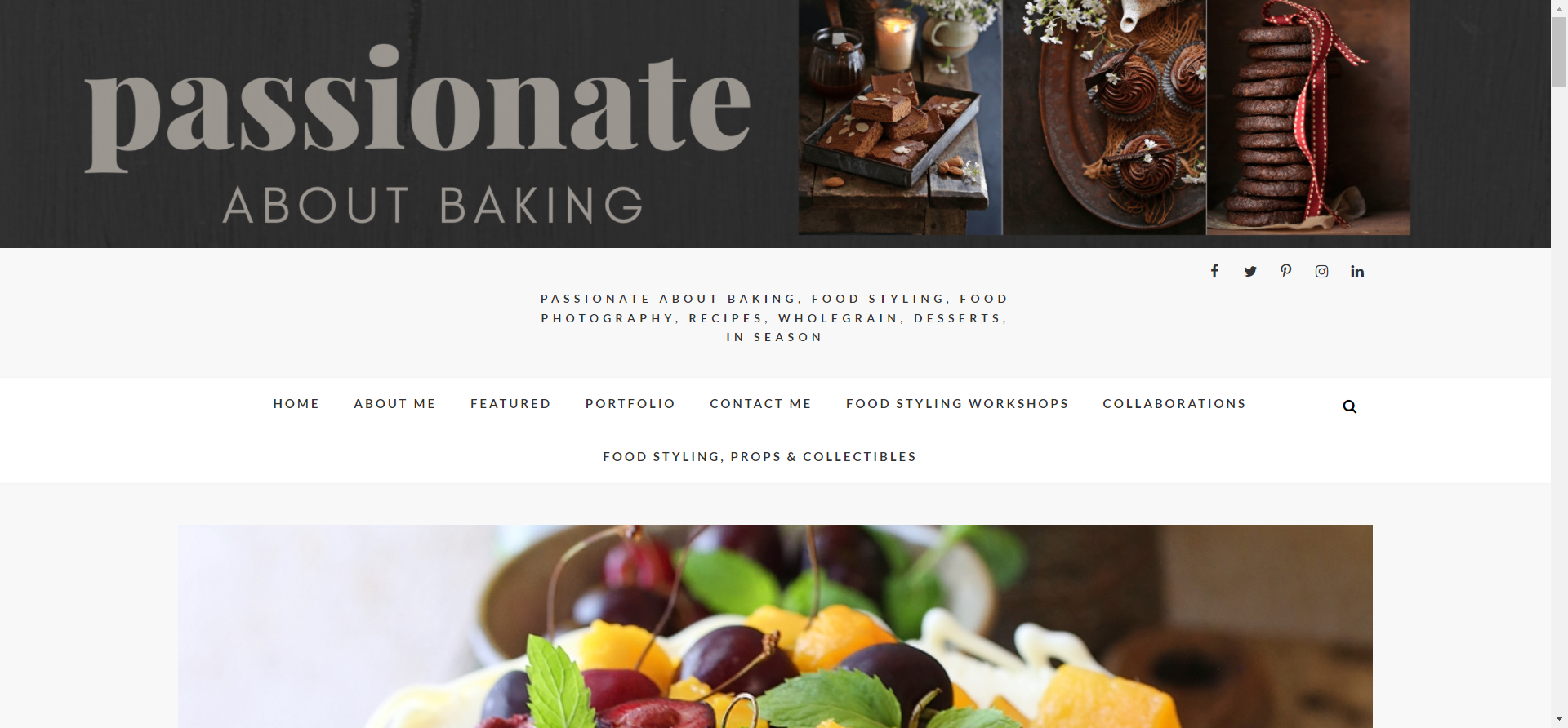 Deeba Rajpal's springboard for creation developed from what began as a platform for her to share her love with the world.
Baking is still at the top of Rajpal's list, but a decade of blogging has taught her that engaging your audience in this ever-changing subculture requires more. She characterises her motto as "fewer words, spectacular imagery, material that sticks out, and a takeaway for the viewer."
Her Instagram and blog, Passionate About Baking, are known for their dark, moody, and rustic photography, as well as their unapologetic usage of Indian décor and accents. Chef Vikas Khanna's books My First Kitchen, Pentagram's Teabox, and other high-profile food styling projects have landed the baker-blogger. The Indian food blogger is now working on a dessert cookbook.
Quick Links 
Conclusion: Best Food Bloggers In India 2023
Was this a list that piqued your interest?
As you go down the list, you'll see that you've probably seen food blogs by at least one of the bloggers named. That's all I have for today's foodie viewers. We'll be back with more intriguing content shortly.
Also do let us know in the comments section below if you found this article helpful.