The field of interior design is gaining popularity today. It is a dream of many people to become interior designers, but lack the time to pursue their dreams.
Additionally, online education is becoming increasingly popular due to the high tuition costs of conventional education.
Online learning seems to be about as effective as real-life, face-to-face education, as evidenced by various studies.
You don't need to put off your dreams until you have the money or time to pursue them. You can learn the basics of interior design from home by taking one of these 10 online interior design courses.
Check out this guide on How to Design Kitchen Interiors for tips on decorating your specific home zone.
You should also check out some of the advanced courses if you are already an interior designer and want to further expand your knowledge.
No prerequisites or bachelor's degrees are required for these non-degree courses. An interior design passion, a laptop, and some dedication are all you need.
10 Best Online Interior Design Courses In 2023
1. The Interior Design Institute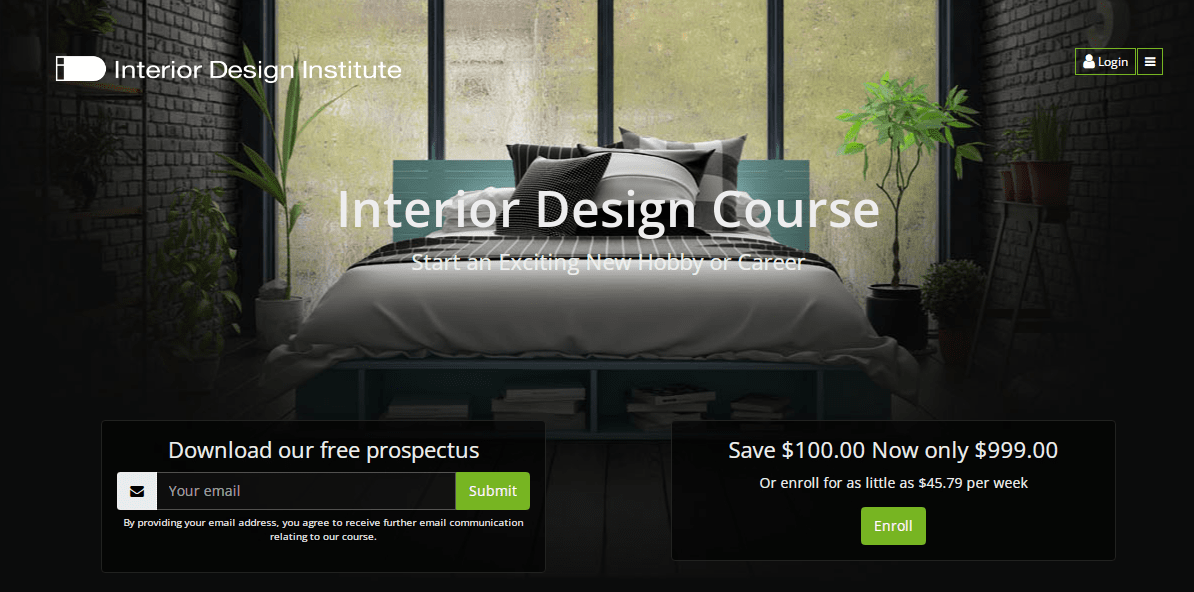 Several accreditation organizations, including the British Business Bureau, the British Accreditation and Recognition Council, and the UK register of learning providers accredit this particular interior design course.
One of the best online courses in interior design, it is professional and high-quality. The course focuses on interior design practice and teaches the necessary technical skills.
There are 12 modules in this intensive online course, each requiring an interactive assignment. Students can access the course at their own pace.
Studying 4-6 hours per week could take you approximately 24 weeks to complete the course. You might take about a year to complete it, though, if you have a lot on your plate. That's what previous students have said.
2. Udemy Online Interior Design Courses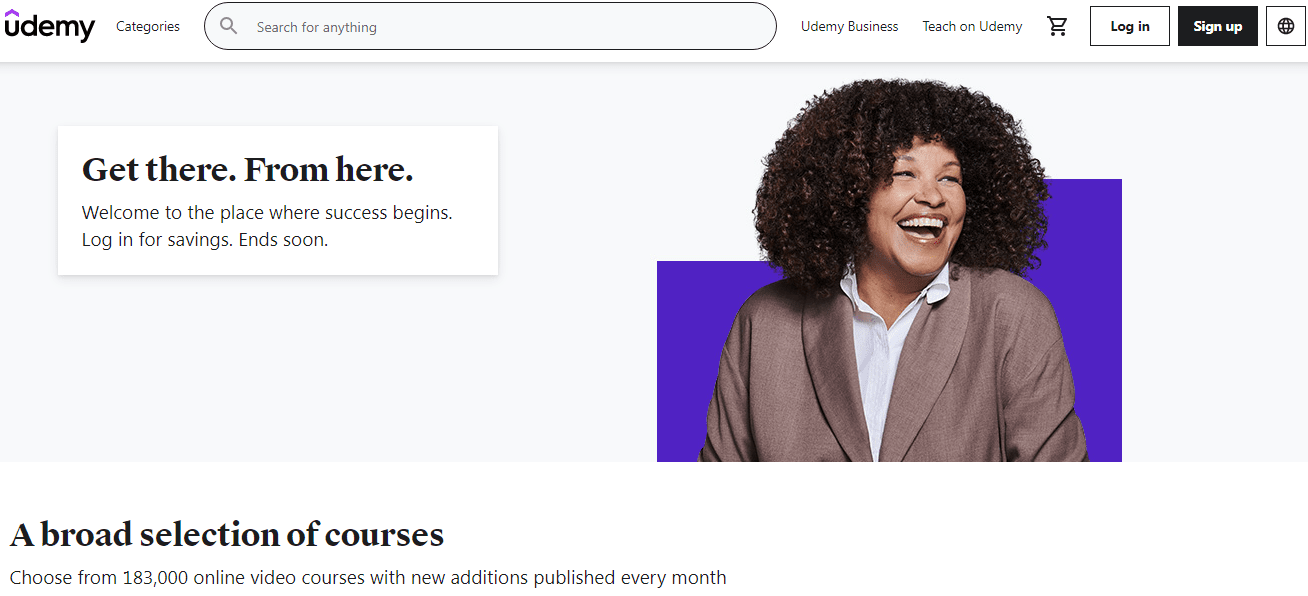 From beginner courses to advanced classes, Udemy offers a wide range of courses. There is nothing time-consuming about Udemy courses, and they can fit into almost anyone's schedule.
Micheal Neatu's "Interior Design 101" is among the best online interior design courses available on Udemy. In addition to 84 short lectures, the course is 17.5 hours in length.
Udemy courses are not free to audit, but you can benefit from discounts all year round.
In "Interior Design 101", the instructor emphasizes the skills of sketching and graphical drawing that are necessary to practice the profession.
Drawing correctly and professionally will help you express your ideas in a professional manner. 
3. Inchbald School of Design, Design Your Living Space Online Course

Many academic courses at the Inchbald School of Design can take as long as three years to complete. The store also offers an online interior design course that lasts only three months called "Design Your Living Space".
In the course, you will learn about interior decorating. Throughout this book, you will learn how interior design can be both practical and functional yet aesthetically pleasing.
We will teach you how to compile an inspiring mood board, how to make floor plans and elevations of your space, and how to make sample boards for your furniture and finishing materials. The fee for the course is £1260 plus VAT (1710$ USD).
4. Interior Visualization Courses offered by Lynda:
What if a mood board and ideas you have were turned into a fully functional space? Interior designers who want to see their ideas come to life should have strong 3D visualization, rendering, and drafting skills.
People who wish to pursue careers in interior design need to master interior design software because of the wide variety of lighting effects, materials, and furniture.
Because of this, Lynda offers classes in Revit, Rhino, 3Ds Max, and Sketchup for visualizing interior spaces.
A leading online learning tool, Lynda provides courses that are short and focused, lasting no more than two hours per video tutorial.
5. New York School of Interior Design (NYSID)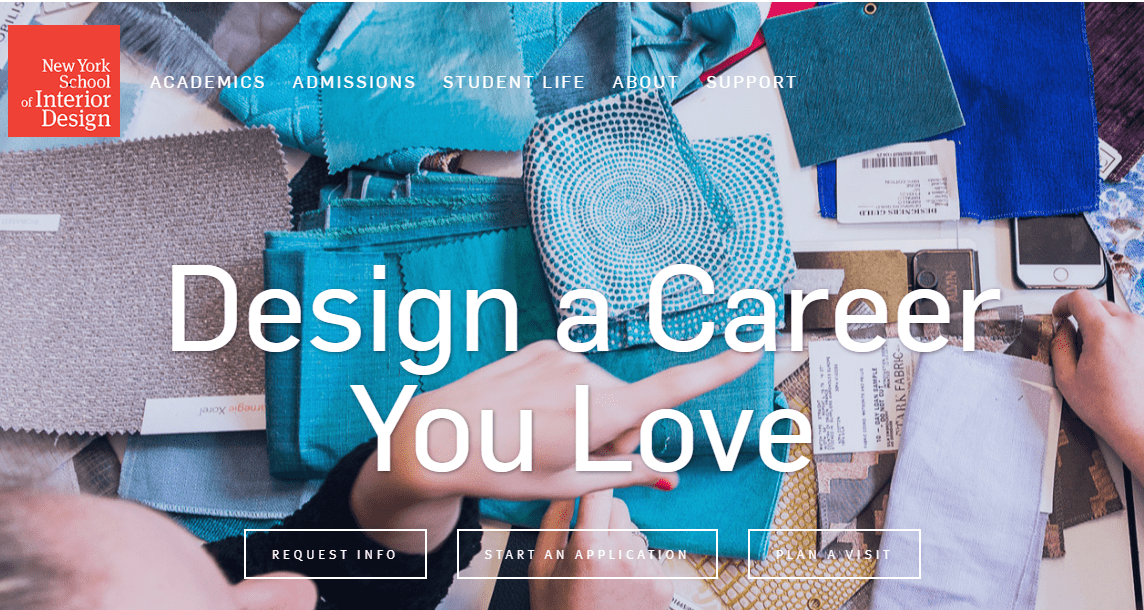 A non-profit, accredited college founded in 1916, NYSID specializes in interior design education. They provide both degrees and non-degree programs.
On the online platform, they aim at providing the same high-quality learning experience as they do in real life.
Professors who conduct online courses, make assignments, and engage in discussions are the same ones you would meet in person.
The NYSID program includes a broad understanding of both 2D and 3D software for interior design applications, as well as building codes and safety requirements, as well as textiles, materials, space planning, and sustainability.
6. The Art Institute of Pittsburgh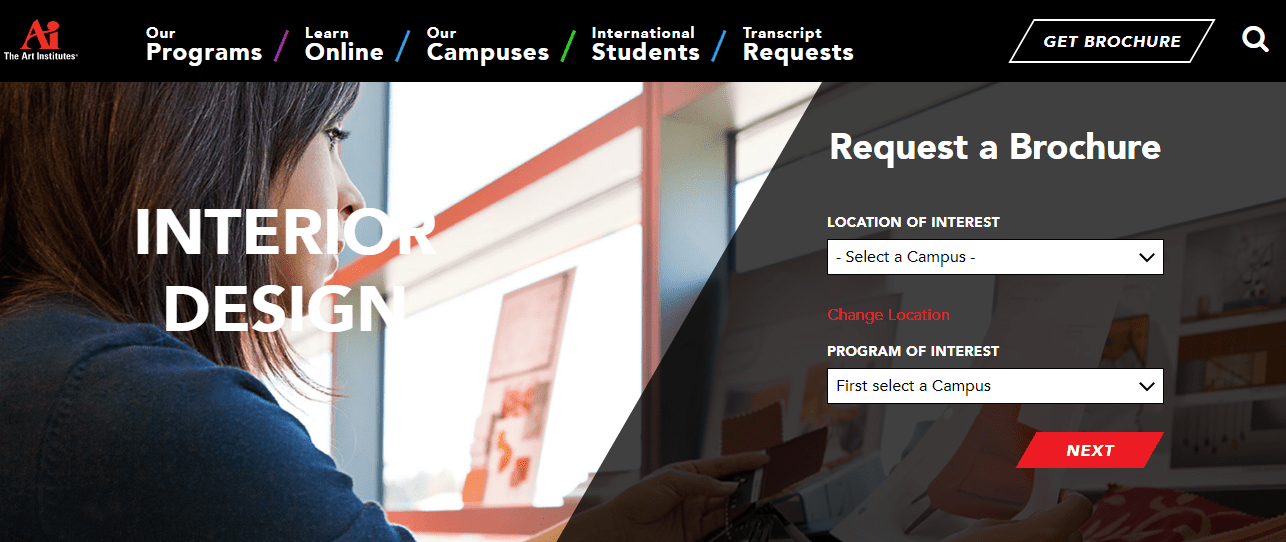 This program, in particular, is aimed at people interested in interior design. If you are looking for a bachelor's degree that can be completed online, you can apply to their bachelor of science in Interior Design program (15 quarters).
The Diploma for Residential Planning (4 quarters) is a perfect option for those who wish to pursue a shorter degree. A year-long program that will turn you into a competent interior designer.
The course includes topics like drafting, interior design history, space planning, textiles, and materials knowledge, as well as the business ethics that apply to the profession of interior design. 
7. New York Institute of Art and Design (NYIAD)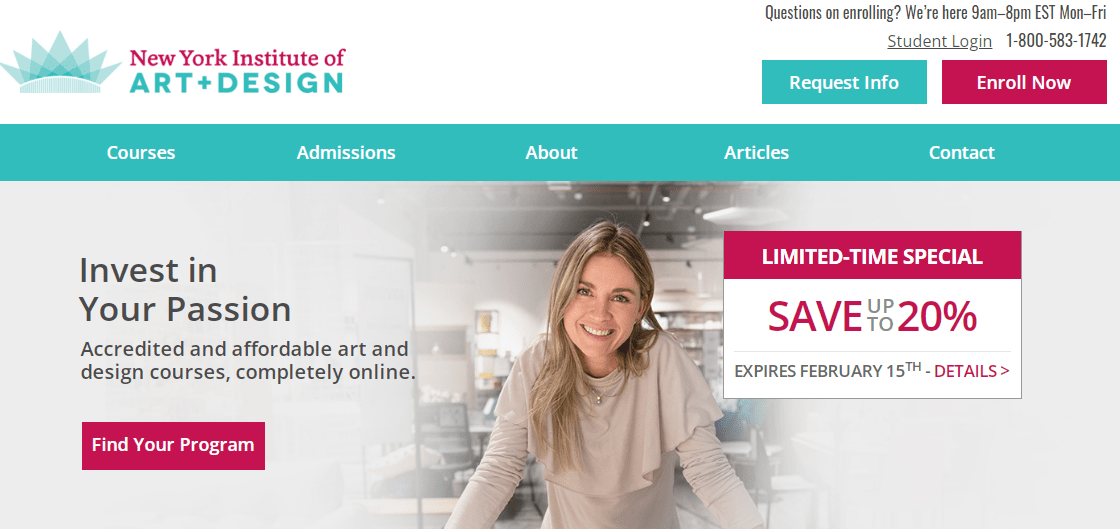 By earning an accredited design degree from the Designer Society of America, you can gain a comprehensive understanding of interior design for professionals.
It takes approximately 16 to 18 months to complete this course, during which you can access the materials every day. In addition, you can complete the course at your own pace.
There is also a student forum where you can get one-on-one feedback from professionals in the field. Therefore, you won't miss out on any of the benefits of face-to-face learning.
8. British College of Interior Design (BCID)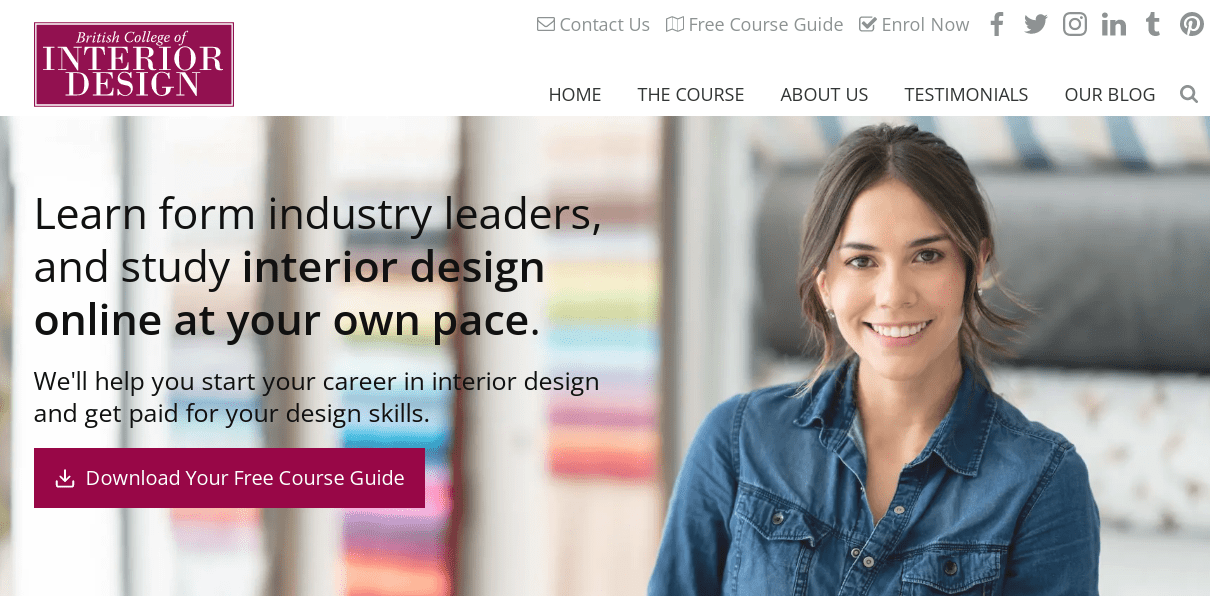 It could take anywhere from 12 to 24 weeks to complete the Professional Interior Design course. You can take up to 2 years if you're really slow. You'll learn how to become a full-time or part-time interior designer with this course.
9. National Design Academy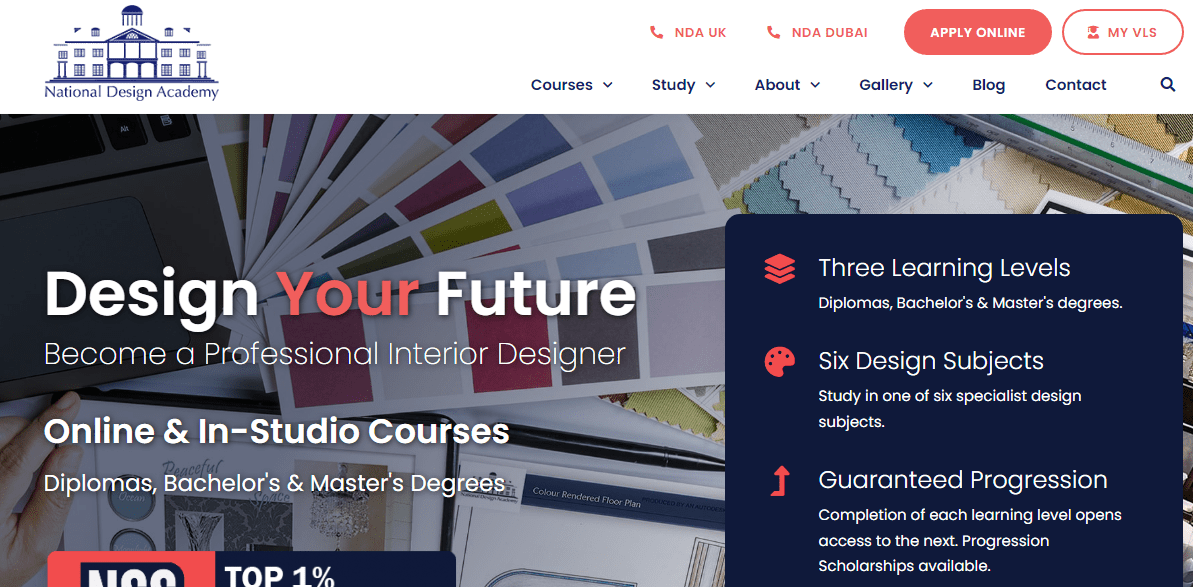 Interior design courses are available through the National Design Academy (NDA). A diploma, a bachelor's degree, or even a master's degree can be earned.
You can reach a tutor anytime, receive video tutorials for visualization software, and view samples from previous students' work which you can use as a reference.
You'll also get a student helpline, very flexible dates (you can learn at your own pace), a personal tutor at your disposal, and video tutorials for visualization software.
10. Interior Design Courses Online at Decorating Studio:
There is nothing difficult about this course, and it is suitable for beginners. There are 6 classes in this series, which cover colors, furniture, accessories, and window treatments.
The book includes ideas and examples for decorating. It is important to understand that interior design and interior decoration are not the same things. It is even called "interior architecture" in some countries.
Furthermore, this basic course does not focus on the technical aspects of interior design. An introductory guide to interior design aimed at beginners. You can download it for free. and you do not even have to register!
Quick Links