Sprintzeal is one of the most recognized global training providers. Since its inception, 2011, Sprintzeal has delivered high-value services proving itself as one of the most trusted professional training and certification providers. It offers over 100 courses for professionals and helps them advance in their careers. In this sprintzeal review, we'll go through all the aspects of this platform, its features, pros, and cons.
May it is employees, experienced professionals, job seekers, or even students/graduates, the wide range of courses offered on the Sprintzeal App will help everyone grow professionally by catering to their learning needs
Sprintzeal Review 2023: Is It Worth Money??
Overview
For all those seeking professional training and aiming to get certified, Sprintzeal is the answer. There are plenty of certification courses available on Sprintzeal's website and you can easily find the one that suits your profession, serves your goals, and is beneficial for the current situation in your career.

With some elaborate and careful research on the web, you can understand the use, necessity and demand of the courses offered. The importance of keeping up with the changing technology trends is well known to us and the fact is that certified professionals are preferred by many employers when compared to non-certified individuals.
No organization would want to let the technological deficiencies get in the way of their profits and client relationships.
Hence, Sprintzeal brings great training programs with 3 different modes of learning and a wide range of certification courses.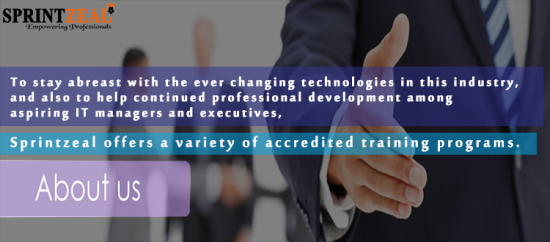 You can start by checking out their website to get an idea about certification courses. Let's take a quick look at the top certification courses provided at Sprintzeal.
Sprintzeal Courses:
Below listed are our most popular courses: 
PMP Training, ITIL Training, SSBB Training, SSGB Training
Certified by governing bodies like PMI® (USA) and AXELOS, they provide training programs with great pass results. Hop on to the course details page https://www.sprintzeal.com/all-courses and find the course that suits you best.
About the training and courses
Considering their well-planned training sessions, well-structured courseware, and guidance from experienced trainers, they are sure to offer high-quality training. Sprintzeal has a record of helping the candidate clear exams in first attempts and their pass results are incredible.
A sample training video
With Sprintzeal, you needn't worry about which books or study materials to follow since they are provided by the organization itself. You can refer to the material provided/recommended by the trainers and you're good to go. With expertise in the industry, the trainers are highly educated and experienced which serves as an assurance that you're in good hands.
provides training programs in various fields like sales, marketing, operations, management, and consultancy.
The courses offered by Sprintzeal provide in-depth knowledge about the concepts and ensures its usage in profiting businesses. It introduces you to the basics and goes on to provide a broader and in-depth understanding of the field, this ensures the candidate learns and applies all the concepts.
Here are some of the most famous and widely famous certification training programs offered by Sprintzeal:
Project Management Professional (PMP) TRAINING
Information Technology Infrastructure Library (ITIL) TRAINING
Six Sigma Black Belt (SSBB) TRAINING
Six Sigma Green Belt (SSGB) TRAINING
PRINCE2 TRAININGMSP TRAINING
LEAN SIX SIGMA TRAINING
DEVOPS TRAINING
Certified Business Analysis Professional (CBAP)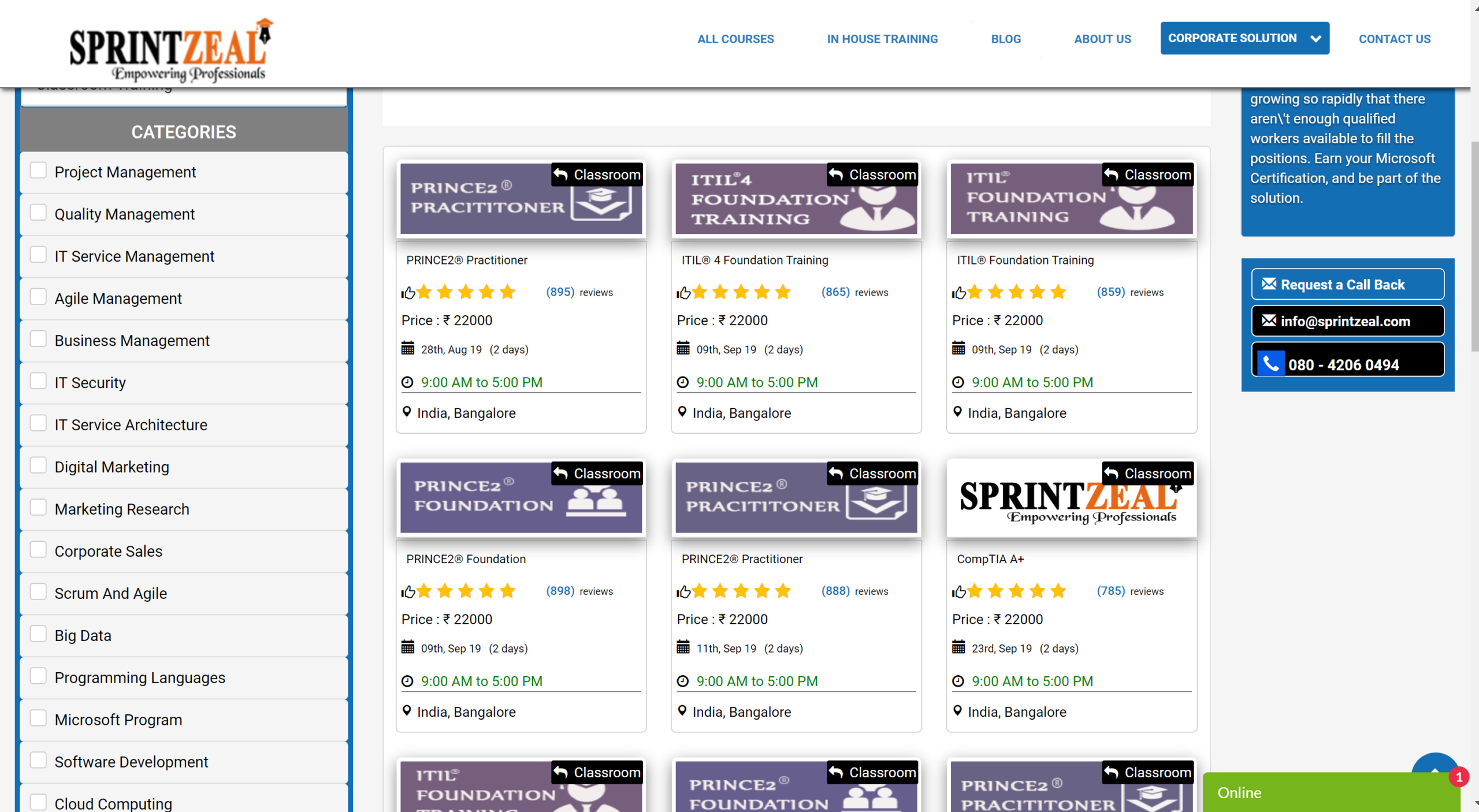 To know more about the courses offered by Sprintzeal, check out the web page
About modes of training:
offers training in three modes — online training, classroom training and live virtual training. If you are confused about these, refer the information provided below,
Sprintzeal's online training offers web-based training for over 100+ courses. The classes are conducted by a certified trainer with vast knowledge in the area and training experience. High-quality training videos are provided which can be accessed from anywhere in the world and at any time.
Basic knowledge of using computers and access to stable internet is all one needs to get the most of the online training.
What is classroom training?
In the classroom mode of training, professionals can take up the course by attending classes the conventional way and learn like a student. You can enroll in the upcoming batch and join the trainers. Professionals can take up this offline form of training and attend classes in groups.
What is live virtual classroom training?
Live virtual classroom training is a personalized form of online training where the student and the trainer are live and face-to-face, discussing concepts and doubts online. This mode of training is preferred by professionals who wish to remove minor inconveniences that come with watching pre-recorded videos for training and by those who want the flexibility that classroom training fails to offer.
About the app:
By signing up through the app you can avail a special offer and get access to a bunch of certification courses at just $5 per month subscription. You can get access to all the training videos from all the fields; this gives you the freedom to get certified in more than one course.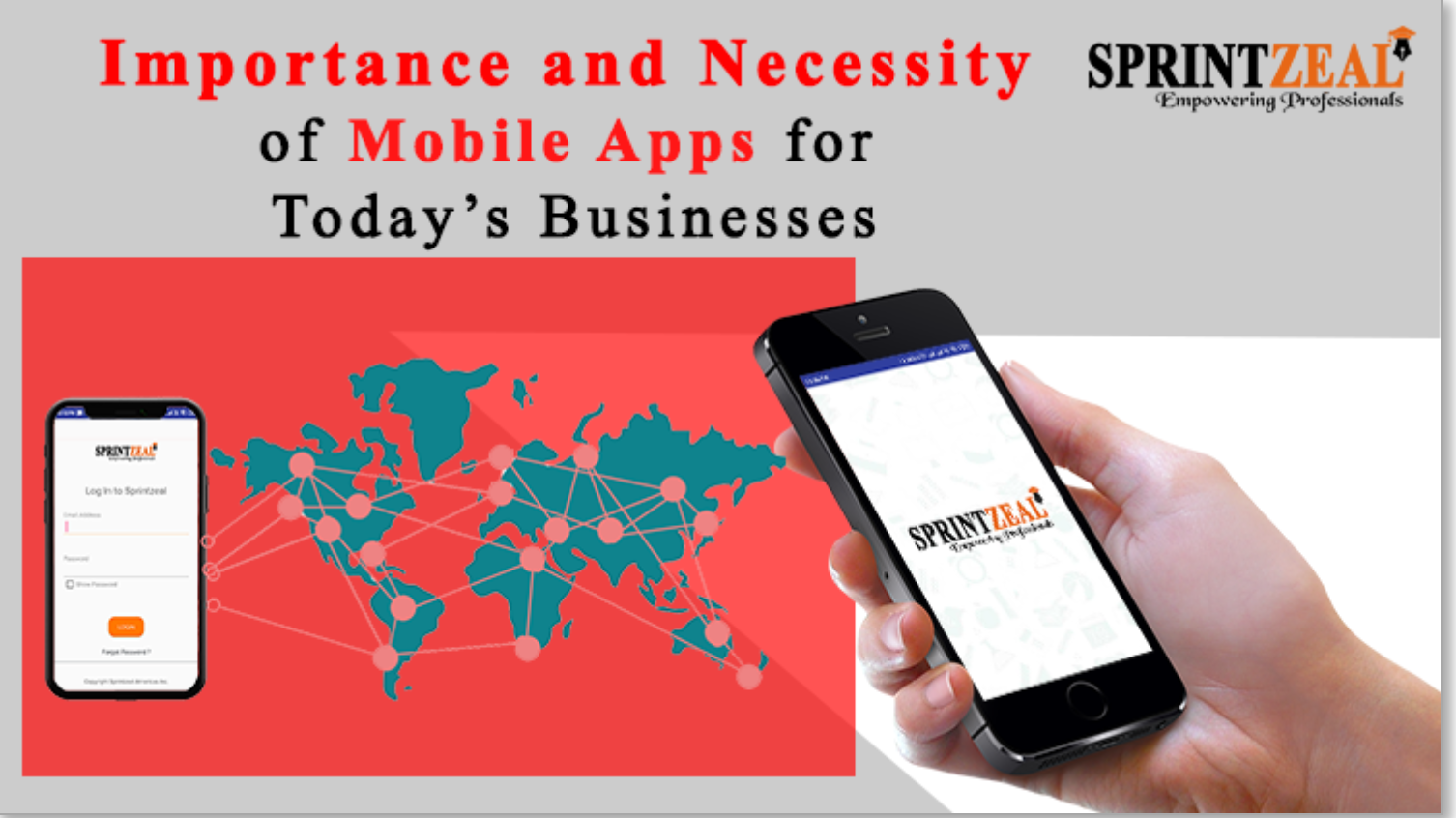 Plus, you can learn at your own pace, renew the subscription at the end of the month or choose to cancel at any time before the expiry of subscription.
Download the app or hop onto the newly launched LMS site for more details and to get a broader picture of the concept.
Why Sprintzeal?
Benefits of certification are innumerable and we are aware of the rising demand for certified professionals. To take a step forward in the career that seems to have been dormant for a long time, getting certification and updating your skills seems like the best option. The whole agenda of learning with Sprintzeal is to get the right knowledge and guidance so that you can go ahead and put it to proper use.
Sprintzeal values quality of training, customer satisfaction and authenticity over anything. This makes it one of the best e-learning platforms.
Not just that, Sprintzeal also offers training courses in various modes of study. If you are a working professional aspiring to expand your knowledge, wishing to enhance career opportunities but struggling with time constraints, then the self-paced online training offered here is the best fit for you.
Classroom training and on-site training are the other two modes, suitable for professional or fresher who prefer to study in groups.
For more details or queries, hop onto their contact page and get in touch with them. They'd be happy to guide you with your requirements.
If you prefer learning on the web using your laptop or desktop, take a look at their lms portal
How to get started?
To take up a course from Sprintzeal, you can visit their main website and sign up for online training. The sign-up process is very easy and involves only a few simple steps. You are required to create an account by adding your details and this will be your login credentials.
After signing up, you will have to make the payment and this will take you to the page showcasing all the courses available online.
In case you are opting for classroom training, you will need to reach out to the organization by sending in a query via email, or by calling them using their contact info. You can also use the live chat option available on their website.
Long before the internet came into the picture, learning was a process conducted using conventional methods of teaching that included classrooms, papers, and pens.
It encouraged group learning and served a great purpose in providing exposure to kids from a young age. However, that is not a universally applicable solution that applies to every phase of learning. With changing times and growing years, the requirements and priorities of people change.
Fees and Pricing:
offers training in three modes of study — classroom training, online training, live virtual training, and the fee varies based on the option you choose.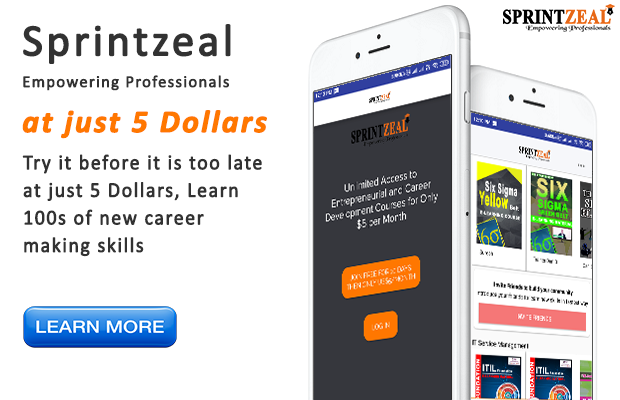 All the courses from Sprintzeal are affordable when compared to other e-learning platforms offering professional training and certification.
And when compared to other modes of study, online mode of training is feasible and cheap. You can download the Sprintzeal app and take up the training at just $5 subscription. A candidate can finish learning and training in about 3 months which brings us to $15 for completion of one course. It seems like a good offer considering the prices that are going around in the market.
Want to join Sprintzeal as an affiliate?
Are you interested to become an affiliate?
Join Sprintzeal by signing up and get started right away.
Sprintzeal offers 100+ courses that give you a lot to choose from. Go through their website and pick the product that stands relevant to your website or blog.
Become a part of the organization and get recognized as an integrated part of one of the major global training providers.
What do they offer under their affiliate program?
Flexibility to choose the products you wish to advertise.
Great commission rates like,
On self-learning courses – 25% commission per sale
On instructor-led courses – 10% commission per sale
On sales above $5000, we offer a commission of 25%.
90 days cookie
Timely, secure and genuine payments
Access to Account manager dashboard after sign up
Free sign up
Attractive offers and discounts for affiliate websites.
Not a member? Sign up by clicking here and embark on the journey to earning a great income.
For more details, hop onto the main website and go through the services offered by Sprintzeal
Quick Links:
Conclusion: Is Sprintzeal Worth Money??
If you are waiting for the right time to get started with learning about new technologies and enhancing your career, this is it. Furthermore, Sprintzeal has recently launched its mobile app. As a launch offer, they are providing access to all the certification courses at just a $5 per month subscription.
You get a 10-day free trial. You can cancel the subscription anytime you want. They are now taking informal learning to the next level with their mobile application; where you can find all the training courses, right at your fingertips. With this, they aim to make learning easy and effective.
Interested? Reach out to them at www.sprintzeal.com  for further details.