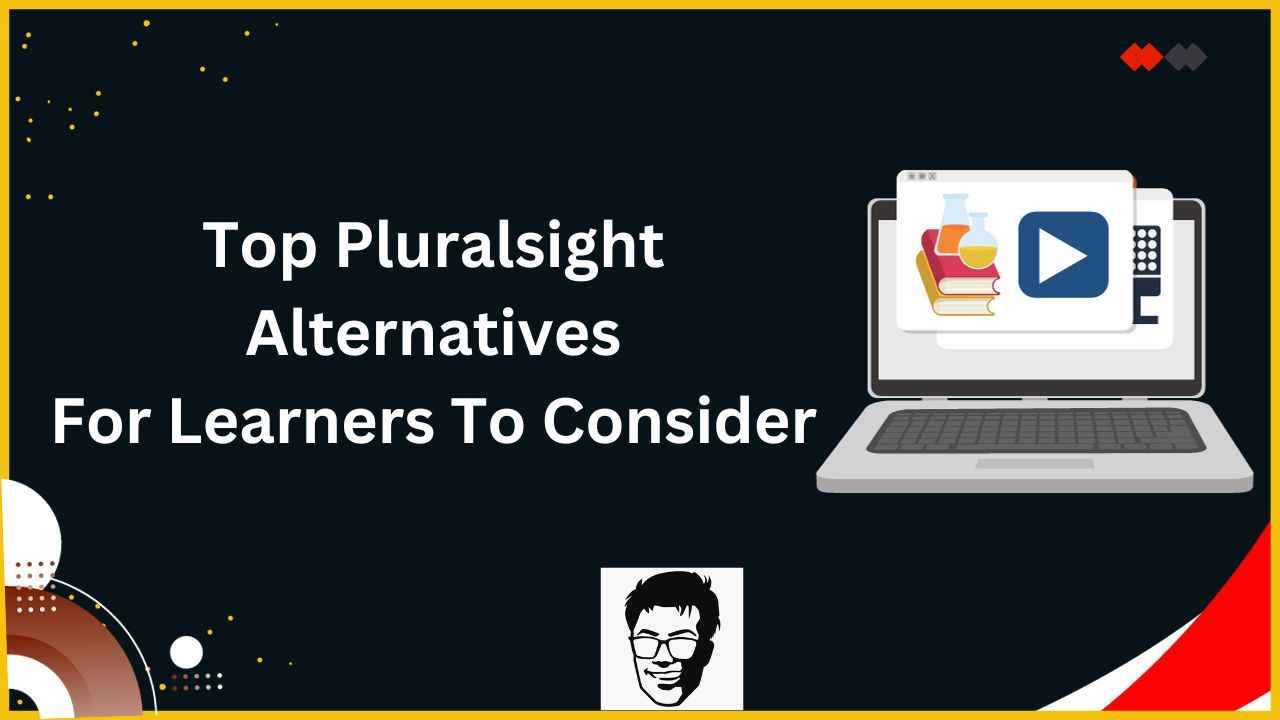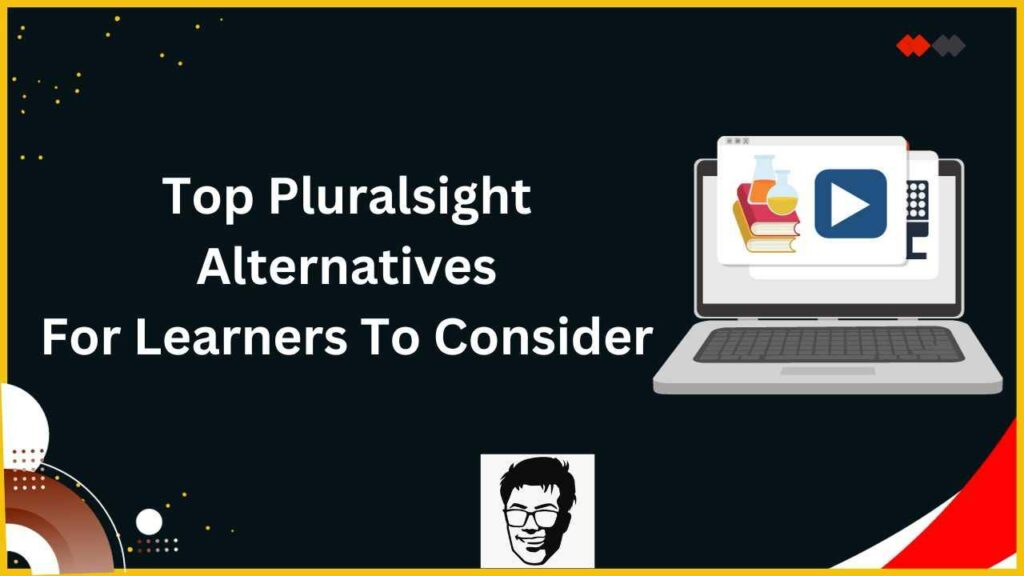 Picking the right place to learn and share your knowledge is very important if you create courses. Pluralsight is a popular option for many teachers. It has lots of courses related to IT, technology, and related fields.
Pluralsight is great, but there are other options, too. You might want to find something else that works better for you.
I understand that people have different needs for online teaching. That's why I have shared the list of Best Pluralsight Alternatives for learners to consider.
I've picked these alternatives based on my experience and written reviews. I looked at things like how good the teachers are, what they teach, curriculum, pricing, and pros and cons.
I'm here to help you find the right platform as the Pluralsight alternative.
Bottom Line Upfront: 
What is Pluralsight?
Pluralsight was created by Aaron Skonnard, Keith Brown, Fritz Onion, and Bill Williams in 2004 as a company that taught classes in a physical classroom.


Over time, Pluralsight changed its focus and became an online learning platform. Nowadays, it helps more than 1.5 million individuals and over 17,000 businesses from all around the world.
Pluralsight offers many popular certifications in subjects like Microsoft Azure, Python, Javascript, and AWS. But don't think these courses are boring!
Pluralsight excites learning by giving you hands-on labs and activities, skill tests, and even team role assessments. They also provide roadmaps and gap analysis to help you plan your learning journey.
If you're interested in a career in data and cyber security, Pluralsight has two main paths you can choose from. One is CompTIA Security+, which includes 24 hours of learning and a practice exam.
The other is Information Security Testing and Auditing with Nmap, which has 5 hours of learning and four lessons. You can also explore this career step by step by taking classes like "Approaching Automated Security Testing in DevSecOps" or "Securing Data with Asymmetric Cryptography."
There are many options to suit your learning style and goals. Read my detailed Pluralsight Review to learn about the platform.
Best Pluralsight Alternatives 2023
Pluralsight is famous for its tech courses aimed at creative professionals. But if you're not completely happy with Pluralsight, I've gathered some other Pluralsight alternatives that you might want to check out:
1. Coursera (# 1 Pluralsight Alternative)
Coursera is a leading MOOC platform, renowned for its partnerships with prestigious institutions like Yale and Stanford. It offers high-quality content developed by in-house industry experts, providing learners with direct access to top-tier colleges.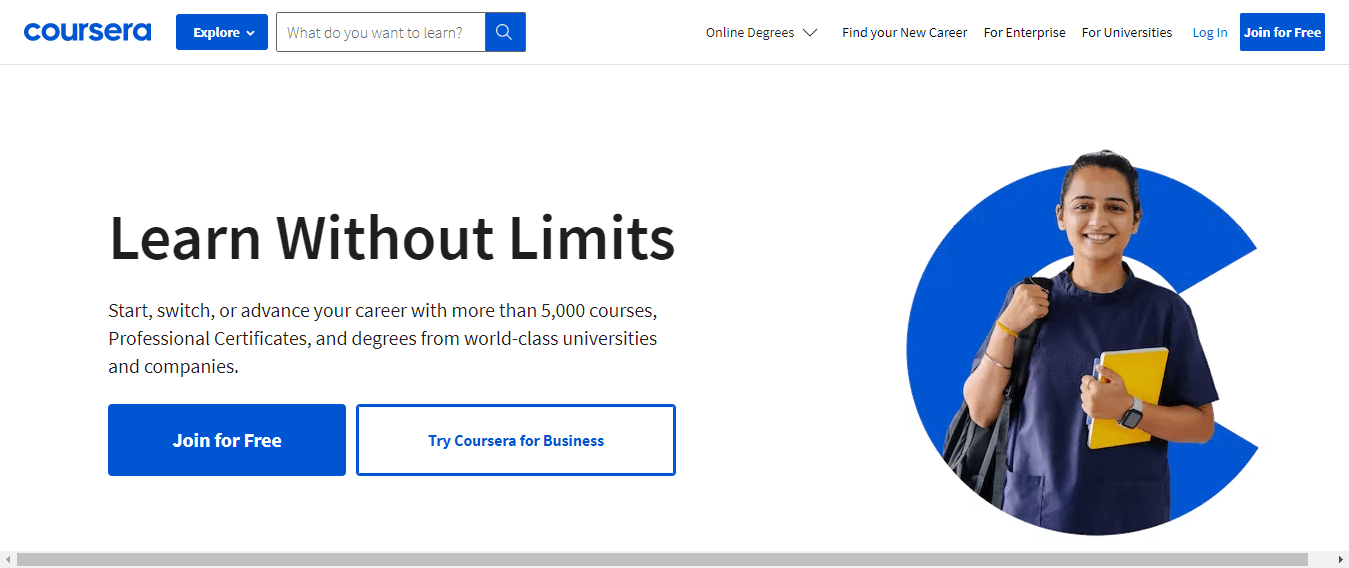 For those who want to explore without commitment, Coursera allows you to audit over 1000+ courses for free. However, if you aim to validate your learning and enhance your resume, paid courses offer certificates upon completion, which can be a valuable addition to your credentials.
Moreover, Coursera Plus offers a convenient free trial, allowing you to test the platform and access many courses and content. This trial can be an excellent way to experience the platform firsthand and decide if it aligns with your learning goals.
The price varies depending on the course but is often between $49 and $60.Courses of high quality from well-known universities
Many Coursera courses are taught by academics from well-known colleges (such as Stanford and Princeton). The material taught in Coursera courses is frequently taken from a university course.
Highlight Features:
Industrial expert-led courses.
Well-structured curriculum.
It supports various languages.
Exclusive degree programs.
You can acquire an official degree.
Coursera does offer some form of financial assistance.
You get access to courses irrespective of the time.
Pricing: Coursera offers over 1000 free courses, but certificates require paid courses ($29-$99 each) or an annual $399 Coursera Plus subscription for unlimited access.
2. Udemy (Affordable Pluralsight Alternative) 
Udemy is the leading global online marketplace for teaching, learning, and spreading knowledge of millions of skills across a huge number of students to succeed in their lives. It is an open online course provider targeting professional students and adults.

Udemy excels in course quality and categorization, offering various subjects, including marketing, design, writing, coding, and more. With support for over 50 languages, it's accessible to non-English speakers. Udemy also empowers individuals to create and globally teach self-paced courses, fostering a diverse and instructive learning environment.
Courses are offered across various categories: business, entrepreneurship, academics, arts, health and fitness, language, music, and technology.
Most classes involve practical subjects such as Java coding, python programming, and many more.
Highlight Features:
150,000 courses covering every imaginable topic.
The interface is both simple and skillfully built.
There is support for a variety of languages.
Mobile apps for both Android and iOS.
You have the option to buy a single course.
It is possible to take notes directly on the screen.
It is possible to change the maximum allowed speed on a course.
Pricing: Udemy stands out by offering courses for purchase in a flexible price range of $19 to $200, based on the specific module and instructor expertise, distinguishing itself from competitors in the online education space.
3. LinkedIn Learning (Standard Pluralsight Alternative)
LinkedIn Learning is a helpful place to learn subjects and find good jobs. It has a vast library of courses that people want to learn, and it shows you jobs you might like. So, you can learn and find a job at the same time.

They also make videos for each course; people talk in them to help you understand. It's great for people who are just starting to learn things.
LinkedIn Learning has a bunch of courses that can help your career. That means taking these courses might help you get a job or do your job better.
And if you don't speak English, no problem! LinkedIn Learning can talk to you in five different languages.
Highlight Features:
You get online courses leading in high-quality content

High access to an all-encompassing variety of e-courses

Offers personalized and relevant courses suited to your skills and career

You get what you never get in a classroom – learner-centered learning

Accessibility on any device for a personal learning portal

The affordable pricing of plans with a free trial for 1-month 

Top experts available for your help.
Pricing Plan: You can get LinkedIn Learning for $19.99 or $29.99 monthly. The only difference between these plans is that with the more expensive one, you can save the courses on your device to use them when you're not connected to the internet.
Skillshare is an online learning place made just for creative people.  The lessons are easy to understand, and the quality is top-notch. You can learn a lot and have fun doing it.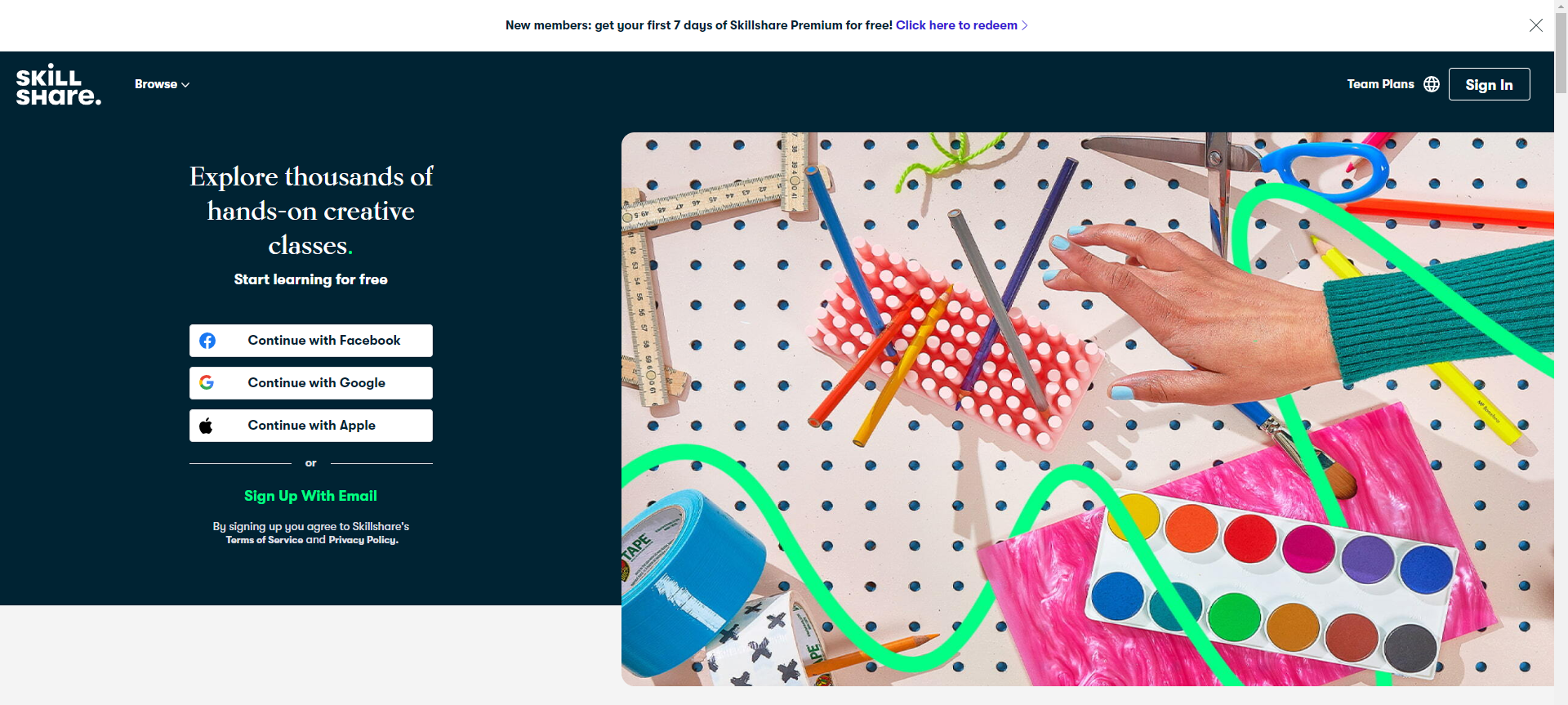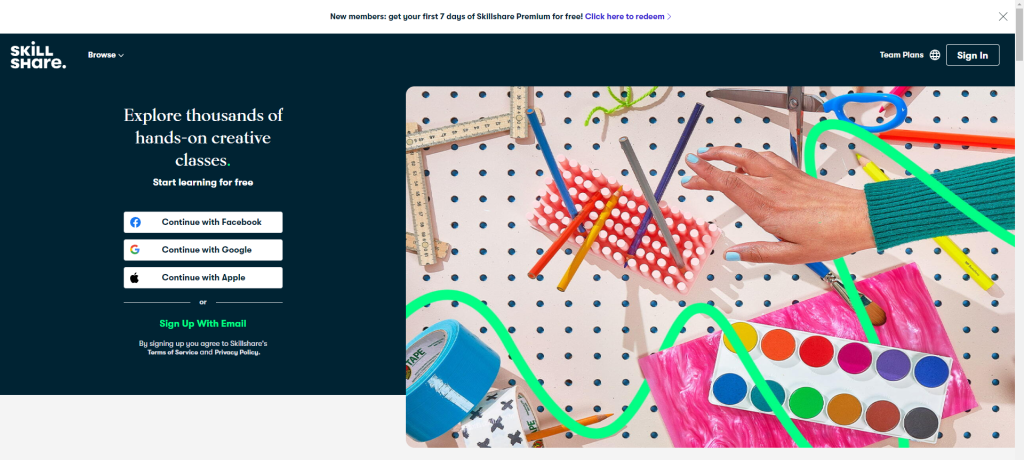 At Skillshare, you have a huge selection of courses – more than 34,000! Over 11,000 instructors teach these courses. You can choose courses like graphic design, illustration, photography, sculpting, or time management.
And if you're interested in starting a new tech career and need some special skills, Skillshare has you covered, too. They offer courses in IT and programming, so you can learn all the tech stuff you need. It's a great place to explore and gain new skills.
They also have workshops where you can learn skills that creative people like you would find super interesting.
Highlight Features: 
Easy and short lessons
You can download lessons to watch offline
Great for beginners
It has hundreds of Fun workshops
You get 30-day free access to the courses
There is an engaging student community
Over 40,000 courses are available ad-free.
Pricing: You can use Skillshare by getting a monthly subscription of $19 or $99 for a year. But remember, you can't buy just a single course.
5. CBT Nuggets
CBT Nuggets is a learning platform that offers courses only online. It is a video-based learning platform for IT professionals.
This learning platform offers training in almost 31 courses, with the most reviewed qualifications being Cisco Certified Network Associate (CCNA), Cisco Certified Entry Networking Technician (CCENT), and Computing Technology Industry Association (CompTIA) A+ Certification.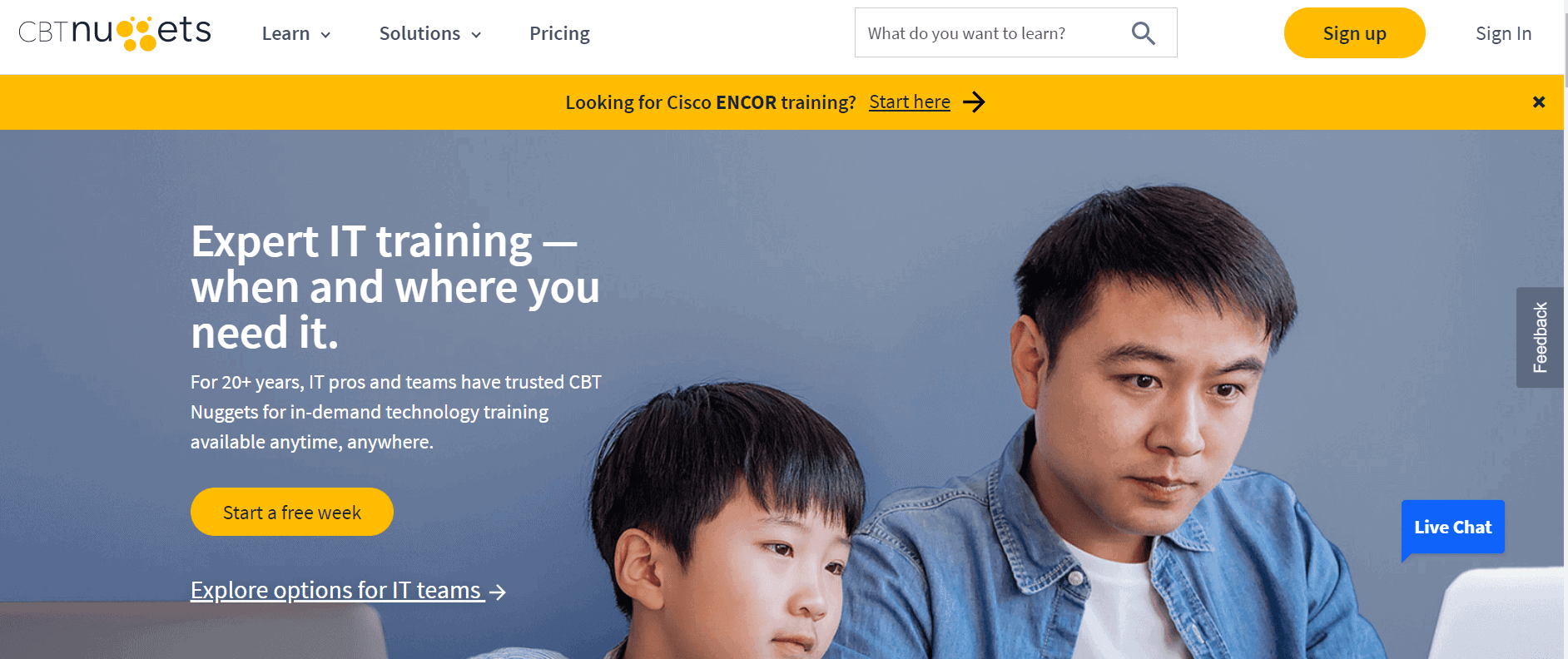 Depending upon the qualification, it ranges from 2 hours to 9 months to undergo this educational training, with an average time ranging from 2 months to complete. The team of CBT Nuggets gives a comfortable classroom atmosphere and hands-on learning, adding a bunch of knowledge and will make you highly experienced.
They provide training to both individuals and teams and also offer enterprise solutions.
It offers many appealing features like Skill Assessment Projects Comprehension, ChecksCourse Recommendation, EngineLearning Paths Channels, Content, Interactive ContentVideo Content, Training and eLearning, Manager Portals, Content Libraries, Platform Reporting, and Analytics. 
Pricing Plans: You can avail all the benefits in CBT Nuggets by paying $59/- per month or $599/- per year. If not, try the free trial and explore CBT Nuggets for 7 days!
6. Udacity
Udacity is a fantastic online learning platform widely recognized by companies across the United States. When you finish your courses with Udacity, it gives you extra credibility that can be helpful.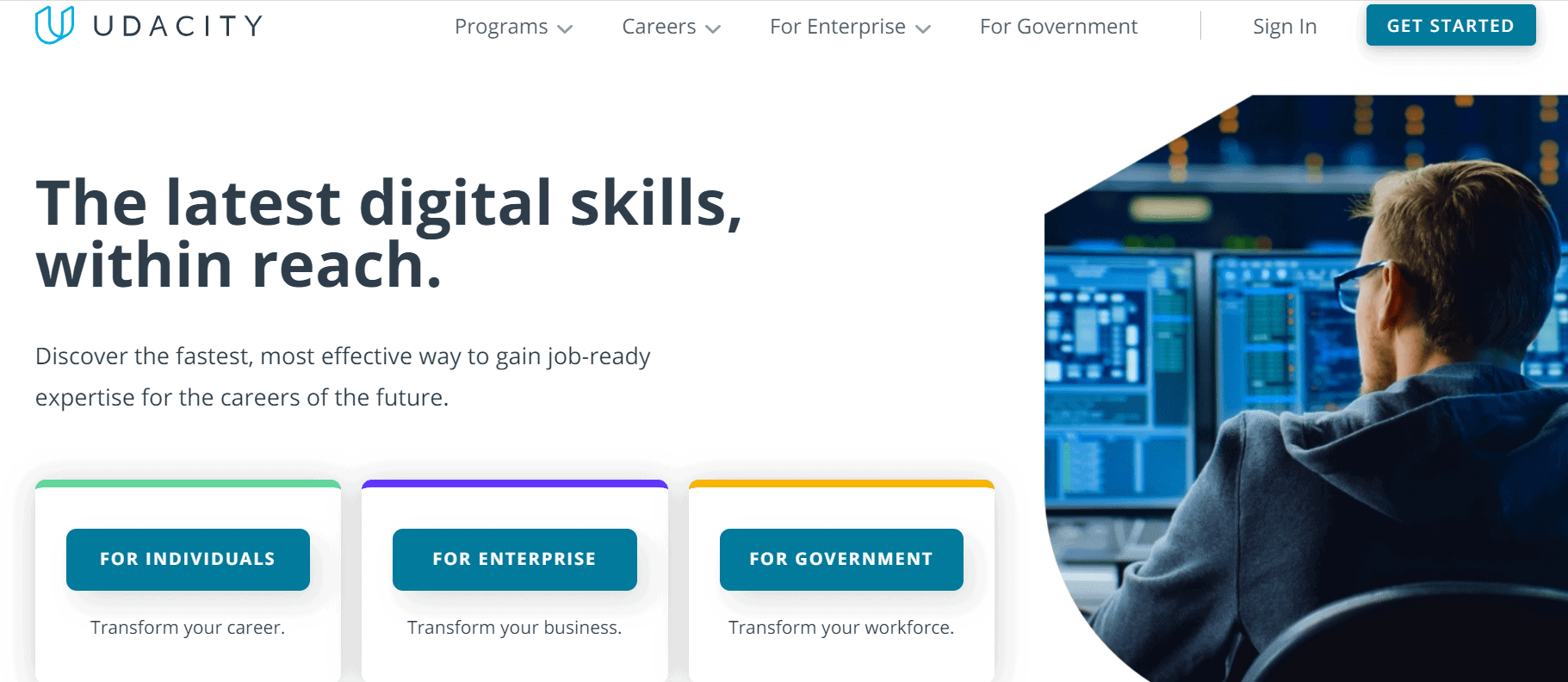 Udacity is a platform enabling learning courses for e-learners enriched in MOOC-based courses. A very user-friendly software, Udacity offers every single piece of information about it on the landing page itself.
Udacity has courses for all skill levels; you can customize them to fit your needs. They offer various topics like business analytics, data science, and product management. The cool thing is you can download the course materials to learn outside of the platform.
Features
Multiple courses available

Relevant learning content and construction of relevant skills
Availability of three levels of courses –  Beginner (for students with no knowledge about the subject), Intermediate (for students with some knowledge about the subject), and Advanced (for students familiar with the subject content)
Permanent availability of launched course
Availability of e-libraries
Interactive content with video accessibility.
Pricing Plans: Many courses on Udacity don't cost anything, but if you want a nano degree, it could be around $100 to $1000. They also offer a monthly plan for nano-degree programs starting at $399 monthly.
7. Treehouse
Treehouse is a great learning platform for tech, like Pluralsight. They have Techdegree, which combines all the necessary courses for a specific tech skill. It makes learning super easy.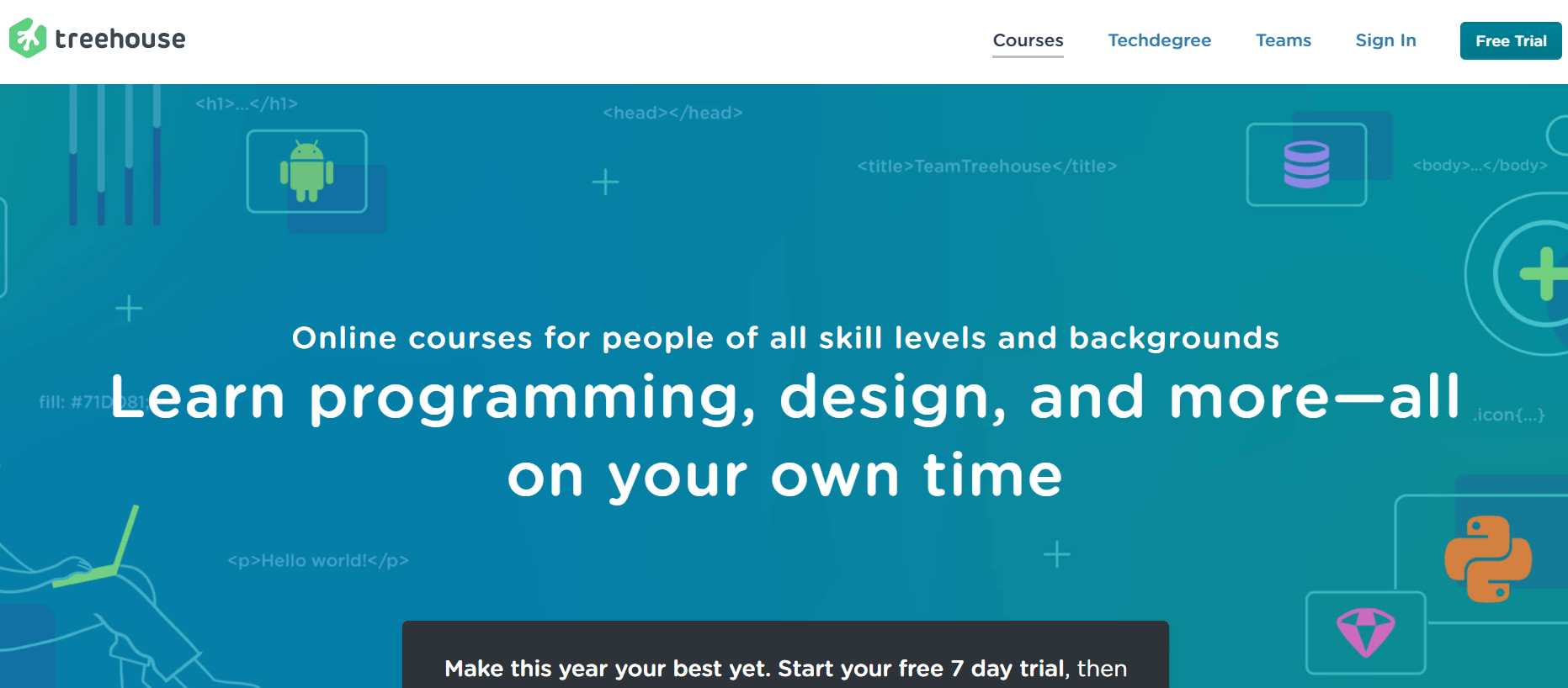 Plus, Treehouse gives you real projects to work on and workshops to understand the subject.
As a bonus, Treehouse invites learners to join a private cohort community and provides bonus content in elective courses, further enriching the learning experience.
Highlights:
7-day free trial
Downloadable courses
Bootcamp courses can also be taken.
Course handled by a professional expert.
In-depth courses and practice.
Pricing: Treehouse offers various monthly plans. You can go for $25 per month or choose the $49 monthly plan. The $49 plan, called the Pro plan, lets you download courses and access everything on Treehouse without any limits. If you're interested in Techdegree, it costs $199 per month.
8. edX
Started in 2012, edX has more than 500,000 students visit to learn different courses.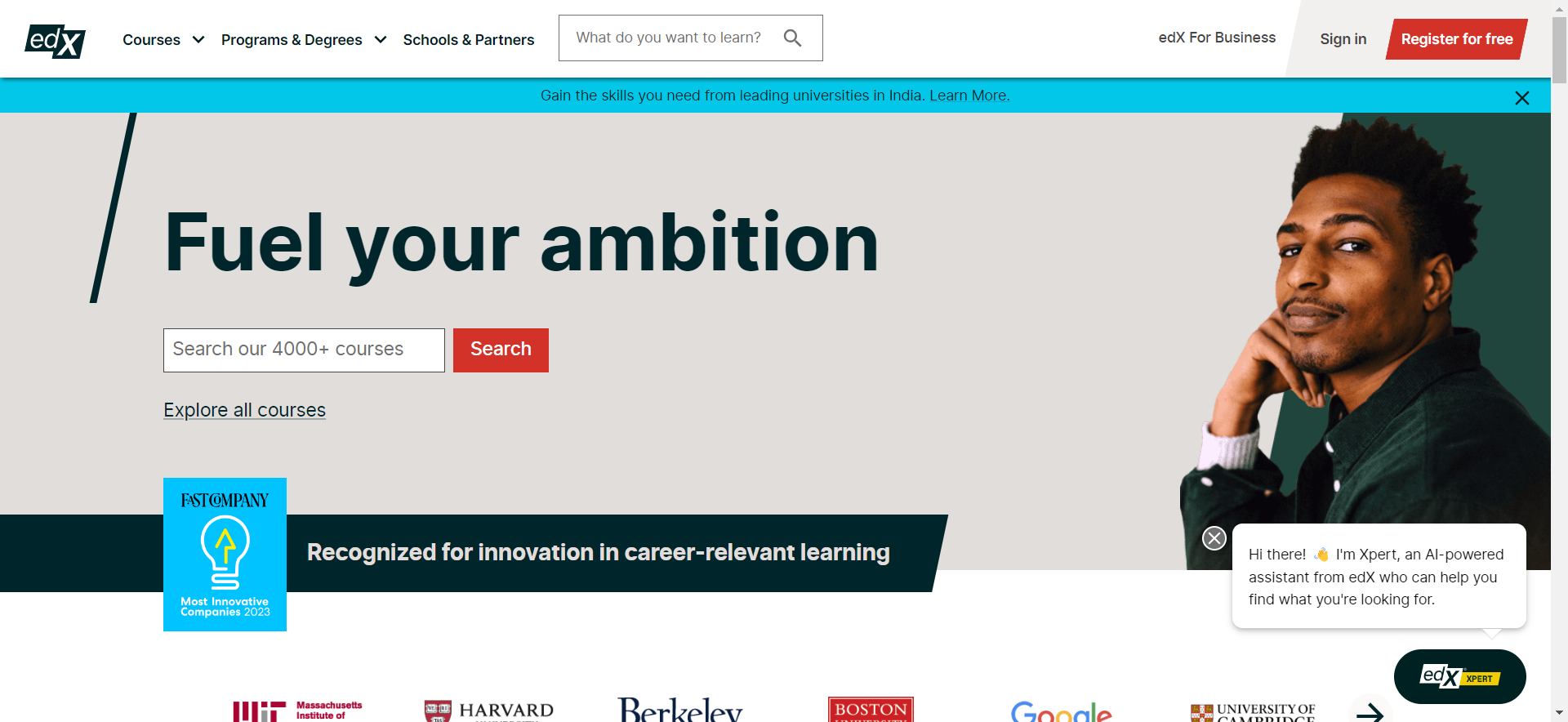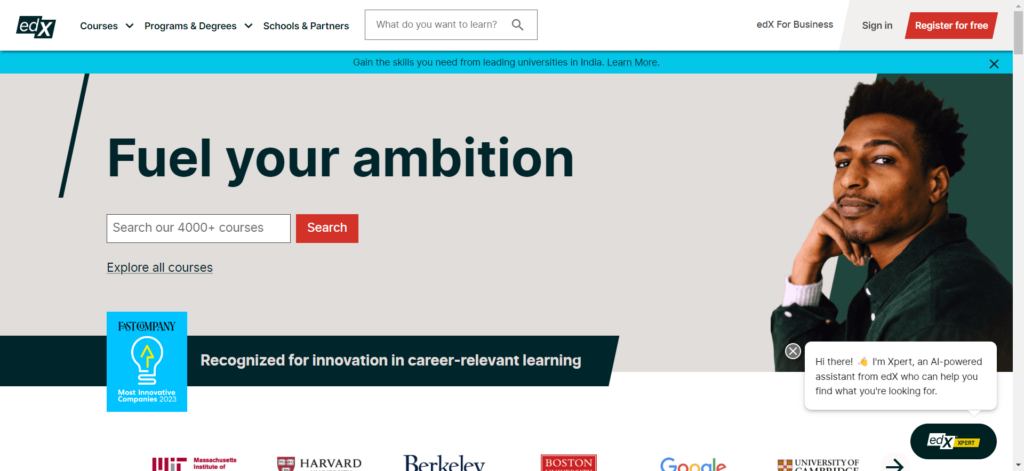 They've got over 3,600 courses in software development, coding, and digital marketing. And here's the cool part: they team up with over 160 top universities, like Harvard and MIT, to offer courses on various topics to help you grow personally and professionally.
Some courses are Data Analytics Boot Camp, Digital Marketing Boot Camp, and MBA Essentials. Different colleges and their teachers run these courses.
And if you need help paying for your courses, edX offers financial aid. Oh, and they have courses in four different languages, too! You can check out my favorite edX courses with certificates to figure out where to start.
Highlight Features:
It offers a completion certificate.
Students are given financial aid.
 It has promising course quality and lessons.
The students get actual degrees virtually.
Free audits of courses are available.
Pricing: At edX, you've got choices. You can take some courses for free (they call it auditing) or buy a verified track with a set of courses. The price for this verified track can range from $30 to $500, depending on the course you want to take.
But if you're considering a whole degree program, that's a bit different. Those have a fixed price, anywhere from $10,000 to $25,000 on edX. So, you can pick the option that works best for you and your learning goals.
9. Masterclass
MasterClass is an online educational platform offering unique and insightful courses by industry leaders in various fields.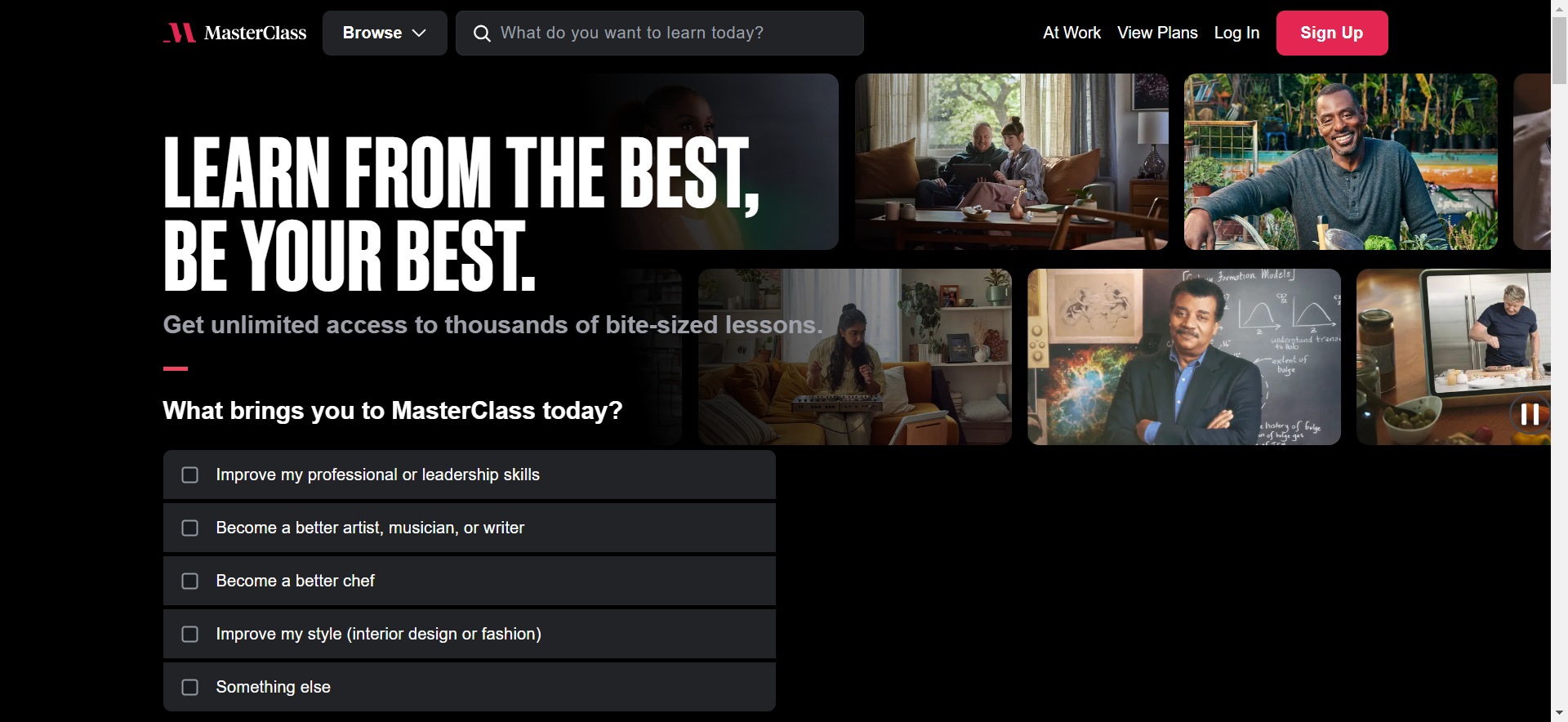 With MasterClass, learners can access various courses spanning categories such as business, music, writing, film and television, culinary arts, sports, and more.
Each course is designed as a comprehensive and immersive learning experience, with high-quality video lessons and practical exercises to reinforce the learning. Courses are taught by experts who are masters in their respective fields, such as Martin Scorsese, Gordon Ramsay, Serena Williams, Malcolm Gladwell, and Margaret Atwood, to name just a few.
Highlight Features:
Downloadable Class Materials
Discussion Forums
Desktop and Mobile-friendly
Self-paced courses
Conventional ways of teaching.
Pricing: Each of the Masterclass courses costs 180 dollars annually.
10. Datacamp 
DataCamp is a place to learn, with vast data science, programming, and statistics classes. These classes are designed to help you understand the tricky stuff in these subjects. They have lots of great lessons about coding and more.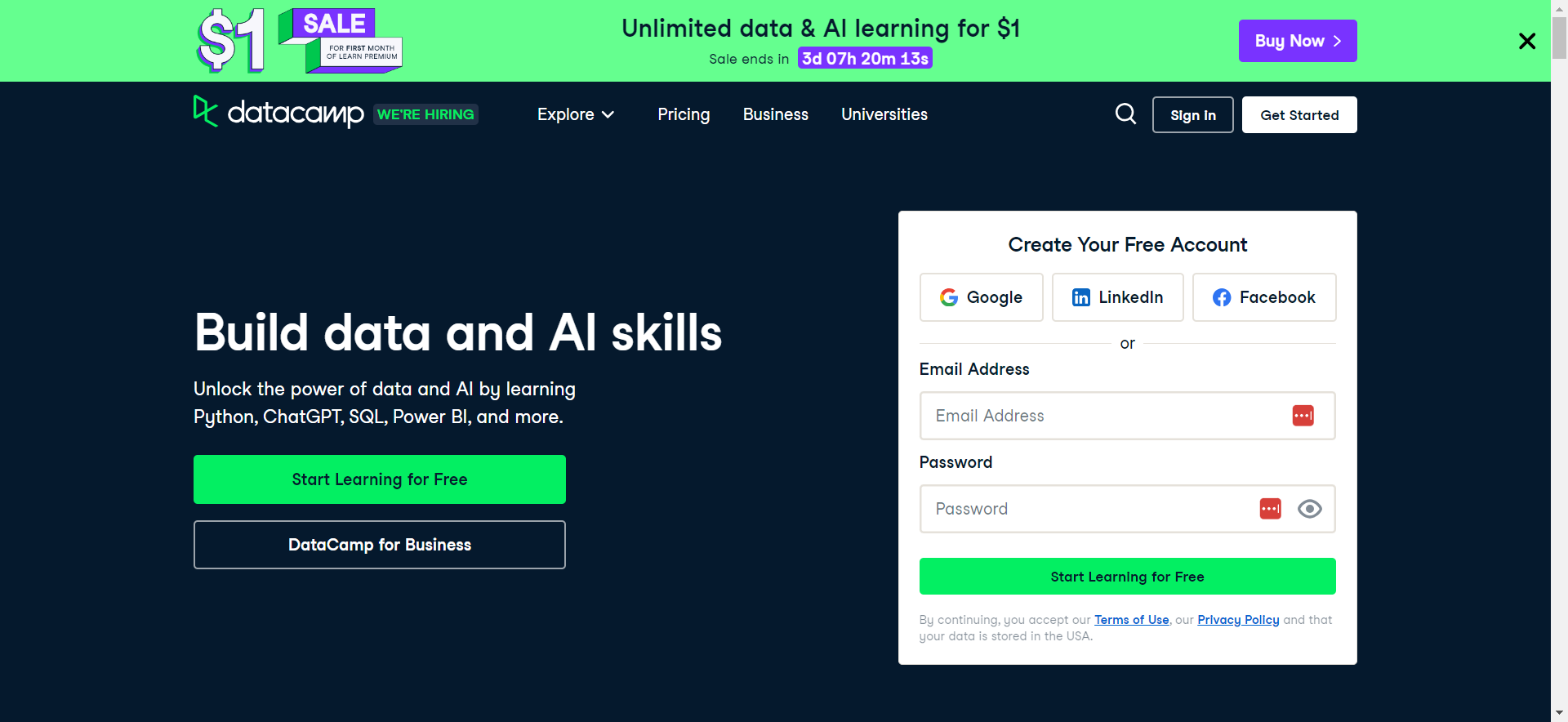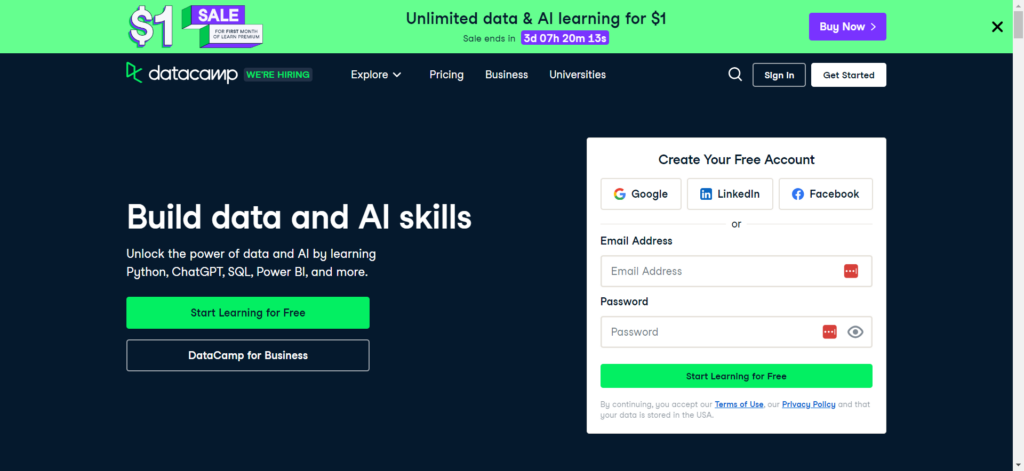 If you're new to data science and want to start a career in it, this is the course for you. You can choose a free or paid plan, and you can pay every month or year. There are also plans for teams and businesses. I would suggest starting with the free course, and later, if you like it, you can switch to the premium plan.
Highlight Features:
Easy to use
Top-notch trainers
Course materials are easily digestible
Instructors are well-trained
Offers free plans
Pricing: You can pick between a free plan and a Premium Plan. The Premium Plan costs $6.17 if you pay for it once a year.
FAQs: 
Is Pluralsight better than Udemy?
You can find online courses for all sorts of skills on both Pluralsight and Udemy. However, Pluralsight is a bit more organized because it offers something called a Skill path, which groups similar skills together.
Which is the best Pluralsight alternative?
Coursera is the best Pluralsight alternative as it gives equally competitive courses in the same pricing without compromising with instructor quality.
My Thoughts on the Best Pluralsight Alternative: 
There are loads of Pluralsight alternatives with technical skill development software. All these provide the best learning paths and training programs.
I chose Coursera as my favorite and best Pluralsight alternative!
Udemy and Skillshare are fantastic learning websites that let anyone become a teacher. Then there's CBT Nuggets, edX, and Udacity. These help you become skilled in technical stuff through great courses.
Lastly, Treehouse and Coursera are two Pluralsight alternatives about tech. They have excellent content. Now that you know the best alternatives to Pluralsight, you'll surely have a great learning experience with many useful advantages.
Also Read: