The motive of this article is to give Great Courses Plus Review and if you want the same then stay tuned till end.
Do you want to learn real things? Was the History Channel like that before Ice Road Truckers and Pawn Stars overtook it? I discovered The Great Courses Plus while searching for true online learning.
Online learning platform The Great Courses Plus has been called the "Netflix of Learning" because of its accessibility and depth of content. The site features an overwhelming number of college-level courses, which are all taught through video clips and audio clips.
My review of The Great Courses Plus explains how it works, how much it costs, and describes three courses in depth: The Black Death, The Everyday Guide to Wine, and What Einstein Got Wrong. Additionally, I'll discuss the things I like and dislike about the platform.
Would you recommend The Great Courses Plus to a friend? Let's find out in my detailed and honest Great courses Pro Review
Great Courses Plus Review: What Is Great Courses Plus?
With The Great Courses Plus, you can view college-level courses from the comfort of your computer, mobile device, tablet, or smart TV.The Great Courses themselves have existed for several decades. It was originally a catalog of courses that you could order and then have mailed to you. You probably know what I mean.Catalogues such as these still exist, and they are the origins of The Great Courses Plus.The Great Courses Plus is a streaming platform that gives you access to the most popular courses the Great Courses has ever offered, at a subscription price. You can enroll in as many courses as you want for a monthly fee.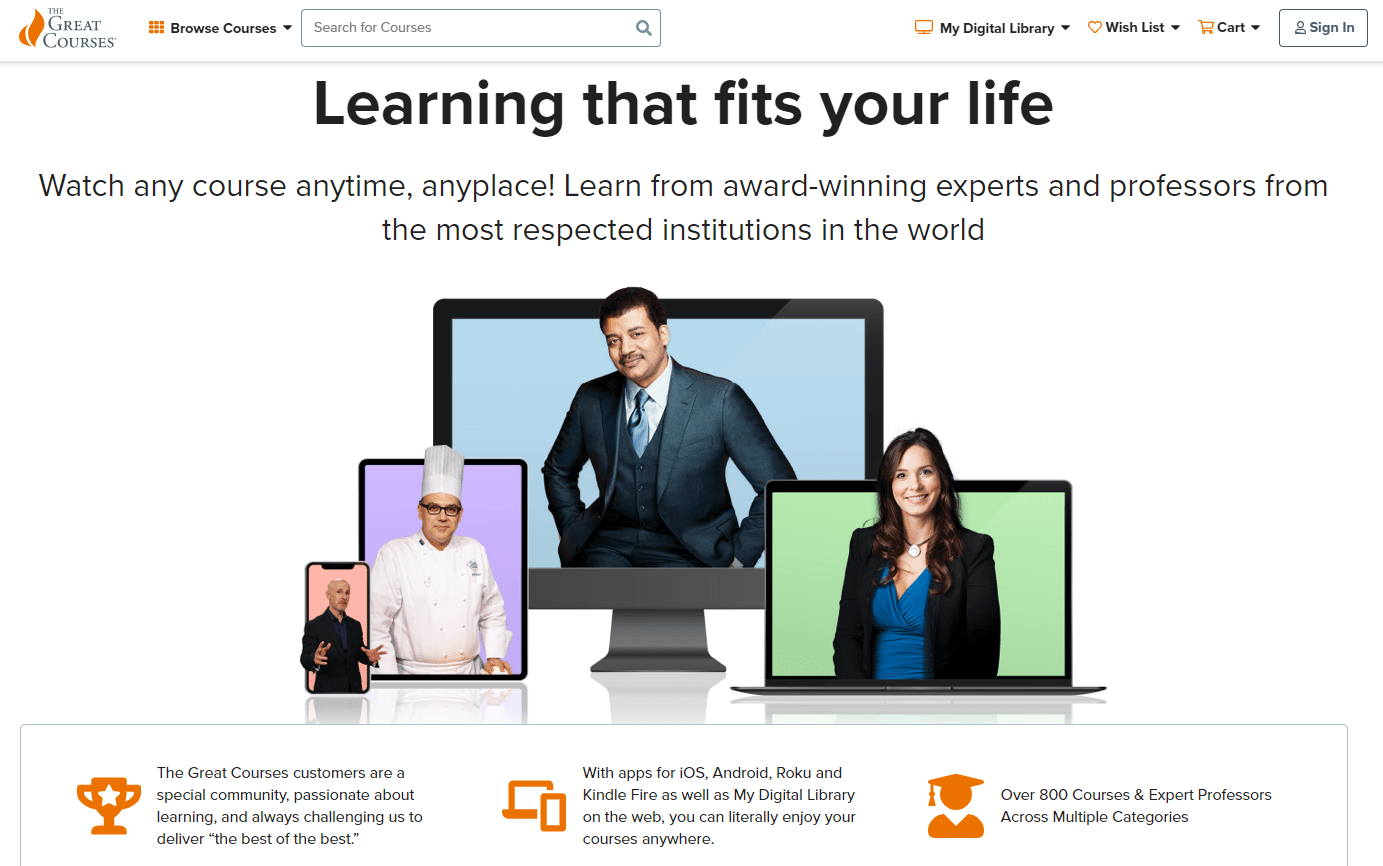 What is meant by "as many courses as you wish?" 700. Yes, that is correct. There are 700 courses and over 9,000 lectures. You have access to a lot of college-level content.Courses like these fall under the category of "acquiring knowledge.". Certain online education platforms, like Masterclass, emphasize creative skills, while others, like Skillshare, emphasize hard skills such as python.A liberal arts education is the goal of The Great Courses Plus. The course comprises 10-20 video lectures each (around 30 minutes each), plus a PDF textbook (we're talking 100-200 pages per course).There are no tests, quizzes, or essays. It's just reading and watching!
Who Is The Great Courses Plus For?
If you are looking for a learning platform that covers lots of topics in depth, Great Courses Plus is a great choice. There is no better platform for a 12-hour lecture on The Black Death than this one.Although the lectures can be viewed back-to-back, they shouldn't be rushed through in one afternoon. Still, you might be able to complete the class in a week.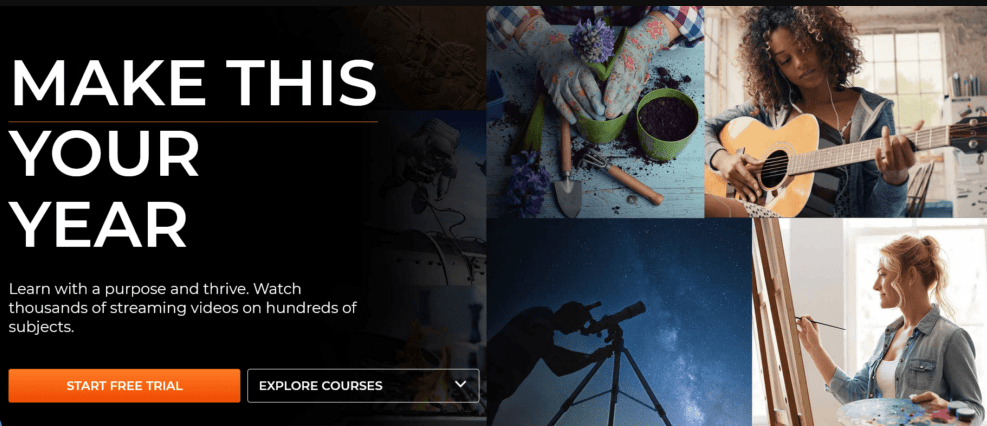 The site is perfect for someone who wants an in-depth look at a lot of different topics – one who is focused.Essentially, it is like listening to a podcast. If you enjoy podcasts (like The History of Rome), The Great Courses Plus might be right up your alley.You'll also love this platform if you enjoyed college lectures – since that's exactly what these courses are. While you won't earn a certificate or a degree, you will gain a broader knowledge base upon completion.That's great, isn't it? Definitely!Last but not least, if you're looking for a learning platform with no frills, you'll enjoy The Great Courses Plus. The Great Courses Plus is the perfect solution for those who are uncomfortable with homework, discussion pages, and uploading assignments.No additional activities are required, and it is self-paced!
Who Is It Not For?
If you're looking for a more immersive learning experience, The Great Courses Plus might not be for you. Discussion boards, social media groups, homework features, and interactive elements are not available. This is a lecture-based program.You might not enjoy The Great Courses Plus if that bothers you.You won't find quick learning at The Great Courses if you are looking for that. Classes are in-depth and last 6-12 hours on average. Lectures typically last 30 minutes. Classes are lecture-only with little interaction.You may also be disappointed if you were hoping to learn hard skills, such as coding, or to engage in Q&A sessions with celebrity teachers. This is another platform that emphasizes college-level courses delivered in a lecture-style format.
Classes Available On The Great Courses Plus
There are few courses and study materials available for the following classes:
Economics and Finance

Exclusive Features

Mathematics

Food and Wine

Hobby and Leisure

Health, Fitness and Nutrition

History

Professional & Personal Growth

Literature and Language

Philosophy & Religion

Music and Fine Arts

Science

Travel.

Programs for Young Learners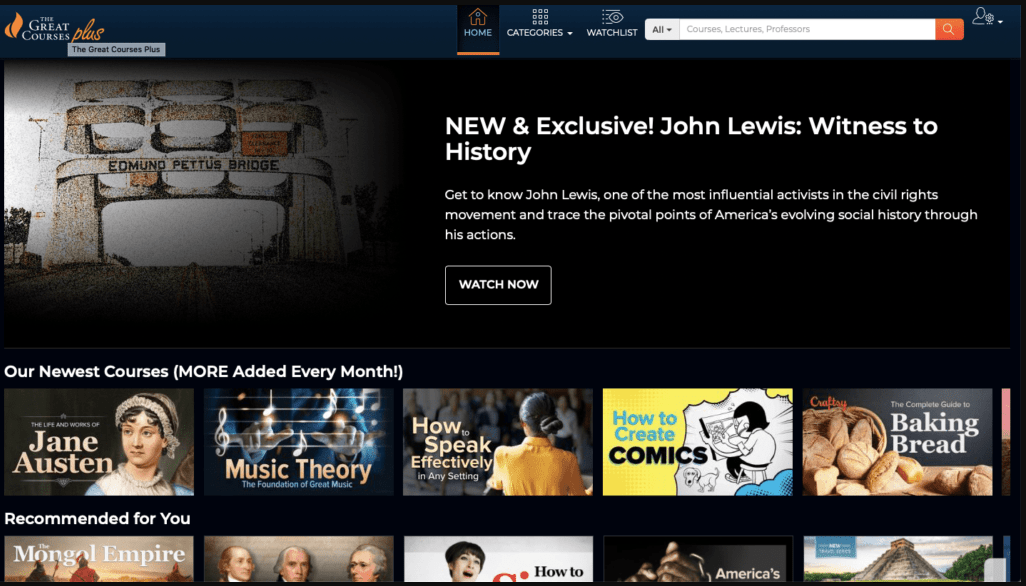 There are hundreds of courses to choose from in these categories. Algebra is one of them! You can also learn Latin! There are hundreds of things you can learn, like screenwriting or thermodynamics.In addition to college-style courses (of the Bachelors of Arts or Bachelors of Science type), you can also take skill-based courses such as screenwriting or French 101.Consequently, The Great Courses Plus offers a broader set of courses than most online education platforms. These are more advanced, professor-led courses.Each class lasts from 6 to 12 hours, so these are long commitments. There is probably no learning platform that comes close to the real-life lecture experience.
Who are the teachers?
On The Great Courses Plus, you won't find many big-name teachers. Instead, you'll be learning from highly qualified professors. Your professors' bios usually mention that they teach at a university.It is not necessary to be a professor to be a teacher. Professional chefs, for instance, teach breadmaking courses. However, the level of expertise remains the same as all these instructors are well-vetted, seasoned professionals who have experience in both teaching and real-world situations.Neil Gaiman is not going to teach you how to write (for that, go to MasterClass), and you won't get a class of questionable quality taught by someone who can code (this can happen on Udemy). You'll be assigned a professor instead. Just like college.
How does a class work?
Classes are easy to understand.
By clicking a category, you can choose a class.
The course welcome page will give you a brief overview of the class. Below it, you will find the following tabs: Lectures, Your Prof, Course Guidebook, Share Course, Reviews.

Start watching the first lecture in the lecture tab and click on it to get started. You're all set!
As an alternative to the downloadable PDFs found on MasterClass, the guidebook tab will open an in-browser PDF if you want to review anything you learned in your lecture. They are not simple flyers; they are quite long and in-depth. I would compare them to textbooks.
You can share that you took the course on social media (rather than just sharing the course itself) with the share course button. The share course button is The Great Course Plus' only social media connection.
Lastly, students can leave course reviews on the review tab. Interesting to note is that you can comment on other people's reviews, and click on their profiles to see what other reviews they've left.
The Great Courses Plus Cost:
Depending on whether you pay monthly, quarterly, or annually, there are three different price tiers for The Great Courses Plus.
You will pay $20 a month if you pay monthly, for a total of $240 if you pay annually

If you pay quarterly, it's $45 per quarter, or $180 per year

The annual fee is $150.
In other words, if you are prepared to pay annually in advance, you are better off by $90 – a 35% savings.A nice change from some of the more static subscription models is the flexibility of the plans offered.You pay a subscription fee, but what do you get in return?
Courses at the college level

A video lecture is usually 6 to 12 hours long in every course

A very detailed PDF textbook is included with each.
Though there is a lot of content available, there are no discussion boards, communities, or other features like on other online platforms (like MasterClass or Mindvalley). The website strictly provides information.Based on my research, this may be due to the fact that The Great Courses Plus' main demographic is slightly older and focused on learning. I'm learning a lot from this platform, but it's not only for younger people.However, it is a platform that puts subject mastery ahead of frills.
Can I purchase an Individual Course?
The Great Courses Plus is not available as an individual course. This is confusing, but they are actually two separate platforms. Courses offered by both companies overlap heavily, but Great Courses Plus can't be purchased individually.
Subscriptions are required instead.
You could spend anywhere from $35 to $500 on an individual course at The Great Courses. A lot of classes don't cost $500, but they fall between $100 and $200.
Is it a good deal?
Comparing prices is a good idea. The Great Courses Plus membership costs $150 if you buy it annually. The Great Courses offer many individual classes that cost at least $200.The Great Courses Plus allows you to save money if you take at least one course a year. Is there a dollar-per-hour rate? If you have an annual membership, let's say you take one course per year. The course is called "Understanding the US Government."This course consists of 24 videos and is 12 hours long. The hourly rate is $12.5 for 150/12. I think that's pretty good! And that's with just one course. Take two, and the hourly rate drops to $6.25.It comes to $3.13 per hour when you take four. It's not difficult to understand. It's how you use it that matters. Thousands of hours of top-notch lectures make The Great Courses an easy platform to get sucked into. You'd have 12 classes in a year if you took one class a month. In other words, it would take 144 hours to learn, so $1 per hour is not too bad.
FAQs On Great Courses Plus Review :
What is the cost of The Great Courses Plus?
Payment options affect the price. It is $20 per month, or $240 per year. Quarterly payments are $45 and annual payments are $180. Annual payments are $150.
Is it worth the money?
The Great Courses Plus is absolutely worth the money, especially considering how much people spend on higher education. The platform offers a wide range of college-style lecture courses at an affordable price point.
How many classes does The Great Courses Plus have?
In addition to Latin, algebra, history, nutrition, economics, music, science, fine art, food and wine, the Great Courses Plus offers hundreds of courses. The courses typically last between six and twelve hours.
Why does The Great Courses Plus differ from The Great Courses?
The parent company of The Great Courses Plus is The Great Courses. Over 30 years ago, The Great Courses, a catalog of taped college level lectures, became available, with prices ranging from $35-$500 per class. It is a subscription-based service offering more budget-friendly access to the content.
Is there a free trial?
There is a 14-day free trial before the subscription begins with The Great Courses Plus.
How can I watch The Great Courses Plus?
View The Great Courses Plus on your tablet, smartphone, or connected TV. These include iPad, iPhone, and iPod touch, Apple TV, Android devices, Roku, Amazon Fire TV, and Amazon Kindle Fire tablets.
Can I just purchase an individual class?
The Great Courses Plus is not on The Great Courses because it is a streaming service that offers you the opportunity to view materials from The Great Courses at a more affordable price. Individual classes are still available at The Great Courses, with prices ranging from $35-$500 per class.
Can I watch The Great Courses Plus offline?
Certainly. Streaming videos or downloading to watch later when you are offline are both available.
Quick Links :
Conclusion : Great Courses Plus Review 2023
A very high-quality, college-style lecture course is available for a very competitive price with The Great Courses Plus. These courses are engaging, informative, and comprehensive. The Great Courses Plus also offers hundreds of courses.I recommend The Great Courses Plus if you're looking to soak up information from highly-regarded professors. This course is designed for eager learners who want to dive in headfirst to long, but engaging lectures.