I want to share my experience with the Treehouse Review in this article. So, if you want to know the same, stay tuned till the end.
In search of a reputable platform for e-learning? Perhaps Treehouse is the answer for you.
It is an online technology school offering 300+ courses and nearly 300 workshops in technology-related fields like web design, web development, mobile development, and more. Its courses are open to beginners, and its community has over 50k users.
Sounds good. Even so, Treehouse's learning programs aren't what you need. So, let's get into this in-depth Treehouse Review and see what it offers.
Having a positive coding experience requires finding the right instructor. With Treehouse's built-in tools, it's easy to follow along with classes for both beginners and advanced coders.
Your dashboard makes it easy to find courses, track your progress, and access the student forum. Especially if you've been staring at the same code snippet for a long time, the platform is a great resource when you need assistance with a coding exercise.
Therefore, I recommend Treehouse Review as the best platform to enroll in a paid online coding school.
Treehouse Review 2023: What Is Treehouse?
The Treehouse eLearning platform offers courses from beginner to advanced levels in web development, mobile development, game development, and web design. Expert faculty teaches the courses.
With this platform, aspiring programmers and web designers will be helped to learn more quickly and efficiently.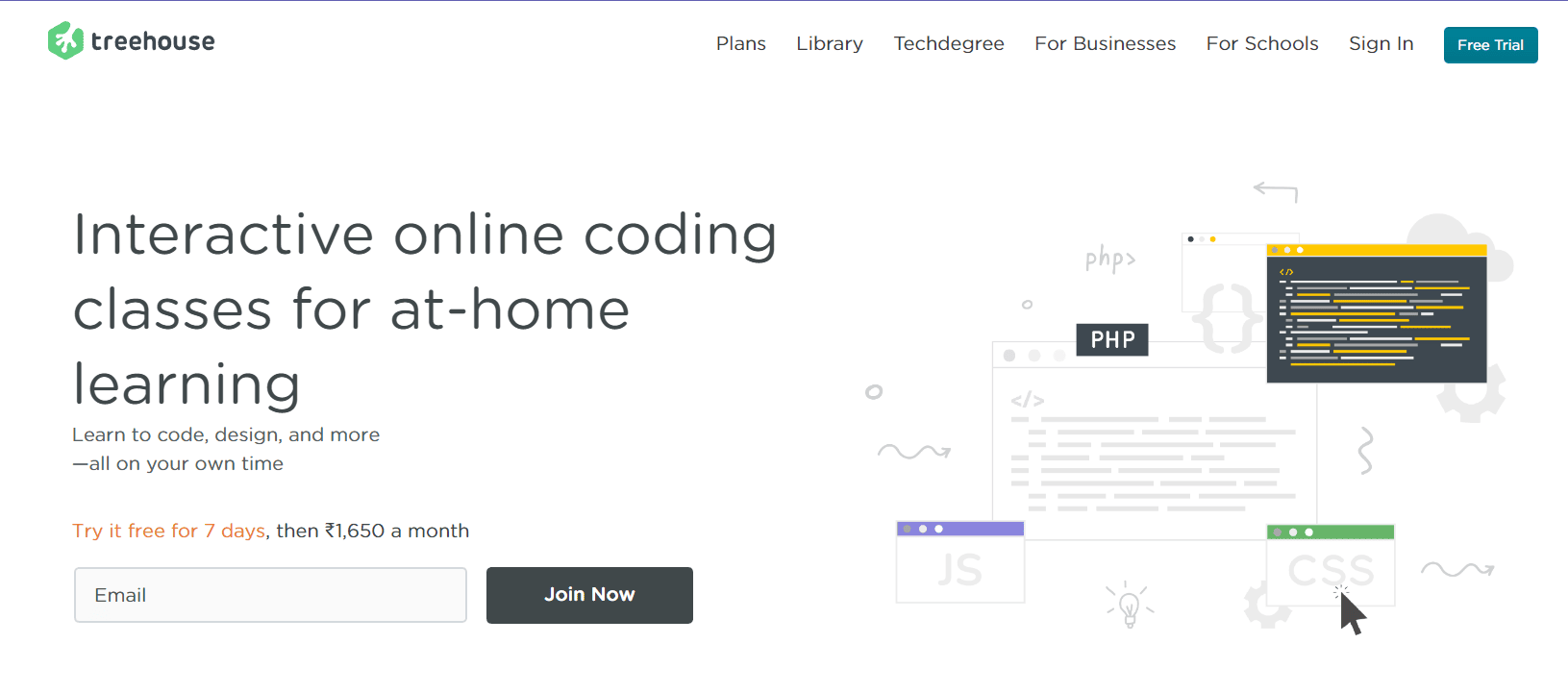 Ryan and Gillian Carson founded Treehouse in 2011. Carsonified (which provided video tutorials) was Carson's previous company.
When Carson redesigned the service, he changed the name to Treehouse, reflecting the wonder of learning as a child.
Usability of Treehouse:
They offer a 7-day free trial period when you land on their homepage. Upon joining Treehouse, members will find the interface very user-friendly and familiar (a real plus).
I discovered that Treehouse leaves a positive impression when writing our Treehouse review. In addition to the easy-to-handle nature of this site, another compelling aspect of learning from it is the ease with which it can be navigated.
You can also click the Techdegree link on the site and browse various job-ready programs for individuals of all backgrounds and skill levels.
On the other hand, if you are not a member, you can't access single courses from the home page (which is not ideal). You can either Google their courses or access their library directly. You can conveniently find courses and topics on the library page.
When you select a course and access its main page, you will see various sections, including "teacher" (which takes you to the page of the instructor), "what you will learn" (which outlines the topics covered), the course syllabus (which provides details on the course content), and so on.
The Tracks and Community links can also be found here. You can take a Track (a series of courses and workshops) from zero proficiency to mastery of technology.
Their community of thousands of students is always there to support and push you to keep going.
Treehouse Review: Who Is Treehouse For?
Learners seeking coding and design skills can use the Treehouse learning process. Our courses are designed to give you the knowledge and skills to reach your goals.
Courses are presented very interactive via on-demand videos, quizzes, and challenges. That sounds pretty good. Treehouse has made it easier to take that first step. The Treehouse homepage features a Take a Quiz section.
A few questions are presented for you to answer before you proceed. Based on this quiz's results, you can determine what courses you would like to take
The library of courses can be explored if you already have an idea of the course you want to learn. Choose from 23 topics like Android, Computer Science, Java, and more.
Treehouse Teams:
Treehouse offers both individual courses as well as curated courses for groups. A custom program is created in partnership with you and your team at Treehouse.

If interested, you can ask the Treehouse team for a quote.
What can Treehouse do for my career?
It offers courses for people looking to start or advance their careers in programming, design, or other technical fields (23 topics).
A Treehouse course is a great stepping stone for starting a new career because it is project-based and relates to something a client or employee needs.

Tech degrees provide students with project-based training to prepare them for a career change. To be ready to begin your new career, you will take a final exam and earn a certificate of completion.
If you complete the tech degree successfully, you'll receive a certificate that's in PDF format and can be printed. There are self-paced learning options at Treehouse, which means you can study whenever and wherever you want.
This is an excellent option if you already have a career or a busy schedule and want to develop existing skills.
Getting you job-ready is what Treehouse is all about. The Techdegree program has produced hundreds of alumni working for companies such as MailChimp, Adobe, Airbnb, Nike, etc.
Treehouse Review: Is Treehouse Legit?
When considering online learning, many of you ask this question.
Are these platforms legitimate?
Having doubts about a Techdegree is not unusual, especially when considering that it is not just a financial commitment but a time commitment.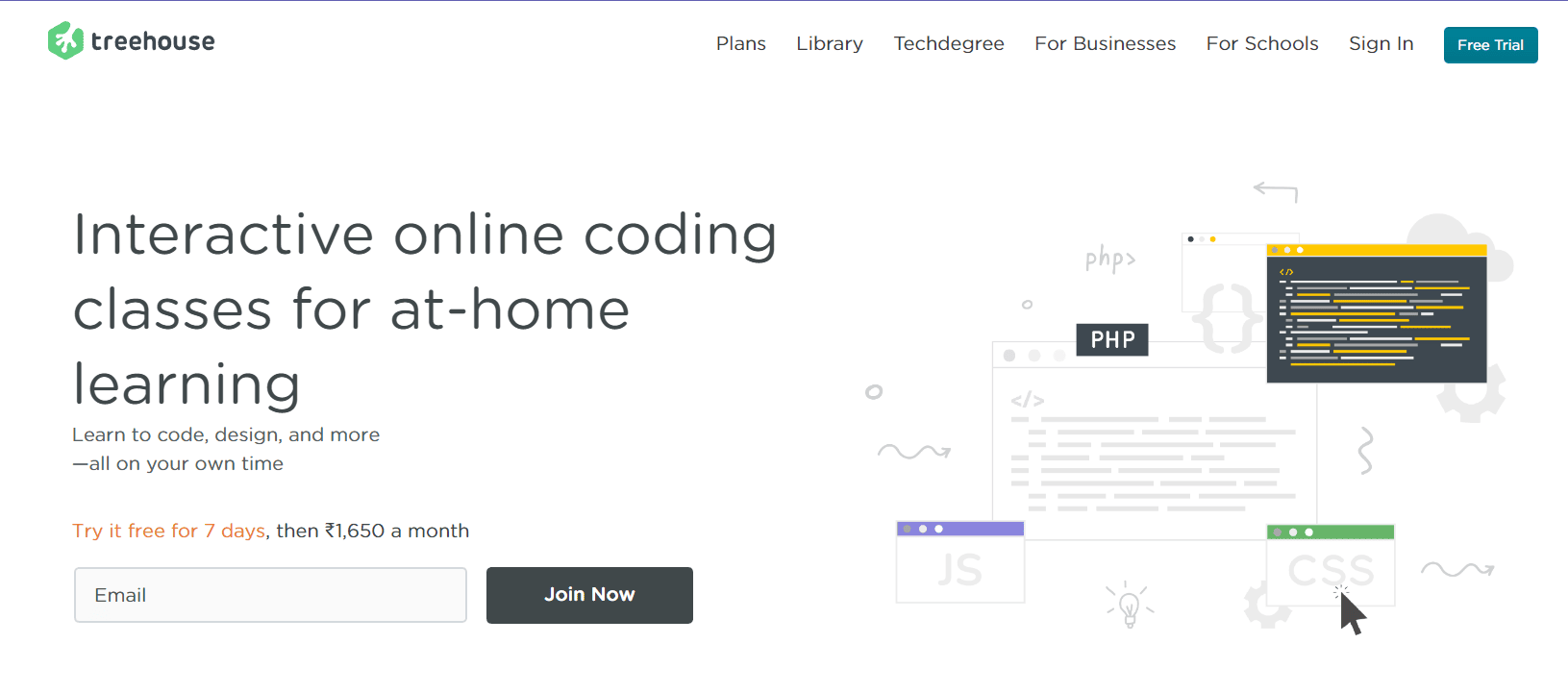 Treehouse was founded in 2011 by Ryan and Gillian Carson. It opened its first office in Orlando, Florida, before relocating its headquarters to Portland, Oregon, in 2012, where it currently employs 43 full-time employees.
Over 50k users use Treehouse, and it has over 50k users across the globe. Treehouse won't scam you. It's legit, and it's safe to use.
Certificate of Completion from Treehouse:
Basic courses do not lead to certification from Treehouse. A Treehouse Tech degree certifies you as a Treehouse alumni.
As a result, you can show the world that you have earned an advanced degree in coding and have acquired and built a technical foundation.
Quick Review:
Conclusion: Treehouse Review 2023
Let's conclude why Treehouse is worth it. It is an excellent option for beginners or anyone looking to develop their programming and design skills.
You can choose from various learning programs, including Courses, Tracks, and Techdegrees, and curate your custom program.
It is the best way to decide if it is the right platform since you have a 7-day free trial with full access. If you seek an accredited certification, looking into platforms like Coursera or edX is worthwhile.