In this article, we are going to discuss our thoughts and experiences with Keeper Password Manager Review.
A password manager is the best way to keep track of all your passwords and keep them safe. But the number of data breaches shows that a lot of people don't do that.
53% of them keep track of their passwords by remembering them, and 51% use the same password for their personal and business accounts.
When broken passwords are looked at closely, we often find that the vast majority of them aren't unique or made at random. Now that you know this, it makes sense to choose one of the many ways to keep track of passwords.
In our Keeper password manager review, we take a closer look at one of these options and talk about its most important features, pricing plans, and security measures.
Keeper Password Manager Review: What is a Keeper Password Manager?
Keeper is an app for managing passwords and other sensitive information. It protects its users from data breaches by storing and managing passwords, financial information, and other sensitive information in a safe way.
It came out in 2009 and has since grown into a powerful tool that can be used on any device and even when you're not connected to the internet.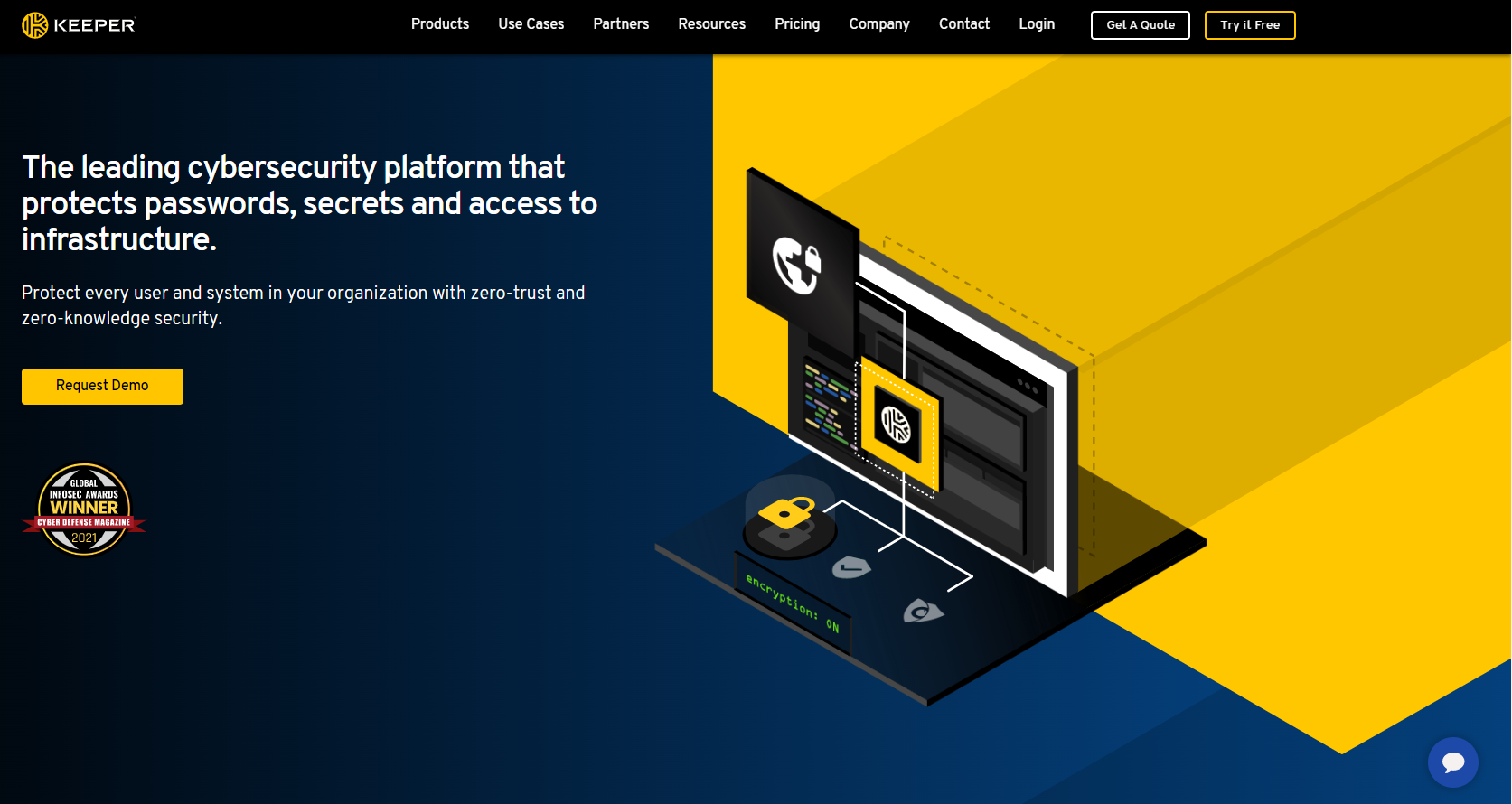 Keeper encrypts all of your passwords from start to finish and doesn't let anyone else see them, not even Keeper employees. Here's a closer look at a few of these features that help keep your online information safe.
Keeper Pricing
Keeper offers a variety of price levels to accommodate users with varying needs. All options include a 30-day risk-free trial, allowing you to evaluate the program at no cost.
Because Keeper does not offer a money-back guarantee, you should take advantage of the free trial. All premium features are accessible during the trial.
If you opt not to upgrade to a subscription plan, however, you can continue to use the free version of the app on one device.
The following are the paid Keeper plans:
Personal

Family

Business

Enterprise

Student
Personal Plans
You would pay $2.91/month for Keeper Unlimited's personal plan, which costs $34.99 per year. Among the features are: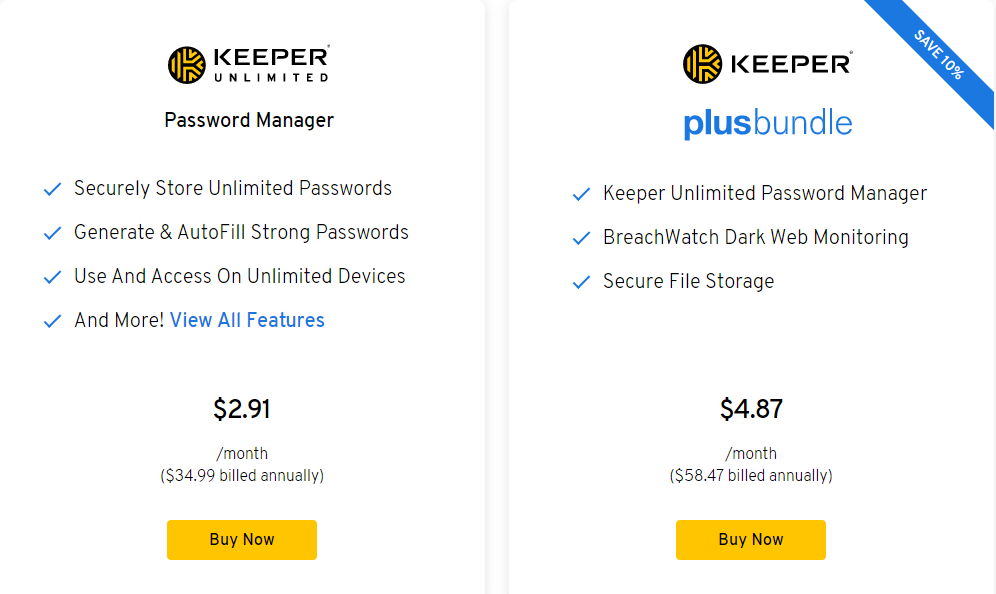 Storage of unlimited passwords

Identity and payments are unlimited

Sync with unlimited devices

Logging in with fingerprints and face ID

Record sharing that is secure

Access to emergency services

Web application

Support available 24/7
Keeper Plus Bundle costs 58.47 dollars a year or $4.87 per month. In addition, it provides 10GB of secure file storage and the BreachWatch dark web monitoring feature.
Family Plans
You can share five vaults with your family members in the Keeper Family plan, which includes 10GB of secure file storage. The cost of the service is $74.99 per year or $6.24 per month.
BreachWatch is a feature added to the Keeper Family Plus Bundle for monitoring the dark web. The annual plan costs $103.48 at a 10% discount or $8.62 per month.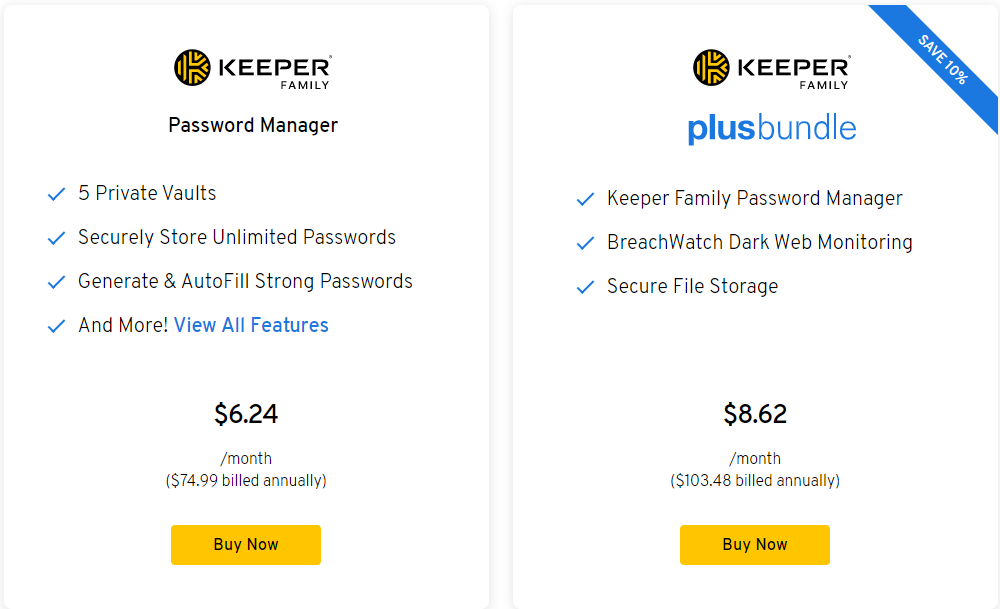 The discount is only available to yearly subscribers, not those signing up for a two-year or three-year contract.
Business Plan
If you have an unlimited number of employees and need Keeper apps for your business, the Keeper Business plan is an ideal solution.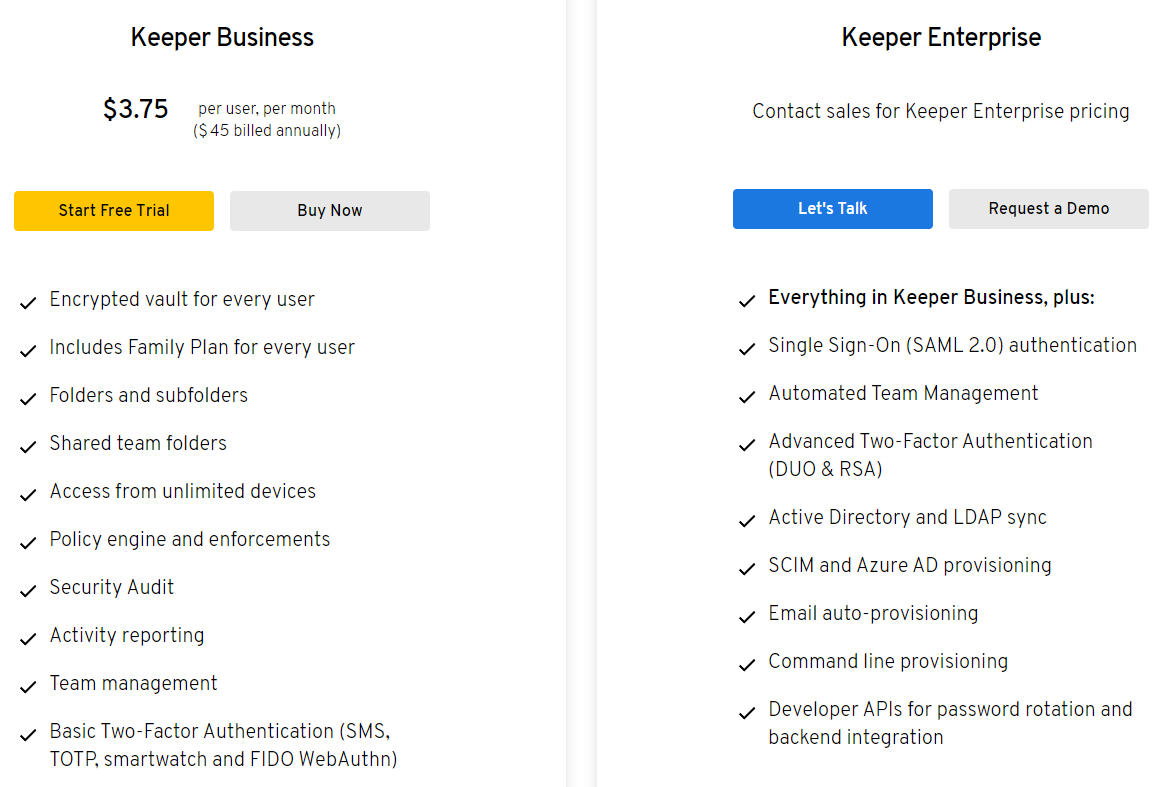 Among the features are:
Folders shared by the team

Subfolders and folders

Access from any device

Each user has an encrypted vault

Audit of security

Management of teams

Engines for enforcing policy

Reporting of activities

FIDO U2F, smartwatch, SMS, TOTP, and basic two-factor authentication
For just $45 per year, you get all these features, which means it's one of the most affordable password managers available.
Enterprise Plan
There is a better option available if you don't like the business plan, which includes all the features mentioned earlier while adding a few more benefits.
According to our review of Keeper's password manager, the Enterprise plan impresses with the following features:
Automated management of teams

DUO & RSA advanced two-factor authentication

Active Directory and LDAP synchronization

Provisioning Azure AD with SCIM

Authentication using SAML 2.0 (Single Sign-On)

Provisioning via the command line

Automated provisioning of emails

APIs for backend integration and password rotation for developers
The best thing about this plan is that it can be changed and that it lets you see how private your business is. Since the enterprise plan is made to fit the needs of each business, there is no price listed on the website. But you can ask for a demo or get a quote from Keeper's customer service.
Student Plan
If you are a student and are interested in the Keeper password manager, you can look at its special offer for students. Students can save a lot of money on a package that helps them protect their private information and passwords.
Keeper Customer Support
Keeper knows how important it is to have more than one way to help customers. Start by looking at different user guides and video tutorials to learn how to use the software.

And if you want to talk to a company representative, you can call, fill out a contact form, or send an email. There is also a chatbot called Sherlock that can answer some simple questions.
Quick Links:
Conclusion: Keeper Password Manager Review [Year]
Keeper is not just another way to keep track of passwords. It's a strong tool that keeps your personal information safe by preventing leaks and hacking attempts on all of your devices.
Some of the things that make this one of the best options on the market are the Keeper Security Audit feature, the zero-knowledge policy, the secure password generator, and the monitoring of the dark web.
Its pricing plans and extra features are made to meet the needs of single users, families, and large businesses.