In this article, I am going to discuss my thoughts and experiences with Keeper Password Manager.
A password manager is the best way to keep track of all your passwords and keep them safe. But the number of data breaches shows that a lot of people don't do that.
53% of them keep track of their passwords by remembering them, and 51% use the same password for their personal and business accounts.
When broken passwords are looked at closely, we often find that the vast majority of them aren't unique or made at random. Now that you know this, it makes sense to choose one of the many ways to keep track of passwords.
That's why I came up with this Keeper Password Manager review this time.
If you think this review is too long for you, here is my short verdict about the Keeper password manager.
In my personal opinion, Keeper proves to be an exceptional solution, offering a high level of security, user-friendliness, and an extensive range of features. I believe Keeper Unlimited is an excellent selection for individuals, while Keeper Family stands as a fantastic option for families, providing up to 5 individual vaults and 10 GB of protected storage.
Although Keeper lacks a money-back guarantee, the opportunity to try it without any risk through a 30-day free trial is certainly worth considering.
Let me first tell you what Keeper Password Manager is. 
What is a Keeper Password Manager?
Keeper is an app for managing passwords and other sensitive information. It protects its users from data breaches by storing and managing passwords, financial information, and other sensitive information in a safe way.
It came out in 2009 and has since grown into a powerful tool that can be used on any device and even when you're not connected to the internet.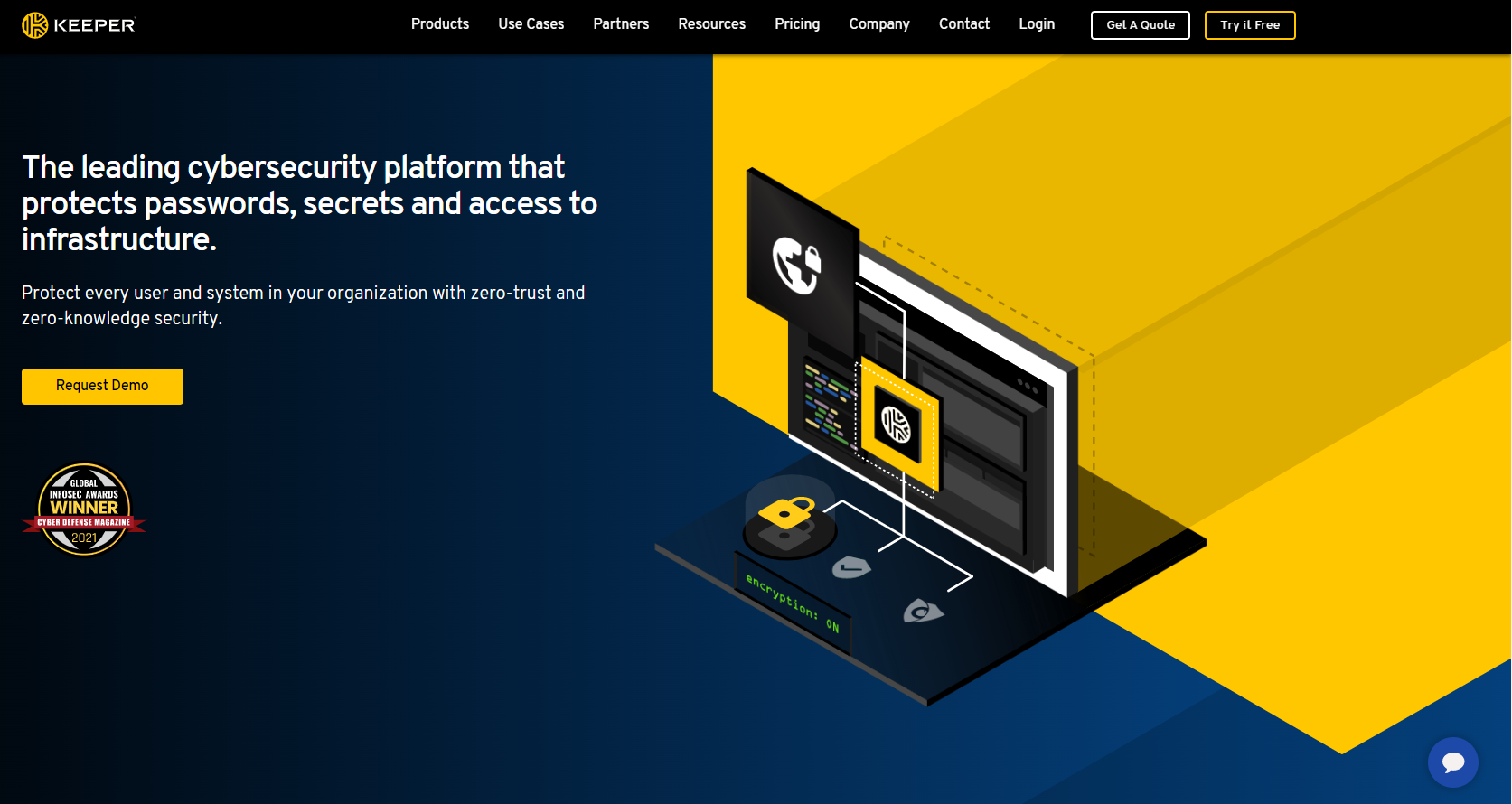 Keeper encrypts all of your passwords from start to finish and doesn't let anyone else see them, not even Keeper employees. Here's a closer look at a few of these features that help keep your online information safe.
Keeper Password Manager Features
Keeper Password Manager comes with various extensive features. Hence, I will keep the features short and sweet.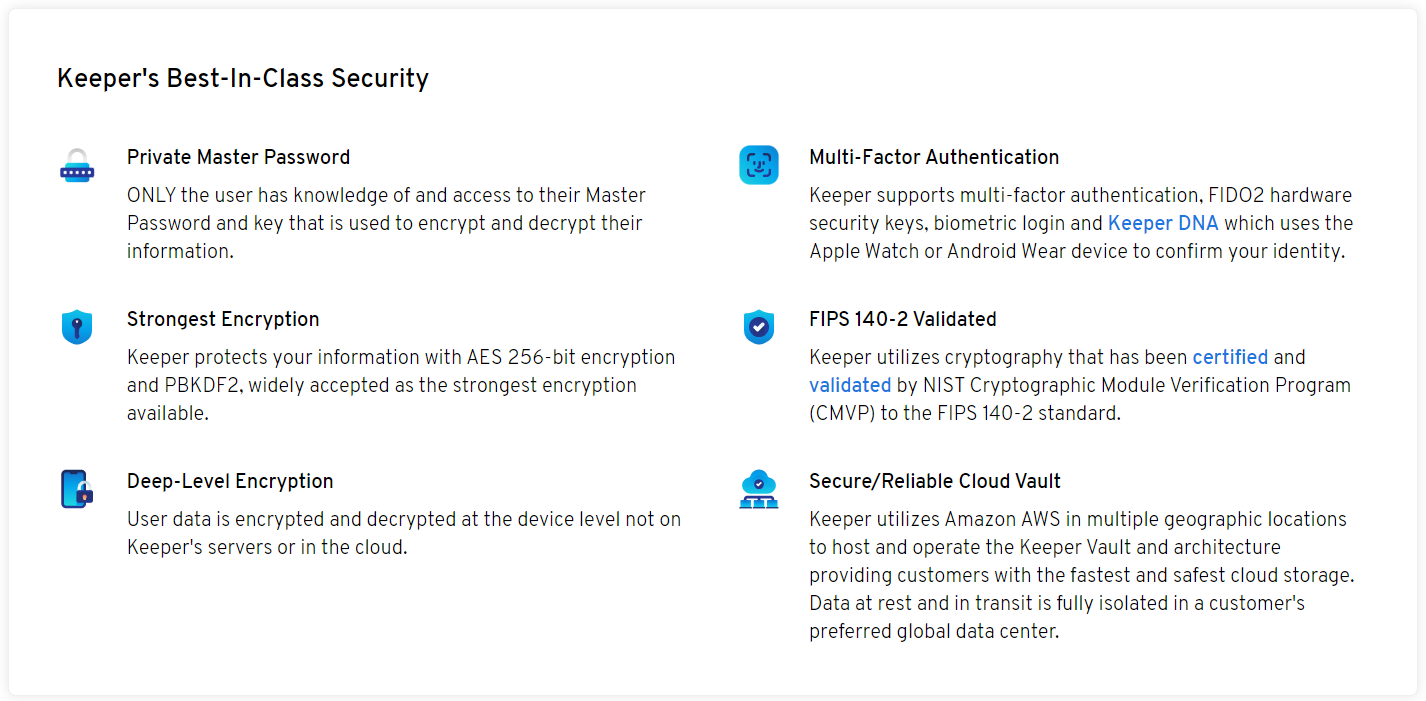 1. Zero-Trust and Zero-Knowledge
The zero-trust and zero-knowledge policy is an important part of Keeper. This means that everyone in the organization needs permission before they can use any software functions.
After you set up your Keeper account, you'll only need to remember the master password. If you forget your master password, you can recover your account by going to Keeper and clicking "Forgot Password" on the login screen.
The software will then walk you through a few easy steps to help you get back into your account.
2. Secure Password Generator
This is a free tool that makes strong, random passwords for users with just one click.  All you have to do is choose the number of characters, and the software will come up with long, complicated passwords that are hard to remember.
All of Keeper's features are meant to make its users safer, and a strong password is the first step.
But Keeper is different from some of its competitors because it gives you a safe place to store all of your passwords and makes sure you can always get to them quickly and easily.
3. Autofill Service
KeeperFill is another great feature that lets you automatically log in to your favorite websites with your username and password.
You can log into your accounts from an app or through a web browser since it automatically fills in your username, password, and other relevant information.
So, whether you use Keeper as a browser extension or on your phone, you can use KeeperFill for everything from your passwords to your payment information.
4. Business Password Sharing
Hacking statistics show that 65 percent of large companies have more than 500 employees who have never changed their passwords. This is a very scary number.
Keeper vault gives each employee a safe and encrypted place to store their work-related passwords, so they don't have to send them through text messages, emails, or Slack.
The vault has an admin account that lets you control who can see which passwords. This means that only people who are allowed to can get in.
5. Password BreachWatch
 Cybercriminals steal and sell passwords all the time, and if you use any of your passwords on websites that aren't secure, you could be a victim.
So, BreachWatch is another important part of Keeper that checks your passwords and lets you know if it finds any matches on the dark web.
6. Emergency Access
Have you ever thought about what will happen to your money if you pass away? When someone dies, family members often can't get to important financial files and other important information that was stored in digital vaults.
You can give up to five trusted family members or friends access to your Keeper account through the Emergency Access feature. You can set a certain amount of time to wait before giving access, and you can add or remove people from the Emergency Access list.
7. Secure Messaging
Keeper is a secure messaging app available on laptops, tablets, desktops, and smartphones. Your messages are encrypted and stored in a safe vault with multiple layers of security with KeeperChat.
It's easy to use and quick, and you can set sensitive attachments and messages to delete themselves after a certain amount of time. You can also delete messages and make private chats for small groups.
Multi-Factor Authentication
This password management tool has a wide range of multi-factor authentication options in addition to the Keeper security features already mentioned.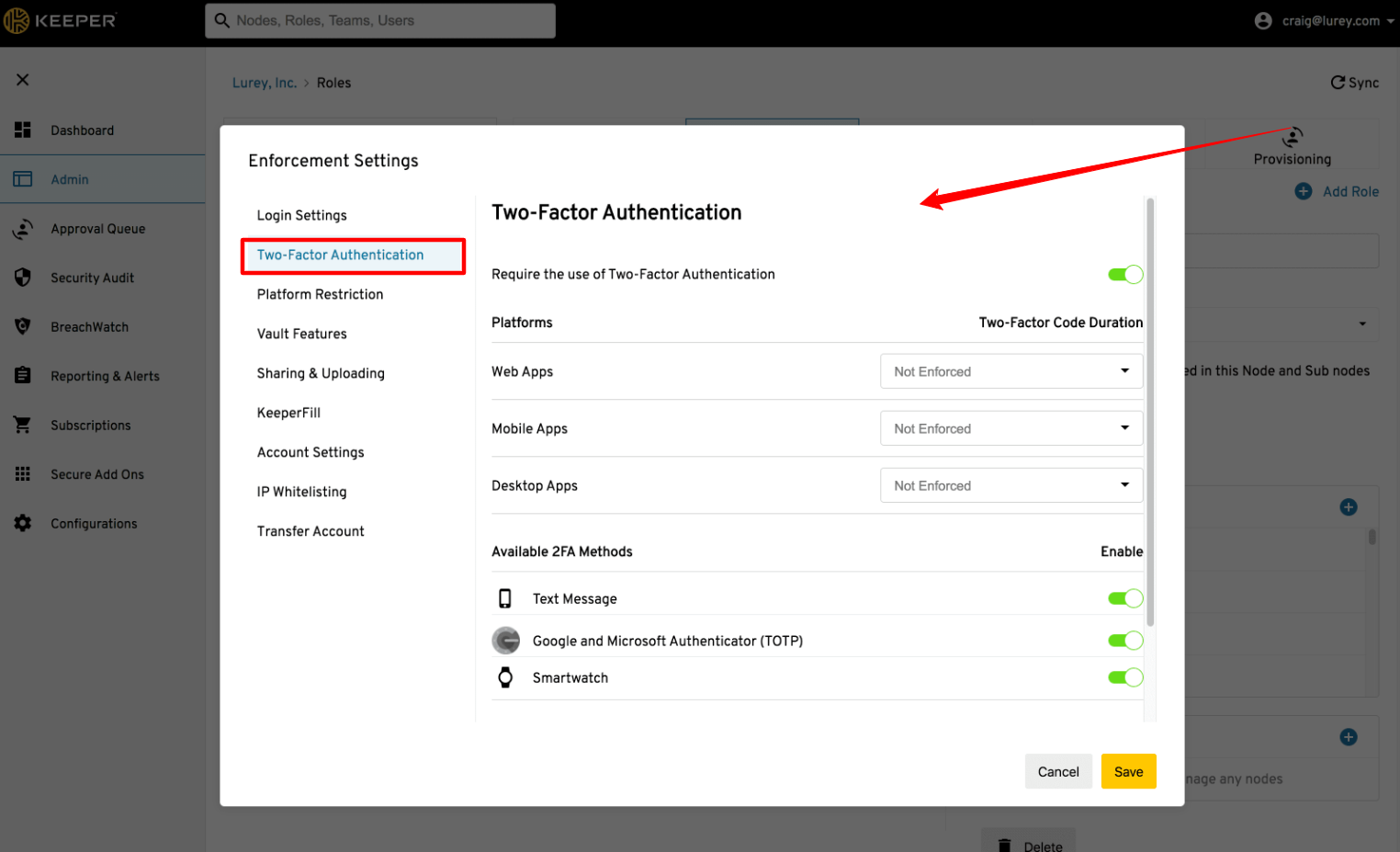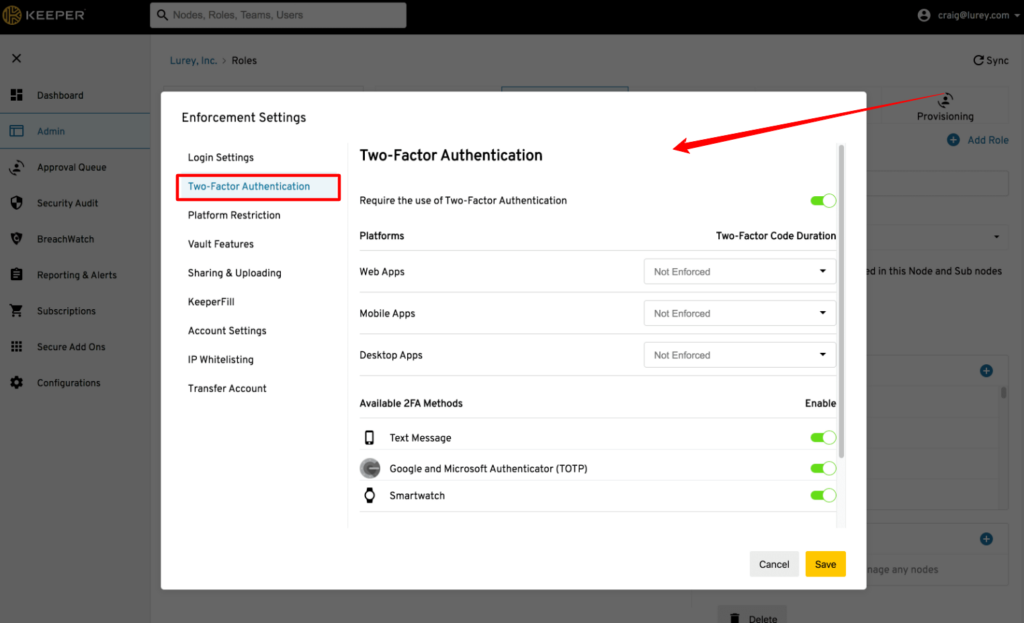 On the list are:
Authentication using two factors

Sending one-time SMS codes

Logging in using biometrics

Compatibility with smartwatches

Business users have advanced options
Using Keeper, it's quick and easy to set up two-factor authentication. You can scan the QR code that Keeper gives you with Google Authenticator, enter the code, and you're all set.
Using KeeperDNA, I sent the two-factor authentication codes to my Apple Watch or Wear OS smartwatch (formally known as Android Wear). What's good is that you get this biometric login for Face ID and Touch ID. 
I like that Keeper has an extensive selection of multi-factor authentication options, surpassing those offered by the majority of its competitors.
Nonetheless, Keeper goes above and beyond by offering an extra security feature called Self-Destruct, catering to those who prioritize utmost security. This optional setting, once enabled, automatically erases all locally stored passwords after 5 unsuccessful login attempts.
While Keeper already boasts exceptional security, multi-factor authentication options, and encryption, the inclusion of Self-Destruct serves as a valuable additional choice, especially for individuals who harbor heightened concerns regarding their security.
Password Vault
Keeper's password vault stands out as one of the finest I've come across.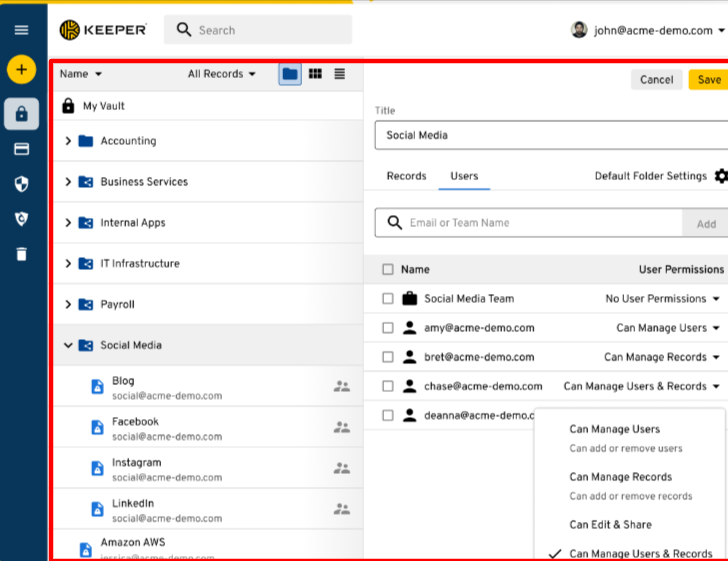 Not only does it offer unlimited password storage, but it also presents a multitude of organization options, such as creating unlimited folders and customizing view layouts, among others.
However, what truly sets Keeper apart is its inclusion of pre-defined record types for virtually every imaginable category, ranging from logins and payment cards to passports, IDs, memberships, health insurance, software licenses, and an extensive array of others.
Browser Extension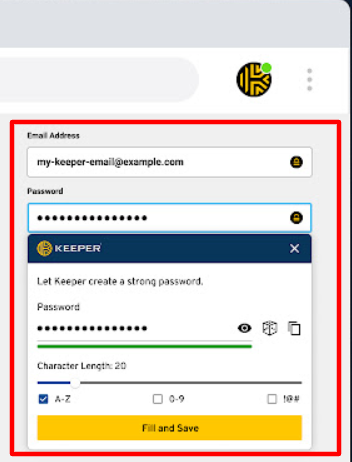 The Keeper Password Browser Extension is a valuable tool that enhances the convenience and security of managing passwords while browsing the internet. This extension seamlessly integrates with popular web browsers, allowing users to easily access their Keeper vault and autofill login credentials with just a few clicks.
With the Keeper Password Browser Extension, users no longer need to remember or manually enter their passwords for various websites. It securely stores and encrypts all login information, ensuring that sensitive data remains protected.
The extension also offers features such as password generation, allowing users to create strong and unique passwords for each site they visit.
Security Audit 
I found Keeper's Security Audit feature to be a valuable tool in monitoring the strength of my passwords.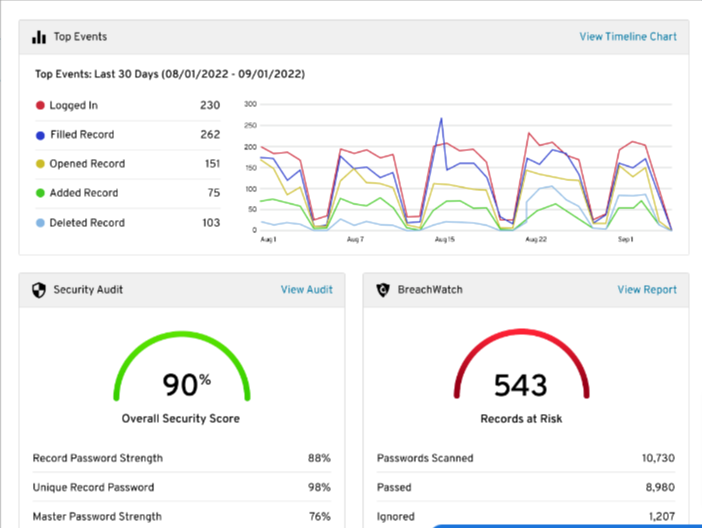 Since I make it a habit to regularly update my passwords, I was pleased to receive a 100% score for password security from the Security Audit feature. However, I did encounter a slight confusion when it flagged several of my passwords as being reused.
I initially thought this would negatively impact my overall score, but surprisingly, it did not.
Upon adding these weak and reused passwords, I was impressed by how quickly the Security Audit feature recognized them and adjusted my overall score to 77%. This experience highlighted the effectiveness and accuracy of the feature in identifying potential vulnerabilities.
Keeper Pricing Plans: 
Keeper offers a variety of price levels to accommodate users with varying needs. All options include a 30-day risk-free trial, allowing you to evaluate the program at no cost.
Because Keeper does not offer a money-back guarantee, you should take advantage of the free trial. All premium features are accessible during the trial.
If you opt not to upgrade to a subscription plan, however, you can continue to use the free version of the app on one device.
The following are the paid Keeper plans:
Personal

Family

Business

Enterprise

Student
Personal Plans
You would pay $2.91/month for Keeper Unlimited's personal plan, which costs $34.99 per year. Among the features are: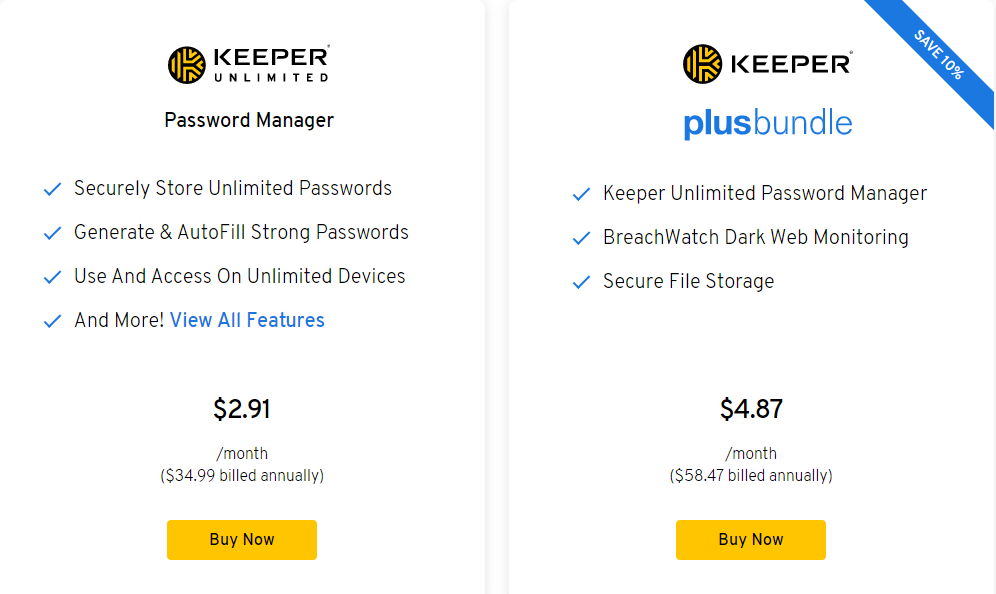 Storage of unlimited passwords

Identity and payments are unlimited

Sync with unlimited devices

Logging in with fingerprints and face ID

Record sharing that is secure

Access to emergency services

Web application

Support available 24/7
Keeper Plus Bundle costs 58.47 dollars a year or $4.87 per month. In addition, it provides 10GB of secure file storage and the BreachWatch dark web monitoring feature.
Family Plans
You can share five vaults with your family members in the Keeper Family plan, which includes 10GB of secure file storage. The cost of the service is $74.99 per year or $6.24 per month.
BreachWatch is a feature added to the Keeper Family Plus Bundle for monitoring the dark web. The annual plan costs $103.48 at a 10% discount or $8.62 per month.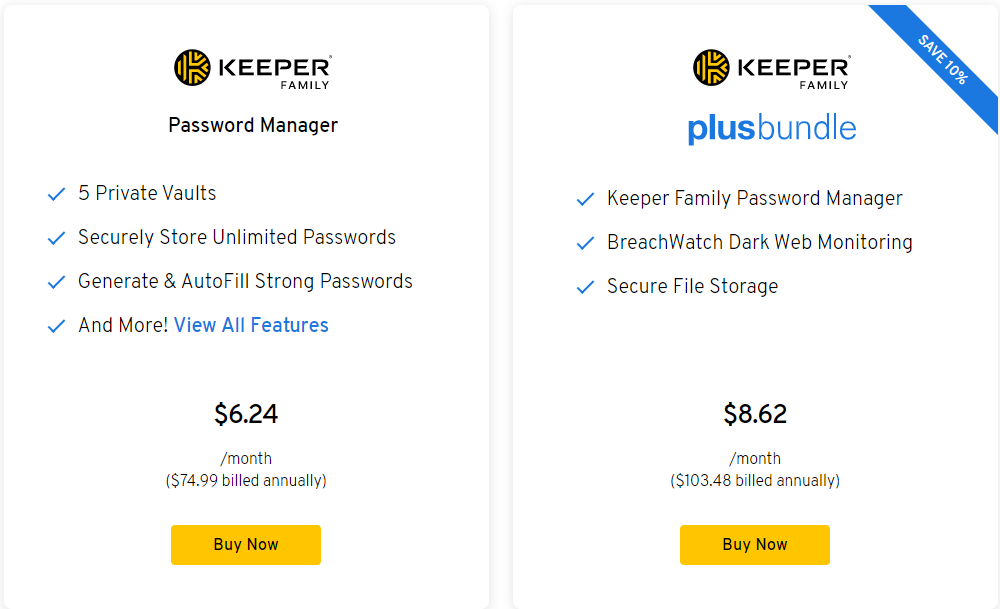 The discount is only available to yearly subscribers, not those signing up for a two-year or three-year contract.
Business Plan
If you have an unlimited number of employees and need Keeper apps for your business, the Keeper Business plan is an ideal solution.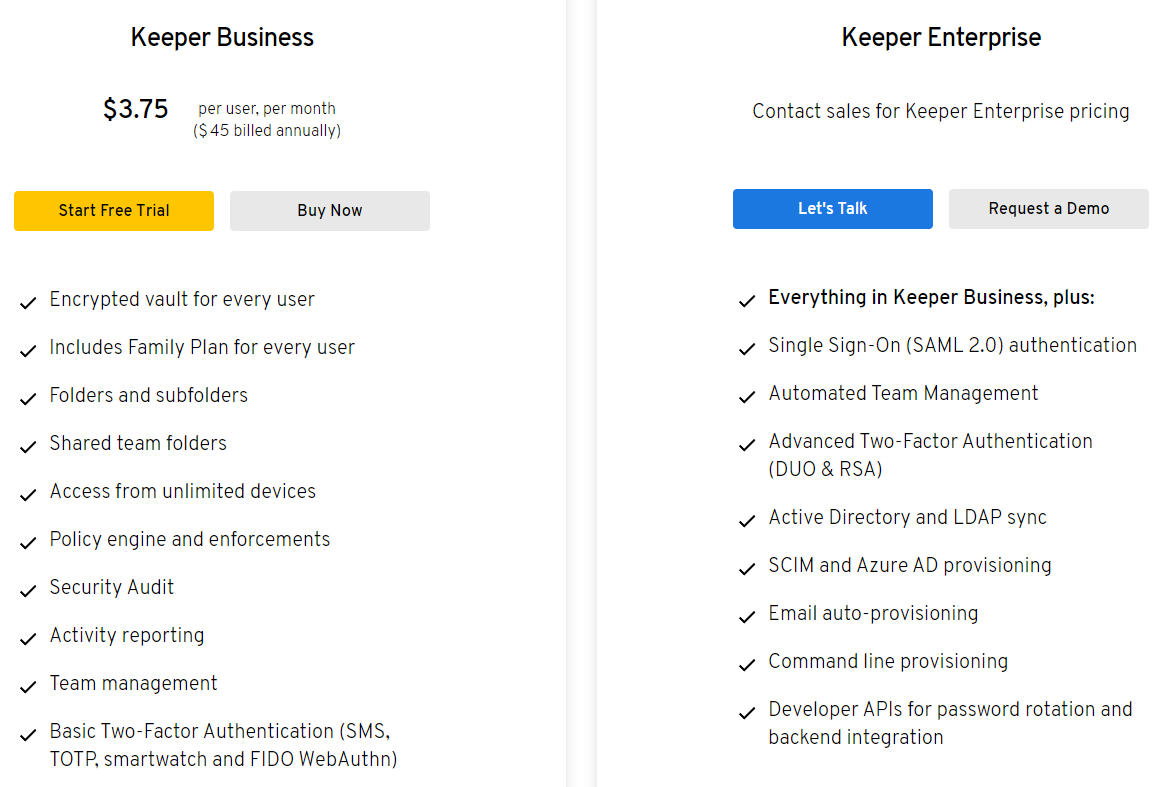 Among the features are:
Folders shared by the team

Subfolders and folders

Access from any device

Each user has an encrypted vault

Audit of security

Management of teams

Engines for enforcing policy

Reporting of activities

FIDO U2F, smartwatch, SMS, TOTP, and basic two-factor authentication
For just $45 per year, you get all these features, which means it's one of the most affordable password managers available.
Enterprise Plan
There is a better option available if you don't like the business plan, which includes all the features mentioned earlier while adding a few more benefits.
According to my review of Keeper's password manager, the Enterprise plan impresses with the following features:
Automated management of teams

DUO & RSA advanced two-factor authentication

Active Directory and LDAP synchronization

Provisioning Azure AD with SCIM

Authentication using SAML 2.0 (Single Sign-On)

Provisioning via the command line

Automated provisioning of emails

APIs for backend integration and password rotation for developers
The best thing about this plan is that it can be changed and that it lets you see how private your business is. Since the enterprise plan is made to fit the needs of each business, there is no price listed on the website. But you can ask for a demo or get a quote from Keeper's customer service.
Student Plan
If you are a student and are interested in the Keeper password manager, you can look at its special offer for students. Students can save a lot of money on a package that helps them protect their private information and passwords.
Keeper Customer Support
Keeper knows how important it is to have more than one way to help customers. Start by looking at different user guides and video tutorials to learn how to use the software.

And if you want to talk to a company representative, you can call, fill out a contact form, or send an email. There is also a chatbot called Sherlock that can answer some simple questions.
Quick Links:
Conclusion: Is Keeper Password Manager Enough [Year]?
Keeper is unquestionably a secure choice for password management in 2023. It incorporates robust encryption, adheres to a strict zero-knowledge policy, and boasts an intuitive user experience.
One of Keeper's standout qualities is its extensive range of features. It offers encrypted messaging, dark web monitoring, secure file storage, and a diverse selection of multi-factor authentication options, including facial recognition and fingerprint authentication, all aimed at safeguarding the data stored within your Keeper account.
Overall, I find Keeper to be an excellent password manager that checks all the boxes in terms of security, usability, and features. With the option of a risk-free 30-day free trial, I encourage you to give Keeper a try and experience its benefits firsthand.
FAQs: 
Is Keeper Safe To Use?
Keeper Password Manager is generally considered to be a safe and secure password management solution. It implements various measures to protect user data and ensure the privacy and confidentiality of stored information. One of the primary security features of Keeper is its strong encryption. It utilizes AES-256 encryption, which is a widely recognized and trusted encryption standard.
Is Keeper Free?
While Keeper does provide a free version of its password manager, it should be noted that this version is somewhat restricted in terms of features and accessibility. The free version becomes available only after the expiration of a free trial or subscription. The free version of Keeper offers basic functionalities such as password and payment card detail storage. However, it is limited to usage on a single mobile device. Notably, it lacks several advanced features including password sharing, data synchronization, secure cloud storage, dark web monitoring, emergency access, encrypted messaging, and the ability to use the password manager across multiple devices.
Was Keeper Manager hacked?
Keeper remains unscathed by any hacking attempts to date. In 2017, a vulnerability in Keeper's browser extension was uncovered; however, the company promptly addressed the issue, ensuring that no data breaches occurred as a result. Swift action was taken to patch up the vulnerability, successfully averting any potential problems stemming from it.