Do you want Prepscholar Review 2023? You've come to the right place. I've done an honest and comprehensive review of Prepscholar in this post.
Entrance exams are the first steps we take toward achieving our goals, and well-preparedness for exams is a critical process and stage of life.
We seek out the "BEST" sources from which to learn. Indeed, it is critical to learn from the best and most appropriate sources.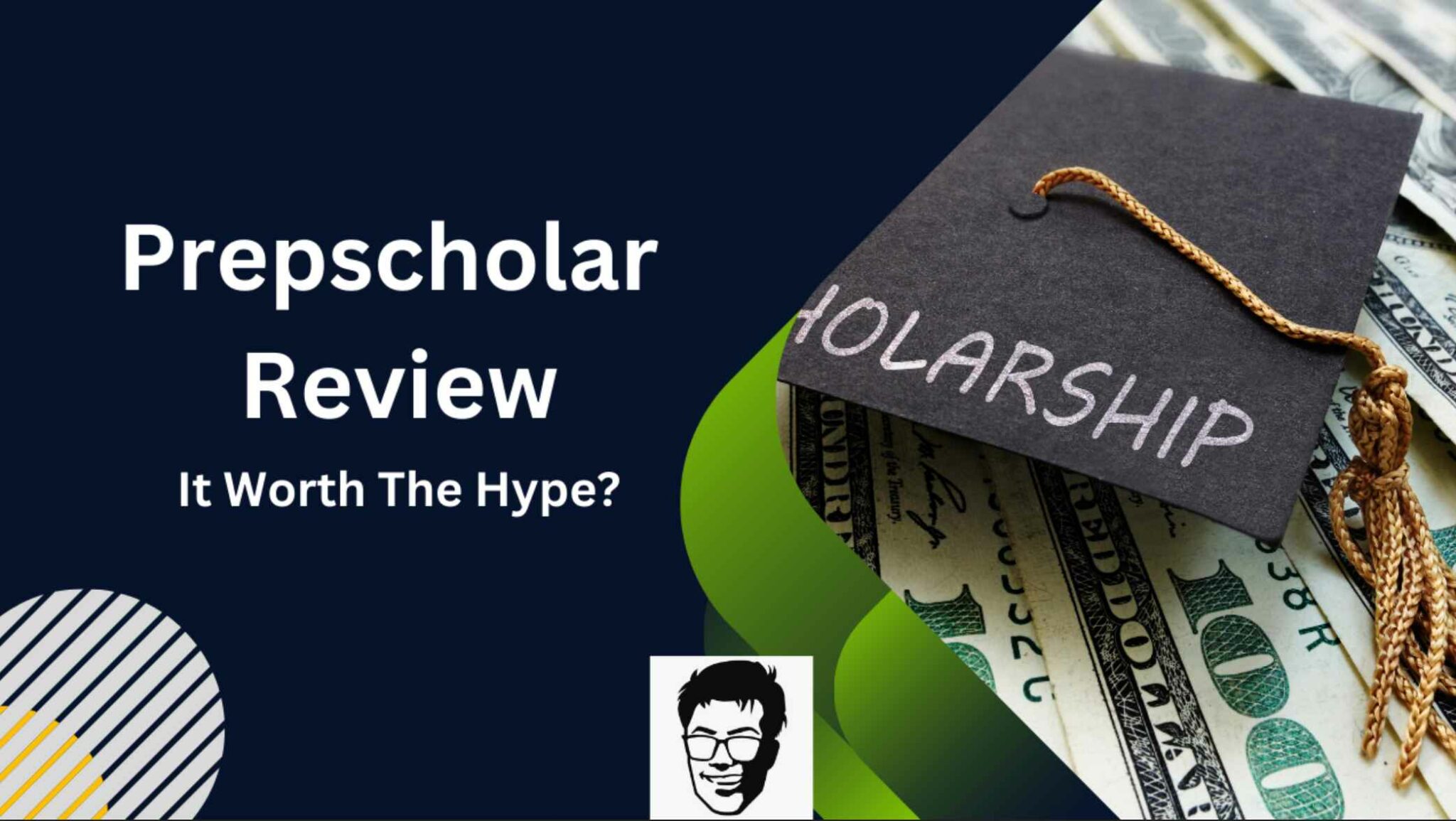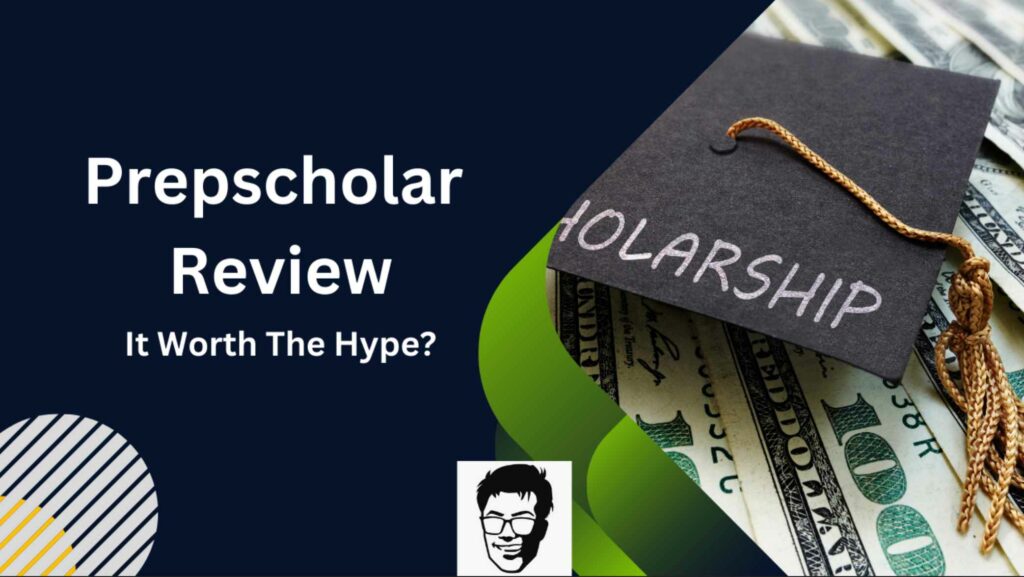 What distinguishes a good and reliable source? It's all about the customer. And how do we determine which product or service is the best or most dependable? According to the feedback. Right?
Most positive reviews demonstrate the product/dependability of service: If we see or hear about any negative reviews, we immediately lose faith in that brand.
If you've arrived here, you're probably looking for a detailed review of Prepscholar, and I'm here to help. I am confident that this review will assist you in making the best decision for your career and will dispel all of your concerns.
Here is my detailed review of Prepscholar; let's find out if you should try it:
Prepscholar Review 2023: What is Prepscholar?
Prepscholar is an online learning and training platform designed specifically for entrance exam preparation that began in Massachusetts in 2013.
Allen Cheng and Fred Zhang, two PhDs who graduated from Harvard with perfect entrance exam scores, founded Prepscholar. Allen and Fred founded Prepscholar to provide students with high-quality courses at reasonable prices.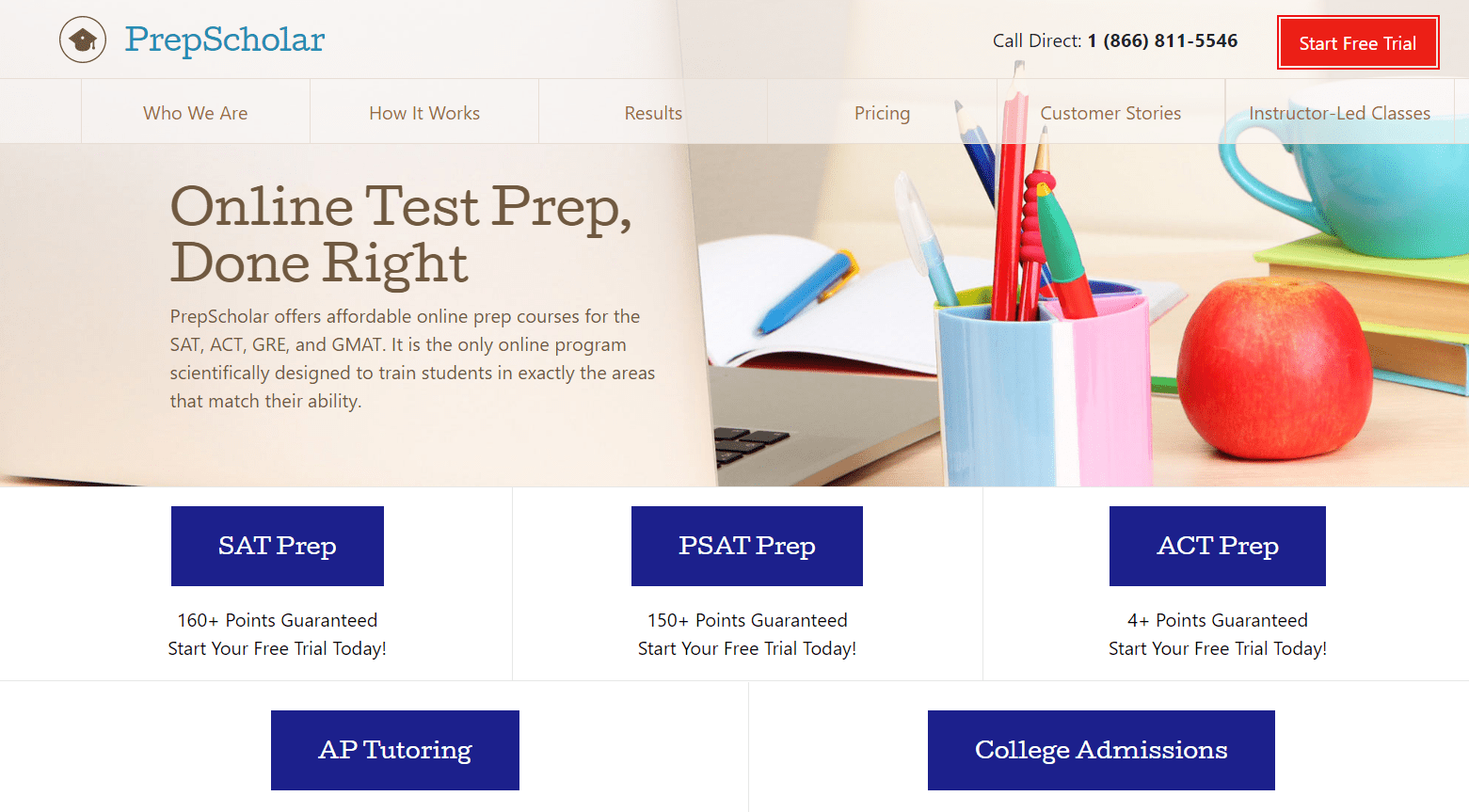 Prepscholar offers online preparation programs for some of the most common, globally acclaimed, and accepted admission tests.
They have courses customized to each student's learning process; to do that, they "learn" each student's strengths and weaknesses. It helps them create an effective study plan for every student.
Prepscholar is famous for preparing for ACT, SAT, GRE, GMAT, PSAT, and TOEFL exams. I recommend this company.
The platform has evolved into one of the best training and learning platforms for students needing assistance improving their SAT and ACT scores.
Prepscholar's Customer Reviews confirm that they try to provide their students with affordable and effective programs. Prepscholar provides customized programs.
Prep Scholar has positioned itself as one of the top companies with the best preparation programs in online learning platforms over the last few years.
You can also check out Prepscholar's main competitor, Magoosh, and if you want a discount, use Magoosh coupon codes.
Prepscholar Online Course Preparation
Are you unsure what your goals should be?
Prepscholar will help you craft your goals by following a step-by-step process:
1. Option One: A 5-day free trial with an adaptive diagnostic evaluation. The trial allows you to access interactive lessons and a customized curriculum with a progress tracker.
2. Option Two: One-year program, which comes with unlimited access to all the study material, additionally a customized curriculum, and you'll also get regular feedback from tutors.
3. Option Three: A lifetime program that gives you access to all study material, which includes all practice tests, private feedback from tutors, and weekly reports of the process.
What Does Prepscholar Offer?
Here is what Prepscholar has to offer:
1. GMAT Preparation Content & Guide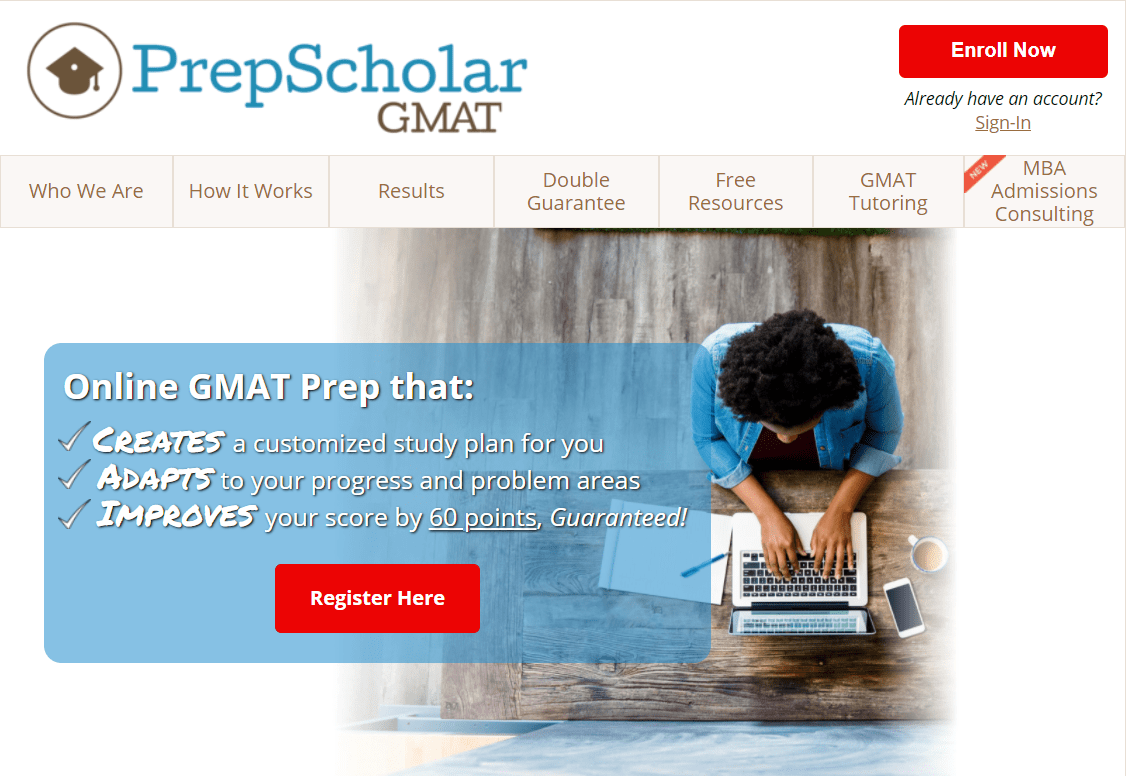 The GMAT is a computer-based admissions test used primarily for MBA programs. The written English test includes analytical, writing, quantitative, logical reasoning, verbal, and reading skills.
It is an important admission criterion for many of the world's top business and management schools.
For Prepscholar GMAT preparation, you can choose from three tutoring packages as follows:
The monitored automated prep option includes one month of access to all study material and 4 hours of 1-on-1 tutoring sessions;
The full tutor-led complete prep option includes three months of access to all study material, 10 hours of a 1-on-1 tutoring session, 5 Email-An-Expert Credits,
The maximum tutoring preparation option includes unlimited access to all material plus 20 hours of 1-on-1 tutoring sessions and 10 Email-An-Expert credits.
There is also an option to be included in a small study group.
2. GRE Preparation Guide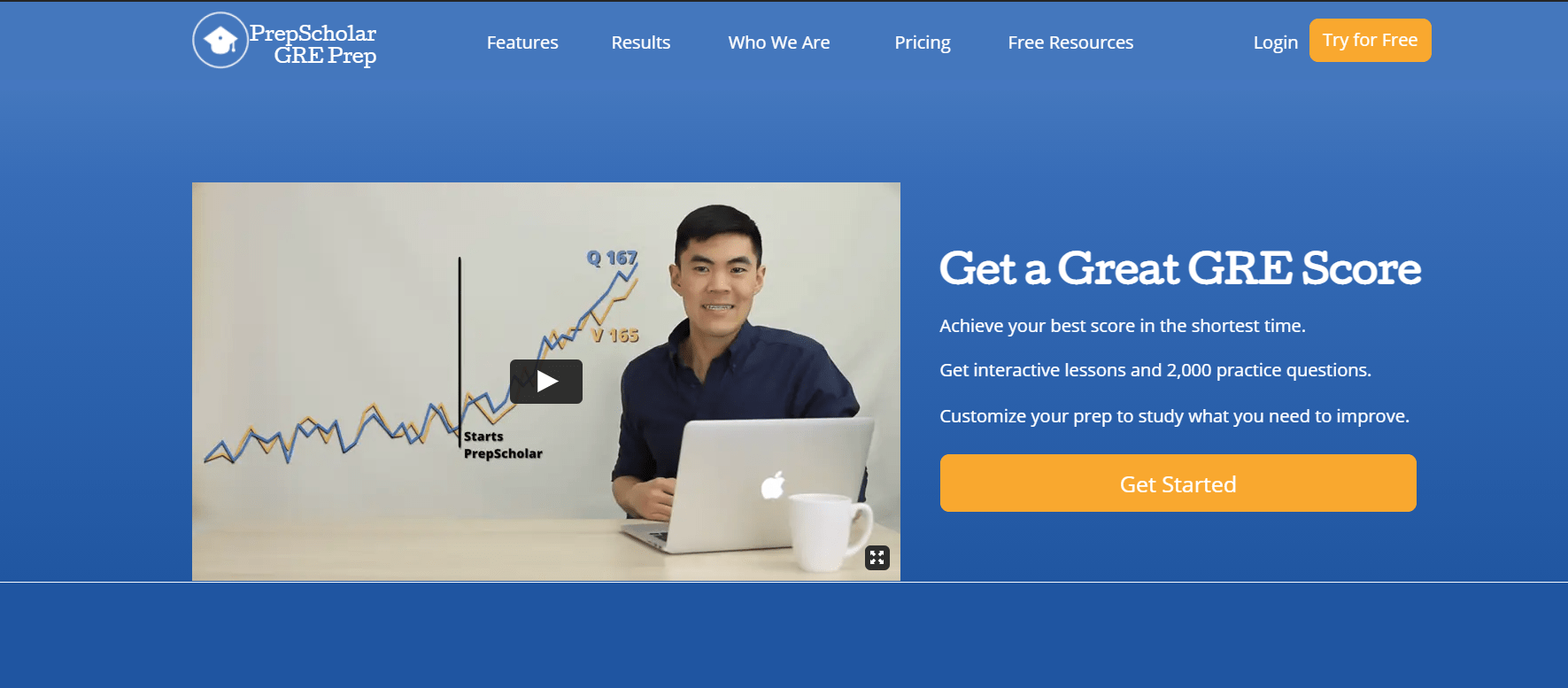 Like the GMAT, The GRE is also a Graduate/ MBA entrance exam.
3. PSAT Preparation Guide by Prepscholar
The preliminary SAT is a college-level entrance test in the US. It is not mandatory for college admission. However, preparing well to apply for a scholarship is important.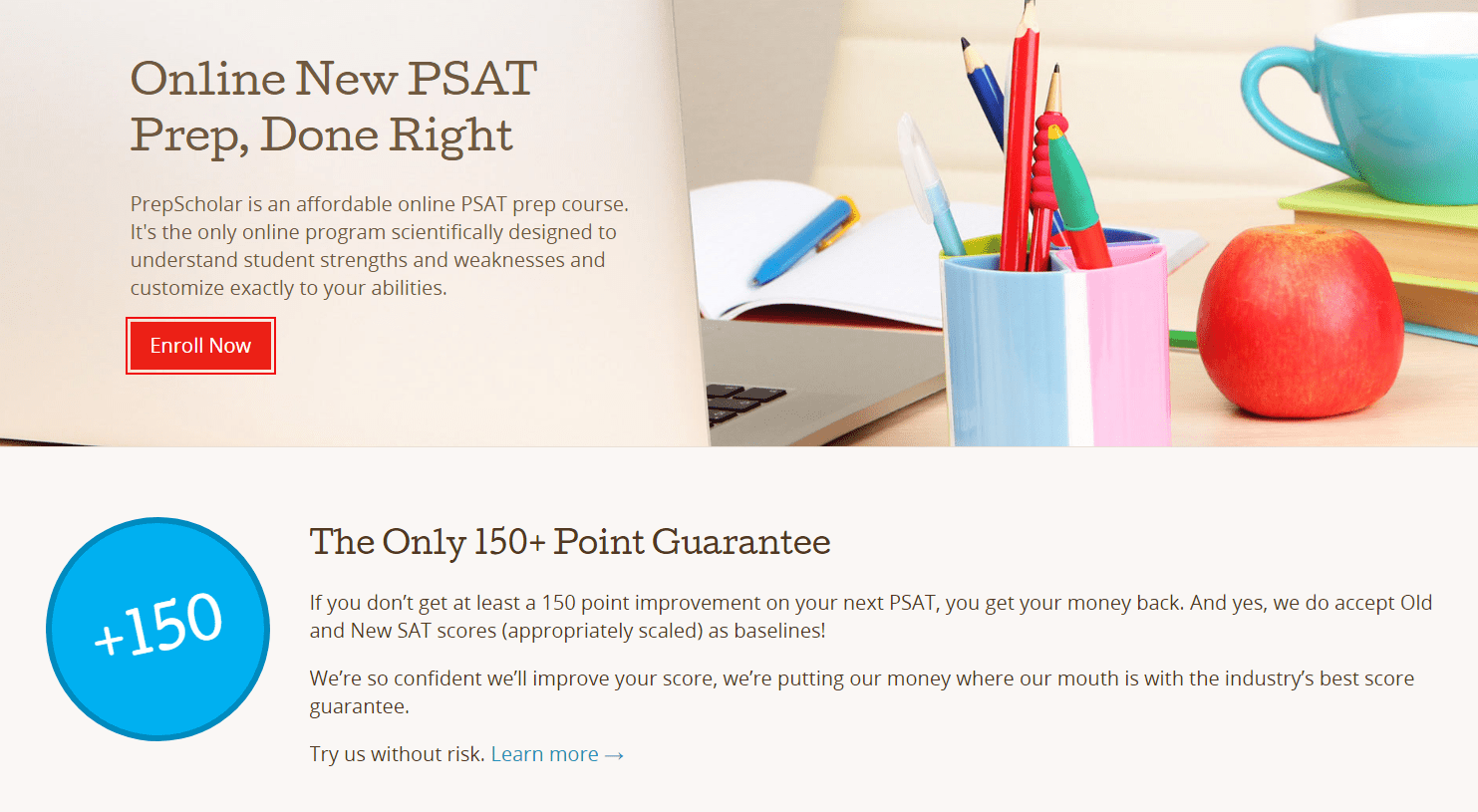 For the PSAT, you can choose from two customized options:
The complete PSAT online prep includes unlimited access to all study material, a customized curriculum, tutor feedback, and weekly progress reports.
The second one is complete + tutoring; it includes everything mentioned in the first package plus a one-on-one tutoring session.
4. Prepscholar's SAT Study Guidance
SAT is a standardized admission test widely used as an important criterion for college admissions in the United States.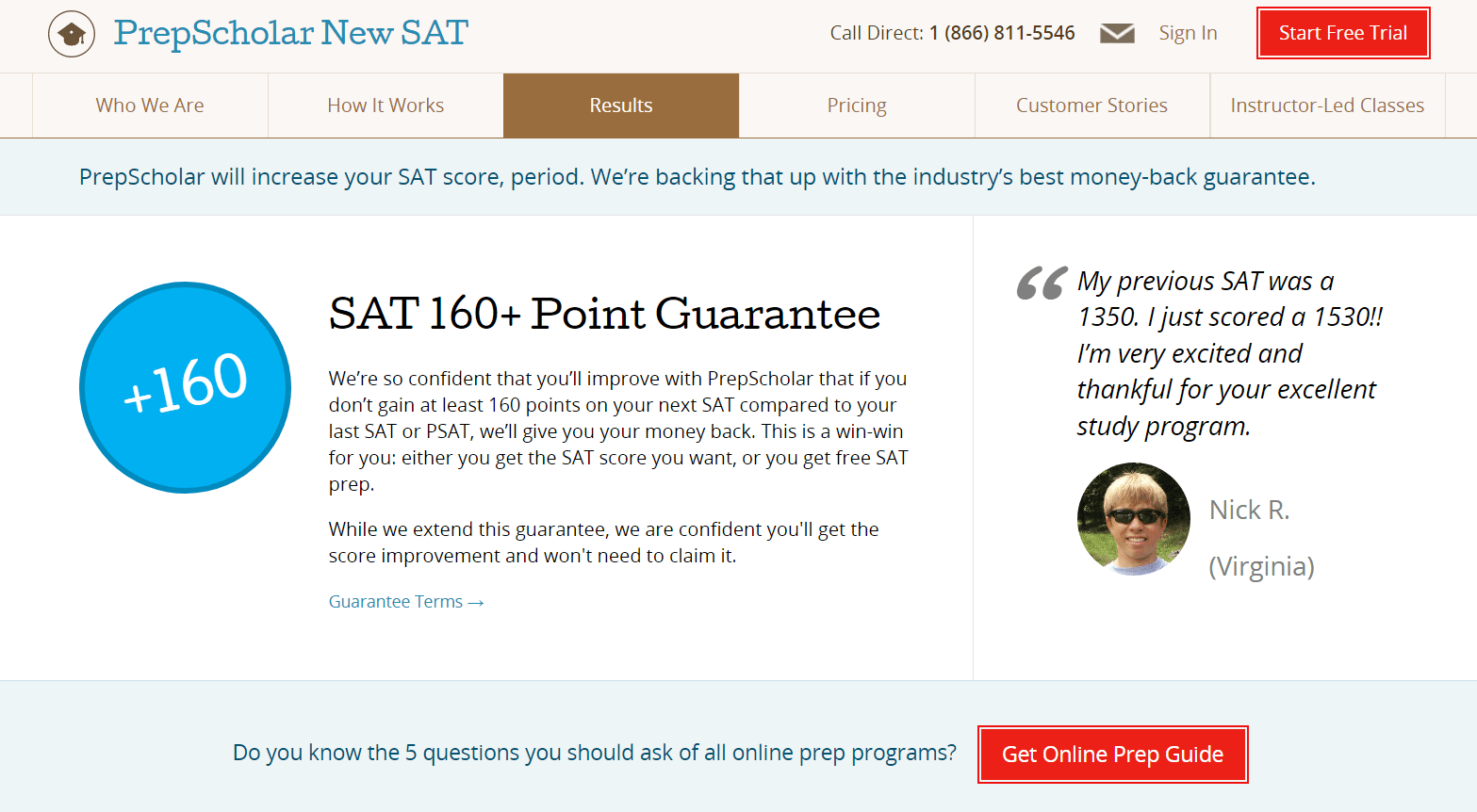 Key Features of Prepscholar's SAT Study Guidance:
2. Premium Training Videos:
Prepscholar has videos explaining concepts in detail, which is important to clear the SAT.  Even the hardest topics are simplified and explained.
SAT guidance by Prepscholar Offers-
With Prepscholar's SAT guidance, you can choose from a complete SAT online prep + tutoring, which includes everything, plus a one-on-one tutoring session.
Another option is the complete premium course, which offers access to everything for complete learning.
There is a special course that Prep Scholar offers called the Dual SAT + ACT, which includes courses for both tests and is very advised in ACT PrepScholar reviews.
5. Prepscholar's ACT Preparation Guide
ACT is almost the same as college entrance tests, but this is a more subject-specific exam.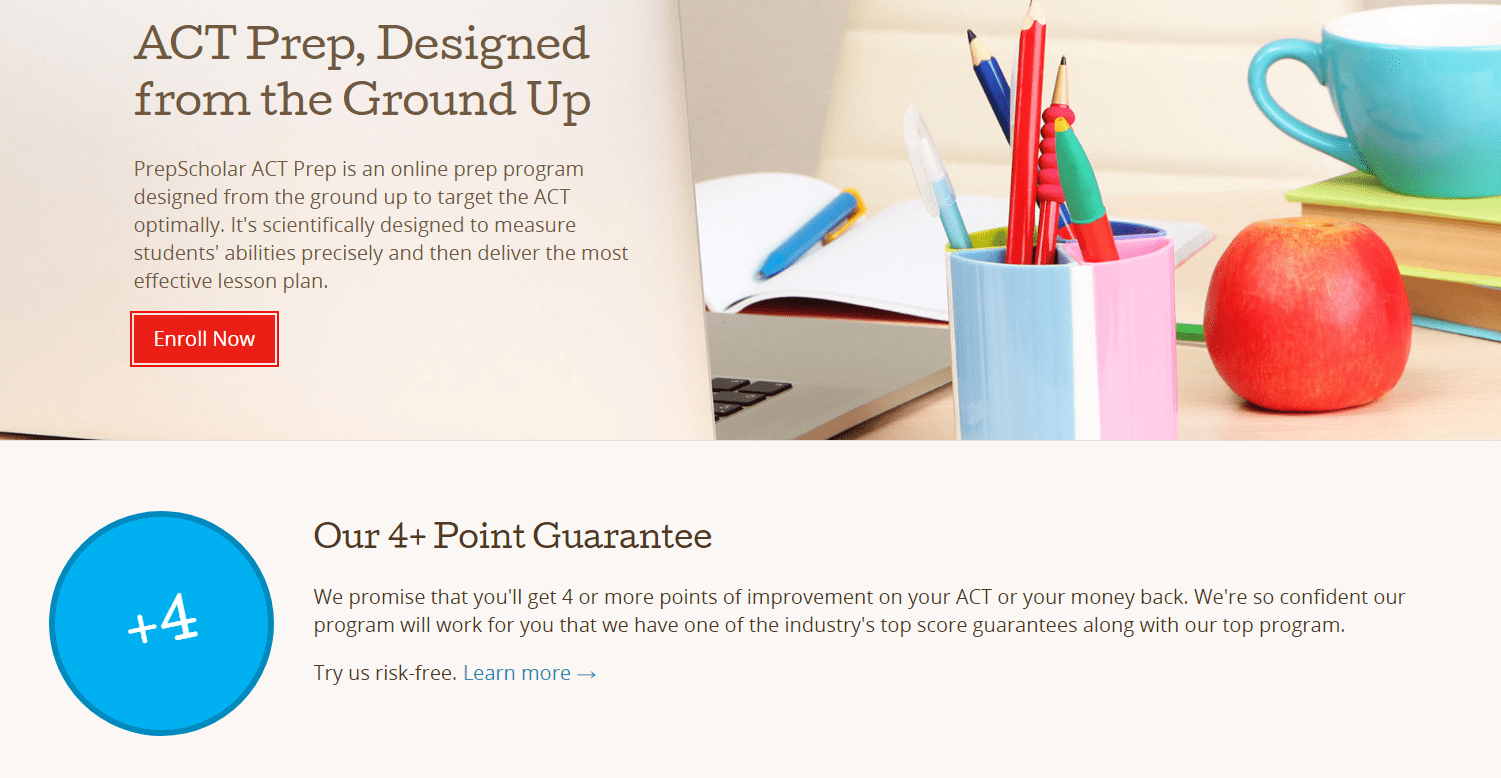 Prepscholar's ACT Preparation Guide Offers:
Prepscholar's ACT preparation guide offers 5 practice tests, and there is also space to customize your courses.
With Prepscholar, students can choose a great course from five different options.
The most popular is the complete ACT online prep, which includes unlimited access to study material, feedback from tutors, and weekly reports of your progress.
6. Prepscholar's TOEFL Preparation Guide: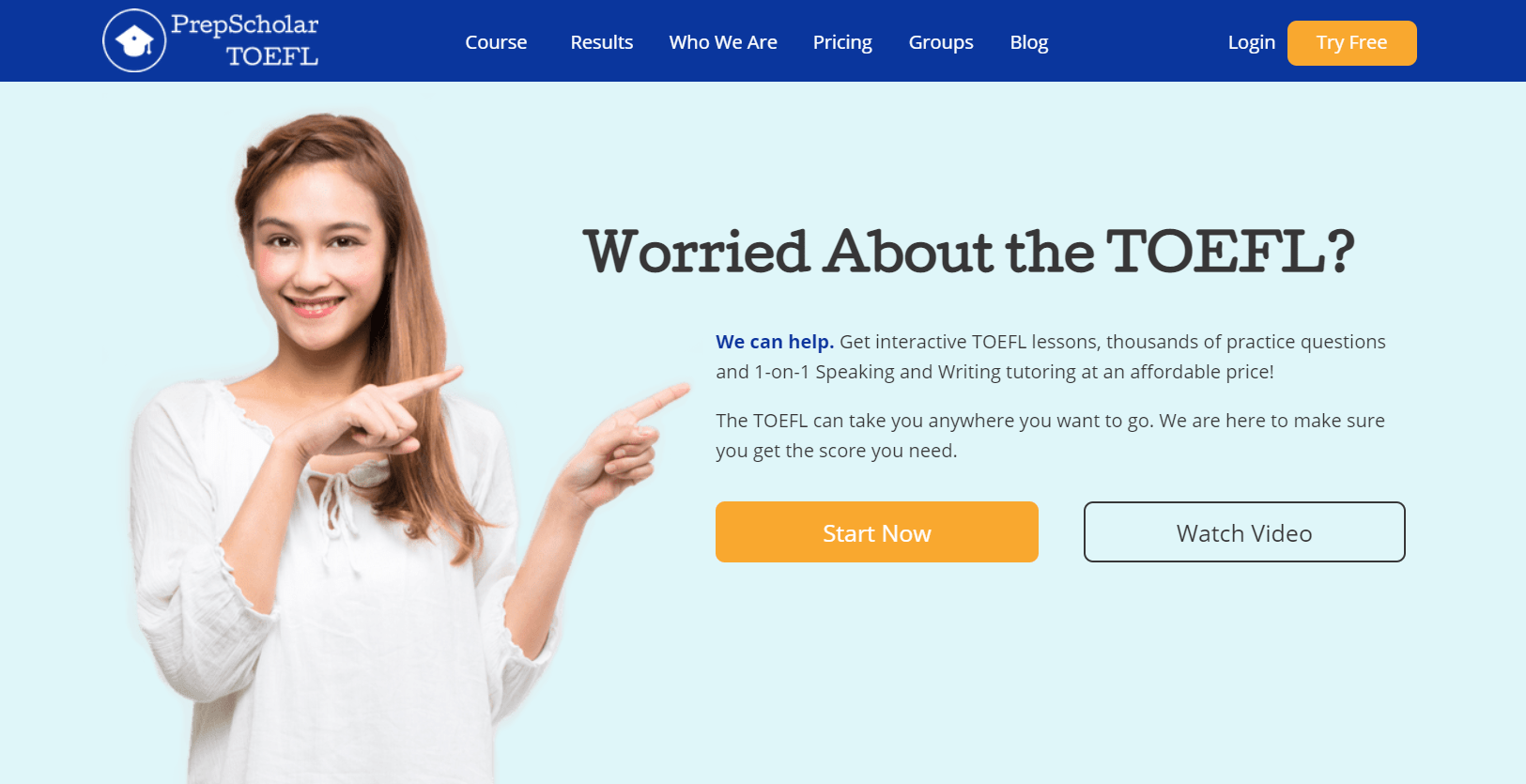 Prepscholar's TOEFL Preparation Guide Offers:
The first is a 5-day free trial, which offers an adaptive diagnostic assessment, 150 hours of interactive lessons, and 4,000 practice questions.
The second option lasts a year and allows you to customize a curriculum. It also gives you personal feedback from tutors and unlimited email support by Prepscholar'
The third option, the master option, lasts your lifetime
7. SAT Subject Test Prep by Prepscholar
Two programs are available for the subjects: US History, Literature, World History, Math 1 and Math 2, Biology, Chemistry, and Physics. You can choose from either of them.
Prepscholar For SAT preparation has 3 Packages to offer:
The Complete Admissions Package includes a meeting with a personal consultant who will help students create a strategy to select the best schools.
The Full Essay Service offers guidance through all the entry essay processes, including revisions and finalization.
The Essay Editing program only has unlimited essay revisions and finalization.
About PrepScholar's Free EBooks:
Prepscholar gives you free EBooks for guidance. So that you know and understand what exactly you need.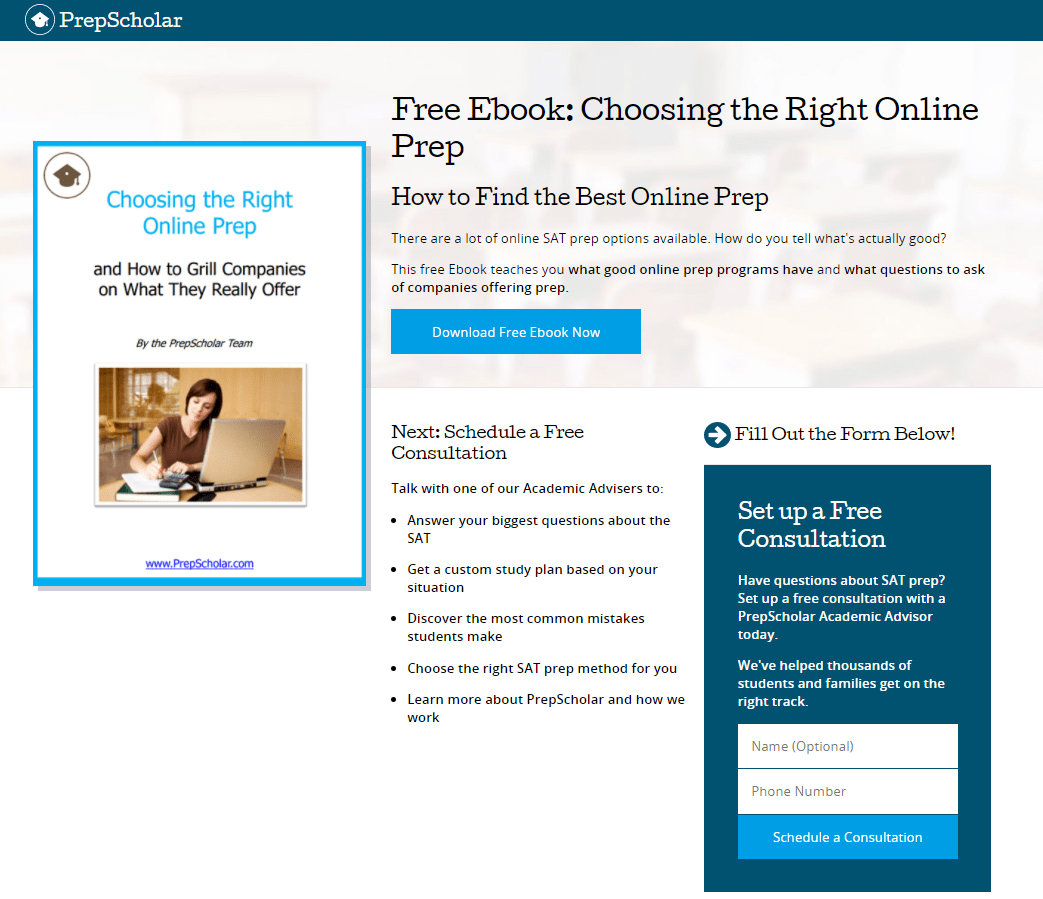 These books are available for all the courses, and they contain:
They have prepared these EBooks based on their years of experience and large amounts of independent research to formulate these thorough guides.
5 Tips for 160+ Points
This guide teaches you the five most critical factors for increasing your Entrance exam score.
Thinking of How tutoring? In these books, Prepscholar has broken down the pros and cons of each and tells which methods work for which students efficiently.
It helps you Choose the Right Online Preparation tool.
Online Prep is more popular today than ever because of flexibility in timing; there is no geographical foundation, but which programs work? These books have mentioned 5 questions you must ask your online prep program to ensure it works for you.
Prepscholar Pricing Plans: How Much Does Prepscholar Cost?
Prepscholar offers 5 packages with different features. Let's start with the most popular one.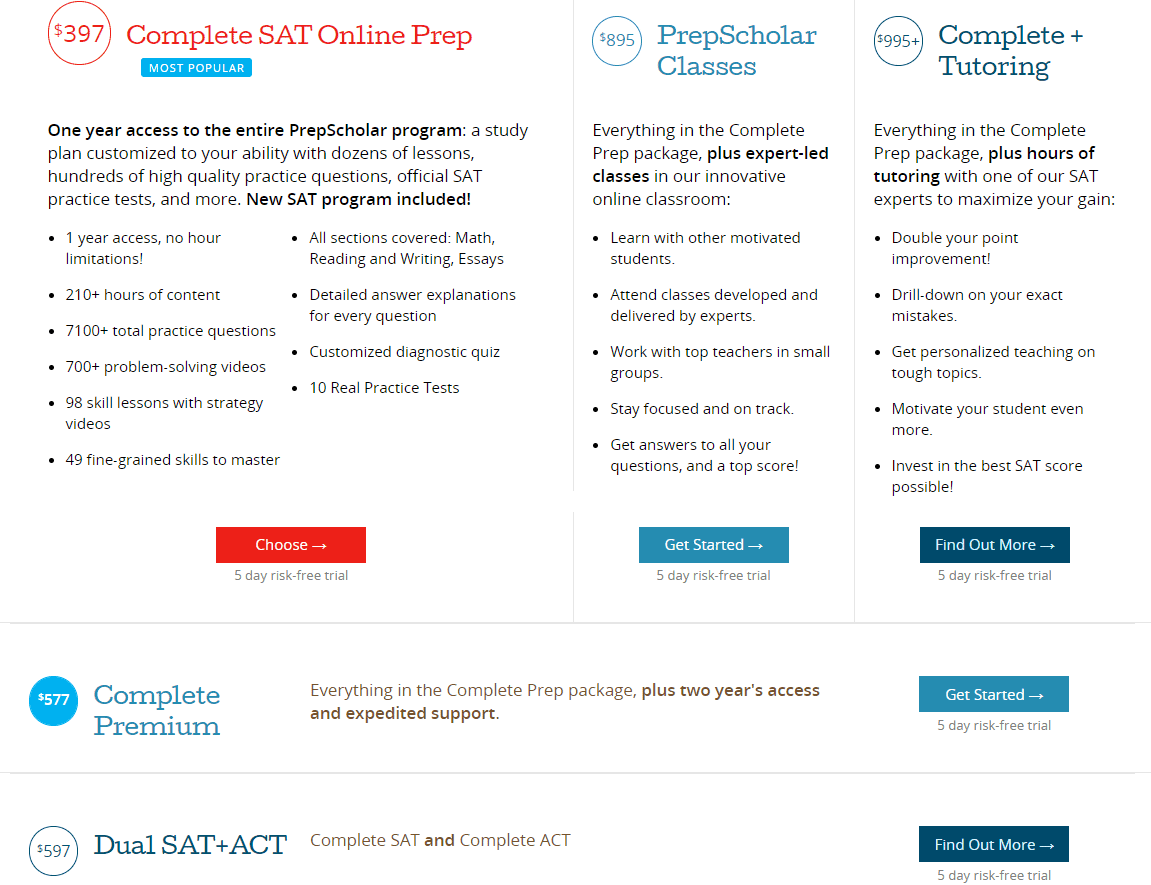 1. First Package
$397 Complete SAT Online Prep comes with one year of access to the entire PrepScholar program
Key Features of this Package include:
1-year access, no time limit
200+ hours of content
7000+ total practice questions
700+ problem-solving videos
98 skill lessons with strategy videos
49 fine-grained skills to master
All sections are covered: Math, Reading, and Writing, Essay
Detailed answer explanations for every question
Customized diagnostic quiz
10 Real Practice Tests
2. Second package:
The second package costs you $895
The Key Features of this package include:
You get to learn with other motivated students.
Attend classes developed and delivered by experts with practical knowledge.
Work with top teachers in compacted groups.
Stay focused and on track.
Get answers to all your questions
3. Third Package:
The third package costs you a little more, $995
This package consists of everything in the Complete Prep package, plus hours of tutoring with one of the SAT experts to maximize your gain.
Key Features of this package include:
Mistake Tracker helps to drill down on your exact mistakes.
Get personalized teaching on hard topics.
4. Fourth Package and its Features
This package of Prepscholar costs you $577, a Complete Premium course.
Key Features: This is a Complete Preparation package with two years' access and expedited support.
5. Fifth Package:
Dual SAT+ACT
Key features: Complete SAT and Complete ACT and Strategic Focus Tool that helps you allocate time between the two tests!
Prepscholar Review From Real Students
Hear what real students of PrepScholar have to say about the program: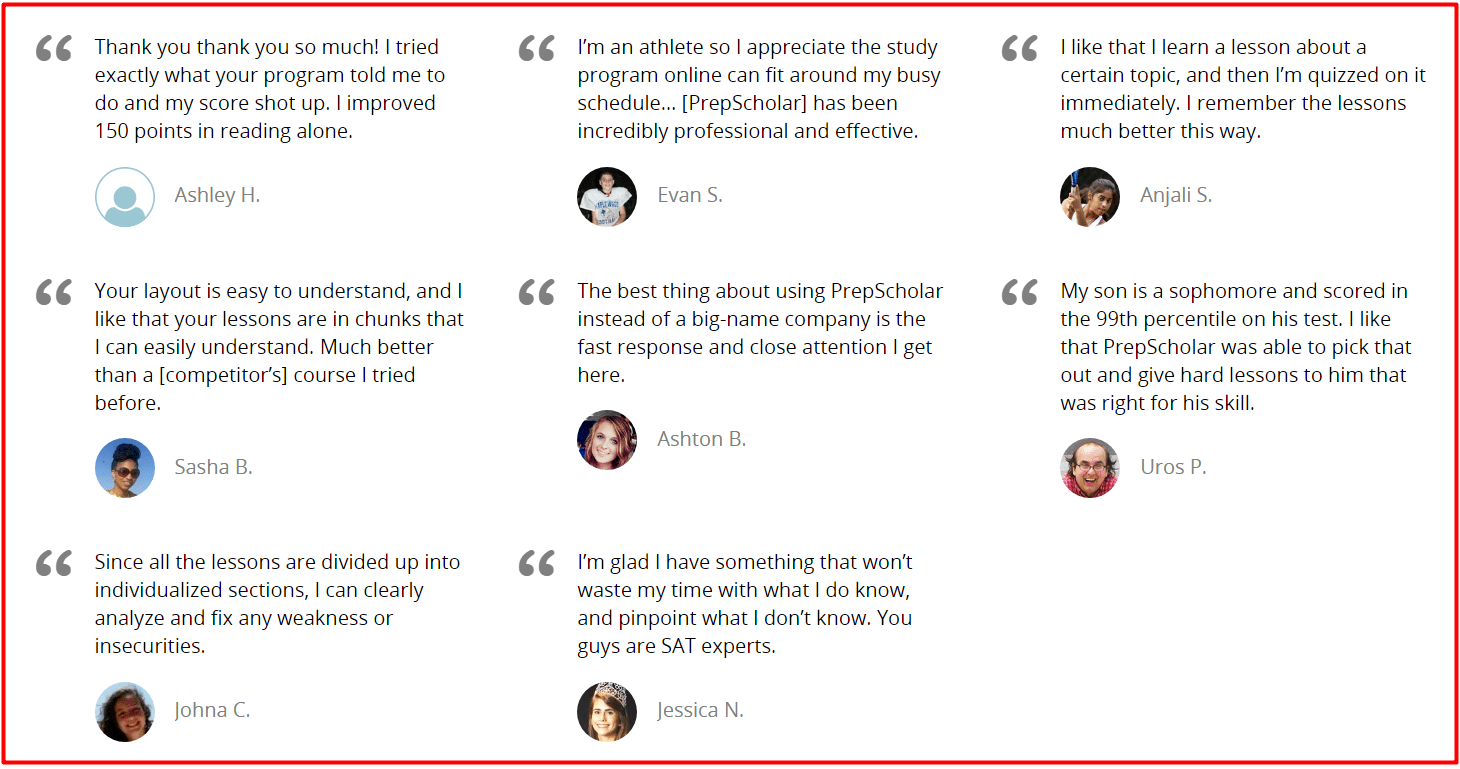 I really like your progress bar. I want to finish all the lessons to fill it up.

– Maggie S.
The best part of PrepScholar is that it's structured. It tells me exactly what I need to study at every point, so I don't have to guess.

Sarah S.
PrepScholar lets me work whenever I want to. I have a busy schedule and this is great.

– Donald L.
Thank you thank you so much! I tried exactly what your program told me to do and my score shot up. I improved 150 points in reading alone.

– Ashley H.
Quick Links:
FAQs:
🙋‍♀️ How much does PrepScholar cost?
This PrepScholar program will cost $399 per year, with so many benefits. The PrepScholar program has 1400+ practice questions, customized diagnostic quizzes, 60+ skill lessons, and detailed explanations. One gets access to 10+ practice tests.
✅ Does PrepScholar Act work?
The Answer is Yes based on the student feedback who has completed the PrepScholar ACT prep course, Student promise to have score improvement in comparison to previous ACT.
🤷‍♂️ How good is PrepScholar?
PrepScholar ACT has mostly positive reviews. PrepScholar offers customized ACT preparation for each individual who can work towards improving and overcoming their weaknesses to get results.
Conclusion: Prepscholar Review 2023
Prepscholar is a one-stop shop for all types of entrance exams. The best part about its courses is its trainers, who are highly qualified and have passed exams with flying colors.
And don't forget about the reviews; the company is known for providing exceptional customer service, which explains the positive feedback.
You will rarely find negative reviews about their tutoring, which is a significant accomplishment because we know that a satisfied customer would forget to leave a review, but an unsatisfied one would not.
Apart from the price, everything about this online learning platform is perfect. Especially advantageous is the one-on-one tutorial. This online platform is highly recommended if you prepare for any entrance exam.
Hopefully, this Prepscholar Review has clarified any confusion about this online tutoring platform.
Follow Prepscholar on Facebook, Linked In, and Twitter to stay updated with the courses, curriculum, pricing, and discounts.
To glimpse their journey so far, visit the Prepscholar About Us page.