Are you looking for an unbiased Bionic Turtle Review? I've got you covered. In this review, I will discuss whether Bionic Turtle is worth it and whether you should try it.
The FRM exam is a tough one. It's hard to know what to study and what resources to use, especially when you have a busy schedule.
It's easy to get overwhelmed and not know where to start. You need someone to help you break it down and explain the process in detail.
The Bionic Turtle FRM Study Planner is the most extensive planner available. It provides everything you need to pass the FRM exam, including daily questions, instructional videos, learning resources, practice tests, and more.
In this post, I have featured my honest Bionic Turtle Review. So, let's dive in.
What to Look for in an FRM Prep Course?
A good FRM prep course should:
Include both lectures and in-class discussion topics with small discussion groups.
Provide access to instructors and mentors.
Highlight case studies and examples from experience in the financial services industry.
Include a variety of topics related to the Financial Risk Manager certification exam, like Corporate Finance, Portfolio Management, Quantitative Analysis, and Credit Risk.
Include plenty of hands-on exercises to help you when it comes time for the certification exam.
Bionic Turtle Review 2023: What Is Bionic Turtle?
Bionic Turtle was founded initially by David Harper in 2004. It is a preparation website for students to help them pass the FRM exam.
It was one of the first FRM preparation providers to teach their students with videos and e-learning tools. This is the most active FRM forum because they constantly add practice exam questions and provide new tests regularly.

The main goal of this company is to provide quality-based materials at an affordable price. Their study material and video lectures equip you with an explanation of the complicated topics.
This will help you in the long run when you work as a certified FRM. The examples given in the lectures are straightforward to follow.
You can get a solution to any practice problems, and they will make you understand the concept of those problems, which is fantastic. That makes those problems super easy to solve.

All the study materials are part of this course. They have the largest FRM test bank in this industry because the number of practice questions is over 4,400. You will learn the material, understand the concept, and practice the questions simultaneously.
Pros & Cons Of Bionic Turtle
Here are some of the pros & cons of Bionic Turtle:
Pros
Instructional Videos to make you understand the most difficult concepts

Amazing Study Materials

Over 4,000 Practice Questions Available

Huge Community Forum where you can connect with other students
Cons
No Offline Material

It does not include all GARP curriculum.
Who Should Consider Bionic Turtle?
The course program offered by Bionic Turtle is good for FRM clients. If you already have experience in this field, we think it will be best for you. But if you have much experience, you will only require Bionic Turtle's review course.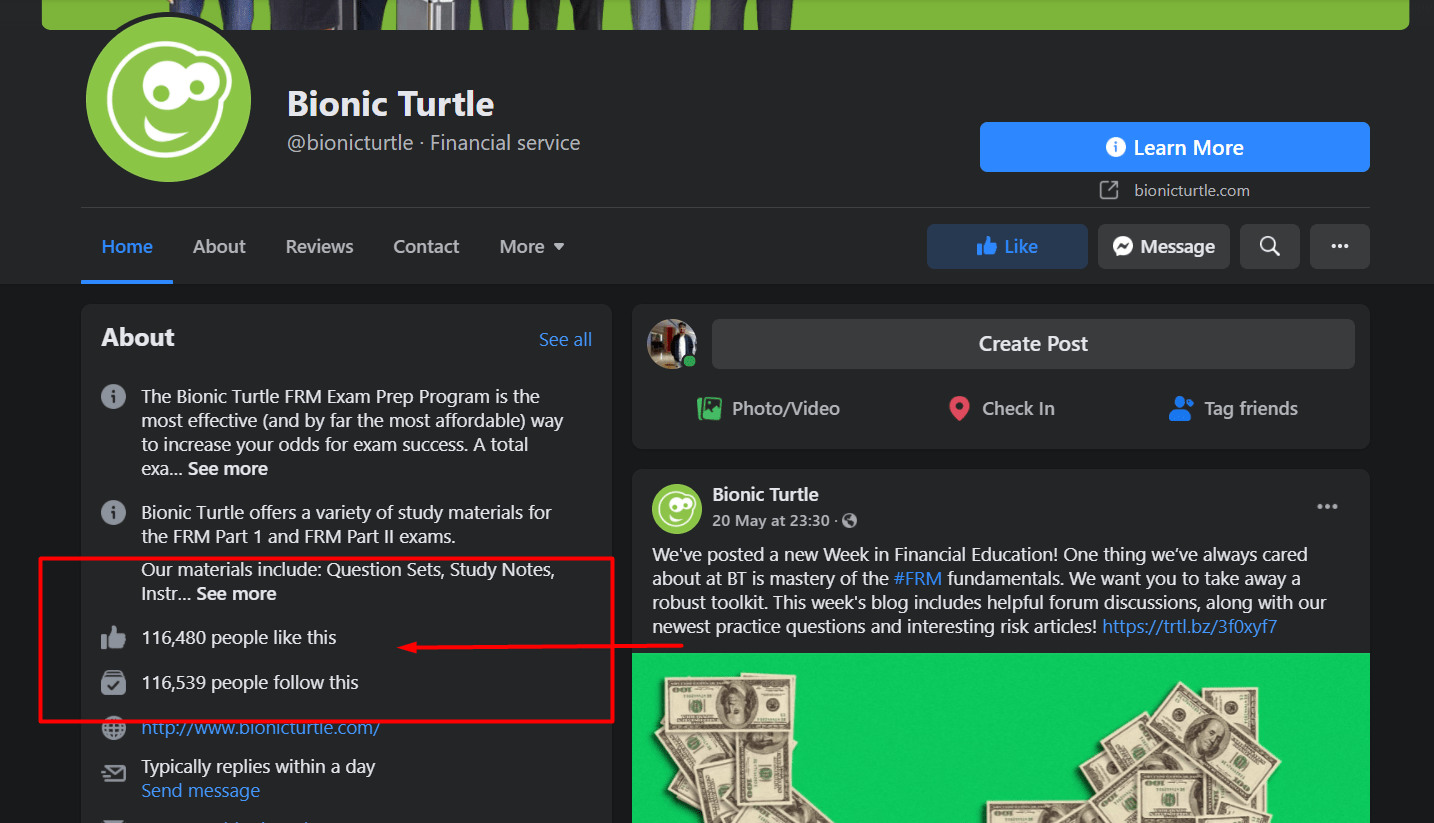 Aside from Bionic Turtle, you may also want to use the GARP core books for additional study materials, and the combination of both of them will help you pass the FRM exam.
If you want to dive deep into the concepts, it is the best place to learn them comprehensively.
However, if you are a newbie inexperienced with financial risk management, Bionic Turtle's refresher course will be an invaluable addition.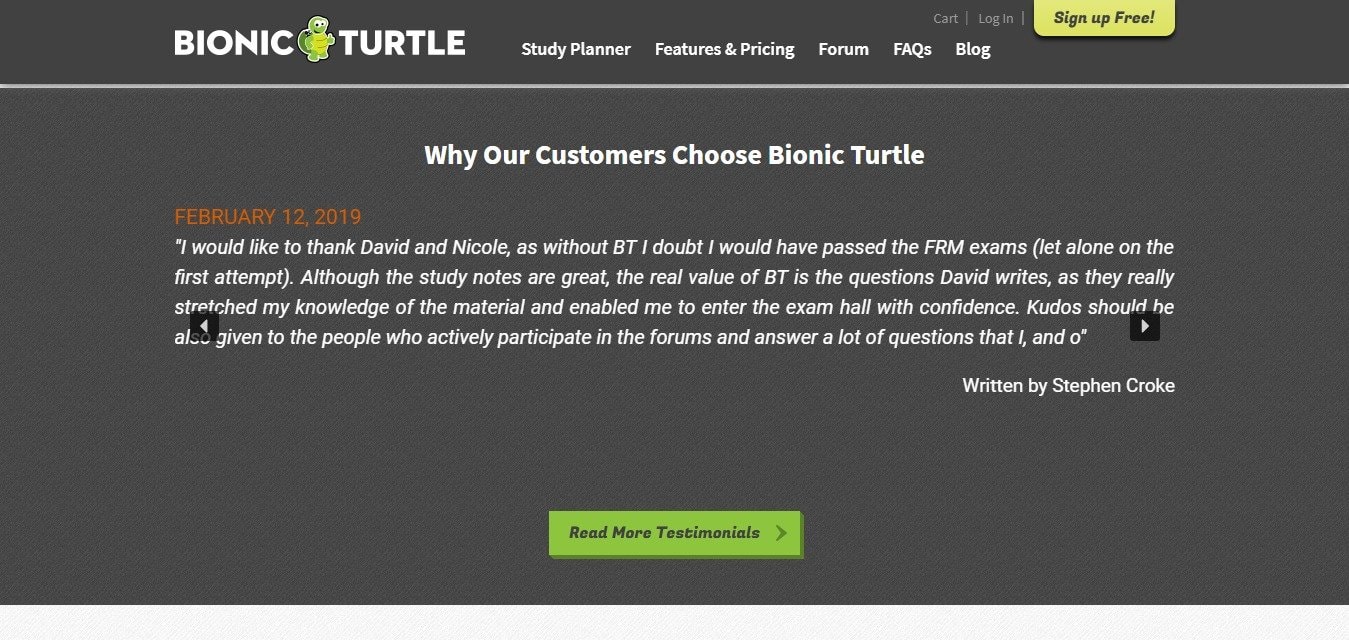 The reviews available on the internet of Bionic Turtle are very significant, and most of the students got better results from enrolling in one of Bionic Turtle's review courses. The study notes, and videos they provided are great and easy to understand.
Free Bionic Turtle FRM Courses
You may create an account for free at Bionic Turtle. There are several free FRM resources available there, including:
Bionic Turtle Customer Support
The customer support provided by Bionic Turtle is excellent. You can ask your queries regarding study materials from the teachers.
They have an option available for frequently asked questions, which mostly solves all of your queries, but if you do have a query that is not covered in FAQs, then you can send it through an email, and within a few hours, you will get answers to your questions which is good.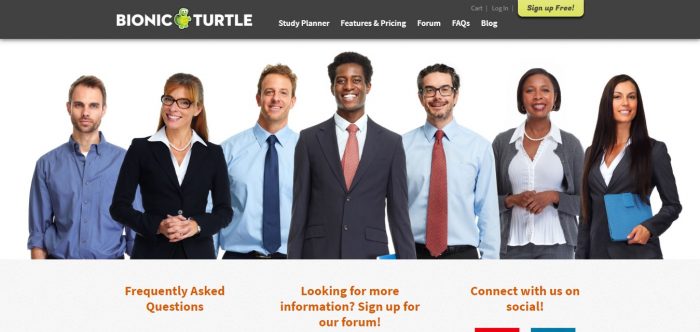 They also have a blog where they have posted answers to questions like why you should take the FRM exam, the importance of it, and more. These posts will help you clear any doubts regarding the exam or course.
Additionally, they have provided a list of jobs you can get by passing the exam, which help you out shortly.
Bionic Turtle Pricing Plans: How Much Does It Cost?
There are three pricing plans available on Bionic Turtle. No free trial is available, but partial access is open for free users on the website.
1. Basic
Part 1 or Part 2 costs around $249/year; for both, it costs $399/year. The features you will get from this plan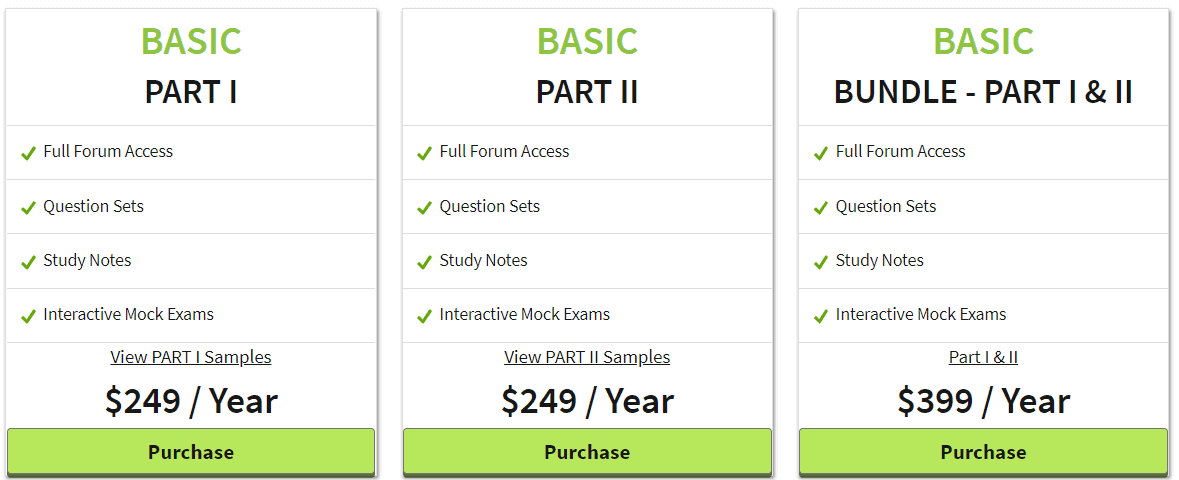 Full Forum Access

Question Sets

Study Notes

Interactive Mock Exams
2. Advanced
Part 1 or Part 2 costs $399/year for both. The features you will get from this plan

All The Features Of the Basic Plan, Plus

Instruction Videos

Interactive Quizzes
3. Professional
Part 1 or Part 2 costs $449/year; for both, it costs $799/year. The features you will get from this plan

All The Features Of Advanced Plan, Plus

Focus Review Videos

Learning Spreadsheets
These are the pricing plans. They are expensive, but for the FRM exam, the materials they provide are one of the best, and the price will be worth it.
Quick Links:
FAQs About Bionic Turtle Review
What Is Bionic Turtle?
Bionic Turtle was originally founded by David Harper in 2004. It is a preparation website for students to help them pass the FRM exam.
Who Should Consider Using Bionic Turtle?
If you already have some experience in this field then u think it will be best for you. But if you have a lot of experience then the only thing you will require is Bionic Turtle.
What is the pricing of Bionic Turtle?
There are three pricing plans are available on Bionic Turtle. There is no free trial available. The basic plan starts from $299 per year.
Is Bionic Turtle enough for FRM?
Bionic Turtle is a company that provides top quality FRM materials. They also provide personalized forum support. Many people buy GARP core books from them, while others feel that their FRM materials are enough to learn the concepts to pass the exam on their own.
Is bionic turtle free?
Bionic Turtle offers three plans. A free trial is available for some parts of the website, but not all parts are available. For PART 1 or PART 2, it costs $299/year, and you need to pay $399/year if you want both parts.
What is the FRM certification?
FRM is a certification for risk managers. The GARP offers it. The FRM certifies that you can manage risks well..
Why should I choose Bionic Turtle for my FRM preparation?
The Bionic Turtle FRM Study Planner is your best resource to prepare for the FRM exam. They have everything you need, such as daily questions, instructional videos, and more. You will be prepared for the exam with this planner.
Does Bionic Turtle provide hard copies of study materials?
Bionic Turtle will not send you paper copies of their materials. They are all available online in the Study Planner, and you can have them for one year after your purchase. If you want to view or print the materials, they are always downloadable.
Conclusion: Bionic Turtle Review 2023
Financial Risk Management is one of the toughest exams in the industry. So it becomes necessary for you to find the best course material to prepare for it.
Many FRM course preparations are available online but do not provide authentic materials like Bionic Turtle.
As a student, you want to practice those questions you have never seen before, and Bionic Turtle provides you with new practice questions handwritten by the CEO David himself twice weekly.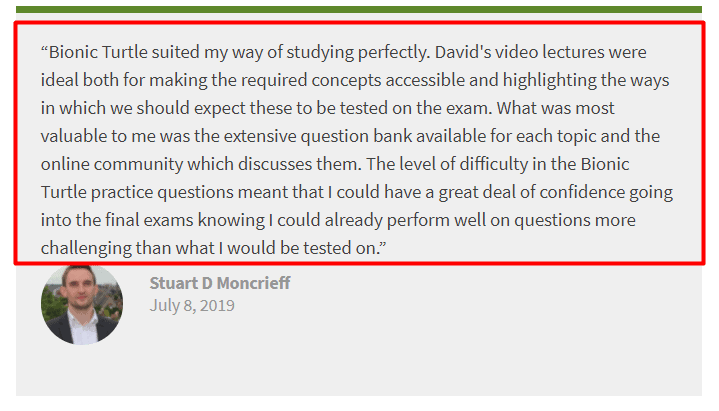 That is why it is one of the best FRM course preparations available. Their study material is structured, meaning you can not access a topic until you complete the previous one.
They provide quizzes, which is what differentiates them from others. As a course preparation platform, they are the best in the market. It doesn't hurt to try out the free partial access to get to know Bionic Turtle a little.
If you like this post on Bionic Turtle Review, then don't forget to share your opinions in the comment section, and don't forget to share with your friends.
Important FRM Links