In this post, I've shared my in-depth review of FutureLearn, so if you want to know if FutureLearn is the ideal learning platform for you, keep reading to learn all the details.
Do you want to boost your productivity by sitting at home and learning something new or enrolling in a recognized university course?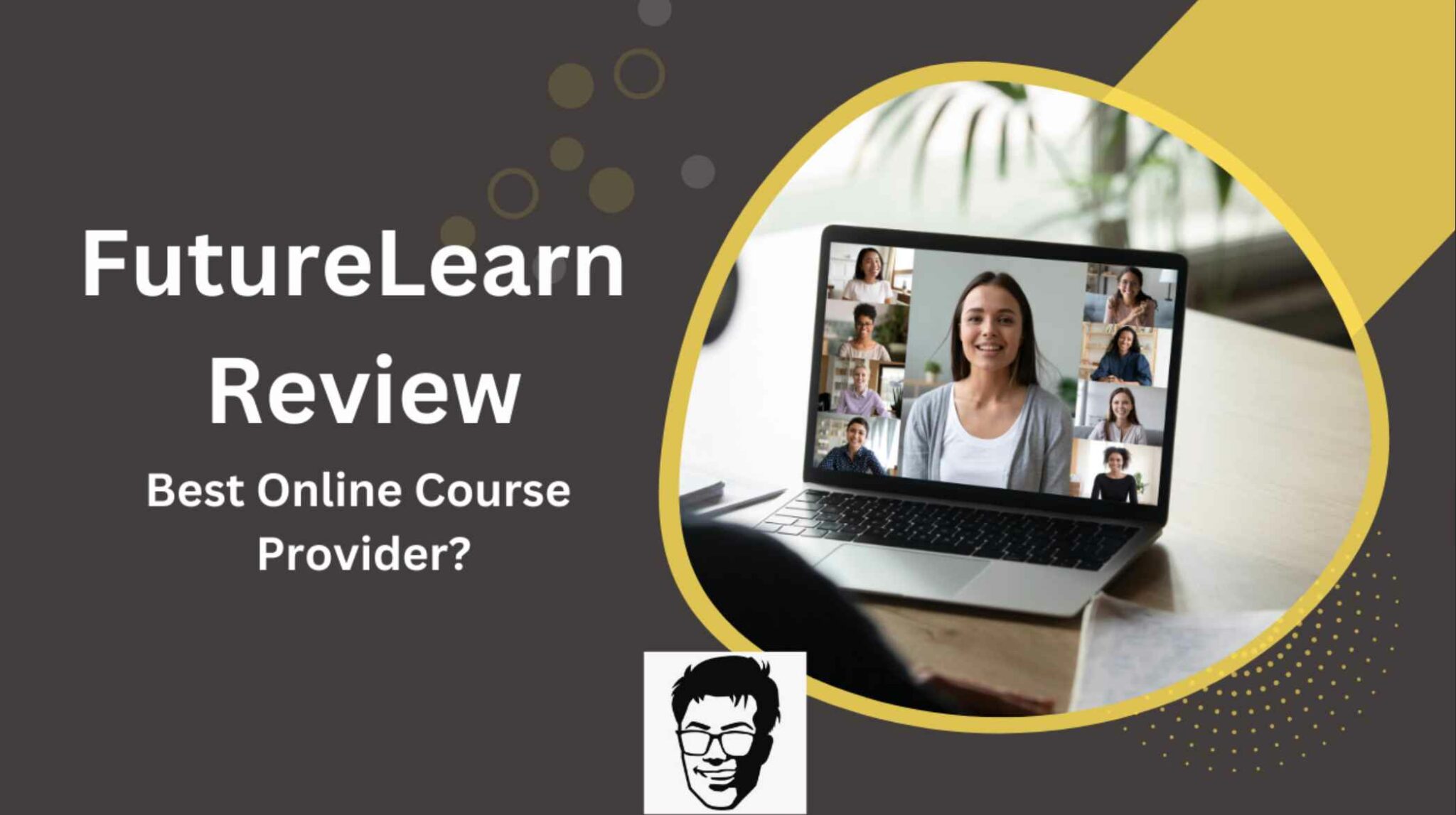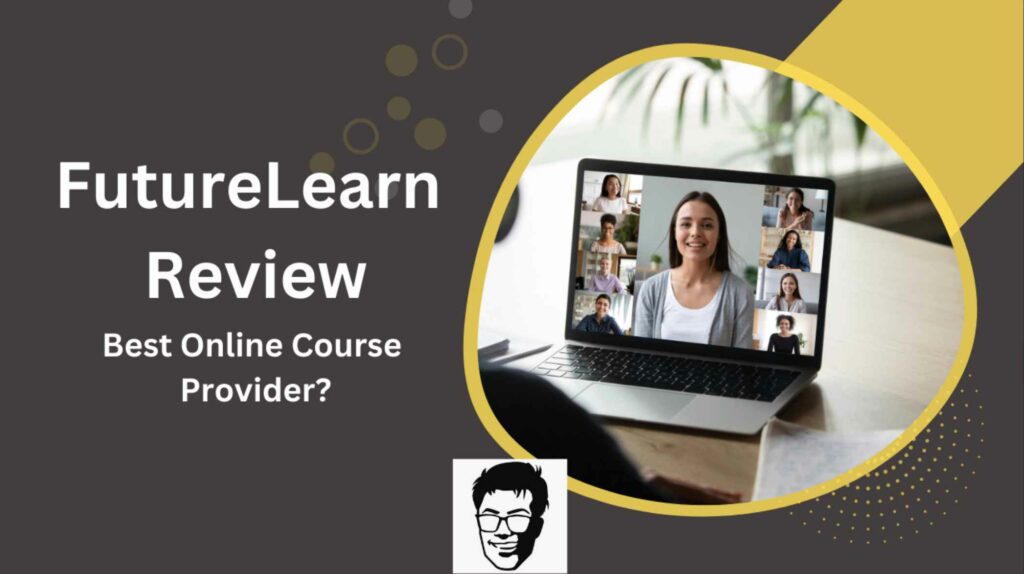 Are you looking for a site that offers free university-standard courses?
Learning through online courses has made it easier for people to learn new skills and expand their knowledge in any subject or field they choose.
FutureLearn is just one choice for an online learning platform to explore, but there are many compelling reasons to do so. I'll tell you everything you need to know about this unique e-learning provider in this FutureLearn review.
FutureLearn Review 2023: What Is FutureLearn?
FutureLearn is a popular online training company that provides various courses, many offered in conjunction with well-known universities.
FutureLearn was founded in 2012 and is operated by Open University, a well-known educational institution in the United Kingdom.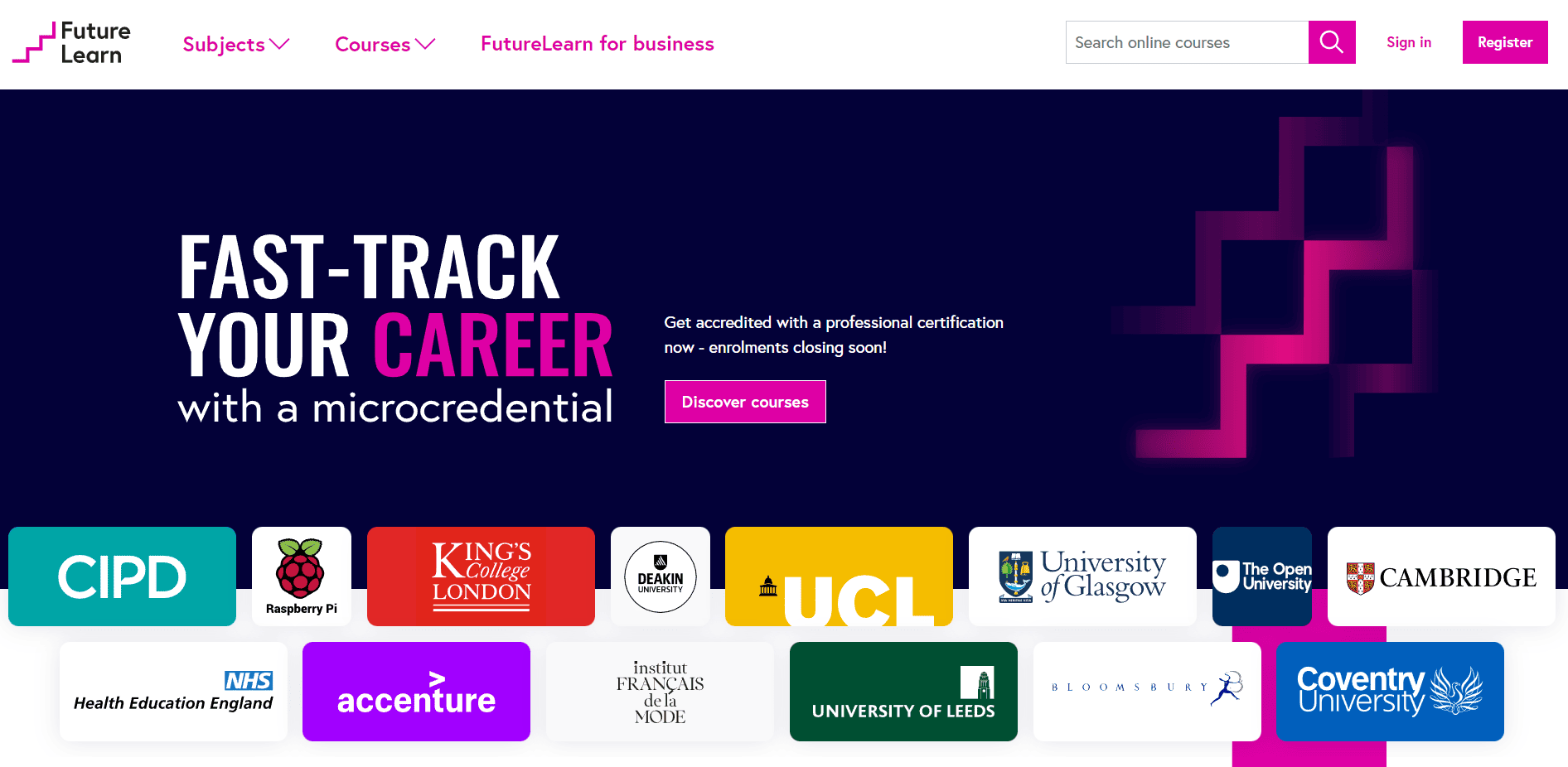 FutureLearn is co-owned by the Open University and the Seek Party, each having a 50% stake in the venture. The Open University, the UK's largest undergraduate university, owned FutureLearn until 2019.
The Open University has offered distance-learning students formal degrees and other qualifications since 1971. The OU has taught over two million students around the world.
To purchase a course at FutureLearn, you must check out new coupons and deals on their courses. Visit this article on FutureLearn Coupon and get the latest working coupons and discounts.
Is FutureLearn accredited?
FutureLearn, unlike some other online training companies, offers accredited courses. Courses are taught in collaboration with universities such as Edinburgh University, John Hopkins University in the United States, and University College London.
International institutions such as Shanghai International Studies University and the European University Institute also offer courses. Finally, FutureLearn offers training developed by well-known tech companies such as Accenture and the Raspberry Pi Foundation.
How Does FutureLearn Work?
FutureLearn operates by providing a variety of short courses, online degrees, and "in-depth programs" to choose from. Many short courses are free, but if you want to pass final exams and receive an official certificate, you must "upgrade" the course.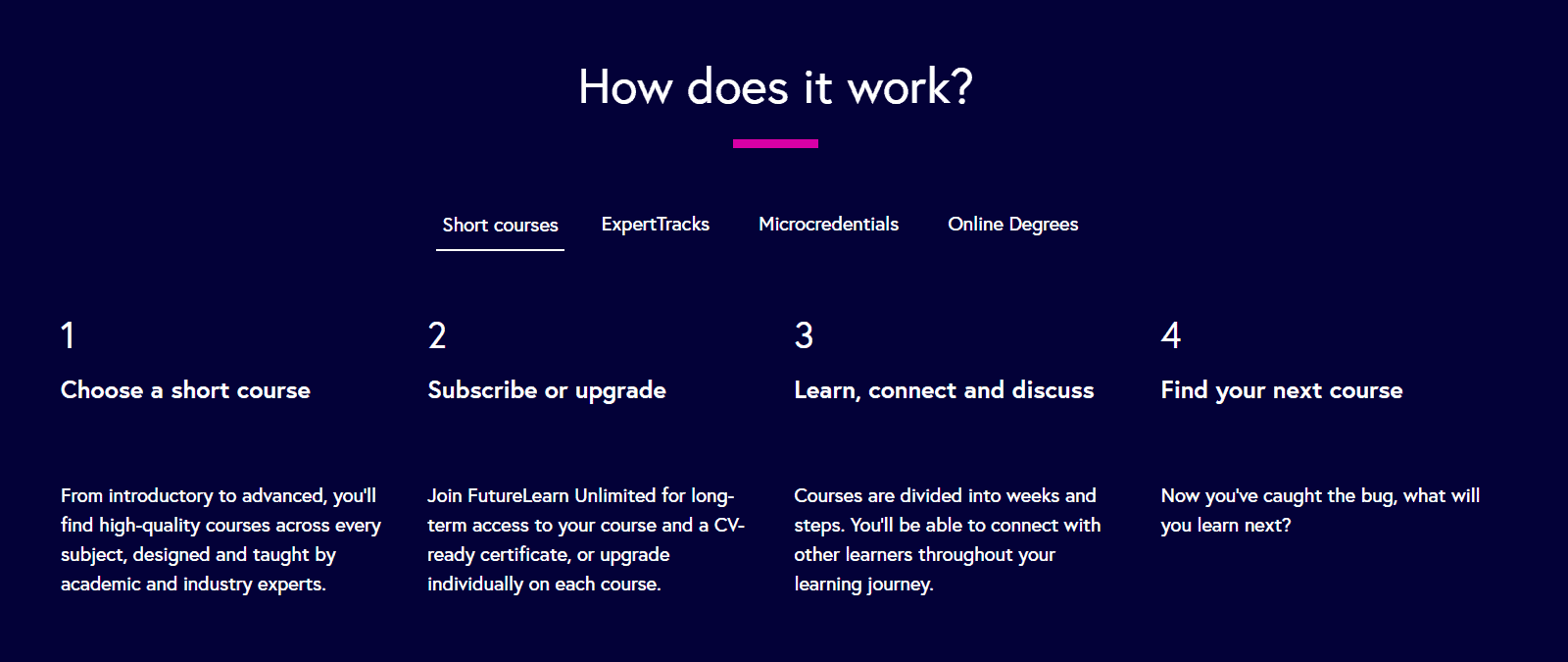 Other online training services like Edx and Coursera use a similar model. It's a great way to learn for free and "test the waters," with no obligation to pay until you're sure a course is right for you and want to receive the official certification.
When the program begins, students are assigned weekly units with various learning materials, such as quizzes, videos, and assignments. Students who pay for and complete the curriculum receive certificates in either digital or paper format.
How to use FutureLearn?
FutureLearn has ensured that your sign-up, onboarding, and learning experience on the platform is a smooth and fruitful experience. You can very easily choose your desired course/class and start learning on the platform by following the steps mentioned below:
Choose your online class

Select a package from Free, Upgrade, and Unlimited

Enroll in your desired class 

Begin the course

Read, write, communicate, watch, and listen for the best learning experience.

Finish your course

Receive your digital or physical certificate
How Good Is The Learning Experience?
All of the necessary elements are present and correct. There is space at the end of each course module for text-based materials and graphics, a video player, and a comments "forum" section.
You are encouraged to use these interactive areas, which are heavily populated with feedback and conversations. The design is straightforward but effective.
The Open University has a long history of distance education, so it is likely to know what works. The video player includes all the standard features, such as speed-up playback, display transcripts, and close captions.
Aside from that, the interface is very clean, almost to the point of being sparse. That isn't a bad thing, in my opinion. After all, this is meant to be a learning area, not a place where you must pick between a dozen different items to click on.
The lack of a FutureLearn app is a minor letdown. Most training providers offer this, but it isn't available here for on-the-go learning. However, you can still log in using a mobile device because the platform is mobile-friendly.
Course material, on the other hand, is determined by the course. However, according to my FutureLearn analysis, the output values are consistently high.
This is an advantage of selecting courses that have been properly created, sponsored, and approved over those that have been thrown together in a course creator's bedroom!
Certain courses place a greater emphasis on papers and text than on recordings. Your learning style will influence your response. I like the variety, and reading is a more legitimate form of "study" than watching endless videos.
Your mileage may vary, as may the proportions of various types of media in various FutureLearn courses.
Why should you go for the Microcredential Program?
When compared to a standard short course, taking a micro-credential program on FutureLearn has a range of advantages:
Highly valuable certificates. Micro-credentials require time and effort, resulting in certificates showing a graduate's competence. Many employers don't trust standard online course certificates, but micro-credential certificates are.

University Credit. FutureLearn micro-credential programs count toward a full-fledged Master's degree.
Programs influence assessments. Micro-credentialing systems enable extensive one-on-one contact with teachers. This emphasizes the significance of student projects developed through highly customized student-instructor collaboration and mentoring.
Universities on FutureLearn
FutureLearn offers online degrees from seven different universities, all of which are based in the UK or Australia. Just three colleges offer the bulk of online degrees.
These three universities are Coventry University in the United Kingdom, Deakin University in Australia, and The Open University in the United Kingdom (UK).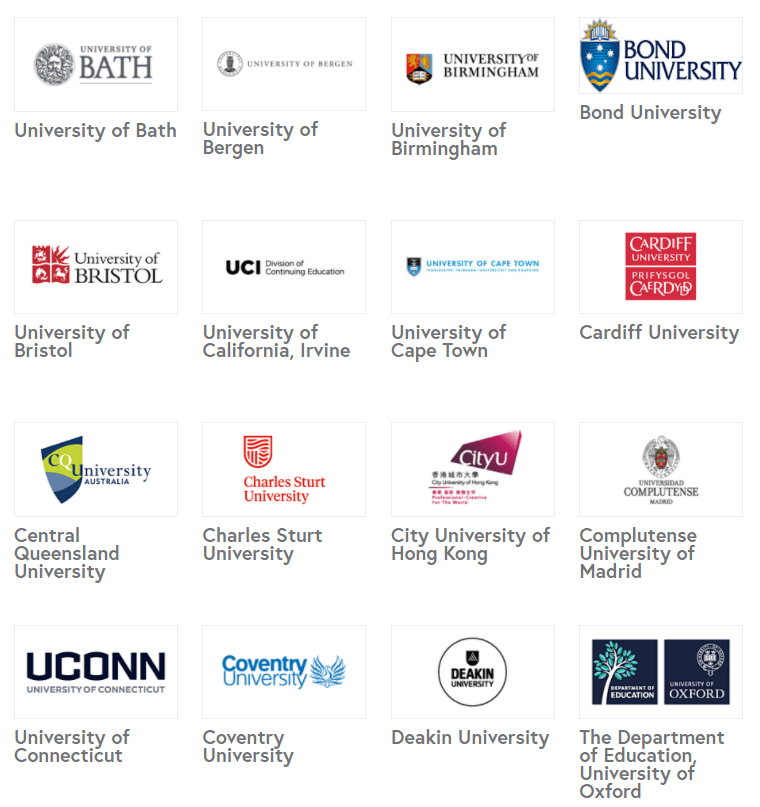 These three universities offer 29 of the 34 online degrees FutureLearn offers. While these are all highly respected organizations, more diversity would have been welcome.
University of Aberdeen

Anglia Ruskin University

The University of Auckland

University of Basel

University of Bath

University of Bergen

University of Birminghambond

Bond University

University of Bristol

UCI University of California

Irvine University of Cape Town 

Cardiff University

Central Queensland University

Charles Sturt University

City University of Hong Kong

Complutense University of Madrid

University of Connecticut

Coventry University

Deakin University

Department of Education – University of Oxford

Dublin City University

University of Dundee

Durham University

University of Edinburgh

University of Glasgow

Johns Hopkins University 

Lancaster University

University of Leeds

University of Leicester

University of Manchester

University of Michigan

University of Newcastle, Australia

Norwegian University of Science and Technology 

University of Nottingham

London University of Reading
**AND MANY MORE!
Quick Links
FAQs:
💁‍♀️ How can I pay for a microcredential?
They can accept payments made by card (Visa, Mastercard, and American Express) or PayPal via our online system.
🙋‍♂️ Is FutureLearn accredited?
Yes, FutureLearn courses are fully accredited and recognized for their authenticity, and FutureLearn certificates are issued by universities.
👏 Are FutureLearn certificates free?
Yes, FutureLearn provides 10000 free Certificates of Achievement to students from 36 lower and middle-income countries, marking the completion of a MOOC.
🤷‍♀️ How good is future learn?
FutureLearn gives a great way to expand your knowledge. All courses are of high quality. All videos are easy to understand.
🙌 How much does FutureLearn cost?
You can join for free and most of the courses are free in FutureLearn.
👉 Who owns FutureLearn?
They are a private company owned by The Open University and The SEEK Group.
Conclusion: FutureLearn Review 2023
FutureLearn is one of the few companies that provide these courses in partnership with prestigious colleges and universities. (Edx and Coursera are two other options.)
FutureLearn, the best online education provider in the UK, has helped to put British online courses on the global map. In addition to online courses, FutureLearn offers some of the best-in-class micro-credential services, credentials, and online degrees.
FutureLearn is an attractive training platform with a wide range of courses. Most of them are free, and the sign-up process is risk-free because it does not require credit card information.
I am confident in recommending the Platform because of its excellent selection of online degrees and free certification courses. The website also has excellent peer-to-peer discussion forums and well-designed syllabuses. What else could you possibly want?