Masterclass is an online learning platform that offers classes taught by world-renowned instructors in a variety of fields and topics.
From cooking to photography, business to design, Masterclass provides an immersive experience for learners of all levels with the help of experts from around the globe.
With engaging videos, interactive exercises, and exclusive resources, Masterclass delivers top-tier educational experiences right to your screen.
At Masterclass Review, you can find something for everyone.
Which MasterClass Course Is Best To Learn?
There are classes across multiple categories such as: writing & literature; arts & entertainment; health & lifestyle; sports & games; music & audio; business & entrepreneurship; science & technology; food & beverage production; home improvement, and many more! Each class consists of multiple video lessons delivered by industry experts, interactive activities, and other resources to help you learn. In this Masterclass review, we'll take an in-depth look at the platform. We'll explore what sets Masterclass apart from other online learning platforms, its subscription options, class offerings, and experiences from real users. Read on to find out more about Masterclass and if it may be a good fit for you!
What is Masterclass?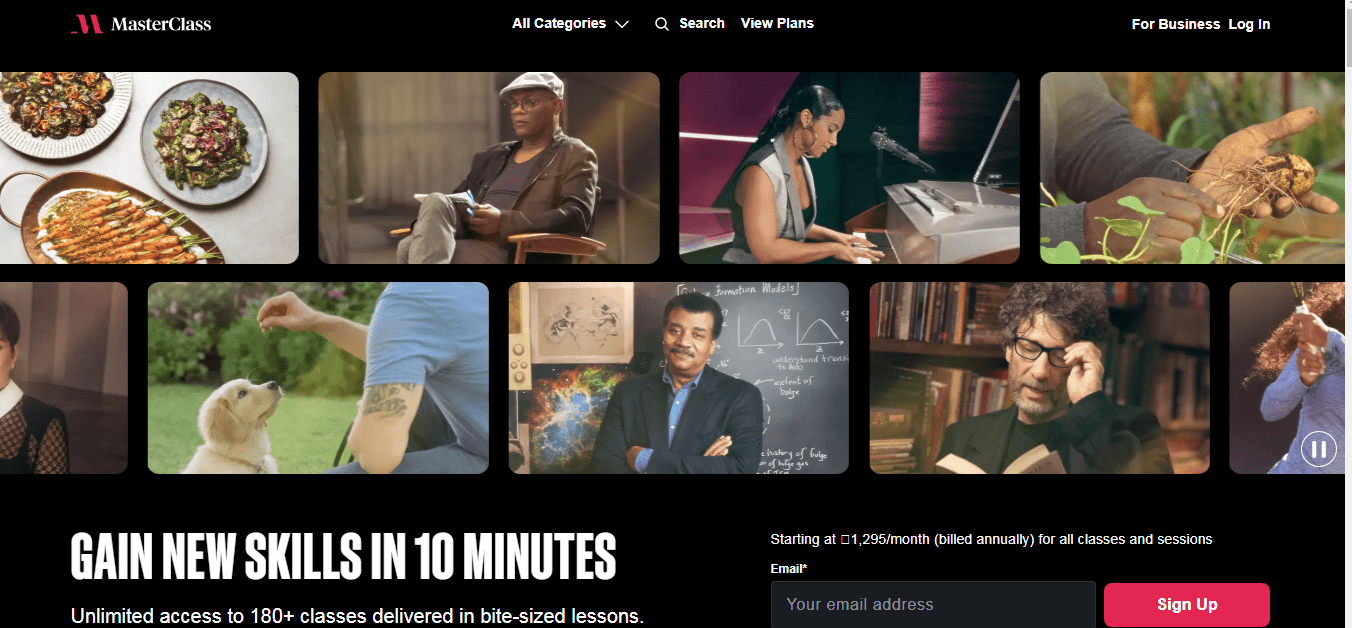 David Rogier, a Stanford undergraduate who founded MasterClass in 2014 (formerly as Yanka Industries, Inc.), launched its website the following May with just three teachers. Later in 2017, twelve courses were added, and by 2018, the number had dramatically increased to fifty.MasterClass lectures are given by established and known professionals and celebrity teachers via a series of high-quality video sessions, generally accompanied with a downloadable and printable workbook for further reference. Each course is comprised of two to four hours of video broken into 10 to 15-minute-long sections.MasterClass introduced a new learning element called Sessions by MasterClass in 2021. Each class formerly had its own online site called "The Hub" where students could connect with other students and MasterClass moderators in order to increase their level of knowledge or ask questions.Sessions is a new "hands-on" style in which students study a planned curriculum within 30 days alongside one another. Each session includes teaching assistants who are ready to answer questions and offer feedback.
Some of the Best Classes By Masterclass:
1. Thomas Keller Teaches Cooking Techniques I: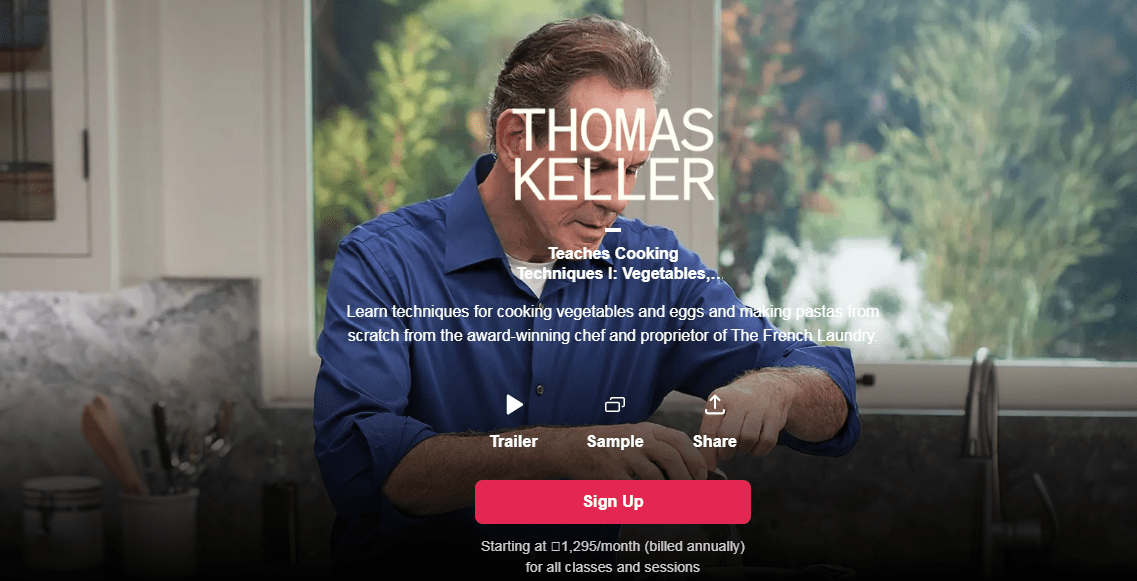 In this MasterClass presented by Thomas Keller, you will discover the methods for preparing vegetables, eggs, and pasta from scratch. He is The French Laundry's award-winning chef and owner. He opens his MasterClass with an overview of the dishes he will be preparing and the procedures that will enable you to create delicious meals at home.The Masterclass consists of 36 video lectures totaling 6 hours and 53 minutes.
2. Neil Gaiman Teaches The Art of Storytelling: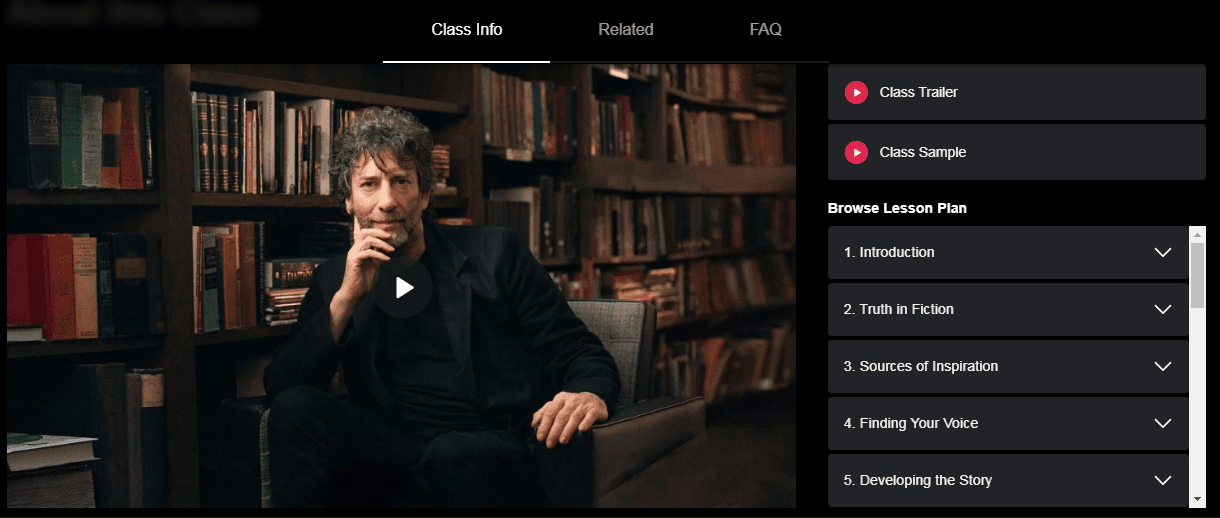 In this MasterClass, Neil Gaiman instructs you on the Art of Storytelling and how he creates innovative concepts, believable people, and vivid imaginary worlds. He opens his MasterClass by outlining why he enjoys teaching and why he wants you to share meaningful tales. His subsequent video classes cover Truth in Fiction, Inspirational Sources, Finding Your Voice, and much more. He closes his MasterClass by discussing the obligation of making art with an audience. The Masterclass consists of 19 video lectures totaling 4 hours and 29 minutes.
3. Neil deGrasse Tyson Teaches Scientific Thinking and Communication:
The next most popular MasterClass is taught by Neil deGrasse Tyson, one of the most well-known scientists of the twenty-first century. His MasterClass enlightens you to scientific literacy, enabling you to digest facts and manage prejudice to reach objective truths. This MasterClass is presented by Tyson in an interesting and motivating manner via 13 video courses totaling 2 hours and 14 minutes.
4. Kelly Wearstler Teaches Interior Design: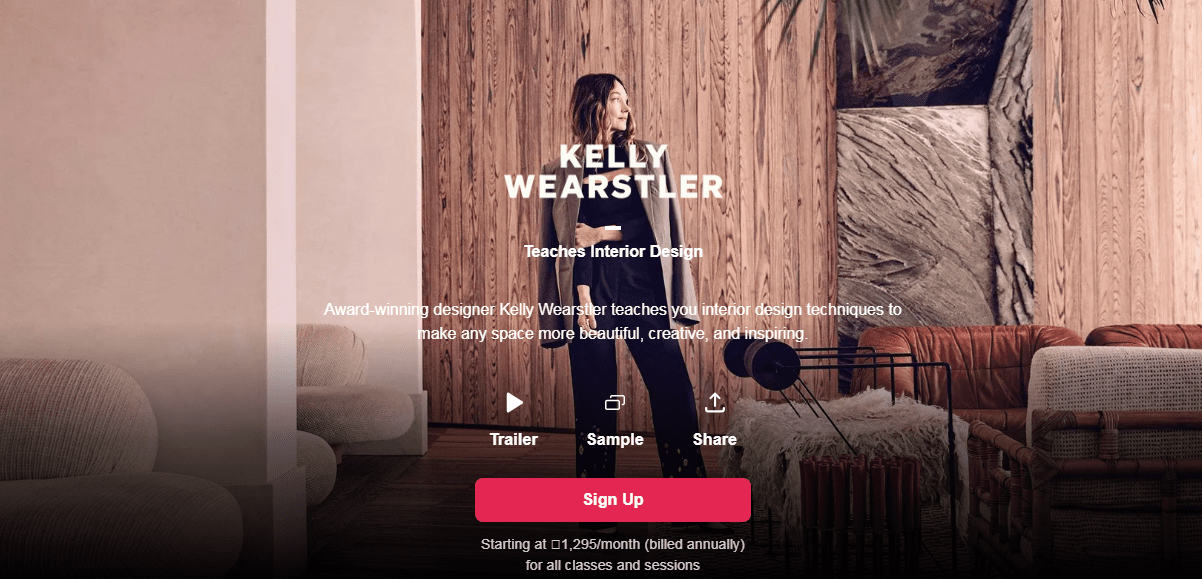 In this MasterClass, award-winning designer Kelly Wearstler shows you interior design strategies that will make any place more attractive, creative, and inspirational. As with the majority of MasterClasses, Kelly opens MasterClass by discussing how excellent design may help us live and feel better. The following video lectures address several areas of interior design, including Inspiration Sources, Working With Space, and Discovering Texture, among others. The MasterClass consists of 17 video courses and lasts for 2 hours and 13 minutes.
5. Gordon Ramsay Teaches Cooking II: Restaurant Recipes at Homes:
Gordon Ramsay is next in our lineup; he teaches Restaurant Recipes at Home. You will learn how to prepare restaurant-inspired meals using time-saving preparation and presentation strategies. The MasterClass starts with an introduction describing how his most recent restaurant inspired dishes that will help you wow your next dinner guest. Each of the 13 video sessions then focuses on a different dish, from Cauliflower steak to Hoisin chicken to Raspberry soufflé. The MasterClass consists of 15 video courses and lasts for 4 hours and 13 minutes.
6. Chris Voss Teaches the Art of Negotiation: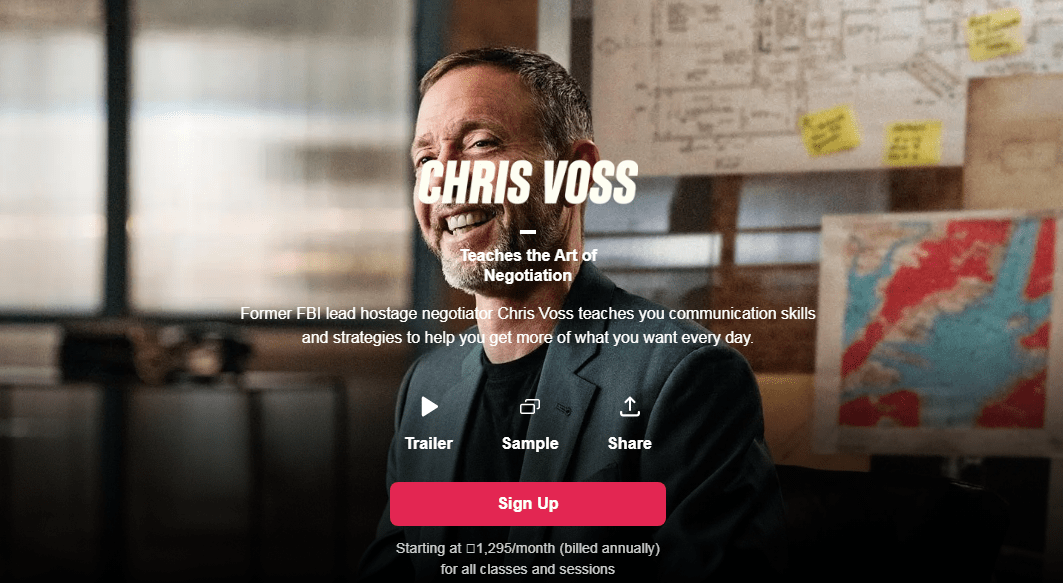 Chris Voss, a former FBI hostage negotiator was able to convince kidnappers, bank robbers, and terrorists to see things his way, will teach the upcoming MasterClass. He is now teaching you how to use these methods in your regular negotiations, whether you're attempting to develop connections or boost your wage. Voss may aid in the development of your communication abilities and provide you with insights into human nature that the most of us lack. The MasterClass consists of 18 video courses and lasts for 3 hours and 4 minutes.
7. Brandon McMillan Teaches Dog Training: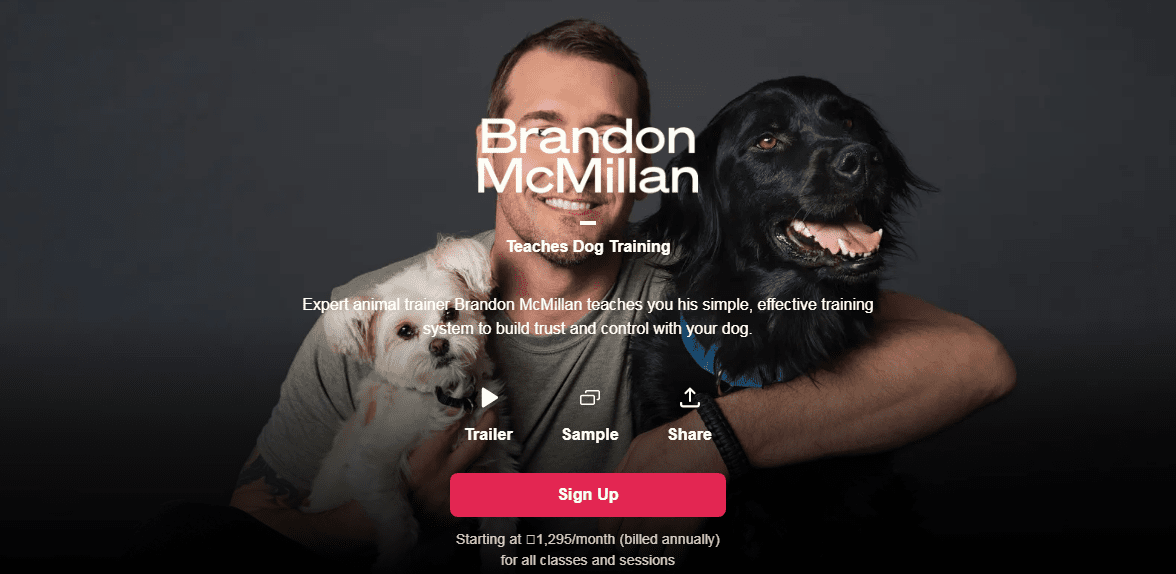 Brandon McMillan, the Emmy-winning presenter of "Lucky Dog," is an accomplished trainer committed to fostering human-animal interactions. Brandon explains his straightforward and efficient training method for developing trust and control with your dog. From employing orders and learning to improve your dog's behavior, you may develop a relationship that will last a lifetime. His MasterClass consists of fifteen video courses totaling two hours and fifty-eight minutes.
8. Annie Leibovitz Teaches Photography:
Photography taught by Annie Leibovitz is another MasterClass that is popular among users. In this MasterClass, Annie will teach you all she knows about portraiture in her studio and on location. The MasterClass starts with her reflecting on her career and the importance of conveying tales via images and then discusses Portrait photography, idea creation, and studio vs location. One of the most engaging video courses is when Annie sits down with students to provide feedback and guidance on their work. The MasterClass consists of 15 video courses and lasts for 3 hours and 4 minutes.
9. Anna Wintour Teaches Creativity and Leadership:
Anna Wintour, editor-in-chief of Vogue, provides unparalleled access to her world and teaches you how to lead with vision, creativity, and without apology in her most popular MasterClass. Anna begins this MasterClass by discussing the early events that impacted her current leadership style. She then takes you on a tour of the Vogue headquarters and offers advice to aspiring designers and talent on how to achieve success. The MasterClass consists of 12 video courses and lasts for 2 hours and 36 minutes.
Masterclass Pricing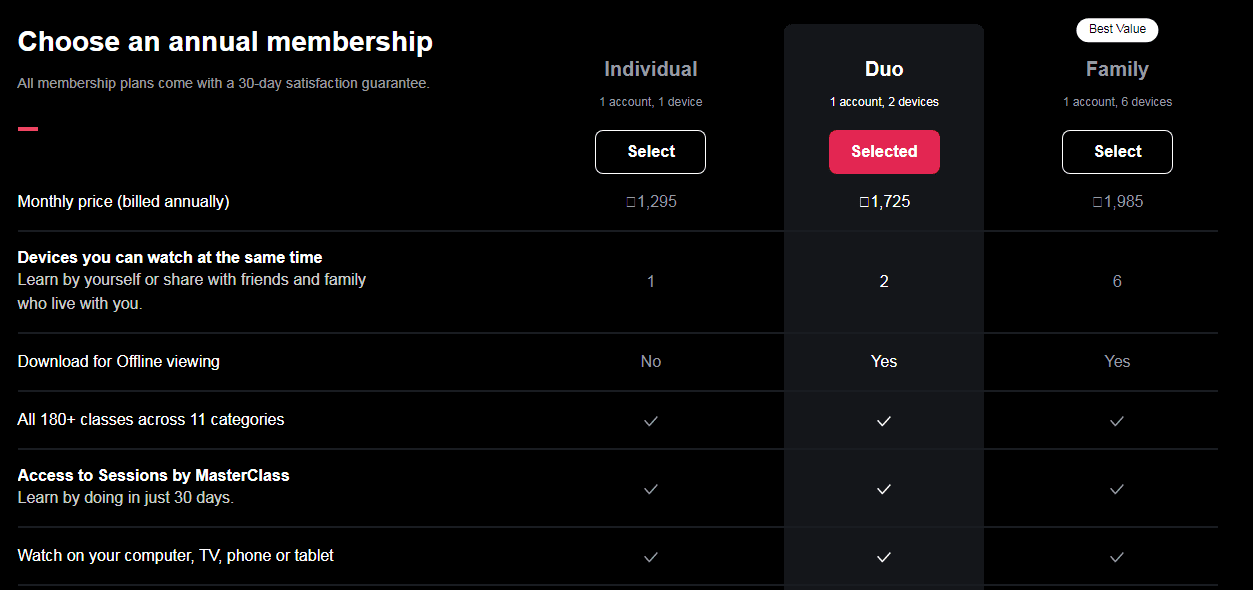 MasterClass provides three membership tiers with full access to more than 2,500 video classes across eleven categories. When you arrive to MasterClass, just enter your email address and click 'SIGN UP'. You will then be sent to the yearly MasterClass membership selection page.These are the MasterClass subscription options:
Family: $276 billed annually (working out at $23/month)
Duo: $240 billed annually (working out at $20/month)
Individual: $180 billed annually (working out at $15/month)
These plans are invoiced yearly, and the price difference between them is minimal. The primary difference between the Duo and Family plans is that the Duo plan allows for offline viewing, and the Family plan allows many users or devices to access the MasterClass platform simultaneously.If you scroll down the MasterClass webpage, you will notice "Get a free Sneak Peek". Keep your eyes open because you could miss it. You may see sample video courses from teachers such as Chriss Voss and Anna Wintour to get an idea of what to anticipate from their MasterClass.You may cancel your membership renewal via your account page if you do not want to continue with MasterClass. Simply follow the instructions on the Settings page, and your subscription will not be renewed for the next year. Check out our Skillshare vs MasterClass comparison post if you're interested in comparing Skillshare to another platform with comparable membership pricing.When you sign up for a MasterClass subscription, you will get Guest Passes to share with your friends and family. I felt rather fortunate and was given three to share. Each Guest Pass includes a 14-day trial access to the site. To activate the pass, your friend or loved one must enter their debit or credit card information. If they decide not to continue, they must cancel before the 14-day trial period expires to avoid being charged.MasterClass allows you to give a year subscription to a colleague, friend, or family member. If you know someone who appreciates online learning and would enjoy taking courses given by VIP teachers, why not give them an unforgettable gift?You may provide an optional gift note that will be sent immediately or at a later date. Similar to a standard subscription, a 30-day money-back guarantee is provided. If the receiver has not yet redeemed the membership as a gift, you may contact the member care staff to get a refund.
Is Masterclass Worth Its Price?
Yes, I feel the $180 yearly membership fee is worth it for inquisitive and creative individuals, particularly those who like studying at their own speed.MasterClass provides gastronomy, science, business, sports, and health courses, in addition to those that are popular with the creative community.There is a good chance that at least one of the 180+ MasterClasses given will teach you anything, regardless of whether you want to improve your critical thinking with a Neil deGrasse Tyson online course or your creative writing talents with a Margaret Atwood lecture.However, this is not the primary reason why individuals enroll in MasterClass. Like most individuals, I am unaware of my ignorance. Consequently, I like the potential of stumbling into a topic I know nothing about and delving into four hours of video lectures that give me a comprehensive grasp.In other words, MasterClass is ideal for those who are ready to learn more and who take pleasure in enhancing themselves intellectually.A MasterClass membership is nevertheless a commitment and an investment. On the one hand, you'll need at least two to four hours to complete one of the numerous excellent MasterClass courses. On the other hand, you must pay at least $180 annually to utilize the online education platform (more on pricing in the next section).MasterClass is definitely for you if you can spare a few hours per week and $8 a month to view instructive lectures on your Apple TV, Android TV, or old-fashioned PC.No, MasterClass is not for you if you do not have the additional funds for yet another membership nor the time (or attention) to study regularly to make it worthwhile.No need to take my word for it, though. MasterClass has a 30-day refund policy. You may quickly join up, try out a few courses, and see whether MasterClass is the best fit for you.To request a refund, just send an email to MasterClass informing them that you want to discontinue your membership.
Quick Links:
Conclusion:Which MasterClass Course Is Best To Learn In 2023
In conclusion, the Masterclass online learning platform is a great way to learn and improve skills in an area of interest. It offers both experts and beginners the opportunity to take part in high-quality courses taught by some of the world's leading professionals. The range of topics available is broad and allows learners to gain insights into various disciplines such as photography, filmmaking, cooking, writing, photo editing, music production, and many more. With its comprehensive material outline, instructional videos, and interactive exercises, Masterclass provides a comprehensive educational experience for all levels of learners. So if you're looking for a convenient way to learn new skills or brush up on existing ones – consider joining Masterclass today! You won't be disappointed!