The excellent online learning platform Mindvalley focuses on imparting knowledge on the subjects that matter most in life. It's for college students interested in spirituality, personal development, mindfulness, and meditation. This emphasis on human development sets Mindvalley apart from other common online learning platforms.
It provides top-notch content with more than 1,200 knowledgeable educators. Mindvalley uses science-based motivators to focus on distinctive stuff that most other platforms miss.
A vast array of course categories are available from Mindvalley. Students interested in self-development, for instance, can find courses on subjects including coaching, improved sleep, aging more gracefully, leadership, parenting, meditation, quality of life, and more.
Unlimited access to more than 60 programs, daily live courses with top instructors, more than 500 meditations, and a private social network to advance your learning and connect and cooperate with others are all features of a Mindvalley membership.
All of this sounds great, but how much is Mindvalley? Is Mindvalley worth the money?
Let's start with an overview of Mindvalley's pricing.
Mindvalley Key Features
1) The Quest System
One of the coolest things about Mindvalley is the Quest System. Essentially, the Quest System is a way to track your progress and ensure that you're getting the most out of your learning experience. Here's how it works:
First, you must create a profile and select areas to focus on (e.g., health, relationships, personal growth, etc.). Once you've done that, you'll be given tasks or "quests" to complete. These quests will help you learn new concepts, develop new skills, and achieve your goals.
You can complete these quests at your own pace, but Mindvalley also provides deadlines and accountability buddies to help keep you on track. Additionally, every quest that you complete earns you points, which can be used to redeem rewards like e-books, courses, and more.
2) The Learning Paths
In addition to offering individual courses, Mindvalley also offers something called "learning paths." Learning paths are essentially a curated selection of courses designed to help you achieve a specific goal or outcome.
For example, if your goal is to become a more confident person, Mindvalley has a learning path. Or if you want to learn how to meditate but don't know where to start, Mindvalley has a learning path for that, too. There are dozens of learning paths on Mindvalley covering everything from personal development to business growth.
3) The Masterclasses
If there's one thing that Mindvalley is known for, it's the masterclasses. Masterclasses are in-depth classes taught by some of the world's top experts in their respective fields. These classes typically run for several weeks, covering everything from meditation to leadership development.
Although each masterclass is different, they share one common goal: to help you reach the next level in your personal or professional development journey. Masterclasses typically fill up quickly so it's important to sign up as soon as they're announced if you're interested in taking one.
Mindvalley Pricing Plans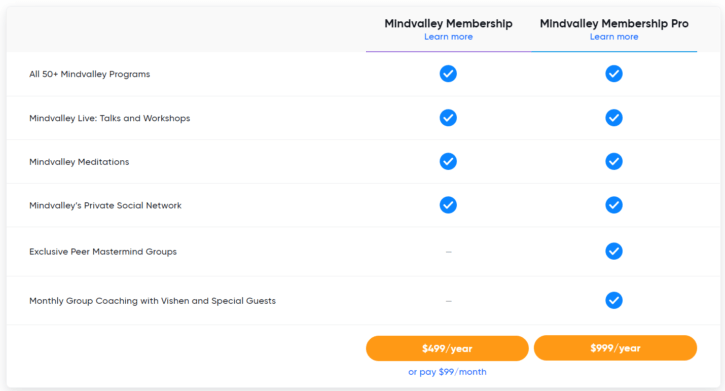 A membership to Mindvalley can be paid for once a month or yearly. The price is $99 per month, and you can cancel anytime. The annual membership costs $499 and saves the user a lot of money. It costs $41.60 per month.
Mindvalley also offers a free masterclass every week, which is usually about an hour long and is open to everyone for a limited time. Before signing up, this is a great way to see what kind of content is on the platform.
A 22-minute life assessment is the first step of a Mindvalley membership. In this test, Mindvalley helps the student figure out what areas of their lives are strong and what areas need more work. With the results of this test, students will have a plan for how to improve themselves.
After the test, students can log in or download the app, create an account, and read the helpful "Getting Started" guide. Mindvalley helps the student choose a course or quest, and the journey begins.
A membership to Mindvalley gives you access to all of the quests, meditations, live training, and other features.
You can also ask questions and learn from real teachers in daily live classes with experts and celebrities. Mindvalley gives students a good education and the chance to form a real community and connect with people they probably wouldn't have met otherwise.
Benefits of Mindvalley
1. There's Something for Everyone
No matter your interests or what you want to improve, chances are good that a Mindvalley program is right for you. From courses on meditation and mindfulness to productivity and goal-setting, Mindvalley has something for everyone.
2. You'll Get Access to Expert Teachers
One of the best things about Mindvalley is the quality of the teachers and experts who create the courses. When you sign up for a course, you can be confident that you're learning from someone who knows what they're discussing.
3. The Courses Are Self-Paced
One of the biggest benefits of Mindvalley is that all the courses are self-paced. This means you can complete them at your own pace and schedule without worrying about deadlines or keeping up with other students.
4. You Can Try Before You Buy
Not sure if a particular course is right for you? No problem! With Mindvalley's preview feature, you can check out a brief overview of each course before you commit to buying it. This way, you can ensure it's the right fit before investing time and money.
5. There's a Money-Back Guarantee
Still not convinced? Mindvalley offers a money-back guarantee on all its courses, so you can try them out without risk. If you don't love the course, contact customer service within 30 days, and you'll get your money back–no questions asked.
Conclusion- Mindvalley Free Trial 2023
Mindvalley is an online learning platform offering much more than just courses. With features like the Quest System, Learning Paths, and Masterclasses, Mindvalley has something for everyone who wants to learn and grow—regardless of their goals or skill level. So why not give it a try?
You may just be surprised at how much Mindvalley has to offer!