In this post, we are going to discuss the best online AutoCAD classes available for mastering AutoCAD.
Software like AutoCAD from Autodesk is a standard in the industry. Globally, it is used to develop architectural models and drafts, as well as technical drawings and computer-aided designs (CAD).

According to the AutoCAD for Design and Drafting exam, your skills, aptitude, and knowledge in AutoCAD are measured by this exam. Certifications of this level demonstrate your comprehensive skill set and put you at the top of the professional ladder.
A great deal of these kinds of experience comes from regularly using the Autodesk software for at least two years, equivalent to approximately 400 hours (minimum) – 1200 hours (recommended) of real-world experience with the software.
For that reason, the right skill and training are required to become an expert in AutoCAD. Therefore, the best way to learn AutoCAD is to enroll in one of the best online courses.
There are several AutoCAD courses available online if you search online. What are the best online AutoCAD courses out of all these? Do not worry. You've come to the right place.
I have gathered five top AutoCAD courses for you. Check out these AutoCAD courses below and choose one that is right for you.
 Top 5 Best Online AutoCAD Classes & Courses 2023
What is this course about?
With this online AutoCAD training, you will learn how to convert 2D drawings to 3D. With each new video you watch, you will be learning AutoCAD 2019 skills from your instructor Scott Onstott. In his AutoCAD classes, he will teach you how to build 3D models the right way.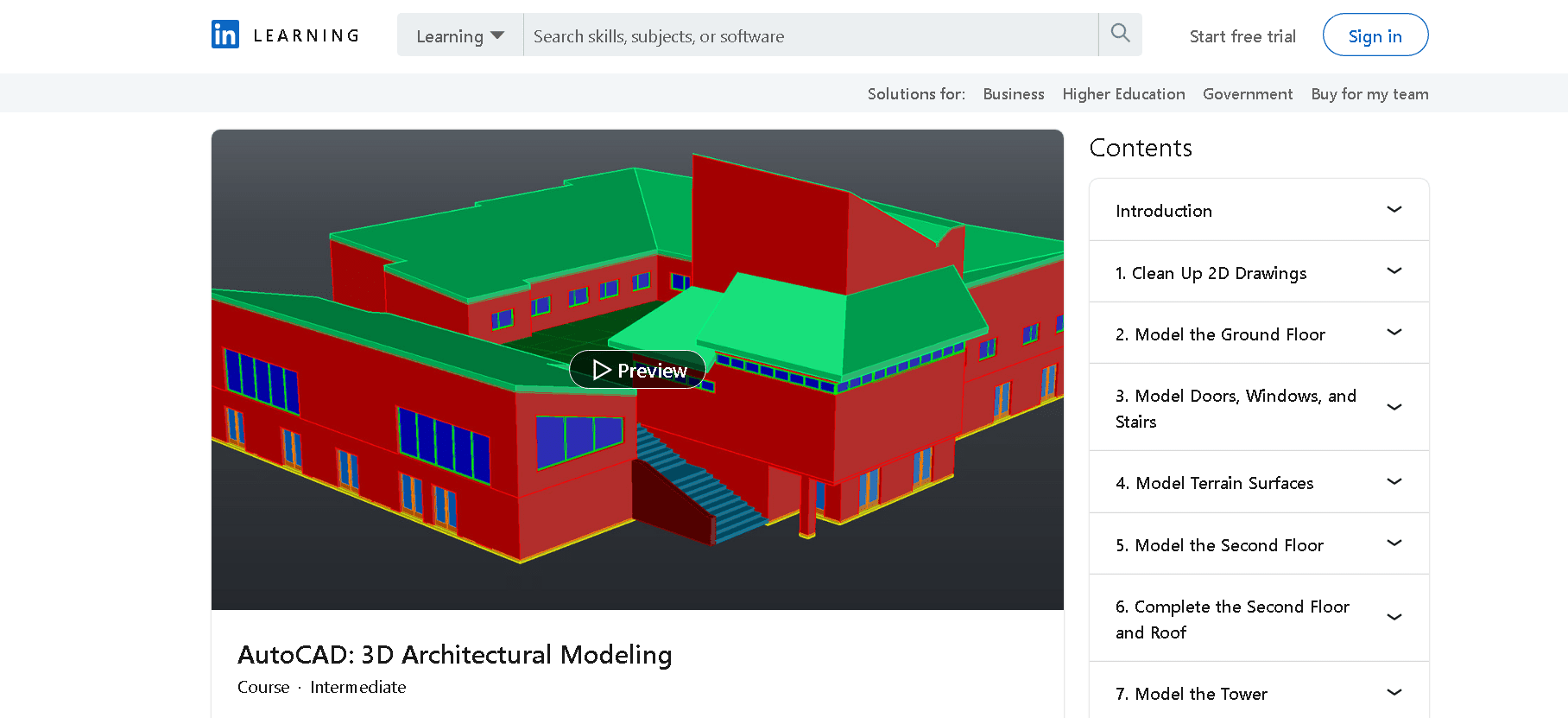 As a student of this AutoCAD online course, you will learn how to convert 2D plans into solid objects, design 3D staircases, create wall openings, model a complex roof surface, and add doors and windows.
Using NURBS surfaces, he also creates a 3D tower and sculpts a landscape.
As you proceed through this AutoCAD course, you will model a complete 3D community center based on a mid-century archetype.
What will you learn from this AutoCAD course online?
You will learn the following through these AutoCAD online courses:
A plan is arranged around elevations and sections

Objects rotating in 3D

A wall that extends, a partition, and a header

Building slabs

Stairs, windows, and doors modeled

Sculpting terrain

Second-floor construction

Roof surfaces for buildings

Surfaces and regions can be sculpted into solids

Modeling a tower
This course is suitable for whom?
This is an online course for intermediate AutoCAD users. Therefore, you need to understand the basics of AutoCAD. It will take you just 4 hours 26 minutes to complete these online AutoCAD classes.
Hence, you will need to schedule some time off. This AutoCAD course has been taken by over 25,000 students, and the response has been quite good.
What is this course about?
Among the best AutoCAD courses for beginners, this one teaches you how to graduate from knowing nothing about AutoCAD to being able to create drawings and work on existing drawings.
The online AutoCAD classes have been taken by over 2000 students, and the response has been phenomenal.
Using the AutoCAD online course, you will learn how to draw basic and complex shapes, work with layers and properties, work with blocks, edit commands, hatch, dimensions, xRefs, templates, add annotations, and publish drawings.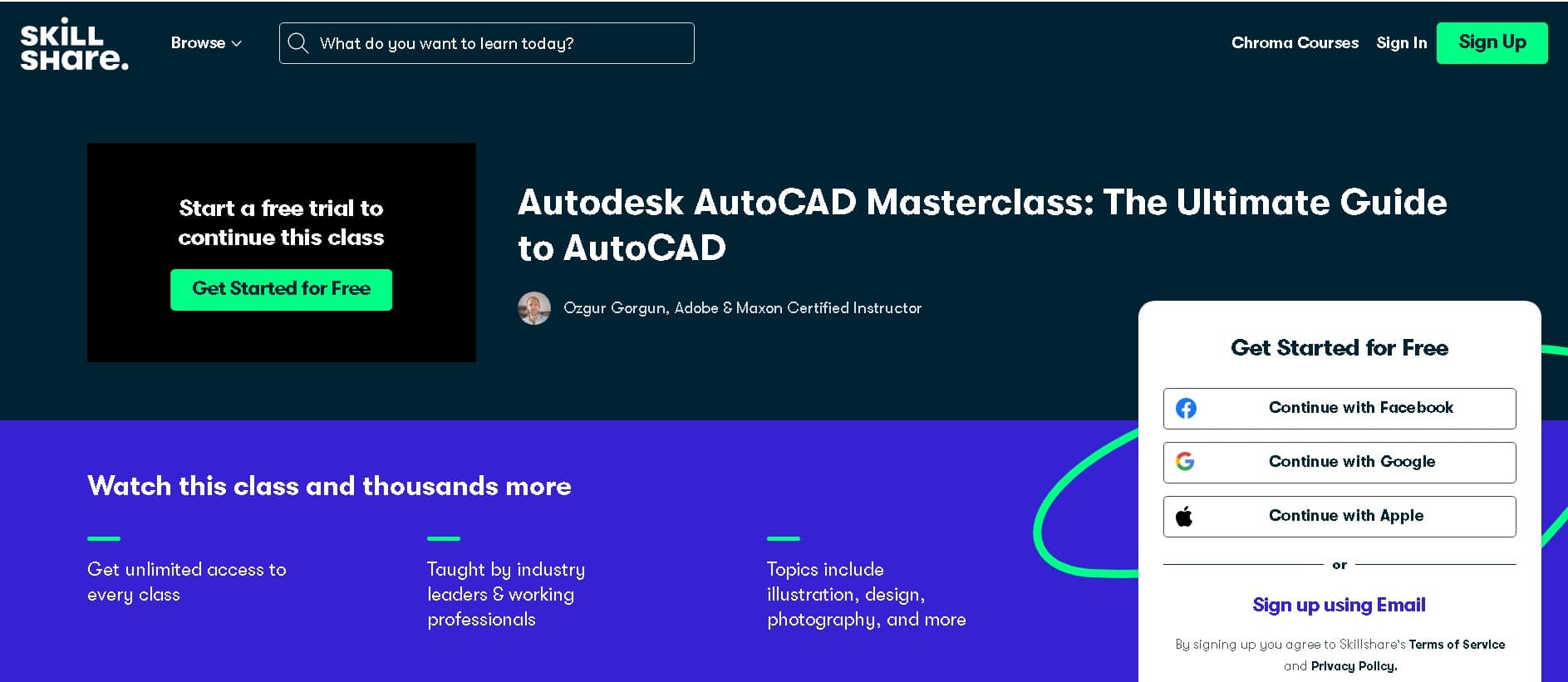 With this online AutoCAD course, you will learn what it takes to produce technical and precise drawings, which is often needed by 3D visualizers, architects, project managers, and engineers.
Last, but not least, you will be able to take the official AutoCAD certification exam and bag yourself a 50% discount if you enroll in these courses!
Quick Links:
Conclusion: Best Online AutoCAD Classes 2023
This concludes our list of the top eight AutoCAD online courses. After comparing these AutoCAD courses for beginners and experts on five criteria, we selected the following:
Fees for the course

The instructor's experience

The benefits of taking the course

Certificate inclusion (or not)

The reviews and ratings of students who have already completed this course.
 In other words, you can be sure that all of these courses are the best in their category, and you won't be sorry if you choose them.