Acting is one of the most challenging and rewarding fields to enter. While some people are "born" actors, it takes a lot of hard work and dedication to be successful in this field.
If you've always wanted to develop your acting skills further but have been unable to take classes locally, there are several top-notch online resources available for actors at all levels.
The ultimate goal of studying acting is to become a better actor. In order to become a better actor, one has to train as much as possible with other talented people who will push you harder than anyone else would dare.
This requires joining an acting class or taking private lessons from a reputable teacher or coach outside of your local area.
However, if you're having trouble finding an acting class that fits into your schedule or budget, there are several increasingly popular ways to study acting without leaving your home.
Just like any other art form, becoming a successful actor takes years of practice and dedication.
With so many aspiring actors around the world looking for acting classes online, it's become harder for students to find quality training from professional instructors who have enough free time in their schedules to dedicate to teaching students one-on-one.
Fortunately, there are several great options available for online acting courses that can help anyone improve their skills regardless of where they live or how much time they have available to commit to studying..
Before signing up for an online program, be sure you're familiar with the company offering the course.
Make sure that the classes you're interested in are taught by a reputable instructor or staff members who have extensive experience working with actors.
If you don't know where to start your search, take a look at some of the best online acting courses available today:
10 Best Online Acting Courses In 2023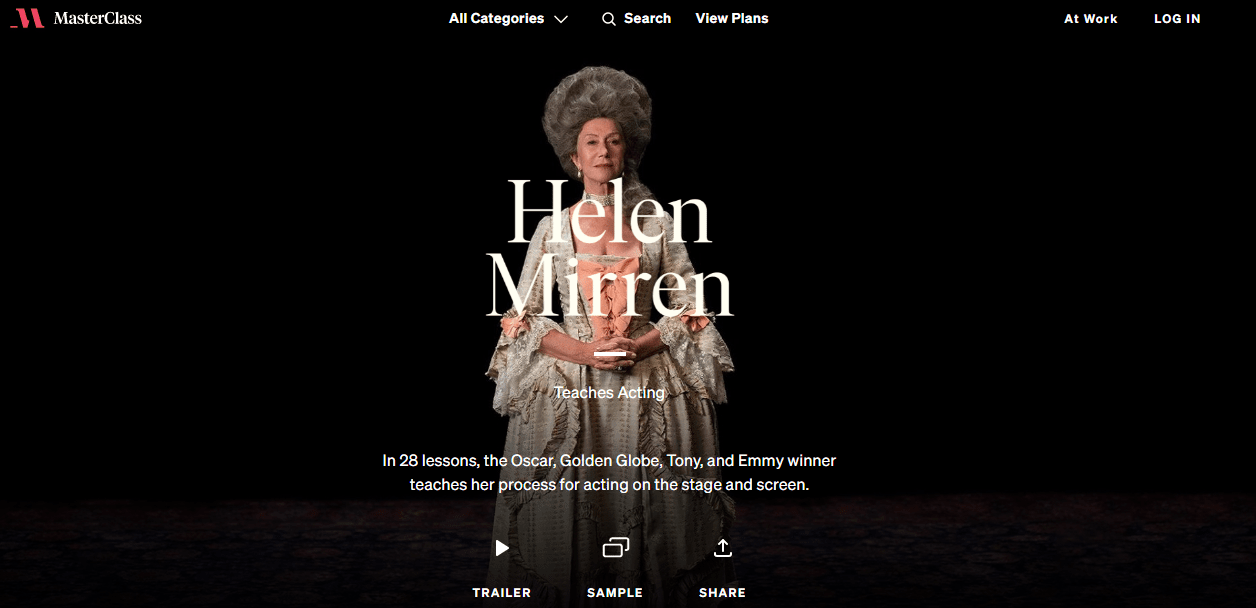 Platform: MasterClass | Teacher: Helen Mirren | Course length: 26 lessons totaling 6 hours and 25 minutes
In today's acting world, Helen Mirren is a household name. Mirren began her career in the theater, where she starred in Shakespeare plays. Her work portraying historical figures, including Elizabeth I and II, won her two Golden Globe Awards.
You'll learn to:
Scripts need to be broken down and interpreted

Research best suited to your role

Developing acting techniques for film and television

Utilize and understand the concept of naturalism

Rehearse a scene and prepare for it
Pros:
Take a lesson from a critically acclaimed actress

Contains extensive and detailed lesson content

There are lots of tips for improving your acting

An excellent and informative workbook

Having access to a community forum
Cons
There is sometimes vague/abstract advice included

Acting workshops for groups are not included
Who it's for: 
The course is for anyone who would like to learn more about the art of acting and improve their performance skills. Learn the basics as well as advanced skills in this beginner-friendly course. Mirren does not give any attention at all to drama school as she is not interested in it.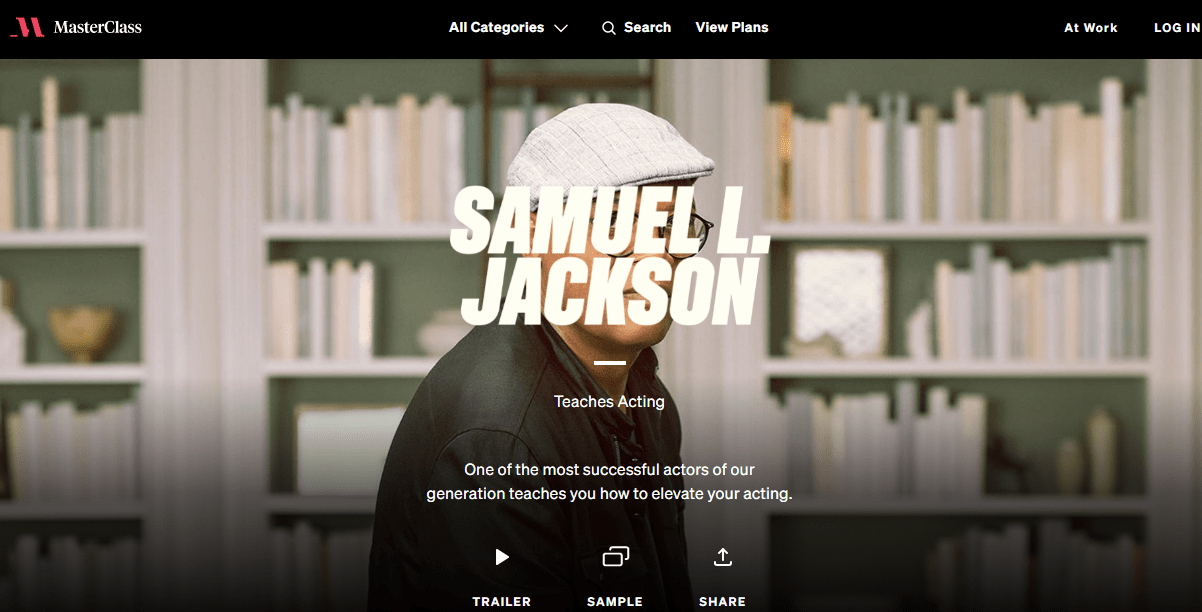 Platform: MasterClass | Teacher: Samuel L. Jackson | Course length: 21 lessons totaling 4 hours and 47 minutes
One of the best-known actors in America is Samuel L. Jackson. Known for roles in Pulp Fiction and Die Hard, he has appeared in more than 100 films to date. As a result, he has established himself as a Hollywood icon.
You'll learn to:
Write memorable and well-thought-out characters

Emotions can be expressed through voice and body

Create a voice and character that is uniquely yours

Work effectively with directors, cast members, and crew members
Pros:
Learn from America's most beloved actor

Films and presentations from student sessions provide practical examples

Workbook materials that are useful and strong
Cons
Understanding and following instructions may not always be easy

Lacks technical theory sometimes
Who it's for: 
Starting their careers as actors and auditioning for their first roles. This class focuses on elevating your performance and being professional. This course may not be suitable for those looking for more theory-based training.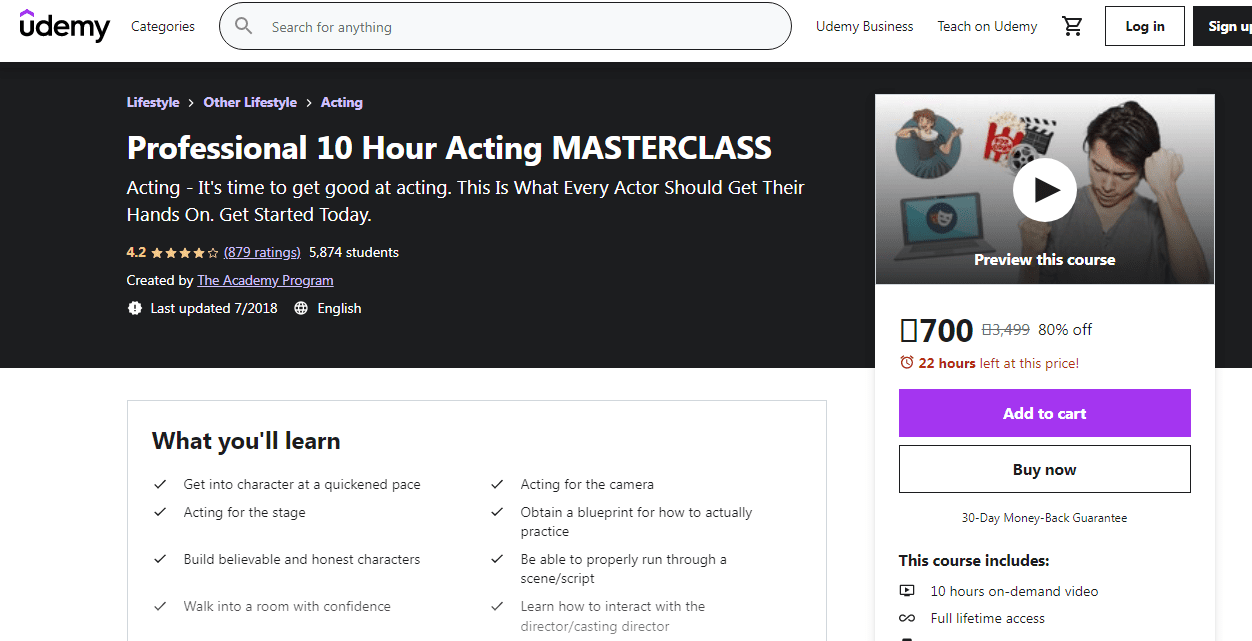 Platform: Udemy | Teacher(s): The Actors Academy | Course length: 32 lessons totaling 10 hours and 13 minutes
Known for his videos on how to perform and coach people, the Actors Academy is a professional actor and YouTube creator. The e-learning expert has more than 200k subscribers. It's likely you've seen his acting videos on YouTube if you've ever searched for a video.
You'll learn to:
Improve your stage and screen acting skills

Create believable and compelling characters

Prepare for roles by practicing, rehearsing, and auditioning

Be professional and confident
Pros:
Excellent advice on how to break into acting

Acting is explained and how it can be practiced

Filming with a personal touch

Unlike YouTube, they have unique content

Easy access to in-depth content
Cons:
Tangential or repetitive at times

Courses that are less theory-based
Who it's for: 
Actors and those seeking to make a career out of acting. There is a lot of layman's language in the course, so it is beginner-friendly. This class is less suited to advanced acting students since it covers a lot of fundamentals.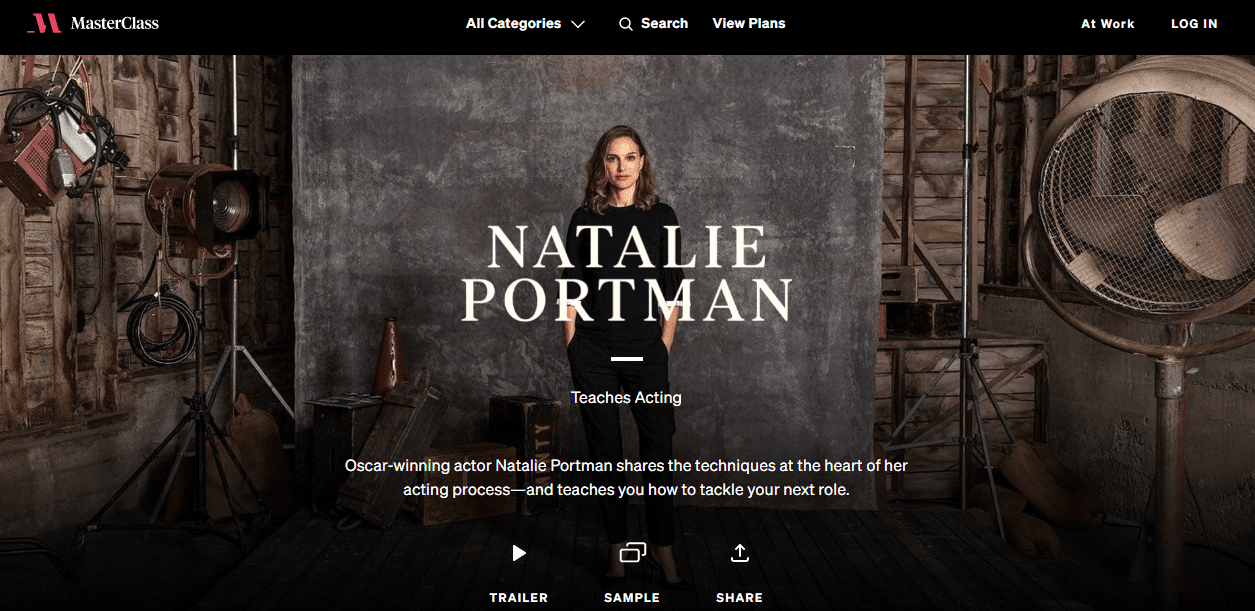 Platform: MasterClass | Teacher: Natalie Portman | Course length: 20 lessons totaling 2 hours and 30 minutes
One of America's best-loved actresses is Natalie Portman, a prolific child star (and filmmaker). As an actress, she has won Academy Awards for Best Actress (Black Swan) and Best Supporting Actress (Closer). Her most memorable roles are in Star Wars, V for Vendetta, and Jackie, a biopic.
You'll learn to:
Improvisation and truth-telling are two key acting skills

Sets, props, and cameras should be handled professionally

Face the green screen realistically

Learn how to act the part of a character.
Pros:
Take notes from a highly successful actress

Diverse and rich lesson content

Great assignments and suggestions for viewing/reading

An excellent understanding of specific techniques

A case study and a scene example that are informative
Cons:
Less focused on becoming an actor

Online courses are shorter than others
Who it's for: 
Those who have a basic understanding of film-acting and wish to advance their abilities. Students will learn how to emote as well as the physical side of acting in this course. Portman's style fans will enjoy her examples as they are mostly her own.

Platform: SkillShare | Teacher: Leon Clingman | Course length: 13 videos totalling 40 minutes
Leonard Clingman has over 28 years of experience as an actor and acting coach. Clingman studied at the Lee Strasberg Theater & Film Institute in New York before working in film, theater, and television. The Vagrant Queen, Tutankhamun, and The Mauritanian are among his most recent appearances.
You'll learn to:
Acting techniques should be understood and applied

Develop a range of acting techniques

Acting theory and its application
Pros:
An excellent look at acting techniques

Exercises and examples that are practical and strong

Beginners and those looking to refresh their knowledge will find it useful
Cons:
Acting styles are less important

Acting methods outlined as a starting point
Who it's for: 
Is anyone interested in the Strasberg Method or The Adler Technique (such as Strasberg's and Adler's). Perfect for beginners as well as those who wish to refresh their skills.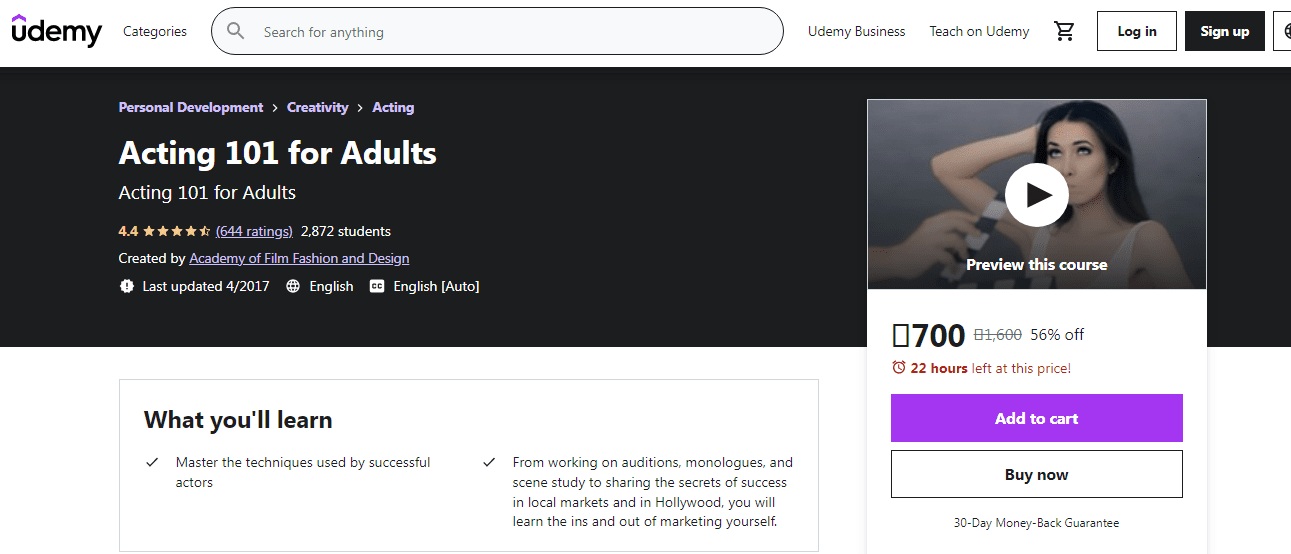 Platform: Udemy | Teacher: Aaron Jackson | Course length: 17 videos totaling 6 hours and 52 minutes
You'll learn to:
Successful actors use master techniques

From resumes to auditions, find your way around the business

Create a "toolbox" for acting

Understanding your marketability and type

Characters for each role should be broken down

Preparation of monologues and audition material
Pros:
Take advantage of the experience of a seasoned professional

An actor who is strongly devoted to his career

A coaching style that engages

Teaching that is comprehensive and detailed
Cons:
There are some additional resources that cannot be accessed

Acting as a business
Who it's for: 
Those who are interested in pursuing acting as a career. Excellent for actors who are just starting out on the business side. Using easy-to-understand language, this course covers the practical aspects of auditioning, finding an agent, etc.

Platform: Udemy | Teacher: Serena Greenslade | Course length: 23 videos totaling 2 hours
In 1994, Serena Greenslade began teaching speech and drama. Her pupils have excelled at prestigious drama schools and achieved success in theater, television, and film. 
You'll learn to:
Character and emotion can be conveyed through body language, voice, and face

As an actor, you need to carry yourself with confidence in any situation

Techniques to create feelings and atmosphere

Prepare for acting auditions and exams successfully
Pros:
Contains plenty of exercises that are highly practical

Engaging presentation and attitude

A well-structured course layout

It's perfect for beginners/amateurs
Cons:
Acting's academic/theoretical side is less developed

Acting classes online are generally shorter
Who it's for: 
Anybody who understands English and wants to act. This course is suitable for beginners and amateurs of all ages.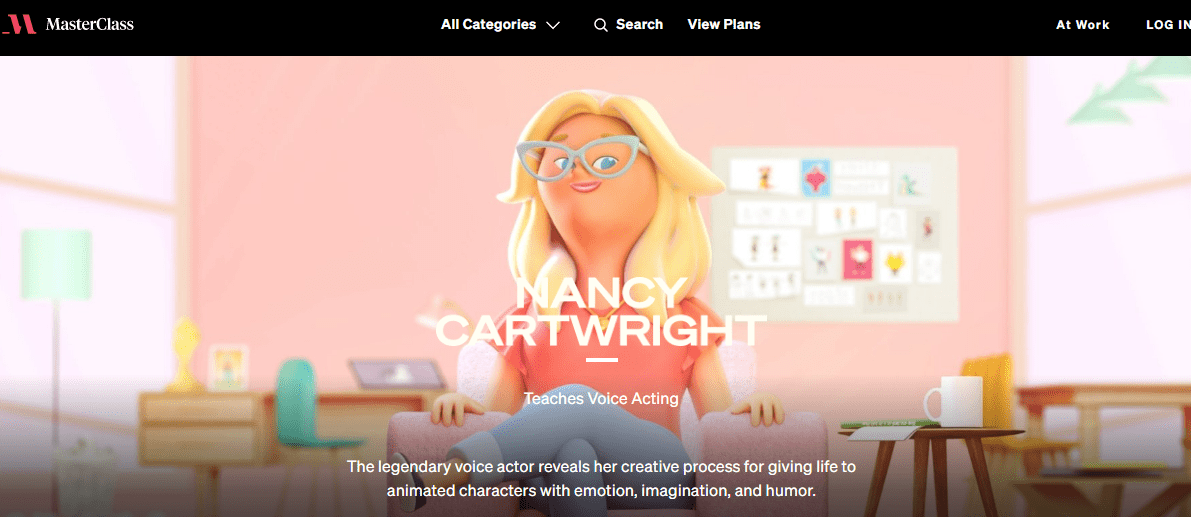 Platform: MasterClass | Teacher: Nancy Cartwright | Course length: 14 lessons totaling 2 hours and 43 minutes
Nancy Cartwright is known by voice even if she isn't known by name. Cartwright is best known for her role as Bart in The Simpsons, but she is also one of the most widely recognized voices in the country. She has been a voice actress for over 40 years and has been tutored by premier voice actor, Daws Butler.
You'll learn to:
Become proficient in voice acting and refine your skills

Identify your unique voice type

Get your acting career off to a flying start

Perfect recordings and auditions for roles

Study the range of emotions and vocalizations of characters
Pros:
Learn from a renowned voice actress

Demonstrations and examples with strong visuals

Footage from the set that can be helpful

Lessons that are concise and well-structured
Cons:
There is not always an explanation of specific terms

It is sometimes distracting to watch visual effects
Who it's for: 
Beginning voice actors looking to develop their emotive range or beginners interested in voice acting. In addition, the course emphasizes Cartwright's specialization – cartoon voices. Therefore, it's less suitable for those who enjoy other kinds of voice acting.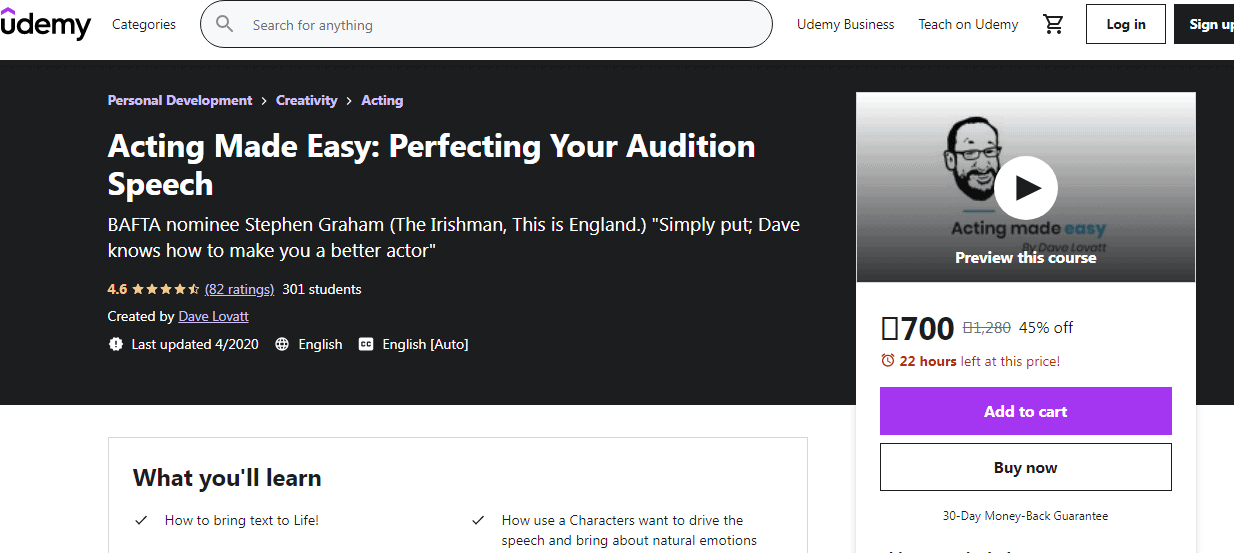 Platform: Udemy | Teacher: Dave Lovatt | Course length: 6 videos totalling 39 minutes
Dove Lovatt has been teaching acting classes for 18 years and has studied at Rose Bruford Drama School. It is no surprise that his course is one of Udemy's most popular acting courses. He believes that all should have access to his acting knowledge – as a notable director.
You'll learn to:
Acting brings written words to life

Prepare effective audition speeches

Any role can benefit from key methods and techniques

Emotions can be induced by the "want" principle
Pros:
Take advantage of the expertise of a professional trainer and director

A personable and straightforward approach to acting

Theories and methods rooted in strong foundations

Keen insight into monologue preparation

(More accessible!) Without complex jargon
Cons:
Studies of actual cases receive less attention

Actors with advanced skills may not find it useful
Who it's for: 
The performing arts can be enjoyed by anyone. College students looking to improve their audition skills will find this course useful. Public speakers can also benefit from this course.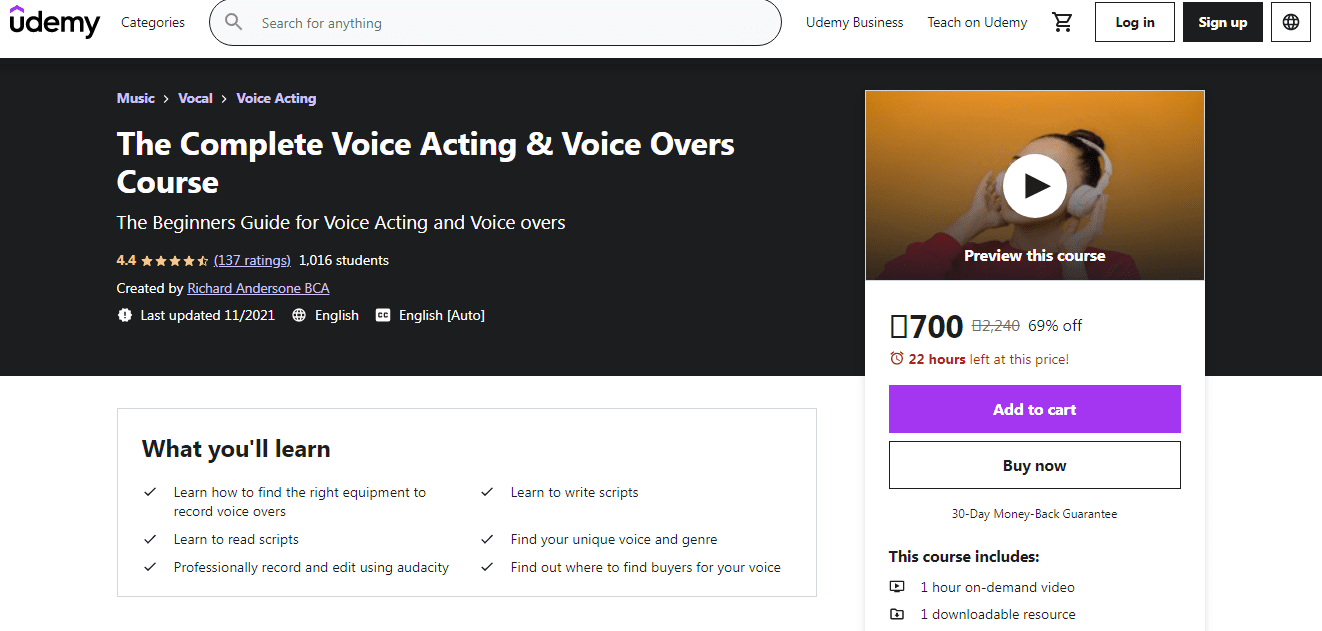 Platform: Udemy | Teacher: Richard Andersone | Course length: 18 videos totaling 44 minutes
In addition to running AllTalk Global, Richard Andersone is an instructor, a broadcaster, and a podcast producer. Among his teaching responsibilities are voice-acting and recording. He has even created his own shows!
You'll learn to:
Scripts for recording should be read and interpreted

Recording equipment to suit your needs

Find out what makes you unique

Marketing yourself successfully
Pros: 
An excellent introduction to voice acting for aspiring actors

Demonstrations and examples are excellent

Excellent information and encouragement

Beginners are welcome
Cons:
Focus on the technical aspects of recording

Suitable for less advanced learners
Who it's for: 
Voice-over and voice-acting beginners. People who want to progress in their voice-acting careers should enroll in this course.
Quick Links
Conclusion Best Online Acting Classes 2023
You need to consider reputable companies and instructors with extensive experience when looking for online acting classes.
This collection of 21 online acting classes is a valuable resource for anyone interested in continuing their studies of acting, no matter where they are in their careers.
Join today to take charge of your acting career and build a better future.