Online teaching is growing massively with so many professionals coming forth and creating their courses online to open up an avenue of multiple opportunities for themselves.
Because of all these wonderful online course creation platforms out there, sharing your knowledge or expertise has become so convenient today. The biggest reason many people are creating online courses nowadays is because the industry is growing very fast.
To state facts, the education industry has witnessed significant developments and investments in the past few years and has massive plans for the future as well.

The e-learning market is one of the most profitable industries across the globe and it is estimated to reach a phenomenal valuation of greater heights each year (Read here), providing you another significant reason for creating an online course.

This is a very powerful and genuine way of marketing your expertise. So, if you are a blogger, instructor, teacher, or creator of online courses looking for a platform to host, promote, and sell your online courses then you have come to the right place.

Great! Well, now that we know that creating an online course is pretty much a very decent idea, let's focus on the platforms which can help you to build and sell your online courses.

In this article, I will be sharing with you all the best places to host and sell your online training courses. I have prepared a list of the best course builder platforms out there which will help you evaluate and analyze them to find out which is best for online teaching and selling online courses for you.
TOC:
What to seek in an online course builder platform?

Course Creation Platforms To Create and Sell Online Courses

Conclusion
Start Your Online Teaching Journey In 2023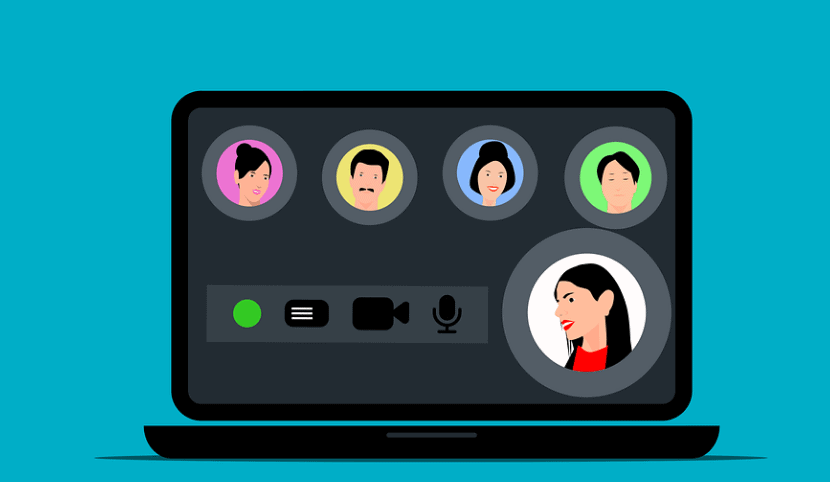 What to seek in an online course builder platform?
Before we jump into discussing the available online course builder options, allow me to quickly brief you about the factors that may affect your ability to build better online courses over time.

Well, the following are a few things to keep in mind when choosing an online course builder to make sure you review them before you sign up so that you don't have to switch platforms later on.
Course Creation Platforms to Create and Sell Online Courses
1. Teachable (Web, iOS)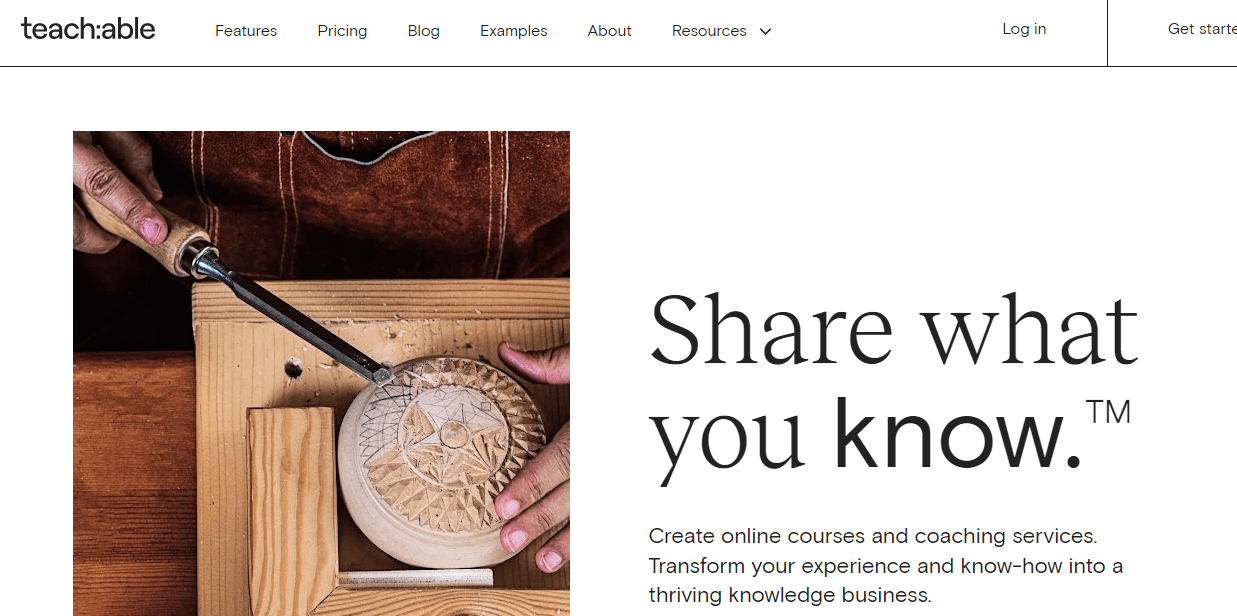 To start with, Teachable offers various options to customize your course. It allows you to create and upload pre-recorded course content, manage students, and launch a customized course platform.

You can build a website that reflects you or your business the best and create sales pages for launching your course as well. And well, just in case you know programming, by using the Power Editor option available on Teachable you can do so too.

On Teachable, you can offer courses in bundles or own their own, and choose between a one-time fee, a payment plan, or a subscription. You can also simply just add affiliates under their build-in affiliates program, where they will get a percentage of course sales.

But I think Teachable can be a costly affair for a few ones out there. It can work for you in case you are flexible with your funds, but in case you have a tight budget, you may want to reconsider your options.

Teachable is mostly considered to be suitable for businesses that want to run an online school and have a set budget allocated to the course platform. Creators on Teachable need to integrate multiple services to make their offerings more learner-centric.

A few important features like the integration process and the cost of bearing third-party services are something that the platform can work towards.
Most importantly, Teachable supports one currency option only. It works well mostly, but just in case you have a global audience base, having a country-specific pricing option would be more favorable for you.

(Keep reading to look out for the best one)

2. Thinkific (Web)

If I were to think of creating a course of my own online, the most daunting thought that will probably come to mind is –
How many lessons should I add?

What other file types should I include to keep my course interesting with audio-video content, rather than just textual content?

If you too have similar doubts, Thinkific takes the guesswork out of course creation with its simple and ready-to-use templates.
It is an amazing platform because Thinkfic, unlike other course builders, where you start your course creation with a blank slate, provides helpful cues and tips to build a valuable course. Its website builder is one of the easiest to use.

In today's digital era, keeping your business limited to just websites restricts your business's growth.
People these days use mobile phones, or tablets for almost everything, from ticket booking to creating PDFs, or from reading an article to watching content online, apps are used for almost everything.
Having a mobile apps facility will just ease out the already smooth functionality of the platform.
Thinkfic provides you with a variety of plans to choose from. Additionally, you may need to also buy a premium Zoom license or a Zapier subscription in Thinkific.
But I wonder, would you want to pay extra to get access to features that other platforms are offering for free with their relatively cheaper plans?

With no zoom integration and no direct third-party integrations available, it might turn out to become a hassle for you to put everything together. Especially if you are new to creating your course online.
3. Kajabi (Web, iOS, Android)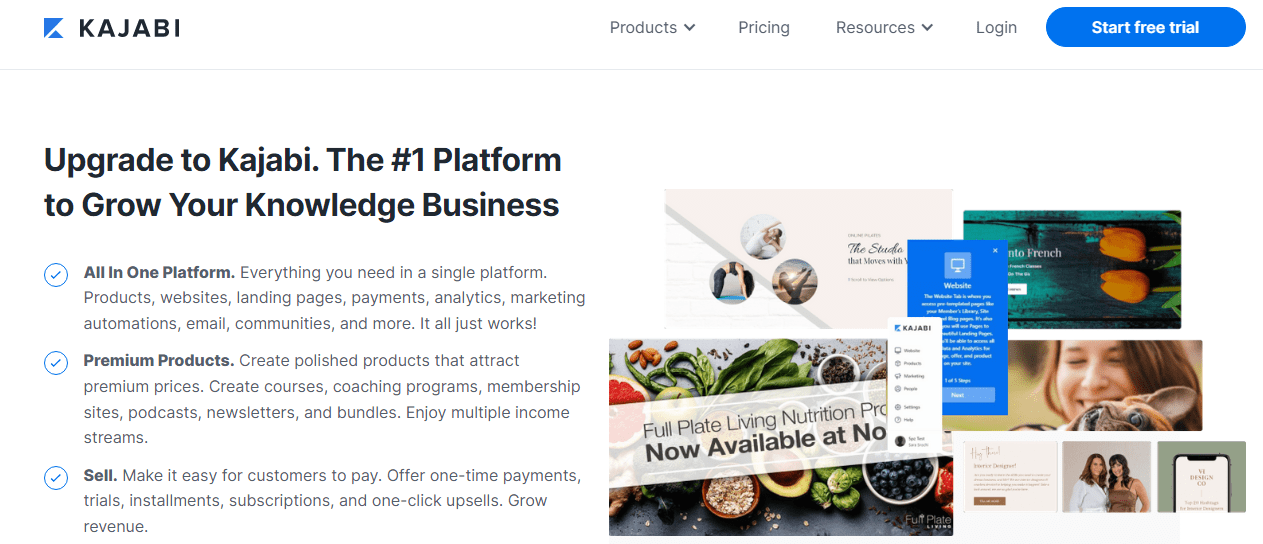 Allow me a minute to make you think a little but just think that you have built up your course online with perfection, but it still is incomplete if no one knows about it.

You can not just have a "build it and they will come" mindset for your online business. It is very important to bridge the gap between the creator and the users, and this is exactly where marketing comes into the picture.

With Kajabi, a marketing blueprint called Pipeline, you can design a complete marketing funnel including opt-in landing pages, email opt-ins, and course checkouts. Have all the marketing superpowers in just a few clicks. Kajabi templates can be handy too.

Kajabi undoubtedly has marketing superpowers. For new creators and business institutions with allocated capital, it can be a costly affair.
Although a lot of times it also happens that these creators don't mind before investing funds into marketing and advertising of their online course availability.

Kajabi's basic plan starts at ₹10,500/- per month, which allows you to only enroll 1,000 active learners. You need to also pay an additional ₹17,500/- to upgrade your plan, to get it white-labeled.

If you are a creator with a vision to expand your online course over time, you may want to reconsider the basic plan at Kajabi and go for higher plans that will provide you more freedom to work your way out on the platform.
But in case, you are tight on your budget you can look out for other options available for you that will allow you to do the same work at a much more reasonable price.
4. LearnWorlds (Web, Android, iOS)

LearnWorlds enables connection between a student and a teacher via emphasizing online community learning. LearnWorlds helps you set up an online website with multiple instructors and a course catalog.
It's almost like a school setup. But don't worry, you will remain the admin of your course. Instructors can just author courses but they cannot publish a new course or change general settings.

As the admin of your school, you get the liberty to offer as many courses as you like, with various pricing options. LearnWorlds' communities are believed to be well designed for social interaction. You can also get a branded app for your school at an added fee.

Real-time interactions are considered to be most fruitful for any online business, especially for e-learning businesses.

But is it well designed for social interaction if you can't record your live classes?

Along with some great features provided by LearnWorlds, there are a few that the platform misses out on.
Like having an in-built live class scheduling feature, zoom integration, or third-party integrations to teach live which may create an issue for creators who would want to integrate zoom live lectures into their online course.
5. Podia (Web)
At Podia, you can create an online course and publish it immediately, or pre-launch it to collect emails. Podia is a rich platform that lets you create online courses, digital downloads, and even membership sites, all as part of their one digital storefront.

Podia also allows you to create your private membership site, with different membership plans, perks, and content for members. Although it can be expensive, online content creators often like to try to nurture their online community in certain ways. Podia has powerful features to offer.

We all are well aware of the threats platforms like these can be exposed to, which is also why content security is a matter of concern. If I were a creator online, I would put my thought into the security of my content because that is what I will eventually be selling out to the prospectus.

You don't want to wake up to the nightmare of your content being pirated. It would just mean wasted time, energy, and effort you have invested into building up this business for yourself. Resulting in it being difficult to earn revenue from. And in the worst-case scenario, a pitfall if this is your primary source of income.

Thus, security measures like dynamic watermarking can be offered by the platform to avoid piracy of the content available. It can also add features like a device-wise limit to stop credentials misuse.

5. Graphy (Web, Android, iOS)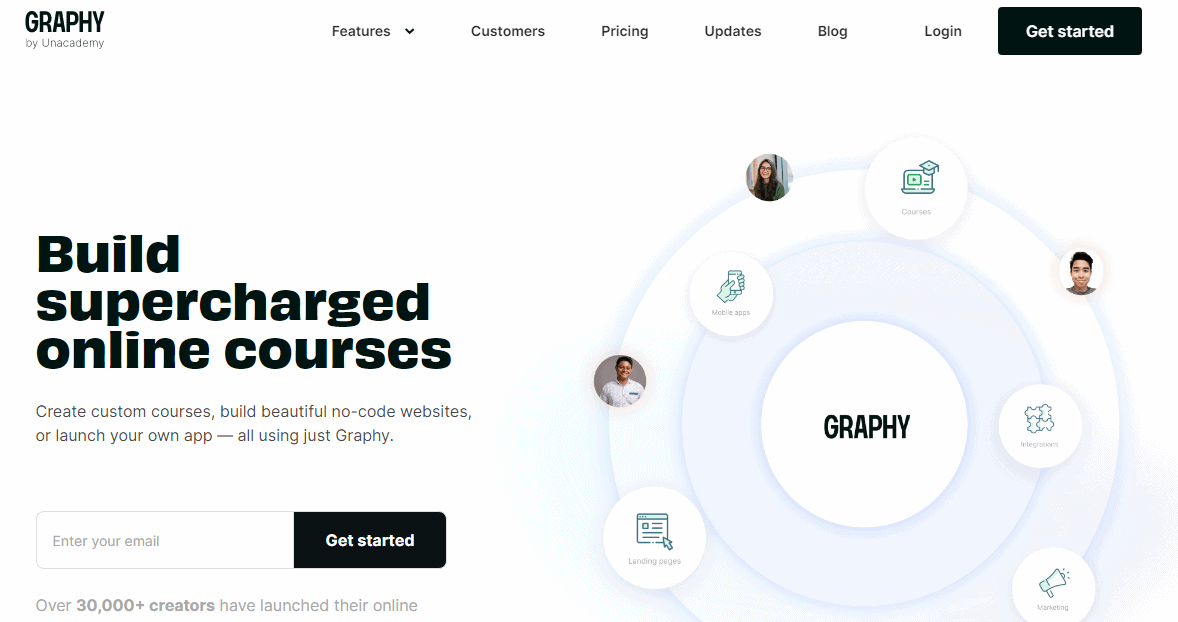 Creators want to introduce a more personalized approach towards online courses, Graphy is here to stay by transforming online learning. Graphy is a really good option for online educators and creators, especially for those who hail from India.

Graphy, being the first-ever course platform that's designed for creators who want to monetize their audience, is an end-to-end course platform to help you grow your audience, monetize your skills, and host cohort-based courses.

It allows pre-recorded sessions, helps creators to host in-built live sessions with their audience, and creates a better experience for them.

At Graphy, learners can access course content and buy new courses anytime. Both web and mobile apps are highly secured at Graphy as it provides white-labeled web service, along with its mobile apps (both iOS and Android) also being completely white-labeled.

All forms of content are given content security by providing multi-layer security with dynamic watermarking and device-wise limits to stop credentials misuse.

Along with international payment gateways, Graphy also supports local payment gateways like Razorpay, Paytm, Instamojo, PayUMoney, and TraknPay.

You don't need to worry if your student is in one country and you are elsewhere in the world. With Graphy, you can receive payments internationally.

Graphy also provides immediate call support, instant chat, and 24×7 email support. Along with that, you also get dedicated account managers to support your success, and dedicated account managers as well.

With $50 million in revenue earned by creators, 5 million users enrolled, and 3000+ success stories, I think Graphy is marking its space in the industry.

They even offer assistance during onboarding, and free customer support to help you with your transition just in case you want to migrate your existing course. I recommend booking a demo today to unleash your superpower as a creator and online educator.
Quick Links 
Conclusion Start Your Online Teaching Journey In 2023

The education industry is considered to be in the middle of a huge behavioral shift. With the COVID-19 pandemic, and people practicing social distancing, there has been an out-of-the-ordinary need to adapt to online learning.

If you're a creator or an online educator, creating an online course of your own will provide you with an opportunity of a lifetime to clout platforms like Podia, Kajabi, Thinkific, Graphy, etc to help your audience achieve their goals through online training and learning.

If you believe that you have the spark within you to teach others, to share what you already know, and if you plan on growing your audience base, there is always a platform out there to help you achieve your goals.

Ultimately although the ideal online course platform provides you with everything you need to have the best course for your business with ease, it can be a lot of work but once you have the framework to set your business up to have the best start possible.

Once you are extremely clear about what your niche is, you just need to pick the right platform that helps you unleash your potential as an online creator and educator.
You can begin investing your time rightly into developing what you will be offering to your learners in your course in terms of content. Sharing more valuable and informative content with your learners will just add more value to your online community.

In the end, I would just like to appreciate you for making it here. I have tried covering a lot in this article, but I hope that you are not overwhelmed by all the information provided your way.

With all the valuable insights that I've shared with you in this article on picking up a platform or course builder that is easy to use, clean, smooth, and makes your content the star of the show will help the creator in you find the best course creation platform that fits your needs perfectly, so you can make the right call for yourself.