Looking for an unbiased Lisa Nichols Speak and Inspire Review? I've got you covered. In this review, I will discuss whether Speak and Inspire is worth it and whether you should try them.
Speaking is an art, and it's one that many of us want to improve. And yet, few people know how to communicate well in public.
Many of the world's most famous orators are also some of the most excellent speakers who have ever lived. But if you're not a professional speaker, chances are you don't have their skill set either.
So what can we do? How can we learn from them without spending years studying?
The answer lies with Lisa Nichols and her newest book, Speak & Inspire, by Lisa Nichols. By learning from these great masters (and reading this book), you can take your speaking skills to the next level!
In this post, I have shared my review of Speak and Inspire by Lisa Nichols, and I have covered:
Why is Lisa Nichols worthy to train you?
What will you get to learn?
Should you enroll in this course?
Things you should know before enrolling
And much more…
What is MindValley Quest?
The MindValley quest is a next-step online learning model powered by MindValley's revolutionary platform, which makes learning so much fun.
Their quests are broken into bite-size pieces, i.e. each day, you will be asked to complete one video lesson and then practice one task, which takes around 20 minutes. Doesn't this sound fun?
Do you wish to know more about this quest? Please keep reading to learn more about the pursuit and its details. 
Before we get into more details of the quests, let us know more about the trainer and do a complete review of Lisa Nichols's Masterclass.
Lisa Nichols Review: Why Lisa Nichols Is Worthy Of Train You?
Who Is Lisa Nichols?
Lisa Nichols is one of the most well-known speaking coaches across the globe.
She has mastery in motivation and communication, making her one of the most famous orators in history, along with icons like John F. Kennedy, Martin Luther King Jr., Nelson Mandela, and many more.
Her fantastic communication skills were evident on the Oprah Winfrey Show.
When she appeared on the show, her ability to connect with her audience and how she presented her story got her many invitations to media appearances worldwide.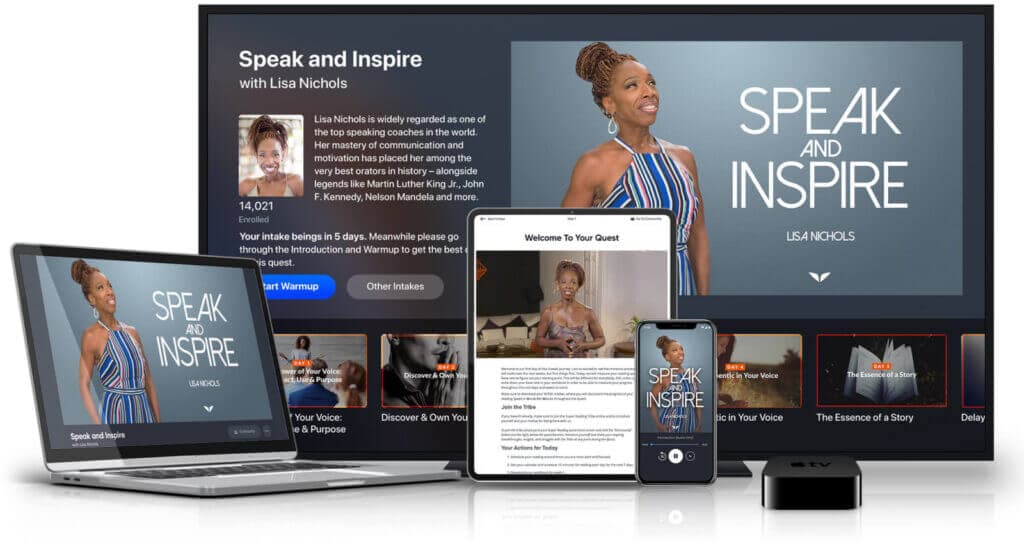 She was also invited to become a co-author of "Chicken Soup for the African American Soul," a book that talks about both the joys and struggles of being an African American.
She also appeared in many more shows. The Steve Harvey Show is one of the many shows where she appeared. This led her to attain more than 100M views as the snippets of the talk went viral over the internet. All of this is because of Lisa's communication abilities.
Lisa Nichols: The Struggle
Before reaching the epitome of this success and recognition, she led a life full of struggle and scarcity at a level beyond one's imagination. Lisa, in 1994, was a single mother living in South Central Los Angeles.
She survived merely on government assistance. Even buying a diaper for her baby was a big deal as she had only $11.42. But Lisa was a fighter for whom giving up was never an option.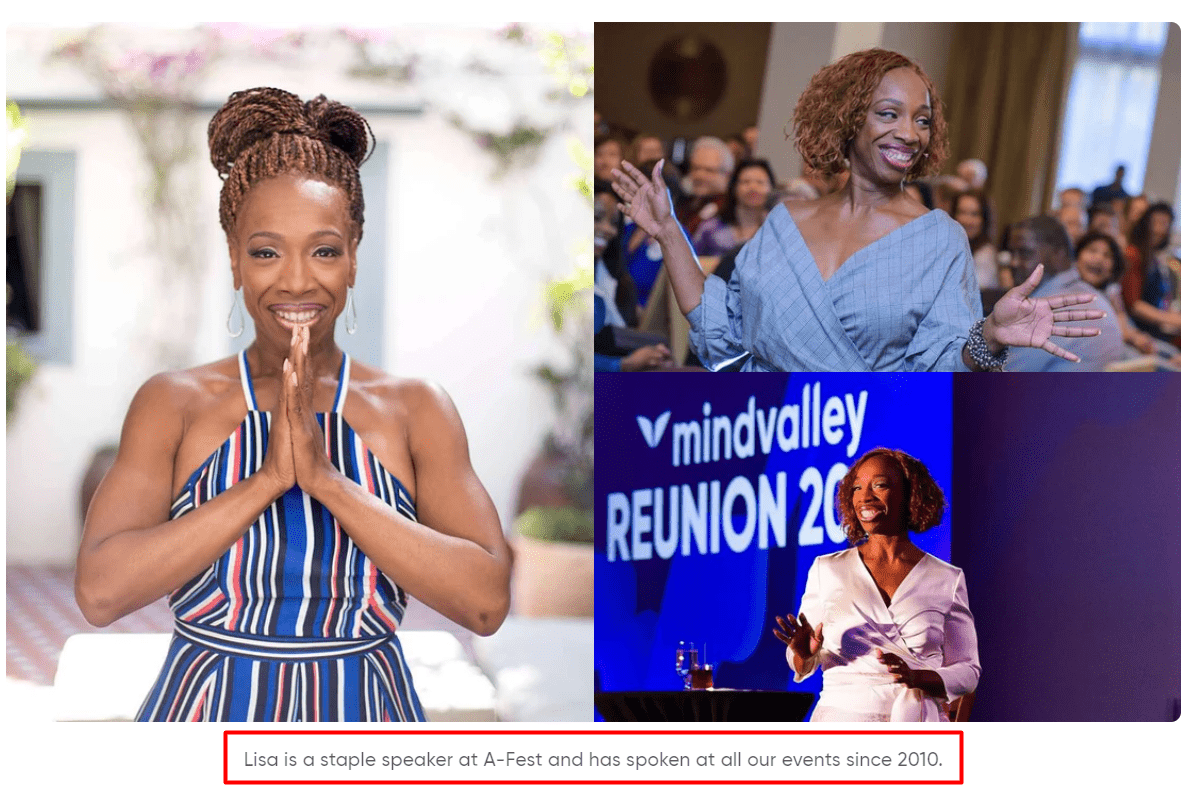 She gathered all that she had to improve her situation. Her pain from the past forced her to help others lead better lives. Today, she is the CEO of a company worth over $5 million.
Nichols is famous because of her impact on the lives of so many teens worldwide.
Lisa Nichols: Motivating the Teen Spirit
Motivating the Teen Spirit is a non-profit organization and foundation through which Lisa has reached out to more than 2,70,000 teens, supported around 2,500 dropouts to get back to school, stopped approximately 3,800 teens from suicide, and helped many to reunite with their families.
In early 2000, Lisa appeared in a hit documentary named The Secret. After this, Lisa started to get inquiries about teaching people how to communicate the way she does.

She then dedicated all her life to teaching people public communication and speaking skills. In the upcoming decade, she was widely known as the world's top coach in public speaking. Lisa today reaches out to more than 80 Million people every year.
Lisa Nichols Achievements
Talking more about Lisa's achievements, She is the author of 6 best-selling books, including the text "No Matter What," a New York Times Bestseller.
She has received awards like The Ambassador Award, Heart Of Learning Award (LEGO Foundation), and Humanitarian Award (South Africa) for her incredible work.
Now that we know how amazing the trainer of this MindValley Quest is let us dive into the details of the Speak And Inspire.
Also, Read:
Lisa Nichols Speak And Inspire Review 2023
This MindValley Quest works towards awakening the persuasive hidden communicator within you. You are trained about how to captivate a person or even an audience at large, all with the power of natural charisma within you.
You also learn how you can come out and confidently speak the truth and channel the emotions that lie deep within so you can persuade, motivate, and inspire everyone around you.
The program's design is based on the model of learning by MindValley's quest. It makes learning both fun and addictive, just like a game.
On average, you need to invest only 10 minutes of the day. With every lesson, you learn small and powerful techniques by which you can master the art of speaking.

As you proceed with the quest, you will learn more skills daily. By the 30th day, you will probably be one of your organization's best speakers.
Even if you are introverted, a nerve-wracking person, totally inexperienced, or communication is not your strength, this quest will make you emerge as someone with the incredible capability of speaking and inspiring.
Continue reading ahead to learn more about each of the four parts of this quest.
What Will You Get To Learn From Lisa Nichols Masterclass?
This quest will teach you how to share the secret in your mind, which you were entitled to share with the world. You will learn how much of a charismatic communicator you are and how you can be a natural leader.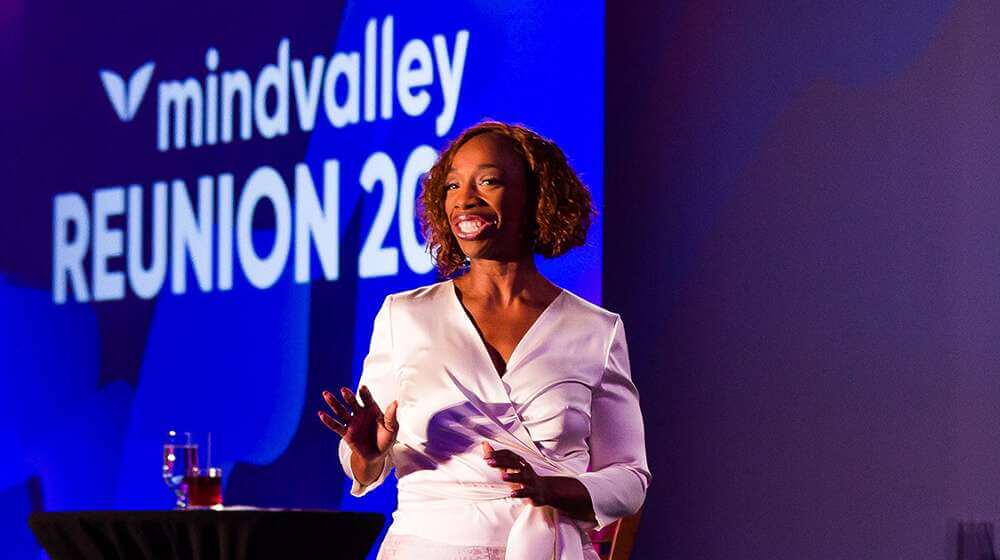 The quest helps you curb your nervousness and anxiety and amazes everyone else with your confidence and authenticity.
Moreover, this will make you the ideal employee at your work due to all the confidence boost, leadership qualities, and ability to impress anyone with your negotiation skills.
Having gone through the quest, you will also increase the quality of your relationships. You will experience people going for any story you tell them thanks to the story-telling and compulsion skills you will gain from this quest.
The power to command a crowd, which most of us desire, is also inside this quest. The quest will also teach you how to get more desirable rates in any negotiation and get better campaign engagement.
You may also like:
Things You Should Know Before You Enroll:
If you take up this quest, you should be prepared to learn daily. Even though the video lengths are short and almost 30 minutes, the videos are stuffed with insights.
You also need to bring whatever you learn every day into action. Being shy or uncomfortable speaking out in front of people can hold you back from taking this quest.
This is because, on some days, you are expected to make a FB Live Video with a length of probably 2 minutes in the group to Speak And Inspire.
You must also stand in front of your mirror and speak up about what Lisa instructs you to do. It might not be as easy as it sounds, but it will help you better understand yourself and your story. 
Details Of This Course 
Number Of Days:

30 Days

Total Hours Of Training:

6 Hours
Why Should I Recommend Lisa Nichols Speak & Inspire?
I would recommend this course to any podcasters or YouTubers who want to have an effect – inspirational, motivating, or transforming – and to boost their impact's power. Speak and Inspire will also help them obtain more subscribers and loyal viewers or listeners.
I would also recommend it to anybody who needs to speak to an audience and wants to connect with and influence them positively. Speakers who comprehend what Lisa Nichols teaches in this program will retain their audience's loyalty.
This training will also help you connect better with your loved ones or other people daily. It will teach you how to communicate effectively to build your connections.
As a writer, I would strongly recommend this course to others. It will help you learn how to connect with your audience better by creating a better message and interacting with them more effectively.
Quick Links:
FAQs: Lisa Nichols Speak And Inspire Review
What if I feel like Speak and Inspire course is not as per my liking, or the course is not benefiting me?
Like all the Mindvalley courses, this course also comes with a money-back guarantee. You can quickly opt-out of the course if you feel like leaving the trail.
Does Speak and Inspire course benefit as much as the website claims?
This course is a mind-bender and mind-opener. As the website claims, the course is as good as they claim.
I am fluid with my skills regarding listening and leadership. Should I still go for Speak and Inspire course?
No matter how good your skills are, maybe, but there is always room for improvement. The course can make your skills stand out even more. If you don't feel like improving, you can claim a refund. Overall, it is a win-win situation for you.
Conclusion: Lisa Nichols Speak and Inspire Review 2023
For anyone who wishes to speak and inspire, this quest is for you. This quest covers everything from knowing more about your voice to how you use it better to attain your desires.
The only prerequisite to taking up this quest is your will to impact the lives of people around you. This quest will inspire you to inspire others.
In the end, I appreciate all the people like you who wish to step forward and change people's lives by spreading your wisdom, and hence, I have shared my honest opinion in this review.