Looking for an unbiased Jeffrey Allen Review? I've got you covered. In this review, I will discuss if Jeffrey Allen is worth it and whether you should try it.
We all want to be happy, healthy, and prosperous. But it isn't easy to feel those things when juggling work, family, and other responsibilities.
The good news is that there are numerous ways to increase your happiness. There are multiple ways to achieve health and wealth.
Jeffrey Allen will teach you how to live a fantastic life by sharing his secrets of achieving massive success in all areas of his life while assisting thousands of others to do the same!
Do you want to participate in Jeffrey Allen's quests on Mindvalley? Do you want to know which quest will most benefit you?
In this article, I will be giving you details about two Mindvalley Quests that Jeffrey Allen offers:
1. Unlocking Transcendence
2. Duality
So, let's get started and walk you through what Duality does to you.
You can also check out our detailed Mindvalley Review for more insights about Mindvalley.
What Makes Jeffrey Allen Qualified To Train You?
Jeffrey Allen is an energy healer, spiritual teacher, and famous author at Mindvalley who is based in Tokyo, Japan, and has helped numerous clients over the last 20 years so they can live a life aligned with their actual energy and purpose.
This is to help them experience greater happiness, incredible confidence, immense love, and massive abundance and alleviate health issues.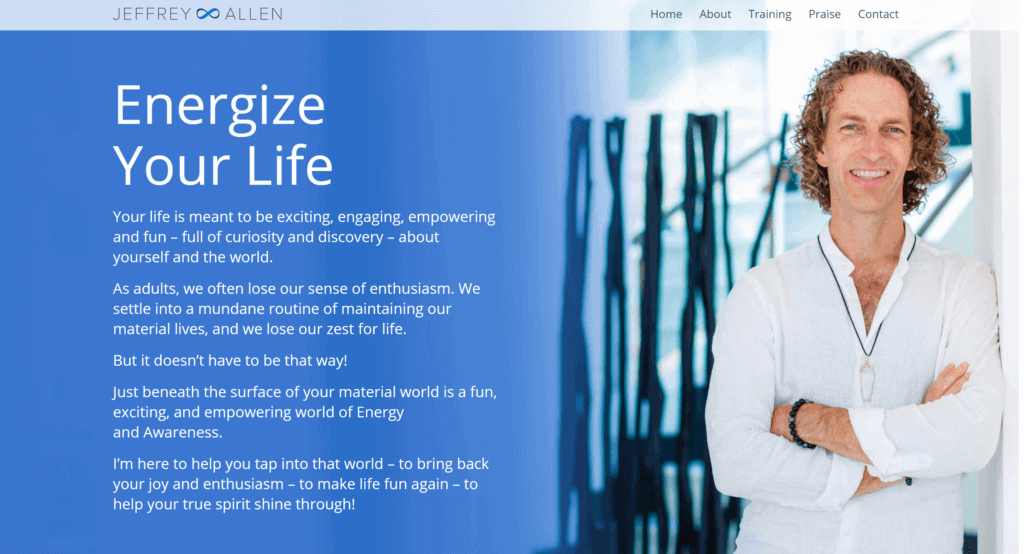 In other words, Jeffrey helps his clients live the life they were born to live. Allen is an Oneness Company co-founder.
Jeffrey is a global authority in energy healing, and numerous recognized and reputable healers seek his healing sessions regularly.
He is widely regarded as The Healer's Healer. Allen has a thorough understanding and knowledge of energy, which he uses to assist you in breaking down your hidden blocks and developing a strong and stable energy awareness.
This gives you a distinct advantage in both professional and personal development. A decade ago, Jeffrey was a successful software engineer with a great job and a six-figure salary. But the fact that he could not fulfill his true purpose bothered him.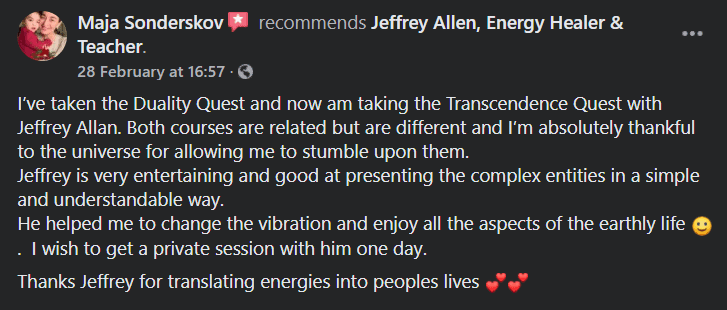 In 2005, by a series of incredible coincidences, he found himself training a brilliant group of students on spiritual studies in Africa (Uganda). At this point, Allen discovered a spiritual teacher hiding behind an engineer.
Since then, Jeffrey has assisted many people in combining their intuition and intellect to improve their relationships and confidence and discover and achieve their life's purpose.
He spent over fifteen years studying with the country's top healers, mediums, and psychics. Jeffrey has also served on the board of directors of The Spiritual Development Center and has spread his teachings worldwide. Jeffrey contacted a massive number of people via social media.
He also trained in many live workshops worldwide, including in Costa Rica and the United States. France, Mexico, Greece, Croatia, Japan, and Switzerland are among the countries represented.
Now that we've learned more about Jeffrey Allen let's delve into the specifics of these courses.
Also, read:
Unlocking Transcendence Details:
Total Hours Of Training:

14 Hours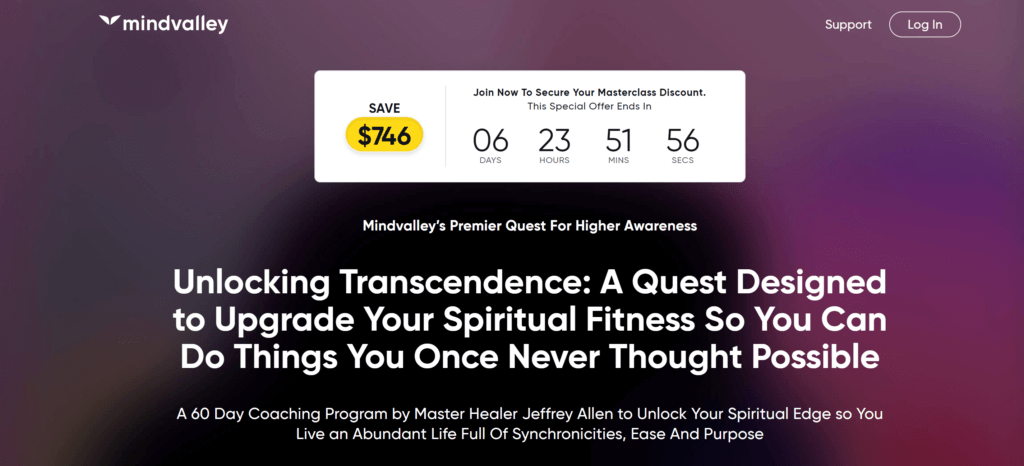 Unlocking Transcendence Pricing:
Digital Access:

$449 (You can also pay in 3 installments. Each installment Of $159 to a total of $477.) 

Digital Access Plus Completion Certificate:

$449 (You can also pay in 3 installments. Each installment Of $179 to a total of $537)
Unlocking Transcendence Verdict:
Unlocking Transcendence, in my opinion, will assist you in becoming much more aware of the true you and what can and cannot help you. As a result, you learn to be more open to new practices and ideas.
You begin to feel more spiritually connected to yourself and want to do what you should to increase your happiness. You begin to have a noticeable impact on the world. You will want to make the necessary changes and be motivated to keep them going.
Let us get into details of the next quest that Jeffrey Allen offers on Mindvalley, which is Duality. 
Jeffrey Allen Duality Review:
Among the various other promising Mindvalley courses is Duality by Jeffrey Allen. This course claims to give you increased spiritual skills, intellect, better health, and a pathway for an extraordinary life with various benefits, like higher awareness levels and better functioning ability. 
This Duality course by Jeffrey Allen maintains Mindvalley's reputation for being well-structured, unique, eye-opening, and truly awakening. Taking the course is an absolute must.
The way it is set up, formulated, and structured makes it a must-try course for anyone who wants to maximize the potential of his body and brain.
So, let us continue talking about Duality and what it does.
Verdict On Duality Course Review
Jeffrey Allen's Duality, in my opinion, will help you focus on both your energy and your physical self. You can put both of these to use to live a happier and healthier life. It has nothing to do with losing your physical identity.
It talks about realizing that focusing on your energy is as important as your physical self.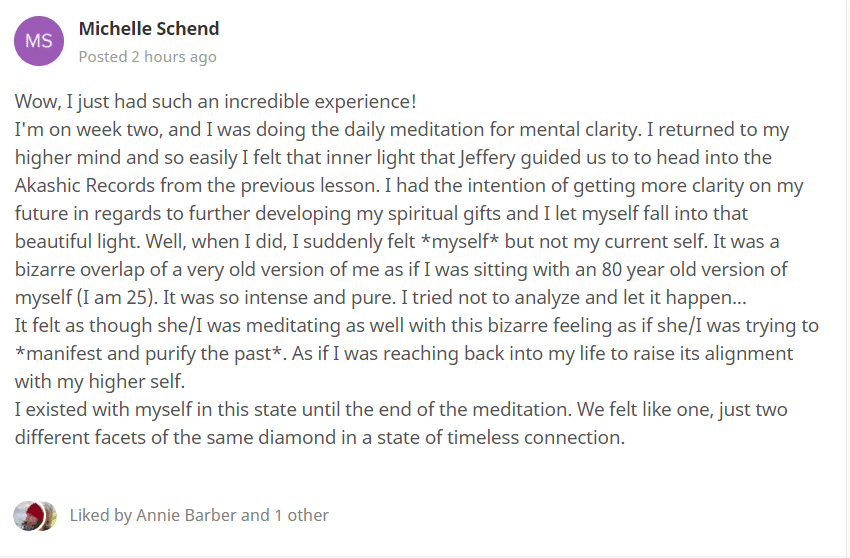 What Makes Unlocking Transcendence & Duality Different From Each Other?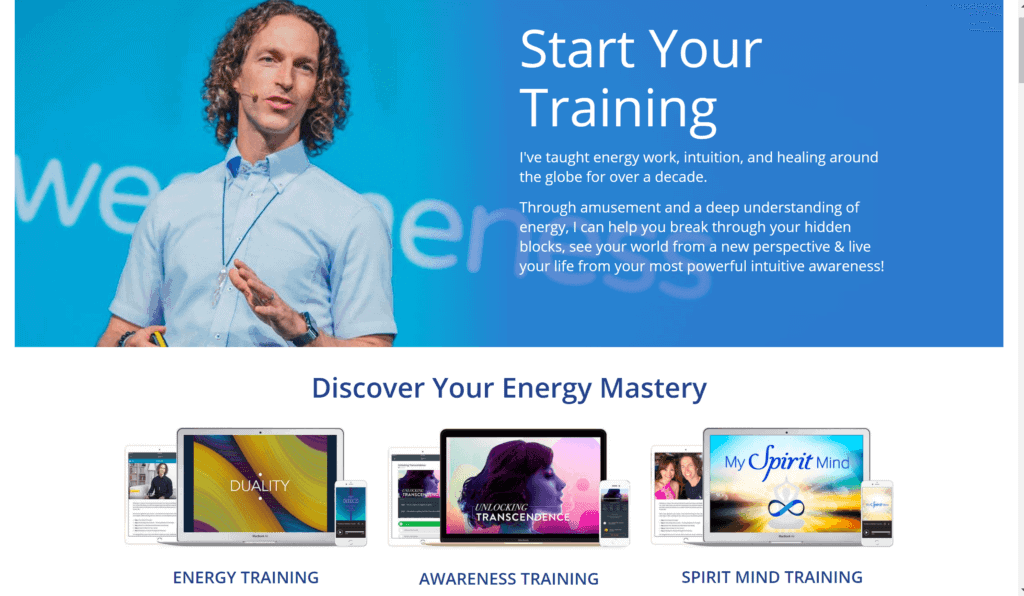 Unlocking Transcendence is about delving deeper into your spiritual path with the help of daily exercises that can spiritually strengthen you.
This is how you can fulfill your spiritual desires and align yourself with your soul's purpose. This leads to significant synchrony and abundance and will stay with you forever.
Duality, however, is a program designed to help you discover hidden energy within yourself. It also teaches you how to command your energy in every aspect, area, and domain of life.
Quick Links:
FAQs: Jeffrey Allen Review
✅ Why should I choose Jeffrey's course over others?
Jeffrey holds a global authority in the arena of energy healing and is regarded as the healer of the healers. His in-depth understanding and knowledge can prove to be of immense help to get your life on track.
👉 Can Jeffrey Allen's courses hurt my mindset in any way?
This course is carefully curated. It doesn't leave any harmful effect on your mindset in any way. It will only shape it in a better, humane way.
👉 What if I don't like the course?
Duality course has a ten days money-back guarantee and Unlocking Transcendence has 15 days. You can cancel the subscription anytime if you feel like it.
Jeffrey Allen Review 2023: Is Jeffrey Allen Quests Worth The Hype? 
You can explore your inner self With the Mindvalley Quests, Duality, and Unlocking Transcendence.
Simply being a better YOU can have a substantial positive impact on the world. As your awareness expands, you can more effectively relate to the world around you.

You have a more significant and more direct impact on everyone with whom you come into direct contact. Not only that, but you will positively influence those with whom they come into contact.
If you have any other questions about the quest, please leave them in the comments.